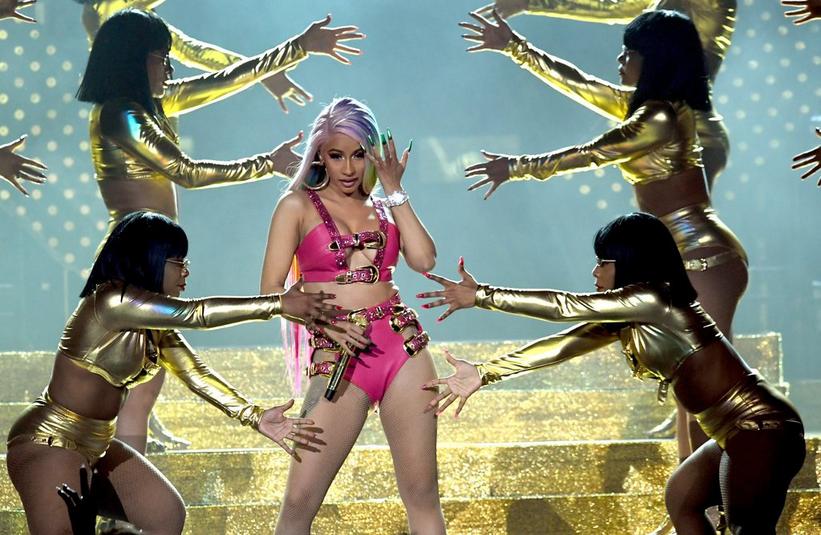 Photo: Kevin Winter/Getty Images
news
Cardi B Leads 2019 Billboard Music Awards Nominations
Fans will be able to vote for two award categories: top social artist, and chart achievement
GRAMMYs
/
Apr 4, 2019 - 10:19 pm
The 2019 Billboard Music Awards nominations list is out, and GRAMMY Best Rap Album winner Cardi B leads with the most nods, including Top Artist and Top Hot 100 Artist.
The rapper was nominated 21 times in18 categories and was one nomination short of surpassing Drake and the Chainsmokers' record tie for most nominations (both had 22 in 2017), Billboard reports. This year, Drake falls behind Cardi with 17 nominations and is tied with Post Malone for the same amount. Ariana Grande and Travis Scott were also among the most-nominated artists.
Best New Artist nominees are: Ella Mai, Dua Lipa, Juice Wrld, Bazzi and Lil Baby.
The award show, which is hosted by Kelly Clarkson and takes place in Las Vegas on May 1, features awards in several genres, including Top Rap, Top Country, Top Dance/Electronic and Top Latin albums and songs, as well as other categories like Top Streaming Song and Top Social Artist. Fans will be able to vote for top social artist and chart achievement. The show airs live at 8 P.M. ET on NBC.
Check out the full list of nominations here.
Report: Global Music Sales Climb To $19 Billion In 2018, Nearly Half From Streaming
feature
The Soundtrack Hit Makes A Comeback: How 'Encanto,' 'Top Gun' & 'Black Panther' Went From Chart-Toppers To GRAMMY Nominations
The once-golden bridge between Hollywood and Billboard has been quiet in recent years, perhaps due in part to the pandemic. But over the past 12 months, that trend has been truly broken.
GRAMMYs
/
Jan 23, 2023 - 04:15 pm
It's the kind of development even an animated fortune teller voiced by John Leguizamo couldn't have predicted.
Lin-Manuel Miranda's 2021 animated film Encanto was all-conquering, and its success also touched the Billboard charts. The film's "We Don't Talk About Bruno" entered the first Hot 100 chart of 2022 at No. 50, quickly becoming a record-breaking, multi-million-selling phenomenon. It also led to the renaissance of a particular crossover: the soundtrack hit.
With the domestic box office now showing signs of returning to pre-COVID days, the soundtrack single has, once again, become a key marketing tool and chart staple. The nominees for Best Song Written For Visual Media at the 2023 GRAMMYs are proof: Four of the six nominated songs charted on the Billboard Hot 100, with "We Don't Talk About Bruno" sitting at No. 1 for five weeks — the highest tally for a soundtrack release in seven years. (Aladdin favorite "A Whole New World" is also in the exclusive club of Disney animation No. 1s.)
2022 spawned five Top 10  hits from film soundtracks — a feat last achieved in 2018 via Kendrick Lamar's Black Panther collabs with the Weeknd ("Pray for Me") and SZA ("All the Stars"), Swae Lee and Post Malone's "Sunflower" (Spiderman: Into the Spider-Verse), Khalid & Normani's "Love Lies" (Love, Simon), and the A Star Is Born cut "Shallow." Yet the once-golden bridge between Hollywood and Billboard was quiet in the intervening years, perhaps due in part to the pandemic.  Not one TV or movie tie-in graced the Top 10 in 2021 or 2020. And although Oscar-winning "Shallow" reached pole position in 2019, it began its chart trajectory the year previously.
Over the past 12 months, however, this drought has been well and truly broken. And for a while, single-handedly by Encanto.
The Encanto OST picked up three GRAMMY nominations — Best Compilation Soundtrack For Visual Media, Best Score Soundtrack For Visual Media and Best Song Written For Visual Media for "Bruno" — and spawned seven Hot 100 singles, including another Top 10 smash, "Surface Pressure." Not bad for an album which in its first week entered the charts at No. 197.
Unlike the inescapable "Let It Go" from 2013's Disney juggernaut Frozen, the success of "Bruno" happened more organically. Its chart and streaming dominance wasn't steered by record executives, but by the public who deemed it more stream-worthy than any other track from the film. The biggest soundtrack from a live-action film, Top Gun: Maverick, told a similar story.
Lady Gaga's power ballad "Hold My Hand" was primed to replicate the chart-topping, Academy Award-winning success of Berlin's "Take My Breath Away" from the 1986 original. But while Gaga's lead single received a Best Song Written For Visual Media nomination at the 65th GRAMMY Awards, its chart peak was overwhelmingly eclipsed by OneRepublic's "I Ain't Worried."
The uptempo Peter, Bjorn and John-sampling track played over key scene where Tom Cruise, Glen Powell and Miles Teller play football shirtless on the beach, and became Ryan Tedder and co.'s biggest hit since 2013's "Counting Stars" (No. 6 on Hot 100, over 660 million streams). The synergy between moviegoers and OneRepublic fans caught the band's record label off guard; Interscope pulled promotion of then-current single "West Coast" to capitalize on all the buzz.
2022 also witnessed a return-to-form from pop music-savvy director Baz Luhrmann, whose expert curation helped Romeo and Juliet, Moulin Rouge and The Great Gatsby spawn radio hits. Luhrmann was never going to give his Elvis Presley biopic a traditional soundtrack; instead he favored a mix of nostalgia and anachronism.
Elvis is peppered with songs performed by The King himself, as well as covers sung by former teen idol/lead actor Austin Butler and a host of newcomers and established artists. Yet the film's sole Top 10 hit was contemporary: Doja Cat's "Hound Dog"-sampling "Vegas." For Luhrmann's vision, Elvis was nominated alongside Encanto, "Stranger Things," Top Gun: Maverick and West Side Story for Best Compilation Soundtrack For Visual Media GRAMMY Award.
Even Rihanna came out of self-imposed musical retirement for a film soundtrack, releasing the lead single from Black Panther: Wakanda Forever in late October. While the dramatic balladry of "Lift Me Up" might not have been the floor-filling banger many fans hoped for — the song is Rihanna's first solo single in six years — it still returned the Barbadian to the upper echelons of the hit parade, reaching No. 2.
No stranger to the film soundtrack, Taylor Swift's contribution to haunting drama Where the Crawdads Sing, "Carolina," is also nominated in the Best Song Written for Visual Media category alongside "Nobody Like U" — Turning Red's fictional boyband song co-penned by Billie Eilish. And while the monolithic state of the comic book universe has rarely translated to the singles chart, The Batman's use of Nirvana's "Something In The Way" catapulted 1992's Nevermind up the charts.
As movie hits were abundant, so were songs featured in big-time TV shows — bringing new songs and decades-old hits back into public consciousness. Chief among these small screen-to-chartoppers was  Kate Bush's 1985 single "Running Up That Hill," which played over a significant moment in the mammoth fourth season of Netflix's "Stranger Things."
The song was the British singer/songwriter's first Top 40 hit in the U.S., peaking at No. 30 on the Hot 100 in the '80s. Nearly 30 years later, without any label backing, the majestic synth-pop classic enjoyed a much-deserved second wind, shooting all the way up to No. 3 faster than you can say "flesh-eating Demogorgon."
The sci-fi nostalgia-fest also gave another, although much heavier, '80s gem a new lease of life when Joseph Quinn's Eddie Munson shredded Metallica's "Master of Puppets" in its season finale. The thrash metal favorite subsequently enjoyed a belated chart debut at No. 35, returning the headbangers to the Hot 100 for the first time in 14 years.
Elsewhere, video game adaptation "Arcane" spawned the first TV theme hit in eons with unlikely dream team Imagine Dragons and JID's "Enemy," while "Euphoria" regular Labrinth scored a chart hit with "I'm Tired," a gospel-tinged song he performs in the second season's fourth episode as Zendaya's Rue imagines entering a church. The new golden age of television combined with the return to multiplexes ensured that 2022 was a banner year for the OST.
2023 looks promising, too: Dua Lipa is rumored to be contributing to Barbie's long-awaited cinematic debut; Disney is set to give The Little Mermaid the live-action treatment featuring Chloe x Halle's Halle Bailey; and several franchises that previously spawned No. 1 soundtrack songs have new installments on the way (The Hunger Games: The Ballad of Songbirds and Snakes, Fast X). Regardless, expect the soundtrack hit renaissance to continue growing like the "grapes that thrive on the vine."
Watch The 2022 Nominees For Best Song Written For Visual Media Nominees At The 2023 GRAMMY Awards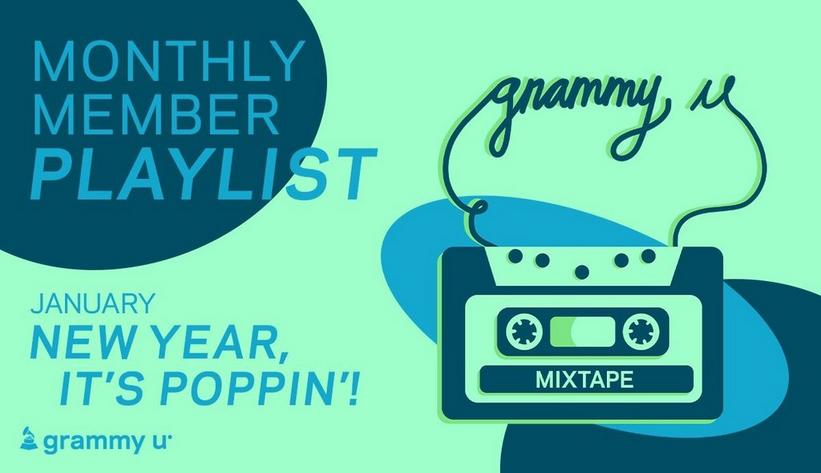 news
Press Play On GRAMMY U Mixtape: New Year, It's Poppin'! Monthly Member Playlist
The GRAMMY U Mixtape is a monthly, genre-spanning playlist to quench your thirst for new tunes, all from student members. GRAMMY U celebrates new beginnings with fresh pop tunes that will kickstart 2023.
GRAMMYs
/
Jan 6, 2023 - 12:17 am
Did you know that among all of the students in GRAMMY U, songwriting and performance is one of the most sought after fields of study? We want to create a space to hear what these students are creating today!
The GRAMMY U Mixtape, now available for your listening pleasure, highlights the creations and fresh ideas that students are bringing to this industry directly on the Recording Academy's Spotify and Apple Music pages. Our goal is to celebrate GRAMMY U members, as well as the time and effort they put into making original music — from the songwriting process to the final production of the track.
Each month, we accept submissions and feature 20 to 25 songs that match that month's theme. This month we're ringing in 2023 with our New Year, It's Poppin'! playlist, which features fresh pop songs that bring new year, new you vibes. Showcasing talented members from our various chapters, we felt these songs represented the positivity and hopefulness that GRAMMY U members embody as they tackle this upcoming year of exciting possibilities.
So, what's stopping you? Press play on GRAMMY U's Mixtape and listen now on Spotify below and Apple Music.
Want to be featured on the next playlist? Submit your songs today! We are currently accepting submissions for songs of all genres for consideration for our February playlist. Whether you write pop, rock, hip hop, jazz, or classical, we want to hear from you. Music must be written and/or produced by the student member (an original song) and you must be able to submit a Spotify and/or Apple Music link to the song. Students must be a GRAMMY U member to submit.
About GRAMMY U:
GRAMMY U is a program that connects college students with the industry's brightest and most talented minds and provides those aspiring professionals with the tools and opportunities necessary to start a career in music.     
Throughout each semester, events and special programs touch on all facets of the industry, including the business, technology, and the creative process.
As part of the Recording Academy's mission to ensure the recorded arts remain a thriving part of our shared cultural heritage, GRAMMY U establishes the necessary foundation for music's next generation to flourish.
Not a member, but want to submit to our playlist? Apply for GRAMMY U Membership here.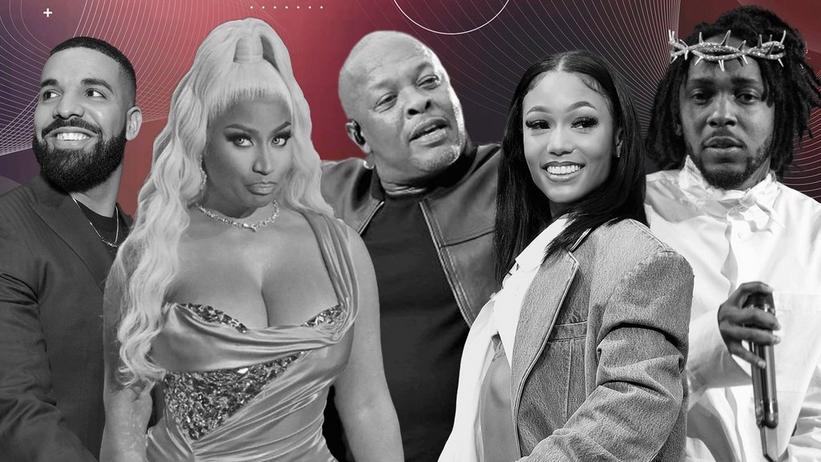 (From left) Drake, Nicki Minaj, Dr. Dre, Coi Leray, Kendrick Lamar
Photos: Emma McIntyre/BBMA2019/Getty Images for dcp; Doug Peters/PA Images via Getty Images; Kevin C. Cox/Getty Images; Paras Griffin/Getty Images for BET; Samir Hussein/WireImage
list
2022 In Review: 6 Trends That Defined Rap
This year has been one of transition, where old school came back as the genre's freshmen stood poised to take over. GRAMMY.com revisits six rap trends from 2022 that spawned from multiple generations of artists.
GRAMMYs
/
Dec 29, 2022 - 03:54 pm
In 2022, rap seemed to be slowly evolving into something new. It was a year when long-gestating regional and cultural trends reached a new fever pitch. Savvy listeners seemed more focused on the emerging voices who were breathing fresh life into the form, even though established stars continued to earn critical and commercial acclaim.
This trajectory resulted in the sense that the past year has been one of transition, and that 2023 will be an even better season where the genre's freshmen are poised to take over. Only time will tell, but while you wait for the first fire releases of the next year, revisit six rap trends from 2022 that spawned from multiple generations of artists.
Jersey Club Goes Beyond The Garden State
Every few years, the rap community rediscovers the pleasures of flowing over electronic beats. In 2022, the sound of the moment was Jersey club, a hybrid of house and bass music that fueled scene leaders such as Bandmanrill (who released his debut album Club Godfather), DJ/producer Uniiqu3, and Unicorn 151 aka Killa Kherk Cobain. Meanwhile, a parallel wave developed in Philadelphia with tracks like 2Rare's "Cupid" and Zahsosaa, D Sturdy and DJ Crazy's "Shake Dhat."
Jersey club inspired mainstream artists as well. Drake pulled from the sound on his dance-music opus Honestly, Nevermind, and collaborated with 2Rare on the hit single "Sticky." It also fueled club-ready remixes like Coi Leray's "Players (DJ Smallz 732's Jersey Club Remix)."
Women Unite For Posse Raps
Anyone who fondly remembers women-only ciphers such as Brandy's "I Wanna Be Down (Remix)" and Bahamadia's "Three the Hard Way" will delight at how the format is making a comeback.
For "Super Freaky Girl (Queen Mix)", Nicki Minaj gathered an all-roster that included JT from City Girls, BIA, Katie Got Bandz, Maliibu Miitch, and Akbar V. On "Shabooya," producer Hitkidd gave mic time to Memphis rappers Gloss Up, K-Carbon, Slimeroni, and Aleza. Meanwhile, ShantiiP collaborated with Kash Doll, Rubi Rose, and Dream Doll on her "Abow (Remix)." The nascent trend demonstrates how women have begun working collectively again — with or without the boys' help.
Rap's Nepo Babies Come Of Age
It's not unusual for children of famous rappers to follow their parents into the business. Past years have seen the emergence of scions such as Droop-E (son of E-40), Lil Tracy (son of Ishmael Butler of Digable Planets), Cory Gunz (son of Peter Gunz), and Jaden Smith (son of Will Smith). But 2022 may be the first year where a second-generation rapper arguably exceeded her father's mainstream appeal.
Coi Leray scored a Billboard top 40 hit ("Blick Blick" with Nicki Minaj) — a feat her estranged father Benzino never managed — while releasing her debut album, Trendsetter. King Combs hit number one on Billboard's Mainstream R&B Hip-Hop Airplay chart, surpassing famed father Sean "Diddy" Combs' latest single "Gotta Move On" in the process.
Back To The Old School 
When Mount Westmore's Snoop, Cube, 40, $hort hit the Billboard top 200 albums chart in early December, it was yet another sign that golden-era artists are issuing quality albums, albeit on a smaller scale than their career peaks.
Still, in an era when rap fans are all too aware of how middle-aged hip-hoppers seem especially prone to the ravages of time — rest in peace to DJ Kayslay, Coolio, and Don Newkirk — it was heartening to see musicians in their 50s continue to hone their craft. Examples include Chill Rob G of "The Power" fame, who dropped Empires Crumble on Chuck D's SpitSLAM label; KRS-One's IMAMCRU12, Diamond D's The Rearview, Daddy-O of Stetsasonic's First Team, Frukwan of Stetsasonic and Gravediggaz's Nightmare in B-Minor, and Tragedy Khadafi's Immortal Titans Vol. 2.  Meanwhile, Dr. Dre prefaced his triumphant showcase at Super Bowl LVI with his EP-length soundtrack for "Grand Theft Auto: The Contract."
As the genre moves into its fifth decade and beyond, here's hoping its pioneers continue to evolve along with it — without dying before they grow old.
Here Come The Big Steppers
"Big steppers" is an old-school phrase that means exactly what it says: someone whose sheer presence leaves an impact. In recent years, the phrase has percolated through rap songs by Youngboy Never Broke Again, Young M.A ("Big Steppa"), Roddy Ricch ("Big Stepper"), and Stunnaman02 & Quakebeatz ("Big Steppin'").
The term seemed to peak in usage in 2022, thanks to Kendrick Lamar, who used the phrase multiple times — including on "Worldwide Steppers." The track is both literal through the sound of tap dancers, and metaphorical in the sense of Lamar navigating the earth through the prism of his career. Meanwhile, deep album cuts like Rome Streetz' "Big Steppa" and Yo Gotti's CMG Crew ("Steppers") put a vintage spin on boasts of being the big men on rap's campus.
DJ Drama Connects With Everybody…Again
In 2022, DJ Drama was a one-man wave, reconnecting rap with its dirty South roots. The Philadelphia-raised, Atlanta-based DJ was one of the biggest names during the height of the mixtape boom in the mid-to-late aughts, hosting dozens of projects a year with soon-to-be famous acts like Young Jeezy (2004's Trap or Die) as well as established stars such as Lil Wayne (the Dedication series) and Pharrell Williams (2006's In My Mind: The Prequel) through his Gangsta Grillz and Aphilliates imprints.
While DJ Drama hasn't disappeared in the years since, 2022 may be the first to find Drama approaching the productivity of his most successful era. He helmed a critically acclaimed mixtape with Baton Rouge's Youngboy Never Broke Again (Ma' I Got a Family), helped promote rising stars like Oakland's Symba (Results Take Time) and Detroit's Icewear Vezzo (Paint the City), worked with New York rap star Dave East (Book of David), and scored a chart-topper with the Dreamville crew's D-Day: A Gangsta Grillz Mixtape. He even reunited with Jeezy for Snofall, a throwback to the latter's trap glory years. Working with artists from different regions and generations, Drama proved he still has plenty of genre-wide impact.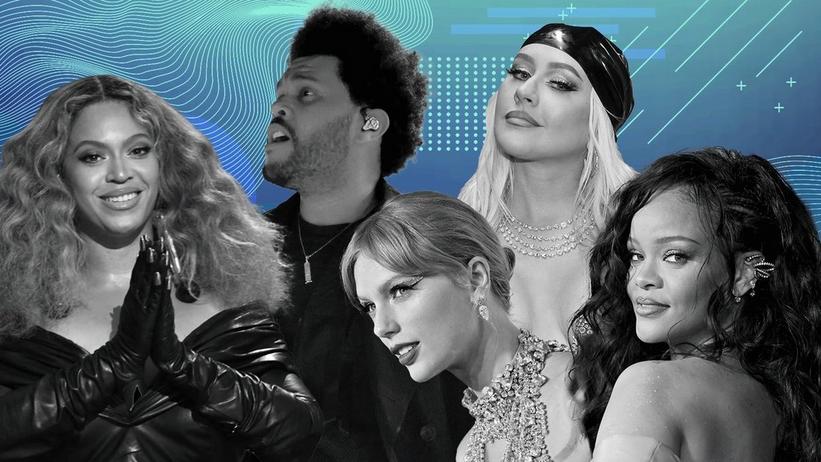 (L-R) Beyoncé, The Weekend, Taylor Swift, Christina Aguilera, Rihanna
Photo: (L-R) Kevin Winter/Getty Images for The Recording Academy, Frazer Harrison/Getty Images for Live Nation, Axelle/Bauer-Griffin/FilmMagic, Courtesy of Christina Aguilera, Axelle/Bauer-Griffin/FilmMagic
list
2022 In Review: 8 Trends That Defined Pop Music
Pop music continued to showcase its versatility this year, with newcomers and legendary mainstays alike shaking up the industry — which has led to major hits and even bigger cultural moments.
GRAMMYs
/
Dec 28, 2022 - 04:49 pm
If there's one word to describe this year in pop, it would be "unpredictable." Take fan favorites Beyoncé and Rihanna for starters: as fans began pondering when they'd hear new music again, both superstars made significant returns to their solo artistries, further elevating their statuses as elite pop divas.
Pop's unexpected nature is what makes it so beloved, especially in 2022 as artists showcased just how far their versatility can stretch. TikTok showed off its influence once again, with songs like Nicki Minaj's "Super Freaky Girl" birthing endless viral dance challenges. There was plenty of dancing outside of TikTok as well, as artists like Drake, The Weeknd and Beyoncé had everyone grooving under the disco ball. 
From pop stars unleashing their naughty sides to singles that transported us back to the '2000s and beyond, there were several major moments in pop music this year. Dive into eight of the genre's most dominant trends below.
Y2K Pop Divas Made Comebacks
Throughout 2022, the influence of late '90s and early '00s culture was reflected on fashion runways, TikTok and even a multitude of television reboots. So it was only natural that it also seeped into the music realm, with some of the era's biggest pop stars having a refreshing revival.
More than two decades after the release of her debut Spanish-language album Mi Reflejo, Christina Aguilera returned to her Latina roots (Aguilera's estranged father is an Ecuador native). The long wait was worth it, with the star sounding more confident than ever before as she celebrated her rich heritage. After starting this new era with the female empowerment anthem "Pa Mis Muchachas" (alongside fellow Latina artists Becky G, Nicki Nicole and Nathy Peluso), Aguilera continued to flex her versatility and vulnerability with songs like the impassioned Mexican ranchera "La Reina" and the somber "No Es Que Te Extrañe" that found the artist healing her childhood trauma.
Y2K pop sweetheart Mandy Moore, who returned after an 11-year music hiatus with 2020's Silver Landings, kept the momentum going with her seventh album In Real Life. The folk-inspired record showcased Moore's strength as a songwriter and new motherhood.
But arguably the most unexpected return came from Britney Spears. Following the official termination of her conservatorship last November, the pop star freed herself from a decade of restrictions. Spears found her way back to the studio for the first time since the release of 2016's Glory album, and joined fellow pop legend — and longtime supporter — Elton John for "Hold Me Closer." The song draws elements from John's classics like 1971's "Tiny Dancer," 1976's "Don't Go Breaking My Heart" and 1992's "The One," but adds a modern twist with shimmering dance melodies. "Hold Me Closer" debuted at No. 6 on the Billboard Hot 100, proving that Spears can still score a hit with ease.
R&B Artists Danced Under The Disco Ball
Pop has seen a disco revival seeping in over the last few years (even including the return of ABBA!), but what made this year so different is witnessing more R&B-leaning artists putting a fun spin on dance music as a whole.
Leading the charge was Beyoncé, who ignited a full-on dance party with her latest album (and first since 2016's Lemonade). After trying her hand at Afrobeats with 2019's soundtrack album, The Lion King: The Gift, Queen Bey transformed into Queen of the Dance Floor with 16 hip-shaking tunes whose influence call back to Studio 54 and Black ballroom heydays. The album is not only a tribute to her late Uncle Johnny (who she credits for introducing her to house music), but Black queer culture as a whole.
Nearly two years after 2020's After Hours, The Weeknd aptly kept the club open until sunrise with his fifth album, Dawn FM. Jam-packed with '80s elements from new wave to synth-pop, the record is an energetic joyride kookily narrated by comedian Jim Carrey.
While he's widely known as a rap superstar, Drake channels his R&B crooning alter-ego from time to time. His seventh album, Honestly, Nevermind, arrived as a surprise in June — and he was clearly ready to kick off summer with a party. The album found the artist at the center of the dance floor as he explored house music with bouncy songs like "Sticky" and "Massive." The experimentation paid off: the album became Drake's 11th Billboard 200 chart-topper.
Throwback Samples Were Inescapable
While sampling is more of a historical music staple than a trend, this year many artists had fun traveling back to the '70s, '90s and early '00s to add nostalgic doses into their hits. Beyoncé evoked the spirit of Donna Summer on "Summer Renaissance," which pulls from the disco queen's 1977 jam, "I Feel Love." Elsewhere, Charli XCX lifted the Stonebridge Mix of Robin S.'s 1992 "Show Me Love" for her own dance floor hit, "Used To Know Me," while NYC-based EDM duo Sofi Tukker sampled Suzanne Vega's "Tom's Diner" for their infectious tune "Summer In New York."
Throwbacks were perhaps most predominant within mainstream rap hits. Tyga's "Sunshine," a collaboration with Jhené Aiko and the late Pop Smoke, samples Lil Flip's 2004 hit of the same name, while Jack Harlow used Fergie's 2006 No. 1 smash "Glamorous" to create his own hit. Rap newcomers Armani White and Central Cee also traveled to the early '00s, with the former's N.O.R.E. sample heard throughout his debut single, "Billie Eilish" and the latter using Eve and Gwen Stefani's "Let Me Blow Ya Mind" for "Doja."
Nicki Minaj and Yung Gravy took us back to the '80s, as Minaj flipped Rick James' 1981 single "Super Freak" into "Super Freaky Girl, and Yung Gravy's viral "Betty (Get Money)" was based on Rick Astley's 1987 hit "Never Gonna Give You Up."
Artists Tapped Into Their Edgy Sides
Pop music can surely be wholesome, so it's always fun when artists try their hands at edgier sounds. Sam Smith has long proven they can do more than a heartfelt ballad, and their TikTok anthem with Slut Pop star Kim Petras found the pair at their naughtiest.
Dove Cameron shed her Disney Channel beginnings with February's "Boyfriend" single, which celebrated her queer identity with dark, spine-tingling production. She raised the intensity levels with August's "Breakfast," which flipped gender politics on its head.
Maggie Lindemann also traded pure pop for pop-punk for her debut album, ​​Suckerpunch. Continuing the Gen Z angst that rattled 2021, Lindemann unapologetically rebels against the music she was previously associated with thanks to singles like the nostalgic "Cages" and the incredibly flirtatious "She Knows It."
Even Taylor Swift got in on the fun. The singer, who previously showcased her edgy side with 2017's reputation, further leaned into that style with her hazy tenth album, Midnights. A complete left turn from 2020's folk-inspired LPs, folklore and evermore, Midnights captured the restlessness, revenge fantasies, self-criticism, and curiosity that come with what she detailed as "13 sleepless nights scattered throughout my life."
Black Pop Divas Made Long-Awaited Returns
After Rihanna and Beyoncé officiated their pop icon statuses with 2015's Anti and 2016's Lemonade, respectively, the two opted to take mini hiatuses from solo music. Beyoncé steadily remained in the music sphere, hopping on several collaborations including a remix of Megan Thee Stallion's 2021 hit "Savage." The song scored GRAMMY Awards for Best Rap Song and Best Rap Performance, the latter of which helped crown Beyoncé as the artist with the most wins in GRAMMY history with 28. (She followed up the achievement by recording "Be Alive" for the King Richard soundtrack, which earned Oscar and Golden Globe nominations for Best Original Song.)
But Beyoncé focused the spotlight back on herself with her seventh studio album. The July release was a pop culture phenomenon, weaving itself into casual conversations, memes, TikTok dance challenges and more. The album is a celebration of not only Beyoncé's career, but Black influence on dance music as a whole.
Rihanna was more quiet following Anti — only appearing on a few collaborations here and there, including Calvin Harris' "This Is What You Came For," DJ Khaled's "Wild Thoughts" with Bryson Tiller and Kendrick Lamar's GRAMMY-winning "Loyalty" — to focus on building her Fenty beauty and lingerie empire. But fans never stopped craving new music from the star herself, and their prayers were finally answered in September in major fashion: The superstar announced in September that she'll headline the Super Bowl LVII halftime show, which will mark her first live showing in over five years.
Rihanna quickly kept the excitement going with two appearances on October's Black Panther: Wakanda Forever soundtrack, "Lift Me Up" and "Born Again" — her first solo music in more than six years.
Rap's TikTok Takeover Was Still In Effect
Rap was one of the biggest genres on TikTok last year, and the trend remained strong in 2022. The dominance was seen through dance challenges and viral memes, with Lil Uzi Vert's infectious Jersey club smash "I Just Wanna Rock" creating an explosive wave that culminated in a dance-heavy music video.
Drake and 21 Savage's "Rich Flex," a highlight from their collaboration album, Her Loss, was transformed into a silly tongue-in-cheek meme. Brooklyn rap newcomer Lola Brooke had TikTokers  feeling confident as ever as they used "Don't Play With It" to soundtrack their selfie videos. Even Lil Wayne and Soulja Boy's nostalgic jams had a resurgence, with 2008's "Lollipop" and 2018's "Pretty Boy Swag" spawning their own TikTok trends.
Ed Sheeran Was Pop's Big Brother
Despite being one of the biggest pop stars in the world, Ed Sheeran has maintained the humble spirit that made him so beloved. The British singer/songwriter has always shown a love for collaboration, even releasing a guest-filled project in 2019. But in 2022, Sheeran put collaborations into overdrive.
Sheeran kicked things off by teaming up with his old pal Taylor Swift on a duet version of his = track, "The Joker and the Queen." In March, he dropped not one but two singles with Colombian star J Balvin, "Sigue" and "Forever My Love," where Sheeran traded his guitar for a reggaeton bassline.
The singer then traveled across genres — and the globe — pairing with Jamaican dancehall singer Ishawna (who previously sampled 2017's "Shape of You" on her single "Equal Rights") for "Brace It" and guesting on Nigerian hitmaker Burna Boy's love song "For My Hand." Not forgetting his own roots, Sheeran also showcased his admiration for local British hip-hop with appearances on Manchester rapper Aitch's "My G" and rap collective D-Block Europe's "Lonely Lovers."
Bands Proved Rock & Roll Is Here To Stay
"Rock 'n' roll is dead" has been an ongoing debate ever since hip-hop became the industry's most dominant genre in 2017. Even so, rock acts continued to spotlight the historic genre this year, and helped it endure in arguably the biggest way it has in years.
After a five-year hiatus, Paramore thrilled fans with the announcement of their sixth album, This Is Why. Set for a February 2023 release, the new album era kicked off with the funky eponymous lead single in September.
Rock mainstays Red Hot Chili Peppers satiated genre diehards by dropping two albums within six months in 2022: April's Unlimited Love and October's Return of the Dream Canteen.
On the more alternative side, Arctic Monkeys re-emerged with a vintage focus for October's The Car, which drew from baroque pop, funk, early '70s rock and classic film scores. And after a brief pandemic-induced postponement following 2020's Notes on a Conditional Form, The 1975 returned with their fifth album, Being Funny in a Foreign Language. Singles like "Part of the Band," "Happiness" and "I'm in Love with You" found the band in a lighthearted, '80s dance-pop-inspired spirit.
After a year filled with viral moments and comebacks, there's no doubt that artists will continue to keep pop unpredictable in 2023.
5 Essential Power Pop Albums From 2022: Dazy, Young Guv, The Beths & More