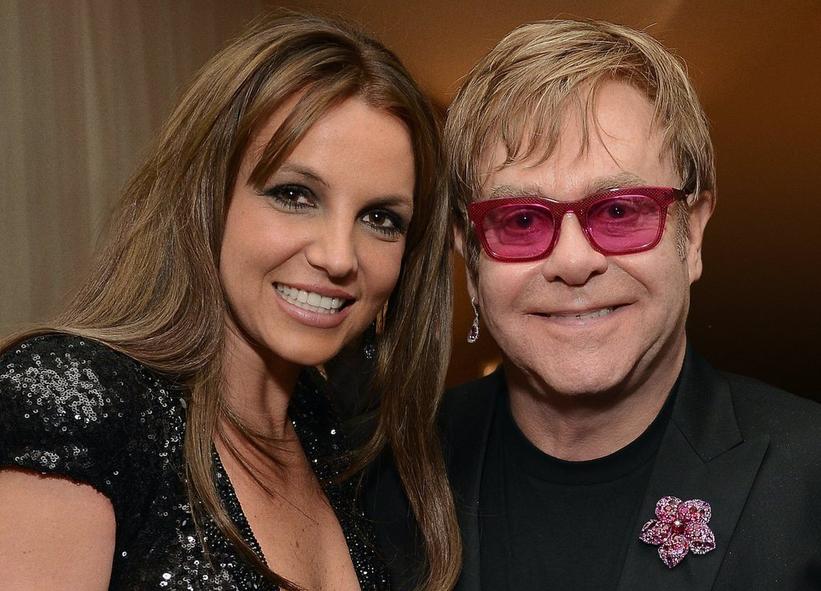 Britney Spears and Elton John at the 21st Annual Elton John AIDS Foundation Academy Awards Viewing Party in 2013.
Photo: Michael Kovac/Getty Images For EJAF
list
How Many GRAMMYs Has Britney Spears Won? 10 Questions About The "Hold Me Closer" Singer Answered
As Britney Spears' and Elton John's "Hold Me Closer" continues to hit dance floors around the world, GRAMMY.com answers the most popular questions about the pop star.
GRAMMYs
/
Aug 29, 2022 - 08:00 pm
The past year has given Britney Spears fans several reasons to celebrate. November 2021 marked the end of her nearly 14-year conservatorship with her father, Jamie, and now, Spears has released her first song in six years.
Elton John recruited Spears for his new single, "Hold Me Closer," a club-ready interpolation of his 1972 hit "Tiny Dancer." Though Spears' contribution is mostly vocal harmonies, it's a meaningful moment for the singer and her devoted fans.
"I'm so excited to be able to do it with her because if it is a big hit, and I think it may be, it will give her so much more confidence than she's got already and she will realize that people actually love her and care for her and want her to be happy," John said in an interview with The Guardian. "That's all anybody in their right mind would want after she went through such a traumatic time."
Naturally, Spears' reentry to the music world has caused a frenzy of headlines and buzz. But even when she hasn't been making music, Spears' life and career have been of public interest since she burst onto the scene in 1998. 
As "Hold Me Closer" finds its way to speakers and headphones around the world, GRAMMY.com answers some of the questions that Spears' fans want to know most about her start, her discography and much more.
How Did Britney Spears Get Her Start?
After unsuccessfully auditioning three years earlier, Spears' big break came when she landed a role as a cast member on Disney Channel's The Mickey Mouse Club in 1993. Her co-stars on the variety show included Ryan Gosling, Christina Aguilera, Justin Timberlake and JC Chasez.
"It was probably one of the most special times in my life, The Mickey Mouse Club," Spears told Entertainment Tonight in 2018.
Her time on The Mickey Mouse Club led to a recording contract with Jive Records in 1997 at age 15. She subsequently released her first seven albums with Jive before moving to RCA in 2013.
How Many Kids Does Britney Spears Have?
Britney Spears has two children with her ex-husband Kevin Federline: Sean Preston (born in September 2005) and Jayden James (born in 2006). Spears divorce with Federline was finalized in 2007; she recently married her third husband, Sam Asghari, in June.
How Many GRAMMYs Has Britney Spears Won?
To date, Britney Spears has won one GRAMMY and has received eight GRAMMY nominations overall. She took home the award for Best Dance Recording in 2005 for "Toxic." Spears' other nominations include Best New Artist (2000), Pop Vocal Album (2001 and 2003), Dance Recording (2010) and Female Pop Vocal Performance (2000, 2001 and 2003).
Does Britney Spears Have New Music?
In August, Spears released "Hold Me Closer," a duet with Elton John that utilizes elements of his 1971 classic "Tiny Dancer." The song is Spears' first new recording since her 2016 album Glory. (Three singles were released in 2020 — "Mood Ring," "Swimming in the Stars," and the Backstreet Boys collab "Matches" — but were considered part of a re-issue of Glory.) 
As of press time, she has not announced plans to release any more new music.
Who Has Britney Spears Collaborated With?
Along with Elton John, Spears has collaborated with stars including Madonna, Rihanna, G-Eazy, Tinashe, will.i.am, Pharrell Williams, Backstreet Boys, T.I., Giorgio Moroder, Miley Cyrus, Iggy Azalea, Nicki Minaj and Kesha.
Who Are Britney Spears' Influences?
Spears has often cited '80s superstars such as Madonna, Janet Jackson, Whitney Houston, Michael Jackson and even her latest collaborator Elton John as chief influences.
"She asked me who my favorite artists were — Prince — and I asked her who hers was. She said Elton John," Andrew Watt, who co-produced "Hold Me Closer," told The Guardian. "The song meant so much to her, and you can hear it in her vocal performance. She's singing her ass off."
How Many Albums Has Britney Spears Released?
As of August 2022, Britney Spears has released nine albums: …Baby One More Time (1999), Oops!… I Did It Again (2000), Britney (2001), In the Zone (2003), Blackout (2007), Circus (2008), Femme Fatale (2011), Britney Jean (2013) and Glory (2016). Her discography also includes nine box sets, eight compilations and three EPs.
How Long Did Britney Spears Perform In Las Vegas?
Spears performed a successful series of concerts at Planet Hollywood in Las Vegas from 2013 to 2017, earning a reported $137.7 million for 248 shows. Unfortunately, it may not have been an altogether pleasant run for the star: In 2019, Spears told the court that she was forced by her father and the conservatorship to perform against her will.
What Is Britney Spears' Biggest Hit?
Spears' biggest hit is still "...Baby One More Time," her debut single. Released in 1998, "...Baby One More Time" spent two weeks at No. 1 on the Billboard Hot 100. According to the RIAA, the song was certified Platinum in January 1999.
Spears has since appeared on four additional No. 1 Hot 100 hits: "Womanizer" (2008), "3" (2009), Rihanna's "S&M" (2010) and "Hold It Against Me" (2011). Surprisingly, "Toxic" peaked at No. 9 on the chart — despite being her most-streamed song on Spotify and her second most-watched video on YouTube.
Why Do People Say Free Britney?
In 2008, after being hospitalized twice for involuntary psychiatric evaluations stemming from concerns about her mental health and possible substance use, Spears was placed under a conservatorship helmed by her father, Jamie Spears. For the next 13 (nearly 14) years, Spears was unable to make decisions about her nearly $60 million dollar fortune or any personal or professional matters in her life.
As Spears became more vocal about finding the conservatorship under her father to be abusive and wanting it to end, the phrase "Free Britney" began as a social media hashtag in 2020. The phrase sprouted a movement that grew to include in-person demonstrations at the Los Angeles County courthouse, where Spears had hearings to terminate the conservatorship. Framing Britney Spears, a 2021 New York Times documentary, examined the goals of "Free Britney" as a force for change.
In November 2021, a judge ruled that Spears is now free from her conservatorship. And on August 28, Spears posted a 22-minute audio clip to the GlitterBritney channel on YouTube discussing how she felt abused in the conservatorship.
"I'm here honestly just to open myself to others and try to shed a light on, if anyone out there has ever gone through hardships or whatever it is, just to put a light on it so that person doesn't feel alone, because I really know what that feels like," she said.
Though she hasn't teased any more new music just yet, this next chapter will be huge for both Spears and her fans. As her lawyer Mathew Rosengart said in a press conference after her conservatorship was terminated, "What's next for Britney, and this is the first time this could be said for about a decade, is up to one person: Britney."
Everything We Know About Taylor Swift's New Album 'Midnights'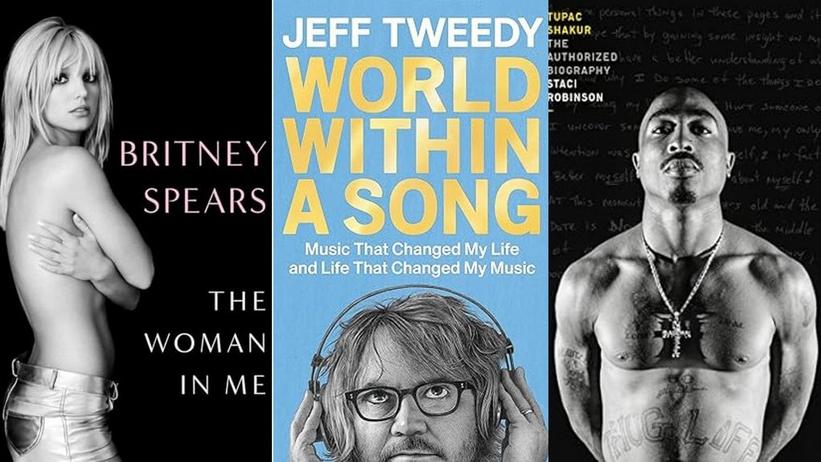 Britney Spears - ' The Woman In Me,' Jeff Tweedy - 'World Within A Song' and 'Tupac Shakur The Authorized Biography' by Staci Robinson
list
8 Music Books To Read This Fall/Winter: Britney Spears' Memoir, Paul McCartney's Lyrics & More
As 2023 nears its end and the holidays approach, add these books to your reading list. Memoirs from Dolly Parton and Sly Stone, as well as histories of titans such as Ella Fitzgerald are sure to add music to the latter half of the year.
GRAMMYs
/
Nov 24, 2023 - 03:58 pm
If you're a music fan looking to restock your library with some new reads, you're in luck. With the second half of the year comes a dearth of new music books recounting the life and times of some of the most celebrated artists in the history of the artform are hitting shelves. 
From Britney Spears' much talked-about memoir that tackles the tabloid tumult of her life and Barbra Streisand's highly anticipated autobiography (which clocks in at nearly 1,000 pages), to tomes that recount the lives of Tupac Shakur and Dolly Parton, it's time to get reading. Read on for some of the best music-related new and upcoming books to add to your collection. 
By Britney Spears
One of the most highly anticipated books of the year, Spears' memoir has been a blockbuster in the weeks since its release. When it was announced that the singer was writing a book, fans and observers braced themselves for what she would reveal when it comes to her tumultuous life and career. The result is a no-holds-barred look at how an innocent girl from Louisiana became swept up in the tsunami of fame, as well as the resulting wake. 
The Woman in Me details Spears' halcyon younger years as part of the "New Mickey Mouse Club," her explosive career, the blossoming and collapse of her relationship with Justin Timberlake, and the punishing conservatorship concocted by her father. Spears doesn't hold back, but also shouts out the figures who provided solace and kindness: Madonna, Elton John, Mariah Carey, and former Jive Records president Clive Calder. The Woman In Me proves to be an unflinching, eye-opening look at the swirling tornado of music, fame, love and family, for better or for worse. 
By Barbra Streisand
Since her early '60s breakout to her current status as a bona fide living legend, Barbra Streisand has lived a lot of life. Streisand's 992-page tome breaks down her humble beginnings growing up in Williamsburg, Brooklyn and her subsequent stratospheric life during which she received a whopping 46 GRAMMY nominations and released many timeless songs. Along the way, she also became the first female in the history of moviemaking to write, produce, direct and star in a major motion picture (Yentl). 
It's all a long time coming, considering Jackie Onassis first approached Streisand to chronicle her triumphant life in 1984 (at the time, the former first lady was editor of Doubleday and Streisand was a mere 20 years into her iconic career). "Frankly, I thought at 42 I was too young, with much more work still to come," Striesand recently told Vanity Fair. It's an understatement considering all that's happened since.
By Paul McCartney
One of the most celebrated artists of all time, McCartney's genius songwriting is on full, glimmering display in THE LYRICS. Newly released in a one volume paperback edition, the book puts the Beatles' way with words front and center while offering popcorn-worthy backstory. 
Originally published to acclaim in 2021, the updated version includes additional material and insight from Macca himself on the creation of some of the most indelible hits in music history, including the 1965 Beatles hit "Daytripper." 
"The riff became one of our most well-known and you still often hear it played when you walk into guitar shops," wrote McCartney of the track. "It's one of those songs that revolves around the riff. Some songs are hung onto a chord progression. Others, like this, are driven by the riff." 
By Dolly Parton 
"It costs a lot of money to look this cheap!" So says luminary Dolly Parton, in a self-deprecating and witty and also patently untrue famous turn of phrase. While Parton's life story has been recounted numerous times on the page and on screen, Behind the Seams zeros in on not just her trials and tribulations, but her unmistakable style. 
Packed with nearly 500 photographs, the book traces Parton's looks from the sacks she used to dress in as a child in poverty to the flamboyant visuals associated with her stardom. "I've been at this so long, I've worn some of the most bizarre things," Parton recently told the Guardian. "My hairdos have always been so out there. At the time you think you look good, then you look back on it, like, what was I thinking?"
By Sly Stone
The 80-year-old reclusive frontman of Sly and the Family Stone has certainly lived a lot of life. From his early days as part of the gospel vocal group the Stewart Four, Stone and his family band later became fixtures of the charts from the late '60s into the mid-'70s; a journey traced in the new book Thank You (Falettinme Be Mice Elf Agin), named after their 1969 song of the same name.  
Known for funky, soulful and earworm signature hits including "Dance to the Music" and "Everyday People," the band won over the hearts of America, influencing legions of fans (including Herbie Hanckock and Miles Davis) and gaining a few enemies (the Black Panther Party). The book chronicles those ups and downs (including drug abuse), tracking Stone up to the modern era, which includes receiving the Recording Academy's Lifetime Achievement Special Merit Award in 2017. 
By Judith Tick
Ella Fitzgerald is one of America's most iconic voices and the full breadth of her story will be told in the first major biography since her death in 1996. Known as the First Lady of Song, the 13-time GRAMMY winner is known for her swingin' standards, sultry ballads, scat and everything in between.
Out Nov. 21, the vocalist's historic career is recounted by musicologist Judith Tick, who reflects on her legend using new research, fresh interviews and rare recordings. The result is a portrait of an undeniable talent and the obstacles she was up against, from her early days at the Apollo Theater to her passionate zeal for recording and performing up until her later years. 
"Ella was two people," her longtime drummer Gregg Field told GRAMMY.com in 2020. "She was very humble, very shy and generous. But when she walked on stage she was hardcore and didn't know how to sing unless it was coming from her heart."
By Jeff Tweedy
Aside from his extensive discography with Wilco and beyond, Jeff Tweedy is the author of three books: his memoir  Let's Go (So We Can Get Back), a meditation on creativity called How to Write One Song, and his latest, World Within a Song. The latter expertly examines a variety of songs by a disparate spate of artists, from Rosalía to Billie Eilish with Tweedy's singular take on what makes each song stand out along with what he dubs "Rememories," short blurbs that recount moments from his own life and times. 
Much like his songwriting prowess, it's a book where Tweedy's way with words shine with shimmering eloquence. "My experience of my own emotions is that they all interact," Tweedy told GRAMMY.com last year. "They aren't individual, isolated things that you experience one at a time, and I think that's a really beautiful thing about being alive."
By Staci Robinson
One of the giants of hip-hop finally gets his due with an official recounting of his life and times. Here his legend is told by the authoritative Staci Robinson, an expert on the star who previously wrote Tupac Remembered: Bearing Witness to a Life and Legacy and served as executive producer of the FX documentary series "Dear Mama: The Saga of Afeni and Tupac Shakur."
Here, Robinson reflects on Tupac's legacy from a modern perspective, and tracks the history of race in America alongside the rapper's life and times, from the turbulent '60s to the Rodney King riots. Along the way are the stories behind the songs including "Brenda's Got a Baby." 
"In between shots (of filming the movie Juice) I wrote it," Shakur is quoted saying in Robinson's book. "I was crying too. That's how I knew everybody else would cry, 'cause I was crying.'" 
10 Music Books To Dig Into This Summer: A Kate Bush Bio, A First-Hand Account Of The Grunge Scene & Feminist Punk Histories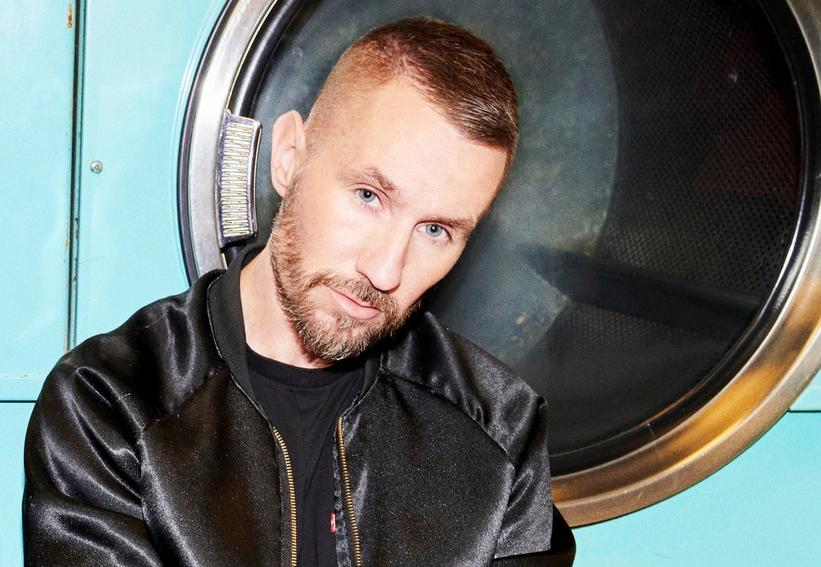 interview
Inside Christian Karlsson's Musical Genius: How Punk Rock, Britney Spears & Doing "Crazy S—" Built The Swedish Producer's Legacy
As he prepares Galantis' latest release, "Dreamteam," superproducer Christian Karlsson details the most monumental parts of his career thus far — from penning major pop hits to headlining EDM's biggest stages.
GRAMMYs
/
Oct 24, 2023 - 06:00 pm
What do Galantis, Miike Snow, Sky Ferreira and Britney Spears' "Toxic" all have in common?
Christian Karlsson, the Swedish DJ and songwriter who spent the last 30-odd years becoming one of the most influential and untamed voices in modern music. 
Since his early days as a skateboarder-turned-rapper and punk rocker-turned-beatmaker, Karlsson has quietly stacked up top-tier credits and international awards, launching project after successful project. Yet, he's never explicitly made himself the center of attention. 
You may have heard of him as Bloodshy, one-half of the storied pop production duo Bloodshy & Avant, under which moniker he's worked with major artists from Christina Milian to Kylie Minogue, Madonna, Jennifer Lopez and more. Or perhaps you recognize him from the eclectic dance act Galantis. But you've never quite heard his full professional story — until now.
On Galantis' latest string of singles — the newest of which, "Dreamteam" featuring Neon Trees, will arrive on Oct. 27 — Karlsson opens up about his personal struggles with ADHD and gets back in touch with his rebellious music roots. After jumping from project to project, he's ready to connect the dots of his musical past into one sonic story. 
Below, Karlsson details the biggest milestones of his remarkable journey so far, from starting in punk rock to the latest chapter of Galantis.
Finding His Voice
It was punk rock and skateboarding that got me into music; the subculture of being political and against everything.
That expression is the most important part for me, and it will always be. I have a professional side, of course, but the seed that started it all was being in the punk rock and skateboard scene, and that will never go away. Every time I need inspiration, I take inspiration from subculture, hip-hop or anything inspiring to me. I think I'm too old today to understand what's going on with new subcultures, but I really hope that it's growing and that it's always there for young people. I think that's very important.
I started writing songs with a really bad acoustic guitar, learning three chords to write punk rock. My biggest wish in life was to get an electric, and once I did, I started a punk rock band when I was 14. 
I loved melodies from the start. I did like a lot of other punk rock too, but I was drawn to really cool, melodic punk rock. That's where it started. It's a good genre to start with, because it's easy.
Beat-Making A Name For Himself
[I became interested in making beats] when hip-hop came into skateboarding through House of Pain and Cypress Hill. I collected vinyl. I had Public Enemy and EPMD. I was already a fan of hip-hop, but when punk rock and hip-hop met, that was really interesting to me. 
All of a sudden, I really want a drum machine. That was my first step into production, learning an MPC 60 and starting to program. I was one of the first signed rappers in Sweden when I was 15. I did two albums and opened up for the Fugees in all of Europe. Jay-Z asked me to do a remix for "Hard Knock Life." 
In that way, I started as an artist. Producing for others was never anything that I planned. It wasn't that I wanted to be on stage. I just wanted to create music, and I didn't realize there were other people behind artists producing the songs. It's not like the punk rock bands I was listening to had a producer. That [understanding] came from hip-hop.
When I was 22, Quincy Jones invited me over to the U.S. the first time. I hardly spoke English. I worked with him on a lot of projects, actually. That's when I introduced that I actually know melodies, that I'm not only a beatmaker. I had a lot of great ideas for melody, and the melodies started to become a very important tool for me, as well as making something really fresh and somewhat left-field.
Finding The Formula
Bloodshy was my rap name. I had a group called Gold Mine where I was a producer, rapper and founder. Pontus [Winnberg] was the keyboard player in the live band. That's when we got to know each other, and then we split paths. I moved to Stockholm, and he was in Gothenburg. 
Later on, when I made that remix for Jay-Z and a bunch of other things, I invited Pontus to come and try making music with me. I was like "I went away a little bit from the hip-hop stuff. I'm trying to make beats for other people." Christina Milian was one of the first ones that was big for me, and Pontus came when I was doing that. That's the first time we worked together on something. 
Milian wasn't really signed or anything. It was more of an artist development thing Def Jam was doing. Instantly, I wanted to work with her. I believed in her, and we did a lot of songs together. That was the first really big project I took on as a serious production role.
Breaking The Charts…
After Christina Milian, I was working with a lot of artists and just writing so many ideas every day. I now understand that I was never the perfect producer because I never hit the mark of anything an artist was aiming for. I always hit a completely different place. I just need to go where I want to go, and if someone wants to tag along, that's amazing, but I'm not really the producer to say, "Can you do something like this?" I'm like, "No, I'm gonna do something else."
I actually wrote "Toxic" for Kylie Minogue. I think the A&R was on vacation or something, because they never got back to me. Then, I was working with another artist, Samantha Mumba, in L.A. The A&R for Britney was working across the hall and really wanted to meet me. I played him "Toxic." I didn't even play the whole thing. He came back like, "I want you to work with Britney, and I really liked the song you played," and it turned around really quickly. 
I had a very tough choice to make, because Janet Jackson flew me over to London, and she wanted to work with me at the time, too. I had to choose. That was a very tough decision for me, because I was a huge fan of Janet. But I felt like, with Britney, I had someone that could follow where I wanted to go and do some crazy stuff. Maybe I'm completely wrong, but Janet was really strong. She knew what she wanted to do and was telling you. I was super into it, but I felt like, if I'm going to do my crazy s—, maybe Britney's project was better fit for me.
From then on, me and Pontus were with Britney all the time, from being with her on the tour bus to different studios in different cities. She trusted us, which was great. We felt like we had freedom, and we had a great relationship with whoever she was working with at the time. I really liked working on [Spears' 2007 album] Blackout. We wrote so many great songs, and we really took the freedom and just went with it.
…And Breaking The Mold
Miike Snow started as me and Pontus being really fed up with Top 40 music. Everyone was just asking us to make another "Toxic" or whatever it was, and we decided not to work on other artists anymore. We didn't answer any emails or calls or anything like, Let's just do our own thing. 
We met Andrew Wyatt in a studio in New York. We really clicked with him and instantly started working on music together. Our plan was to release it on MySpace, and that was it, just follow the freedom. "Hey, if the song is eight minutes, it's f—ing eight minutes!" 
I'm really proud of the decision, and Miike Snow just grew. Probably the first 100 shows were tiny venues, like 100 people, and we're the opening act, traveling in a van, carrying all the gear and building our stage stuff. People are like, "You're a big producer, why are you doing this?" I was like, "I f—ing love doing this!" 
Miike Snow organically grew and started getting a lot of love and support from other musicians and creators. That was what we wanted. It was actually exactly the right love because someone was giving us love for the crazy s— that we liked to make. Then we started to play bigger festivals and tour like crazy.
Me and Pontus had been looking at the dance scene for a long time. You can hear that in our productions. There's a lot of electronic music and dance music in it, and we had it in Miike Snow. Then we started to DJ the parties after Miike Snow shows. 
I started to love DJing, and we got really tight with Sebastian Ingrosso and Steve Angello — before they were Swedish House Mafia. They were huge fans of Miike Snow and the song "Sylvia," and we took a peek into their world. I was with them in Ibiza like, Oh my god, this is crazy. That sparked something in me that kept on going until, eventually, the Miike Snow DJ sets I was playing became so disconnected from Miike Snow that I had to start a new thing. Indie dance could only take me that far into the night, right? I needed to be a little bit more clubby. And I just needed a vehicle for that.
Nurturing New Talent
I [met Sky Ferreira] when she was 13. She DMed me on MySpace, and I was blown away. This was the cockiest 13-year-old girl I'd ever spoken to. She keeps on saying she's the best at everything. I showed Pontus like, "There's something about this girl. She's so confident, and everything she's saying, I'm buying." 
She was cool in the club space. Sky is gonna hate me saying this, but I was like Maybe she's a new Uffie. Uffie was, like, blowing up at the time, and I worked with Uffie later in my career because I was a huge fan. Anyway, I'm like "maybe she's like Uffie" because she was in the headspace of dance music and indie, that Ed Banger [Records] world that Uffie was in. Then Sky sent me [a clip of] her singing. I'm like, "You gotta be kidding."
I dove right in and started to create a sound working with her, inviting people that I thought would be good for the project.
Starting Galantis
I took a break from touring with Miike Snow after 600 shows or something. I felt like I was a little bit cornered, like how I felt when I started Miike Snow to get away from Top 40. I felt pinned down in this touring thing, and I needed quicker output. 
Linus [Eklöw] was a good friend of mine, who remixed "Animal" by Miike Snow and my first Sky Ferreira song, "One." We started to talk, and I said "I'm going to start my own thing. We should work together," and that's how Galantis started.
I knew I had something when DJs started coming out with pop songs. It wasn't just techno DJs like Richie Hawtin anymore. That's when I felt like, This is what I do. I write songs and DJ. These guys were great, but I've been doing this way longer, so if you want a songwriter that can DJ, I'm like, "Alright, let me show you how." I just wanted to throw all my s— out the door as quickly as possible, because I knew if the world was ready, then this would be amazing.
Galantis was so important to me. I struggle with ADHD, and that's why I call the first album Pharmacy because I needed to go back into the studio and make so much music. I just wanted to feel good again about creating, because I wasn't creating as much on tour. This is my medication, and then I also wanted something that was an "upper," something that was happy and leaned the way I wanted to feel. 
I said to myself and Linus, "I only want happy, cool-feeling dance music, but I don't want to be cheesy." There is a line. When you think about Motown, it's all cool, but it's also happy vibes. Why can't we try to get that into dance music? Cool, but happy, warm and inspiring without being cheesy. That's what I was going for, anyway.
I think "Peanut Butter Jelly" is the most like that. Now, people are gonna read this and be like, "Well, that's cheesy," and I'm gonna say, "No, it's not!"
Getting Personal
I'm chasing freedom all the time in my music. Miike Snow is so much freedom, but I'm writing the songs with Pontus and Andrew, so it's not the complete freedom I get in Galantis. Now, I can pick any vocal and work with anyone, and dance music was the way I wanted to express myself because I was so into DJing. 
I wrote [Galantis'] "Bang Bang" because I've never told anyone really about my ADHD, and I just wanted it out there. Recently, I've come into different communities, and hearing about ADHD from other people has helped me a lot. That's what I want to do with the song, give something back and tell my story.
"Koala" definitely hits very close to home in terms of just doing my own thing wherever it goes and not being scared of going there. This is something that doesn't sound like anything else I know. It's a weird one, but I love it. 
I wrote it with a very good friend of mine, Andrew Bullimore aka Beatbullyz's, who I wrote "No Money" with. His son is singing "No Money." He was 10 at the time. And I was back with Bully and writing, and he had an idea where his now two sons could sing a song to his newborn daughter. The mom is from Australia, and his sons call her Koala. So Bully's two sons are singing to their little sister about Koala.
He sent me a little snippet singing it with his boys. I had, like, five studio sessions going, and I threw everything away, just skipped everything and worked on this. That's how much I felt like, I just want to go where this is taking me. That's what inspires me every day, coming back to freedom. I just did it because I felt like I wanted to do that, and now I'm really happy that we're putting it out.
The third recent single is "Dream Team." That's a very collaborative record with some people that I'm working with more and more. The idea was sent to me, and I was drawn to that little bit of something punk rock. I heard so many different pieces of music in one song that I felt very inspired to work on it. 
If "Koala" was like, Zoom, here it is;  this is the other type — when you're drawn to it, you like it, and then you have to keep on working on it. At times, I wanted to give up so badly, but there's something in me that won't ever give up on that challenge; some type of pressure I put on myself. This is a collaborative record with other people, and we're sending it back and forth. Snippets were changing, but it was a cool journey, and sometimes that's what it takes to make a record. I'm not scared to put it down and take it back up again. I'll never give up. 
It's like "Peanut Butter Jelly." I wrote that thing 10 years before it came out. I pitched that to so many artists, and no one liked it. Everyone hated it, and every time someone disliked it, the more I used to be like, I'm gonna put it out one day, and I did — and it's a pretty big record for Galantis, actually.
It gets easier with experience, to have more output but less of a stressful life. You know how to do stuff. In the beginning, I was living in the studio basically, but today, I get more music out than ever, and I don't have to live in the studio anymore. I do create music 24/7 anyway. It's just in my head, you know?
How Skrillex & Fred Again.. Became Dance Music's Favorite Friendship: A Timeline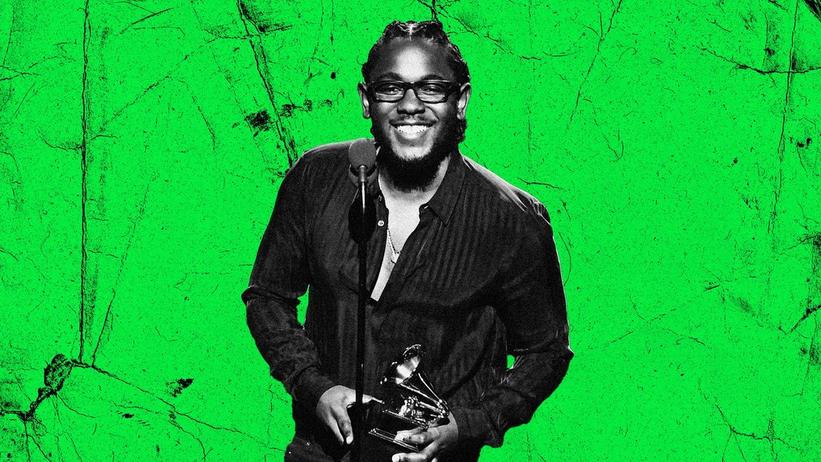 Kendrick Lamar
Photo: Jeff Kravitz/FilmMagic
video
GRAMMY Rewind: Kendrick Lamar Honors Hip-Hop's Greats While Accepting Best Rap Album GRAMMY For 'To Pimp a Butterfly' In 2016
Upon winning the GRAMMY for Best Rap Album for 'To Pimp a Butterfly,' Kendrick Lamar thanked those that helped him get to the stage, and the artists that blazed the trail for him.
GRAMMYs
/
Oct 13, 2023 - 06:01 pm
Updated Friday Oct. 13, 2023 to include info about Kendrick Lamar's most recent GRAMMY wins, as of the 2023 GRAMMYs.
A GRAMMY veteran these days, Kendrick Lamar has won 17 GRAMMYs and has received 47 GRAMMY nominations overall. A sizable chunk of his trophies came from the 58th annual GRAMMY Awards in 2016, when he walked away with five — including his first-ever win in the Best Rap Album category.
This installment of GRAMMY Rewind turns back the clock to 2016, revisiting Lamar's acceptance speech upon winning Best Rap Album for To Pimp A Butterfly. Though Lamar was alone on stage, he made it clear that he wouldn't be at the top of his game without the help of a broad support system. 
"First off, all glory to God, that's for sure," he said, kicking off a speech that went on to thank his parents, who he described as his "those who gave me the responsibility of knowing, of accepting the good with the bad."
He also extended his love and gratitude to his fiancée, Whitney Alford, and shouted out his Top Dawg Entertainment labelmates. Lamar specifically praised Top Dawg's CEO, Anthony Tiffith, for finding and developing raw talent that might not otherwise get the chance to pursue their musical dreams.
"We'd never forget that: Taking these kids out of the projects, out of Compton, and putting them right here on this stage, to be the best that they can be," Lamar — a Compton native himself — continued, leading into an impassioned conclusion spotlighting some of the cornerstone rap albums that came before To Pimp a Butterfly.
"Hip-hop. Ice Cube. This is for hip-hop," he said. "This is for Snoop Dogg, Doggystyle. This is for Illmatic, this is for Nas. We will live forever. Believe that."
To Pimp a Butterfly singles "Alright" and "These Walls" earned Lamar three more GRAMMYs that night, the former winning Best Rap Performance and Best Rap Song and the latter taking Best Rap/Sung Collaboration (the song features Bilal, Anna Wise and Thundercat). He also won Best Music Video for the remix of Taylor Swift's "Bad Blood." 
Lamar has since won Best Rap Album two more times, taking home the golden gramophone in 2018 for his blockbuster LP DAMN., and in 2023 for his bold fifth album, Mr. Morale & the Big Steppers.
Watch Lamar's full acceptance speech above, and check back at GRAMMY.com every Friday for more GRAMMY Rewind episodes. 
10 Essential Facts To Know About GRAMMY-Winning Rapper J. Cole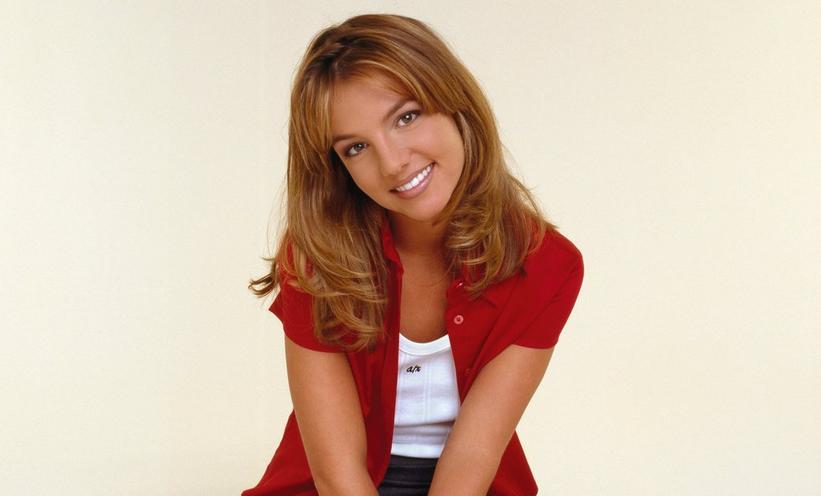 Britney Spears in 1998.
Photo: L. Busacca / Contributor
list
10 Ways Britney Spears' "...Baby One More Time" Changed Pop Music Forever
Released 25 years ago on Sept. 29, 1998, Britney Spears' iconic pop confection was a musical thunderbolt. GRAMMY.com revisits "...Baby One More Time," and 10 ways Spears' debut single changed the musical landscape forever.
GRAMMYs
/
Sep 29, 2023 - 03:47 pm
The song announces itself with a now-iconic two note keyboard riff. Then, the track's introductory words, so simple yet sultry: "Oh, baby baby." An electronic drumbeat clicks in and once the groove gets going, we're well on your way to music infamy.
Released 25 years ago on Sept. 29, 1998, Britney Spears' debut single, "...Baby One More Time," was a perfect pop confection. The title track of Spears' 1999 debut album,  "...Baby" made an instant superstar out of the Louisiana native and earned her a GRAMMY nomination for Best Female Pop Vocal Performance. 
The momentous track also helped usher in a new era of pop music culture, sound and production. Aside from making a household name out Spears and inspiring countless pop songstresses in her wake, it kicked off a historic streak of smashes for its enigmatic producer Max Martin, became one of the MTV generation's most iconic music videos and, for a time, shifted the center of pop from Los Angeles to Stockholm, Sweden.
In honor of its milestone anniversary, from its earworm sound, infamous video and commercial success, read on for 10 ways "...Baby One More Time" changed pop music and American culture forever.
It Marked Britney Spears' Big Break
Long before Spears turned into one of music's most recognizable stars, she was just another fledgling young singer searching for her way in the ruthless industry. 
After stints as part of "The New Mickey Mouse Club" and a turn on "Star Search," the young singer dodged two life paths that could have changed everything. First thinking that she'd develop a sound similar to Sheryl Crow, Spears then nearly joined the R&B girl group Innocence. But once the Kentwood, Louisiana native signed with Jive Records — which  had a working relationship with a group of buzzy producers in Sweden — the teen singer's future was sealed. 
The Song's Success Recentered Pop Production In Sweden
Jive executives had early success with the visionary Swedish producer Denniz Pop, who had a dream that his Nordic country would become the center of popular music. First producing hits for Ace of Base such as "All That She Wants," the mastermind subsequently crafted the Backstreet Boys' iconic sound (including "As Long as You Love Me"). His Cheiron Studios in Stockholm was named after the wise centaur who played a Lyre in Greek mythology. 
Just as his dream was coming true however, the producer was diagnosed with stomach cancer and died one month before the release of "...Baby One More Time" in August 1998. But while sick, he passed on his techniques and vision to a range of mentees including Max Martin, a former rocker turned pop-producer. "(The Cheiron sound is) direct, effective, (and) we don't show off," Martin said in 2001. 
It Launched Max Martin's Historic Career…
The melody of "...Baby" came to Martin as he was falling asleep. Not wanting it to escape him, he recorded it. "I remember listening back to (the tape) after (the song) blew up and you can hear me sort of go: 'Hit me baby one more time,' he recalled in a 1998 interview of the song he'd later write and producer. "Then I hear myself say, 'Yeah, it's pretty good.'" 
"...Baby" later became his first No. 1 Billboard Hot 100 hit of his ongoing career, a feat he reached a whopping 25 times with songs ranging from Taylor Swift's "Shake it Off" and "Blank Space" and The Weeknd's "Can't Feel My Face" to name a few. In fact, Martin is second-only to Paul McCartney and John Lennon as the songwriter with the most No. 1 hits in the history of the charts. 
…And Changed The Trajectory Of TLC's
TLC almost recorded the future smash. However, the R&B group were turned off by its lyrics, thinking that "Hit me" was meant to be taken literally. 
Said TLC member T-Boz of the decision: "I was like: 'I like the song but do I think it's a hit? Do I think it's TLC?' … Was I going to say 'Hit me baby one more time'? Hell no!" TLC would go onto record "No Scrubs" and "Cool" and "Unpretty," both of which marked the end of their hit-making era. 
It Established Spears' Signature Sound
Spears understood the melodic power of "... Baby One More Time" immediately. 
"The whole song is about that stress that we all go through as teens," Spears told the Guardian in 2018. "I knew it was a great song. It was different and I loved it, (but) I don't think you can anticipate how a song is going to be received." 
Martin was a big part of that. "I think Max is a genius. It all just came together and felt right. In my opinion Max is the greatest songwriter of all time." For their efforts, Rolling Stone later called "...Baby One More Time" the greatest debut single of all time. 
It Ushered In A New Pop Era
The first time Spears heard her song, she just hopped off an airplane. "It was so weird because we'd just got in the car, I'd just shut the door, and it came on," she recalled to Variety. "It was so overwhelming, I just started screaming. It was really cool, though." 
In the fall of 1998, it debuted at No. 17 and hit No. 1 on the Billboard Hot 100 for two consecutive weeks, later spending 32 weeks on the Hot 100 and earned platinum status. Speaking to its influence, the radio programmer Clark Ingraham later told the Guardian, "We'd been through an alternative cycle in the early to mid-'90s, and something of an R&B cycle after that. Britney was among the first big artists in a pop cycle that began in the late 1990s and continued into the early 2000s." 
The Music Video Is Iconic
One month before the song was released, Spears and director Nigel Dick descended on Venice High School in Los Angeles. Originally conceived as a cartoon, it was Spears who pushed for the now-infamous schoolgirl concept that exploded onto television screens. 
"The beauty of the video on some level is there's nothing fancy about it," Dick told Billboard in 2018. "It's very… ho-hum isn't quite the word, but it's very ordinary on some level, which is, I think, one of the reasons (why) Britney shines is because it's all about Britney." 
Nominated for four MTV Video Music Awards, the channel's "Total Request Live" called the video the Most Iconic of All Time.
The Video Turned Britney Spears Into A Sex Symbol
For better or worse, Spears's image was solidified with the video, which showed her scantily clad and landed her on magazine covers the world over.  
When it comes to her schoolgirl look in the video, Dick told Billboard: "My producer and the executive producer from the label — who are both women — go, 'No, I think that's a really good idea,'" he says of dressing the young star. "Music magazines said this artist was conceived by a bunch of dirty old men in a conference room wearing raincoats. Which, in my experience, was not how it occurred at all."
It Earned Spears Her First GRAMMY Nomination
Aside from its immense commercial success, "...Baby One More Time" helped Spears earn nominations for Best New Artist and Best Female Pop Vocal Performance at the 42nd GRAMMY Awards. She'd later win Best Dance Recording for "Toxic," among eight career nominations. 
"...Baby One More Time" Influenced Future Pop Songstresses
Britney Spears's debut and subsequent success influenced generations of young performers who were inspired by her voice, talent and image, altering an industry in her wake. 
Contemporaries including Christina Aguilera, later superstars including Miley Cyrus and Katy Perry, and modern names ranging from Dua Lipa to Billie Eilish have all pointed to Spears as major influences. "I have loved Britney Spears her whole career," Lady Gaga wrote in 2021. "I looked up to her and admired her strength. She empowered so many people, and still does."  
It's a stunning legacy, and it all started with a certain, unmistakable keyboard riff. "Oh, baby baby!"
5 Ways Lorde's 'Pure Heroine' Helped Pave The Way For The Unconventional Modern Superstar