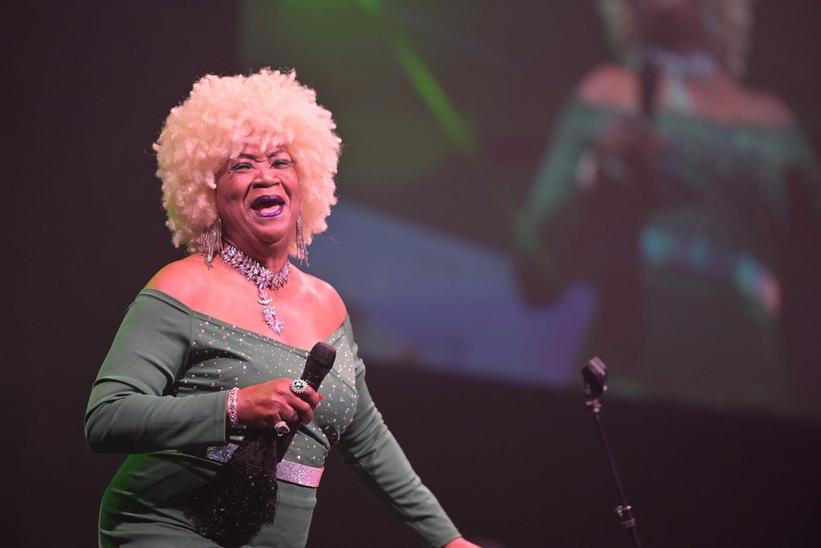 Photo: Greg Campbell/Getty Images
feature
How The Return Of The Blues Hall Of Fame & Blues Music Awards In 2022 Captured The Spirit Of The Memphis Blues Community
After a COVID-induced hiatus, the Memphis blues community celebrated its talent and resilience at the 2022 Blues Hall Of Fame induction ceremony and Blues Music Awards.
GRAMMYs
/
May 13, 2022 - 11:10 pm
Memphis is the cradle of blues music, a city whose history runs as deep as the Mississippi River hugging the city's limits. To celebrate that history, the Memphis-based Blues Foundation hosted six days of events, beginning with the Blues Hall of Fame induction ceremony and the 43rd Blues Music Awards. The award ceremonies preceded the four-night International Blues Challenge talent contest at various clubs on the historic Beale Street.
The celebrations were a sort of comeback for Memphis' blues scene. Though tough for the music industry as a whole, two years of COVID-induced shutdowns seemed particularly hard on the tight-knit blues community, where artists, industry workers and fans often intermingle like long-missed family and friends.  
"I always say the industry has not been that kind to me, but so many of the people have," 2020 Hall of Fame inductee Bettye LaVette, a classic R&B singer known for her emotional-yet-controlled vocals, told GRAMMY.com.
Held May 4 at the historic Orpheum Theater's Halloran Centre for Performing Arts & Education, the Blues Hall of Fame induction ceremony was a particularly large and emotive occasion. Because of COVID shutdowns, no Hall of Fame induction ceremony was held in 2020 and no new inductees were announced in 2021. The 2020 and 2022 classes were combined for this year's event.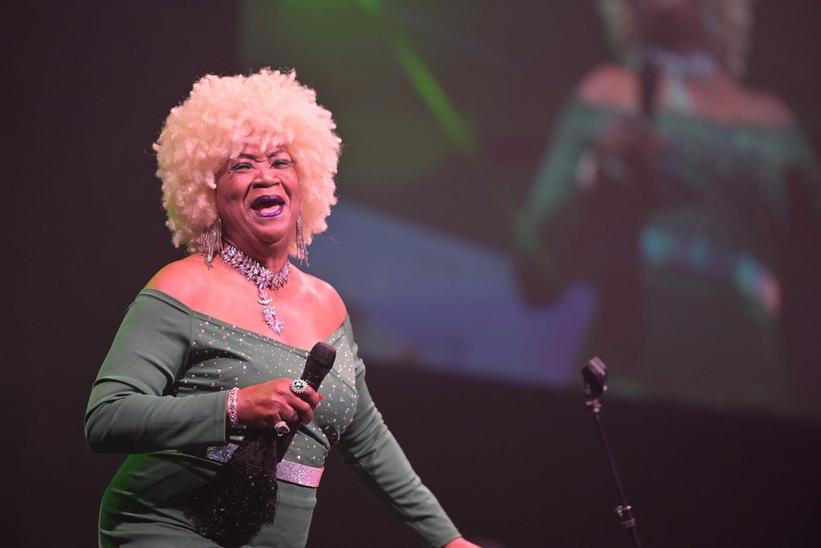 "My career has been one of the most ridiculous things you ever heard of," Lavette continued. "They have literally carried me to this fifth career that I'm experiencing now. I call it my fifth career because every one of the other four started with a big bang and then it all turned to s*** and I had to start all over again."
Read: Tito Jackson On His New Blues Album Under Your Spell & His Better-Late-Than-Never Solo Career
The Blues Foundation started the Blues Hall of Fame in 1980 and has since inducted more than more than 400 artists, industry professionals, recordings, and works of literature. In 2015, the Hall of Fame established a brick-and-mortar presence in the foundation's downtown Memphis headquarters, which recently reopened following a renovation.
In addition to LaVette, 2020 performer inductees included Chicago harmonica player Billy Branch; singer Eddie Boyd; George "Harmonica" Smith; guitarist/singer/songwriter Syl Johnson, who passed away just three month earlier; and blues pioneer Victoria Spivey, whose induction was accepted by GRAMMY nominee Maria Muldaur.
Non-performer inductees in the 2020 class included pioneering roots producer Ralph Peer. French music scholar Sebastian Danchin's 2001 book Earl Hooker, Blues Master was entered as a Classic Of Blues Literature and Howlin' Wolf: The Chess Box as a classic album. Arthur "Big Boy" Crudup's original recording of "That's All Right (Mama)"; Bertha "Chippie" Hill's 1926 hit "Trouble in Mind"; "Future Blues" by Delta bluesman Willie Brown; B.B. King's first big hit, "3 O'Clock Blues"; and Ruth Brown's "Mama, He Treats Your Daughter Mean" were included in the Hall as classic singles.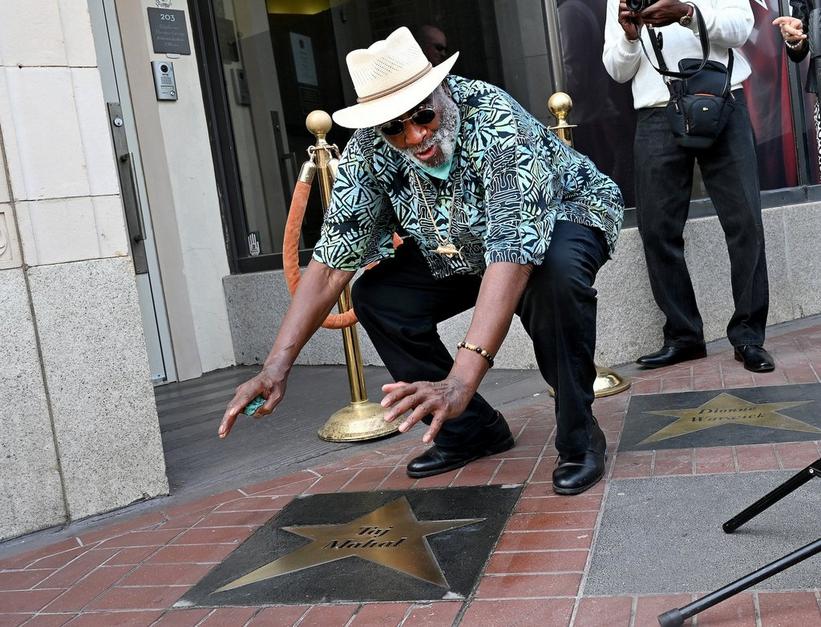 Blues Hall of Famer Taj Mahal receives a star on the Orpheum Theatre-Memphis Sidewalk of Stars in Memphis, Tennessee | Photo: Greg Campbell/Getty Images
The 2022 class of inductees included performers Lucille Bogan and Little Willie John, whose induction was accepted by his son Keith John — a longtime backup singer for Stevie Wonder who evoked his father's soaring voice while thrilling the audience with off-the-cuff renditions of some of his father's hits like "Fever." Soul man Johnnie Taylor, another 2022 inductee, was honored in a separate, earlier ceremony to accommodate his family.
Read More: The Black Keys' Dan Auerbach & Patrick Carney On Why Recording Freewheeling Blues Covers Led To Inspired New Album Dropout Boogie
2022 non-performers included songwriter Otis Blackwell and blues historian and DJ Mary Katherine Aldin. Bo Diddley's 1958 self-titled Chess/Checker debut was inducted as an album along with the singles "Good Rocking Tonight" by Roy Brown; "Rollin' and Tumblin'" by the Baby Face Leroy Trio; "Eyesight to the Blind" by Sonny Boy Williamson II; Bobby "Blue" Bland's "Farther Up the Road"; and B.B. King's "Rock Me Baby." English folklorist Bruce Bastin's 1986 work Red River Blues: The Blues Tradition in the Southeast was entered in the literature category.
The following night, veteran California bluesman Tommy Castro was the big winner at the 43rd Annual Blues Music Awards. Castro took home three of the night's biggest honors: B.B. Entertainer of the Year, Album of the Year for his Alligator Records release Tommy Castro Presents A Bluesman Came To Town, and, with his backing group, the Painkillers, Band of the Year.
"The one I really wanted to see us get was the Band of the Year [award] because these guys work really hard," Castro told GRAMMY.com backstage after the show. "Nobody's in this for the money. It's a steady gig, but nobody's making lots of money doing this. They're really doing it out of love; you have to really be behind the music."
Florida singer/guitarist Selwyn Birchwood — who first burst on the scene in 2013 when he won the International Blues Challenge, an unsigned band contest presented by the Blues Foundation — captured the night's other big award: Best Song for "I'd Climb Mountains," off of his 2021 release, Living in a Burning House.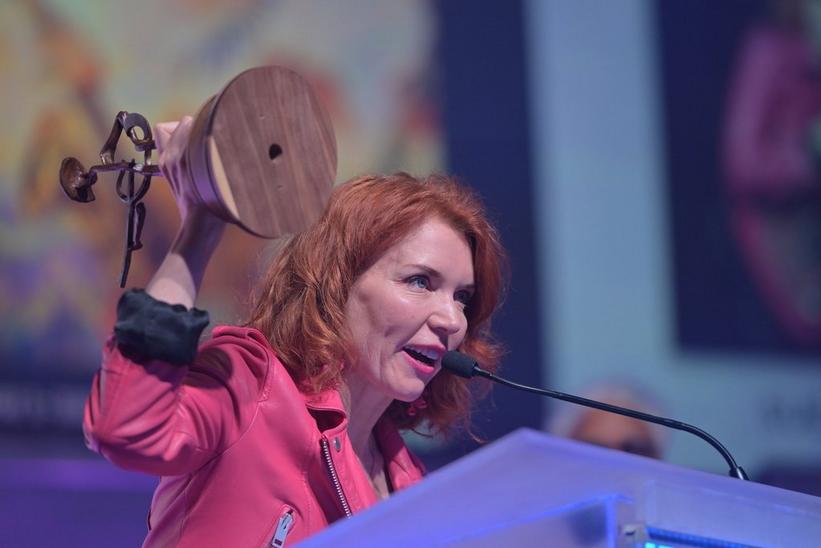 Other big winners on the night included flame-haired Canadian guitarist Sue Foley, who took home awards for Traditional Blues Album and the Koko Taylor Award for Best Traditional Artist-Female. Clarksdale, Mississippi, blues guitarist and singer Christone "Kingfish" Ingram, fresh off a GRAMMY win for Best Contemporary Blues Album at the 2022 GRAMMYs, also received awards for Best Contemporary Blues Album for his record 662 and Best Contemporary Blues Artist-Male. Two-time GRAMMY winner Taj Mahal won Best Traditional Artist-Male.
In addition to Castro, the long night's lineup of performances included Birchwood, a second-line-inspired set from Louisiana favorite Kenny Neal, and a Bobby "Blue" Bland tribute by the late blues great's son, Rodd Bland and his Members Only Band, who took home the Best Emerging Artist Album award for Live on Beale Street.
All photos by Greg Campbell/Getty Images
Yola On Reclaiming Her Agency, New Album Stand For Myself & The Evils Of Tokenism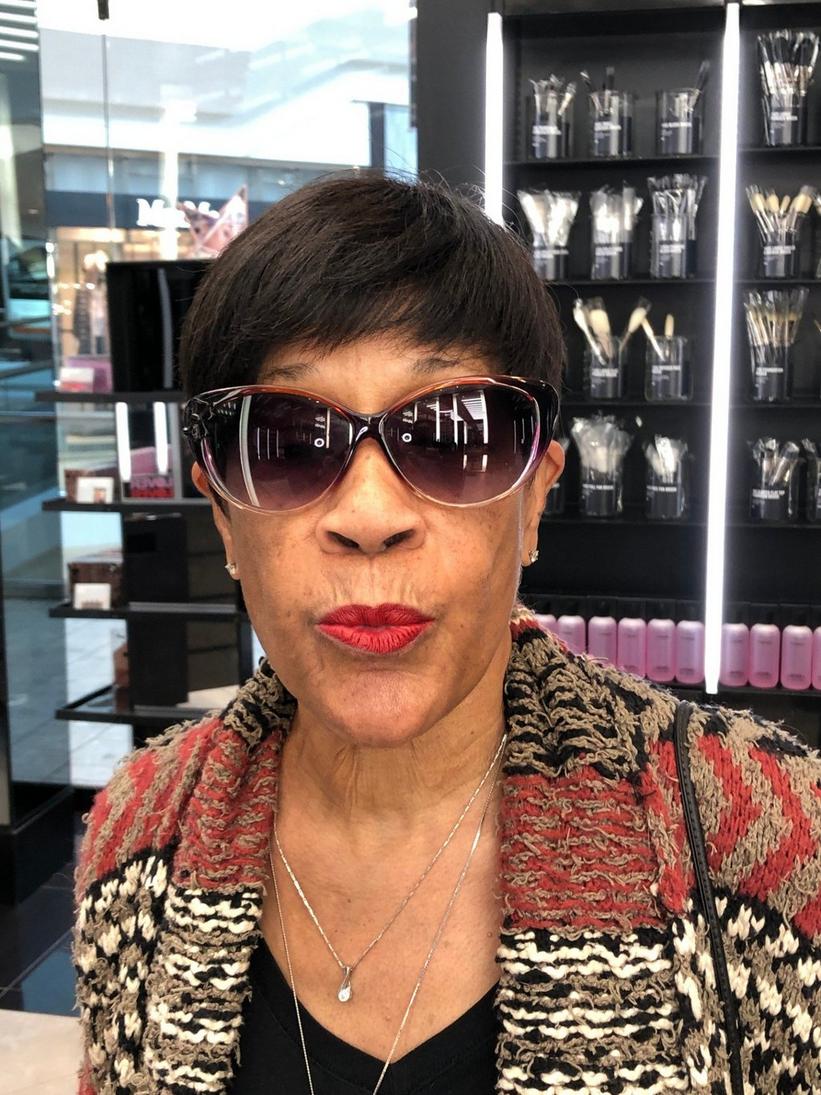 news
Quarantine Diaries: Blues Legend Bettye LaVette Is Staying "Mellow" With Wine & Watching Lots Of TV
As the coronavirus/COVID-19 pandemic continues to rock the music industry, the Recording Academy reached out to a few musicians to see how they were spending their days indoors
As the coronavirus/COVID-19 pandemic continues to rock the music industry, the Recording Academy reached out to a few musicians to see how they were spending their days indoors. Today, GRAMMY-nominated blues Hall Of Fame inductee Bettye LaVette shares her Quarantine Diary. LaVette's new album, Blackbirds, arrives on Aug. 28. The album's lead single, "I Hold No Grudge," is available now.
Well wishes to everyone, from West Orange. This is Bettye LaVette reporting.
I've been asked to talk about my daily activities during this terrible coronavirus assault. Most people know that I'm not very active on social media, though I have been lately. But I like to talk to people in person, and I HATE to type. Anyway, here goes...
I came home from my last gig on Feb. 3, and I haven't been out of the house except for some things out in the yard since.
My husband Kevin goes to the store once a week. He doesn't want me exposed. As I have been deemed part of the "elderly." LOL.
Although stuck at home, my days are pretty much the same as they were before the stay-at-home rule went into effect. Except it's EVERY DAY, instead of being mixed with working days. And I have to say, I am SICK of the repetition. If it would only get warm and dry, I'd be happy to work in the yard every day.
[5:30 a.m.–7:30 a.m.] Anyway, my day starts around 5:30 a.m. when Otis and Smokey, our kitties, jump on the bed and wake me up to feed them. They whine, almost speak, bite on my arms and hands gently, sit on my head...and Kevin SLEEPS right through all this!
I get up and go downstairs to the kitchen and feed them. Then I smoke my morning joint and check in on "Morning Joe" until around 7:30, when I go BACK to bed—until around 10:30.
[10:30 a.m.–12 p.m.] I turn on the TV and all day long it's between MSNBC, CNN, FOX and "Bar Rescue," while practicing the first part of the day's housewifery. And/or planning or prepping the dinner for that day. When I get home from the road, I am pretty much sick of restaurant food, so I cook almost everything.
[12 p.m.–2 p.m.] At noon, I work out for about an hour. I vocalize as often as I can, trying to help keep my voice in shape. But that is no substitute for doing my show. At 74, I worry that I won't come back as strong after this long a break. There is just so much sh*t to think about.
I then go down and say hey to Kevin, who is always working at the computer. I let the kitties in, feed them again, and let them out again. Check in on the TV (old movies from the '30s and '40s, political shows) while practicing more housewifery.
I am not a music enthusiast, so I don't listen to music for entertainment often. And I find reading boring, unless it's for information. I really, REALLY like television.
Occasionally, Kevin will holler out from his office, "Baby, come listen to this," and I go in and listen. It's usually something that he thinks I would sound good singing. Or something completely ridiculous. If it's good and it fits me, then it goes in my "To do" folder. That's about as much work as I do on music when I am not recording.
[2 p.m.–6 p.m.] I make lunch at around 2, do some other domestic chores, all the while watching TV and letting the kitties in and out. Sometimes the afternoons get broken up by phone interviews. And then I let the kitties in or out.
The one upside about this is that I smoke joints and drink champagne and wine so I can stay "mellow," as they used to say. And I can't quite do it like that while I'm working.
Then I round up the kitties for the last time and start making dinner, sometime between 6 and 8.
[6 p.m.–12 a.m.] Kevin and I meet after dinner to watch TV together. I also play solitaire through all this time to fill in the gaps. Until 11. Then Trevor Noah, Colbert's monologue, over to "Perry Mason," then Seth's monologue, then to bed and Alfred Hitchcock puts us to sleep.
Since I do not write my own material, that means that almost all of my income comes from live performances... Ughh. Thankfully, my husband is a hawk with money, so he is keeping us safe for the moment.
That is pretty much a day in the life of Betty Kiley, which is who I am when I'm not BEING Bettye LaVette. As scary as the current situation is, I think if we can all just hold on, we can beat this. In fact, I'm sure of it.
I'm so grateful to have my wonderful husband and my kitties here with me. I love you all, and I'll see you on the other side of this mess.
Soulfully,
Bettye LaVette
If you wish to support our efforts to assist music professionals in need, learn more about the Recording Academy's and MusiCares COVID-19 Relief Fund.
If you are a member of the music industry in need of assistance, visit the MusiCares website.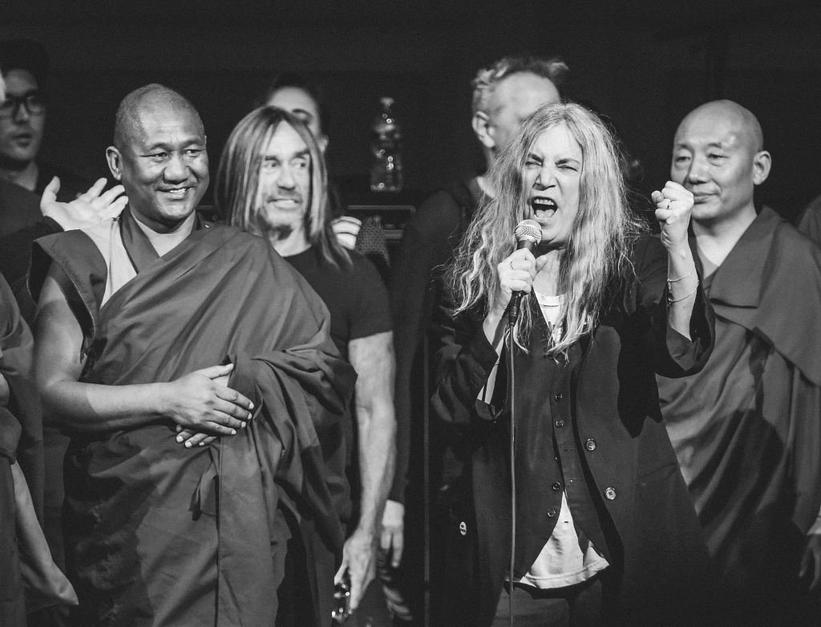 Patti Smith and Iggy Pop perform at the Tibet House US Benefit Concert in 2017
Photo: Jason Kempin/GETTY IMAGES
news
Tibet House US Benefit Concert 2020: Patti Smith, Iggy Pop, Phoebe Bridgers & More Confirmed
Composer Philip Glass is confirmed as the artistic director for the one-night benefit show, taking place February 2020 in New York City
GRAMMYs
/
Dec 6, 2019 - 12:26 am
Tibet House US, the nonprofit educational institution and cultural embassy founded by the Dalai Lama, has announced the lineup for its annual, long-running benefit concert, which returns to Carnegie Hall in New York City Feb. 26, 2020, for its 33rd annual event. The lineup for next year's show includes punk pioneers and GRAMMY nominees Iggy Pop and Patti Smith, soul singer and five-time GRAMMY nominee Bettye LaVette, 2018 Best New Artist nominee Margo Price and many others. Legendary composer Philip Glass, a four-time GRAMMY nominee, curated the lineup and serves as the event's artistic director.
Excited to announce that @MissMargoPrice, @phoebe_bridgers, @IggyPop, Patti Smith, Matt Berninger of @TheNational, @OnlyAnExpert, @BettyeLaVette, @tenzinchoegyal and more will join @PhilipGlass for @tibethouseus #TibetBenefit2020 on 2/26. Get your tix now! https://t.co/myklOn3Kgk pic.twitter.com/CpjlDBMxOR

— Tibet House US (@tibethouseus) December 4, 2019
Also joining the show are Matt Berninger, frontman for indie/alternative rock band The National, singer-songwriter Phoebe Bridgers, avant-garde artist Laurie Anderson, musician/activist Jesse Paris Smith and Tenzin Choegyal, a Tibetan artist and cultural ambassador. More artists will be announced soon.
Read: Michael McDonald Crushes IRONMAN, MusiCares Fundraising Goal & 20 Years Of Sobriety
One of the longest-running charity events of its kind, the Tibet House US Benefit Concert is widely known for its unique musical collaborations and solo performances. Past artists and performers include David Bowie, Carly Simon, Alabama Shakes, Paul Simon, Sharon Jones, FKA twigs and many others.
Proceeds from the concert benefit Tibet House US, which works to "ensure the survival of Tibetan civilization and culture," according to the organization's website.
Tickets for the 2020 Tibet House US Benefit Concert are on sale now via the Carnegie Hall website. Learn more about Tibet House US via the organization's website.
Aerosmith To Be Honored As 2020 MusiCares Person Of The Year