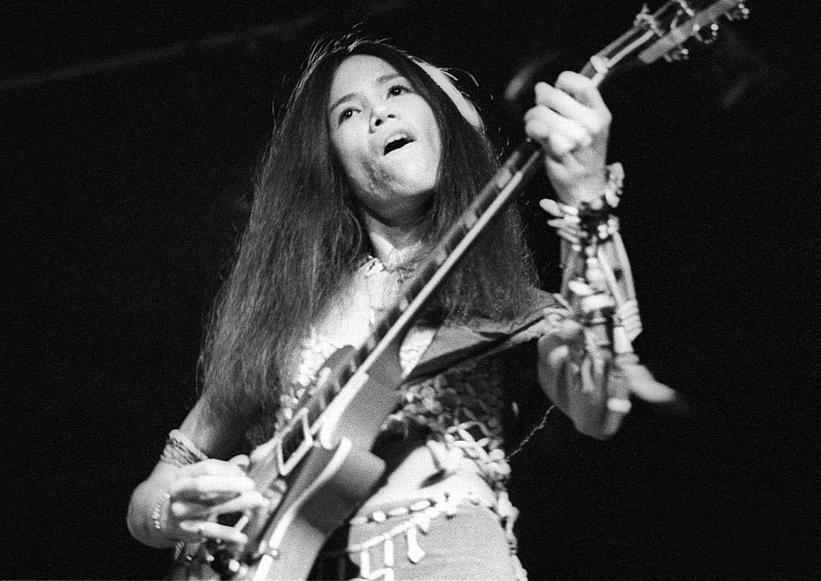 June Millington of all-female rock band Fanny performing in 1973
Photo: Ian Dickson/Redferns
feature
From Fanny To Madam Wong's & The GRAMMYs: How The Asian Community Has Impacted Rock
While K-pop is Asia's most dominant musical export today, the continent and its diaspora have a rich rock heritage. GRAMMY.com takes an in-depth look at guitar heroes of Asian descent who have made a significant impact on Western soil.
GRAMMYs
/
May 15, 2023 - 03:33 pm
While K-pop is Asia's most dominant musical export today, the continent has a rich rock heritage that has traveled much further than you may imagine. Indeed, while the genre is the result of a cultural interplay between Africa and America (with fruitful trips to the UK), its history encompasses numerous important names whose roots trace to Japan, Korea, the Philippines and beyond. 
Who can forget the impact Yoko Ono had on John Lennon and his post-Beatles career, for example? And then there's the unsung heroes: the Californian restaurant owner who played a vital part in the rise of punk and the little-known '60s singer who single-handedly brought the sounds of the West to Vietnam. 
With the likes of Mitski, Japanese Breakfast and Jay Som now steering a new revolution in rock, what better time to take an in-depth look at the guitar heroes of Asian descent who have made a significant impact on Western soil? 
The Beginnings 
While first- and second-generation Asian artists had previously enjoyed crossover success in the fields of jazz (Toshiko Akiyoshi), doo-wop (the Kim Sisters) and teen pop (Eden Kane) in the first half of the 20th century, the burgeoning rock 'n' roll scene remained out of reach. That is, until a band of Filipino American brothers paid tribute to the post-war era's version of Tony Manero. 
The Rocky Fellers reached No. 16 on the Hot 100 in 1963 with "Killer Joe," named in honor of "King of the Discotheque" Killer Joe Piro, and later worked with Neil Diamond on the song "We Got Love." But their sole album on Scepter Records got lost as attention switched to the first British Invasion, and it would be another seven years before a predominantly Asian rock act graced the U.S. singles charts. 
Formed by sisters Jean and June Millington nearly a decade after their family moved to Sacramento, California from the Philippines, four-piece Fanny also broke barriers. As the first all-female outfit to land a major label deal, they paved the way for the Runaways, the Bangles and the Go-Gos (Fanny  drummer Alice de Buhr would later serve as theGo-Gos' publicist).   
Reprise Records reportedly signed Fanny without hearing any of their music — presuming the novelty of four women playing their own instruments was enough of a selling point. The original quartet proved they were far from a mere gimmick, though, with four albums of anthemic rock which inspired David Bowie to hail them as one of the genre's true unsung heroes. Incidentally, the Thin White Duke was the subject of Fanny's biggest hit, "Butter Boy," while Jean was briefly wed to his regular guitarist Earl Slick.  
Bowie was just as enamored with Vodka Collins — a Japanese rock supergroup fronted by native New Yorker (and future Arrows frontman Alan Merrill). The cult favorites are rumored to have inspired one of his many alter-egos, Ziggy Stardust. Sadly, a major financial dispute led to their disbanding shortly after the release of their 1973 debut, Tokyo – New York.  
That album's producer, Masatoshi Hashiba, however, would also steer a more enduring group to the fringes of the mainstream. Fronted by married couple Kazuhiko Katō and Mika Fuku, Sadistic Mika Band supported Roxy Music on their mid-1970s Siren Tour, while drummer Yukihiro Takahashi later co-founded the pioneering Kraftwerk-esque Yellow Magic Orchestra.  
Sadistic Mika Band's name was actually intended to parody the Plastic Ono Band's, the conceptual project co-founded by arguably rock's most prominent Asian crossover artist. Ono helped to push the boundaries of rock music while simultaneously paying homage to her East Asian heritage, drawing upon everything from hetai, a vocal technique hailing from the kabuki form of Japanese theater, to the ancient classical style of Gagaku.  
Released on the same day (and with a similar title) as husband John Lennon's solo debut in 1970, Ono's debut solo album charted 176 places lower on the Billboard 200. Yet it unarguably had the bigger impact: Its uncompromising avant-garde sound credited with ushering in the birth of punk, alternative rock and no-wave (Sonic Youth, tUnE-yArDs and the Flaming Lips are just a few of the artists who have since acknowledged Ono's influence through collaboration). Ono has occasionally flirted with the mainstream — see 1981 Top 40 single "Walking on Thin Ice" — but it's her fearless experimentalism that positioned her as an icon.  
Continuing the Beatles-adjacent theme, Indian sitarist Ravi Shankar informed much of George Harrison's work, both as a member of the Fab Four and as a solo artist. The pair worked together on several albums and essentially paved the way for Live Aid with 1971's legendary The Concert for Bangladesh, a star-studded benefit show boasting performances from Eric Clapton and Bob Dylan. 
Of course, some of Asia's most culturally significant artists had to wait decades before receiving their dues. Phuong Tâm, for example, was pivotal in bringing the sounds of the West to the East in the early 1960s Saigon. During her late teenage years, she spent up to eight hours an evening performing Vietnamese compositions heavily inspired by the growing presence of American GIs. 
Tâm's music career was cut short when her army doctor husband landed a job hundreds of miles away. Remarkably, she kept this past life a secret from her own children until a film producer requested the use of her recordings, much of which had been misattributed. Two years later, a compilation assembled by daughter Hà, Magical Nights: Saigon Surf, Twist & Soul 1964-1966, finally showcased Tâm's youthful grasp of the genre to a wider audience.  
Formed by brothers David and Romeo Bustamante in San Francisco's  Mission District, the largely Filipino collective Dakila prided themselves on bringing a pan-continental flavor to the early '70s rock scene. They were the first U.S. major label signing to perform material in Tagalog and made a conscious effort to align themselves with various Asian-American causes. 
Perhaps unsurprisingly, Epic didn't exactly handle such an outlier with the utmost sensitivity. Not only did they instruct producers to meddle with Dakila's self-titled debut behind the group's backs, they also released first single "El Dùbi" with a patronizing spoken word instructional on how to pronounce their song titles. Luckily, the double whammy of a more faithful 50th anniversary reissue and forthcoming documentary Searchin' for My Soul is set to give the first true Asian American rock album some long overdue props.  
The Venues 
The artwork for Dakila's eponymous LP also featured a wicker chair originating from what would become an unlikely hub of the punk scene. At the time, the Mabuhay Gardens was a Filipino restaurant but within  a few years, owner Ness Aquino had joined forces with promoter and punk magazine publisher Jerry Paulsen to reinvent the struggling business as a thriving venue.
The Mab, as it would become known as, attracted some of the West Coast's rowdiest bands including Black Flag, the Nuns and the Dead Kennedys while also welcoming further afield acts such as the Damned and Sex Pistols, hosting one of the latter's final ever shows. Thanks to another sideline in stand-up comedy, the once-flailing business stayed open until 1987.  
This San Francisco joint's pivot into the world of mohawks and safety pins appeared to inspire other Asian proprietors in Southern California. In 1978, promoter Paul Greenstein and owners George and Esther Wong helped to transform Madame Wong's into a haven for West Coast punk. The Chinatown venue had  a strict policy on vandalism: Rumor has it Esther once confronted two of the Ramones about their bathroom wall graffiti while they were still performing on stage.  
Frustrated with such defacing, the Wongs decided to focus on a slightly more "civilized" genre when they opened up a second venue. Madame Wong's West helped put new wave on the Santa Monica map, giving early gigs to the likes of the Police, the Motels and the Knack. But the original remained their bread and butter, which is why a major rivalry — problematically dubbed the Wonton Wars by the local press — started when another nearby struggling eatery muscled in on their territory.  
Barry Seidel, who'd rented out the upstairs banquet hall of Cantonese immigrant Bill Hong's family restaurant Hong Kong Cafe, was much less discerning when it came to wanton destruction. When Madame Wong's prevented anyone under 21 from entering the premises, for example, Seidel made his punk nights all ages.  To placate Hong, Seidel agreed that performers would pay for any damage caused, a much-needed stipulation as  punks with a disregard for crowd capacity regularly broke  in via the roof and air conditioning ducts. 
But by the dawn of the following decade, the punk boom had given way to hardcore, a style too aggressive even for Hong Kong Cafe who called time on its musical endeavors in 1981. Madame Wong's closed its doors for good following a fire six years later, but its West branch stayed open until 1991 having added the likes of Red Hot Chili Peppers and R.E.M. to its impressive resume. Esther's standing in the community was confirmed in the wake of her 2005 death when the Los Angeles Times dubbed her the "Godmother of Punk."  
The GRAMMY Winners 
Although Larry Ramos of the New Christy Minstrels and the Association, singer/songwriter Yvonne Elliman and cellist Yo-Yo Ma had been nominated at Music's Biggest Night, it wasn't until  1992 that an act of Asian descent won a GRAMMY in a rock category.  
Born to an Indonesian mother, guitar hero Eddie Van Halen and his drummer brother Alex picked up Best Hard Rock Performance with Vocal for their eponymous group's ninth LP, For Unlawful Carnal Knowledge. Their victory which appeared to open the floodgates. 
Just three years later, Indian American lead guitarist Kim Thayil and Japanese American bassist Hiro Yamamoto helped Soundgarden land Best Metal Performance and Best Hard Rock Performance for their album Superunknown. It was the latter category that Smashing Pumpkins, featuring Japanese American guitarist James Iha, also triumphed in at the 1997 ceremony thanks to "Bullet with Butterfly Wings." In 2002, the same award went to Linkin Park for "Crawling," a track boasting the turntablism skills of Korean American Joe Hahn. And let's not forget Tony Kanal, a child of Indian immigrants, whose basslines steered No Doubt to Best Pop Vocal Album for Rock Steady that same year. 
Remarkably, the most famous rock star of Asian descent never got the chance to make an acceptance speech. Freddie Mercury, whose parents hailed from western India, received four nominations as frontman of Queen. The band was honored with a Lifetime Achievement in 2018, 27 years after his untimely passing.  
It also took decades for another rock giant to hear their name read out. Co-founded in 1985 by Korean American bassist John Myung, prog favorites Dream Theater won Best Metal Performance for "The Alien" in 2022. Also nominated that same year for Best Alternative Music Album and Best New Artist were Japanese Breakfast, the indie-rock outfit fronted by Korean American Michelle Zauner, and one of several artists spearheading a new wave of Asian American indie rock.  
The Indie Scene 
The first wave of Asian American alternative guitar acts signed to independent labels began to blossom in 1995. It was here when the palindromic Emily's Sassy Lime released their one and only album, Desperate, Scared But Social, through Kill Rock Stars while still at school. One of the few Asian American acts to align themselves with the riot grrrl movement, the all-female trio had to write, record and perform on the odd occasion their parents allowed them a break from their studies. And although they split shortly after graduation, Yao sisters Wendy and Amy remained regulars of the DIY art scene. 
That same  year, Satomi Matsuzaki joined noise-pop experimentalists Deerhoof, another Kill Rock Stars act, in the same week she emigrated from Japan to America. Obviously not averse to throwing herself in the deep end, the bassist/singer headed out on tour with the band just a few days later, too. Having since tackled everything from tropicalia and conceptual prog rock to sheet music experiments and classical ensembles, few contemporary bands have been so brazenly audacious.  
Blonde Redhead, the similarly creative outfit co-founded by Japanese art students Maki Takahashi and Kazu Makino, also released their self-titled debut in 1995. Produced by Sonic Youth drummer Steve Shelley and released through his indie label Smells Like Records, one of the no-wave scene's defining records was followed by equally atmospheric excursions into shoegaze and dreampop, while a guest appearance from Ryuichi Sakamoto on her 2019 first solo effort Adult Baby cemented Makino's status as an icon of the avant-garde. 
A year later, Korean American Mike Park founded Asian Man Records, a predominantly ska/punk label run from his California garage. Park and his label helped kickstart the careers of Stateside cult heroes such as Less Than Jake and Alkaline Trio,  while also giving a platform for acts of Asian heritage including India's Nicotine and Japan's Yoko Utsumi.  
Asian and Asian American indie artists have remained in the public eye through the mid 2010s, crafting devoted followings across the globe. With eight GRAMMY nominations to her name, South Korean-born Karen O has kept the flag flying over the following two decades as the frontwoman of garage punks Yeah Yeah Yeahs. Osaka's Shonen Knife, the one-time Lollapalooza regulars championed by Kurt Cobain, did as much alongside Tokyo's Buffalo Daughter — the Shibuya-kei pioneers who signed to the Beastie Boys' Grand Royal label. Meanwhile, the music of Cornelius, a.k.a. the  "Japanese" Beck" has graced everything from NFL ads to Scott Pilgrim vs the World.  And then there's David Pajo, the Filipino American guitarist whose journeyman career has incorporated everyone from Slint and Tortoise to Zwan and Gang of Four.  
The Asian American rock scene has further coalesced in the last few years with women leading the way. Whether it's the dreamy indie of Leslie Bear's alter ego Long Beard, intimate bedroom pop of Filipino American singer-songwriter Jay Som or, perhaps most notably, the sonic adventurism of Japanese American Mitski.  
Indeed, Mitski's  2018 LP Be the Cowboy was named Album of the Year by both Pitchfork and Vulture, and she received an Oscar nod for her contribution to the soundtrack of Everything Everywhere All at Once alongside New York post-rockers Son Lux, two-thirds of whom are also of Asian descent In another landmark in Asian American representation Mitski had also previously invited Som and Japanese Breakfast to provide support on her North American tour.
And with indie chameleons such as Korean Canadian Luna Li, American Korean Deb Never and Chinese American Sofya Wang all emerging in the 2020s, the future seems bright, too. Indeed, despite concerns the convergence of artists with Asian heritage would be dismissed as a passing fad,  it's clear that rock grounded in this community is thriving stronger than ever before. 
Celebrate AAPI Month 2023 With A Genre-Spanning Playlist Featuring BLACKPINK, Yaeji, Olivia Rodrigo & More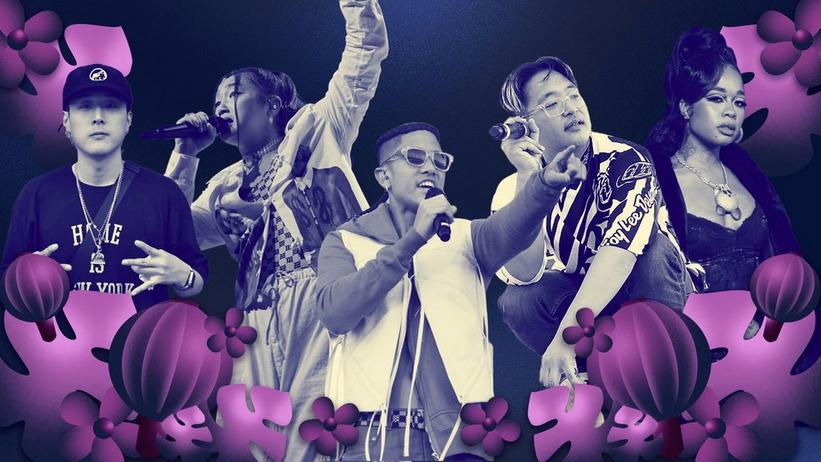 (From left) pH-1, Audrey Nuna, Spence Lee, Rekstizzy, TiaCorine
Photos: Chris Saucedo/Getty Images for SXSW; Robert Okine/Getty Images; Scott Dudelson/Getty Images for Coachella; Paul Zimmerman/Getty Images; Rodin Eckenroth/Getty Images
list
5 Artists Showing The Future Of AAPI Representation In Rap: Audrey Nuna, TiaCorine & More
A growing number of Asian American and Pacific Islander artists are exploring how hip-hop can help them meaningfully express their multiculturalism — and they're being embraced for doing so.
GRAMMYs
/
May 25, 2023 - 06:01 pm
Is it possible for an Asian American rapper to achieve widespread commercial success? In the 2016 documentary Bad Rap, no one could be too sure. 
At that point, some firsts for the community turned out to be false starts: In the '90s, Mountain Brothers was the first Asian American rap group to sign to a major label, but left just two years later. In the early aughts, MC Jin lost critical career momentum he gained from his impressive winning streak on "106 & Park's" Freestyle Fridays, when Ruff Ryders delayed his debut album release by more than a year. As Miley Cyrus sparked a national conversation about cultural appropriation in hip-hop, Bad Rap's subjects faced questions regarding whether they're just as guilty as Cyrus, or whether their music was helping break the "model minority" stereotype.
Since then, hip-hop, a Black music tradition, has spawned countless global scenes, bringing contemporary rap across the Pacific and beyond. Rap taking hold in Asia can still seem contentious, whether dissecting K-pop's use of the genre or revisiting the viral songs that landed Awkwafina in Bad Rap. But, there is also a growing number of artists who are figuring out how hip-hop can help them meaningfully express and explore their multiculturalism — and are being embraced by the music industry for doing so.  
Audrey Nuna
In 2013, Kanye West's jarring Yeezus changed Audrey Nuna's music tastes for good, encouraging her to check out hip-hop artists like A Tribe Called Quest and MF DOOM. From there, she "started making what I wanted to hear," as she told Pigeons and Planes. 
Nuna prefers to call herself a singer, to better reflect the stylistic versatility throughout her 2021 debut a liquid breakfast. Still, the "Robitussin flow" in "Comic Sans" is undeniable — to where Jack Harlow responded to her cold email and hopped on the song's remix.
The making of a liquid breakfast made Nuna realize that she never has to search far to find inspiration. On "Blossom," Nuna's grandmother laughs as she tells her about how, while fleeing the Korean War, she woke up from a nap on the migrant trail to find that her travel group — including her family — accidentally left her behind. 
In the future, Nuna hopes to feature more Korean instrumentation as she channels her current influence, Radiohead. As Nuna told W, "We're sitting here, living, because our grandparents were able to survive." 
pH-1
"She fell in love with the lifestyle of a pop star," pH-1 raps in "Yuppie Ting," the third track off his 2021 album But For Now Leave Me Alone. As he boasts of the Louis Vuitton he wears and the Michelin star meals he eats, pH-1 alternates between rapping in Korean and English with impressive precision, his flow skating over BlackDoe's garage-inspired production. 
Behind the scenes, pH-1 has felt more torn between the Korean and Western music industries than his music lets on. Even Jay Park, who has followed pH-1 since he moved to Korean and competed on rap talent show "Show Me the Money," once told him to write more in Korean. But for pH-1, to write exclusively in Korean would be to deny his Stateside upbringing in Long Island and Boston, and how he, like so many Korean Americans, naturally alternate between Korean and English in conversation. 
"If I want to 'financially succeed' in Korea, I would have to make a song that's very Korean-style. But that's not me," pH-1 said to fellow artist Eric Nam in 2019. Instead, the more glittering spots of But For Now Leave Me Alone showcase pH-1 to be the experienced globetrotter he is. 
Rekstizzy
In Bad Rap, Rekstizzy films a music video where, at a cookout, he squeezes picnic condiments not onto hot dogs, but the backsides of dancing Black women — for a song called "God Bless America." In his larger quest to become the "Korean rapper" he dreamed of in elementary school, he figured that  outrageously offensive visuals were a must." "Whatever we do, people are gonna talk shit about us 'cause we're Asian," he says in the documentary. 
Straddling the Asian and American aspects of one's identity can seem impossible. But now, years after Bad Rap and after guest appearances in Adventure Time and Beef, Rekstizzy seems to have figured out an ideal balance. Mostly, he doesn't seem nearly as pressed over proving that he's American. 
His own pop culture references, crude as they may be ("May cop a lewd body pillow on Etsy"), speak volumes. His music's debaucherous nature recalls a wide swath of U.S. regional rap styles, from the Bay Area ("요리 (Yori)"), to the Midwest ("Mal Do An Dweh") and Atlanta ("Hentai"). As for his attempts to rap entire verses in Korean for the first time, apparently the jokes write themselves. As he and Bad Rap co-star Dumbfoundead realized while recording "Mal Do An Dweh," their takes on Korean slang sound hopelessly out of date, because as the latter realized, "We communicate in Korean more with our parents than our friends who speak in Korean."
Spence Lee
Spence Lee is the child of a first-generation Chinese American and a Vietnamese refugee. But for much of his earlier material, his ethnic origins were hard to discern on record alone.
Spence Lee's previous moniker, Shotta Spence, honored the "Dirty Jersey" that raised him — more specifically, the Caribbean supporters he gained before he relocated to New York, modeled for Yeezy, and gained producer Mike WiLL Made It as a mentor. That influence also appears all over his last full-length, 2019's 1012; on songs like "Bounce," his cadence is equally inspired by reggae and trap. 
Spence still shouts out how he came up with "shottas" and "rastas" on the autobiographical single, 2022's "On God," one of his first under a new moniker bearing his family name. But that fact makes up just one chapter in his larger journey to capturing both the attention of Mike WiLL and 88rising, who jointly released the single. Mike WiLL explained to Joysauce how he and 88rising founder Sean Miyashiro saw "how Spence could be the bridge for many cultures, being from Jersey \[and\] into fashion, understanding his history, having principles and morals." 
But Spence perhaps puts his new direction best in "On God," when he raps, "I do all this s— for my mom."
TiaCorine
TiaCorine (whose father is Black and Japanese, and whose mother is part of the Shoshone Nation) ends her 2022 breakout album, I Can't Wait with a breakup anthem dedicated to the poor music exec who counted her out. In "You're Fired," she raps to keep from crying and sounding completely helpless: "You never listen to my songs, I'm always doing something wrong."
Today, her sly single "FreakyT" has 21 million Spotify streams and a Latto remix, it's impossible to imagine how the situation in "You're Fired" must have played out in real life. 
TiaCorine's music is Southern rap by way of Hatsune Miku — and it makes perfect sense, in an age where streaming has turned both hip-hop and anime (two of her biggest influences) into Stateside juggernauts. Her music captures the zeitgeist, though it also comes from an authentic place: While her father played formative '80s and '90s hip-hop in his Range Rover, her mother blared pop-rock instead. "That goes into my music — of me, just being free. Me just being confident in myself," TiaCorine told Preme magazine. Thanks to that confidence, mainstream success not only seems possible, but inevitable.
10 Must-See Exhibitions And Activations Celebrating The 50th Anniversary Of Hip-Hop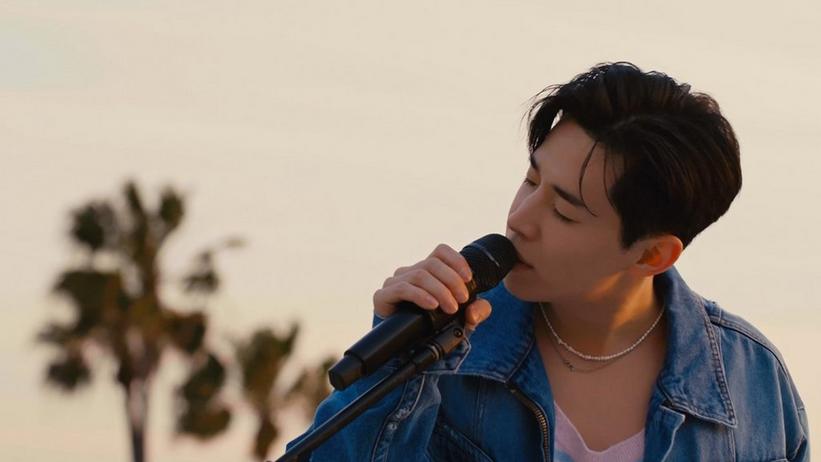 Henry Lau
Photo: Courtesy of Henry Lau
video
Press Play: Henry Lau Shows Off His Musical Prowess With A Dynamic Performance Of "MOONLIGHT"
Genre-bending singer Henry Lau uses a loop station to perform his single "MOONLIGHT," incorporating the violin, cello and both electric and acoustic guitar.
GRAMMYs
/
May 25, 2023 - 05:05 pm
With his single "MOONLIGHT," Henry Lau refuses to be burdened by his past relationships. Now, he's turning a new leaf, dancing carefree under the night sky, regardless of the negative emotions he might feel.
"I'm waking up in a daze, get it out of my face/ The sun is shining on every move that I make," the singer reveals in the second verse. "So, let's get to forgetting everything that went wrong/ Everybody here, we been crying too long/ We can dance about it to our favorite song."
In this episode of Press Play, Lau performs "MOONLIGHT" from a mansion rooftop during sunset. He constructs the entire song using a loop station, playing a violin, cello and electric and acoustic guitars — one of his signature performance techniques that  prompted his nickname, "one-man band."
Lau released "MOONLIGHT" in January — marking his first single in two years — via Monster Entertainment, the label he founded alongside his brother Clinton. He released another single, "Real Love Still Exists," two months later; the track features Malaysian R&B singer Yuna.
Watch the video above to watch Henry Lau's impressive loop station performance of "MOONLIGHT," and check back to GRAMMY.com for more new episodes of Press Play.
11 K-Pop Boy Groups To Watch In 2023: Cravity, Tempest, Verivery & More
Nat Myers
Photo: Courtesy of Nat Myers
video
ReImagined: Nat Myers Offers A Bluesy Rendition Of John Prine's Final Song, "I Remember Everything"
Korean-American blues singer Nat Myers honors John Prine by transforming the late country great's final song into an upbeat, acoustic folk track.
GRAMMYs
/
May 23, 2023 - 12:18 pm
On April 7, 2020, the country world had to say goodbye to beloved icon John Prine. Two months later, his final song was posthumously released, and it was a poignant one: "I Remember Everything," a reflection on a well-lived, well-loved life.
"I remember everything/ Things I can't forget/ The way you turned and smiled on me/ On the night that we first met," Prine sings in the chorus. "And I remember every night, your ocean eyes of blue/ I miss you in the morning light like roses miss the dew."
In this episode of ReImagined, Kentucky native Nat Myers performs a cover of "I Remember Everything." Known for his nimble picking style, the Korean-American singer performs the song on just an acoustic guitar. He remains mostly faithful to Prine's original recording, but increases the tempo for a more folk-inspired sound.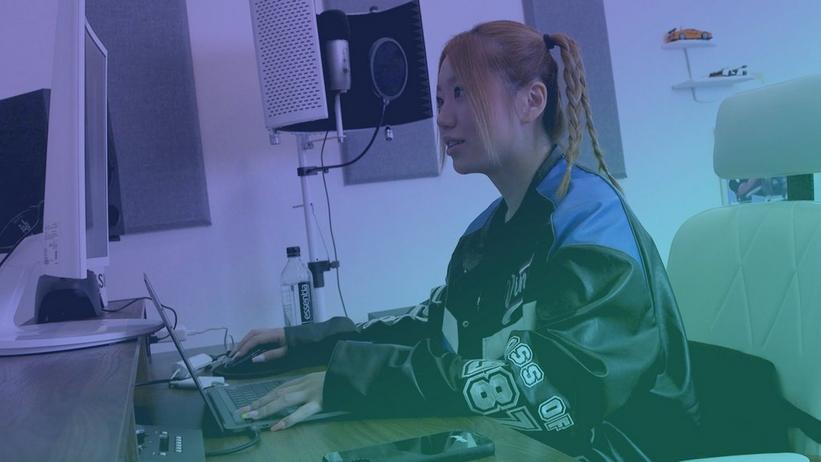 video
Behind The Board: How Avicii Inspired CHYL To Leave Finance For A Full-Time Career In Music
After realizing her career in finance wasn't fulfilling, CHYL decided to take up music production casually — until Avicii's unexpected passing taught her one important lesson: life is too short not to pursue your passion.
GRAMMYs
/
May 19, 2023 - 06:30 pm
When Chinese-Canadian music producer CHYL heard EDM for the first time after coming to North America, "a fire ignited" in her body.
Despite realizing her passion, CHYL opted for a career on Wall Street after graduating from Columbia University. "I hated it so much," she says with a hearty laugh. "In my second year of finance, I figured I really should start picking up some hobbies outside of finance."
From there, CHYL began taking DJ lessons casually and grew a deep appreciation for production. Though it wasn't until her idol, Avicii, passed away that she realized it was time to pursue music full-time. 
"He was who I listened to a lot back in the day," she explains in this episode of Behind The Board. "Life is short. You have to pursue what you love to do. If you don't, who knows what's going to happen? You have to go for your passion."
After five years of making music, CHYL has perfected her process. First, she finds a vocal slice for the foundation of her music. Then, she works on finding emotion and energy. And most importantly, she doesn't overthink any of it.
"Sometimes it's the most simple and catchy thing that goes viral. It's a constant battle that makes something similar and catchy or something that shows off all your production skills in one song. It's a balance," she adds. 
Above all, she always strives to make songs that stick. "A great song is memorable," she says. "Some of the songs that go viral on TikTok may or may not be great songs, but they're very memorable and catchy."
Press play on the video above to learn more about CHYL's musical journey, and check back to GRAMMY.com for more new episodes of Behind The Board.
GRAMMY Rewind: Daft Punk Shares "Love" For Macklemore After 'Random Access Memories' Wins Album Of The Year In 2014