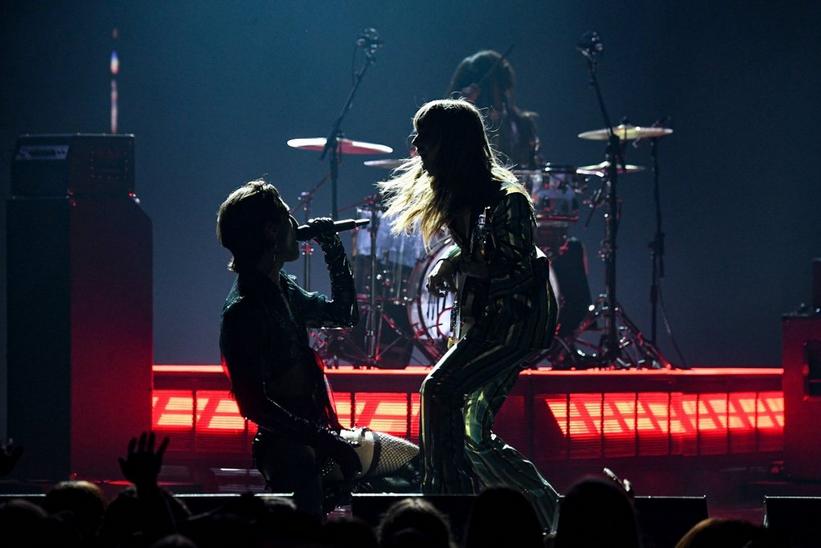 Måneskin performing in 2021
Photo: Kevin Mazur/WireImage via Getty Images
news
Here's The Rundown On Måneskin, The Italian Glam-Pop Heroes Who Just Brought The 54-Year-Old Song "Beggin'" Back Into Vogue
If you've wondered why Frankie Valli and the Four Seasons' "Beggin'" is suddenly a TikTok phenomenon, thank Måneskin, a flashy, young Italian band that's unconventional in all the right ways
GRAMMYs
/
Nov 23, 2021 - 08:43 am
Editor's Note: The 2022 GRAMMYs Awards show, officially known as the 64th GRAMMY Awards, <a href="https://www.grammy.com/grammys/news/2022-grammys-awards-64th-new-air-show-date-location-las-vegas-april-3-announcement "https://www.grammy.com/grammys/news/2022-grammys-awards-64th-new-air-show-date-location-las-vegas-april-3-announcement"">has been rescheduled to Sunday, April 3, at the MGM Grand Garden Arena in Las Vegas. The below article was updated on Tuesday, Jan. 18, to reflect the new show date and location.
After a long minute of trap hi-hats and autotune, are Måneskin (pronounced moan-AH-skin) bringing rock back? Possibly — with a couple of caveats. If your idea of rock's return is pentatonic scales and testosterone, singer Damiano David's studded codpiece alone might send you packing.
Plus, they pull influences not just from the obvious sources, but everywhere — two of David's cardinal influences are Chris Cornell and Steven Tyler. And at first blush, Måneskin might strike you more like a 2000s indie band like Franz Ferdinand or the Bravery than Soundgarden or Aerosmith.
"We're just doing music. If it's considered rock or pop or whatever, it's entirely not important to us," bassist Victoria De Angelis told Loudwire in 2021. "The main thing is I think people should just listen to the music and judge the music without having preconceived notions."
This fearless philosophy has vaulted the group to the big time: Måneskin now join BTS, Jon Batiste, H.E.R., Tayla Parx, Carly Pearce, Gayle King, Nate Bargatze, and special guests to help reveal the nominations for the 2022 GRAMMYs Awards show in the Recording Academy's second annual virtual livestream event, taking place Tuesday, Nov. 23, at 9 a.m. PT/noon ET and available to view on live.grammy.com.
Watch Now: Rewatch The 2022 GRAMMYs Nominations Livestream Here
As origin stories go, the Italian band with a Danish name meaning "moonlight" has the most genuine kind — busking on the busy streets of Rome. They hit the national stage in 2017 on the Italian "X Factor," where they performed a handful of covers that were awfully telling. 
Naturally, they did Franz Ferdinand's "Take Me Out" and the Killers' "Somebody Told Me" — tunes awfully recognizable to anyone with a finger on the pulse of Y2K-era guitar music. But they also performed something arguably out of time: Frankie Valli and the Four Seasons' "Beggin'," which was released during the Summer of Love.
Måneskin wound up winning second place on "X Factor," but their story was just beginning. "Beggin'" picked up steam on their debut 2017 EP, Chosen, but it really took on meteoric velocity when the group won the 2021 Eurovision Song Contest. Since then, "Beggin'" has become a TikTok sensation, sweeping the charts worldwide.
And as unconventional as that story is — one where a Valli tune is in the heads of countless youngsters — the band's legacy isn't only hitched to that star. For more entryways into Måneskin's universe, check out the snotty "I Wanna Be Your Slave," which they (naturally) redid with Iggy Pop in 2021. To say nothing of the outrageously horny "Mammamia," which they just performed on "The Tonight Show Starring Jimmy Fallon."
So, are the flamboyant, gender-blurring Måneskin the ambassadors of rock in the year of our lord, 2021? Only if you mean the rivulet of rock that flows through 2000s dance-rock all the way back to rock's decidedly unmacho pioneers: Marc Bolan, David Bowie, Little Richard.
As De Angelis said, leave your discriminations at the door — you'll be treated to a hell of a time. Believe it, if for the sole reason that Iggy Pop hasn't led us astray thus far.
2022 GRAMMYs Awards Show: Complete Nominations List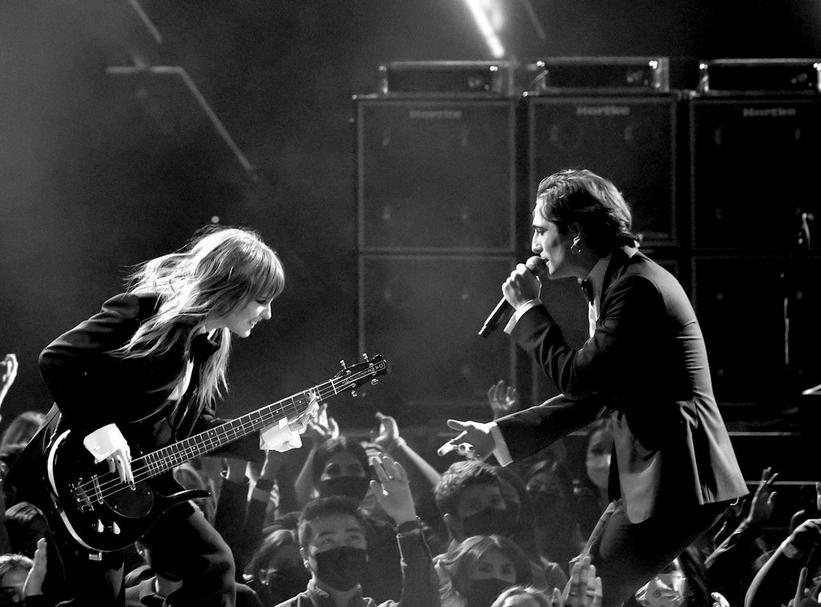 Photo: Kevin Winter/Getty Images for MRC
news
2021 In Review: 8 Trends That Defined Rock
It isn't just not dead; it's thriving. In 2021, rock became less male, less straight, more genre-fluid and further enshrined modern-day elders — all with a healthy reverence for the past
GRAMMYs
/
Dec 29, 2021 - 10:37 pm
By the looks of the 2022 GRAMMY nominations, rock in 2021 was about looking backward.
There's some credence to this idea: AC/DC, Foo Fighters, Paul McCartney, Wolfgang Van Halen, Weezer, Kings of Leon and the late Chris Cornell had banner years. Even Black Pumas' twice-nominated Capitol Cuts was something of another permutation of their 2019 self-titled debut — to say nothing of their retro-soul sound. But the real story is more complicated than that.
Beneath the stratum of these legacy acts (and, in Black Pumas' case, an up-and-comer), rock expanded in a multitude of directions. For one, the idea of it being a straight, white male's game was put to pasture: women singer/songwriters from Olivia Rodrigo to Lucy Dacus — as well as a host of acclaimed LGBTQ+ artists — took the wheel.
And when it comes to the sound of rock in 2021, things got more exciting than inclusion alone. Just beneath the mainstream and big-box indie, Turnstile blended floor-punching hardcore with wavy R&B and electronic textures, thanks in part to forward-thinking guest Dev Hynes, a.k.a. Blood Orange. Hardcore-adjacent bands like Fiddlehead and Militarie Gun wove the angular indie and emo of the '90s into their strongest songs to date.
Certainly, some cultural currents from prior years washed into 2021's rock sphere — namely, classic rock proving as sturdy as ever, pop-punk and emo riding high and Foo Fighters saturating all media. But here are a few other happenings more-or-less squarely in the province of 2021.
Women Stepped Forward
Female talent was uncontainable in 2021 indie and rock: Julien Baker, Lucy Dacus, Bachelor, Courtney Barnett and Pom Pom Squad all had strong showings.
Most importantly, their perspectives were front and center. And while Olivia Rodrigo's Sour was saturated in heterosexual breakup woes, women wrote songs about everything this year, from grief to joy to sobriety to solitude.
If the Bechdel test — which ascertains whether a work features at least two women who talk to each other about something other than a man — applied to guitar-based music, 2021 would pass with flying colors.
Representation Expanded Beyond Gender
Two-thirds of rising pop-punk trio Meet Me @ The Altar — who released their Fueled By Ramen debut, an EP titled Model Citizen, in August — identify as LGBTQ+, but that's hardly where queer representation in 2021 rock ended.
Snail Mail's Lindsey Jordan, who is openly gay, put out her acclaimed album Valentine. St. Vincent's Annie Clark, who once said "I don't really identify as anything," released Daddy's Home to widespread praise.
And Japanese Breakfast's Michelle Zauner, who is bisexual, had a massive year with her new album, Jubilee — which contained the hit single "Be Sweet" — and bestselling memoir, Crying in H Mart.
Plus, the half-Asian, half-Latinx, all-female band the Linda Lindas (of "Racist Sexist Boy" fame) signed to Epitaph Records in 2021 — which bodes well for a women-first 2022 in punk.
The Old Became New
On Glow On, Turnstile interpolated Sly and the Family Stone lyrics and their aforementioned punk peers whipped up a noise akin to Unwound or Sunny Day Real Estate. But those and other bands didn't just dig around in music's past; they made sounds from the past new again.
Across the pond, English duo Royal Blood's Typhoons brought back a bass-and-drums stomp reminiscent of the White Stripes or Death From Above 1979, reminding listeners the world over that rock is rightfully dance music.
They're not the only ones mining the past to new ends — a tidal wave of nervy bands in the U.K., like Squid, Dry Cleaning and Fontaines D.C., are recalling the sounds of post-punkers like Wire and the Fall.
Plus, Olivia Rodrigo's interpolation of Paramore's "Misery Business" into megahit "Good 4 U" showed the new guard is bringing back Myspace-era emo. (Machine Gun Kelly did a lot to weave that connection, as evidenced with his successful 2020 album Tickets To My Downfall.)
Then, there's Måneskin's summoning of Bowie and Queen signifiers — but that's a whole other story.
International Sounds Resonated
Måneskin's ascent in 2021 seemed to come out of nowhere.
Led by conspicuously codpieced singer Damiano David, the Italian rock band managed to lodge Frankie Valli and the Four Seasons' 1967 hit "Beggin'" into youngsters' imaginations via a big win at the 2021 Eurovision Song Contest and, eventually, TikTok virality. This year, they dropped their second album, Teatro d'ira: Vol. I, to critical applause.
And the year-end critics' polls featured another geographic outlier: Nigerian guitarist Mdou Moctar's new album Afrique Victime burned an indelible impression of Tuareg desert-blues into rock fans' consciousnesses.
Genres Became Elastic
Weezer tested the boundaries of their tried-and-true power-pop on 2021's OK Human, and it paid off — especially on the single "All My Favorite Songs," which swapped buzzsaw guitars for chamber orchestration.
There's also a separate discussion to be had about how emo — originally a rock subgenre — has come to subsume almost everything from hip-hop to pop to trap, from Juice WRLD to The Kid Laroi and beyond. (Pop-punk, its sister style, turns up in K-pop bands like ENHYPEN and Tomorrow x Together, too.)
A whole article could be dedicated to Glass Animals' genre fluidity — something they've been known for since their start with 2014's Zaba. But their psychedelic smash, "Heat Waves," launched the UK indie-rock group onto pop radio and beyond.
The track made Glass Animals arguably 2021's biggest rock success and scored them their first hit on the Billboard Hot 100, where it reached No. 7. (Spin its parent album, 2020's Dreamland, and Glass Animals' 2021 single, "I Don't Wanna Talk [I Just Wanna Dance]" for several other permutations of their sound-bending stylings.)
Finally — to bring up Turnstile's Glow On one more time — has a hardcore album ever veered so close to Arthur Russell or PinkPantheress territory without betraying its roots?
Bands Embraced Traditional Song Structures
Is this exactly a 2021 rock phenomenon? Maybe not, but it arguably reached a new apex this year.
After years of "vibes" in indie rock — from slacker-songwriters like early WAVVES and Best Coast to the noise storms of No Age and Bass Drum of Death — it seems like songs are back in style.
Check out pretty much any of the 2021 offerings cited above — they offer verses, choruses, bridges and/or legible lyrics. Is it possible that while textures and references are an integral part of memorable songs, listeners are demanding a little more meat to the bone?
A Rock Veteran Mentored The Next Gen
Travis Barker is precipitously becoming far more than Blink-182's drummer. These days, he's nurturing young rock talent left and right.
After high-profile collaborations with Post Malone and Machine Gun Kelly in 2020, he partly spent 2021 mentoring the 24-year-old rocker KennyHoopla (the pair collaborated on SURVIVOR'S GUILT: THE MIXTAPE) and helping Willow Smith transition from alt-R&B to pop-punk by featuring on three cuts from her album lately i feel EVERYTHING.
In addition, he hopped on tracks with MOD SUN and grandson, and furthered the emo rap craze with features on songs from blackbear, Trippie Redd, Sueco, LILHUDDY, and Jack Kays, among others.
The rock veteran also helped a fellow longtime punk star begin a new chapter, too: Barker signed Avril Lavigne to his label, DTA Records, in November, also featuring on her first single on the imprint, "Bite Me."
These Rock Heroes Saturated Everything
Even after decades of making influential rock music with Nirvana and Foo Fighters, how does one encapsulate the year that Dave Grohl had?
Grohl was just about everywhere this year. Not only did Foo Fighters release their 10th studio album, Medicine at Midnight; they performed at Biden's inauguration, entered the Rock and Roll Hall of Fame and received the first-ever global icon award at the 2021 MTV Video Music Awards. (Plus: a bestselling memoir, an upcoming horror-comedy… the list goes on.)
If it's possible to ascertain a future classic rock artist, Grohl is probably your safest bet. And even if Foo Fighters want to take it easy after such a whirlwind year, the irrepressibly enthusiastic hitmaker clearly isn't going anywhere in this decade.
2021 In Review: 8 Trends That Defined Country Music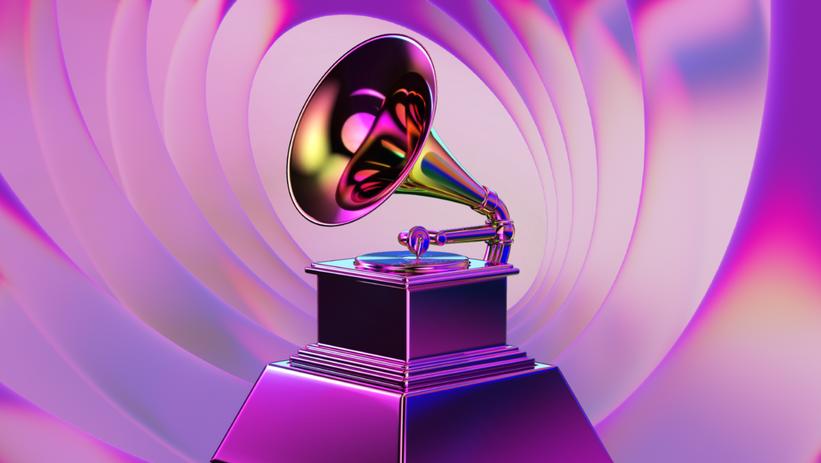 2022 GRAMMYs
Graphic: The Recording Academy
news
Participating Talent For 2022 GRAMMYs Nominations Livestream Announced: BTS, H.E.R., Jon Batiste, Måneskin, Carly Pearce, Tayla Parx, Gayle King, Nate Bargatze & Special Guests Confirmed
BTS, H.E.R., Jon Batiste, Måneskin, Carly Pearce, Tayla Parx, Nate Bargatze, and special guests join Recording Academy CEO Harvey Mason jr. and Board of Trustees Chair Tammy Hurt to celebrate this year's nominees in virtual livestream on Tuesday, Nov. 23
GRAMMYs
/
Nov 23, 2021 - 06:57 am
Editor's Note: The 2022 GRAMMYs Awards show, officially known as the 64th GRAMMY Awards, <a href="https://www.grammy.com/grammys/news/2022-grammys-awards-64th-new-air-show-date-location-las-vegas-april-3-announcement "https://www.grammy.com/grammys/news/2022-grammys-awards-64th-new-air-show-date-location-las-vegas-april-3-announcement"">has been rescheduled to Sunday, April 3, at the MGM Grand Garden Arena in Las Vegas. The below article was updated on Tuesday, Jan. 18, to reflect the new show date and location.
The Recording Academy announced today the talent who will join CEO Harvey Mason jr. and Board of Trustees Chair Tammy Hurt to help reveal the nominees of all 86 categories for the 2022 GRAMMYs Awards show, officially known as the 64th GRAMMY Awards, on Tuesday, Nov. 23, via a virtual livestream event.
Comedian Nate Bargatze, past GRAMMY nominee Jon Batiste, past GRAMMY nominees BTS, four-time GRAMMY Award winner H.E.R., "CBS Mornings" anchor Gayle King, rock band Måneskin, past GRAMMY nominee Tayla Parx, singer/songwriter Carly Pearce, and special guests will be part of the nominations livestream that will begin at approximately 9 a.m. PT / 12 p.m. ET live from the GRAMMY Museum in Los Angeles. The event will be available to view on live.grammy.com and the Recording Academy's official Facebook, TikTok, Twitter, and YouTube channels. Immediately following the livestream, the press release and the full nominations list will be made available on GRAMMY.com and the Recording Academy's social media platforms.
Nominations for the 2022 GRAMMYs Awards show are officially here! See the full list of nominations.
The Recording Academy will present the 2022 GRAMMY Awards on Sunday, April 3, on the CBS Television Network and stream live and on demand on Paramount+ from 8–11:30 p.m. ET / 5–8:30 p.m. PT.
Additional details about the dates and locations of other official GRAMMY Week events, including the GRAMMY Awards Premiere Ceremony, <a href="https://www.musicares.org/person-year "https://www.musicares.org/person-year"">MusiCares' Person of the Year, and the Pre-GRAMMY Gala, will be announced soon.
Follow "Recording Academy / GRAMMYs" on Twitter, Instagram and Facebook and use #GRAMMYs to join the conversation as it unfolds on Tuesday, Nov. 23.
Drizly is the official delivery partner of the 64th Annual GRAMMY Awards nominations.
The 64th GRAMMY Awards: Everything You Need To Know About The 2022 GRAMMYs Awards Show & Nominations