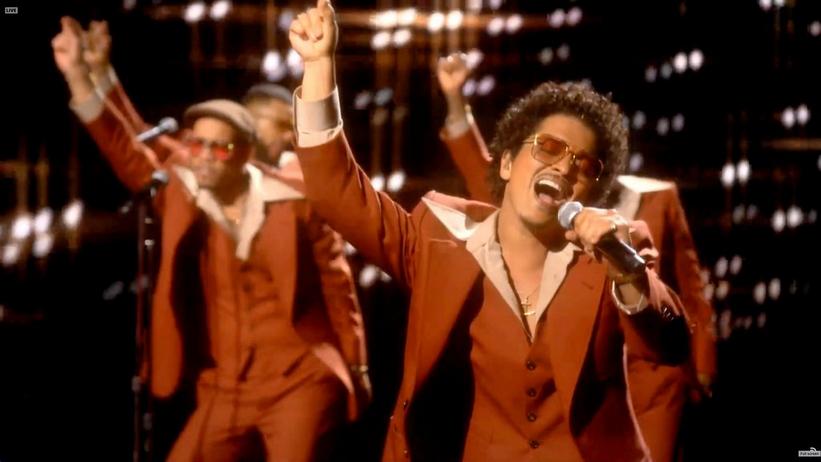 Silk Sonic
Photo: Theo Wargo/Getty Images for The Recording Academy
list
7 Things To Know About Silk Sonic's Dazzling, Nostalgic Las Vegas Residency
Bruno Mars and Anderson .Paak bring their funk-pop project to life in their newly minted Las Vegas residency, a transportive and soulful experience that kicked off on Feb. 25
GRAMMYs
/
Feb 28, 2022 - 11:17 pm
"Silk Sonic believes that what happens in Vegas stays in Las Vegas," Bruno Mars informed the crowd in Sin City over the weekend.
Though it's a bit of a cliché, the saying was actually quite fit for the occasion. Silk Sonic — Mars' '70s-inspired joint project with Anderson .Paak — is, at least for the time being, only doing performances in the form of a Las Vegas residency. And with Yondr bags keeping fans from capturing any footage of the show, it really felt like those in the 5,000-cap room were meant to share the experience — exclusively.
The 90-minute show, which is held at Park MGM's Dolby Live, was as much of a disco-tinged affair as one would imagine upon listening to the duo's album, An Evening With Silk Sonic. Complete with sparkly (and, of course, silky) getups and retro choreography, Mars and .Paak crafted a night to remember — even if it couldn't be documented on camera.
Whether you're planning to catch the show yourself or just want a taste of the action, check out some of the takeaways from Silk Sonic's Las Vegas residency.
Bootsy Collins Made An Appearance
Well, virtually. The funk legend — who bestowed the band name on the pair — features on the intro for An Evening With Silk Sonic, which also served as the show opener.
Sporting his signature bedazzled top hat and sunglasses, Collins appeared on an oversized screen to get the party started. "Fellas, I hope you got somethin' in your cup," he said. "And ladies? Don't be afraid to make your way to the stage."
They Relished A Phoneless Experience
After opening with the Vegas-nodding "777" and the gliding groove of "Skate," Mars and .Paak took visible glee in reminding the crowd that they were phoneless — in song form, naturally.
"We took your phones away, we took your phones away," they sang over an R&B melody that fit right in with the Silk Sonic sound. "Some of them look mad," .Paak joked.
Sure, it was a bummer to not be able to snap a photo of the awe-inspiring staging or capture a video of their smooth moves. Yet in reality, the no-phone policy resulted in an electric atmosphere, one that Mars said he and .Paak envisioned upon creating Silk Sonic: "You made me and Andy's dream come true tonight."
It Felt Like A Giant Dance Party
Silk Sonic's infectious energy and upbeat rhythms are enough to get people grooving. But without phones as a major distraction, all there was to do was dance.
From the second Silk Sonic took the stage, everyone from the front to the back row was on their feet. The dancing never stopped on stage or in the crowd, and it made for a full-on party.
The Production Was Transportive
As Silk Sonic had teased with performances on the American Music Awards and the BET Soul Train Awards last year, they bring as much soul to their aesthetic as they do in their music. Between the disco ball that hung over the audience and the velvet suits — capped off by .Paak's fitting mushroom-cut wig — the entire setup was as retro as it could be.
Yes, They Help Sing Each Other's Songs
With only 10 songs in the Silk Sonic songbook thus far, Mars and .Paak added a few of their own singles to the set list. .Paak assisted Mars on the bridge of "Treasure," and Mars played drums on .Paak's "Come Down" — something the "That's What I Like" singer claimed he's been wanting to since .Paak's first album in 2014. "Tonight's your lucky night," .Paak quipped.
They Sound Even Better Together In Person
No matter what they were singing, .Paak and Mars' harmonies were even more unbelievable live than on record. Along with ad-libbing several vocal breakdowns during "Fly As Me" and "Smokin' Out the Window," they sang portions of "Put On a Smile" and "Blast Off" a cappella.
It was the night's finale, the GRAMMY-nominated "Leave the Door Open," that really showed just how well they mesh both vocally and personally. It was evident that they not only love singing it, but they have been working hard at perfecting the delivery — and it certainly paid off.
Bruno Mars Seems Happier Than He's Ever Been
When you have a singing partner like the ever-so-smiley Anderson .Paak, it's hard not to be happy. But Mars' ear-to-ear grin throughout the show felt like more than just feeding off of .Paak's good energy.
While Mars has never seemed unhappy on stage, he's also never seemed so in his element as he did alongside .Paak. It was apparent that this soulful music and vintage style is where he thrives, and considering how seamlessly his own music fit into the night's lineup, Mars has clearly found his true musical home.
Las Vegas may be the perfect setting for Silk Sonic, but here's hoping they don't only stay in Vegas. The world needs more Silk Sonic — and it seems like both Mars and .Paak do too.
Living Legends: New Orleans Soul Queen Irma Thomas On Authenticity, Faith And Maintaining Your Hustle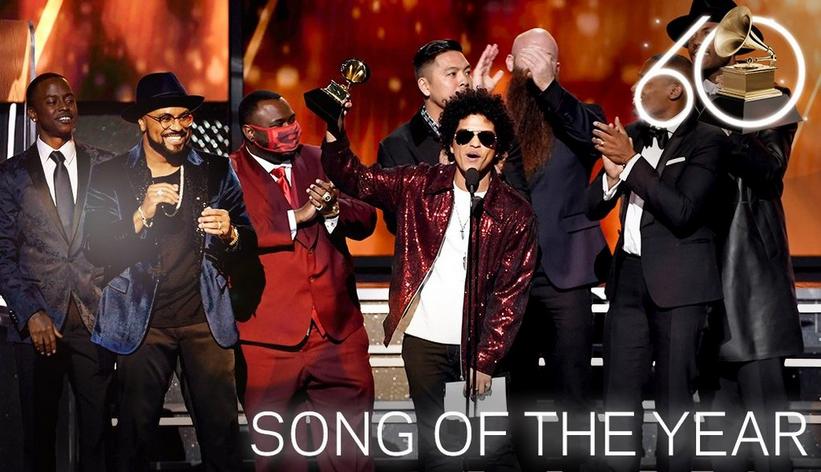 news
Bruno Mars Wins Song Of The Year | 2018 GRAMMYs
The Hawaiian native takes home Song Of The Year for "That's What I Like" at the 60th GRAMMY Awards
GRAMMYs
/
Jan 29, 2018 - 08:11 am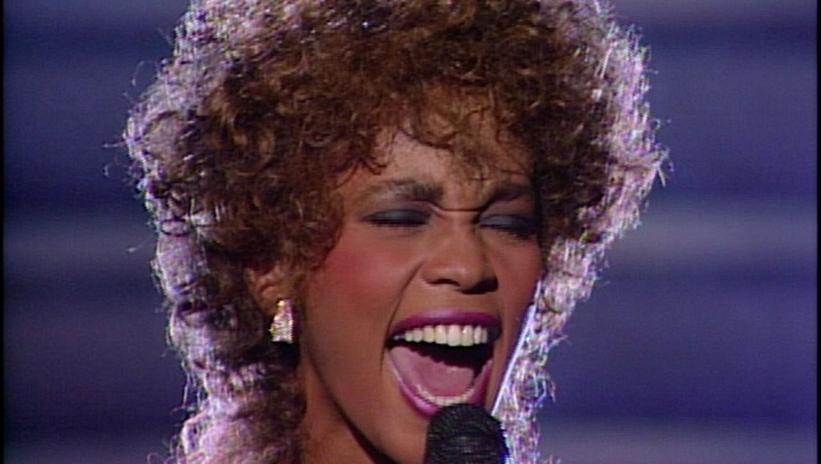 Whitney Houston, 29th GRAMMY Awards
news
Apple Music Exclusive: Watch Classic GRAMMY Performances
The Recording Academy teams with Apple Music to offer historical GRAMMY performances by Miles Davis, Marvin Gaye, Whitney Houston, Shania Twain, Kendrick Lamar, and more
GRAMMYs
/
Nov 24, 2017 - 07:00 pm
To celebrate the GRAMMY Awards' 60th anniversary and the show's return to New York for the first time in 15 years, the Recording Academy and Apple Music are bringing fans a special video collection of exclusive GRAMMY performances and playlists that represent the illustrious history of Music's Biggest Night.
Available exclusively via Apple Music in a dedicated GRAMMYs section, the celebratory collection features 60-plus memorable performances specifically curated across six genres: pop, rap, country, rock, R&B, and jazz.
The artist performances featured in the collection include Marvin Gaye, "Sexual Healing" (25th GRAMMY Awards, 1983); Whitney Houston, "Greatest Love Of All" (29th GRAMMY Awards, 1987); Run DMC, "Tougher Than Leather" (30th GRAMMY Awards, 1988); Miles Davis, "Hannibal" (32nd GRAMMY Awards, 1990); Shania Twain, "Man, I Feel Like A Woman" (41st GRAMMY Awards, 1999); Dixie Chicks, "Landslide" (45th GRAMMY Awards, 2003); Bruno Mars and Sting, "Locked Out Of Heaven" and "Walking On The Moon" (55th GRAMMY Awards, 2013); and Kendrick Lamar, "The Blacker The Berry" (58th GRAMMY Awards, 2016).
The 60th GRAMMY Awards will take place at New York City's Madison Square Garden on Sunday, Jan. 28, 2018. The telecast will be broadcast live on CBS at 7:30–11 p.m. ET/4:30–8 p.m. PT.

Carrie Underwood, John Legend To Host "GRAMMYs Greatest Stories"
news
MusiCares MAP Fund Charity Auction Launched
GRAMMY Charity Online Auctions offers exclusive memorabilia from seventh annual MusiCares MAP Fund benefit
GRAMMYs
/
Dec 3, 2014 - 05:06 am
Following the seventh annual MusiCares MAP Fund benefit honoring Depeche Mode's Dave Gahan and Vans Warped Tour founder Kevin Lyman on May 6, GRAMMY Charity Online Auctions has launched the MusiCares MAP Fund Charity Auction. Presented in partnership with Kompolt, the auction is open through May 19 and features a variety of autographed music memorabilia, including items signed backstage at the MusiCares MAP Fund benefit concert by Linkin Park's Chester Bennington, Gahan and Paramore.
Additional auction items include a framed issue of Rolling Stone signed by the Rolling Stones' Mick Jagger; vintage memorabilia signed by Tony Bennett, Jackson Browne, Annie Lennox, Rod Stewart, and Barbra Streisand; guitars autographed by Kings Of Leon, Korn, Tom Petty, Kenny Rogers, and Keith Urban; unique memorabilia signed by Jeff Beck, Justin Bieber, Eminem, Lady Gaga, Bruno Mars, Muse, Katy Perry, and Rihanna; and a 54th Annual GRAMMY Awards VIP Experience for two including rehearsal passes and hotel accommodations.
To place your bid on items featured in the auction, visit www.ebay.com/grammy. All proceeds will benefit MusiCares and the GRAMMY Foundation.
news
Jay Z Tops 56th GRAMMY Nominations With Nine
Kendrick Lamar, Macklemore & Ryan Lewis, Justin Timberlake, and Pharrell Williams earn seven nods each; other top nominees include Daft Punk, Drake, Lorde, Bruno Mars, and Taylor Swift
GRAMMYs
/
Dec 3, 2014 - 05:06 am
Nominations for the 56th GRAMMY Awards were announced tonight by The Recording Academy and reflected one of the most diverse years with the Album Of The Year category alone representing the rap, pop, country and dance/electronica genres, as determined by the voting members of The Academy. Once again, nominations in select categories for the annual GRAMMY Awards were announced on primetime television as part of "The GRAMMY Nominations Concert Live!! — Countdown To Music's Biggest Night," a one-hour CBS entertainment special broadcast live from Nokia Theatre L.A. Live.

Jay Z tops the nominations with nine; Kendrick Lamar, Macklemore & Ryan Lewis, Justin Timberlake, and Pharrell Williams each garner seven nods; Drake and mastering engineer Bob Ludwig are up for five awards.

"This year's nominations reflect the talented community of music makers who represent some of the highest levels of excellence and artistry of the year in their respective fields," said Neil Portnow, President/CEO of The Recording Academy. "Once again, The Academy's awards process and its voting membership have produced an impressive list of nominations across various genres promising music fans a spectacular show filled with stellar performances and unique 'GRAMMY Moments.' We are off to a great start and look forward to GRAMMY Sunday as Music's Biggest Night takes the stage."

Following are the nominations in the General Field categories:
Album Of The Year:
The Blessed Unrest — Sara Bareilles
Random Access Memories — Daft Punk
Good Kid, M.A.A.D City — Kendrick Lamar
The Heist — Macklemore & Ryan Lewis
Red — Taylor Swift

Record Of The Year:
"Get Lucky" — Daft Punk & Pharrell Williams
"Radioactive" — Imagine Dragons
"Royals" — Lorde
"Locked Out Of Heaven" — Bruno Mars
"Blurred Lines" — Robin Thicke Featuring T.I. & Pharrell Williams

Song Of The Year:
"Just Give Me A Reason" — Jeff Bhasker, Pink & Nate Ruess, songwriters (Pink Featuring Nate Ruess)
"Locked Out Of Heaven" — Philip Lawrence, Ari Levine & Bruno Mars, songwriters (Bruno Mars)
"Roar" — Lukasz Gottwald, Max Martin, Bonnie McKee, Katy Perry & Henry Walter, songwriters (Katy Perry)
"Royals" — Joel Little & Ella Yelich O'Connor, songwriters (Lorde)
"Same Love" — Ben Haggerty, Mary Lambert & Ryan Lewis, songwriters (Macklemore & Ryan Lewis Featuring Mary Lambert)

Best New Artist:
James Blake
Kendrick Lamar
Macklemore & Ryan Lewis
Kacey Musgraves
Ed Sheeran

Following is a sampling of nominations in the GRAMMY Awards' other 29 Fields:

For Best Pop Solo Performance, the nominees are "Brave" by Sara Bareilles; "Royals" by Lorde; "When I Was Your Man" by Bruno Mars; "Roar" by Katy Perry; and "Mirrors" by Justin Timberlake.

The nominees for Best Pop Duo/Group Performance are "Get Lucky" by Daft Punk & Pharrell Williams; "Just Give Me A Reason" by Pink Featuring Nate Ruess; "Stay" by Rihanna Featuring Mikky Ekko; "Blurred Lines" by Robin Thicke Featuring T.I. & Pharrell Williams; and "Suit & Tie" by Justin Timberlake & Jay Z.
For Best Dance/Electronica Album, the nominees are Random Access Memories by Daft Punk; Settle by Disclosure; 18 Months by Calvin Harris; Atmosphere by Kaskade; and A Color Map Of The Sun by Pretty Lights.

The Best Rock Performance nominees are "Always Alright" by Alabama Shakes; "The Stars (Are Out Tonight)" by David Bowie; "Radioactive" by Imagine Dragons; "Kashmir (Live)" by Led Zeppelin; "My God Is The Sun" by Queens Of The Stone Age; and "I'm Shakin'" by Jack White.

For Best Alternative Music Album, the nominees are The Worse Things Get, The Harder I Fight, The Harder I Fight, The More I Love You by Neko Case; Trouble Will Find Me by The National; Hesitation Marks by Nine Inch Nails; Lonerism by Tame Impala; Modern Vampires Of The City by Vampire Weekend.

The nominees for Best Rap/Sung Collaboration are "Power Trip" by J.Cole Featuring Miguel; "Part II (On The Run)" by Jay Z Featuring Beyoncé; "Holy Grail" by Jay Z Featuring Justin Timberlake; "Now Or Never" by Kendrick Lamar Featuring Mary J. Blige; and "Remember You" by Wiz Khalifa Featuring The Weeknd.

For Best Rap Album, the nominees are Nothing Was The Same by Drake; Magna Carta…Holy Grail by Jay Z; Good Kid, M.A.A.D City by Kendrick Lamar; The Heist by Macklemore & Ryan Lewis; and Yeezus by Kanye West.

The Best Country Album nominees are Night Train by Jason Aldean; Two Lanes Of Freedom by Tim McGraw; Same Trailer Different Park by Kacey Musgraves; Based On A True Story by Blake Shelton; and Red by Taylor Swift.

The nominees for Best Americana Album are Old Yellow Moon by Emmylou Harris & Rodney Crowell; Love Has Come For You by Steve Martin & Edie Brickell; Buddy And Jim by Buddy Miller And Jim Lauderdale; One True Vine by Mavis Staples; and Songbook by Allen Toussaint.

This year's Producer Of The Year, Non-Classical nominations go to Rob Cavallo, Dr. Luke, Ariel Rechtshaid, Jeff Tweedy, and Pharrell Williams.

This year's GRAMMY Awards process registered more than 22,000 submissions over a 12-month eligibility period (Oct. 1, 2012 – Sept. 30, 2013). GRAMMY ballots for the final round of voting will be mailed on Dec. 11 to the voting members of The Recording Academy. They are due back to the accounting firm of Deloitte by Jan. 8, 2014, when they will be tabulated and the results kept secret until the 56th GRAMMY telecast.

The 56th Annual GRAMMY Awards will be held Jan. 26, 2014, at Staples Center in Los Angeles and once again will be broadcast live in high-definition TV and 5.1 surround sound on CBS from 8–11:30 p.m. (ET/PT). The 56th Annual GRAMMY Awards are produced by AEG Ehrlich Ventures for The Recording Academy. Ken Ehrlich is executive producer, and Louis J. Horvitz is director.

For updates and breaking news, visit The Recording Academy's social networks on Twitter and Facebook.