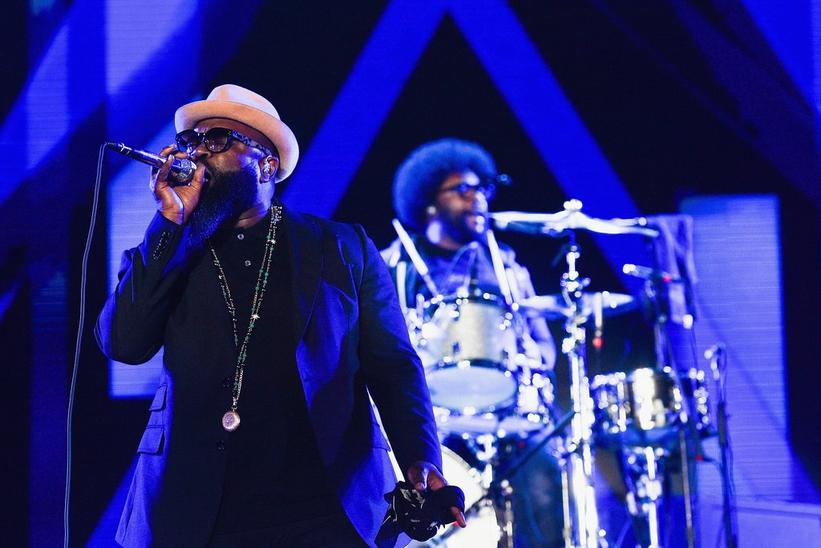 Photo: Erika Goldring/Getty Images)
news
The Roots Picnic 2019: The Roots, H.E.R., 21 Savage & More
The music fest will feature a performance of the whole 'Things Fall Apart' LP and performances by City Girls, Raphael Saadiq and more
GRAMMYs
/
Mar 12, 2019 - 11:03 pm
The Roots Picnic is back for its 12th year and this time will feature a special headline performance from GRAMMY-winning band The Roots in celebration of the 20th anniversary of their Things Fall Apart album. H.E.R., 21 Savage and Lil Baby are among other artists on the music festival's bill happening June 1 in Philadelphia.
Raphael Saadiq,Tank & The Bangas and CityGirls will also have sets at the 2019 edition that will happen at The Mann At Fairmount Park. In a statement, the Roots manager Shawn Gee and President of Live Nation Urban said the park had always been a part of the "vision" for the fest.
"We finally have a Roots Picnic in the Park," he said. "The vision 12 years ago was always to provide an all day musical and cultural experience in Fairmount Park. Black Thought, Questlove and I grew up spending our Sunday afternoons at the Belmont Plateau in Fairmount Park watching Philly DJs spin, and enjoying the vibe and the culture. It's a great feeling to be able to come full circle and bring the Picnic to Fairmount Park, I think it's a big WIN for the city."
In honor of their fourth album celebration, Questlove announced that the group would perform the whole album with special guests. "Finally: in honor of the 20th Anniversary Of our 4th album #ThingsFallApart we @TheRoots will perform the entire jawn w special guests live at our new location: The Mann At Fairmount Park Saturday June 1st 2019!" he posted on Instagram.
Podcasting will also have a presence at the event; there will be live recordings of The Joe Budden Podcast, The Read Podcast and the Questlove Supreme Podcast.
Presale is open now and tickets for the general publuic go on sale March 15 12:00 p.m. EDT. For more information on tickets, visit the Ticketmaster website.
John Legend Pays Tribute To Aretha Franklin With A Stunning Cover Of "Bridge Over Troubled Water"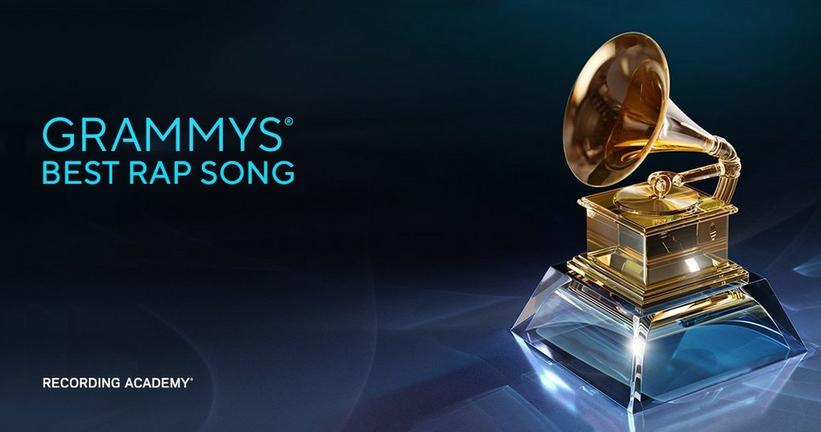 list
Here Are The Nominees For Best Rap Song At The 2024 GRAMMYs
Get a deeper look into the five tracks from Doja Cat, Nicki Minaj and Ice Spice, Lil Uzi Vert, Drake and 21 Savage, and Killer Mike, André 3000, Future and Eryn Allen Kane that earned the Best Rap Song nod at the 2024 GRAMMYs.
GRAMMYs
/
Nov 11, 2023 - 02:44 pm
Rap music has changed a lot since the Best Rap Song category was introduced at the 2004 GRAMMYs. Most of the first year's nominees, even if they're still making music, now spend the majority of their time on things like making hit TV shows or running iconic fashion brands.
But the category, then and now, has its finger on the pulse; it gives us a cross-section of what makes hip-hop so important to so many people. The Best Rap Song nominees for the 2024 GRAMMYs are no different. The Category includes a pop princess taking a big left turn; two New Yorkers paying tribute to the greatest of all dolls; a Philly rapper taking us to the club; a duo who can't stop flexing on us; and a Dungeon Family reunion that spans generations. 
Below, take a deep dive into the five tracks up for Best Rap Song at the 2024 GRAMMYs.
Attention" — Doja Cat
Rogét Chahayed, Amala Zandile Dlamini & Ari Starace, songwriters (Doja Cat)
"Attention" marked a new era for Doja Cat — one where she moved away from the pop sounds that made her famous, and into something harder and more aggressive.
In the weeks leading up to the track's release, Doja called her earlier rapping attempts "mid and corny" and referred to the music that broke her into the big time as "mediocre pop." So it only made sense that her big statement single would be exactly that — a statement. 
The beat by Rogét Chahayed and Y2K has a drum loop that wouldn't sound out of place on Ultimate Breaks and Beats, and Doja lets the world see her inner hip-hop fan with some serious rapping — no mid or corny verses here. This is the Doja who can quote underground faves like Homeboy Sandman and Little Brother at the drop of a hat. 
"Attention" finds Doja addressing her often-contentious relationship with fans and social media, as well as the controversies she went through leading up to the song's release. But the whole thing is playful and ambiguous. Does she want the world's attention, now that she has it? What is she willing to do to keep it? In this song — and even more so in its video — Doja plays with these questions like a truly great superstar.  
"Barbie World" [From Barbie The Album] — Nicki Minaj & Ice Spice Featuring Aqua
Isis Naija Gaston, Ephrem Louis Lopez Jr. & Onika Maraj, songwriters (Nicki Minaj & Ice Spice Featuring Aqua)
Aqua's "Barbie Girl" was too sexy for Mattel when it was released in 1997 — the company sued the band, claiming that people would associate lyrics like "Kiss me here, touch me there" with their wholesome children's toy. So it's both ironic and, given the post-irony tone of the movie itself, somehow fitting that "Barbie Girl" is sampled in a major song from the new Barbie movie.
And who better to bring Barbie to life in rap form than the head of the Barbz? Soundtrack producer Mark Ronson said that there was no way to have a Barbie soundtrack without Nicki Minaj, and he was absolutely right. Nicki, with her career-long association with Mattel's most famous toy, was the perfect choice. Joining her on the track is the hottest rapper of the moment, Ice Spice. Ice's go-to producer RiotUSA did the music for the song, which accounts for both its aggressive drums and its sample drill-style use of the once-verboten Aqua hit. 
Nicki and Ice have great chemistry in the song. Nicki doesn't treat the song like a movie soundtrack throwaway — her rhyming is clear, sharp, layered, and funny. And she gets extra points for referring to a bob-style wig as her "Bob Dylan."
"Just Wanna Rock" — Lil Uzi Vert
Mohamad Camara, Javier Mercado & Symere Woods, songwriters
Lil Uzi Vert took "Just Wanna Rock" from TikTok all the way to the GRAMMYs.
The track began as a snippet on the social media app, where it went viral, garnering hundreds of millions of views; even celebrities like Kevin Hart got into the act. When the actual song came out, at just about two minutes long, it wasn't much longer than a TikTok video. But it didn't need to be — the full track kept all the joy and danceability of the memeable excerpt.
"Just Wanna Rock" features Uzi acting as an MC, but not in a traditional going-for-the-cleverest-rhyme way. Instead, his voice is used more for its rhythmic qualities, darting in and out of the four-on-the-floor pounding of the kick drum with short, punchy phrases. "I just wanna rock, body-ody-ya" may not look like much on the page, but it's placed perfectly, and it's the kernel that blossoms into the rest of Uzi's performance.
He takes the rhythm of that initial phrase and plays with it throughout in increasingly intricate ways, while never losing sight of the source material. The song is heavily influenced by the Jersey club sound that has been all over hip-hop this year. As the most popular rap/Jersey club crossover of 2023, it makes perfect sense that "Just Wanna Rock" is in the running for Best Rap Song — even if it is unfinished.
"Rich Flex" — Drake & 21 Savage
Shéyaa Bin Abraham-Joseph, Charles Bernstein, Isaac "Zac" De Boni, Brytavious Chambers, Aldrin Davis, Aubrey Graham, J. Gwin, Clifford Harris, Gladys Hayes, Anderson Hernandez, Michael "Finatik" Mule, Megan Pete, B.D. Session Jr & Anthony White, songwriters
Simon and Garfunkel. Sam and Dave. Hall and Oates. To that list of great duos, it might be time to add Drake and 21 Savage. Seven years after their first collaboration, Toronto and Atlanta's finest finally got together for a full-length project in 2023, and Her Loss standout (and opener) "Rich Flex" is now up for an award on Music's Biggest Night.
"Rich Flex," like much latter-day Drake, has multiple beats. But in this case, that adds to the song's playful mood. Drizzy and 21 sound like they're actually having fun — Drake even playfully lapses into a sing-songy, nursery rhyme-esque melody on occasion. Savage, for his part, seems to be having a blast interpolating Megan Thee Stallion's "Savage" — a move which earned the Houston rapper a writing credit on the track. 
Drake, as in a lot of his recent work, seems consumed with the costs of fame: haters everywhere you look, hangers-on who make your house feel like a hotel; women who won't leave you alone; unwanted attention from law enforcement. But he almost never sounds this engaged, even joyful, when addressing these topics. Maybe what he needed all along was a duet partner. 
"Scientists & Engineers" — Killer Mike Featuring André 3000, Future And Eryn Allen Kane
Paul Beauregard, Andre Benjamin, James Blake, Tim Moore, Michael Render & Dion Wilson, songwriters
It was Andre 3000's first appearance on a song in two years that got all the attention at first. But there's a lot more to "Scientists & Engineers" than the fact that the reclusive half of OutKast shows up.
For one thing, it's what he shows up with. Andre's verse is smart, well-observed, poetic, and somehow manages to change focus completely in the middle and yet still hold together as an artistic statement.
But he's far from the only talent on the song. The track is a veritable all-star fest — not for nothing did Killer Mike call it a "hip-hop fantasy." On the music side, there are contributions from legendary producers No ID and Three 6 Mafia's DJ Paul, hip-hop's favorite singer/songwriter James Blake, and TWhy. Singer Eryn Allen Kane adds her gorgeous vocals. And Future, who lest we forget, began his career as a "second generation" member of the Dungeon Family collective that included OutKast and Mike, adds his patented boastful vulnerability.
Then there's Mike himself. He needed to bring a stellar performance in order not to be buried by all his very special guests, and he more than pulls it off. "I am Thelonius Monk in a donk," he rhymes, and the combination of the innovative jazz legend and the classic car with big rims perfectly describes not only him, but the entire mood he sets with this song.
The 2024 GRAMMYs, officially known as the 66th GRAMMY Awards, returns to Los Angeles' Crypto.com Arena on Sunday, Feb. 4, 2024, and will broadcast live on the CBS Television Network and stream live and on-demand on Paramount+ at 8-11:30 p.m. ET/5-8:30 p.m. PT.
The Recording Academy and GRAMMY.com do not endorse any particular artist, submission or nominee over another. The results of the GRAMMY Awards, including winners and nominees, are solely dependent on the Recording Academy's Voting Membership.
2024 GRAMMY Nominations: See The Complete Winners & Nominees List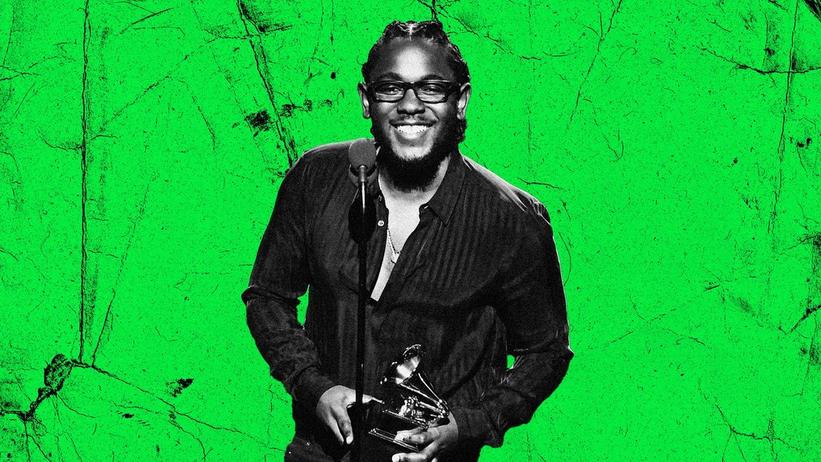 Kendrick Lamar
Photo: Jeff Kravitz/FilmMagic
video
GRAMMY Rewind: Kendrick Lamar Honors Hip-Hop's Greats While Accepting Best Rap Album GRAMMY For 'To Pimp a Butterfly' In 2016
Upon winning the GRAMMY for Best Rap Album for 'To Pimp a Butterfly,' Kendrick Lamar thanked those that helped him get to the stage, and the artists that blazed the trail for him.
GRAMMYs
/
Oct 13, 2023 - 06:01 pm
Updated Friday Oct. 13, 2023 to include info about Kendrick Lamar's most recent GRAMMY wins, as of the 2023 GRAMMYs.
A GRAMMY veteran these days, Kendrick Lamar has won 17 GRAMMYs and has received 47 GRAMMY nominations overall. A sizable chunk of his trophies came from the 58th annual GRAMMY Awards in 2016, when he walked away with five — including his first-ever win in the Best Rap Album category.
This installment of GRAMMY Rewind turns back the clock to 2016, revisiting Lamar's acceptance speech upon winning Best Rap Album for To Pimp A Butterfly. Though Lamar was alone on stage, he made it clear that he wouldn't be at the top of his game without the help of a broad support system. 
"First off, all glory to God, that's for sure," he said, kicking off a speech that went on to thank his parents, who he described as his "those who gave me the responsibility of knowing, of accepting the good with the bad."
He also extended his love and gratitude to his fiancée, Whitney Alford, and shouted out his Top Dawg Entertainment labelmates. Lamar specifically praised Top Dawg's CEO, Anthony Tiffith, for finding and developing raw talent that might not otherwise get the chance to pursue their musical dreams.
"We'd never forget that: Taking these kids out of the projects, out of Compton, and putting them right here on this stage, to be the best that they can be," Lamar — a Compton native himself — continued, leading into an impassioned conclusion spotlighting some of the cornerstone rap albums that came before To Pimp a Butterfly.
"Hip-hop. Ice Cube. This is for hip-hop," he said. "This is for Snoop Dogg, Doggystyle. This is for Illmatic, this is for Nas. We will live forever. Believe that."
To Pimp a Butterfly singles "Alright" and "These Walls" earned Lamar three more GRAMMYs that night, the former winning Best Rap Performance and Best Rap Song and the latter taking Best Rap/Sung Collaboration (the song features Bilal, Anna Wise and Thundercat). He also won Best Music Video for the remix of Taylor Swift's "Bad Blood." 
Lamar has since won Best Rap Album two more times, taking home the golden gramophone in 2018 for his blockbuster LP DAMN., and in 2023 for his bold fifth album, Mr. Morale & the Big Steppers.
Watch Lamar's full acceptance speech above, and check back at GRAMMY.com every Friday for more GRAMMY Rewind episodes. 
10 Essential Facts To Know About GRAMMY-Winning Rapper J. Cole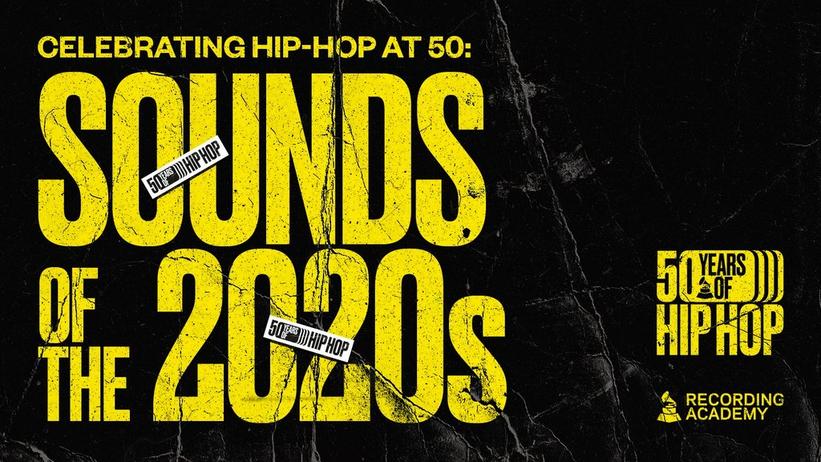 list
5 Essential Hip-Hop Releases From The 2020s: Drake, Lil Baby, Ice Spice, 21 Savage & More
The 2020s swapped record sales for big personalities and artists with a penchant for virality. Read on for five crucial songs and albums that defined the decade.
GRAMMYs
/
Jul 31, 2023 - 06:58 pm
It's only been three years into the new decade, but a new era of hip-hop artists have already made their mark on the ever-evolving genre. 
In the 2020s, social media platforms like TikTok have played a growing role in the trajectory of an artist's career. Social media has given artists like Finesse2tymes, Coi Leray, Baby Keem, Ice Spice, and others their first sign of momentum, and they have all ascended to stardom by following the same formula. 
The decade has also proven to be a golden age for female rap stars, with emerging talents like Latto, Megan Thee Stallion, Sexyy Red, GloRilla, and others adding to the femme-powered charge. Male artists including Lil Durk, Fivio Foreign, Lil Baby, and others have become the leading voices of their respective cities.
Meanwhile, now-veteran MC Drake remains one of the genre's biggest names and most consistent hit-makers. Rap supernovas J. Cole, Tyler, the Creator, and Kendrick Lamar have continued to flex their culture-shifting powers in the '20s, while the legacies of late artists Nipsey Hussle, Pop Smoke, DMX, PnB Rock, Takeoff, and others have been immortalized by musical dedications, video tributes, and posthumous projects supported by those that cherished their contributions.
Sounds and styles of other regions continue to meld with those of domestic hip-hop artists. Among the biggest cross-genre trends, afrobeat, reggaeton, and afro-swing hits like Travis Scott and Rosalia's "TKN," J Hus and Drake's collab "Who Told You," and Chris Brown and WizKid's "Call Me Every Day" showcase hip-hop's musical expansion. While the 2010s pointed to the boundless nature of rap music, the genre is as socially diverse as ever in the 2020s. 
From new flows, collabs, and incredible beats, hip-hop will undoubtedly continue to evolve over the next six and a half years. Read on for five releases that have defined the 2020s thus far.
Lil Baby -
My Turn
(2020)
Lil Baby has blossomed into one of the leading figures in Atlanta rap. He built up momentum with mixtapes Too Hard, Street Gospel, and his collaborative project with Gunna, Drip Harder. But Baby's full ascension came with the delivery of My Turn, a culmination of his biggest street anthems and most conceptualized hits.
The 20-track project was filled with the year's biggest trap records, which featured fellow rap stars Lil Uzi Vert, Moneybagg Yo, Future, Young Thug, Rylo Rodriguez, Lil Wayne, and 4 Pockets Full signee 42 Dugg. The album drew an all-star ensemble of beat makers too, with super-producer Hit-Boy, Murda Beatz, Tay Keith, Quay Global, Twysted Genius, and others lending a hand in the production. 
My Turn earned Lil Baby his first No.1 album and topped the charts in 10 countries. And along with major sales, the single "Bigger Picture" was nominated for two GRAMMY Awards in 2021 and introduced the world to the Quality Control Music rapper on a global scale. 
Tyler, the Creator -
Call Me If You Get Lost (
2021)
Tyler, the Creator took a sonic pivot on Flower Boy and 2019's Igor, which earned the "See You Again" artist a broader audience and new hardware for his trophy collection. The two albums were deeply transient, personal bodies of work that showed Tyler's artistry in ways previously unseen. 
He embraced a more alternative sound that was led by harmony-driven romantic tales, punk-ish "f–you" records, and occasional flashes of the Tyler of old. But 2021's Call Me If You Get Lost ( (hosted by legendary music executive DJ Drama) was the full return of Tyler, the MC. Although it had been years since the California-based artist showcased his lyrical prowess on a full-length project, his skills never faltered.
Tyler regained his distinct delivery from 2013's Wolf and his older works. He flaunted his riches on the braggadocio-fueled "Runitup" and "Lemonhead," explored romanticism on "Wusyaname," and addressed his rise from unknown artist to international fixture on "Massa." 
The sound of the project was largely crafted by Tyler himself with other contributions from producers Jay Versace, Madlib, and Jamie xx. The finished product was praised by critics and notched Tyler his second award for Best Rap Album at the 2022 GRAMMYs. And nearly two years after the album's release, Tyler released a deluxe version of the album that featured eight additional songs with appearances from artists A$AP Rocky, YG, and Vince Staples. 
Kendrick Lamar -
Mr. Morale & the Big Steppers
(2022)
Before Mr. Morale & the Big Steppers, it had been five years since fans heard a full-length project from Kendrick Lamar. The Compton rapper took his time with the release of his fifth studio, which was a particularly sentimental one for the "DNA." artist. Not only did it mark his first project under his new creative collective PGLang, but it also closed the book on his time at Top Dawg Entertainment. 
With major changes brewing, Mr. Morale & the Big Steppers was a masterful reflective body of work that mirrored Lamar's journey in therapy. Themes surrounding alcoholism, grief, celebrity worship, infidelity and childhood trauma are sprinkled throughout the album. The conscious undertones were overlaid with richly-crafted beats by long-time collaborators DJ Dahi, J. Lbs, DJ Dahi, Sounwave, and Bekon, with additional contributions from Boi-1da, the Alchemist, and others.  
The album was led by three singles, "N95," "Die Hard," and "Silent Hill" featuring Kodak Black, which helped the album shoot to No. 1 on the Billboard Hot 100. It was the "Alright" artist's fourth chart-topping project and went on to earn him Best Rap Album at the 65th GRAMMY Awards and re-established his dominance in the genre.
Drake and 21 Savage -
Her Loss (2022)
When one of the South's biggest stars links up with rap's most consistent hitmaker, it's bound to shake up the genre. And after collaborating on songs like "Sneakin," "Issa," Mr. Right Now" and others, that's exactly what Drake and 21 Savage's Her Loss managed to do. 
The collab came at a good time for 21 Savage, who was two years removed from Savage Mode II, and for Drake, who had just released the critically mixed dance album, Honestly, Nevermind. The 16-track album was riddled with street hits like "BackOutsideBoyz," "Rich Flex" and "Treacherous Twins."
For all the album's peaks, controversy loomed over the project immediately after its release. On the song "Circo Loco," many fans claimed Drake dissed fellow rap star Megan Thee Stallion on the song with the lyrics, "This bitch lie 'bout gettin' shots but she still a stallion / She don't even get the joke, but she still smilin'." The story was picked up by several publications, and fan theories circulated for weeks following the album's release. 
Still, the album topped Billboard 200 with more than 400,000 album-equivalent units, replacing Taylor Swift's Midnights from the top spot. All tracks debuted on the Billboard Hot 100, with eight of them landing in the top 10. 
Ice Spice and Nicki Minaj
-
"Princess Diana"
(2023)
Ice Spice's "Munch (Feelin' U)" had fans gravitating to the curly-haired Bronx native, who struck gold with the viral hit that left a new generation of men questioning whether they're called strictly for pleasure or genuine affection. The sudden stardom opened doors for the "Bikini Bottom" MC. 
After landing on magazine covers and appearing at the illustrious Met Gala, she collaborated with her idol Nicki Minaj on the hit "Princess Diana." The song was the second track on Spice's debut EP,  Like..?, but the addition of Minaj boosted her twerk-obsessed, oats-loving brand to new heights. 
With the success of "Princess Diana," the two artists collaborated again on the Barbie movie soundtrack song "Barber World (with Aqua)." The collabs only added to her series of Internet smashes, a list that includes records like "Boy's a Liar Pt. 2" and "In Ha Mood." She still has a long way to go for her success to be proven substantial, but Spice has already established herself as the hottest commodity in the 2020s. 
Essential Hip-Hop Releases From The 2010s: Ye, Cardi B, Kendrick Lamar & More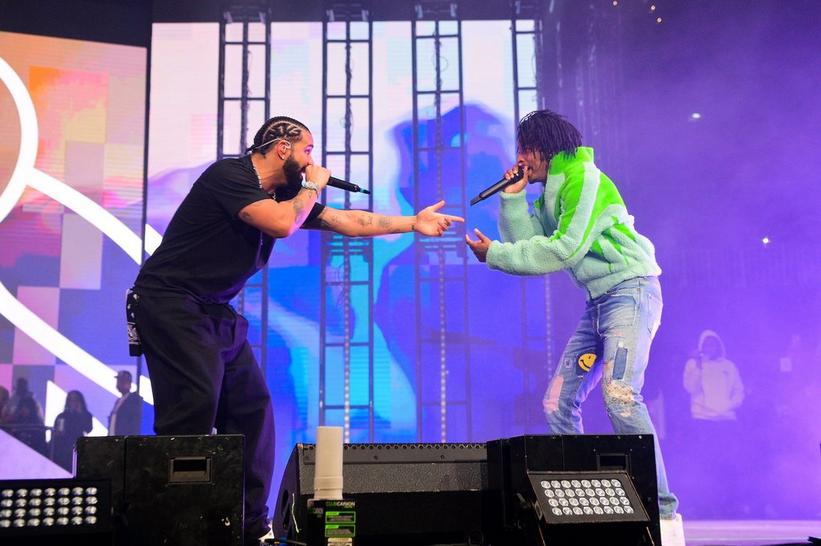 Drake and 21 Savage perform in Atlanta in 2022.
Photo: Prince Williams/Wireimage
list
How Drake & 21 Savage Became Rap's In-Demand Duo: A Timeline Of Their Friendship, Collabs, Lawsuits And More
As Drake and 21 Savage embark on their highly anticipated It's All a Blur Tour, take a look at the evolution of their friendship — and how it spawned one of rap's most illustrious partnerships.
GRAMMYs
/
Jul 5, 2023 - 04:20 pm
When 21 Savage emerged as a fresh face on the ever-changing rap scene in 2016, Drake crowned the tattooed, gold-toothed rapper "a young October king with all the juice right now." Seven years later, they're co-headlining one of the summer's hottest tours.
The rappers' friendship has resulted in a number of collaborations over the years, culminating in the blockbuster release of their frisky joint project, Her Loss, in November 2022. The pair will bring the album — as well as their respective hits — on the road with the It's All a Blur Tour, which kicks off July 5 in Chicago and runs through Oct. 9. 
The 21-Drizzy partnership is more mutually beneficial than it might seem on the surface; even 21 Savage himself has compared their bond to that of Los Angeles Lakers legends Kobe Bryant and Shaquille O'Neal. While Drake has long been rap's never-aging chameleon, he always challenges himself to keep up with the genre's new faces. And combining 21's street cred with Drake's commercial appeal, they've created a unique partnership that's hard to duplicate. 
Whether or not you'll be catching Drake and 21 Savage on their 2023 tour, find out more about the history of their friendship and musical connection below. 
2016: Drake Rents 21 Savage A Ferrari For His 24th Birthday
All 21 Savage wanted for his 24th birthday was to be in the driver's seat of a Ferrari while cruising the streets of Beverly Hills — and Drake made it happen.
Many thought Drizzy purchased the candy-red sports car for 21, but the gift ended up being a loaner for the weekend to help the Atlanta rapper move around L.A. in style. Savage loved it so much that he went and actually bought a Ferrari for himself.  
"Nah, he ain't buy me no car," 21 later cleared up in an interview with Real 92.3. "He did some real s—. We was just talking, and I was like 'Man, I want a Ferrari or some s—.' 
"So, he just got me one for the whole time I was in L.A. for my birthday. But I fell in love with the car, so I just went and bought one. He looked out. Shout-out to Drake. N—s ain't doing s— like that. N—s barely even tell n—s 'Happy birthday.'"
21 even told GQ that was the only gift he received altogether for his birthday that year.
2016: Drake & 21 Savage Drop First Collab With "Sneakin'"
"Sneakin" arrived in a care package shortly after Drake's 30th birthday, alongside "Fake Love" and "Two Birds, One Stone." The bristling track served as the first offering from the 6 God and 21, which drew rave reviews.
Floating over London On Da Track production, Drake crowns himself "The GOAT," and revels in his various rap feuds while riding high coming off of his dismantling of Meek Mill a year prior. 
21 dishes out menacing rhymes and gives himself the fitting nickname of The Reaper while letting the world know "Baby, I'm a savage, I ain't a romantic."
2017: "Issa" Leaks Early & Doesn't Make 21's Issa Album
"Issa" was widely expected to land on 21 Savage's July 2017 album of the same name, but the Drake and Young Thug-assisted potential banger didn't end up making the cut. According to engineer Alex Tumay, 21's label didn't believe the tune would receive the proper love from the public since it was leaked in the months leading up to the LP.
Perhaps "Issa" will most widely be remembered for 21 reigniting his brief feud with Tyga and name-dropping his former boo Kylie Jenner. "Issa Kylie, might be Jenner — hold up," he raps. 
While it's not on streaming services, "Issa" — the catchphrase 21 made popular from his 2016 VladTV interview — is available on platforms such as SoundCloud and YouTube for fans to enjoy nonetheless. 
2018: 21 Savage Says Drake Doesn't Get Enough Respect For Helping Emerging Artists
Drake makes dishing out assists look as easy as NBA legend (and fellow Canadian) Steve Nash did on the basketball court. Drizzy has laid out the tarmac for countless rappers to take off into stardom, from Migos ("Versace") to BlocBoy JB ("Look Alive")  — and 21 is appreciative of the opportunity.
"Drake just a genuine-ass good-hearted person," Savage told GQ in 2018. "He did a lot of s— he didn't have to do. He do a lot of s— for up-and-coming rappers, period. I don't think he get his respect for that. Every f—ing year, he pull a new artist up. Ain't no other artist on his level do that s—."  
Even 15 years into his decorated career, Drake is still willing to share lucrative real estate on various tracks with emerging artists and lend co-signs that lead to millions of dollars. (Most recently, Drake hopped on rising UK rapper J Hus' "Who Told You.") 
2020: Drake Joins 21 Savage & Metro Boomin' For "Mr. Right Now"
After spending 2018 cementing his one-of-a-kind hitmaking ability with Scorpion, Drake joined forces with 21 once again in the midst of the COVID-19 pandemic for "Mr. Right Now."
The bawdy track — from 21 Savage and Metro Boomin's Savage Mode II — sees Drizzy and 21 trade places, with the Slaughter Gang honcho handling hook duties this time around. They ruminate about their love for classic R&B over titillating Metro Boomin production. 
"Mr. Right Now" has arguably become most memorable for Drake's revelation about dating SZA when she was just a teenager. "Yeah, said she wanna f— to some SZA, wait/' Cause I used to date SZA back in '08/ If you cool with it, baby, she can still play," he raps. 
2021: "Knife Talk" Lands On Drake's Certified Lover Boy
Initially intended for Savage Mode II, Drake and 21 Savage completed "Knife Talk" in a race against the buzzer to make the cut for Drake's 2021 LP, Certified Lover Boy. It became an ominous album standout — and though it never became a single, "Knife Talk" is a prime example of the kind of commercial appeal this duo serves.
Built around Metro Boomin's icy piano keys and a cinematic Plain Pat-sampling backdrop, 21 repeats "gang s—hit that's all I'm on" in a sinister, almost hypnotic flow. Meanwhile, Drake raps with slight paranoia, while sending more subliminal shots in Kanye West's direction — but ultimately retreats to his mafioso persona.
2021: 21 Savage Admits He Wouldn't Listen To Drake If He Wasn't A Rapper
In Atlanta, there's a contingent of rap fans who believe Future is a bigger artist than Drake. In explaining this hot take to DJ Akademiks in 2021, Savage admitted that before they became friends, he didn't listen to Drake much.
"N—s don't be listenin' to Drake like that where we are," he said. "If I wasn't a rapper, I don't feel like I still would listen to Drake, for real. It's just I'm a rapper so I understand the work he puts in and how hard he goes. When you ain't no rapper, all them statistics don't mean s—."
21 went on to detail how his circle paired hip-hop culture relevance with who was getting played in the night clubs rather than using Billboard chart hits or streaming statistics to support their beliefs. 
"A regular street n— don't give a f— about how many times you went No. 1, how many white people listen to your s— because them n-—s, the furthest they think is the club," Savage added. "Who's selling this club out? That's who they think is the biggest n—."
2022: 21 Savage's Manager Reveals His Drake Features Are Free Of Charge
The 6 God and Slaughter Gang bond organically grew to the point they don't even charge each other for features. And they actually never did in the past either, according to 21's manager Justin "Meezy" Williams.
"A lot of the artists, they are low-key peers," Meezy explained during a Clubhouse chat with Druski in early 2022. "So s— just be happening naturally. A n— might be in the studio, somebody ask, 'Ay, can you do this song?' And it happens, because n— f— with each other, so you ain't gonna talk about money." 
21 added that considers Drake family at this point, as Meezy compared the rappers' relationship to what Savage has with Young Nudy, who is his cousin.
"Most of the time, when you bring up Drake or Nudy...if Nudy got a song, ain't nobody even thinking about no paperwork if Savage get on something," Meezy continued. "We know that's going to get handled whatever. It's relationship-based, a lot of times it's like that.
"N— ain't paying each other for verses. I think where [Drake's] at he's just choosing who he f—s with. I know anything we've ever done with him, there's never been money involved, ever."
2022: "Jimmy Cooks" Closes Out Drake's Honestly, Nevermind
Drake took his fans to a musical destination they'd never been with his dance-leaning album Honestly, Nevermind. But before haters could react, he brought them to a comfort zone to prove he was still at the top of the rap food chain — and of course, it involved 21.
"Jimmy Cooks" is an instant turn-up anthem, an opposite vibe to their sinister "Knife Talk" collab. The change was effective: "Jimmy Cooks" debuted at No. 1 on the Billboard Hot 100, scoring Drake his 11th chart-topper and another win on the scoreboard alongside Savage.
The official music video arrived on 21's 30th birthday that October — the same day a release date for their surprise Her Loss album was revealed — though the joint project was delayed a week due to Drizzy's right-hand producer Noah "40" Shebib contracting COVID-19. 
2022: 21 Savage Compares Himself And Drake To Shaquille O'Neal And Kobe Bryant
June 17, 2022
On the heels of "Jimmy Cooks" being crowned the standout moment of Honestly, Nevermind, the Atlanta-bred rapper took a victory lap on Twitter. He confidently compared himself and Drizzy to one of the best duos the NBA has ever seen: Laker legends Kobe Bryant and Shaquille O'Neal.
No words were even needed for the declaration, as Savage tweeted out a still from the "Sneakin'" music video alongside a photo of Shaq and Kobe celebrating their first NBA championship in 2000.
2022: An Album Rollout Filled With Spoofs
America was collectively trolled by the Her Loss rollout, as even some of the most nuanced of fans and news stations across the country were fooled by their fake press run. Not only did they spoof a Vogue cover, but they also pulled off a faux Tiny Desk concert, Saturday Night Live performance, and Howard Stern interview with headline-making "admissions" of Drake's porn fetishes.
It was mission accomplished for Drizzy and 21, who arguably made as big of a splash with the media tour that never was than if they actually did any of that. While Howard Stern saluted the shrewd spoofs, Vogue's parent company Condé Nast wasn't as thrilled — they filed a lawsuit over trademark infringement against the rappers. (More on that later.)
2022: Her Loss Arrives After A Short Delay
Her Loss arrived on Nov. 4, filled with 16 tracks that served up a little bit of everything. Drake stars front and center, with the OVO boss returning to his braggadocious rap post-Honestly, Nevermind; though 21 Savage takes more of a backseat, the two pick up where they left off on "Jimmy Cooks" as one of hip-hop's premier tag-teams.
Travis Scott is the lone credited feature on the track list ("Pussy & Millions") while collaborators like Lil Yachty played an integral role in the album's formation as he earned a handful of production credits.
Her Loss debuted atop the Billboard 200, earning Drake his second No. 1 album in less than five months. The album also held plenty of valuable real estate on the Billboard Hot 100, occupying the No. 2 through No. 9 spots on the chart's Top 10 — only for "Rich Flex" to be boxed out by Taylor Swift's "Anti-hero" for the top slot. (Never shying away from his pettiness, Drake blocked out Swift's name on the Hot 100 when celebrating his chart dominance in an Instagram Story post.) 
2022: Drake And 21 Savage Helped Push Each Other's Pen Game
Any co-writing discussion is a touchy subject for Drake fans ever since Meek Mill's ghostwriting allegations in 2015. But that isn't the case with Drizzy and 21, as they admitted they helped each other with their verses for Her Loss during an interview on SiriusXM's Sound42 channel last year. 
"I ain't gon cap, Drake wrote some of my verses on this album," the Atlanta rapper candidly revealed. "These facts. I don't give a f— what a n— say, Drake helped me with some of my verses on this album."
Drake returned the favor and gave 21 credit for helping push his pen on the joint project as well, adding, "By the way, you also helped me with s— too.
2023: Drake And 21 Savage Settle Lawsuit Over Fake Vogue Cover
After demanding $4 million in damages, Condé Nast and Drake's high-powered legal teams reached a settlement in February for an undisclosed sum, according to Variety.
The hefty check will allegedly go toward bolstering the company's "ongoing creative output, including Vogue editorial," per a memo sent out by Condé Nast's counsel.
Condé Nast's attorneys claimed that Vogue attempted to "resolve the matter amicably" but their efforts "were repeatedly ignored" by OVO and Slaughter Gang enterprises. 
Drizzy and 21's fake Vogue cover duped fans across the globe as the magazine was posted to social media, and a limited number of copies were actually distributed to lucky fans in select U.S. cities. Who knows, it may just make another appearance on the It's All a Blur Tour.
Songbook: How Jay-Z Created The 'Blueprint' For Rap's Greatest Of All Time