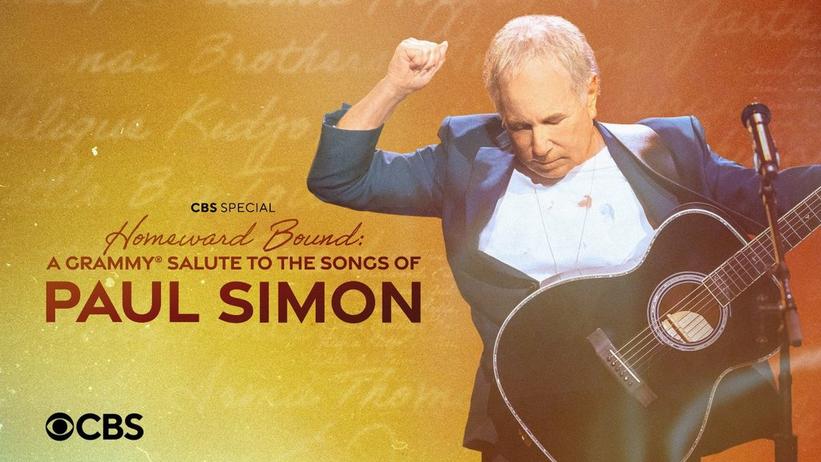 Paul Simon
Photo courtesy of the Recording Academy
news
How To Watch "Homeward Bound: A GRAMMY Salute To The Songs Of Paul Simon"
The tribute to the songwriting legend — with a host of illustrious musicians taking part — will air on CBS on Weds. Dec. 21. Here's how and when you can watch A GRAMMYs Salute To The Songs Of Paul Simon.
Paul Simon has spent a lifetime enriching the music community. Now, the music community has returned the favor.
On Weds. Dec. 21, "Homeward Bound: A GRAMMY Salute To The Songs Of Paul Simon," a two-hour special illuminating the 16-time GRAMMY winner's songbook, will air on the CBS Television Network.
The concert features Garth Brooks & Trisha Yearwood, Bonnie Raitt, Eric Church, Rhiannon Giddens, Susanna Hoffs, Jonas Brothers, Angélique Kidjo, Ledisi, Little Big Town, Dave Matthews, Brad Paisley, Billy Porter, Sting, Take 6, Irma Thomas, Shaggy & Jimmy Cliff, Trombone Shorty and Stevie Wonder.
Additionally, Sofia Carson, Herbie Hancock, Woody Harrelson, Dustin Hoffman, Elton John, Folake Olowofoyeku, and Oprah Winfrey make special appearances.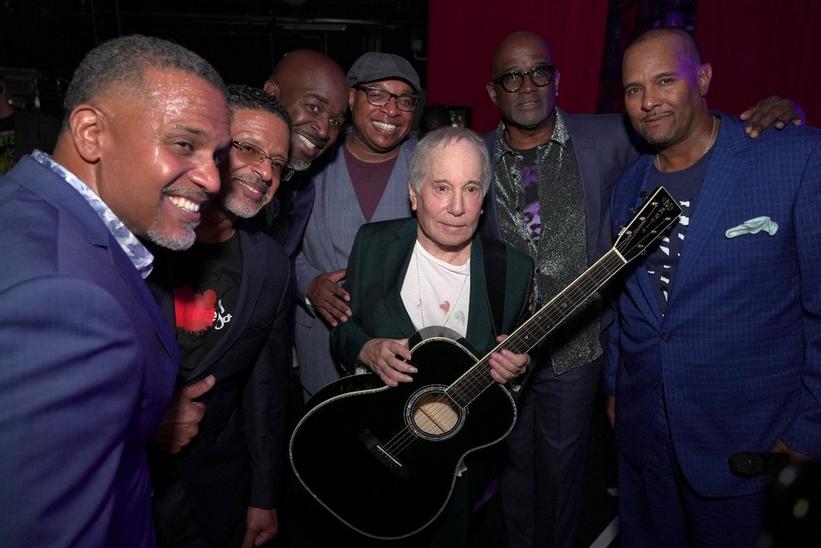 Paul Simon with Take 6
Photo: Getty Images for the Recording Academy
list
8 Highlights From "Homeward Bound: A GRAMMY Salute To The Songs Of Paul Simon"
Paul Simon's GRAMMYs bash included moments of vulnerability, generation-straddling duets and plenty of other surprises. Stream it on demand on Paramount+ and read on for eight highlights.
GRAMMYs
/
Dec 22, 2022 - 03:51 pm
Many tribute shows for legacy artists end in a plume of confetti and a feel-good singalong. But not Paul Simon's.
At the end of the songbook-spanning "Homeward Bound: A GRAMMY Tribute To Paul Simon," the only person on the darkened stage was the man of the hour. Sure, the audience had been baby-driven through the Simon and Garfunkel years, into the solo wilderness, through Graceland, and so forth. But all these roads led to darkness.
Because Simon then played the song that he wrote alone, in a bathroom, after JFK was shot.
It doesn't matter that Simon always ends gigs with "The Sound of Silence." After this commensurately cuddly and incisive tribute show, it was bracing to watch him render his entire career an ouroboros. 
That "The Sound of Silence" felt like such a fitting cap to a night of jubilation speaks to Simon's multitudes. The Jonas Brothers coolly gliding through "50 Ways to Leave Your Lover," juxtaposed with the ache of Garth Brooks and Trisha Yearwood's "The Boxer," rubbing up against Dave Matthews getting goofy and kinetic with "You Can Call Me Al," and so on and so forth.
The intoxicating jumble of emotions onstage at "Homeward Bound: A GRAMMY Tribute To Paul Simon" did justice to his songbook's emotional landscape — sometimes smooth, other times turbulent, defined by distance and longing as much as intimacy and fraternity.
Here were eight highlights from the telecast on Dec. 21 — which you can watch on demand on Paramount+ now.
Garth Brooks & Trisha Yearwood's Pitch-Perfect "The Boxer"
Brooks has always been one of the most humble megastars in the business, praising his wife Trisha Yearwood — and his forebears — a country mile more than his own. (Speaking to GRAMMY.com, he described being "married to somebody 10 times more talented than you.")
The crack ensemble could have made "The Boxer" into a spectacle and gotten away with it, but Brooks wisely demurred.
Instead, the pair stripped down the proceedings to guitar and two voices; Brooks provided an aching counterpoint to Yearwood.
Billy Porter's Heart-Rending "Loves Me Like A Rock"
The "Pose" star blew the roof off of Joni Mitchell's MusiCares Person Of The Year gala in 2022 with "Both Sides Now," so it was clear he would bring napalm for a Simon party. 
Given the gospel-ish intro, one would think he was about to destroy the universe with "Bridge Over Troubled Water." 
Instead, he picked a song of tremendous personal significance, "Loves Me Like a Rock," and dedicated it to his mother. The universe: destroyed anyway.
Stevie Wonder & Ledisi's "Bridge Over Troubled Water"
The question remained: who would get dibs on the still-astonishing "Bridge Over Troubled Water"? A song of that magnitude is not to be treated lightly.
So the producers gave it to generational genius Wonder, who'd bridged numberless troubled waters with socially conscious masterpieces like Songs in the Key of Life.
But he wouldn't do it alone: R&B great Ledisi brought the vocal pyrotechnics, imbuing "Bridge Over Troubled Water" with the grandiosity it needed to take off.
Jimmy Cliff & Shaggy Brought Jamaican Vibes With "Mother & Child Reunion"
Simon embraced the sounds of South Africa with his 1986 blockbuster Graceland, yet his island connection is criminally underdiscussed; since the '60s, Jamaican artists have enthusiastically covered his songs.
For instance, it's impossible to imagine a "Mother and Child Reunion" not recorded in Kingston, pulsing with the energy of Simon's surroundings.
Enter genre luminaries Jimmy Cliff and Shaggy, who flipped the tribute into a bona fide reggae party.
Take 6 Dug Deep With "Homeless"
Leave it to the Recording Academy to avoid superficiality in these events: Mitchell's aforementioned MusiCares tribute included beyond-deep cuts like "Urge for Going" and "If." 
Most remember "Homeless" as Ladysmith Black Mambazo unaccompanied vocal cooldown after bangers like "You Can Call Me Al"; eight-time GRAMMY-winning vocal group Take 6 did a radiant, affectionate rendition.
When Simon took the stage at the end of the night, he was visibly blown away. Touchingly, he shouted out his late guitarist, Joseph Shabalala, who founded Ladysmith Black Mambazo.
"Imagine a guy born in Ladysmith, South Africa, [who] writes a song in Zulu and it's sung here by an American group, singing his words in his language," Simon remarked. "It would have brought tears to his eyes."
Angélique Kidjo & Dave Matthews' Love Letter To Africa
Graceland was Simon's commercial zenith, so it was only appropriate that it be the energetic apogee of this tribute show.
Doubly so, that this section be helmed by two African artists: Angélique Kidjo, hailing from Benin, and Dave Matthews, born in Johannesburg.
"Under African Skies," which Simon originally sang with Linda Ronstadt is a natural choice — not only simply as a regional ode, but due to its still-evocative melody and poeticism.
"This is the story of how we begin to remember/ This is the powerful pulsing of love in the vein" drew new power from Kidjo's lungs. 
Afterward, Matthews — a quintessential ham — threw his whole body into Simon's wonderful, strange hit, "You Can Call Me Al."
The Master Himself Took The Stage
With his still-gleaming tenor and still-undersung acoustic guitar mastery, Simon brought the night home with "Graceland," a Rhiannon Giddens-assisted "American Tune" and "The Sound of Silence."
At 81, Simon remains a magnetic performer; even though this is something of a stock sequence for when he plays brief one-off sets, it's simply a pleasure to watch the master work.

Then, the sobering conclusion: "Hello darkness, my old friend," Simon sang, stark and weary. With the world's usual litany of darknesses raging outside, he remains the best shepherd through nightmares we've got.
And as the audience beheld Simon, they seemed to silently say: Talk with us again.
15 Essential Tracks By Paul Simon: In A Burst Of Glory, Sound Becomes A Song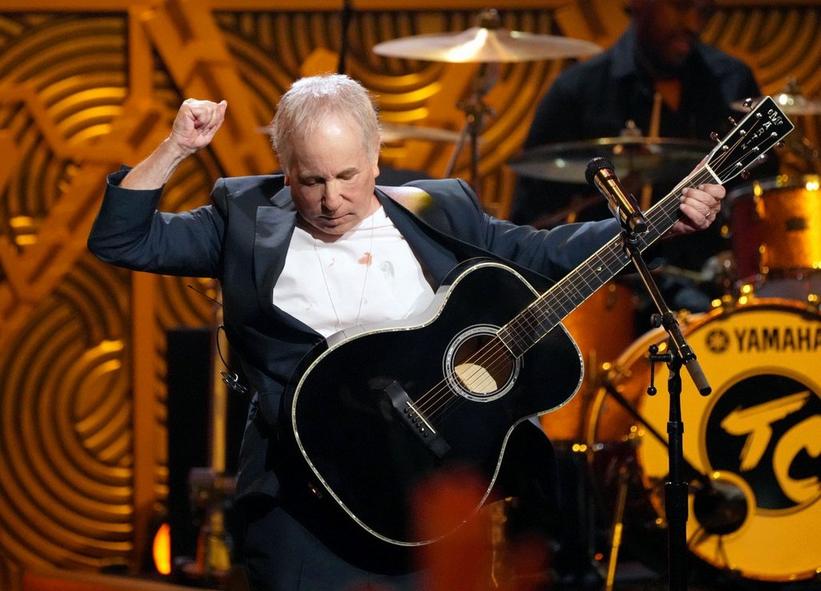 Paul Simon performing at "Homeward Bound: A GRAMMY Salute To Paul Simon"
Photo: Kevin Mazur/Getty Images for The Recording Academy
video
Watch Jonas Brothers, Brad Paisley, Billy Porter, Shaggy & More Discuss The Legacy And Impact Of Paul Simon Backstage At "Homeward Bound: A GRAMMY Salute To Paul Simon"
Performers at the star-studded tribute from the Jonas Brothers to Brad Paisley to Angélique Kidjo explain why Simon deserves the highest praise in the echelon of American singer/songwriters.
GRAMMYs
/
Dec 20, 2022 - 05:53 pm
Paul Simon may have won 16 GRAMMYs throughout his illustrious career, but he's getting another honor from the Recording Academy — something much bigger than a golden gramophone.
On Dec. 21, "Homeward Bound: A GRAMMY Salute To The Songs Of Paul Simon," a two-hour special illuminating the 16-time GRAMMY winner's songbook, will air on the CBS Television Network from 9-11:00 p.m. PT/ET.
The concert features Garth Brooks and Trisha Yearwood, Eric Church, Rhiannon Giddens, Susanna Hoffs, Jonas Brothers, Angélique Kidjo, Ledisi, Little Big Town, Dave Matthews, Brad Paisley, Billy Porter, Sting, Take 6, Irma Thomas, Shaggy and Jimmy Cliff, Trombone Shorty and Stevie Wonder.
Additionally, Sofia Carson, Herbie Hancock, Woody Harrelson, Dustin Hoffman, Elton John, Folake Olowofoyeku, and Oprah Winfrey also make special appearances.
Below, watch exclusive clips where many of these artists express what Simon, a leading light of singing and songwriting, means to them.
The Jonas Brothers
Brad Paisley
Billy Porter
Shaggy
Trombone Shorty
Angélique Kidjo
Ledisi
Folake Olowofoyeku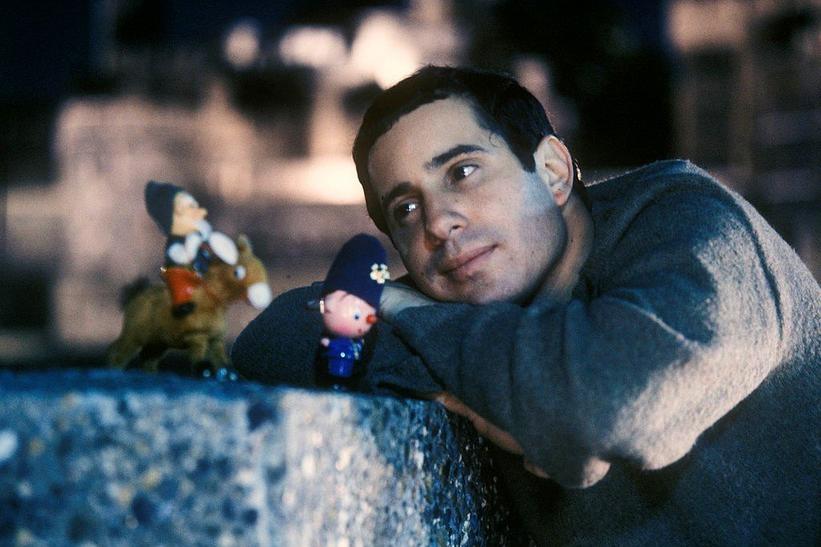 Paul Simon in 1965
Photo: RB/Redferns via Getty Images
list
15 Essential Tracks By Paul Simon: In A Burst Of Glory, Sound Becomes A Song
Paul Simon has written some of the most incisive and moving tunes in the American canon. Ahead of the broadcast of "Homeward Bound: A GRAMMY Salute To The Songs Of Paul Simon," here are 15 Simon songs you need to know.
GRAMMYs
/
Dec 19, 2022 - 08:22 pm
When Paul Simon announced his retirement from touring, he was clear about his intended pursuits in his autumn years: Spirituality, neuroscience and the occasional one-off gig benefiting the environment. (Ideally in "acoustically pristine halls," he clarified.)
The latter is a clever way to frame your wind-down: just quitting touring, not all the other stuff. Because it leaves open the possibility for more public music-making. And Simon has taken advantage of that caveat: ever since he plucked his final note on his farewell tour in 2018, he's played one-offs that laid audiences flat.
Case in point: his brief set to an agog audience at Newport Folk Fest in 2022. As the sun set over the water, he closed with an undeniable classic, which he wrote as a shaken youngster in response to the Kennedy assassination: "The Sound of Silence." This writer was there. You could cut the vibe at Newport with a knife.
The experience drove home how Simon's songs already reflect his planned post-retirement pursuits. Simon's written brilliant inquiries into spirituality, like "Questions for the Angels." Countless tunes from "The Sound of Silence" onward deal heavily in psychology. The environment? Check out multiple songs from his most recent album, 2016's Stranger to Stranger.
All these themes are bound to swirl around "Homeward Bound: A GRAMMY Salute To The Songs Of Paul Simon," a two-hour special set to air on CBS on Wed. Dec. 21 from 9-11:00 p.m. PT/ET. Featuring everyone from Garth Brooks to Angélique Kidjo to Stevie Wonder, the performance will illuminate the 16-time GRAMMY winner's timeless and revered songbook.
A retired Simon may go on to abandon music entirely, but what his songs added to the public consciousness may dwarf anything he could pursue in a scientific or philanthropic sense. Because Simon's greatest works are some of the finest inquiries into the human experience — internal, external, and ineffable — ever penned.
A 15-song list of the finest Simon tunes could easily, and fairly, fall in line with his greatest hits. But what's the fun in simply reproducing the "essentials" playlists across streaming services? So, if you'll forgive a lack of "Kodachrome" or "50 Ways to Leave Your Lover," we'll raise you deep cuts you might not be familiar with. The list is below.
"The Sound of Silence"
In 1963, a 21-year-old Simon softly fingerpicked an acoustic guitar in the reverberating bathroom of his family's Queens home. He had a spectral melody in mind, but the words hadn't come yet. 
But when John F. Kennedy was assassinated in November of 1963 — just over a month after Simon's 22nd birthday — a line came to his lips, staggering in its power and simplicity. "Hello, darkness, my old friend," he sang. "I've come to talk with you again." 
A meditation on distance between human beings, "The Sound of Silence" unfurls with borderline terrifying, hallucinogenic power — and has lost zero impact across the decades. On the 10th anniversary of the 9/11 terrorist attacks, which occurred a few subway stops from his apartment, he sang it on Ground Zero.
The electrified, pop-friendly version of "The Sound of Silence" is the one everyone knows; riding on the popularity of the Byrds, electric guitar and drums were added in post-production. 
The one to truly cherish is the sparse, acoustic version included on the Old Friends boxed set. It's not on YouTube, but it's on streaming — and it'll make the hairs on your arms stand up.
"The Boxer"
From that "darkness" flies an ember of resilience: "The Boxer," from Simon and Garfunkel's final studio album in 1970, Bridge Over Troubled Water. 
"The Boxer" is just as haunted, but in a realistic sense. Instead of depicting phantasmagoric images of blazes of light and prophetic pronouncements, the narrator finds himself unmoored in New York City: "Laying low, seeking out the poorer quarters/ Where the ragged people go."
According to Simon, these feelings stemmed from his battle with the critics: "I think the song was about me," he told Playboy in 1984. "Everybody's beating me up, and I'm telling you now I'm going to go away if you don't stop."
These gloomy verses tip into a wordless lamentation of a chorus, which swells with power after the unforgettable final verse. Therein, Simon sketches a portrait of a pugilist. He's beaten, weary and humiliated, but unwilling to surrender. 
Then, that chorus slams back in, augmented by reverberated cannon-shots from Wrecking Crew drummer Hal Blaine. Right then, from hopelessness springs courage. "Lie-a-lie." Crash.
"Bridge Over Troubled Water"
That voice. No, we're not talking about Simon's, as fluid and supple a vocalist he is. Any analysis of Simon and Garfunkel's music must acknowledge Art Garfunkel's world-beating talent as a vocalist, and his creative synergy with his more celebrated former partner.
"Bridge Over Troubled Water" began as a demo by Simon; in the studio, it took on wonderfully grandiose dimensions. 
From Garfunkel's mostly unaccompanied lungs — although Simon sings a harmony near the end — this devotional testifies like gospel and surges like an orchestra. 
However you feel about the somewhat controversial, belatedly added third verse, "Bridge Over Troubled Water" is a masterpiece in a songbook full of them. 
At the 1971 GRAMMYs, the song won a golden gramophone for Record Of The Year; the album of the same name won a GRAMMY for Album Of The Year.
"America"
Come 1968, America was in flux — Vietnam, MLK, RFK. And few songs released that year channeled all that turmoil, uncertainty and abstraction into such a Möbius strip of a song.
Listening today, as the country reckons with the sins of its past and questions the circumstances of its own founding, the America in "America" feels like this one.
Simon's itinerant protagonists set out to discover this nebulous concept for themselves, yet the song finds no resolution. Still, the aching melody and indelible chorus will imprint themselves on your memory.

"America" is another example of a Simon tune that finds the light just as it can't feel darker: "'Kathy, I'm lost', I said, though I knew she was sleeping," one character reports. "I'm empty and aching and I don't know why."
And in the sea of cars on the New Jersey Turnpike, Simon finds totality, oneness, and a paradoxical sense of peace. What is America? All of this, and none of this. It's the search that's so damned satisfying.
"Mother and Child Reunion"
In 2022, before Simon's unannounced Newport Folk appearance, Nathaniel Rateliff and the Night Sweats performed an exultant set of Simon covers — beginning with "Mother and Child Reunion," that effervescent classic from his self-titled 1972 album.
It was a long, dusty, sweltering day for this writer — one where it was tempting to call it. But the decision to stick it out paid off. 
As soon as Rateliff and his accompanists launched into "Mother and Child Reunion," every inch of exhaustion melted away; it felt physically impossible to not holler along.
Simon caught the inspiration to write the tune from the name of a chicken-and-egg dish on a Chinese restaurant menu; the reggae-inflected sound is all Jamaica, reflecting its recording in Kingston.
The result could wrest you from a bedridden depression; "Mother and Child Reunion" is pure release, relief, and exaltation. Word to the wise: reach for it in the darkness.
"American Tune"
1973's There Goes Rhymin' Simon is chock full of classics, like "Kodachrome," "Take Me to the Mardi Gras," "One Man's Ceiling is Another Man's Floor," and "Loves Me Like a Rock." But the arguable centerpiece is "American Tune" — essentially "America" in concept, but several degrees deeper and more philosophical.
Simon wrote it right after Richard Nixon was elected. It reflects the complication of that moment, cycling through a multitude of chords as if it's turning each one over like a leaf and pondering it.
"We come on the ship they call the Mayflower/ We come on the ship that sailed the moon," Simon sings at its crescendo, as the strings swell to a head. "We come in the age's most uncertain hours/ And sing an American tune."
While still early in his career, Simon had written not one, but two alternative national anthems — ones that got beneath the hood and truly examined the oppression, jubilation, and complication that makes this place tick. 
With such an economy of language, to boot. And although he rarely got this political again, in a way, he'd just keep writing more.
"Hearts and Bones"
1983's subtle, supple Hearts and Bones typically gets lost in the Simon conversation, as the titanic Graceland would follow it three years later. But the title song alone is worth the price of admission.
What immediately jumps out about "Hearts and Bones" is Simon's elegant verbiage, charged with erotic energy: "The arc of a love affair/ His hands rolling down her hair/ Love like lightning shaking 'til it moans." But the song is so effortlessly percolating, so smooth and rolling, that it's easy to let the details fly over your head. 
The lovers are "one-and-a-half wandering Jews" roving through the Sangre de Christo mountains in New Mexico. The second verse is a flashback to nuptials: "The act was outrageous/ The bride was contagious/ She burned like a bride."
Finally, the sojourners return to their "natural coasts" to lick their wounds and "speculate who had been damaged the most."
Who could the itinerant couple be? None other than Simon and Carrie Fisher. (The late Fisher was the half-gentile.) These layers of details give "Hearts and Bones" astonishing gravitas: Simon himself has considered it to be superior to "The Sound of Silence."
"As the writing gets more complex and more layered, it's harder to have a lot of people who really like it," Simon admitted in a 1986 interview. Now that the dust has settled, it's time to give this astonishing song its due.
"Graceland"
By the time Simon was ready to make a career-defining statement in Graceland, his writerly voice had become maximum-cerebral; Simon was writing about distances and journeys and potential reunions with astonishing detail and verve.
And it all came to a head with "Graceland" — his self-described "true hybrid of South African music and American." Therein, drummer Vusi Khumalo choogles like Sun Records; fretless bassist Bakithi Kumalo adds buoyant swoops; rock 'n' roll progenitors the Everly Brothers coo along.
What follows is nothing short of a songwriting clinic. "Graceland" isn't about Graceland at all; as Simon has explained, it's about the journey, not the destination. 
Nine words capture Simon's surroundings: "The Mississippi Delta was shining like a national guitar." His failed marriage to Fisher hangs heavily in the air. The incisive chorus details how a shattered heart renders us all see-through.
Ever notice the songwriting trick behind the line about "the girl in New York City who calls herself the human trampoline"? He doesn't bother to give her a name or a motive, or any further detail at all; it doesn't matter.
Because she could be anyone in our lives, teaching us to fall, fly, and tumble in turmoil. We all rub shoulders with ghosts and empties. Graceland is any promised land, just out of our reach. 
But, know this: we all will be received. 
"Diamonds on the Soles of Her Shoes"
Before opening up into its mellower latter half, Graceland builds to a fever-pitch of momentum and anticipation that's borderline absurd.
In the opening, vocal group Ladysmith Black Mombazo backs Simon in Zulu chordal harmony, roughly translating to "It's not usual but in our days we see those things happen. They are women, they can take care of themselves."
Then, that irresistible groove, with Simon's conversational yet hyper-melodic diction. The storyline itself, exploring love amid class differences, is rendered a dreamlike blur.
Still, the key lines cut to the quick: "She was physically forgotten, but then she slipped into my pocket with my car keys." Who with a pulse hasn't experienced this sensation, never quite given a name, or expressed in the English language so succinctly, until then?
Even when it's difficult to parse Simon's literal meaning ("She makes the sign of a teaspoon/ He makes the sign of a wave"), his verbiage is gorgeous. And by the time the economical clash of lovers ends up "sleeping in a doorway" uptown, the song detonates like fireworks, in a jubilant rain of scatting.
"You Can Call Me Al"
Aurally, it's difficult to think of another song in the pop canon quite like "You Can Call Me Al." Synth-horn fanfare, bubbly polyrhythms, massive gated reverb on the snare, a reversed bass solo, a friggin' pennywhistle solo: were these elements ever combined to this effect?
Then, there's the laconic Simon, way behind the beat, effortlessly fitting busy verses into the groove like a rapper, images spinning in infinity. A disillusioned, middle-aged man in a foreign land laments his lack of purpose, snaps at strangers, and vapidly whines for a "photo opportunity." 
Even as the music leaps and bounds, Simon's character's dark night of the soul reaches a head — his "role model" has fallen from grace, embroiled in some scandal with a "roly-poly bat-faced girl." 
But as the culture-shocked protagonist wanders through what we might have called the "third world" in 1986, he finds something like salvation, or grace. The "angels in the architecture" swirl into a celestial portal; the song becomes William Blake-sized. 
As "You Can Call Me Al" crescendos, confetti practically rains from the ceiling. When Simon sang it on the final night of his farewell tour, Forest Hills Stadium went up. From lyrics to melody to production to the classic video starring Chevy Chase, this is a bona fide '80s classic.
"The Coast"
Juiced up from Graceland's blockbuster success (despite poorly-thought-out apartheid controversy), Simon continued in a so-called "worldbeat" direction with 1990's The Rhythm of the Saints. 
Despite being far less splashy than Graceland and lacking a hit single, The Rhythm of the Saints is just about perfect. With synthesizers excised, it achieves a naturalistic quality that its predecessor lacked, and songs like "The Obvious Child," "Can't Run But" and "The Cool, Cool River" rank among his very best.
For whatever reason, the magnificent "The Coast" tends to get lost in the shuffle — and it shouldn't be. From a dust-devil of hand-drums and windchimes, it coalesces in the air; it feels weightless, continually ascending, never reaching a ceiling.
In the chorus, Simon undercuts an everyman lamentation — "This is a lonely life/ Sorrows everywhere you turn" — with an oblique hustler's inner monologue: "That is worth some money, if you think about it!"
Always with a way with a finale: as backing vocalists join the throng, Simon sings of stars and skies falling across the shore; the drums shimmer in the air like fireflies. Graceland was pop magic; "The Coast" is just magic.
"That's Where I Belong"
2000's You're the One is rarely brought up outside of the most zealous Simonite circles, but Simon clearly thinks a lot of it: he included a whopping four of its songs on his 2018 album of deep-cut re-recordings, 2018's In the Blue Light.
The original album's opener, "That's Where I Belong," isn't among them. But the obscure track, in its own quiet way, a treasure.
Every element of "That's Where I Belong" exudes a sense of peace Simon hadn't fully touched on before. Simon said in an interview at the time that "It's the first time I ever had domestic bliss," and the entirety of You're the One is charged with that energy. And everything about "That's Where I Belong" feels enveloping, capacious, invitational — a balm and a hideaway.
At the end, he sings of a villager — a "spiny little island man" at the mouth of a river, with music in the air. That, Simon sings, is home.
"Darling Lorraine"
"I always thought 'Darling Lorraine' was one of my best songs," Simon told Mojo in 2018, which galvanized him to give it a fresh coat of paint on In the Blue Light with accompanists like guitarist Bill Frisell, bassist Renaud Garcia-Fons and drummer Steve Gadd.
Unlike many of the above songs, "Darling Lorraine" doesn't build to a climax; it hesitates, pontificates and mulls for its seven-minute runtime. This is appropriate for the subject matter: Simon negotiates the hills and valleys of a turbulent marriage — and no relationship is a completely neat arc.
The couple are a mismatch. The husband, Frank, is uptight and reticent, and gave up a dream of a musician life; Lorraine is effervescent and open-minded. Naturally, she feels stifled by domesticity; the song captures their arguments and walk-outs. Finally, she dies bedridden, "her breathing like the echo of our love."
Simon's choice of including "Darling Lorraine" with the equally obscure You're the One cut "Love" is interesting. That song pulls apart the four-letter concept like a child examining the guts of a radio; "Darling Lorraine" is love in action, seemingly unspooling in real time, and eventually being extinguished.
And even after "the moon takes Darling Lorraine," the song seems to hang in the air, like a faint plume of smoke.
"Wartime Prayers"
Simon's Eno-assisted album Surprise may have been released in 2006, during the height of the Iraq war. But this is Simon we're talking about, he would never write his own "Freedom" or "Let's Impeach the President."
Instead, Simon analyzes the efficacy of prayer. What does it mean to appeal to the Most High during peacetime? How do rice Christians and religious hypocrites add static to the connection?
Ultimately, Simon seems to concede that "wrapping yourself in prayer" can be the final tool in the toolbox when dealing with suffering and death. Crucially, he never preaches: "I don't pretend that I'm a mastermind/ With a genius marketing plan."
Rather, Simon wonders how much he can sand his rough edges and embrace grace before the end of his life. At a time when death and uncertainty hung in the air, "Wartime Prayers" rang true. 
Of all the Bush-era songs by classic rockers, this one arguably reverberates strongest — right up to our days of bloodshed in Ukraine, 14 years later.
"Questions for the Angels"
In 2018's Paul Simon: The Life, Simon laid out his spiritual MO.
"If there is a God, and He created this planet and everything on it, I've got to say an incredible 'Thank you so much — great job,'" he stated. "If it turns out there's no God, I still feel the same way. I'm really grateful to be here. What a beautiful planet."
Seven years earlier, mortality was on Simon's mind; it weighs heavily on his 2011 album So Beautiful or So What. On "The Afterlife," he envisaged heaven as a mind-numbing bureaucracy akin to the DMV. He followed that thread deep into the album, and the result is "Questions for the Angels."
It's a song of riddles and reflections on materialism, following a modern-day pilgrim as he traverses New York "at the hour when the homeless move their cardboard blankets / And the new day begins." The character walks across the Brooklyn bridge and looks at a billboard of Jay-Z.
Everything about "Questions for the Angels" feels primeval; Simon wants to know about the animal kingdom, the state of his mind and the nature of divine connection. Hey, that sounds like Simon's post-retirement plans — dealing in psychology, spirituality, ecology.
"Somewhere, in a burst of glory/ Sound becomes a song," Simon sang at the outset of "That's Where I Belong." Maybe he's ready to write the third part of that life. His songs are about to become him.
How To Watch "Homeward Bound: A GRAMMY Salute To The Songs Of Paul Simon"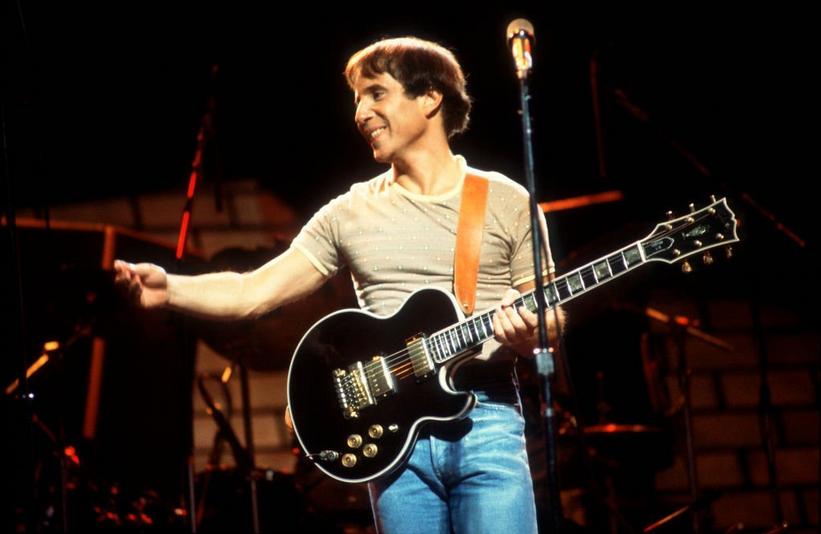 Paul Simon onstage at the Auditorium Theater in Chicago, 1980
Photo: Paul Natkin/Getty Images
list
5 Artists Influenced By Paul Simon: Harry Styles, Lorde, Conor Oberst & More
Paul Simon's songs linger long, and are examples of excellence for generations of musicians. Ahead of "Homeward Bound: A GRAMMY Salute to the Songs of Paul Simon," airing Dec. 21 on CBS, artists reflect on Simon's profound influence.
GRAMMYs
/
Dec 16, 2022 - 06:10 pm
Paul Simon is a living legend. For nearly six decades, the New Yorker has gifted his songs to the world. An innovator — not just a folk singer — Simon's curiosity led to constantly discovering new soundscapes. He incorporated these rhythms and instrumentation into his melodies, and then added poetic lyrics to create character-driven narratives.
These compositions are like old friends; they linger long after the needle lifts or the stream ends. Generations have sung Simon's songs — finding joy in their playful rhythms and sorrow in their beauty.   
The accolades and awards are endless: a two-time inductee into the Rock and Roll Hall of Fame, a member of the Songwriters Hall of Fame, a 16-time GRAMMY winner, multiple recordings in the GRAMMY Hall of Fame and a Lifetime Achievement Award from the Recording Academy to name just a few.
In a clip from "Homeward Bound: A GRAMMY Salute to the Songs of Paul Simon," airing Dec. 21 on CBS, Elton John calls him "one of the greatest songwriters of all time" — high praise from an artist with 35 GRAMMY nominations and five wins. Simon's contemporaries are not the songwriter's only fans: The writer of iconic songs such as "Bridge Over Troubled Water," "Graceland," "The Boxer," and "50 Ways to Lose Your Lover," has generations of artists as worshippers of his art who continue to discover his deep catalog. 
Singer-songwriters, pop stars, country artists and rappers all claim Simon as a musical mentor. For example, Kid Cudi sampled "50 Ways to Leave Your Lover" on his debut mixtape A Kid Named Cudi in the referentially titled  "50 Ways to Make a Record." In a Forbes Q&A, Canadian songwriter Donovan Woods cites "Obvious Child" as his all-time favorite.  
In advance of the GRAMMY salute to Simon next week, here are five artists that credit the songwriter as a key to their musical education.  
Harry Styles
Listen to Harry Styles' turn of phrase and poetic lyrics, and hints of Simon's influence are evident. Even back in his One Direction days, Styles cited Simon as a touchstone. In an MTV interview, following the release of the boy band's 2015 bestseller Made in the A.M., Styles said his favorite track was "Walking in the Wind" since it was inspired by Simon. 
"I'm a big Paul Simon fan and I think the inspiration behind it is Graceland," Styles said. "The way in which the verse is so conversational and informal, and it's not like melody melody melody — it's like spoken word, and kind of drifts and peaks and troughs. I love that album and when I listen to it I love hearing the influence from that in his song."
In a 2019 Rolling Stone interview, Styles again gave a nod to Simon. "I wish I had written '50 Ways to Leave Your Lover,'" he said. "That's the greatest verse melody ever written, in my opinion. So minimal, but so good — that drum roll."
Conor Oberst
In a 2011 New York magazine profile on Paul Simon, the singer-songwriter from Omaha, Nebraska, is quoted talking about what a major influence the writer of "The Boxer" is on his art. "I grew up with my folks listening to him," Oberst told writer Alan Light. "But as I got into songwriting, I realized how profound what he does actually is. His work over the years is a treasure trove of ideas."
Listen to Oberst's cover of "Kodachrome," recorded with his alt-country band the Mystic Valley Band, which he once performed at the Austin City Limits Festival in 2008, telling the audience it was a popular sing-along on the tour bus.  
Vampire Weekend
These New York indie rockers burst onto the scene in the mid-2000, and comparisons to Simon abounded beginning with their 2008 self-titled debut. Listen to "Cape Cod Kwassa Kwassa" from their debut; the Simon influence is undeniable — especially his Graceland period. 
In a 2019 interview with Radio X, frontman Ezra Koenig was asked about a show that would stay with him forever. He paused, then answered Simon's Homeward Bound Farewell Tour in 2018. "He is such a legend…We've been compared to him many times and he is an influence. We are from the same part of the country…I have a lot to look up to and find in common with him." 
Shawn Colvin
The three-time GRAMMY winner Shawn Colvin considers Simon a key piece of her songwriting education. Colvin's father played guitar and taught her early on; he also played many of the singer-songwriters of the day that included the boy from New York. 
Particularly at the start of her career, Colvin always performed "Kathy's Song" in her sets. In a 2015 interview, the songwriter cited Simon as one of her mentors. "Joni Mitchell was a big time [influence on] me, but also James Taylor, Paul Simon and Bob Dylan to an extent," she said. 
Lorde
The expressive and introspective New Zealand singer-songwriter considers Simon the benchmark for excellence in her craft — a bar she reaches for each day. In a 2017 profile in The Guardian she revealed the following goal:. "I want to be really, really good one day. I think I'm pretty good now. I think I've made a good start. But I want to be Paul Simon."   Four years later, Lorde named Simon's "Graceland" as the song she wishes she'd written in this Vogue 73 vide interview. 
Listen to Lorde and Jack Antonoff (Bleachers) perform a stripped down duet of "Me and Julio Down by the Schoolyard" at the 2017 Outside Lands Festival in San Francisco's Golden Gate Park. 
How To Watch "Homeward Bound: A GRAMMY Salute To The Songs Of Paul Simon"