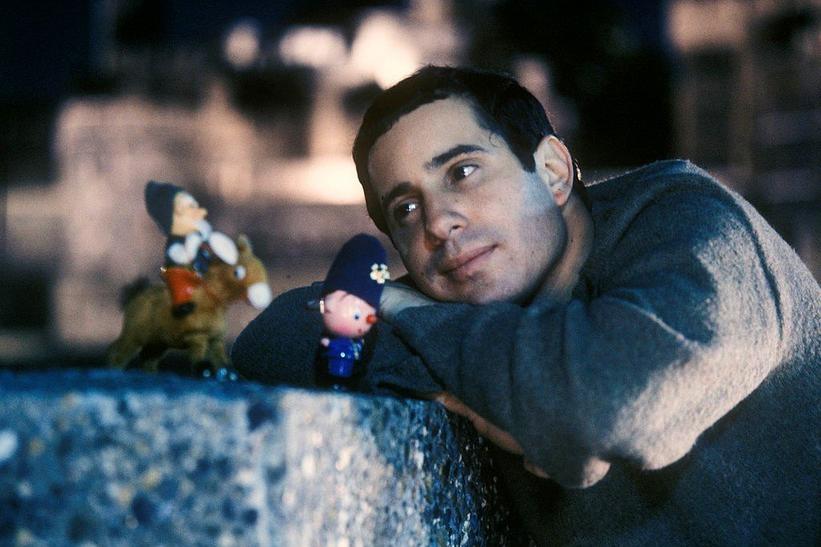 Paul Simon in 1965
Photo: RB/Redferns via Getty Images
list
15 Essential Tracks By Paul Simon: "The Sound of Silence," "The Boxer," "Bridge Over Troubled Water," & More
Paul Simon has written some of the most incisive, moving tunes in the American canon. Ahead of the rebroadcast of "Homeward Bound: A GRAMMY Salute To The Songs Of Paul Simon," which will re-air on May 31 on CBS, here are 15 Simon songs you need to know.
GRAMMYs
/
Dec 19, 2022 - 08:22 pm
Updated Monday, May 22, to include information about the re-air date for "Homeward Bound: A GRAMMY Salute To The Songs Of Paul Simon."
"Homeward Bound: A GRAMMY Salute To The Songs Of Paul Simon" will re-air on Wednesday, May 31, at 9 p.m. ET/PT on the CBS Television Network, and will be available to stream live and on demand on Paramount+.
When Paul Simon announced his retirement from touring, he was clear about his intended pursuits in his autumn years: Spirituality, neuroscience and the occasional one-off gig benefiting the environment. (Ideally in "acoustically pristine halls," he clarified.)
The latter is a clever way to frame your wind-down: just quitting touring, not all the other stuff. Because it leaves open the possibility for more public music-making. And Simon has taken advantage of that caveat: ever since he plucked his final note on his farewell tour in 2018, he's played one-offs that laid audiences flat.
Case in point: his brief set to an agog audience at Newport Folk Fest in 2022. As the sun set over the water, he closed with an undeniable classic, which he wrote as a shaken youngster in response to the Kennedy assassination: "The Sound of Silence." This writer was there. You could cut the vibe at Newport with a knife.
The experience drove home how Simon's songs already reflect his planned post-retirement pursuits. Simon's written brilliant inquiries into spirituality, like "Questions for the Angels." Countless tunes from "The Sound of Silence" onward deal heavily in psychology. The environment? Check out multiple songs from his most recent album, 2016's Stranger to Stranger.
All these themes are bound to swirl around "Homeward Bound: A GRAMMY Salute To The Songs Of Paul Simon," a two-hour special set to re-air on Wednesday, May 31, at 9 p.m. ET/PT on the CBS Television Network; it will be available to stream live and on demand on Paramount+. Featuring everyone from Garth Brooks to Angélique Kidjo to Stevie Wonder, the performance will illuminate the 16-time GRAMMY winner's timeless and revered songbook.
A retired Simon may go on to abandon music entirely, but what his songs added to the public consciousness may dwarf anything he could pursue in a scientific or philanthropic sense. Because Simon's greatest works are some of the finest inquiries into the human experience — internal, external, and ineffable — ever penned.
A 15-song list of the finest Simon tunes could easily, and fairly, fall in line with his greatest hits. But what's the fun in simply reproducing the "essentials" playlists across streaming services? So, if you'll forgive a lack of "Kodachrome" or "50 Ways to Leave Your Lover," we'll raise you deep cuts you might not be familiar with. The list is below.
Read More: How To Watch "Homeward Bound: A GRAMMY Salute To The Songs Of Paul Simon"
"The Sound of Silence"
In 1963, a 21-year-old Simon softly fingerpicked an acoustic guitar in the reverberating bathroom of his family's Queens home. He had a spectral melody in mind, but the words hadn't come yet. 
But when John F. Kennedy was assassinated in November of 1963 — just over a month after Simon's 22nd birthday — a line came to his lips, staggering in its power and simplicity. "Hello, darkness, my old friend," he sang. "I've come to talk with you again." 
A meditation on distance between human beings, "The Sound of Silence" unfurls with borderline terrifying, hallucinogenic power — and has lost zero impact across the decades. On the 10th anniversary of the 9/11 terrorist attacks, which occurred a few subway stops from his apartment, he sang it on Ground Zero.
The electrified, pop-friendly version of "The Sound of Silence" is the one everyone knows; riding on the popularity of the Byrds, electric guitar and drums were added in post-production. 
The one to truly cherish is the sparse, acoustic version included on the Old Friends boxed set. It's not on YouTube, but it's on streaming — and it'll make the hairs on your arms stand up.
"The Boxer"
From that "darkness" flies an ember of resilience: "The Boxer," from Simon and Garfunkel's final studio album in 1970, Bridge Over Troubled Water. 
"The Boxer" is just as haunted, but in a realistic sense. Instead of depicting phantasmagoric images of blazes of light and prophetic pronouncements, the narrator finds himself unmoored in New York City: "Laying low, seeking out the poorer quarters/ Where the ragged people go."
According to Simon, these feelings stemmed from his battle with the critics: "I think the song was about me," he told Playboy in 1984. "Everybody's beating me up, and I'm telling you now I'm going to go away if you don't stop."
These gloomy verses tip into a wordless lamentation of a chorus, which swells with power after the unforgettable final verse. Therein, Simon sketches a portrait of a pugilist. He's beaten, weary and humiliated, but unwilling to surrender. 
Then, that chorus slams back in, augmented by reverberated cannon-shots from Wrecking Crew drummer Hal Blaine. Right then, from hopelessness springs courage. "Lie-a-lie." Crash.
"Bridge Over Troubled Water"
That voice. No, we're not talking about Simon's, as fluid and supple a vocalist he is. Any analysis of Simon and Garfunkel's music must acknowledge Art Garfunkel's world-beating talent as a vocalist, and his creative synergy with his more celebrated former partner.
"Bridge Over Troubled Water" began as a demo by Simon; in the studio, it took on wonderfully grandiose dimensions. 
From Garfunkel's mostly unaccompanied lungs — although Simon sings a harmony near the end — this devotional testifies like gospel and surges like an orchestra. 
However you feel about the somewhat controversial, belatedly added third verse, "Bridge Over Troubled Water" is a masterpiece in a songbook full of them. 
At the 1971 GRAMMYs, the song won a golden gramophone for Record Of The Year; the album of the same name won a GRAMMY for Album Of The Year.
"America"
Come 1968, America was in flux — Vietnam, MLK, RFK. And few songs released that year channeled all that turmoil, uncertainty and abstraction into such a Möbius strip of a song.
Listening today, as the country reckons with the sins of its past and questions the circumstances of its own founding, the America in "America" feels like this one.
Simon's itinerant protagonists set out to discover this nebulous concept for themselves, yet the song finds no resolution. Still, the aching melody and indelible chorus will imprint themselves on your memory.

"America" is another example of a Simon tune that finds the light just as it can't feel darker: "'Kathy, I'm lost', I said, though I knew she was sleeping," one character reports. "I'm empty and aching and I don't know why."
And in the sea of cars on the New Jersey Turnpike, Simon finds totality, oneness, and a paradoxical sense of peace. What is America? All of this, and none of this. It's the search that's so damned satisfying.
"Mother and Child Reunion"
In 2022, before Simon's unannounced Newport Folk appearance, Nathaniel Rateliff and the Night Sweats performed an exultant set of Simon covers — beginning with "Mother and Child Reunion," that effervescent classic from his self-titled 1972 album.
It was a long, dusty, sweltering day for this writer — one where it was tempting to call it. But the decision to stick it out paid off. 
As soon as Rateliff and his accompanists launched into "Mother and Child Reunion," every inch of exhaustion melted away; it felt physically impossible to not holler along.
Simon caught the inspiration to write the tune from the name of a chicken-and-egg dish on a Chinese restaurant menu; the reggae-inflected sound is all Jamaica, reflecting its recording in Kingston.
The result could wrest you from a bedridden depression; "Mother and Child Reunion" is pure release, relief, and exaltation. Word to the wise: reach for it in the darkness.
"American Tune"
1973's There Goes Rhymin' Simon is chock full of classics, like "Kodachrome," "Take Me to the Mardi Gras," "One Man's Ceiling is Another Man's Floor," and "Loves Me Like a Rock." But the arguable centerpiece is "American Tune" — essentially "America" in concept, but several degrees deeper and more philosophical.
Simon wrote it right after Richard Nixon was elected. It reflects the complication of that moment, cycling through a multitude of chords as if it's turning each one over like a leaf and pondering it.
"We come on the ship they call the Mayflower/ We come on the ship that sailed the moon," Simon sings at its crescendo, as the strings swell to a head. "We come in the age's most uncertain hours/ And sing an American tune."
While still early in his career, Simon had written not one, but two alternative national anthems — ones that got beneath the hood and truly examined the oppression, jubilation, and complication that makes this place tick. 
With such an economy of language, to boot. And although he rarely got this political again, in a way, he'd just keep writing more.
"Hearts and Bones"
1983's subtle, supple Hearts and Bones typically gets lost in the Simon conversation, as the titanic Graceland would follow it three years later. But the title song alone is worth the price of admission.
What immediately jumps out about "Hearts and Bones" is Simon's elegant verbiage, charged with erotic energy: "The arc of a love affair/ His hands rolling down her hair/ Love like lightning shaking 'til it moans." But the song is so effortlessly percolating, so smooth and rolling, that it's easy to let the details fly over your head. 
The lovers are "one-and-a-half wandering Jews" roving through the Sangre de Christo mountains in New Mexico. The second verse is a flashback to nuptials: "The act was outrageous/ The bride was contagious/ She burned like a bride."
Finally, the sojourners return to their "natural coasts" to lick their wounds and "speculate who had been damaged the most."
Who could the itinerant couple be? None other than Simon and Carrie Fisher. (The late Fisher was the half-gentile.) These layers of details give "Hearts and Bones" astonishing gravitas: Simon himself has considered it to be superior to "The Sound of Silence."
"As the writing gets more complex and more layered, it's harder to have a lot of people who really like it," Simon admitted in a 1986 interview. Now that the dust has settled, it's time to give this astonishing song its due.
"Graceland"
By the time Simon was ready to make a career-defining statement in Graceland, his writerly voice had become maximum-cerebral; Simon was writing about distances and journeys and potential reunions with astonishing detail and verve.
And it all came to a head with "Graceland" — his self-described "true hybrid of South African music and American." Therein, drummer Vusi Khumalo choogles like Sun Records; fretless bassist Bakithi Kumalo adds buoyant swoops; rock 'n' roll progenitors the Everly Brothers coo along.
What follows is nothing short of a songwriting clinic. "Graceland" isn't about Graceland at all; as Simon has explained, it's about the journey, not the destination. 
Nine words capture Simon's surroundings: "The Mississippi Delta was shining like a national guitar." His failed marriage to Fisher hangs heavily in the air. The incisive chorus details how a shattered heart renders us all see-through.
Ever notice the songwriting trick behind the line about "the girl in New York City who calls herself the human trampoline"? He doesn't bother to give her a name or a motive, or any further detail at all; it doesn't matter.
Because she could be anyone in our lives, teaching us to fall, fly, and tumble in turmoil. We all rub shoulders with ghosts and empties. Graceland is any promised land, just out of our reach. 
But, know this: we all will be received. 
"Diamonds on the Soles of Her Shoes"
Before opening up into its mellower latter half, Graceland builds to a fever-pitch of momentum and anticipation that's borderline absurd.
In the opening, vocal group Ladysmith Black Mombazo backs Simon in Zulu chordal harmony, roughly translating to "It's not usual but in our days we see those things happen. They are women, they can take care of themselves."
Then, that irresistible groove, with Simon's conversational yet hyper-melodic diction. The storyline itself, exploring love amid class differences, is rendered a dreamlike blur.
Still, the key lines cut to the quick: "She was physically forgotten, but then she slipped into my pocket with my car keys." Who with a pulse hasn't experienced this sensation, never quite given a name, or expressed in the English language so succinctly, until then?
Even when it's difficult to parse Simon's literal meaning ("She makes the sign of a teaspoon/ He makes the sign of a wave"), his verbiage is gorgeous. And by the time the economical clash of lovers ends up "sleeping in a doorway" uptown, the song detonates like fireworks, in a jubilant rain of scatting.
"You Can Call Me Al"
Aurally, it's difficult to think of another song in the pop canon quite like "You Can Call Me Al." Synth-horn fanfare, bubbly polyrhythms, massive gated reverb on the snare, a reversed bass solo, a friggin' pennywhistle solo: were these elements ever combined to this effect?
Then, there's the laconic Simon, way behind the beat, effortlessly fitting busy verses into the groove like a rapper, images spinning in infinity. A disillusioned, middle-aged man in a foreign land laments his lack of purpose, snaps at strangers, and vapidly whines for a "photo opportunity." 
Even as the music leaps and bounds, Simon's character's dark night of the soul reaches a head — his "role model" has fallen from grace, embroiled in some scandal with a "roly-poly bat-faced girl." 
But as the culture-shocked protagonist wanders through what we might have called the "third world" in 1986, he finds something like salvation, or grace. The "angels in the architecture" swirl into a celestial portal; the song becomes William Blake-sized. 
As "You Can Call Me Al" crescendos, confetti practically rains from the ceiling. When Simon sang it on the final night of his farewell tour, Forest Hills Stadium went up. From lyrics to melody to production to the classic video starring Chevy Chase, this is a bona fide '80s classic.
"The Coast"
Juiced up from Graceland's blockbuster success (despite poorly-thought-out apartheid controversy), Simon continued in a so-called "worldbeat" direction with 1990's The Rhythm of the Saints. 
Despite being far less splashy than Graceland and lacking a hit single, The Rhythm of the Saints is just about perfect. With synthesizers excised, it achieves a naturalistic quality that its predecessor lacked, and songs like "The Obvious Child," "Can't Run But" and "The Cool, Cool River" rank among his very best.
For whatever reason, the magnificent "The Coast" tends to get lost in the shuffle — and it shouldn't be. From a dust-devil of hand-drums and windchimes, it coalesces in the air; it feels weightless, continually ascending, never reaching a ceiling.
In the chorus, Simon undercuts an everyman lamentation — "This is a lonely life/ Sorrows everywhere you turn" — with an oblique hustler's inner monologue: "That is worth some money, if you think about it!"
Always with a way with a finale: as backing vocalists join the throng, Simon sings of stars and skies falling across the shore; the drums shimmer in the air like fireflies. Graceland was pop magic; "The Coast" is just magic.
"That's Where I Belong"
2000's You're the One is rarely brought up outside of the most zealous Simonite circles, but Simon clearly thinks a lot of it: he included a whopping four of its songs on his 2018 album of deep-cut re-recordings, 2018's In the Blue Light.
The original album's opener, "That's Where I Belong," isn't among them. But the obscure track, in its own quiet way, a treasure.
Every element of "That's Where I Belong" exudes a sense of peace Simon hadn't fully touched on before. Simon said in an interview at the time that "It's the first time I ever had domestic bliss," and the entirety of You're the One is charged with that energy. And everything about "That's Where I Belong" feels enveloping, capacious, invitational — a balm and a hideaway.
At the end, he sings of a villager — a "spiny little island man" at the mouth of a river, with music in the air. That, Simon sings, is home.
"Darling Lorraine"
"I always thought 'Darling Lorraine' was one of my best songs," Simon told Mojo in 2018, which galvanized him to give it a fresh coat of paint on In the Blue Light with accompanists like guitarist Bill Frisell, bassist Renaud Garcia-Fons and drummer Steve Gadd.
Unlike many of the above songs, "Darling Lorraine" doesn't build to a climax; it hesitates, pontificates and mulls for its seven-minute runtime. This is appropriate for the subject matter: Simon negotiates the hills and valleys of a turbulent marriage — and no relationship is a completely neat arc.
The couple are a mismatch. The husband, Frank, is uptight and reticent, and gave up a dream of a musician life; Lorraine is effervescent and open-minded. Naturally, she feels stifled by domesticity; the song captures their arguments and walk-outs. Finally, she dies bedridden, "her breathing like the echo of our love."
Simon's choice of including "Darling Lorraine" with the equally obscure You're the One cut "Love" is interesting. That song pulls apart the four-letter concept like a child examining the guts of a radio; "Darling Lorraine" is love in action, seemingly unspooling in real time, and eventually being extinguished.
And even after "the moon takes Darling Lorraine," the song seems to hang in the air, like a faint plume of smoke.
"Wartime Prayers"
Simon's Eno-assisted album Surprise may have been released in 2006, during the height of the Iraq war. But this is Simon we're talking about, he would never write his own "Freedom" or "Let's Impeach the President."
Instead, Simon analyzes the efficacy of prayer. What does it mean to appeal to the Most High during peacetime? How do rice Christians and religious hypocrites add static to the connection?
Ultimately, Simon seems to concede that "wrapping yourself in prayer" can be the final tool in the toolbox when dealing with suffering and death. Crucially, he never preaches: "I don't pretend that I'm a mastermind/ With a genius marketing plan."
Rather, Simon wonders how much he can sand his rough edges and embrace grace before the end of his life. At a time when death and uncertainty hung in the air, "Wartime Prayers" rang true. 
Of all the Bush-era songs by classic rockers, this one arguably reverberates strongest — right up to our days of bloodshed in Ukraine, 14 years later.
"Questions for the Angels"
In 2018's Paul Simon: The Life, Simon laid out his spiritual MO.
"If there is a God, and He created this planet and everything on it, I've got to say an incredible 'Thank you so much — great job,'" he stated. "If it turns out there's no God, I still feel the same way. I'm really grateful to be here. What a beautiful planet."
Seven years earlier, mortality was on Simon's mind; it weighs heavily on his 2011 album So Beautiful or So What. On "The Afterlife," he envisaged heaven as a mind-numbing bureaucracy akin to the DMV. He followed that thread deep into the album, and the result is "Questions for the Angels."
It's a song of riddles and reflections on materialism, following a modern-day pilgrim as he traverses New York "at the hour when the homeless move their cardboard blankets / And the new day begins." The character walks across the Brooklyn bridge and looks at a billboard of Jay-Z.
Everything about "Questions for the Angels" feels primeval; Simon wants to know about the animal kingdom, the state of his mind and the nature of divine connection. Hey, that sounds like Simon's post-retirement plans — dealing in psychology, spirituality, ecology.
"Somewhere, in a burst of glory/ Sound becomes a song," Simon sang at the outset of "That's Where I Belong." Maybe he's ready to write the third part of that life. His songs are about to become him.
How To Watch "Homeward Bound: A GRAMMY Salute To The Songs Of Paul Simon"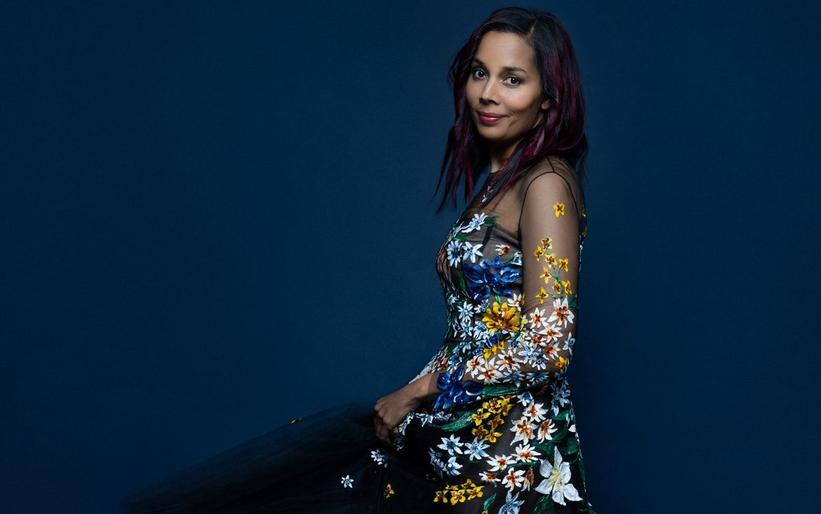 interview
On 'You're The One,' Rhiannon Giddens' Craft Finds A Natural Outgrowth: Songwriting
Most know Rhiannon Giddens for her multimedia work exploring American musics and how they relate to race in America. 'You're The One,' her first album of original material, is subtly and rewardingly in dialogue with this space.
GRAMMYs
/
Aug 16, 2023 - 06:38 pm
At a vibey, wood-paneled listening party in Williamsburg, Rhiannon Giddens felt exposed. Chiefly known as an interpreter and a cultural surveyor — both as a solo artist and for her work with the Carolina Chocolate Drops — the singer had distributed the lyrics to her new album, You're the One.
The assembled were welcoming and supportive; Nonesuch Records president David Bither was there in her corner, and delivered heartfelt remarks at the outset. Still, on a WhatsApp call weeks after, Giddens admitted she felt "awkward as hell." But that's OK, she explains.
"I'm very comfortable doing the things that I've been doing, so it can become a death knell for an artist to be super comfortable," she tells GRAMMY.com. "So I think it was time to step out a little bit and go, 'OK, so this is what happened.'
"But I don't talk about slavery, and I don't talk about civil rights," the two-time GRAMMY winner — and Pulitzer winner — continues. "This is a different way of being, and just as valid."
Giddens is referring to her work in a litany of fields — opera, documentary, ballet, podcasting, and more. Therein, she's aimed to plumb "difficult and unknown chapters of American history" through musical lenses, like the evolution of the banjo from Africa to Appalachia.
Out Aug. 18, You're the One is more eye-to-eye than Giddens' other works; she sings in first person, and deals in themes of romance and devotion, as with the glowing and companionable title track.
There's also a razzing kiss-off ("If You Don't Know How Sweet It Is") — and a brooding, socially conscious moment in the form of "Another Wasted Life," about the suicide of Kalief Browder at Riker's Island.
But despite these more direct expressions, Giddens hasn't simply pivoted from sociological to confessional; that's a binary that can be put to bed.
I'm drawing a little bit more from my experience, but I had to draw from my experience to write other people's stories," she says. "There's emotions that I feel that I then translate into these other stories, so I don't think this record is completely different from that [mode of expression]."

In that way, You're the One isn't a left turn for Giddens; it's another branch on her evermore sprawling tree. Read on for an interview with the singer-now-songwriter about how it came to be, her recent team-ups with Paul Simon and much more.
This interview has been edited for clarity.
At the Brooklyn listening party, was it vulnerable to reveal your songwriting side?
Totally. I felt like I was awkward as hell. I'm very comfortable talking about other people's stories, and that's what I've been drawn to my whole career as an interpreter.
Even as a songwriter, I am inspired by historical stories and wanting to write them. It's one of the reasons why I'm doing this, because the job of the artist is to always grow.
Yeah, it does feel vulnerable. Because it's like, I don't really like talking about myself. It's not like these are all Taylor Swift-type "ripped from my soul and my experience" songs.
But obviously, to write any song you have to pull on experiences, and whatever you do with them — whether you exaggerate them or change them — you're still pulling on yourself more. So, it's been interesting.
What kicked you into gear to do this? To express how you feel, rather than tell other people's stories?
Well, it doesn't express how I feel, though. This is the thing: they're still songs, and it's still a performance.
I'd say I'm drawing a little bit more from my experience, but I had to draw from my experience to write other people's stories. There's emotions that I feel that I then translate into these other stories, so I don't think this record is completely different from that.
There's a couple that are responses to experiences in my life, and then there's a bunch where I'm playing with styles and I'm playing with strong women's voices, and I'm playing with being inspired by all of these artists that have come before me.
So, it's kind of a mixture of these things.
You're right. There doesn't have to a be a binary between diaristic and impersonal.
Yeah, totally. 
And I do feel like I'm a more old-fashioned songwriter in that way — in that I really love form and I really love words, and I really love wordplay, and I really love taking an idea and really kind of running with it rather than more of a personal response to something that happened in my life.
I guess "You're the One" is probably the closest to that. That, I wrote purely out of this feeling that I had when I had my son. And I'd had really bad postpartum depression with my daughter, which kind of puts a curtain in between you and your emotions. It's really tough to get through that.
So when I had another kid and I didn't have that and I felt all of that joy — for both of my children. Obviously, I love them the same.
But I recognized that feeling more after the birth of my son because I recognized, Oh, this is what happens when you don't have postpartum depression. That's amazing. And I felt all of that. But that's probably the only one that's a pure response.
I love how universally applicable it is.
You can do "You're the One" at a wedding. It doesn't necessarily say, You're a baby.
That's what I think is really interesting about songs; as long as the emotion is pure, that forms the core of it. It can then represent so many different things, depending on how it's written. I love those stories of a song: somebody writes it because of x, and then everybody thinks it's because of y.
What else is sourced from your personal experience?
"If You Don't Know How Sweet It Is" started as a poem when I was kind of teed off at somebody who kind of left my music or whatever. It was a professional relationship that went south, and I kind of went, "Man, you don't know how good it is," and I just kind of wrote this little piece.
Then, I turned it into a marriage song, turned it into more of a Dolly Parton kind of [song] — this is a moment where this woman is fed up with this husband who has taken her for granted. 
So, there's a bunch of [those songs], where I kind of take these emotions that may or may not be really represented. [Any given song] may have come from situations that may or may not be represented in what the final song is.
Tell me how you wanted You're the One to impact people on an aural level.
I was sitting on all these songs that I've written over the last 14 years and haven't had a home. I knew this was my chance to explore other soundworlds. I knew these songs needed more than a banjo, a fiddle and a frame drum. They needed more contemporary sounds.
So, we reached out. My manager suggested Jack Splash, and I knew that he had done Valerie June — and of course, she's in the club; I've known her for a long time. I was like, Well, if he worked with her, he's probably going to have an idea of what to do with me.
I met with him, and I was very quickly like, "Look, I really want you to be creative and I want you to bring your whole box of sounds, but I also want to bring my sounds." I didn't want to say Hey, put all your production on these and whatever. I wanted it to be a mixture of my sounds and his sounds — his musicians and my musicians.
So we did a real old-fashioned recording session where we had everybody there the whole time. It was like six days. "You Louisiana Man" was the first one we did, and that one was like 11 people on the floor, I think, at the same time recording. It was amazing.
I brought my folks, he had his folks, and it was a real beautiful mixture of styles and vibes. I think it's unique. You can't really place it. It's got some retro feel, it's got some modern feel, it's got some old-timey feeling sounds, and that's what I wanted.
That's the platonic ideal, right? The music being made together, in real time.
That's what I think. That's what I like.
Now, I know that there's a type of music that you make that's basically the engineer, the producer's making it, you know what I mean? And the different musicians, like he's the conductor. And that's fine. And it's not to pooh-pooh that, but it's not the way I want to make music.
I was kind of like, "Take my advance. I don't care if I make any money from this. I need us to put the money towards having the bodies in the space."
Because when we're bringing together all these varied things — electric bass, and drums, and organ, and congas, and accordion, and fiddle, and Congolese acoustic guitar — overdubs are not going to work. It's just going to be Jack's sound with a little bit of me on top, or a little bit of accordion or synths or something.
I was like, "That's boring. Can we not do that?" I really wanted us to find a sound that we couldn't have found any other way than being in the room.
Most know you via your interrogations of the history of American music, and your explorations of these wonderful instruments. Where are you at currently with this subject?
The more that I investigate, the more I'm just like: it's so complicated. And the real story is always more interesting than the one that we're fed, but it's always more complicated.
It's multicultural. That's what I'm finding: when you bring people together who want to listen to each other, you find new forms of music. That's just the facts. So, it's the genre thing. I'm going to continue to fight against it.
People always ask me, What is it that I play? And I'm like, "You tell me because I don't care." You know what I mean? "Put whatever box you need to put me in to sell my s—, but I'm not going to self-identify outside of American acoustic music. That's what I do."
I think we look at the wrong categories. I'd rather know: is the music highly produced and electric or is it acoustic? Is the music slow or is it fast? Is the music for dancing or is it songs that don't have a particular dance beat? Is the music based on riffs or is it [not]?
What does R&B mean? What does rock mean? That changes every five minutes, and it doesn't tell anything about what the music actually is. And if it does, it puts it in a box and you may not listen to it because you think what it is.
So I get why they do it, but I just think it's really destructive to innovation and what American music really stands for, which is mixture.
Another person who's very interested in exploring the intricacies of American music is Jason Isbell. Can you talk about working with him on "Yet to Be"?
It was a lot of fun. I wish I could have been there when he did it. I Zoomed in.
He's just so great. And look, we have one of these 21st-century Twitter relationships. We comment on each other's Twitter sometimes. And I have watched him, from afar, be an amazing advocate, a very smart musician and social media person.
I love the way that he interacts with his fans. I love how he's supported Black women musicians, and putting his money where his mouth is. And I just love the way that he moves in the world.
So it just seemed like a really natural fit to get him to sing on this song, and he just knocked it out of the park. It was really, really great.
What do you want You're the One to be a bridge to in your musical life?
I'm just excited to do what I do. I feel very lucky. I get to make the music I want to make with the people that I want to make it with.
I'm not famous. I have a nice-sized, very committed following. I can put on tours and pay my musicians what I should pay them, and earn a living. I just want to keep doing that, and telling stories, and raising other people up, and using my platform for the things that matter to me. 
So if this record can bring me to audiences that maybe wouldn't have given me a second listen, that'd be amazing. Maybe it doesn't. Maybe nobody cares. I just make the songs and see where they go and just keep going with that.
I'm looking to have a really good time on tour with my wonderful musician friends and just keep doing the do. It's a rough world out there right now. So I'm just trying to use my time in front of people for as good of things as I can. So, that's what I got.
I've got to ask about Paul Simon. I'm a devotee. You've sang with him in the recent past, including "Homeward Bound: A GRAMMY Salute to the Songs of Paul Simon."
I didn't really realize how much of a soundtrack his music has been of my life until I was waiting to go on and listening to all the songs going, Oh my god, I know all of these. He's such an amazing songwriter. And working with him for "American Tune" is just one of the highlights of my life.
Not just because it's Paul Simon. I mean, yeah, he's an amazing musician, but the experience that we had working together on that, him changing those words for me to sing it and me kind of taking this song in and going, Wow, this is exactly how I feel right now. It's exactly how people that I know feel, and he wrote it before I was born.
And I think for him to see another artist of a different generation making it her own right in front of his face, [it's impactful], you know what I mean? I cried during the dress rehearsal. I was just feeling it. So that was a really powerful experience and I will always treasure it. 
It was unexpected. It came at the last minute. I respect him a lot for being willing to do it. And as I like to say to people, nobody has the monopoly on doing the right thing and on wanting to comment on what's going on right now.
And yeah, he's an old white guy, but dang, he didn't have to do nothing but sit back and collect his checks. He made a statement with that song, and I don't want to take that away from him. I didn't change those words; he changed those words.
I remember seeing you perform "American Tune" together at Newport Folk 2022. He said something to the effect of, "This will have more resonance if Rhiannon sings with me."
The thing is the words that he changed, particularly the line about the Mayflower. Originally, it was like, "We came here on the Mayflower." And then he changed it to, "We didn't come here on the Mayflower.
99 percent of the people who live in America don't have ancestors that came on the Mayflower. You know what I mean? It's not just about Black people, it's not just about me. It opens up that song for everybody. And I think that that's really important, because we need to come together in any way that we can. It's an incredible song.
I became the focal point for that, obviously, because I was singing the song. But it is never really about me. I don't really like focusing on What does it mean for me to do it?  it really gives that song a whole new life for anybody else who wants to sing it.
I think that's really powerful, and I'm just glad that he was open to doing it. And that we got a chance to not just do it once — but twice.
15 Essential Tracks By Paul Simon: "The Sound of Silence," "The Boxer," "Bridge Over Troubled Water," & More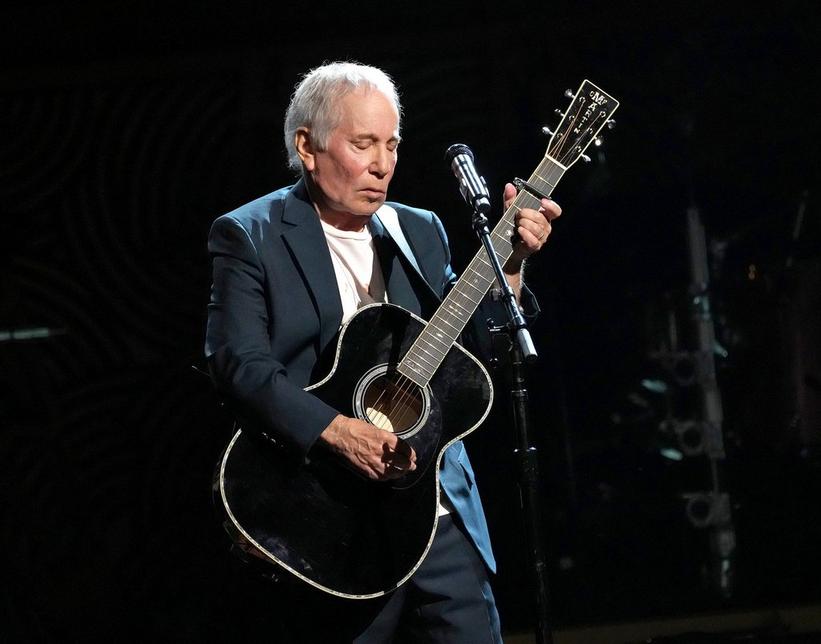 Paul Simon performing at "A GRAMMY Salute To The Songs Of Paul Simon" in 2022
Photo: Kevin Mazur/Getty Images for The Recording Academy
list
5 Takeaways From Paul Simon's New Album 'Seven Psalms': A Plethora Of Spirituality, Humor & Devotion
An all-acoustic song cycle meant to be listened to from front to back, 'Seven Psalms' contains many of Paul Simon's poetic and musical dimensions in microcosm.
GRAMMYs
/
May 19, 2023 - 01:46 pm
A psalm is a sacred song or hymn — especially one among King David's famous compendium in the Bible. Devotional music is obviously still around in different forms, but the ancient word is still on musician's tongues. Last year, Nick Cave and Warren Ellis released an album called Seven Psalms. And Paul Simon just revealed seven of his own.
Also called Seven Psalms, Simon's new album is out May 19, and it's a stunner. A 33-minute, all-acoustic, seven-song cycle meant to be listened to as one contiguous whole, it's one of the most intimate works the 16-time GRAMMY winner has ever crafted. That's saying something, given he put himself on the map with the pindrop "The Sound of Silence" nearly 60 years ago.
Seven Psalms is a work of heavy-duty spirituality; while it doesn't necessarily have a "confessional" nature, the listener will absorb reams of information about the state of Simon's artistry and psychology. 
As you absorb this potent work from front to back, read on for a few things Seven Psalms reveals about Simon.
A Higher Power Is On His Mind
"The Lord is my engineer/ The Lord is the earth I ride on/ The Lord is the face in the atmosphere/The path I slip and I slide on," Simon sings in opening movement "The Lord" — a verse that becomes a motif throughout Seven Psalms.
But Simon isn't evangelical on the album; far be it from him to take a myopic view of anything in song. "Slip" and "slide" are the operative words here; Simon goes on to cast God as "the Covid virus," "the ocean rising," "a terrible, swift sword," "a puff of smoke" and "my personal joke."
Thus, the duality of religious belief permeates Seven Psalms — just as it did in "Questions for the Angels," "Old" and any number of other awe-inspiring songs about faith in his past.
"Dip your hand in heaven's waters," Simon sings in "Your Forgiveness," fully aware of the multitude of shades that concept encompasses.
His Guitar Skills Remain Undimmed
Occasionally, Simon barely touches his acoustic guitar during concerts, especially when his band is choogling away behind him. But he remains one of the greatest of his generation, and Seven Psalms displays that practically every second.
Simon played most of the instruments on Seven Psalms, including various bells and gongs, as well as far-flung instruments like gamelan and gobichand. But, naturally, it's the greatest treat to hear him stretch out on the acoustic guitar.
Harmonically, melodically and rhythmically, Simon's grace and facility on his instrument is second to none on Seven Psalms — and that's before he even gets to the words.
He's Still Very Funny
As psychologically and spiritually freighted as Simon's music can be, it's hard to remember a single song where he sounds ponderous. His razor-sharp sense of humor is a big part of that.
Simon's one-liner game has always been strong; to hear "You Can Call Me Al" is to chuckle at least a little bit at the "roly-poly little bat-faced girl" line. (Ditto the opening line of "Kodachrome," which almost singlehandedly forged this author's opinion of the K-12 system.)
Third movement "My Professional Opinion" carries the lion's share of Seven Psalms' humor, from the opening verse: "Good morning Mr. Indignation/ Looks like you haven't slept all night/ In my professional opinion/ Go back to bed and turn off your light."
From there, Simon — or his character — continues to dispense unsolicited advice on everything — including the barnyard body politik. "I heard two cows in a conversation/ One called the other one a name," he sings. "In my professional opinion/ All cows in the country must bear the blame."
At the conclusion of "My Professional Opinion," Simon gets down to brass tacks and evokes Christ. "All that really matters/ Is the one who became us." (Sure.) "Anointed and gamed us." (Wait, gamed us?) "With his opinions." (Ba-dum-tsh.)
Edie Brickell Remains Indispensable To His Art
Simon's wife, Edie Brickell, is a GRAMMY winner in her own right who rose to prominence in the 1980s with her band, Edie Brickell & New Bohemians. The couple met in 1988 on the set of "Saturday Night Live" and married in 1992.
Since then, Brickell appeared on Simon's fantastic 2011 album So Beautiful or So What; his song "In the Garden of Edie," from 2016's Stranger to Stranger, is a tribute to her. She's also appeared onstage with him; during lockdown, they posted a video of themselves performing a luminous duet of the Everly Brothers' "I Wonder if I Care As Much."
During closing tracks "The Sacred Harp" and "Wait," Brickell appears and intertwines her voice with her husband's, right up to the final line: "Amen."
Simon May Not Tour Anymore, But He Remains A Force
Back in 2018, Simon announced his retirement. Sort of. Citing mental exhaustion, he booked one final tour — but didn't rule out occasional performances.
"I don't intend for it to be my last performance," he told CNN of the hometown show — in Queens — that wrapped up his farewell tour. "I'd like to do it for my own pleasure, in concert halls that have prestige sound and with perhaps different musicians that I admire, and play a repertoire that is different from what I've been playing." (Getting finicky about the details of concerts that haven't even been booked — classic Simon.)
Simon's still getting out there and playing — including at the "Homeward Bound: A GRAMMY Salute To Paul Simon" tribute last year. But more than that, the 81-year-old is still actively evolving and challenging himself.
"All of life's abundance in a drop of condensation," Simon sings midway through Seven Psalms, in "Your Forgiveness." That sums up Simon's art in microcosm: a three-minute song can leave you commensurately awestruck, puzzled, heartsick and laughing out loud. 
As the craft of songwriting goes, that's just as high as you can climb — and on Seven Psalms, Simon waves to us from the summit.
15 Essential Tracks By Paul Simon: In A Burst Of Glory, Sound Becomes A Song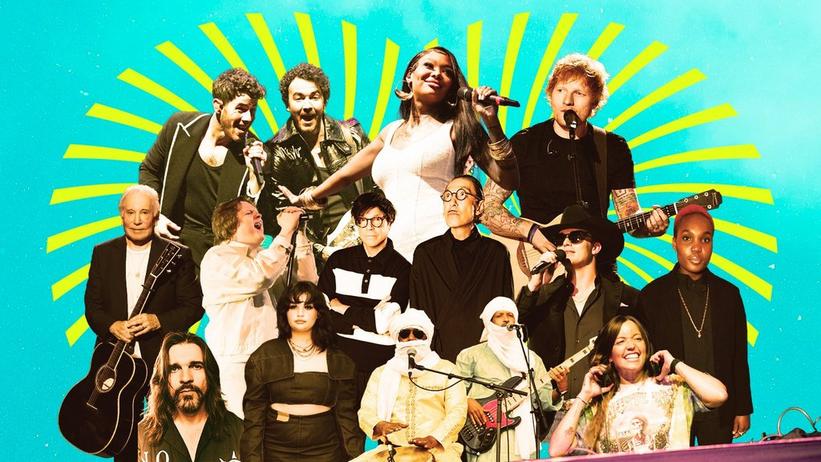 (Top) Nick and Kevin Jonas, Summer Walker, Ed Sheeran (Center) Paul Simon, Lewis Capaldi, Sparks, Parker McCollum, Arlo Parks (Bottom) Juanes, Lola Young, Tinariwen, LP Giobbi
(Top) Jim Dyson/Getty Images, Astrida Valigorsky/WireImage, Jeff Kravitz/FilmMagic (Center) Kevin Winter/Getty Images for The Recording Academy, Frank Hoensch/Redferns, Munachi Osegbu, Jeff Kravitz/Getty Images for CMT, Dave Benett/Getty Images (Bottom) Dave Benett/Getty Images for Givenchy Beauty, Jim Dyson/Getty Images, Scott Dudelson/Getty Images
list
15 Must-Hear Albums Out In May: Jonas Brothers, Summer Walker, Paul Simon & More
From Sparks' offbeat 'The Girl Is Crying In Her Latte' to the heartfelt storytelling on Lewis Capaldi's 'Broken by Desire to Be Heavenly Sent,' and growth set to R&B from Lola Young and Arlo Parks, check out 15 albums dropping this May.
GRAMMYs
/
May 1, 2023 - 01:07 pm
Spring is in full bloom, and with it comes a slew of inspiring records and unmissable tours. May brings upon us the return of giants and some promising newcomers, and whether you like the country music of Parker McCollum or the Mexican pop of AQUIHAYAQUIHAY, this month's releases offer something to please every taste.
This month, the Jonas Brothers finally make their awaited return with The Album, while Ed Sheeran completes his math symbols series with Subtract. Paul Simon will turn dreams into reality with Seven Psalms, and Tuareg collective Tinariwen will continue their desert blues exploration on Amatssou. Early aughts pop-punk outfit the Exploding Hearts will get a remastered, expanded reissue, and dance music maven LP Giobbi will make her studio album debut with Light Places.
Below is a guide with 15 must-hear albums dropping May 2023. Read on for known names that might reignite your passion, and budding acts who will make your curiosity flourish.
Ed Sheeran - 
Subtract
Release date: May 5
Completing Ed Sheeran's series of albums titled after mathematical symbols, Subtract (stylized as -), will feature 14 cuts that deal with the singer's "fear, depression, and anxiety" throughout the hardships that shaped his past year, according to an Instagram post.
Sheeran added that his wife's tumor diagnosis while pregnant, the death of his best friend Jamal Edwards, and a 2022 plagiarism trial "changed my life, my mental health, and ultimately the way I viewed music and art," prompting him to scrap "a decade's worth of work with my deepest, darkest thoughts."
Produced by the National's Aaron Dessner, Subtract is billed as an acoustic album, ranging from "pared back, folk-leaning textures to bolder, full-band/orchestral arrangements," which can be seen through pre-release "Boat" and lead single "Eyes Closed."
Jonas Brothers -
The Album
Release date: May 12
The Jonas Brothers' sixth studio album has been teased since 2020, but after several delays (including the COVID-19 pandemic), the The Album will be unleashed into the world. The trio told Variety that the follow-up to 2019's Happiness Begins "features elements of classic '70s pop and Americana with a modern edge," and was inspired by another sibling trio — the Bee Gees — as well as rock bands the Doobie Brothers and America.
Produced by Jon Bellion (who is also the album's only featured artist), most of its tracks were performed at the Jonas Brothers' fifth and final Broadway show on March 18, 2023. However, expectations remain high as the album release will be accompanied by a yet-to-be-announced tour.
Kaytraminé -
Kaytraminé
Release date: May 12
Fusing the talents of top-rated producer/DJ Kaytranada and rapper Aminé might have been one of the most ambitious efforts of 2023. 
Although they have been frequent collaborators since 2013, including Kaytranada producing three songs out of Aminé's 2015 mixtape Calling Brio, this is the first time they unite forces for a whole record as Kaytraminé.
The project's first single, "4EVA," features the Neptunes' Pharrell Williams on vocals and co-production. Judging by its vibe, it seems like summer already has an official soundtrack.
Parker McCollum -
Never Enough
Release date: May 12
2021's Gold Chain Cowboy set Parker McCollum on the path to becoming a country music star. The major label debut followed two self-released albums — 2015's The Limestone Kid and 2017's Probably Wrong, and ended up winning New Male Artist of the Year at the American Country Music Awards — as well as a double-platinum single, "Pretty Heart," and a gold-certified single, "To Be Loved by You."
McCollum continues to look forward with Never Enough. Among its 15 tracks, there is the first time he ever said "beer" in a song, as well as singles "Handle on You," "Stoned," "I Ain't Going Nowhere," and "Speed." The singer is also extending his tour through the summer, with the participation of fellow country artists like Larry Fleet, Randy Rogers Band, and Flatland Cavalry on some dates.
LP Giobbi -
Light Places
Release date: May 12
Boundary-bender musician, producer and entrepreneur LP Giobbi believes in "letting yourself get lost and finding out it's exactly where you were supposed to be." 
The statement, and title of her debut studio album Light Places, follows lyrics from the Grateful Dead's "Scarlet Begonias": "Once in a while you get shown the light in the strangest of places / if you look at it right." Giobbi, who is also a confessed Deadhead, said that the lyrics are one of her father's favorites, "and almost a philosophy for the way he lives and taught my brother and me to live." 
Produced almost entirely during flights while she toured the world with her "one-woman jam band" DJ sets, Light Places expands Giobbi's classical jazz training into buoyant dance rhythms, and features collaborations with DJ Tennis, SOFI TUKKER, Caroline Byrne, and more. As a preview, she recently released singles "Can't Let You Go (feat. Little Jet)" and "All I Need."
AQUIHAYAQUIHAY -
NO ME BUSQUES DONDE MISMO
Release date: May 12
The forerunners of M-pop (Mexican pop) and a self-professed "anti-boyband," AQUIHAYAQUIHAY are known for blending traditional Latin genres with R&B and hip-hop. The 20-something quintet are set to release a new album, NO ME BUSQUES DONDE MISMO.
Formed in 2016, AQUIHAYAQUIHAY released their debut album, DROPOUT in 2019 and signed with DJ/producer Steve Aoki's Latin underground label, Dim Mak en Fuego. The group  dropped two EPs in 2021, titled :) and :(.  
Although the sounds and influences in NO ME BUSQUES have yet to be revealed, the band released two preview singles, "Duelo" and "B-day," a TikTok teaser, and announced a Mexican tour in June.
Summer Walker -
Clear 2: Soft Life
Release date: May 19
"Y'all ready for some new music?" Summer Walker asked the crowd during her set at April's Dreamville Festival. The question was preceded by the announcement of her upcoming EP, Clear 2: Soft Life.
Clear 2 is a sequel to Walker's first EP, 2019's Clear, which was released just nine months before her breakout debut studio album, Over It. Debuting at No. 2 on the Billboard 200 chart, the LP earned the biggest streaming week ever for an R&B album by a woman, and set the singer as a force to watch. Her 202 sophomore album, Still Over It, surpassed its predecessor and debuted at No. 1 on the same chart.
"This one — I want it to be a lot longer so I can really get that sound out," Walker recently told Billboard about her upcoming EP. "I make what I got to make for the radio, but I'm very excited for [Clear 2]. Hopefully, my budget will be permitted."
Lewis Capaldi -
Broken By Desire To Be Heavenly Sent
Release date: May 19
"If it ain't broken, don't fix it" seems to be a saying that Lewis Capaldi currently lives by. The Scottish sensation said in a press release that he doesn't want to "create a new sound for myself, or reinvent myself," and therefore his much-awaited second studio album, Broken by Desire to Be Heavenly Sent, will follow his usual emotionally-driven delivery.
The album was recorded with a minimal set-up, consisting of only a "small interface, laptop, speakers, and a Shure SM7B vocal mic," as well as the same team who worked on his first album, 2019's best-seller Divinely Uninspired to a Hellish Extent: TMS, Phil Plested, Nick Atkinson and Edd Holloway.
Preceded by singles "How I'm Feeling Now," "Forget Me," "Pointless," and "Wish You the Best" — of which the last three topped the UK Singles Chart — it looks like Capaldi's right to bet on his tried and true formula, with enough skills to spark curiosity from the audience, over and over again.
Paul Simon -
Seven Psalms
Release date: May 19
Seven Psalms is Paul Simon's fifteenth album, and his first of new material since 2016's Stranger to Stranger. According to the six-decade-spanning singer, the project came to him in a dream and was inspired by the Book of Psalms.
Including seven acoustic tracks that are meant to be listened to as one uninterrupted piece, the album also features British vocal group VOCES8 and a participation by Simon's wife, singer/songwriter Edie Brickell.
Seven Psalms is said to be a departure from any of his previous work, which encompasses the illustrious Simon & Garfunkel albums Bridge Over Troubled Water, Sounds of Silence, and more. An accompanying documentary, In Restless Dreams, is also set for release.
Juanes -
Vida Cotidiana
Release date: May 19
While Juanes found immense success in 2021 with his cover album Origen, winning Best Pop/Rock Album at the Latin Grammy Awards and Best Latin Rock or Alternative Album at the GRAMMY Awards, his latest original work dates back to 2019, with the LP Más futuro que pasado.
Considering the events the world went through, 2019 feels more like a century ago. Therefore, Vida Cotidiana (or "daily life," in Spanish) arrives as a testament to the Colombian star's reflections and changes during this turbulent time.
The 11-track collection also marks Juanes' return to rock and Latin American folk foundations, while examining "love, marriage, family, and his country," according to a press release. So far, he released three lovelorn advance singles off the album: "Amores Prohibidos," "Gris" and "Ojalá."
Tinariwen - 
Amatssou
Release date: May 19
Amatssou means "beyond the fear" in Tamashek, the native language of the Tuareg collective Tinariwen — which, in turn, means "deserts." Known for their sociopolitical resistance and commitment to portraying the struggles of Mali, Amatssou stands as a fitting title for the band's ninth studio album.
Recorded inside a makeshift studio tent in Algeria, the record was produced in L.A. by GRAMMY winner Daniel Lanois) and features country musicians Wes Corbett and Fats Kaplin, furthering the collective's link to the musical style. In a press release, Tinariwen are said to "have always been a country band, albeit a North African take on that most North American of genres."
Tinariwen will embark on a U.S. and Europe tour starting on May 27 in Chicago's Old Town School of Folk Music. They will also perform at festivals including Glastonbury and Roskilde. 
Arlo Parks -
My Soft Machine
Release date: May 26
Contrasting with her delicate voice, British singer/songwriter Arlo Parks said in a statement that her sophomore album, My Soft Machine, is all about "the mid-20s anxiety, the substance abuse of friends around me, the viscera of being in love for the first time, navigating PTSD and grief and self-sabotage and joy." In summary, it's a record about "what it's like to be trapped in this particular body."
With an exceptional talent to transcribe raw emotions into contemplative, spacious music, Parks has given a taste of what to expect from this release through the singles "Blades," "Impurities," and "Weightless." She will also celebrate this moment by touring Europe and Asia in the following months, including performances at Spain and Portugal editions of Primavera Sound Festival
Lola Young -
My Mind Wanders and Sometimes Leaves Completely
Release date: May 26
"And I like to think that I'm growing up and that I'm learnin'/But I've no idea what's underneath," reflects the south Londoner Lola Young on "Stream of Consciousness," the lead single for her upcoming album, My Mind Wanders and Sometimes Leaves Completely.
Following up on her 2021 EP After Midnight, the release is said to reflect Young's "journey towards being a woman and figuring out who I am." Through her poignant lyrics, the 21-year-old gives a glimpse into the joys and pains of love in the 2020s. "I swear it don't hurt / You're looking at her / I'm looking at you," she muses in "Annabel's House (From The Train)."  
Nominated for the Rising Star Award at the 2022 BRIT Awards, she also revealed in an interview for NME that the album will be "slightly different" from her previous work, featuring more retro, alt-rock, and indie influences with a "raw edge."
The Exploding Hearts -
Guitar Romantic (Expanded & Remastered)
Release date: May 26
The short-lived but still impactful Exploding Hearts will get a brand new chance of reaching more fans this spring. Their 2003 album of power-pop classics, Guitar Romantic, is being reissued to celebrate its 20th anniversary.
Soon after the album release in 2003, three members of the band tragically passed away in a van accident while returning home from a gig in San Francisco. Surviving members King Louie Bankston (who passed away last year) and bassist Terry Six maintained their legacy through the duo Terry & Louie. Now, Six partnered with the band's original producer, Pat Kearns, for the album reissue, and plans to play tribute shows in the upcoming months.
Guitar Romantic (Expanded & Remastered) will feature unreleased material, like conversations from the members, a King Louie Mix of "I'm A Pretender," and an unheard version of "So Bored."
Sparks -
The Girl Is Crying In Her Latte
Release date: May 26
"So many people are crying in their latte" is the kind of musing about the contemporary world that only outlandish duo Sparks could have transformed into an engaging, nifty track. The lyrics come right off "The Girl is Crying In Her Latte," a preview single from their upcoming studio album of the same name.
Starring Cate Blanchett and her dandy dance moves in the music video, the track is proof that Sparks still have their finger on the pulse of culture, even after five decades of activity. "Veronica Lake," the second single off the project, keeps that same vein, bringing a modern spin to the narrative of actress Veronica Lake changing her hairstyle in order to protect factory workers during World War II.
The Girl Is Crying In Her Latte arrives after 2020's A Steady Drip, Drip, Drip, and will be their first release under Island Records in 47 years. The pop rock pair is also scheduled to tour multiple cities in the U.S., Europe, and Japan in the summer.
Behind Shania Twain's Hits: How A Hospital Stay, A Balmy Porch And A Hair Nightmare Inspired Her Biggest Hits & Videos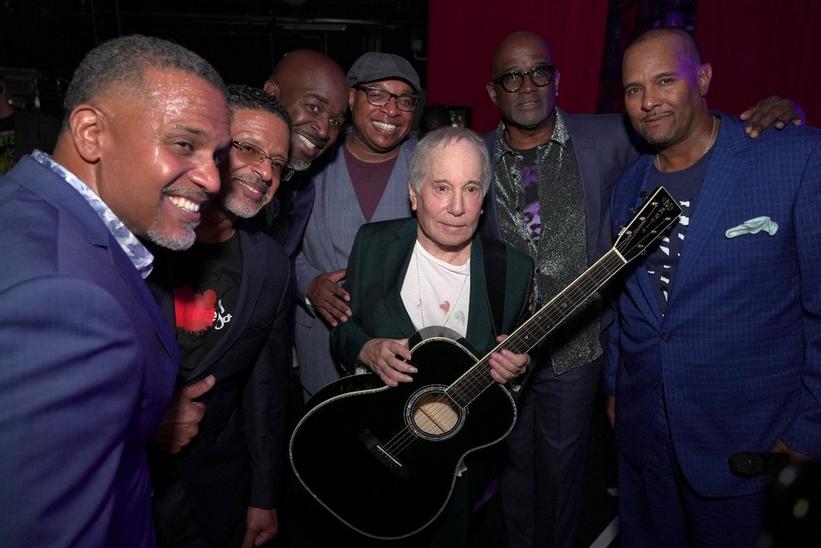 Paul Simon with Take 6
Photo: Getty Images for the Recording Academy
list
8 Highlights From "Homeward Bound: A GRAMMY Salute To The Songs Of Paul Simon": Garth Brooks' & Trisha Yearwood's Charming Duet, Stevie Wonder' & Ledisi's Heartwarming Performance & More
Paul Simon's GRAMMYs tribute included moments of vulnerability, generation-straddling duets, and plenty of other surprises. Here are eight highlights from the magical night. The tribute re-airs on Wednesday, May 31, at 9 p.m. ET/PT on CBS.
GRAMMYs
/
Dec 22, 2022 - 03:51 pm
Updated Monday, May 22, to include information about the re-air date for "Homeward Bound: A GRAMMY Salute To The Songs Of Paul Simon."
"Homeward Bound: A GRAMMY Salute To The Songs Of Paul Simon" will re-air on Wednesday, May 31, at 9 p.m. ET/PT on the CBS Television Network, and will be available to stream live and on demand on Paramount+.
Many tribute shows for legacy artists end in a plume of confetti and a feel-good singalong. But not Paul Simon's.
At the end of the songbook-spanning "Homeward Bound: A GRAMMY Tribute To Paul Simon," the only person on the darkened stage was the man of the hour. Sure, the audience had been baby-driven through the Simon and Garfunkel years, into the solo wilderness, through Graceland, and so forth. But all these roads led to darkness.
Because Simon then played the song that he wrote alone, in a bathroom, after JFK was shot.
It doesn't matter that Simon always ends gigs with "The Sound of Silence." After this commensurately cuddly and incisive tribute show, it was bracing to watch him render his entire career an ouroboros. 
That "The Sound of Silence" felt like such a fitting cap to a night of jubilation speaks to Simon's multitudes. The Jonas Brothers coolly gliding through "50 Ways to Leave Your Lover," juxtaposed with the ache of Garth Brooks and Trisha Yearwood's "The Boxer," rubbing up against Dave Matthews getting goofy and kinetic with "You Can Call Me Al," and so on and so forth.
The intoxicating jumble of emotions onstage at "Homeward Bound: A GRAMMY Tribute To Paul Simon" did justice to his songbook's emotional landscape — sometimes smooth, other times turbulent, defined by distance and longing as much as intimacy and fraternity.
Here were eight highlights from the telecast — which will re-air on Wednesday, May 31, at 9 p.m. ET/PT on the CBS Television Network, and will be available to stream live and on demand on Paramount+.
Garth Brooks & Trisha Yearwood's Pitch-Perfect "The Boxer"
Brooks has always been one of the most humble megastars in the business, praising his wife Trisha Yearwood — and his forebears — a country mile more than his own. (Speaking to GRAMMY.com, he described being "married to somebody 10 times more talented than you.")
The crack ensemble could have made "The Boxer" into a spectacle and gotten away with it, but Brooks wisely demurred.
Instead, the pair stripped down the proceedings to guitar and two voices; Brooks provided an aching counterpoint to Yearwood.
Billy Porter's Heart-Rending "Loves Me Like A Rock"
The "Pose" star blew the roof off of Joni Mitchell's MusiCares Person Of The Year gala in 2022 with "Both Sides Now," so it was clear he would bring napalm for a Simon party. 
Given the gospel-ish intro, one would think he was about to destroy the universe with "Bridge Over Troubled Water." 
Instead, he picked a song of tremendous personal significance, "Loves Me Like a Rock," and dedicated it to his mother. The universe: destroyed anyway.
Stevie Wonder & Ledisi's "Bridge Over Troubled Water"
The question remained: who would get dibs on the still-astonishing "Bridge Over Troubled Water"? A song of that magnitude is not to be treated lightly.
So the producers gave it to generational genius Wonder, who'd bridged numberless troubled waters with socially conscious masterpieces like Songs in the Key of Life.
But he wouldn't do it alone: R&B great Ledisi brought the vocal pyrotechnics, imbuing "Bridge Over Troubled Water" with the grandiosity it needed to take off.
Jimmy Cliff & Shaggy Brought Jamaican Vibes With "Mother & Child Reunion"
Simon embraced the sounds of South Africa with his 1986 blockbuster Graceland, yet his island connection is criminally underdiscussed; since the '60s, Jamaican artists have enthusiastically covered his songs.
For instance, it's impossible to imagine a "Mother and Child Reunion" not recorded in Kingston, pulsing with the energy of Simon's surroundings.
Enter genre luminaries Jimmy Cliff and Shaggy, who flipped the tribute into a bona fide reggae party.
Take 6 Dug Deep With "Homeless"
Leave it to the Recording Academy to avoid superficiality in these events: Mitchell's aforementioned MusiCares tribute included beyond-deep cuts like "Urge for Going" and "If." 
Most remember "Homeless" as Ladysmith Black Mambazo unaccompanied vocal cooldown after bangers like "You Can Call Me Al"; eight-time GRAMMY-winning vocal group Take 6 did a radiant, affectionate rendition.
When Simon took the stage at the end of the night, he was visibly blown away. Touchingly, he shouted out his late guitarist, Joseph Shabalala, who founded Ladysmith Black Mambazo.
"Imagine a guy born in Ladysmith, South Africa, [who] writes a song in Zulu and it's sung here by an American group, singing his words in his language," Simon remarked. "It would have brought tears to his eyes."
Angélique Kidjo & Dave Matthews' Love Letter To Africa
Graceland was Simon's commercial zenith, so it was only appropriate that it be the energetic apogee of this tribute show.
Doubly so, that this section be helmed by two African artists: Angélique Kidjo, hailing from Benin, and Dave Matthews, born in Johannesburg.
"Under African Skies," which Simon originally sang with Linda Ronstadt is a natural choice — not only simply as a regional ode, but due to its still-evocative melody and poeticism.
"This is the story of how we begin to remember/ This is the powerful pulsing of love in the vein" drew new power from Kidjo's lungs. 
Afterward, Matthews — a quintessential ham — threw his whole body into Simon's wonderful, strange hit, "You Can Call Me Al."
The Master Himself Took The Stage
With his still-gleaming tenor and still-undersung acoustic guitar mastery, Simon brought the night home with "Graceland," a Rhiannon Giddens-assisted "American Tune" and "The Sound of Silence."
At 81, Simon remains a magnetic performer; even though this is something of a stock sequence for when he plays brief one-off sets, it's simply a pleasure to watch the master work.

Then, the sobering conclusion: "Hello darkness, my old friend," Simon sang, stark and weary. With the world's usual litany of darknesses raging outside, he remains the best shepherd through nightmares we've got.
And as the audience beheld Simon, they seemed to silently say: Talk with us again.
15 Essential Tracks By Paul Simon: In A Burst Of Glory, Sound Becomes A Song