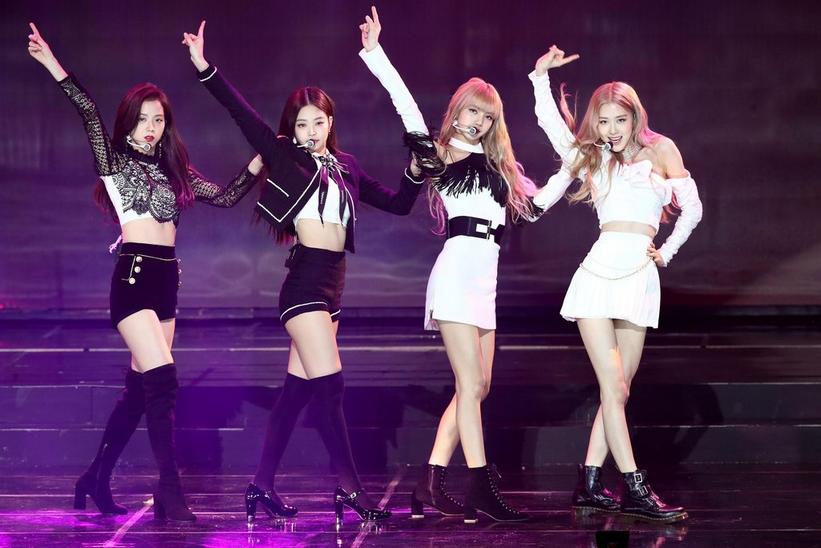 BLACKPINK
Photo: Chung Sung-Jun/Getty Images
news
Explore BLACKPINK's Rapid Rise To Global K-Pop Superstardom | For The Record
Ahead of the highly anticipated release of their debut LP, 'BLACKPINK: The Album,' in October, revisit their swift ascension to the global superstars they are today
GRAMMYs
/
Sep 3, 2020 - 01:24 am
Just two years before they'd have their big international breakout with 2018's "Ddu-Du Ddu-Du," BLACKPINK formed in Seoul, South Korea. The fiercely talented quartet has been serving up pop star realness with their infectious genre-meshing music, stellar choreography, arena-filling live shows and eye-catching music videos.
For the latest episode of GRAMMY.com's For The Record video series, we revisit the swift ascension of Lisa, Jennie, Rosé and Jisoo.
Watch: Angela Aguilar's Amazing Journey To GRAMMY-Nominated Artist | For The Record
"Ddu-Du Ddu-Du," their first song to hit the Billboard Hot 100, became the highest-charting song by a female K-pop group, a record they beat again later. It also earned them the first-ever gold record in the U.S. by a female K-pop act. Two of their also-massive subsequent singles, "Kill This Love" (2019) and "How You Like That" (2020), also charted on the Hot 100.
Their collaboration with Lady Gaga, "Sour Candy," featured on her 2020 album Chromatica, also earned them another Top 40 hit, with both that track and "How You Like That" hitting No. 33 this summer. BLACKPINK also worked with Dua Lipa on 2018's "Kiss and Make Up" and recently on 2020's "Kiss and Make Up (Remix)" featured on her Club Future Nostalgia album.
More K-Pop: BTS Talk Inspiration Behind "Dynamite," New Album, Gratitude For ARMY & More
They're no strangers to breaking records and making history. In 2019, they became the first all-female K-pop act to play Coachella, with a primetime, earth-rattling Friday evening set. Their massive video views continue to grow thanks to their massive, loyal fanbase, known as Blinks. The "How You Like That" video broke three Guinness World Records in June and 2019's "Kill This Love" recently hit one billion video views, to name a few.
Their most recent single, "Ice Cream," features none other than pop princess Selena Gomez (currently with 158.7 million views on YouTube) and will be featured on their highly anticipated debut LP, BLACKPINK: The Album, due out Oct. 2. Surely there are more charts to climb and hearts to win over with their debut.
Aluna On New Album 'Renaissance' & Making Dance Music Inclusive Again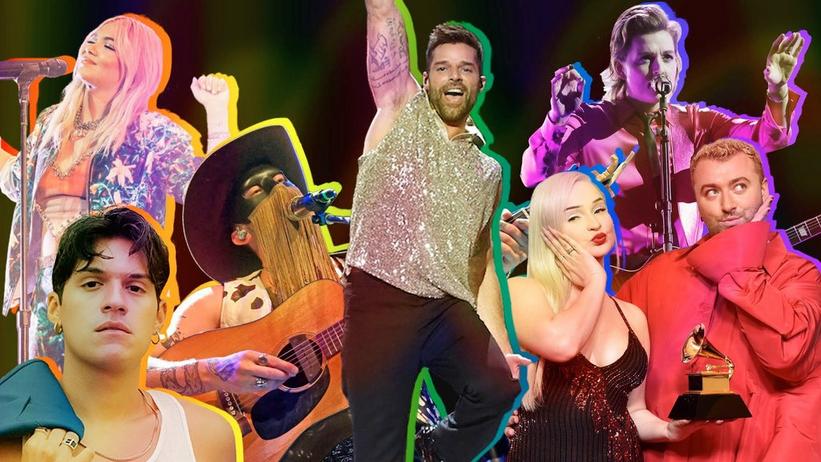 (L-R, clockwise): Hayley Kiyoko, Ricky Martin, Brandi Carlile, Sam Smith, Kim Petras, Orville Peck, Omar Apollo
Photo: Kristy Sparow/Getty Images, Kevin Winter/Getty Images for LARAS, Kevin Winter/Getty Images for The Recording Academy, Alberto E. Rodriguez/Getty Images for The Recording Academy, Stephen J. Cohen/Getty Images, Gustavo Garcia Villa
news
Listen To GRAMMY.com's LGBTQIA+ Pride Month 2023 Playlist Featuring Demi Lovato, Sam Smith, Kim Petras, Frank Ocean, Omar Apollo & More
Celebrate LGBTQIA+ Pride Month 2023 with a 50-song playlist that spans genres and generations, honoring trailblazing artists and allies including George Michael, Miley Cyrus, Orville Peck, Lady Gaga and Ariana Grande and many more.
GRAMMYs
/
Jun 1, 2023 - 04:21 pm
In the past year, artists in the LGBTQIA+ community have continued to create change and make history — specifically, GRAMMY history. Last November, Liniker became the first trans artist to win a Latin GRAMMY Award when she took home Best MPB Album for Indigo Borboleta Anil; three months later, Sam Smith and Kim Petras became the first nonbinary and trans artists, respectively, to win the GRAMMY Award for Best Pop Duo/Group Performance for their sinful collab "Unholy."
Just those two feats alone prove that the LGBTQIA+ community is making more and more of an impact every year. So this Pride Month, GRAMMY.com celebrates those strides with a playlist of hits and timeless classics that are driving conversations around equality and fairness for the LGBTQIA+ community.
Below, take a listen to 50 songs by artists across the LGBTQIA+ spectrum — including "Unholy" and Liniker's "Baby 95" — on Amazon Music, Spotify, Apple Music, and Pandora.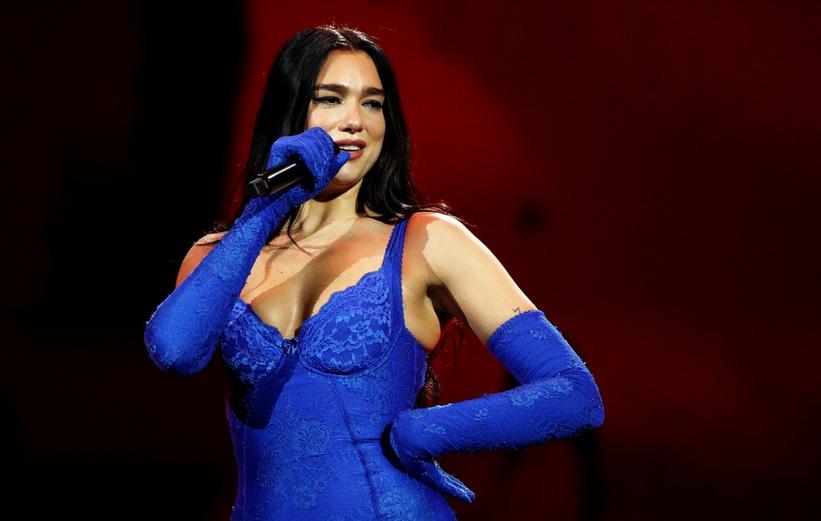 Dua Lipa performs in Sydney, Australia in November 2022.
Photo: Don Arnold/Getty Images
list
9 Artist-Hosted Podcasts You Should Check Out Now: Sam Smith, David Guetta, Norah Jones & More
From Dua Lipa to Joe Budden, some of music's biggest names have added "podcast host" to their impressive resumes. Grab your headphones and take a listen to nine of the most insightful and creative shows led by artists.
GRAMMYs
/
May 30, 2023 - 06:13 pm
As podcasts have become increasingly popular among listeners, they've also become a preferred playground for music makers to express themselves — and in turn, show a new side of their artistry.
Whether it's hours-long interviews courtesy of early adopter Questlove, breezy conversations with a musical accompaniment by Norah Jones, or a vital history lesson from Sam Smith, podcasts are allowing artists to further connect with their fans. And though there's already a disparate array of musician-led shows out there, it's seemingly just the beginning of a new podcast wave.
Below, get to know nine of the most interesting artist-hosted podcasts available.
A relatively new addition to the podcast sphere, Norah Jones is Playing Along is exactly what it sounds like. Hosted by the "Come Away With Me" crooner, the show features Jones jamming on a piano with a cadre of her musician friends and colleagues. The show's guest list is similarly varied, with recent episodes including memorable conversations with indie folk artist Andrew Bird, country singer-songwriter Lukas Nelson and jazz virtuoso and Robert Glasper all of whom took viewers on a musical journey through their catalogs and beyond.
Known as music's wise sage, legendary music producer Rick Rubin showcases his zen energy and insatiable passion for music on this informative podcast, which he hosts alongside  journalist-author Malcolm Gladwell, New York Times editor Bruce Headlam and producer Justin Richmond. Much like Rubin's list of collaborators — which has ranged from everyone including Johnny Cash, Adele and Rage Against the Machine — the show zig-zags between insightful interviews with a range of music's most accomplished names, including Giles Martin, Feist, Usher, The Edge, Aaron Dessner, and Babyface.
Aside from her GRAMMY-winning music career, pop icon Dua Lipa has a bubbling entrepreneurial streak in the form of Service 95, a multi-platform lifestyle brand which includes a newsletter and special events. It also produces the popular podcast At Your Service, on which Lipa interviews a diverse range of personalities including musicians (collaborators Charli XCX and Elton John), cultural luminaries (Dita Von Teese) and activists (Brandon Wolf) for laidback conversations about their respective careers.
Amid his roles as a founding member of the Roots, bandleader on "The Tonight Show Starring Jimmy Fallon," a prolific filmmaker and a best-selling author, Questlove adds podcast host to his rich cultural tapestry with Questlove Supreme. The show prides itself on loose, intimate and in-depth conversations with a who's who of music's luminaires, whether a multi-hour, emotional chat with Mariah Carey, an insightful conversation with trumpet legend Herb Alpert, or icons ranging from the late Wayne Shorter to Bruce Springsteen and manager Shep Gordon.
British songstress Jessie Ware teams up with her mother, Lennie, on this effervescent podcast, which showcases the "Free Yourself" singer munching on a delicious home cooked meal while having a conversation that's equally scrumptious. Whether the two are having pink salmon with Pink, eggplant pie with Shania Twain or spinach pie and florentines with Kim Petras, it all makes for an extremely listenable (and hunger-inducing) spin on the medium.
Earlier this year, Red Hot Chili Peppers guitarist Flea launched the interview series This Little Light, which zeroes in on the importance of music education. In short order, the podcast has already boasted heavy-hitter guests, including Cynthia Erivo, Patti Smith and Margo Price. "I wanted to do This Little Light to benefit my music school, the Silverlake Conservatory of Music," he said in a statement upon its release. "The idea behind it being music education, falling in love with music and embarking on a musical journey for your life. Everybody's path is so different, and it's fascinating to learn how every musician came to music and developed their study of it over time."
Five-time GRAMMY winner Sam Smith hosts a touching and informative history of the AIDS crisis from a UK perspective — from the earliest, heart-wrenching days of the disease to modern-day tales, including the death of Terry Higgins (one of the region's earliest deaths) as well as breakthrough treatments. Meticulously researched and told in a documentary-style, the BBC podcast is equal parts inspiring and heartbreaking — but above all, demonstrates that artists can effectively tell stories beyond the realm of music, while raising awareness at the same time. 
A departure from every other podcast on this list, dance music king and David Guetta strays from the interview format and lets the music do the talking. Guetta hosts this weekly hour-long podcast doubles as a playlist, which features a selection of songs handpicked by Guetta himself. Typically opening with a remix from Guetta himself (he recently featured his spin on Kim Petras' and Sam Smith's GRAMMY-winning hit "Unholy,") the show then explores a variety of electronic tracks from a disparate list of artists, including tracks from dance music mavens Olivier Giacomotto, Idris Elba and Robin Shulz. 
Still going strong eight years after its launch, The Joe Budden Podcast is hosted by the eponymous rapper and his friends as they talk through matters of hip-hop and their own lives, with recent topics focusing on everything from Cher's love life to the Met Gala. Each episode —  which regularly hovers around the three-hour mark — is like being a fly on the wall to Budden and friends. Of course, there's celebrity interviews along the way, with headline-making chats with the likes of Akon and N.O.R.E. 
10 Music Books To Dig Into This Summer: A Kate Bush Bio, A First-Hand Account Of The Grunge Scene & Feminist Punk Histories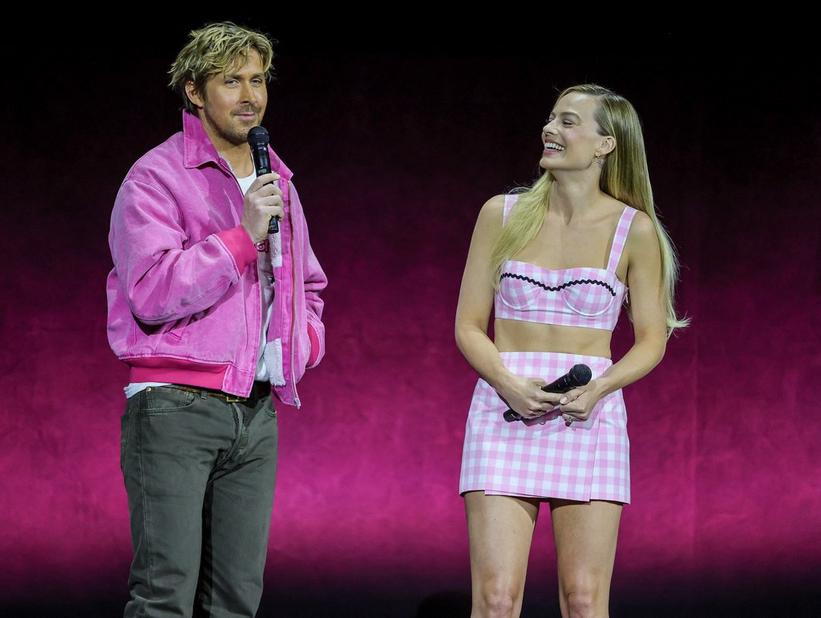 (L-R) Ryan Gosling, Margot Robbie from the 2023 film 'Barbie'
Photo: Ethan Miller/Getty Images
list
Everything We Know About The 'Barbie' Soundtrack: New Dua Lipa Song, Release Date, Artist Lineup, All The 'Barbie' Songs & More
Nicki Minaj, Charli XCX, Gayle, Haim, and — surprisingly — Ryan Gosling also feature on the soundtrack to 'Barbie' — the buzzy, plasticine summer flick.
GRAMMYs
/
May 26, 2023 - 06:07 pm
When the second Barbie teaser landed like a hydrogen bomb made of memes, the world got the first inkling this would be a very musical movie.
That was by way of the Beach Boys' "Fun, Fun, Fun," rendered chopped and screwed and vaguely menacing. ("Fun! Fun! Fun! Fun! Fun!" the heavily altered Boys intone, over and over and over.) Now, it's clear that the sunny '60s hit was just, ahem, the tip of the iceberg.
As Rolling Stone reports, the Barbie soundtrack — known as Barbie The Album — will be a veritable toybox of the biggest pop stars today. Those are: Ava Max, Charli XCX, Dominic Fike, Dua Lipa, FIFTY FIFTY, GAYLE, HAIM, Ice Spice, Kali, Karol G, Khalid, Lizzo, Nicki Minaj, PinkPantheress, Ryan Gosling (!), Tame Impala, and the Kid Laroi.
That's not even all of them — more artists will be announced closer to Barbie The Album's release date, on July 21. (That's also the day the film drops.) Until then, read on for everything we could find about the Barbie soundtrack… so far.
Mark Ronson Is The Executive Music Producer
The seven-time GRAMMY-winning record producer and songwriter, who's worked with everyone from Lady Gaga to Paul McCartney to Adele, is at the helm. "This Ken helped make a whole soundtrack," Ronson tweeted, acknowledging his involvement.
The Soundtrack Contains 17 Songs
That's as per Apple Music, which details the lion's share of the tracklist. (Tracks six and 11 are TBD). Check it out for very Barbie song titles like Lizzo's "Pink," Ryan Gosling's "I'm Just Ken" and Dominic Fike's "Hey Blondie." And…
Barbie Girls, In A Barbie World
…yes, you read that right: Nicki Minaj and Ice Spice will team up with Aqua to perform "Barbie World" — a new version of the classic "Barbie Girl" song, which appears in the official trailer.
Dua Lipa's "Dance The Night" Is A Contender For The Centerpiece
On May 25, Dua Lipa dropped the official music video for "Dance the Night." (The three-time GRAMMY winner also plays Mermaid Barbie in the film.) 
Aside from her 2022 collaborative track with Megan Thee Stallion, "Sweetest Pie," Lipa's been quiet since the Future Nostalgia era; "Dance the Night" captures the magic of hits like "Levitating" and cements her as the post-pandemic disco queen.
Something

Is Happening With Lady Gaga
The official Barbie Twitter account seemingly confirmed rumors of Lady Gaga's involvement when they tweeted eye emojis at Gaga's promise of "something exciting." Wait and see, we suppose.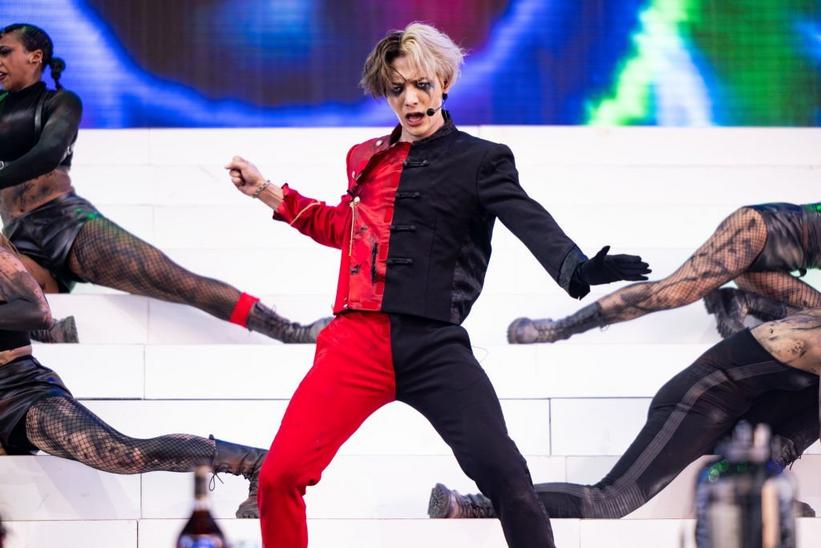 Singer Jackson Wang performs during the 2023 Coachella Valley Music and Arts Festival
Photo: Scott Dudelson/Getty Images for Coachella
list
Get To Know 5 Asian Artists Taking Center Stage At 2023 Festivals
From Jackson Wang's historic Coachella set to NoSo's marvelous Kilby Block Party debut, here are 5 artists of Asian heritage performing at popular music festivals this year.
GRAMMYs
/
May 22, 2023 - 01:18 pm
Festival season is upon us and among the many names in those occasionally hard-to-read lineup posters, artists of Asian heritage have been rising to headliner status.
BLACKPINK might be first to come to mind: the South Korean group dropped jaws with their revolutionary Coachella performance, becoming the first K-pop group to headline the massive spring festival. From NewJeans to TOMORROW X TOGETHER to aespa making appearances at festivals later this August, K-pop in particular has continued to take the festival circuit by storm.
Indie, rock and EDM stars of Asian heritage are also making their mark on festival stages this year. Four Tet turned Coachella upside down alongside Skrillex and Fred again.., and Beabadoobee will take on Lollapalooza Chicago, Outside Lands, and All Things Go, all after opening for Taylor Swift on her Eras Tour and headlining her own EU tour.
From mainstays like NIKI and Raveena to rising stars like Yaeji and Wallice, festival lineups are bursting with talent this year. In honor of AAPI month, here are five Asian artists bringing their striking performances to major festival stages this year.
spill tab
Although spill tab makes bedroom pop, her music was destined for festival stages.
Born Claire Chicha, the breakout French Korean singer/songwriter  shapes her introspections into ambitious alternative pop. Swimming through layered vocals and electropop tinges, the artist knows how to transform her dreamy reflections into eye-catching performances.
After playing Austin City Limits last fall, Chicha graced the stage at Kilby Block Party in Utah this spring. Having already opened for everyone from Wallows to Sabrina Carpenter, spill tab knows the stage like the back of her hand.
The Rose
The Rose is making their Lollapalooza Chicago debut this August, but the K-pop four-piece have been festival-ready since their mainstream debut in 2017.
Newly under the management of label Far East Movement, The Rose is known for their escalating soft-rock ballads like "She's In The Rain" and "sorry." Able to switch from electric to acoustic with ease, the group's versatility translates into a bright, contagious energy meant for festival stages.
NoSo
Marked by poignance and soft guitar, NoSo's performances fill a venue with comfort. Just a few months after performing for NPR's popular Tiny Desk Concert series, NoSo put on an emotionally enlightening show at Kilby Block Party.
The Korean American artist, who also identifies as nonbinary and transgender, released their debut Stay Proud of Me in 2022. The album tells stories centering around their racial and gender identity, offering a serenity akin to a healing force.
Jackson Wang
Hailing from Hong Kong, Jackson Wang made waves at Coachella as the first Chinese solo artist invited to perform at the festival. Bringing out Ciara to perform their sultry R&B collaboration "Slow," the singer-rapper proved he's full of surprises.
Previously part of the K-pop group GOT7, Wang's massive platform is only continuing to grow. His smooth, breathy voice molds to every genre from pop to rap, and his spectacular Coachella performance highlighted how his shining stage presence will only continue to mesmerize audiences.
Tanukichan
After a long dusty day of stomping around festival grounds, Tanukichan's refreshing set can help you recharge.
Born Hannah van Loon, the San Francisco-based indie rock star balances warmth and grit perfectly, individualizing her own sound after four years in the pop band Trails and Ways. Just a few months before her Kilby Block Party debut, she released her dynamic album GIZMO, which followed her 2018 Toro y Moi-produced debut and tour support for Kero Kero Bonito.
TXT, Blackpink, Aespa & More: Here Are All The K-Pop Tours And Events You Can Catch This Summer