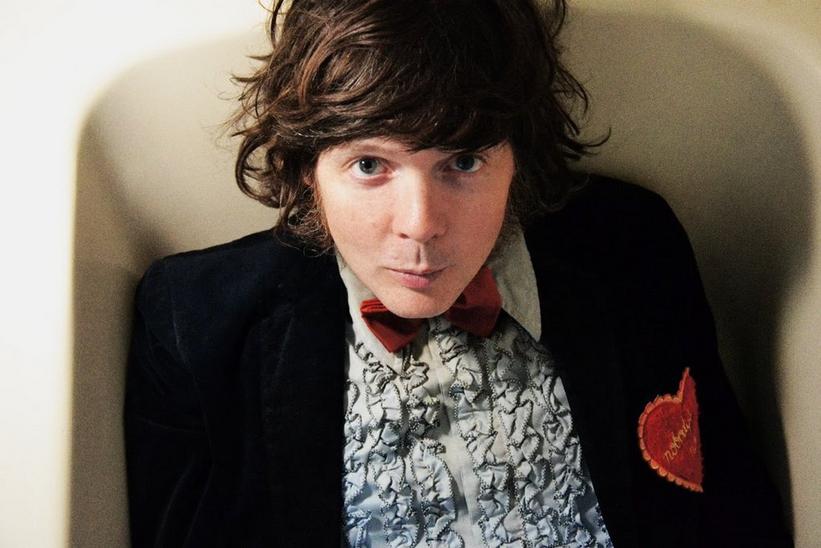 news
Beach Slang's James Alex On The Albums That Made Him
An unapologetic music fan with clear sonic ties to the Replacements, the Philly fuzz-punk goes in-depth on the albums that blew his mind and most informed his own work
GRAMMYs
/
Jan 7, 2020 - 10:00 pm
"Do you remember NENA?" James Alex, lead singer of Philly anthem-punks Beach Slang, asks over the phone. "She said the only reason she got into rock and roll was to meet Mick Jagger. And I was like, 'That's what I never want to lose touch of.'"
The ultimate fan, Alex has stayed true to his (and NENA's) original intention as a musician, taking unapologetic influence from punk pioneers the Replacements, among other early alternative greats. The Rhode Island native sings in a gravel-voiced pitch, much like his idol Paul Westerberg, and builds melodic, earnest tracks around thick, fuzzed-out guitar chords. Replacements bassist Tommy Stinson even shows up on Beach Slang's forthcoming first album in three years, The Deadbeat Bang Of Heartbreak City, dropping on Jan. 10 via Bridge Nine Records.
And that's hardly the first time Alex has followed in his favorites' footsteps: Earlier last year, Alex paid tribute to Hüsker Dü dignitary Bob Mould and Westerberg on a two-track covers EP, performing a heady rendition of "AAA" and "I Hate Alternative Rock." He even secured help from another hero — Goo Goo Dolls bassist Robby Takac — who acted as the EP's producer.
So, in the lead up to Beach Slang's latest LP, it only made sense to ask Alex to go in-depth about the albums that made him, from Pleased To Meet Me to Ziggy Stardust to recent tourmates Goo Goo Dolls' Superstar Car Wash and beyond.
AC/DC - Dirty Deeds Done Dirt Cheap (1976) & Back In Black (1980)
When I was a little kid, my birth father used to live at this campground area and they had this cover band come up and play these AC/DC songs. And I go and they're selling some things afterward at a little flea market, and I see this AC/DC pin. I'm like, "This band. These songs." I eventually get my hands on Dirty Deeds Done Dirt Cheap and Back In Black. I think the best way I can describe when I first held Dirty Deeds Done Dirt Cheap… They have the sort of blackouts over the eyes and stuff on the cover. You remember William in the "Almost Famous" scene when his sister leaves home and leaves those records for him? I felt like I had that moment where it was like, "What is this?" It was cool to hear those songs, but to see the art and all that stuff, it really crashed into me in a really great way.
I was such a straight-laced kid because I was raised just by my mom. I always wanted to be good and get good grades and do right by her so she could be proud of how good she was doing as my mom. But I'm still like becoming this little raging human being who's got this energy and all these things. Those records gave me where I could have this outlet of being this rock and roller with still being a goody-two-shoes. I suppose we all want a little bit of edge, but I wanted to do it from the safety of not really being in harm's way.
Angus Young was absolutely my first rock hero. Even as far as my stage outfit now. That getup is not an accident. It's my mushy little nod to him.
Buzzcocks – Singles Going Steady (1979)
I have a bunch of family in Rhode Island. I've got a couple of uncles up there that really, they turned me on to punk rock. And I remember it was Buzzcocks' Singles Going Steady record. I heard that and I was like... I didn't know what I was feeling but I just knew like this is something special. I was too young to understand that I had angst and rebellion and these energies that, whatever it might be, school or little league weren't completely handling. And these records turned up and it was me jumping around with a tennis racket in a room screaming along gave me a thing that I wasn't finding anywhere else.
I always had this affinity for really good hooky melodies. Two-and-a-half minute songs, right? When I heard the Buzzcocks, when I got turned on by my uncles Shaun and Gary with that stuff, it was like, "Oh wow. So you can have all this energy and devil-may-care-ness, but you don't have to check melody." You know what I mean? It was like these things can co-exist.
The Who – Tommy (1969)
I went to go see a high school production of Tommy by The Who and at that point, I'm thinking any band like that, it's otherworldly. Then I saw kids who were maybe my age, maybe a couple of years older playing these songs that Pete Townshend wrote. These like really incredible songs. And I was like, "Wait, I can do this? These kids look like me." And I think that gave me the, "Okay. I have this thing in me that's happening and crunching, but here's the evidence that I can do this."
I go out, I get this knockoff Fender guitar. I don't even remember the brand name. And I got this little one speaker with the Gorilla amp. Just sounded horrible. And I jump around in my room windmilling like Townshend and just thinking, "Man, I'm on to something here." And I was awful. You know when a kid can't even hold a chord but you just hit it and it makes noise and you think you're the thing, you know? It was like that.
David Bowie – The Rise And Fall of Ziggy Stardust And The Spiders from Mars (1973)
I could run off and marry a voice, it'd be Bowie. If somebody came up to me and they'd never heard music before and asked me, what does rock and roll sound like? That's the record I'd play.
I can relate to the smell of that record. The vinyl, opening that up. It places me in such a poignant moment in my life. I don't want get to engineer-y here, but just even the production and the sounds on that thing and the vocal layering Bowie does, or the lack thereof… I still can't completely wrap my head around it.
When I was first getting knocked into that stuff, I was like, "What is this?" I'd never heard records that felt that special and thoughtful and avant-garde yet completely sing along-able. I was just like, "How is he doing this?" All these years later, I suppose, I'm still asking myself those questions, like a lot of musicians are. That record is dangerously important to me.
Pixies – Surfer Rosa (1988)
The Pixies have always been huge for me. When I was learning how to play guitar and learning how to write songs, I was doing the Ramones thing. And then the Pixies came in and you have these weirdo sounds and time signatures and guitar things and you have screaming and whispering… I was like, "Oh, okay. Here's this whole other way to put words to music." I think I needed that crack. I know "Where Is My Mind?" is obviously the mega-hit, but when I heard that "Broken Face" song, I was just like, "This is so weird." I just adored it straight away.
I just have everything they have [released] now. That new record they just put out, I just think it's brilliant. I went to go see Charles Thompson once playing solo. I think he was going by "Frank Black" and I was just at this little brewery and I'm right up on stage because I'm like, "I'm about to see a fking hero of mine." All of a sudden I feel this tap on my shoulder and I turned around and just be like, "Oh man, I'm so sorry." It's him getting to stage and I'm like, "I'll never wash this shoulder again."
The Replacements – Sorry Ma, Forgot To Take Out The Trash (1981) & Pleased To Meet Me (1987)
I was playing in a band and the guitarist was the hugest Replacements fan. That's how I got turned on. He was like, "You're going to love this. You have to hear this." He gave me a copy of Sorry Ma.... I listened to that and I was, and I suppose it really couples nicely with what you just said. I was like, "This has all the snot of punk, but it's something more than that." You just saw right away, Paul Westerberg was just this phenomenal writer. I was like, "Where is this band going to go?"
When I'm asked about what my favorite Replacements record is… Look, I love everything of course, but I always cite Pleased To Meet Me. I just think it just clobbers and there's something relatable to me because that was the first one where Paul did all the guitar stuff. I don't know, the ability to be able to do that… Not only are you writing these songs, but you're writing all of these hooks or these shreds or are these little dingers or little mess ups or whatever they might be. But it's just like, "Man, you're not just writing a couple of chords and putting some words over it" kind of thing. It just knocked me out that somebody could do all that. And I think I began to want to chase that idea where your singular vision couldn't get smeared. Could I ever pull something like that off? Look, the short answer to that is probably not, right? But there's some fun in trying to do it.
Goo Goo Dolls – Superstar Car Wash (1993)
I'll tuck Superstar Car Wash into bed with me at night. Paul [Westerberg] wrote a single for that ["We Are The Normal"]. I was like, "How is this Replacements thing that I'm finding out about, there's more greatness that's directly related?" And then I heard Johnny [Rzeznik] and Robby [Takac]'s songs and I was like, "What the fk is this?" I was really knocked back. And then I went back and I got that Hold Me Up record and I was just shattered by it. That's actually how I got turned onto the Plimsouls because I heard the [Goo Goo Dolls'] cover of "Million Miles Away."
I always refer to it as the Dolls' Holy Trinity, right? It's Hold Me Up, Superstar Car Wash and Boy Named Goo. Those records absolutely sculpted me. Every time I sit down and I'm trying to write a hooky guitar ding or anything like that, it's like I'm thinking of those records. Even as it calmed down, the stuff on Jed, they're just this raucous fking Buffalo punk rock band. They sort of cleaned it up in the best way you want to clean something up because then they just became these, quite literally, these perfect rock and roll pop songs.
I fanboy-ed out to Robby when he produced our EP [last year's MPLS]. It's like, I'm talking to Robby from the Goos. I felt intimidated in a loving way. I was just like, "You've made records that have meant so much to me."
He invited us to come to a show that the Goo Goo Dolls were playing and we went there and we met the crew and the band, everything. And he's like, "Man, I want to find John. Let me find John." And I go up and I meet him and I'm, now I'm extra intimidated, right? Because I'm like, "This is the cat." But then we do it and he's the sweetest guy. We're hugging and I remember and I had a Sorry Ma T-shirt on and he did a little knowing point and smirk and looked at me dead in the eyes. We just connected for a second in a way that I was... It was really cool.
Goo Goo Dolls' John Rzeznik Talks 'Miracle Pill,' Staying Fearless & Catching Feels Listening To Beach Slang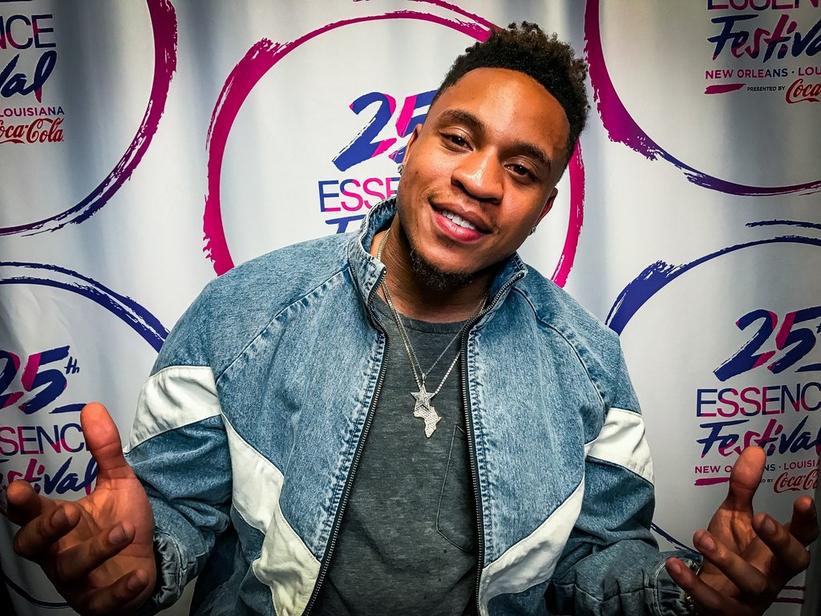 news
Rotimi On Performing At ESSENCE Fest, Growing Up African-American & More
The Nigerian-American singer and actor sat down with the Recording Academy to talk about what inspired his latest album, 'Walk With Me'
GRAMMYs
/
Jul 8, 2019 - 10:04 pm
In 2015, Rotimi stepped into the New Orleans Superdome for the first time to experience the magic of ESSENCE Fest. Four years later, in 2019, the "Love Riddim" singer returned to the celebration as a performer, something he said was spoken into existence.
"Last year me and my manager had a conversation and I said, 'Listen, I'm going to be on the [ESSENCE] mainstage this year. 365 days later, we did it," Rotimi told the Recording Academy at the 25th annual ESSENCE Fest.
Rotimi, also an actor on Starz' "Power," has evolved since his last album, 2017's Jeep Music, Vol.1. The singer said he really hit home with its follow-up, the recently released Walk With Me, a project he worked hard for, putting in hours in the studio after filming on set.
"Walk With Me is the first time I actually felt like I was giving myself as an artist, and personally I feel like with everything else I have going on I wanted to show people that this is really what I do," he said. "I wanted people to understand who Rotimi is, who Rotimi was before, who I want to be and just understand my growth and the journey and my passion for what I do."
Part of why the album felt like such a representation of him is because it embodies beats of his African roots, something he said was very present growing up Nigerian-American.
"I grew up with a lot of Fela Kuti and I grew up with Bob Marley," he said of his musical roots. "But I also grew up with Carl Thomas and Genuine and Usher, so there was a genuine mixture of who I am and what I've grown up to listen to. The actual Walk With Me project was a mixture of influences of Akon and Craig David."
Mumu Fresh On What She Learned From Working With The Roots, Rhyming & More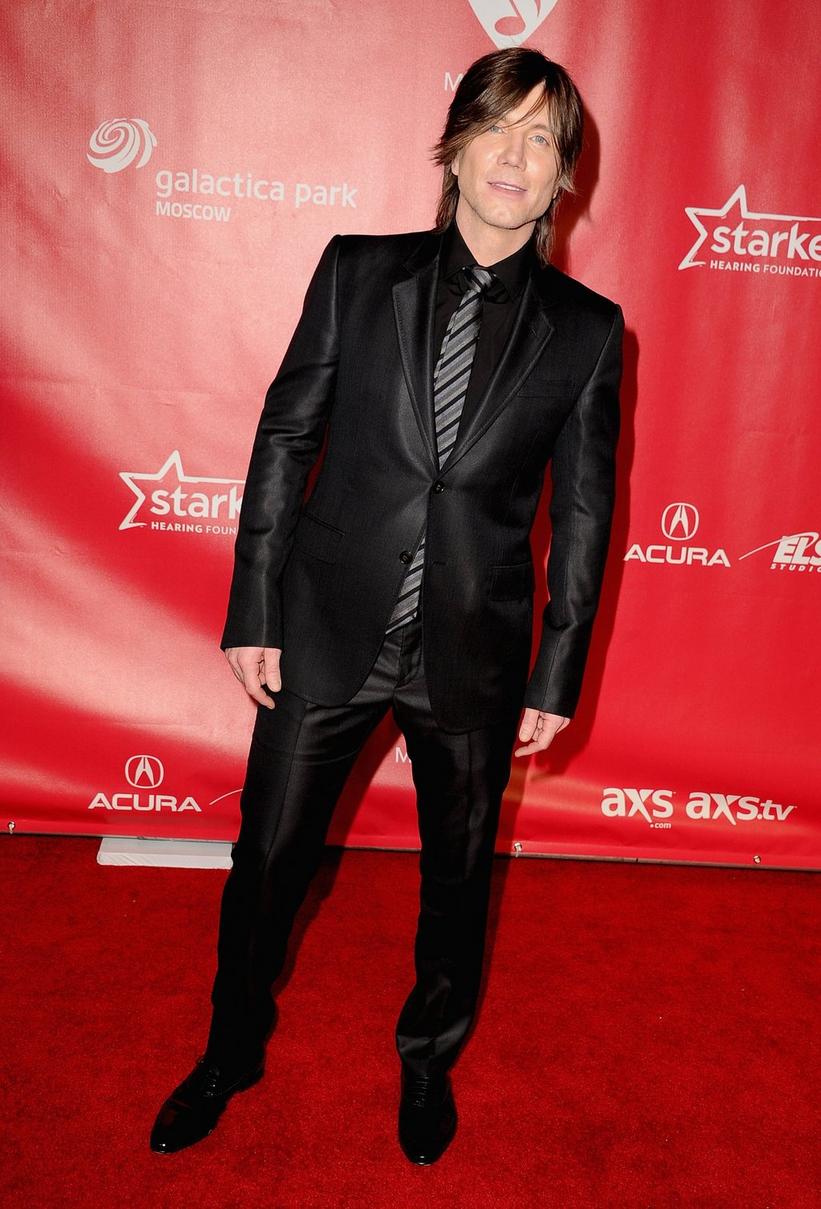 John Rzeznik
Photo: Steve Granitz/WireImage.com
interview
Goo Goo Dolls' John Rzeznik remembers 1999 GRAMMY T-shirt
Goo Goo Dolls frontman on challenging himself on the band's latest album, 'Magnetic,' writer's block, the custom T-shirt he wore to the GRAMMYs in 1999, and building furniture
GRAMMYs
/
May 15, 2017 - 01:36 pm
More than two decades into a career that has evolved from a punk-inspired garage band to Adult Top 40 bastions, the Buffalo, N.Y.-bred Goo Goo Dolls have returned with their latest release, 2013's Magnetic, which is set to debut at No. 8 on the Billboard 200. The preceding single "Rebel Beat" has populated the airwaves and reached No. 27 on Billboard's Rock Songs chart. Comprising original members John Rzeznik (vocalist/guitarist) and Robby Takac (bass), and drummer Mike Melanin, the Goo Goo Dolls will launch a lengthy tour on June 25 in support of Magnetic with co-headliners Matchbox Twenty.
In an exclusive interview with GRAMMY.com, Rzeznik discussed the band's new album, his future vocational endeavors and the custom T-shirt he wore the night of the 41st GRAMMY Awards in 1999 when the band's hit "Iris" was nominated for three awards, including Song and Record Of The Year.
Is there an overall thematic concept to Magnetic?
I think the thematic concept of it kind of unwound itself after it was done already. It seems that when I listened back to the album it was saying, "Get up, get out, and live your life," you know?
But you've said that on previous albums.
Yeah, it sort of got back to the theme that our band has always been about — that life may be completely screwed up, but we've got to make the best of it. I kind of strayed away from that on the last record. We put out a somber kind of album [with 2010's Something For The Rest Of Us].
What's the most satisfying aspect of Magnetic for you?
I think the biggest thing was that I absolutely had to keep my mind open and challenged all the time. I had people challenging me, great [song]writers, who said, "No, that's not good enough. Try something else." And then having to swallow my ego and say, "Alright, let's find something better" — that's what I'm most proud of. The day [Magnetic] came out, I went and bought it — just sort of a superstitious thing. [I] went back to my hotel room to one of those Bose Wave radios with a CD player in it and I listened to it top to bottom. And then I asked myself, "Are you proud of this? Did you do your best?" And I was like, "Yes!" As long as I suit up and show up and do my job, I can't really concern myself with the stuff that is out of my hands. The collection of songs that we have on there seemed to fit together really well in one package.
You're about to embark on a 50-date tour with Matchbox Twenty. When you perform new songs from Magnetic, how does that cure the writing process for you?
It completes it when you're singing a new song that everybody's seen on YouTube already, and they're singing it back to you. That's where it's like, "Alright, great! I did a good job!" Does the audience like it? That's what it's about, you know?
How have the Goo Goo Dolls evolved since their beginning as a garage punk band?
I think the music has to evolve with you as a person. I was 19 when I started this band, and I was heavily influenced by slick, goofy-aed hardcore music. We just wanted to play as hard and fast as we could. The prime directive of the band was, "Drink beer. Get girls." And when you're a 19-year-old guy, that's sort of what you do. But somewhere around [1993's] Superstar Car Wash, that was really when we started to learn how to play our instruments. And I was actually stringing thoughts together that made sense. That was really the turning point for me, where I thought, "Wow, I can actually write songs. I can actually play my guitar."
My understanding is that you were experiencing writer's block when you wrote "Iris." How did you overcome it?
Honestly, I was sitting there, and I had had some success with a song called "Name," and I just got completely full of fear. I mean, writer's block is just fear, and I think it's specifically fear about two things: You're afraid that you're not going to get what you want, and you're afraid that what you have is going to be taken away from you. At that point, I had written so many songs, and then finally one of them became a hit, and I felt that was nothing but luck. I said to myself, "OK, God — or whatever is out there in the universe — if I'm supposed to do this, give me a sign." That song came out and it was really a gift. I saw the film [City Of Angels] and it completely made sense to me: Now I could play a supporting role in somebody else's creative vision. My subject matter was laid out in front of me, and then I went at it from the perspective of, "OK, what would I say if I was this guy?" Then it all came out.
"Iris" was a massive hit, hitting the Top 10 on the Billboard Hot 100. Did you know you'd hit a home run with that song after your finished it?
No, I didn't; and then it was everywhere. I remember strangers walking up to me and saying, "You know, man, I really love that song, but I just wish they would stop playing it." And I replied, "Yep, yep — that's my song!" [laughs]
What do you remember about attending the 41st GRAMMY Awards in 1999?
We got nominated for three [GRAMMYs] that night, and I didn't think we were going to win, which we didn't. I had a T-shirt made up that I wore underneath my suit, and it said, "I was nominated for three GRAMMYs and all I got was this lousy T-shirt." [laughs] So, I unbuttoned my shirt and people were asking me how it [felt to lose] three times. And I said, "It was pretty damn amazing that we were nominated at all!"
I understand that you're the type of artist who likes to have a life outside of music.
This tour is going to probably be pretty long. And I'm getting married [to Melina Gallo] and I owe [her] a honeymoon. We're going to travel a little bit and then we're going to regroup and figure out what the next step [in] our lives is. This is going to sound crazy, but I went to a vocational training school for high school, and I've always been interested in building furniture. That's something that I'm going to start messing around with. To build something tangible, like a chair, and sit in it … it's an empirical piece of evidence of your effort. Whereas, I've been building songs that sort of float around in the air, and it's all very subjective. But I think creating something solid that serves a purpose might be good for my brain.
(Nick Krewen is a Toronto-based journalist and co-author of Music From Far And Wide: Celebrating 40 Years Of The Juno Awards, as well as a contributor to The Routledge Film Music Sourcebook. He has written for The Toronto Star, TV Guide, Billboard, Country Music and was a consultant for the National Film Board's music industry documentary Dream Machine.)
news
We Will, We Will Shock You
A collection of shocking album covers that might make you look twice (or look away)
GRAMMYs
/
Dec 3, 2014 - 05:06 am
As the baby boomer-fueled market moved from singles to albums in the '60s and '70s, artists began using LP covers as a means to create bold visual statements, occasionally using nudity, sexual imagery or striking graphics. Sometimes the purpose was to create art for the ages, while other times it was to push boundaries. Either way, the most controversial covers were often banned or altered by record companies for fear of public or retail outrage. One of the most famous cases of censorship was one of the first — the Beatles' "butcher" cover for 1966's Yesterday And Today, which featured a grinning Fab Four covered in raw meat and plastic baby doll parts. (The cover was reportedly an anti-Vietnam war commentary by the group.) Capitol Records issued a new cover with a less-shocking photo after the original caused an uproar. In the '70s and '80s, German rock band the Scorpions made a series of albums with disturbing sexual imagery, including 1976's notorious (and quickly banned) Virgin Killer featuring a nude young girl. The cover was replaced by a conventional band portrait.
While shocking album covers do still exist, they have occurred with less frequency since the '90s as CDs, which de-emphasized cover art, replaced LPs and pop culture grew more permissive. Now, as album sales shift from physical to digital, the age of shock album covers is starting to seem like a bygone era. Here are a few other album covers that shocked us, and might shock you too.

Moby Grape
Moby Grape, 1967
Shocking fact: Drummer Don Stevenson's (center) middle finger was airbrushed out on later pressings.

The Jimi Hendrix Experience
Electric Ladyland, 1968
Shocking fact: The British release featured a bevy of naked women on the cover.

John Lennon & Yoko Ono
Unfinished Music No. 1: Two Virgins, 1968
Shocking fact: Distributors covered the explicit content — nude front and back portraits of Lennon and Ono — in brown paper. Even today, full frontal nudity remains objectionable for many.

The Rolling Stones
Beggars Banquet, 1968
Shocking fact: The band's U.S. and UK labels originally rejected the cover featuring a toilet and graffiti-covered bathroom wall. Today, the cover seems remarkably tame.

Blind Faith
Blind Faith, 1969
Shocking fact: The original cover featured a young nude girl holding a small plane. The replacement cover featured a shot of the band.

David Bowie
Diamond Dogs, 1974
Shocking fact: The cover illustration of Bowie as a (noticeably male) dog had the offending organs edited out.

Ohio Players
Honey, 1975
Shocking fact: The sexually suggestive cover features Playboy Playmate Ester Cordet swallowing honey from a spoon.

Jane's Addiction
Nothing's Shocking, 1988
Shocking fact: An ironic twist to the list. This artsy cover depicts a realistic sculpture, created by frontman Perry Farrell, featuring nude conjoined twins with hair afire.

Millie Jackson
Back To The S*!, 1989
Shocking fact: The take-no-prisoners soul singer poses on a toilet seat with one shoe off while grimacing. Often called the worst album cover ever.

The Black Crowes
Amorica, 1994
Shocking fact: Original cover featured an American flag-printed G-string showing pubic hair.

news
Jay Z Tops 56th GRAMMY Nominations With Nine
Kendrick Lamar, Macklemore & Ryan Lewis, Justin Timberlake, and Pharrell Williams earn seven nods each; other top nominees include Daft Punk, Drake, Lorde, Bruno Mars, and Taylor Swift
GRAMMYs
/
Dec 3, 2014 - 05:06 am
Nominations for the 56th GRAMMY Awards were announced tonight by The Recording Academy and reflected one of the most diverse years with the Album Of The Year category alone representing the rap, pop, country and dance/electronica genres, as determined by the voting members of The Academy. Once again, nominations in select categories for the annual GRAMMY Awards were announced on primetime television as part of "The GRAMMY Nominations Concert Live!! — Countdown To Music's Biggest Night," a one-hour CBS entertainment special broadcast live from Nokia Theatre L.A. Live.

Jay Z tops the nominations with nine; Kendrick Lamar, Macklemore & Ryan Lewis, Justin Timberlake, and Pharrell Williams each garner seven nods; Drake and mastering engineer Bob Ludwig are up for five awards.

"This year's nominations reflect the talented community of music makers who represent some of the highest levels of excellence and artistry of the year in their respective fields," said Neil Portnow, President/CEO of The Recording Academy. "Once again, The Academy's awards process and its voting membership have produced an impressive list of nominations across various genres promising music fans a spectacular show filled with stellar performances and unique 'GRAMMY Moments.' We are off to a great start and look forward to GRAMMY Sunday as Music's Biggest Night takes the stage."

Following are the nominations in the General Field categories:
Album Of The Year:
The Blessed Unrest — Sara Bareilles
Random Access Memories — Daft Punk
Good Kid, M.A.A.D City — Kendrick Lamar
The Heist — Macklemore & Ryan Lewis
Red — Taylor Swift

Record Of The Year:
"Get Lucky" — Daft Punk & Pharrell Williams
"Radioactive" — Imagine Dragons
"Royals" — Lorde
"Locked Out Of Heaven" — Bruno Mars
"Blurred Lines" — Robin Thicke Featuring T.I. & Pharrell Williams

Song Of The Year:
"Just Give Me A Reason" — Jeff Bhasker, Pink & Nate Ruess, songwriters (Pink Featuring Nate Ruess)
"Locked Out Of Heaven" — Philip Lawrence, Ari Levine & Bruno Mars, songwriters (Bruno Mars)
"Roar" — Lukasz Gottwald, Max Martin, Bonnie McKee, Katy Perry & Henry Walter, songwriters (Katy Perry)
"Royals" — Joel Little & Ella Yelich O'Connor, songwriters (Lorde)
"Same Love" — Ben Haggerty, Mary Lambert & Ryan Lewis, songwriters (Macklemore & Ryan Lewis Featuring Mary Lambert)

Best New Artist:
James Blake
Kendrick Lamar
Macklemore & Ryan Lewis
Kacey Musgraves
Ed Sheeran

Following is a sampling of nominations in the GRAMMY Awards' other 29 Fields:

For Best Pop Solo Performance, the nominees are "Brave" by Sara Bareilles; "Royals" by Lorde; "When I Was Your Man" by Bruno Mars; "Roar" by Katy Perry; and "Mirrors" by Justin Timberlake.

The nominees for Best Pop Duo/Group Performance are "Get Lucky" by Daft Punk & Pharrell Williams; "Just Give Me A Reason" by Pink Featuring Nate Ruess; "Stay" by Rihanna Featuring Mikky Ekko; "Blurred Lines" by Robin Thicke Featuring T.I. & Pharrell Williams; and "Suit & Tie" by Justin Timberlake & Jay Z.
For Best Dance/Electronica Album, the nominees are Random Access Memories by Daft Punk; Settle by Disclosure; 18 Months by Calvin Harris; Atmosphere by Kaskade; and A Color Map Of The Sun by Pretty Lights.

The Best Rock Performance nominees are "Always Alright" by Alabama Shakes; "The Stars (Are Out Tonight)" by David Bowie; "Radioactive" by Imagine Dragons; "Kashmir (Live)" by Led Zeppelin; "My God Is The Sun" by Queens Of The Stone Age; and "I'm Shakin'" by Jack White.

For Best Alternative Music Album, the nominees are The Worse Things Get, The Harder I Fight, The Harder I Fight, The More I Love You by Neko Case; Trouble Will Find Me by The National; Hesitation Marks by Nine Inch Nails; Lonerism by Tame Impala; Modern Vampires Of The City by Vampire Weekend.

The nominees for Best Rap/Sung Collaboration are "Power Trip" by J.Cole Featuring Miguel; "Part II (On The Run)" by Jay Z Featuring Beyoncé; "Holy Grail" by Jay Z Featuring Justin Timberlake; "Now Or Never" by Kendrick Lamar Featuring Mary J. Blige; and "Remember You" by Wiz Khalifa Featuring The Weeknd.

For Best Rap Album, the nominees are Nothing Was The Same by Drake; Magna Carta…Holy Grail by Jay Z; Good Kid, M.A.A.D City by Kendrick Lamar; The Heist by Macklemore & Ryan Lewis; and Yeezus by Kanye West.

The Best Country Album nominees are Night Train by Jason Aldean; Two Lanes Of Freedom by Tim McGraw; Same Trailer Different Park by Kacey Musgraves; Based On A True Story by Blake Shelton; and Red by Taylor Swift.

The nominees for Best Americana Album are Old Yellow Moon by Emmylou Harris & Rodney Crowell; Love Has Come For You by Steve Martin & Edie Brickell; Buddy And Jim by Buddy Miller And Jim Lauderdale; One True Vine by Mavis Staples; and Songbook by Allen Toussaint.

This year's Producer Of The Year, Non-Classical nominations go to Rob Cavallo, Dr. Luke, Ariel Rechtshaid, Jeff Tweedy, and Pharrell Williams.

This year's GRAMMY Awards process registered more than 22,000 submissions over a 12-month eligibility period (Oct. 1, 2012 – Sept. 30, 2013). GRAMMY ballots for the final round of voting will be mailed on Dec. 11 to the voting members of The Recording Academy. They are due back to the accounting firm of Deloitte by Jan. 8, 2014, when they will be tabulated and the results kept secret until the 56th GRAMMY telecast.

The 56th Annual GRAMMY Awards will be held Jan. 26, 2014, at Staples Center in Los Angeles and once again will be broadcast live in high-definition TV and 5.1 surround sound on CBS from 8–11:30 p.m. (ET/PT). The 56th Annual GRAMMY Awards are produced by AEG Ehrlich Ventures for The Recording Academy. Ken Ehrlich is executive producer, and Louis J. Horvitz is director.

For updates and breaking news, visit The Recording Academy's social networks on Twitter and Facebook.