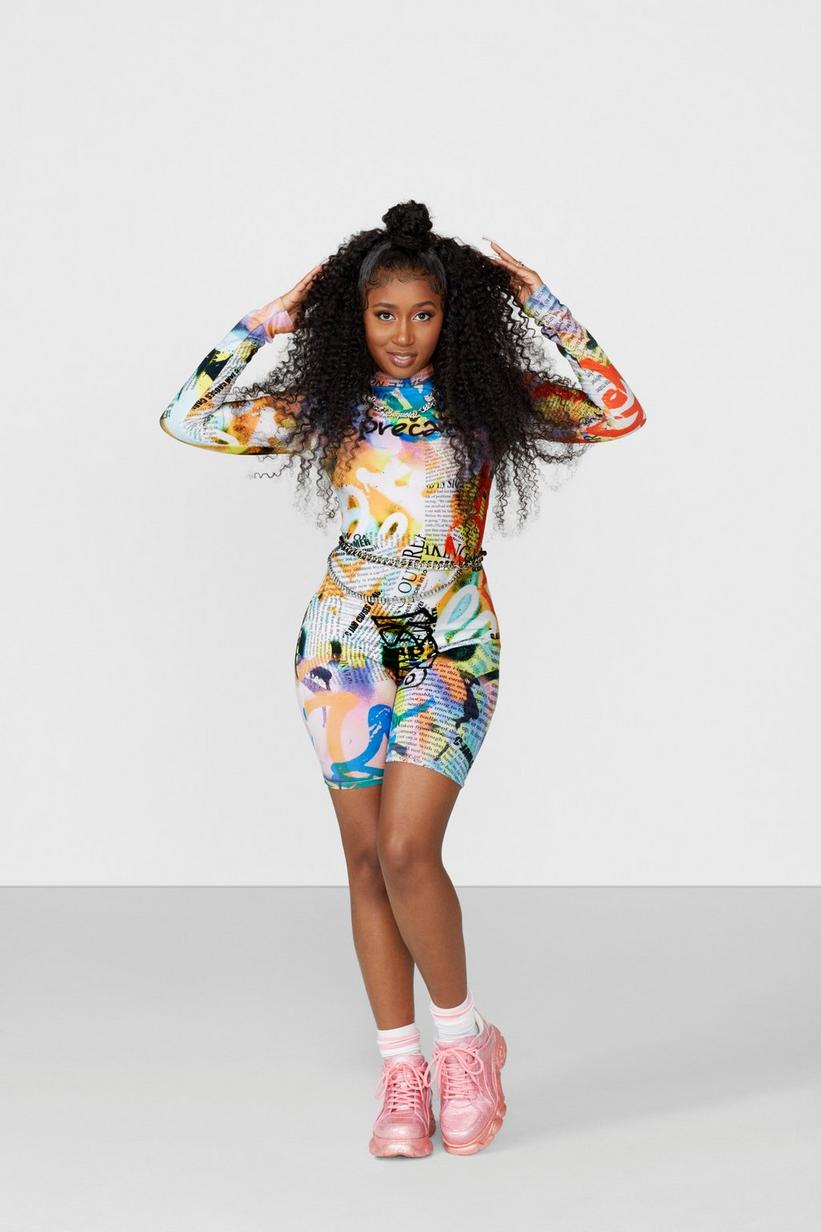 news
Yung Baby Tate On Success, Working With Issa Rae & 'After The Rain Deluxe'
Singer/songwriter Yung Baby Tate caught up with GRAMMY.com about creating with passion, supportive partnerships with Issa Rae and more
GRAMMYs
/
Jul 7, 2021 - 05:00 pm
Yung Baby Tate is well connected. Not so much in the sense that she has powerful people in high places but more so in that she understands herself, her fans and the significance of being a pop star in today's culture and society. In her music videos, performances and social media, Yung Baby Tate is here, she is the present, and she is laying the groundwork to be the future of hip-hop, R&B, and pop fusion acts. The GRAMMY-nominated artist is only just beginning.
Born Tate Sequoya Farris in 1996 to GRAMMY-nominated singer Dionne Farris, the 25-year-old artist may have inherited some of her mother's abilities, but she's built her own path to pop stardom using her creative gifts and cultivated talent.
In 2015, she released her debut EP, ROYGBIV, initiating a string of conceptual projects showcasing her songwriting, singing, rapping, and production capabilities. Yung Baby Tate followed her first drop with the holiday-themed YBTXMAS in 2016 and in 2018, she issued BOYS. The albums were stepping stones to her debut full-length LP, Girls, which was released in 2019 and featured artists such as Baby Rose and Atlanta rapper Latto. (The album also featured a short film directed by Christian Cody.)
In 2019, beyond her success and positive reception,Yung Baby Tate delivered a stand-out entry to Nicki Minaj's Megatron Challenge. Although the Queen rapper did not name her the official winner, Yung Baby Tate had already established herself as a multi-talented artist that others should pay attention to.
In 2020, the multifaceted vocalist continued to soar towards stardom. She collaborated with British pop artist Bree Runway on "Damn Daniel," announced a new partnership with Issa Rae's Raedio, and earned credits for her contributions to the GRAMMY-nominated album Revenge of the Dreamers III.
She closed the year by dropping After The Rain, a deeply personal EP inspired by the feelings after a breakup featuring fellow Georgia artist 6LACK. Being vulnerable, the rapper says, has helped her earn a fanbase.
"I am pretty much always exposing myself. I think that [vulnerability] is something that fans and listeners want in music because it allows for one to understand that we're all going through the same human experience," the singer shares with GRAMMY. "I really love seeing tweets, where it's like some random scenario and then everyone else is like, 'Well we [are] all just living the same life'...I think for music a lot of times, being vulnerable and kind of exposing yourself is what makes people resonate with it."
Not only is she relatable, Yung Baby Tate is infectious. An After The Rain standout track, "I Am" featuring rising Alabama rapper Flo Milli evolved into an anthem of affirmations and a Tik Tok sensation, earning over 1 million views on YouTube.
Catching up with GRAMMY.com via phone, the "Rainbow Cadillac" singer spoke about her career, representing the LGBTQ+ community, her song featured on the creative campaign for LIFEWTR, and what she hopes to accomplish as a force in the music industry.
This interview has been edited for clarity and length.
I want to talk a little bit about the LIFEWTR campaign, and the song that you created "GIVE U LIFE." What was the inspiration behind that song and the creative process?
The inspiration behind the song "GIVE U LIFE" was birthed off of what LIFEWTR, and really, what water is in general. Water is like the main source of life. Everyone needs it to survive. It really does give us life. I also wanted to take that phrase that people often use [like] "Ooh girl! I love what you just did there, you're giving me life," and kind of compared myself to water and to those elements that bring life to the world and into music and art.
The LIFEWTR campaign was done with Issa Rae. You also partner with Rae through Raedio. How is that relationship impactful personally and professionally?
Personally, this partnership has really allowed me to grow in a lot of different places that [I wouldn't really have if] I were to partner with anyone else or another label. Issa reaches out from time to time, just to say "Oh, I'm proud of you for this [or] you are really amazing on that," which is really cool to have someone who I look up to as not only an actress but also an entrepreneur, a businesswoman, a fellow Earth sign.
It definitely has improved my confidence, personally. But as far as a career, so many doors have been opened in so many different things, not just music, but acting, voiceover work, the LIFEWTR campaign. It's just been very very helpful, and I'm extremely grateful for it.
I think it makes a difference for me because you are both Black women. How do you think that kind of relationship can be an example for others especially in this type of industry where sometimes we're literally all that we have?
That was actually very important for me when I chose to partner with Raedio. Not only is Issa an extremely powerful, successful Black woman, but there are plenty of Black women and Black men on her staff, and that made me feel comfortable, like I will be seen, heard and understood. One thing I really admire about Issa is when she said "I'm rooting for everybody Black" she really did mean that, and you can see it through the things that she does, the people she empowers, and the people that she employs. It is definitely extremely important to me, and I hope it can be an example of how other people can do the same, not just women, but men as well.
What was your initial reaction to that viral response to "I Am" featuring Flo Milli?
I was really shocked. It's not like I didn't believe in the song, I believe in every song that I put out, but I definitely wasn't expecting such a huge reaction and such a huge resonance with people, but I was extremely grateful for it. The song really is something that I wrote for myself to manifest, to affirm, to speak life over myself, [and] to give myself life, and the fact that so many people heard it, and said, you know what, I want to listen to this every morning, actually, every day, every time I'm going to work, and every night. It just made me so extremely grateful and proud of the work that I've been able to do. It makes me feel like the work that I have been doing… means something.
Can you share more on After The Rain Deluxe?
This is kind of like the before the rain, or during the rain. A lot of these songs are way more moody, way more reflective, because this whole EP was birthed off of a relationship ending and reflecting on the things that led to that or the things that came after. So, for this half of the EP, it is kind of what led to the rain and then the rain happened, and then, after the rain, we're going to be alright again. I'm really excited for fans to hear because I'm diving way deeper into R&B which is a space that I'll be more leaning towards going forward with new music. So, the first half is after the rain, is a little bit of R&B with this half is way more R&B centered and I'm really excited about that and really excited for people to hear it.
Who are some Black music icons, sounds or genres that continue to inspire you to create and how do you hope to impact the overall landscape of Black music through your art and your career,
Black music icons that inspire me are Nicki Minaj, Beyoncé, Rihanna, really a large fan of powerful women. I love Brandy, I love SWV...there's so many. I love Pharrell. I love Future, even. So many people inspire me. I'm inspired by so much, which is why my music is very varied. I hope to inspire people in the same way that I believe Nicki Minaj and Missy Elliott have inspired me to think outside of the box. [They] never allow[ed] themselves to be boxed in.
I think I'm doing a pretty good job of that already. I want to inspire the next generation of people to not care about what people might think of them and to not be afraid to fully express and not be afraid to be the oddball. That's the type of legacy that I wish to leave.
As a member of the LGBTQ plus community, do you feel as though queer Black women in R&B, hip-hop and pop spaces are underrepresented, and how do you think the industry can move forward towards more representation?
I definitely do feel like we're underrepresented, but I like to think that, that is changing very swiftly. I think for a long time artists have been or were afraid to identify themselves in the public. I know even like freaking Whitney Houston was bisexual and like it was kept under wraps. I think that if it wasn't, it would have inspired so many people to feel like, oh my gosh, this woman that I look up to, and I love she's just like me, instead of saying, I'm wrong for feeling this way or I shouldn't tell anyone. I think we're definitely making a lot of strides and a lot of moves.
I love Lil Nas X and how open and unapologetic he is with his sexuality. Whether he's having sex with the devil or anything else. I'm just really being myself. I think moving forward the [music] industry should be more accepting of that, so that people won't feel like they have to hide or have to keep it under wraps for only a few people. The LGBT community is beautiful, it's vast and it's so diverse, and you honestly never know who [you] might be inspiring [or] who you might be doing some relief to. [They can] be like, "Oh wow, I love Yung Baby Tate, she's bisexual, great." I feel very good about myself now, and I don't feel like questioning or hiding myself. I think moving forward having more representation is always extremely important.
As someone who identifies as bisexual and being a Black girl from the South, how do you think that impacted your creative career?
Creatively, I think I've always been everywhere, it also kind of lingers over into my sexuality, I'm just very free. A free-thinking, free moving [and] free-loving person. I think that really shows in who I am as a person as well, and the things that I do, and the music that I make, the things I say, the people that I surround myself with, it is just a very free, don't really care, type of vibe. And I've always really known that about myself and embrace that about myself.
Poll: From Megan Thee Stallion To Olivia Rodrigo, What Will The 2021 Song Of The Summer Be?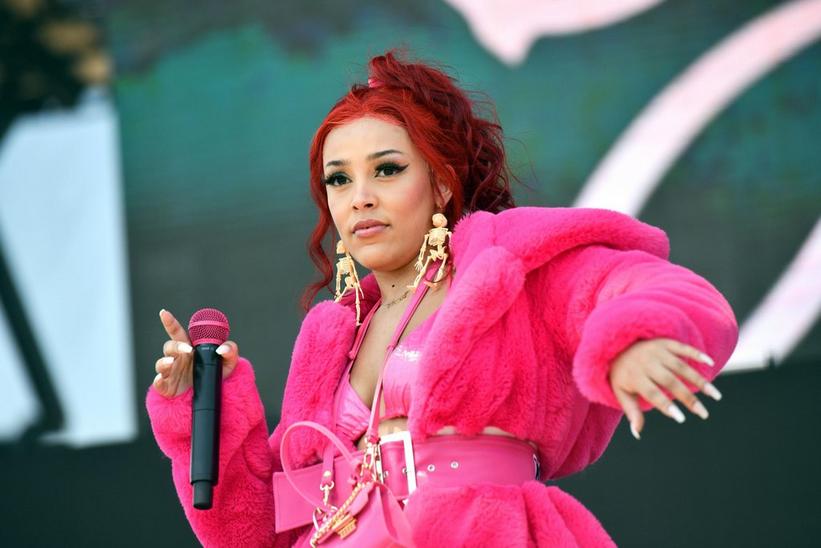 Photo: Scott Dudelson/Getty Images
news
Rolling Loud Festival Los Angeles Reveals 2019 Lineup
Find out who's bringing the heat to the hip-hop fest returning to L.A. this December
GRAMMYs
/
Oct 2, 2019 - 12:11 am
Today, Rolling Loud revealed the massive lineup for their final music festival of 2019, Rolling Loud Los Angeles, which is set to take over the Banc of California Stadium and adjacent Exposition Park on Dec. 14–15.
This iteration of "the Woodstock of Hip-Hop," as the all-knowing Diddy has called it, will feature Chance the Rapper, Lil Uzi Vert, Juice WRLD, Young Thug and Lil Baby as Saturday's heavy-hitting headliners. Sunday's headliners are none other than Future, A$AP Rocky, Meek Mill, YG and Playboi Carti.
L.A.'s own Blueface, Tyga and Doja Cat, are slated to perform, as well as representatives from the diverse rap scenes across the country, including Wale, Juicy J, Lil Yachty, Megan Thee Stallion, Gunna, Tyla Yaweh, Machine Gun Kelly and Yung Gravy.
The lineup announcement follows the successful wrap of Rolling Loud Bay Area in Oakland this past weekend. The event's flagship Miami event took place in May this year, and the New York and Hong Kong debut editions will both take place later this month.
Tickets for Rolling Loud L.A. go on sale this Friday, Oct. 4 at 11 a.m. PST. The complete lineup and more info on this event and their other fests can be found here.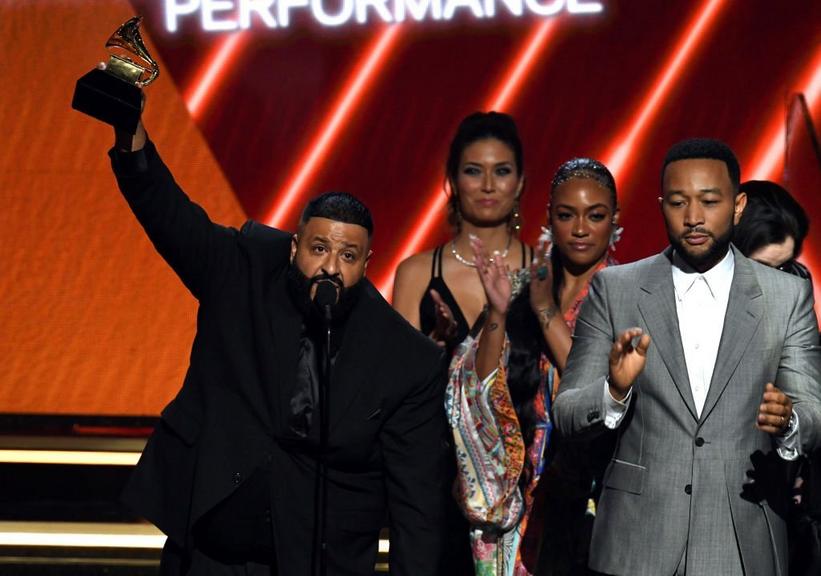 DJ Khaled, Samantha Smith and John Legend
Photo: Kevin Winter/Getty Images
news
DJ Khaled, Nipsey Hussle And John Legend Win Best Rap/Sung Performance For "Higher" | 2020 GRAMMYs
DJ Khaled, Nipsey Hussle and John Legend take home Best Rap/Sung Performance at the 62nd GRAMMY Awards
GRAMMYs
/
Jan 27, 2020 - 09:05 am
DJ Khaled, featuring Nipsey Hussle and John Legend, has won Best Rap/Sung Performance for "Higher" at the 62nd GRAMMY Awards. The single was featured on DJ Khaled's 2019 album Father of Asahd and featured Hussle's vocals and Legend on the piano. DJ Khaled predicted the track would win a GRAMMY.
"I even told him, 'We're going to win a GRAMMY.' Because that's how I feel about my album," DJ Khaled told Billboard. "I really feel like not only is this my biggest, this is very special."
After the release of the song and music video -- which was filmed before Hussle's death in March -- DJ Khaled announced all proceeds from "Higher" will go to Hussle's children.
DJ Khaled and co. beat out fellow category nominees Lil Baby & Gunna ("Drip Too Hard"), Lil Nas X ("Panini"), Mustard featuring Roddy Ricch ("Ballin") and Young Thug featuring J. Cole & Travis Scott ("The London"). Hussle earned a second posthumous award at the 62nd GRAMMYs for Best Rap Performance for "Racks In The Middle."
Along with Legend and DJ Khaled, Meek Mill, Kirk Franklin, Roddy Ricch and YG paid tribute to Hussle during the telecast, which concluded with "Higher."
Check out the complete 62nd GRAMMY Awards nominees and winners list here.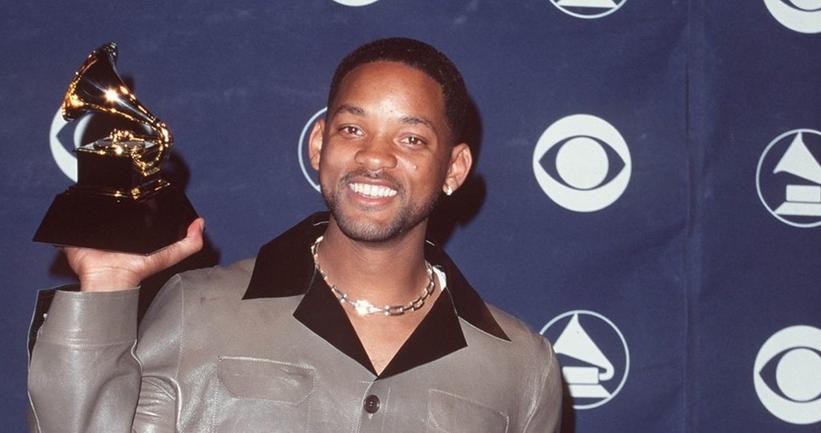 Will Smith at the 1999 GRAMMYs
news
GRAMMY Rewind: Watch Will Smith Dedicate His 1999 Best Rap Solo Performance GRAMMY To His Son
In his acceptance speech, he offers thanks to his family and "the jiggiest wife in the world, Jada Pinkett Smith"
GRAMMYs
/
Sep 25, 2020 - 11:17 pm
Today, Sept. 25, we celebrate the birthday of the coolest dad—who else? Will Smith! For the latest episode of GRAMMY Rewind, we revisit the Fresh Prince's 1999 GRAMMY win for Best Rap Solo Performance for "Gettin' Jiggy Wit It."
In the below video, watch rappers Missy Elliott—donning white leather—and Foxy Brown present the GRAMMY to a stoked Smith, who also opted for an all-leather look. In his acceptance speech, he offers thanks to his family and "the jiggiest wife in the world, Jada Pinkett Smith." He dedicates the award to his eldest son, Trey Smith, joking that Trey's teacher said he (then just six years old) could improve his rhyming skills.
Watch Another GRAMMY Rewind: Ludacris Dedicates Best Rap Album Win To His Dad At The 2007 GRAMMYs
The classic '90s track is from his 1997 debut studio album, Big Willie Style, which also features "Miami" and 1998 GRAMMY winner "Men In Black," from the film of the same name. The "Está Rico" rapper has won four GRAMMYs to date, earning his first back in 1989 GRAMMYs for "Parents Just Don't Understand," when he was 20 years old.
GRAMMY Rewind: Watch Michelle Obama, Lady Gaga, Alicia Keys, J. Lo & Jada Pinkett Smith Open The 2019 GRAMMYs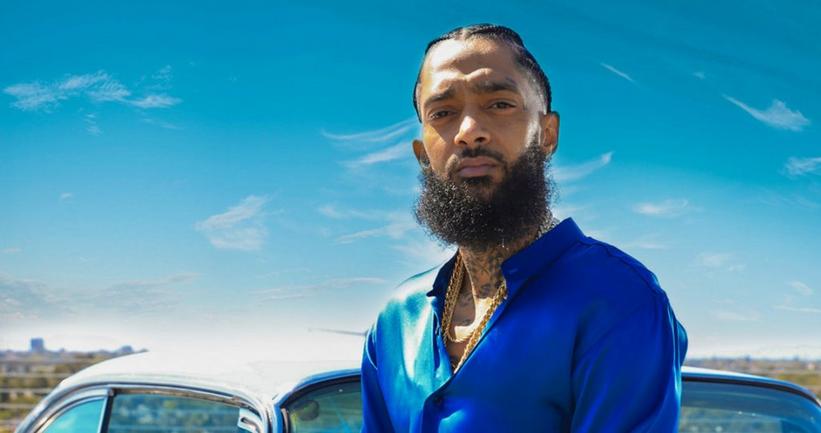 news
Remembering Nipsey Hussle On The Anniversary Of His Death: "I Just Wanted To Be Really Intentional"
The Recording Academy celebrates the life of Nipsey Hussle, the late Los Angeles rapper, who earned two posthumous GRAMMY Awards this year
GRAMMYs
/
Mar 31, 2020 - 11:49 pm
Since the tragic loss of Los Angeles rapper, entrepreneur and activist Nipsey Hussle on March 31, 2019, his motivational music and inspiring message of investing in your community are continued by the many lives he touched. Here in L.A, you see countless murals painted in his likeness, his inspirational words reminding us greatness and kindness are not mutually exclusive.
Nipsey Hussle, Beloved L.A. Rapper And Activist, Lived As A Patron To His Community
In 2018, after a decade of perfecting his storytelling and flow with hard-hitting mixtapes, Hussle released his victorious debut album Victory Lap. It earned him his first GRAMMY nomination, for Best Rap Album, at the 2019 GRAMMYs. The week following the show, he released his final single during his lifetime, "Racks in the Middle," featuring rising L.A. rapper Roddy Ricch and powerhouse producer Hit-Boy.
At the 62nd GRAMMY Awards this year, he posthumously earned three more nominations and took home two wins. "Racks in the Middle" won Best Rap Performance and "Higher," a track he was working on with DJ Khaled before he died, won Best Rap/Sung Performance for "Higher." Khaled released the uplifting track, which also features John Legend, in Hussle's memory on May 17, 2019.
How Nipsey Hussle Transcended Hip-Hop, Starting In The Los Angeles Streets
Hussle's family, including his grandmother and his partner Lauren London, took the GRAMMY stage to accept his awards in two tearful yet celebratory moments. Khaled, Legend, Ricch, Meek Mill, Kirk Franklin and YG also celebrated the rap hero with a moving tribute performance during the show.
"The biggest thing that he left behind in his legacy is to go the extra mile for other people and be aware of your community," singer Tinashe said in a recent interview. "That spirit is really important. It's important to bring people together. I think that's part of his message. It's looking out for one another."
Meek Mill And Justin Timberlake Deliver Uplifting Message, Honor Nipsey Hussle In Powerful "Believe" Music Video
That message of hope and community is echoed in so many others' words about Hussle; his positive impact is immense and immeasurable. It is reflected in a message from none other than former President Barack Obama. Hussle's longtime friend and marketing manager Karen Civil read Obama's powerful words about him during his moving memorial service:
"While most folks look at the Crenshaw neighborhood where he grew up and see only gangs, bullets and despair, Nipsey saw potential. He saw hope. He saw a community that, even through its flaws, taught him to always keep going. His choice to invest in that community rather than ignore it—to build a skills training center and coworking space in Crenshaw; to lift up the Eritrean-American community; to set an example for young people to follow—is a legacy worthy of celebration. I hope his memory inspires more good work in Crenshaw and communities like it."
The Marathon Continues.
GRAMMY Rewind: Watch Selena Win Best-Mexican American Album For 'Live' At The 1994 GRAMMYs