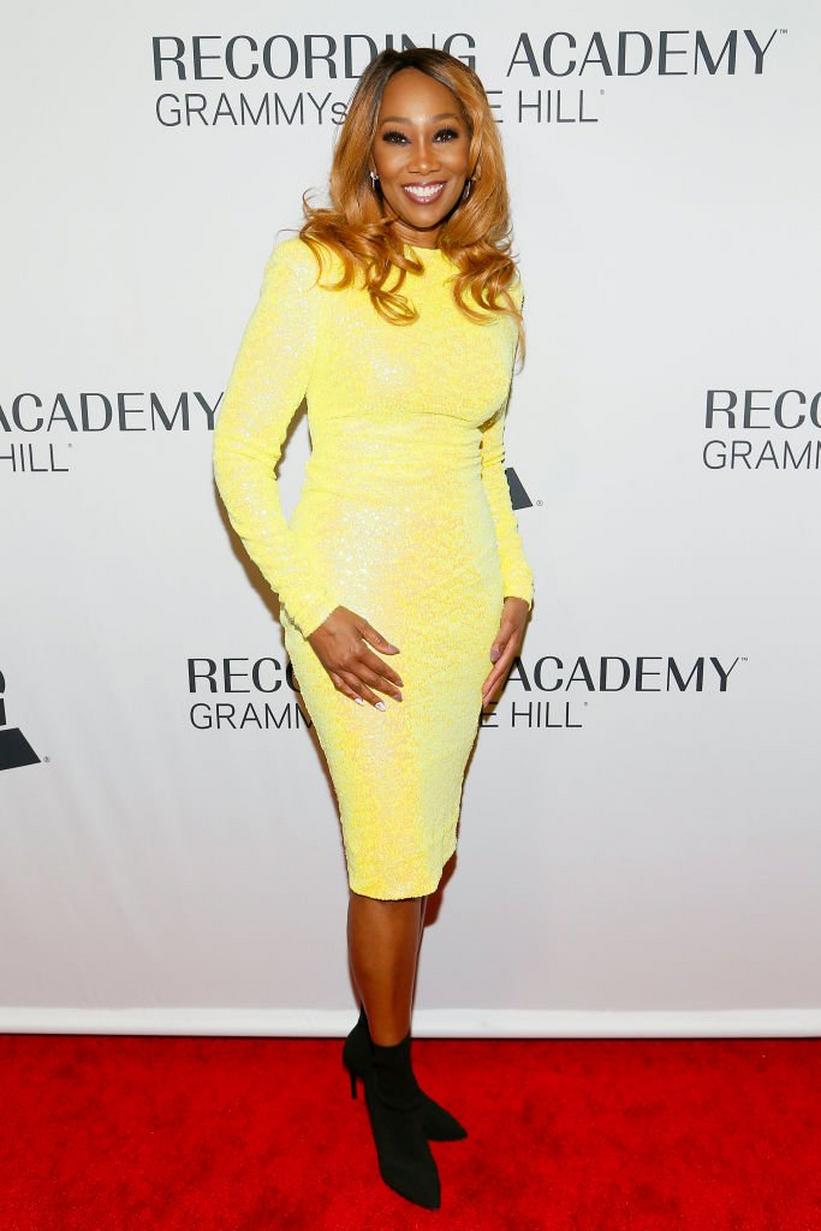 Photo by Paul Morigi/WireImage for The Recording Academy
news
Yolanda Adams To Co-Chair Recording Academy's National Advocacy Committee
The committee will focus on economic support for creators as well as helping music industry recovery efforts amidst the COVID-19 pandemic
GRAMMYs
/
Sep 29, 2020 - 06:00 pm
Today, the Recording Academy announced four-time GRAMMY-winning artist Yolanda Adams will join nationally recognized songwriter Sue Ennis as Co-Chair of the Academy's National Advocacy Committee. Serving as the voice for all music creators alongside the Academy's Advocacy team in Washington, D.C., the committee is comprised of Academy Trustees who are leading performers, producers, songwriters, and studio engineers, and works to determine specific policy positions of the Recording Academy and advance the interests of all music creators.
"We're honored to have Yolanda lead the Recording Academy's Advocacy Committee alongside hit songwriter Sue Ennis to help push forward vital legislation as our industry navigates the COVID-19 pandemic and beyond," said Harvey Mason jr., Chair and Interim President/CEO of the Recording Academy. "We've seen first-hand how music has the power to influence meaningful change, and we're confident the Advocacy Committee's wide breadth of backgrounds and perspectives provide a unique opportunity to build on the Academy's successful efforts this summer in the fight for creators' rights."
Adams brings a strong advocacy background to the committee. She recently testified at a congressional hearing on intellectual property, sharing her perspective on the monetary and moral implications of the Digital Millennium Copyright Act's Fair Use doctrine. Adams also participated in the Academy's 7th annual District Advocate Day on Aug. 12, advocating alongside nearly 2,000 music professionals for critical support for the music community as it continues dealing with the COVID-19 pandemic.
The Advocacy Committee will build on the work of the Recording Academy's "Summer of Advocacy" initiative and the recent achievements by creators, including securing important provisions in the CARES Act by championing legislation that ensures individual creators, as well as small and medium-sized music businesses, including those that are minority-owned, receive the support they need. This includes:
Other Academy Trustees who serve on the Advocacy Committee include GRAMMY-winning composer, producer, and singer Claudia Brant; GRAMMY-nominated artist Terry Jones; GRAMMY-winning engineer Emily Lazar; and GRAMMY-nominated artist, songwriter, and producer Rico Love. Chair and Interim President/CEO of the Recording Academy Harvey Mason jr. and Chief Advocacy Officer Daryl P. Friedman serve as ex-officio members.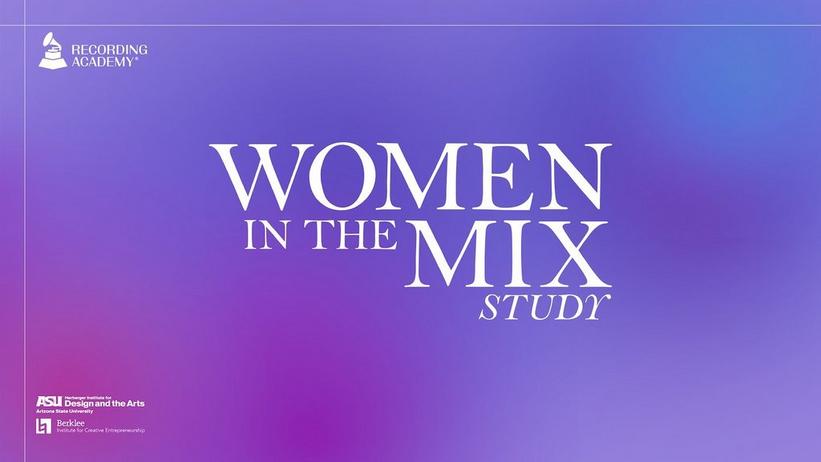 feature
Underrepresented, Overworked & Underpaid: 7 Key Learnings From The Newly Published Women In The Mix Study
Released today, on International Women's Day, the Women In The Mix Study explores the employment experiences, job satisfaction, family decisions, and pathways women professionals take in the music industry
GRAMMYs
/
Mar 8, 2022 - 02:04 pm
It perhaps shouldn't come as a shock that women working in a variety of professional fields face challenges unique to their gender. Those working in the American music industry are no exception.
The newly published Women In The Mix Study — released today by the Recording Academy, Arizona State University (ASU) and Berklee College of Music Institute for Creative Entrepreneurship (BerkleeICE) — explores the experiences and socioeconomic landscape of women and gender-expansive people working in music. Built on data from a 2019 study conducted by the Berklee College of Music, the Women In The Mix Study surveyed more than 1,600 professionals working in various capacities — from behind the scenes to center stage — and at all levels, with all ages, races and ethnicities responding.
The Women In The Mix Study explores demographic characteristics, employment experiences, career challenges, job satisfaction, family decisions, and pathways into the music industry. More than 1,000 respondents also provided suggestions for improving the climate for women in music.
Ultimately, the study is designed to influence advocates, allies and leaders in music to work toward a more inclusive and equitable industry, while amplifying women's voices.  
"The Women In The Mix Study is a groundbreaking account of the realities and decisions that we as women working in music are publicly and privately making each day," Recording Academy Co-President Valeisha Butterfield Jones said. "By centering this study around active listening, learning and building solutions, we've armed the industry with valuable data about the barriers affecting women in music and how we can together take a stand."
"When trying to create meaningful change you have to speak directly to the people who will be most affected by that change and let them be a part of the conversation," Erin Barra, Director of Popular Music at ASU, added; Barra co-authored the study with Mako Fitts Ward, Ph.D.; Lisa M. Anderson, Ph.D.; and Alaysia M. Brown, M.S.  
In celebration of International Women's Day, GRAMMY.com is taking a deep dive into some of the major findings of the Women In The Mix Study. 
Women are underrepresented, overworked and underpaid
The Women In The Mix Study cites work from the University of Southern California's Annenberg Inclusion Initiative, which found that women are severely underrepresented in the music industry, accounting for just 21.6 percent of artists, 12.6 percent of songwriters, and 2.6 percent of producers. The Initiative's annual Inclusion in the Recording Studio report found that there has been no meaningful increase in these numbers over the years.
More than half (57 percent) of Women In The Mix respondents work two or more jobs. Twenty-four percent work between 40-51 hours per week, while an additional 28 percent clock more than 50 hours per week. 
Thirty-six percent of respondents earn less than $40,000 per year, and nearly half of them feel like they should be further along in their careers. Nearly half of the respondents who identify as music creators and/or performers reported making less than $40,000 a year. 
Approximately 57 percent of music creators felt they should be further along in their career, compared to those working in music education (48.5 percent), event/tour production and management/promotion (41.7 percent), music business (37.4 percent), and music media and technology (32.9 percent).
Discrimination is prevalent — especially for gender-expansive respondents and women of color
Across all racial identities, 84 percent of respondents had faced discrimination. Seventy-seven percent felt they had been treated differently in the music industry because of their gender, while more than 56 percent believed their gender had affected their employment. Music creators and performers experienced this the most, with 65 percent experiencing discrimination. Sixty percent of respondents said they had been discriminated against for their age. 
Gender-expansive respondents were less satisfied than those who identified as women by a 16 percent margin. They were twice as likely to make less than $40,000 per year and felt less comfortable in their workplace by a margin of almost 18 percent.
Women of color reported feeling the highest level of discomfort in the workplace and noted less workplace support. More than half of respondents of color felt they should be further along in their careers.
Career advancement is often prioritized over parenthood
Roughly one out of every two respondents said they chose not to have children or had fewer children than they wanted because of their careers. Respondents with children under the age of 18 represent slightly less than two out of every 10 women and gender-expansive people in the music industry.
People who make over $100,000 per year had a 27 percent likelihood of having children. Those earning less than $40,000 a year have a 15 percent likelihood of having children. Women of color are the most likely respondents to have children, though they still reported that their career was a factor in their decision-making around having or rearing children.
Work-life balance development should begin early
While less than half of respondents reported having an internship during their career, 78 percent felt internships contributed to their career. 
However, since internships, particularly those in creative fields, are often unpaid, these opportunities may not be feasible for people without sufficient financial and/or supportive resources. Study respondents suggested paid internships as one method of addressing networking, access to opportunity, and work-life balance. 
Respondents — many of whom are working more than 40 hours per week — noted that burnout is a significant challenge. Additional and/or mandatory paid days off would also improve work-life balance throughout the industry. 
Mentorships and advocacy organizations are valuable
Ninety-three percent of respondents felt that mentoring had contributed to their career. These respondents were more likely to feel they were where they should be in their careers and reported feeling satisfied with their jobs. Respondents suggested that providing access to quality mentorship and mentors can have a profoundly positive effect on the careers of women and gender-expansive people.
Forty percent of respondents were members of advocacy organizations, while 35 percent of respondents cited professional or industry-related organizations as crucial factors to their growth and advancement. Roughly 20 percent mentioned advocacy in their recommendations to help improve the climate for women and gender-expansive people.
However, mentorship and networking are both largely built upon a person's interpersonal skill set, as well as their ability to negotiate and advocate for themselves. By bolstering soft skill development, while also building and strengthening institutional programs, support infrastructure, and active education, the music industry can improve business acumen for women and gender-expansive people early in the employment pipeline. 
Organizations should take real action and spend money
Simply saying your business is committed to DEI isn't enough. Women In The Mix Study respondents suggested recruitment pledges — a commitment from hiring managers to recruit diverse and robust candidates — as a means of intentionally addressing access to opportunities and dismantling gatekeeper culture.
Addressing women's representation in music has been a longstanding priority for the Recording Academy. In 2019, the organization launched Women In The Mix, which prompted hundreds of music professionals and organizations to pledge to consider at least two women in the selection process every time a producer or engineer is hired. That same year, the Recording Academy pledged to double the number of women voters in its voting membership by 2025; the organization has reached 60 percent of that goal.
In 2021, the Recording Academy donated a total of $25,000 to five charities and organizations that support the growth of women and girls in production and engineering. Based on the Women In The Mix Study findings, and to help address issues surrounding access to resources and opportunities, the Academy has committed to donating an additional $50,000 to five organizations that support the growth of women and girls in music, including Beats By Girlz, Femme It Forward, Girls Make Beats, She Is The Music, and Women's Audio Mission. 
Career satisfaction and passion for the music industry remain high
Despite the challenges around insufficient earnings, burnout, gatekeeper culture, sexism, and the competing demands of creative vision and generating revenue, 78 percent of Women In The Mix Study respondents reported feeling satisfied in their careers. Even in career categories that seem to face the most obstacles — such as freelancers and music creators and performers — more than 80 percent of respondents said they felt satisfied. Respondents working in event and tour production, management and promotion were the least satisfied, noting a 65 percent satisfaction rate.
Such satisfaction may be the result of inherent passion: Over half of respondents said that their pathway into their careers was through their inherent love for and excitement about the music industry.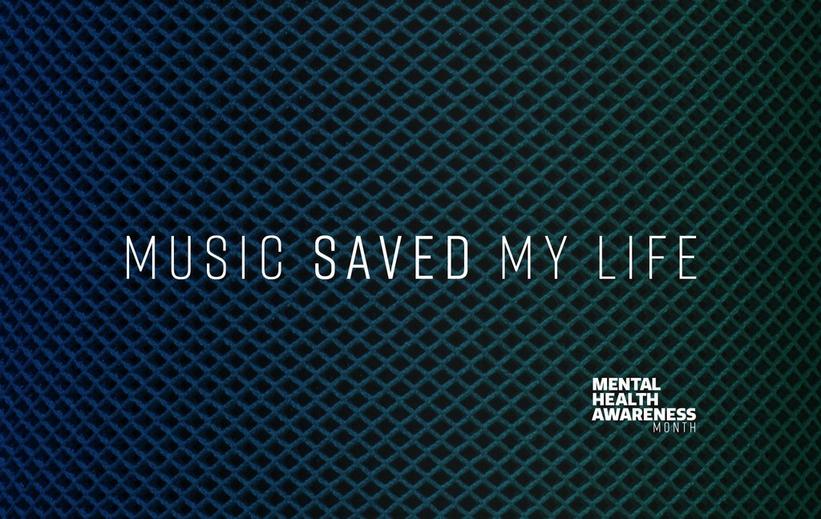 photo
Music Saved My Life: Mental Health Awareness Month 2018
Recognize and celebrate the healing power of music for our mental health
GRAMMYs
/
Jun 1, 2018 - 01:30 am
May is Mental Health Awareness Month.
Every year since 1949, the entire month has been reserved to raise awareness about the importance of managing mental health, shed light on the universal struggle of depression, anxiety and other aspects of mental well-being, and encourage people to reach out for help.
The Recording Academy recognizes the healing power of music and how the indescribable feelings of the right song at the right time can be both a sonic salve and an emotive line of communication that tells a listener, "No, you truly are not alone."
Throughout May, we will share important quotes and stories from artists who have made the choice to speak publicly about how their mental health has directly affected their lives, and how the healing power of music has helped them on their path toward a more peaceful, present and mindful life.
Check back daily for inspirational messages from your favorite artists, and each week for more expansive stories about how musicians have addressed their mental health. You'll learn how some of your favorite artists have benefitted from the healing power of music in their own lives, which we hope will serve as inspiration in yours.
Learn More About MusiCares, The Recording Academy's Health And Human Services Charity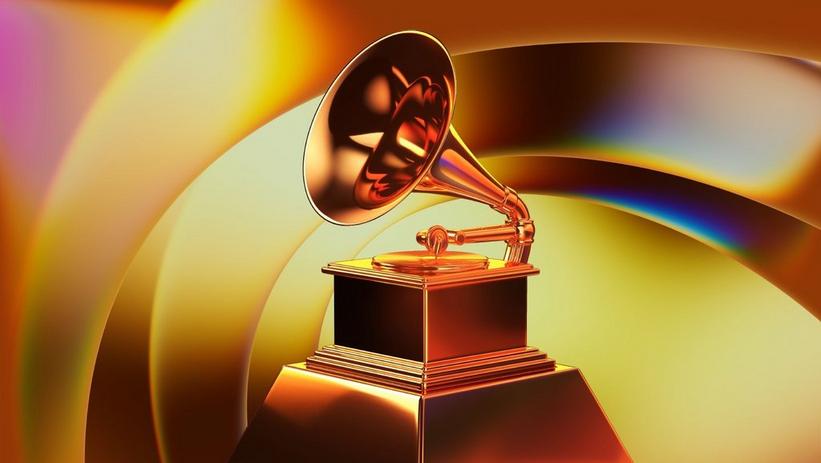 news
Recording Academy Partners With Top Brands For The 2022 GRAMMYs
The Recording Academy has announced the official marketing partners for the 2022 GRAMMYs. Binance, IBM, Mastercard, OneOf, Grey Goose, Bulova, Hilton, SiriusXM, PEOPLE, FIJI Water, Frontera Wines, and United are all supporters of this year's GRAMMY Awards
GRAMMYs
/
Mar 29, 2022 - 03:00 pm
The Recording Academy announced today its official marketing partners for 2022 GRAMMYs, officially known as the 64th GRAMMY Awards. Binance, IBM, Mastercard, OneOf, Grey Goose, Bulova, Hilton, SiriusXM, PEOPLE, FIJI Water, Frontera Wines, and United are all supporters of this year's GRAMMY Awards. 
"We are excited to be working alongside these industry-leading brands for the 64th Annual GRAMMY Awards," said Adam Roth, Senior Vice President of Partnerships & Business Development at the Recording Academy. "Music's Biggest Night wouldn't be possible without each and every one of our partners. With their participation, we are able to celebrate the music community and its creators in a new and exciting way that's never been done before. We hope fans watching the show in person and at home can join in on the celebration as we know this will be a night to remember."
Read: Where, What Channel & How To Watch The 2022 GRAMMYs Awards Show
Binance, the Official Cryptocurrency Exchange Partner, is the global blockchain company behind the world's largest cryptocurrency exchange and the first crypto partner of the GRAMMY Awards. Binance will bring Web3 technology solutions to the Academy.
IBM, the Official Cloud & Artificial Intelligence (AI) Partner of the GRAMMYs, is transforming the GRAMMY Live Pre-Show and grammy.com with "GRAMMY Insights with IBM Watson." The AI-powered solution analyzes more than 20 million news stories about nominees, generating surprising and engaging insights about your favorite artists. The insights are shared in real time as nominees walk the red carpet and served up to the artist profile pages on grammy.com, getting music fans closer to the artists they love.
Mastercard, the Official Finance Services Partner, is the preferred payments technology partner of the GRAMMY Awards. Just ahead of Music's Biggest Night, Mastercard is hosting the GRAMMY U Masterclass on April 1 featuring music video director Hannah Lux Davis.
OneOf, the Official NFT Partner, launched the first GRAMMY NFTs for the 64th GRAMMY Awards featuring collections from renowned artists Emonee LaRussa, Andre Oshea and ThankYouX. Collections are dropped each week leading up to the GRAMMY Awards beginning March 7 with the free 64th GRAMMYs NFT. 
GREY GOOSE Vodka, our Official Spirits Partner, developed an all-new signature cocktail for this year's GRAMMYs, the GREY GOOSE Passion Drop. This specialty cocktail, which is a remix of the GREY GOOSE quintessential martini, will be featured at all our signature GRAMMY Week events and highlighted digitally on our GREY GOOSE Hub on GRAMMY.com, a curated destination for themed invites, GREY GOOSE cocktail recipes and watch party ideas. GREY GOOSE has also partnered with three of today's hottest artists (JoJo, Lucky Daye and Tinashe) for a limited digital series, GREY GOOSE x GRAMMYs: Monday Mix that premiered on March 14 and will air every Monday leading up to the GRAMMY Awards telecast. During GRAMMY Week, GREY GOOSE will also be highlighting their new line of vodkas infused with real fruit and botanicals, GREY GOOSE ESSENCES, during the GREY GOOSE ESSENCES x GRAMMYs: Sound Sessions featuring Tinashe. 
Bulova, the Official Timepiece Partner, celebrates GRAMMY-nominated artists with an exclusive watch from their music-inspired GRAMMY Edition watch collection. First-time GRAMMY Award winners will be gifted with a limited-edition "GRAMMY Automatic" watch, infused with musical cues throughout and a "Circle of Fifths" dial design. The meticulously designed timepiece is constructed using the Recording Academy branded proprietary metal "GRAMMIUM."
Hilton, the Official Hotel Partner, is a returning longtime partner and host venue of the inaugural Recording Academy Honors Presented by the Black Music Collective.
SiriusXM, the Official US Radio Partner, is bringing The GRAMMY Channel back for its second year. The limited-run channel will feature a variety of music from this year's nominees across the GRAMMY Awards' 30 Fields, all leading up to the live broadcast of Music's Biggest Night. The GRAMMY Channel will run for a limited time only from March 23 through April 6 on channel 105.
PEOPLE, the Official Magazine Partner, will be broadcasting from the GRAMMYs with a live pre-show. Hosted by Jeremy Parsons and Janine Rubenstein, Red Carpet Live: 64th Annual Grammy Awards will feature interviews with the world's leading performers and nominees. PEOPLE & Entertainment Weekly Red Carpet Live will stream at 6:30 p.m. ET on people.com, ew.com and their social platforms.
FIJI Water, the Official Water Partner, will be on hand at the GRAMMY Red Carpet to hydrate attendees, executives and talent as they stop for photos and interviews with media. FIJI Water will also be the official water brand at the GRAMMY Week events leading up to Music's Biggest Night, ensuring everyone has the chance to enjoy Earth's Finest Water.
Frontera Wines, the Official Wine Partner of the GRAMMY Awards, 12th most powerful wine brand worldwide and #1 Chilean wine brand in the US, will be pouring across select events. The Recording Academy will exclusively work with Frontera to highlight specific Frontera varietals and amplify the partnership through social posts across all channels.
United, the Official Airline Partner, will be providing travel accommodations for the 64th Annual GRAMMY Awards. 
For more information on official GRAMMY Awards partners, please visit:  
binance.com, ibm.com, mastercard.com, oneof.com, greygoose.com, bulova.com, hilton.com, siriusxm.com, people.com, fijiwater.com, fronterawines.com, and united.com
The Recording Academy will present the 2022 GRAMMYs on Sunday, April 3, live from the MGM Grand Garden Arena in Las Vegas, on the CBS Television Network and streaming live and on demand on Paramount+ from 8–11:30 p.m. ET / 5–8:30 p.m. PT. Prior to the telecast, the GRAMMY Awards Premiere Ceremony will be streamed live on live.grammy.com and the Recording Academy's YouTube channel. Additional details about the dates and locations of other official GRAMMY Week events are available here. Learn more about How To Watch The 2022 GRAMMYs Awards Show and get excited about the full 2022 GRAMMYs nominations list. For more GRAMMYs coverage, updates and breaking news, please visit the Recording Academy's social networks on Facebook, Instagram, TikTok, and Twitter.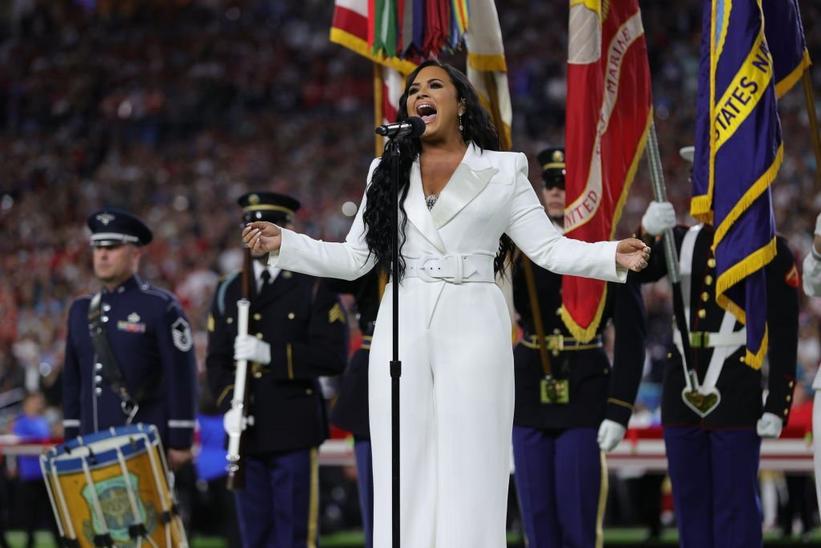 Demi Lovato performs at Super Bowl 2020
Photo: Tom Pennington/Getty Images
news
Watch Demi Lovato Sing The National Anthem At Super Bowl 2020
Following a touching performance at the 62nd GRAMMY Awards last month, the two-time GRAMMY nominee delivered a powerful rendition of the U.S. national anthem at the big game
GRAMMYs
/
Feb 3, 2020 - 04:56 am
Two-time GRAMMY nominee Demi Lovato is known for pouring her heart and soul into each of her songs and live shows, and her performance of the U.S. national anthem at Super Bowl 2020 today (Sunday, Feb. 2) was no different.
Dressed in a stunning, all-white suit, Lovato took on the highly coveted slot with confidence, tackling the song's high notes and powerful vocal melodies with poise and aplomb. Lovato now joins previous GRAMMY winners like Beyoncé, Alicia Keys, Lady Gaga, Christina Aguilera and Carrie Underwood among the artists who have performed "The Star-Spangled Banner" at the big game.
Read: Watch Jennifer Lopez And Shakira Deliver Dazzling Halftime Show At Super Bowl 2020
In what may seem like a cosmic coincidence, Lovato, who was announced as a guest singer for the big game last month, actually predicted she would one day "sing the national anthem at a Super Bowl" in a tweet she posted on Feb. 7, 2010, nearly 10 years to the day when she finally accomplished that same feat.
The Super Bowl show is the latest major performance for Lovato this year. Last month, she made her grand return to the stage when she delivered a touching performance of her new song, "Anyone," at the 62nd GRAMMY Awards. Her rendition, her first televised performance following a drug-related medical emergency in 2018, quickly became one of the most unforgettable moments from this year's GRAMMYs.
Other musical highlights from Super Bowl 2020 included a dazzling, star-studded halftime show from Jennifer Lopez and Shakira, which featured surprise performances from Bad Bunny and J Balvin, plus a beautiful rendition of "America the Beautiful" from four-time GRAMMY-winning gospel icon Yolanda Adams.