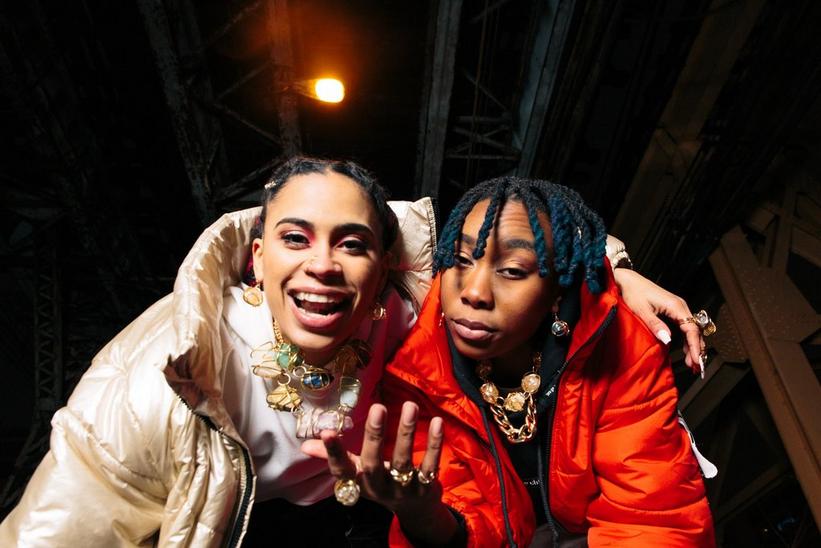 news
Meet Mother Nature, The Chicago Rap Duo That Teach & Live Self-Expression Through Their Miseducation Of HipHop Youth Workshops
"We invite especially our young men to come out and just express themselves in a way that they are comfortable, which is hip-hop, music," TRUTH, one half of Mother Nature, recently told GRAMMY.com
GRAMMYs
/
Mar 31, 2021 - 11:38 pm
For rap duo Mother Nature, music and education are inseparable. Since joining together in the music scene in college town Champaign, Illinois in 2015 and relocating to Chicago in 2016, Shasta Matthew and Tierney Reed, a.k.a. Klevah and TRUTH, have developed their Miseducation of HipHop workshop series concurrently with their own music careers.
The Miseducation of HipHop workshops are music-based, youth-focused programs that aim to "address and improve mental health issues in adolescents globally using the language of hip-hop," according to their website.
Over 600 students have participated in Miseducation workshops since they began in 2015, including through partnerships with more established organizations like Guitars Over Guns and After School Matters. Though Klevah and TRUTH have modified each session depending on the number and needs of the students, they have focused on the shared self-expression of cyphers; group freestyle sessions.
A video from the workshop YouTube page (watch above) offers a moving example of the cypher. As his peers stand in a loose circle around him, a teen student raps about his efforts to cope with his cousin's death with visible fake-it-til-you-make-it confidence. "We invite especially our young men to come out and just express themselves in a way that they are comfortable, which is hip-hop, music, rap," TRUTH says via video call, from the Bronzeville apartment she shares with Klevah and collaborators from their Gr8Thinkaz crew.
"What you didn't see is because he got that vulnerable and spit what he spit, the next person on top of that had more to add to that narrative. The person after that had more to talk about the narrative and slowly became a place where like, alright, this ain't therapy, but it is," Klevah adds. "You're coming here, you're speaking your truth, and you're gaining knowledge from others in the process."
TRUTH and Klevah have continued to run workshops through the pandemic virtually, including their first classes for students in Los Angeles, as they sharpen their own skills through cyphers and recordings. Mother Nature's upcoming mixtape SZNZ is produced entirely by BoatHouse, the house producer of Chicago indie label Closed Sessions, and features guest verses from local rappers like Valee, Sir Michael Rocks of the Cool Kids, and more.
Related: The OutKast College Course Teaching Students About The Post-Civil Rights South
GRAMMY.com spoke to TRUTH and Klevah by phone in mid-March about building relationships with their mentees, modeling authenticity to the younger generation, and expanding the Chicago rap scene.
This interview has been edited and condensed for length and clarity.
What's new since you launched your first virtual workshops last summer?
TRUTH: We've been revamping, just getting things into the virtual sphere. We've expanded our team, we've been able to collaborate more with Guitars Over Guns and After School Matters and we are in the middle of doing a pilot program in L.A.
Klevah: The space that everyone is in educationally drives the need for our program. Schools are all doing this virtual portal type of thing. We kind of gauged our students, and they're not really learning as much as they were when they were in school [in-person]. I just think it makes it necessary, especially in Chicago, to be able to teach, but in a completely alternative way.
Originally, we're like, man, we got to do a tour where we're popping up at these schools, we're doing these lunchroom jams. But now we can probably impact even more students by being able to be nationwide from our living room. At the end of the day, we are going to have a university. Miseducation is gonna be big, I believe that we're going to impact a lot of students, we're going to pick a lot of young artists and help them find their pathway to success. So we're just along for the ride, you feeling me?
Your workshops are often specific to a school or organization. Do you have open events in addition to those, where you maintain relationships with past students?
TRUTH: We do a cypher called the Gr8Cypher with our larger collective the Gr8Thinkaz. We open it up to all Chicago, all of our mentees and things like that.
Klevah: It's very intergenerational. The young homies, the big homies, even the little kids pop in, and get a part of that. It's really dope, because they'll come in just as confident and just as boisterous as the next person. I think that we end up practicing this in our daily lives, like our students become our teachers sometimes. Really, our students become our interns, our mentees, our producers. We're not just, you know, giving you a certificate. We're building with each other, and we genuinely care about you.
So whatever it is that you need, we're gonna give you the game. And if there's room for us to collaborate and room for us to be more valuable to each other—it's definitely happened in the past—it's a really special situation when it does happen.
TRUTH: One of our tracks is produced by one of our mentees. Because we are expanding, and we have been able to touch more students quicker than we have in the past, we are figuring out how to increase the retention rate, so we've been just using social media day by day and making little group chats, so they know the door's always open, and they can always hit us up, whatever the case may be. If it's something specific, like you're trying to do beat production, you're trying to do graphic design, you know, anything outside of what we do specifically, well, we have homies that we can tap into then.
How has the educational work influenced your own music?
TRUTH: It makes us be more consistent, more intentional, definitely. Everything that we speak, it has to be real. We can't be all, "We over here doing this, we got money, we da da da da da." No, we're manifesting, working towards it. And to be heavily consistent in the spiritual, I think is very vital.
As we dive into our classes, too, that's what captures a lot of students and what makes them open up the most, is when we're talking about spirituality and meditation, those types of things. We all deal with anxiety and depression and all these different types of things, but hip-hop is an avenue that you can take that allows you to explore yourself in ways that you might not be able to talk to somebody off the bat.
Klevah: It's hard to separate those things. We definitely have our more adult content and the content that we specifically give to our kids, but it's really still all one and the same, you know what I'm saying? I think it's a beautiful thing. I think that it also reminds people that you can completely be yourself: this is who we are, we're educated humans. I've been mentoring since I've been out of high school, and it's so dope that I can take this with me on my journey through hip-hop.
Can you talk a little bit more about your idea of "real" and how you talk about that with your kids and being true to yourself in your lyrics?
Klevah: Man, this past week, our lesson was authenticity, what it means to be authentic to the self, how that sustains us, how that informs us, how that keeps us creative. The more that we dive into the things that make us weird, or the things that people don't understand, the things we don't understand about ourselves, it just creates new avenues to explore in yourself. For me, that's what makes life continually interesting. How much more can I know myself? How much more can I be myself?
TRUTH: I feel like that allows for other people to gravitate to us, as well as make them more comfortable in their own skin. 'Cause I'm out here, acting silly and doing myself, I think that allows for our kids to really think of that in a different way.
One of the activities that we do, we will listen to a song and break down the lyrics, like, "Do you agree with this? Do you think he's telling the truth? Do you think this is reality?" Hip-hop is always, you know, flamboyant and hyperbole, but when we ask them about the lyrics that they gravitate towards, it be the emotional stuff, it be the more slow tempo type of vibes. They're really like, "Man, they're saying something that I connect with, internally." So they know what real is, but they also know when it's been fabricated.
How did the features on your new project come together?
TRUTH: The first idea was that we just wanted this to be very Chicago. It only makes it right for us to get all Chicago features, lowkey artists that people may not know, but also those big, underground legends of Chicago as well.
Klevah: We're trying to create this culture of collaboration, cypher building, and we want to take that to the industry.
TRUTH: That's one of our biggest things: we want to be the artists that shake the scene so hard that we bring the old Gs out of retirement. With the homies, that was like, "Yo G, we need a verse, I'm about to send you this, send it back in like, two days."
Klevah: We already could hear you on it, but also if this ends up being one of the tapes that really goes up, you know, makes Mother Nature bigger, then I really need my homies on here with me.
You just did a virtual show with Freddie Old Soul, who features on the project. How was that performance?
Klevah: We needed it. We needed to get out of the house, be around some Black girl geniuses. I think that we're getting used to small spaces, or going places and only being around a few people. But, I think that it just allows for us all to intimately connect, and the energy was just clear on camera. It gave us an opportunity to go crazy. It was dope. We miss performing
TRUTH: That was our first time performing "Momentz," so that was beautiful. That was no rehearsal. That was just what we were feeling. It felt different, like, ooh yeah we got to stay in this bag, bro.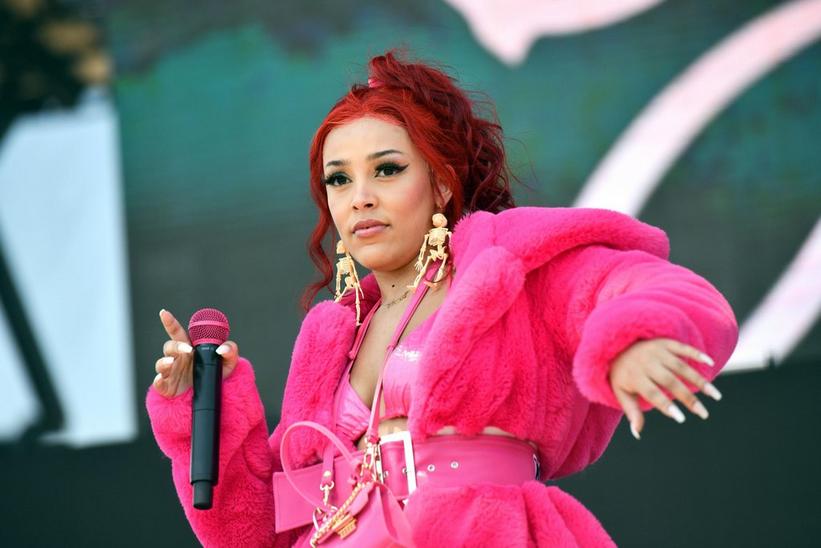 Photo: Scott Dudelson/Getty Images
news
Rolling Loud Festival Los Angeles Reveals 2019 Lineup
Find out who's bringing the heat to the hip-hop fest returning to L.A. this December
GRAMMYs
/
Oct 2, 2019 - 12:11 am
Today, Rolling Loud revealed the massive lineup for their final music festival of 2019, Rolling Loud Los Angeles, which is set to take over the Banc of California Stadium and adjacent Exposition Park on Dec. 14–15.
This iteration of "the Woodstock of Hip-Hop," as the all-knowing Diddy has called it, will feature Chance the Rapper, Lil Uzi Vert, Juice WRLD, Young Thug and Lil Baby as Saturday's heavy-hitting headliners. Sunday's headliners are none other than Future, A$AP Rocky, Meek Mill, YG and Playboi Carti.
L.A.'s own Blueface, Tyga and Doja Cat, are slated to perform, as well as representatives from the diverse rap scenes across the country, including Wale, Juicy J, Lil Yachty, Megan Thee Stallion, Gunna, Tyla Yaweh, Machine Gun Kelly and Yung Gravy.
The lineup announcement follows the successful wrap of Rolling Loud Bay Area in Oakland this past weekend. The event's flagship Miami event took place in May this year, and the New York and Hong Kong debut editions will both take place later this month.
Tickets for Rolling Loud L.A. go on sale this Friday, Oct. 4 at 11 a.m. PST. The complete lineup and more info on this event and their other fests can be found here.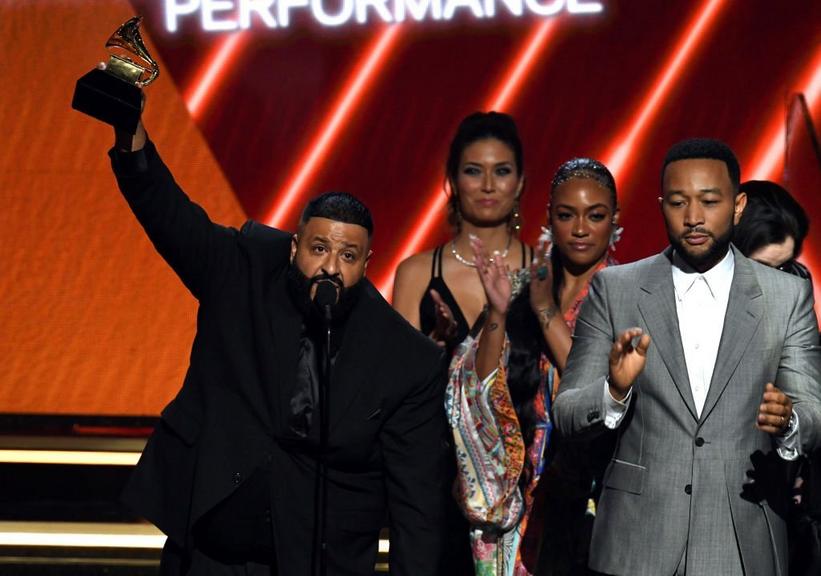 DJ Khaled, Samantha Smith and John Legend
Photo: Kevin Winter/Getty Images
news
DJ Khaled, Nipsey Hussle And John Legend Win Best Rap/Sung Performance For "Higher" | 2020 GRAMMYs
DJ Khaled, Nipsey Hussle and John Legend take home Best Rap/Sung Performance at the 62nd GRAMMY Awards
GRAMMYs
/
Jan 27, 2020 - 09:05 am
DJ Khaled, featuring Nipsey Hussle and John Legend, has won Best Rap/Sung Performance for "Higher" at the 62nd GRAMMY Awards. The single was featured on DJ Khaled's 2019 album Father of Asahd and featured Hussle's vocals and Legend on the piano. DJ Khaled predicted the track would win a GRAMMY.
"I even told him, 'We're going to win a GRAMMY.' Because that's how I feel about my album," DJ Khaled told Billboard. "I really feel like not only is this my biggest, this is very special."
After the release of the song and music video -- which was filmed before Hussle's death in March -- DJ Khaled announced all proceeds from "Higher" will go to Hussle's children.
DJ Khaled and co. beat out fellow category nominees Lil Baby & Gunna ("Drip Too Hard"), Lil Nas X ("Panini"), Mustard featuring Roddy Ricch ("Ballin") and Young Thug featuring J. Cole & Travis Scott ("The London"). Hussle earned a second posthumous award at the 62nd GRAMMYs for Best Rap Performance for "Racks In The Middle."
Along with Legend and DJ Khaled, Meek Mill, Kirk Franklin, Roddy Ricch and YG paid tribute to Hussle during the telecast, which concluded with "Higher."
Check out the complete 62nd GRAMMY Awards nominees and winners list here.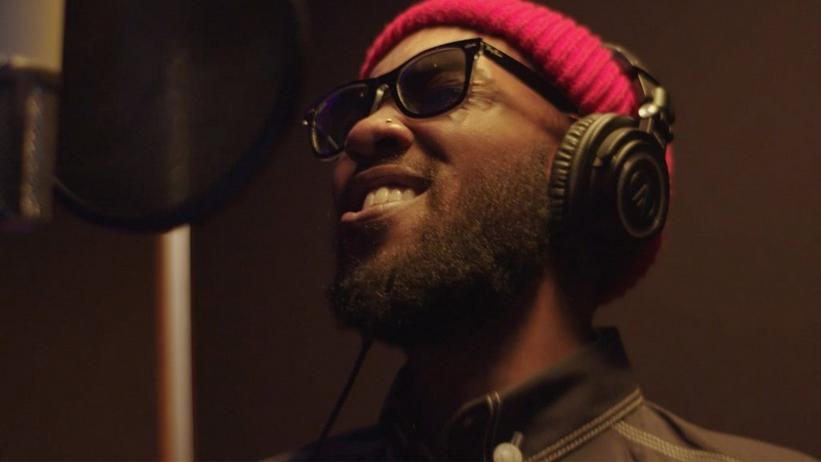 news
ReImagined At Home: Watch Ant Clemons Croon The Cosmic Blues In Performance Of Bill Withers' "Ain't No Sunshine"
Singer/songwriter Ant Clemons puts his own spin on Bill Withers' immortal "Ain't No Sunshine" in an exclusive performance for ReImagined At Home
GRAMMYs
/
Jun 15, 2021 - 08:13 pm
Why has Bill Withers' immortal hit, "Ain't No Sunshine," endured for decades? And, furthermore, why does it seem set to reverberate throughout the ages?
Could it be because it's blues-based? Because it's relatable to anyone with a pulse? Because virtually anyone with an ounce of zeal can believably yowl the song at karaoke?
Maybe it's for all of those reasons and one more: "Ain't No Sunshine" is flexible.
In the latest episode of ReImagined At Home, check out how singer/songwriter Ant Clemons pulls at the song's edges like taffy. With a dose of vocoder and slapback, Clemons recasts the lonesome-lover blues as the lament of a shipwrecked android.
Giving this oft-covered soul classic a whirl, Clemons reminds music lovers exactly why Withers' signature song has staying power far beyond his passing in 2020. It will probably be a standard in 4040, too.
Check out Ant Clemons' cosmic, soulful performance of "Ain't No Sunshine" above and click here to enjoy more episodes of ReImagined At Home.
ReImagined At Home: Keedron Bryant Powerfully Interprets John Legend's Love Song "Ordinary People"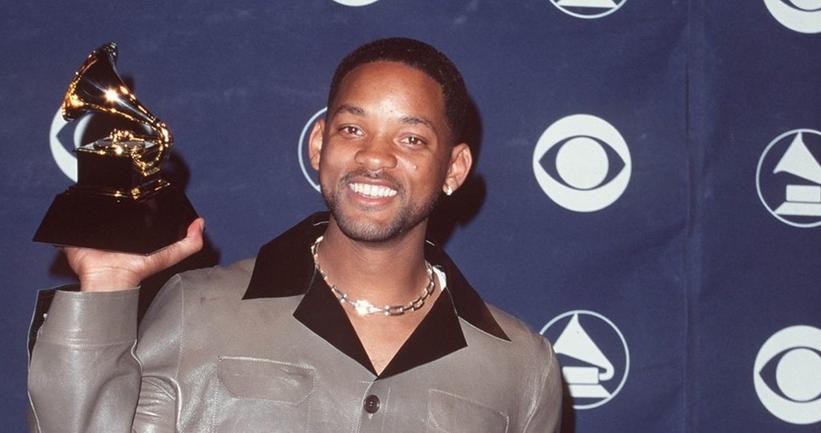 Will Smith at the 1999 GRAMMYs
news
GRAMMY Rewind: Watch Will Smith Dedicate His 1999 Best Rap Solo Performance GRAMMY To His Son
In his acceptance speech, he offers thanks to his family and "the jiggiest wife in the world, Jada Pinkett Smith"
GRAMMYs
/
Sep 25, 2020 - 11:17 pm
Today, Sept. 25, we celebrate the birthday of the coolest dad—who else? Will Smith! For the latest episode of GRAMMY Rewind, we revisit the Fresh Prince's 1999 GRAMMY win for Best Rap Solo Performance for "Gettin' Jiggy Wit It."
In the below video, watch rappers Missy Elliott—donning white leather—and Foxy Brown present the GRAMMY to a stoked Smith, who also opted for an all-leather look. In his acceptance speech, he offers thanks to his family and "the jiggiest wife in the world, Jada Pinkett Smith." He dedicates the award to his eldest son, Trey Smith, joking that Trey's teacher said he (then just six years old) could improve his rhyming skills.
Watch Another GRAMMY Rewind: Ludacris Dedicates Best Rap Album Win To His Dad At The 2007 GRAMMYs
The classic '90s track is from his 1997 debut studio album, Big Willie Style, which also features "Miami" and 1998 GRAMMY winner "Men In Black," from the film of the same name. The "Está Rico" rapper has won four GRAMMYs to date, earning his first back in 1989 GRAMMYs for "Parents Just Don't Understand," when he was 20 years old.
GRAMMY Rewind: Watch Michelle Obama, Lady Gaga, Alicia Keys, J. Lo & Jada Pinkett Smith Open The 2019 GRAMMYs