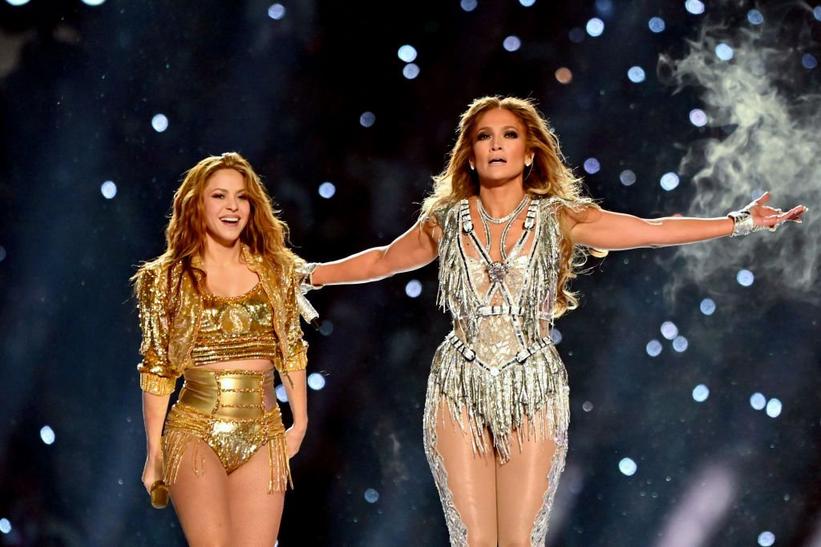 Shakira and Jennifer Lopez perform at Super Bowl 2020
Photo: Kevin Mazur/WireImage
news
Watch Jennifer Lopez And Shakira Deliver Dazzling Halftime Show At Super Bowl 2020
The star-studded performance, featuring Bad Bunny and J Balvin, further solidified Latin pop as a dominant force in pop culture across mainstream America
GRAMMYs
/
Feb 3, 2020 - 07:27 am
In one of the most highly anticipated music events of the year, Latin pop superstars Jennifer Lopez and Shakira delivered a dazzling, star-studded halftime show at Super Bowl 2020 today (Sunday, Feb. 2). Lopez and Shakira blew through a career-spanning super medley composed of each of the two singers' respective hits from across the decades.
Decked out in a bedazzling, shiny red dress, Shakira kicked off the show with a run of her chart-topping hits in both English and Spanish, including "She Wolf," "Empire" and "Ojos Así." Midway through her set, she whipped out a glittery-red guitar and shredded a portion of Led Zeppelin's iconic "Kashmir" before segueing into her U.S. breakthrough hit, "Whenever, Wherever."
Minutes later, Shakira brought out fellow Latin pop icon Bad Bunny, who was dressed in a blindingly silver suit from the future. Together, the duo performed a mashup of their hit singles, including the GRAMMY-nominated "I Like It," Bunny's U.S. No. 1 hit with Cardi B and J Balvin, and Shakira's "Chantaje," her 2016 collaboration with Maluma, and her internationally chart-topping, GRAMMY-nominated song "Hips Don't Lie."
For her part, triple threat Lopez hypnotized the masses with her era-defining hip-hop and R&B classics, including "Jenny From The Block," "Ain't It Funny" and "Get Right." Climbing up a sky-high dance pole, in a nod to her starring role in the 2019 blockbuster film Hustlers, she then launched into her GRAMMY-nominated dance-pop track, "Waiting For Tonight." In another surprise moment, Lopez brought out Colombian reggaetonero J Balvin, who performed a medley of his tracks, including "Que Calor," his 2019 collaboration with Diplo's Major Lazer and Dominican dembow artist El Alfa, and "Mi Gente," his global hit with Willy William.
The two songstresses then joined forces centerstage for a mashup of their solo tracks, including Lopez's GRAMMY-nominated "Let's Get Loud" and Shakira's "Waka Waka (This Time For Africa)."
With their spellbinding halftime show at Super Bowl 2020, one of the most viewed TV spectacles across the U.S. every year, Jennifer Lopez and Shakira further solidified Latin pop as a dominant force in pop culture across mainstream America.
Prior to the halftime show, Demi Lovato wowed the crowd with a powerful rendition of the U.S. national anthem, and gospel icon Yolanda Adams officially opened Super Bowl 2020 with a beautiful performance of "America The Beautiful."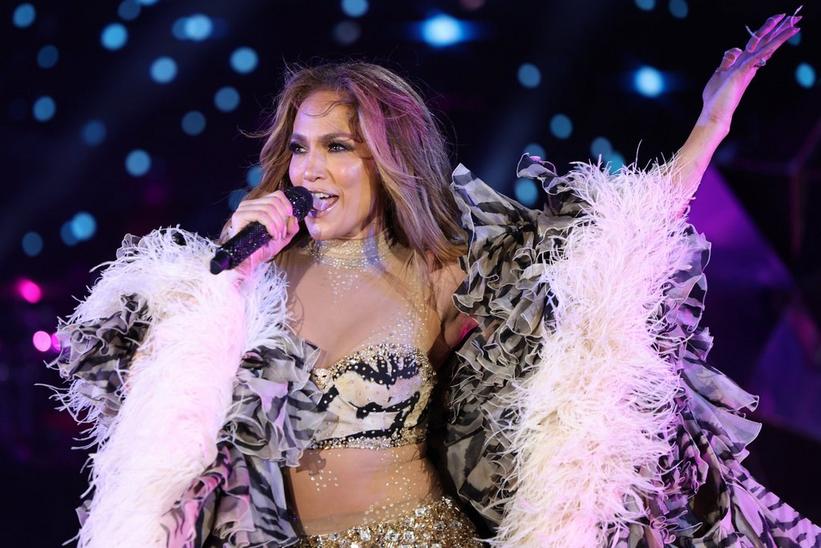 Jennifer Lopez
Photo: Daniele Venturelli/Getty Images for Luisaviaroma
news
Everything We Know About Jennifer Lopez's New Album 'This Is Me… Now'
After months of buildup, Jennifer Lopez has finally announced the release date for her first album in a decade, 'This Is Me… Now.' Here's everything GRAMMY.com could find about it.
GRAMMYs
/
Nov 27, 2023 - 04:24 pm
Way back in November 2002, Jennifer Lopez released This Is Me… Then — a highly personal looking-glass into her relationship with Ben Affleck. Twenty-two years later, the two-time GRAMMY nominee is closing the loop with the aptly titled This Is Me… Now.
Not only is there a yawning gap between prequel and sequel, but Lopez hasn't released a new album since 2014's A.K.A. (Unless you count the soundtrack to 2022's Marry Me, which she starred in alongside Owen Wilson and Colombian singer Maluma; therein, she and Maluma performed the music.)
On Nov. 27, Lopez finally revealed the release date for This Is Me… Now, as well as a teaser trailer for a film of the same name — to be released on the same day. Here's a rundown of what we know about Lopez's long-awaited new dispatch to the world — over your speakers, and on your screen.
Both Album And Film Will Release Feb. 16
That's what Lopez revealed on Nov. 27. After you absorb the album, enjoy "an intimate, fantastical and narrative-driven reflection of Lopez's journey to find love" on Prime Video.
The First Single Will Stream On Jan. 10
Said single is titled "Can't Get Enough"; just days into the new year, you can cue it up. On social media, J. Lo also teased This Is Me… Now's title track, with a snippet of the music.
This Is Me… Now Continues Its Predecessor's Love Story
Lopez and Affleck have a long history — much longer than This Is Me… Then could possibly contain. They first dated from 2002 to 2004; they called off their engagement in 2004.
In 2021, they began dating again; in 2022, they wed. All of this, permeated with the pressures of media attention and the growing pains of love, promises to live inside This Is Me… Now's grooves.
"We captured me at this moment in time when I was reunited with the love of my life, and we decided we were going to be together forever. The whole message of the album then is this love exists. This is a real love," she told Zane Lowe last year.
"Now I think what the message of the album is very much if you were wondering if you have, like me at times, lost hope, almost given up, don't," Lopez continued. "Because true love does exist, and some things do last forever, and that's real."
This Is Me… Now Marks A New Label Partnership
Back in September 2023, Lopez announced a new recording and publishing partnership with BMG; This Is Me… Now will mark the first fruitage of this alliance.
"We are thrilled to have the opportunity to work with her and her team to release her first album in nearly a decade," BMG CEO Thomas Coesfeld said in a statement.
Coesfield also called Lopez a "global superstar artist, entertainer… a phenomenon" — and that's exactly why This Is Me… Now will be such a milestone. Keep checking GRAMMY.com as more information about This Is Me… Now comes to light.
Jennifer Lopez's Biggest Hits, From Her Best Hip-Hop Collaborations To The Dance Floor Classics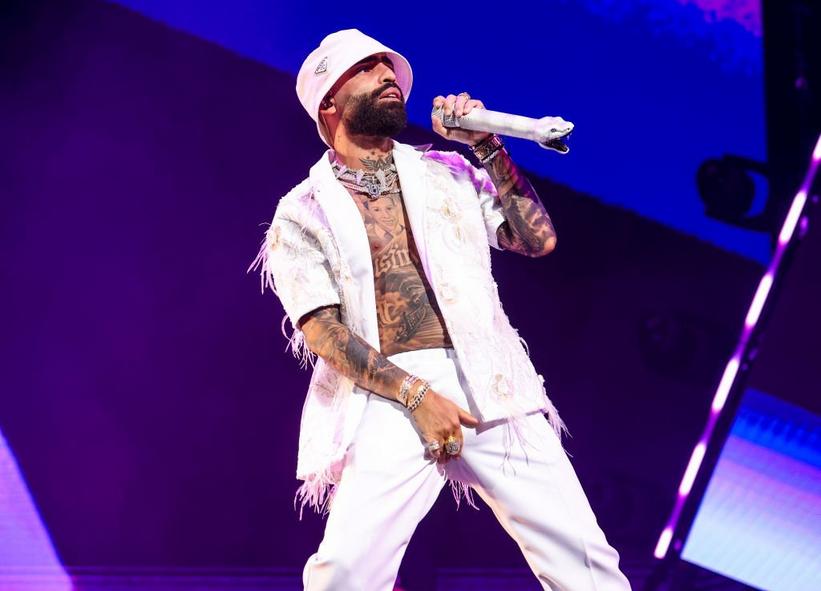 Arcángel
Photo: Alexander Tamargo/Getty Images
interview
On New Album 'Sentimiento, Elegancia y Más Maldad,' Arcángel Proves He's One Of Reggaetón's Wittiest Innovators
"You become dexterous at building a reality with words," the reggaetón star says of his inventive flow. Those skills are on full display on Arcángel's brand new album, 'Sentimiento, Elegancia y Más Maldad.'
GRAMMYs
/
Nov 17, 2023 - 08:19 pm
Earlier this year, rapper and reggaetón star Arcángel collaborated with Bizarrap on one of the Argentine producer's infamous sessions. A huge global hit, the track  — "Bzrp Music Sessions, Vol. 54" — reminded us all of Arcángel's devilish sense of humor and the brilliant specificity of his flow: languid, sweetly melodic, loaded with inventive wordplay.
At 37, Austin Agustín Santos is a revered veteran of the urbano genre. Born in New York City, he eventually moved to Puerto Rico and experienced his first brush with fame as part of the reggaetón duo Arcángel & De la Ghetto. His first solo effort, 2008's El Fenómeno, included the smash "Pa'Que La Pases Bien," heralding his affinity for cutting-edge EDM soundscapes. 
Arcángel never lost his Midas touch for generating memorable songs. Last year's Sr. Santos included "La Jumpa," a kinetic duet with Bad Bunny, and the slick majesty of "PortoBello." Released Nov. 17, his new album, Sentimiento, Elegancia y Más Maldad, boasts high-profile collaborations with Peso Pluma (lead single "La Chamba"), Rauw Alejandro (the EDM-heavy "FP"), Grupo Frontera, Spanish rapper Quevedo, and Feid, among others.
At the 2023 Latin GRAMMYs, Arcángel's "La Jumpa" received nods in the Best Urban Fusion/Performance and Best Urban Song categories; his Bizarrap session and their collaboration, "Bottas" were submitted were submitted as part of BZRP's Producer Of The Year nomination package.
Ahead of the release of his new album, Arcángel spoke with GRAMMY.com about his sophisticated rhymes, the trappings of fame, and the occasional bouts of self-doubt.
The rhymes on your Bizarrap session reference the Tower of Pisa, the shields of the gladiators in the Roman empire, Argentine soccer and luxury cars. How do you come up with this stuff?
It's something that I've been developing since I was a kid. Here in Puerto Rico, we're big fans of what we call palabreo (non-stop talk.) It's also my Dominican blood, because people in the Dominican Republic are always making up things. 
When I was growing up, my mother fostered a love for reading in me, so I have a lot of information in my head that I can draw from. For instance, no one had referenced the Tower of Pisa in reggaetón before. I'd say a good 80 percent of reggaetoneros may not even know what the Tower of Pisa is. My mother worked hard so that I could get a good education.
Would you say the uniqueness of your style stems from those early years?
I grew up in a highly competitive environment. In the barrio, it was normal for us to improvise and mock each other in a friendly way. If you showed up with dirty sneakers, someone would rap about it. With so many years of practicing, it became a skill. There was a time when I wouldn't come up to the barrio if I wasn't well dressed, because I knew what I had to face. 
You become dexterous at building a reality with words — like an architect. I like everything to make sense in my rhymes. I become obsessive about it. The words don't necessarily have to rhyme — as long as they have flow, style, and they make sense.
On the video of the Bizarrap session, we also get to witness your hilarious sense of humor. How did that part of your artistic identity develop?
I was raised in an environment marked by poverty, but there was also a lot of joy. We had nothing except for each other. Incredibly, I was happier then. I grew up feeling comfortable in uncomfortable situations, and that's where my sense of humor comes from. I saw my Mom working two or three jobs so that she could put some food on the table. The only recourse I had to escape that reality was to make jokes and try to have a good time. 
When fortune and fame arrived, they provided a better lifestyle. But they also took away many things that I now miss — things that will never come back.
The last two albums contain some of your best material yet. Would it be fair to say that you're enjoying a creative high?
The process of making music has become extremely hard for me during the past couple of years. I'm experiencing great success, but it also works as a kind of emotional torture, because my mental health is not the best. My own mind is the most formidable rival. I'm overwhelmed by the fear of not fulfilling the expectations that my fans may have. I've felt self-doubt, something that is entirely new to me. 
With all the experience I've amassed, I'm now at my most vulnerable. The act of creating felt so easy to me. Now, when the muse departs, it's difficult to bring her back. Also, I've always preferred quality over quantity. Some of my peers are releasing three albums per year. I need to do some living in order to write new songs.
On the new album, the track with Rauw Alejandro ("FP") is incredibly lush, seeped in atmosphere and EDM texture.
I sing about love because I'm a romantic. And I sing about partying because I definitely did a lot of that — too much, perhaps. [Laughs.] I used to be the kind of person who couldn't stay home more than three hours. I harbor fond memories of that time — spending days away from home, the ambiance of it all, having a great time. 
When I write songs, I can definitely convince people that I've enjoyed all of that. In reality, these days I'm even a bit boring when it comes to partying.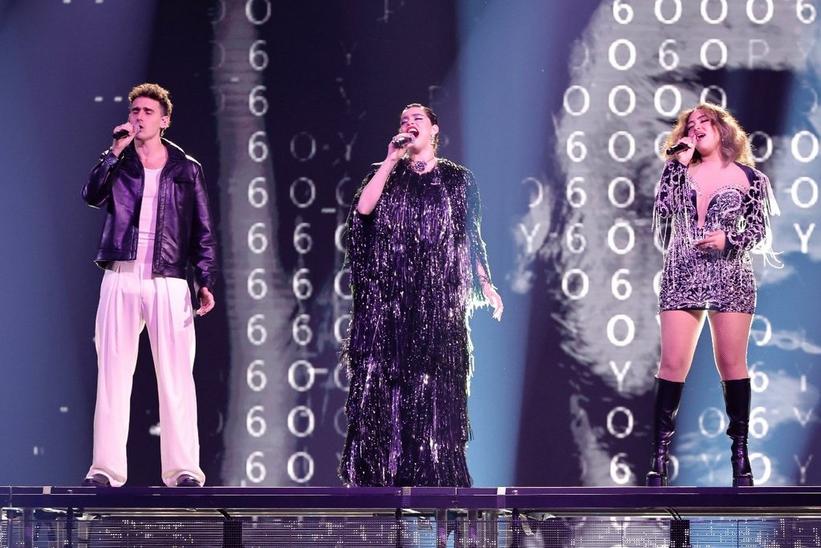 Leon Leiden, Natascha Falcão and Paola Guanche perform onstage during The 24th Annual Latin Grammy Awards on November 16, 2023 in Seville, Spain.
Photo: Kevin Winter/Getty Images for Latin Recording Academy
list
10 Incredible Moments From The 2023 Latin GRAMMYs: Rosalía, Shakira, Peso Pluma & More
The 2023 Latin GRAMMYs were truly international, embracing sounds of flamenco, norteño, reggaetón, and everything in between. Read on for 10 of the most exciting moments from the Biggest Night In Latin Music.
GRAMMYs
/
Nov 17, 2023 - 03:27 pm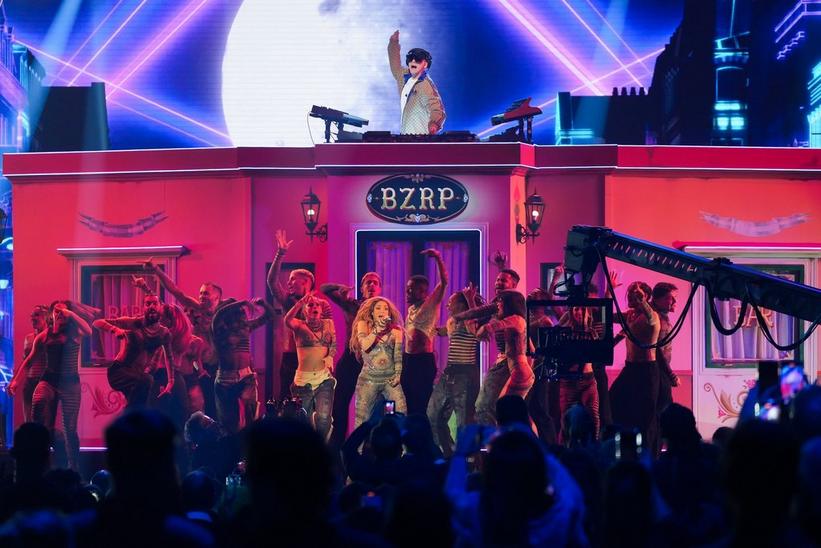 Bizrrap and Shakira perform at the 2023 Latin GRAMMYs.
Photo: Maria Jose Lopez/Europa Press via Getty Images
news
Watch: Bizarrap Brings His Hit Collabs With Shakira & Milo J To Life At The 2023 Latin GRAMMYs
The Argentinian star performed his viral YouTube hits alongside collaborators Shakira and Milo J, highlighting BZRP sessions No. 52, 53, and 57.
GRAMMYs
/
Nov 17, 2023 - 12:25 am
Ten months after Bizarrap and Shakira caused an internet frenzy with Vol. 53 of the Argentinian producer's hit YouTube series, "BZRP Music Sessions," they took it to the 2023 Latin GRAMMYs stage — along with two other smash sessions. 
Bizarrap was the star of his performance from behind his DJ set, opening the medley with "BZRP Music Sessions, Vol. 57" featuring Argentine rapper Milo J. And though Quevedo couldn't be there to offer vocals for "BZRP Music Sessions, Vol. 52," Bizarrap still did the song justice by blending the scenery and sounds of Argentine folklore in with the performance.
Shakira then made her return to the stage — she'd performed her own "Acróstico" earlier in the telecast — to join Bizarrap for "BZRP Music Sessions, Vol. 53." After performing a bit of tango, the Colombian superstar then danced her heart out in a sparkling bodysuit, offering quite the onstage party for their global sensation.
Bizarrap and Shakira were both big winners at the 2023 Latin GRAMMYs before and after they joined forces on stage. After their performance, the pair was awarded the coveted Song Of The Year for "BZRP Music Sessions, Vol. 53"; earlier in the evening, it won the Latin GRAMMY for Best Pop Song, and "BZRP Music Sessions, Vol. 52" also won for Best Urban Song. Shakira also won with another collaborator, Karol G, as the two took home Best Urban Fusion/Performance for "TQG."