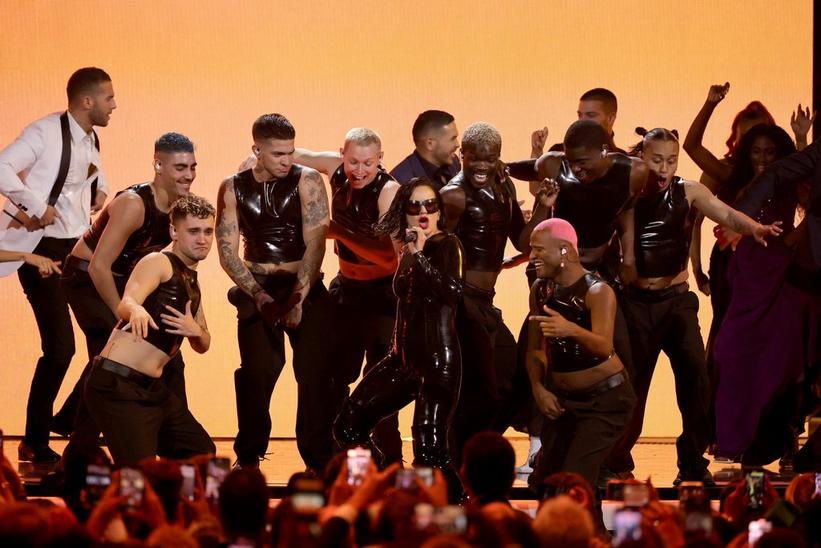 ROSALÍA performs onstage during The 23rd Annual Latin Grammy Awards at Michelob ULTRA Arena on November 17, 2022 in Las Vegas, Nevada.
Photo: Ethan Miller/Getty Images
video
2022 Latin GRAMMYs: Rosalía Performs A Genre-Bending Blend Of 'MOTOMAMI' Tracks
Rosalía is among the most nominated artists at the 2022 Latin GRAMMYs. The Spanish artist performed hits "Hentai," "La Fama," and "Despecha" from her acclaimed 'MOTOMAMI' album and snaked through the audience with a crew of dancers.
GRAMMYs
/
Nov 18, 2022 - 02:36 am
Rosalía turned Latin music on its head with her experimental album Motomami, which pushed Spanish-language music to new places through elements of electronica and alternative music. On the 2022 Latin GRAMMY stage, the Spanish pop star brought the party and the performance art behind with a medley of her hits "Hentai," "La Fama," and "Despecha."
Rosalía looked like a futuristic rock star while singing her ballad "Hentai" at a reflective piano with a tree in the middle. The stage then turned into a performance art installation while she was performing "La Fama," as white walls moved and bended around her as she sang the heartwrenching track. She then turned the stage into a party with her performance of the feel-good anthem "Despecha." Rosalía also walked down to the audience and grinded on her boyfriend, Rauw Alejandro, who was standing in the front row. 
Rosalía is among the most nominated artists of the night — a tie with Alejandro, and Uruguayan rocker Jorge Drexler — with eight nominations. Rosalía is up for three of the Big Four awards: Motomami is nominated for Album of the Year; her collaboration with the Weeknd, "La Fama," is nominated for Record Of The Year and "Hentai" is nominated for Song Of The Year. Motomami is also nominated in a technical category for Best Engineered Album. 
Rosalía is no stranger to the Latin Grammy Awards. In 2019, she won Album Of The Year for her breakthrough LP, El Mal Querer. If Motamami takes home Album Of The Year at the 23rd Latin GRAMMYs, Rosalíawill become the first female artist to win in the category twice. 
In 2020, Rosalía won her first GRAMMY Award for Best Latin Rock, Urban or Alternative Album for El Mal Querer. This week, Motamami was nominated in the same category that was changed to Best Latin Rock or Alternative Album.
Stay tuned for a clip of this thrilling performance, and check out the complete list of winners and nominees at the 2022 Latin GRAMMYs.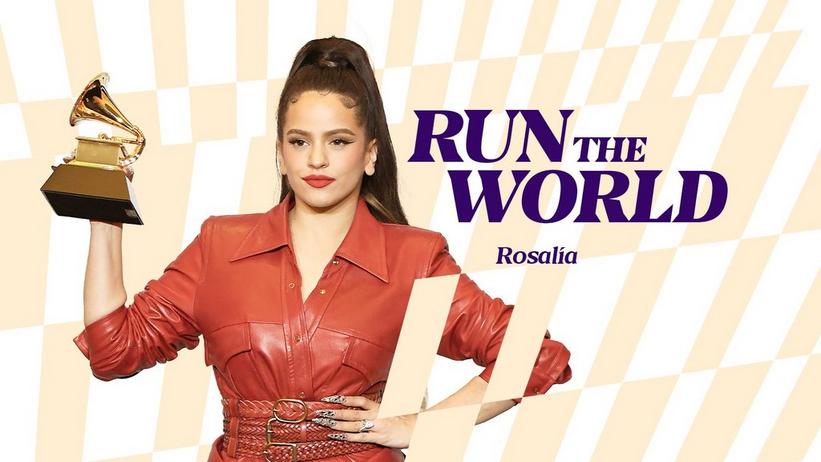 Rosalía at the 2020 GRAMMYs.
Photo: Steve Granitz/WireImage
video
Run The World: How Rosalía Became An International Superstar And Production Powerhouse
To commemorate Women's History Month, take a look at Rosalía's colossal career, from her 'Los Ángeles' folk debut to her GRAMMY-winning experimental, flamenco-pop album, 'Motomami.'
GRAMMYs
/
Mar 13, 2023 - 07:05 pm
Rosalía is the pop star the music industry has craved for so long — an unapologetic, risk-taking visionary who transforms each album release into a deliberate era, slowly immersing her audience deeper into her creative universe. She has become a vanguard for music's next generation of female leaders, paving the way through her commitment to building equality as she once promised in her 2019 Billboard Women in Music speech: "I will never stop till I find and I see the same number of women in the studio."
But before the global sensation came to be, there was Rosalia Tobella, the hopeful musicology student from the suburbs of Barcelona with a passion for flamenco and dream of becoming one of music's biggest disruptors. Her nights spent singing and dancing at flamenco venues eventually landed her in the hands of hitmaker Raül Refree, who manifested her big-city ambitions into reality, co-producing and arranging her critically-acclaimed debut studio album, Los Ángeles.
The flamenco-inspired folk album set the precedent for Rosalía's prosperous musical career after snagging the Spanish singer her very first Latin GRAMMY nomination for Best New Artist and producing a slew of live appearances that led to her catching the attention of her label, Columbia Records. Today, Rosalía's flamenco roots continue to paint her discography on award-winning albums El Mal Querer and Motomami.
As a part of GRAMMY.com's ongoing celebration of Women's History Month, we're looking back at Rosalía's monumental career, from Los Àngeles to Motomami, in this installment of Run The World. It's not just Rosalía's artistic genius that makes her story so remarkable, but also her trailblazing achievements and strides to make space for like-minded women.
What distinguishes Rosalía in a saturated market is her consistency. Without coming across as repetitive, Rosalía seamlessly innovates new ways to transform flamenco as she fuses its essence into different genres on each release. This level of brilliance garnered Rosalía praise from Billboard for "changing the sound of today's mainstream music" at the 14th Women in Music event, acknowledging the artist with a Rising Star Award.
Over the past six years, Rosalía has amassed nearly 60 awards in total, most notably her 11 Latin GRAMMY wins. Three years after winning the Latin GRAMMY for Album Of The Year for El Mal Querer in 2019, she took home the award again in 2022 for Motomami — becoming the first woman in Latin GRAMMY history to win the category twice. 
In 2020, Rosalía marked her GRAMMY stage debut with a medley performance of "Juro Que'' and her breakthrough single, "Malamente." Earlier that night, she celebrated another groundbreaking achievement as the first all-Spanish-language artist to be recognized in the Best New Artist category, as well as her first GRAMMY win for Best Latin, Rock or Urban Alternative album for El Mal Querer. (She won the category for the second time at this year's GRAMMY Awards for Motomami.)
"It's such an honor to receive this award, but at the same time, what I'm most excited about is that I'll be able to perform a flamenco-inspired performance for all of you," Rosalía said during her 2020 GRAMMY acceptance speech, noting her position as one of the leading voices in sharing flamenco culture with American media. "Thank you for embracing [this] project with so much love."
Above all the accolades remains Rosalía's women-first attitude, taking into account the legacy of women who built the foundation for her empire. "I want to thank women like Lauryn Hill, WondaGurl, Björk, Kate Bush, Ali Tamposi, Nija — all the women in the industry who taught me that it can be done," exclaimed Rosalía during her acceptance speech for Best Urban Fusion/Performance at the 2018 Latin GRAMMYs. 
And now, she's leaving her own impact on our future leaders. 
In a full-circle moment, Rosalía was honored as the inaugural Producer Of The Year at the 2023 Billboard Women in Music ceremony, presented to her by one of her aforementioned heroes, WondaGurl. "To me, it feels special because this is not usual. I make my own music, I produce my own songs, and I write my own songs. I want to dedicate this award to all the women who are going to be producers," she beamed.
Press play on the video above to revisit the defining moments in Rosalía's revolutionary stardom, and keep checking back to GRAMMY.com for more new episodes of Run The World.
Listen To GRAMMY.com's Women's History Month 2023 Playlist: Swim In The Divine Feminine With These 40 Songs By Rihanna, SZA, Miley Cyrus, BLACKPINK & More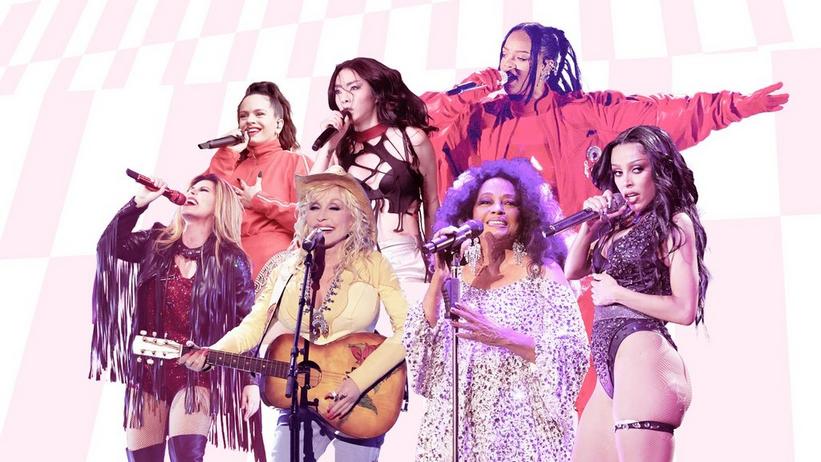 (L-R, clockwise): Rosalía, Rina Sawayama, Rihanna, Doja Cat, Diana Ross, Dolly Parton, Shania Twain
Photos (L-R, clockwise): Kevin Mazur/Getty Images for Roc Nation, Scott Dudelson/Getty Images for Coachella, Adam Bow/Icon Sportswire via Getty Images, Kevin Winter/Getty Images for Coachella, Kevin Mazur/Getty Images for Academy Museum of Motion Pictures, Kevin Winter/Getty Images for ACM, Terry Wyatt/Getty Images
news
Listen To GRAMMY.com's Women's History Month 2023 Playlist: Swim In The Divine Feminine With These 40 Songs By Rihanna, SZA, Miley Cyrus, BLACKPINK & More
Who run the world? Harness positive energy during Women's History Month with this immersive playlist honoring Beyoncé, Rina Sawayama, Kim Petras, and more female musicians.
GRAMMYs
/
Mar 1, 2023 - 03:59 pm
In the words of recent GRAMMY winner Lizzo, it's bad b— o'clock. To kick off Women's History Month, GRAMMY.com is celebrating with an extensive playlist spotlighting women's divine musical artistry. Perpetually shaping, reinvigorating, and expanding genres, women's creative passion drives the music industry forward.
This March, get ready to unlock self-love with Miley Cyrus' candid "Flowers," or hit the dancefloor with the rapturous Beyoncé's "I'm That Girl." Whether you're searching for the charisma of Doja Cat's "Woman" or confidence of Rihanna's "B— Better Have My Money," this playlist stuns with diverse songs honoring women's fearlessness and innovation.
Women dominate the music charts throughout the year, but this month, dive into their glorious energy by pressing play on our curated Women's History Month playlist, featuring everyone from Dua Lipa to Missy Elliott to Madonna to Kali Uchis.
Listen below on Amazon Music, Spotify, Apple Music, and Pandora.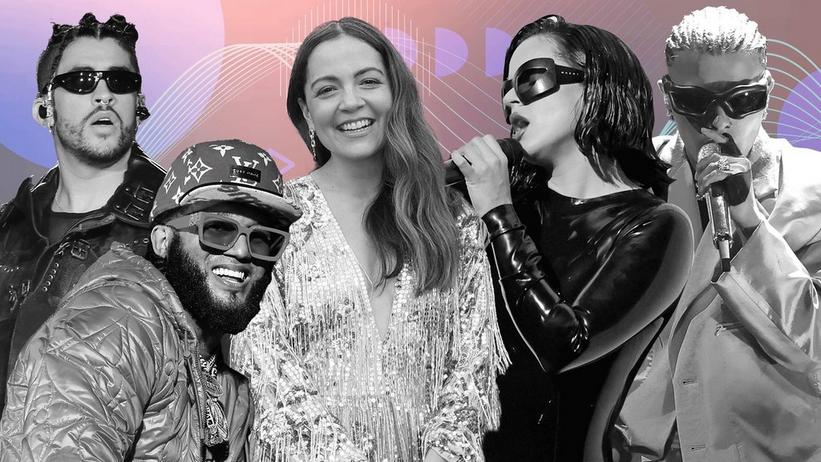 (From left) Bad Bunny, El Alfa, Natalia Laforcade, Rosalía, Rauw Alejando
PHOTO: Gladys Vega/ Getty Images; John Parra/Getty Images; Rodrigo Varela/Getty Images for The Latin Recording Academy; Kevin Winter/Getty Images for The Latin Recording
list
2022 In Review: 5 Trends That Defined Latin Music
2022 glowed with abundance in every region and style — from Chilean folk and Mexican sierreño to Argentine synth-pop, Dominican dembow and good old fashioned rock en español.
GRAMMYs
/
Dec 27, 2022 - 08:51 pm
Years from now, 2022 is likely to be remembered as a moment of expansion and inspiration for Latin music. It's not only that the unstoppable reggaetón beat and its multiple permutations brought people to their feet as the entire world danced to the sounds of Bad Bunny, KAROL G and Rosalía.  
After years of pandemic-related suffering, 2022 glowed with abundance in every region and style — from Chilean folk and Mexican sierreño to Argentine synth-pop, Dominican dembow and good old fashioned rock en español. Forgotten genres were resurrected and given bright new outfits, while a wave of daring young producers experimented with cutting-edge textures and studio effects. Globalization shook up the Latin spectrum, and the results are splendorous.
Here are some of the notable trends that emerged during the past 12 months.
The New Epicenter Of Global Pop? Puerto Rico 
As the mainstream embraces Latin trap, EDM and folk genres like champeta and bachata in this brave digital world of neo-reggaetón hits, Puerto Rican vocalists and producers have mastered the recipe of success. 2022 marked the third consecutive year in which Bad Bunny was the most streamed artist in the world on Spotify. An intriguing combination of raucous party hedonism and melancholy self-reflection, Benito's musical universe continues to evolve, but his hold on pop culture is part of a wider trend.  
The year also saw the release of excellent new tracks by Ozuna, Rauw Alejandro, Daddy Yankee and Myke Towers, confirming San Juan as the avant-garde capital of Latin futurism. La isla del encanto's dominance shouldn't surprise the most studious observers of popular music, though. Just like Jamaica, Puerto Rico has given birth to countless legends in the past, from Tito Rodríguez and Cheo Feliciano to El Gran Combo and Héctor Lavoe. Further, there is a solid threadline that unites the early salsa sizzle of 'Maelo' Rivera with the 2000's narratives of Tego Calderón and the melodic brilliance of a Rauw Alejandro.
The Seduction Of Retro Lives On 
Much of today's Latin music relies on the-future-is-now sonics, with the use of autotune, synth patches and all sorts of studio gimmicks to create the slick patina of today's hits. At the same time, a number of artists prefer a return to analog warmth and the formats that hypnotized their ears in younger times.  
Growing up in Texas, multi-instrumentalist and Black Pumas leader Adrian Quesada developed an obsession with the intoxicating strand of psychedelic baladas that flourished throughout Latin America between the early '60s and mid '70s. Quesada had already recorded a reverential cover of "Esclavo y Amo" by Peruvian combo Los Pasteles Verdes, but in 2022 he recorded an entire album, Boleros Psicodélicos, with mostly original songs that capture the sinuous beauty and baroque harpsichord lines of the original genre.  
Following a similar vein, Natalia Lafourcade's stunning De Todas Las Flores favored a retro approach with songs such as the breezy tropi-pop gem "Canta la arena." The album was recorded live on tape, with every musician present in the recording studio and no previous rehearsals. And if the intro to the solemn "Llévame viento" reminds you of Claude Debussy and French impressionism, it's no coincidence. The Mexican vocalist showed producer Adán Jodorowsky pictures by Claude Monet for inspiration while they worked on the record.   
Dembow Transforms The
Urbano
Landscape 
Hypnotic and repetitive, the Dominican genre known as dembow is instantly addictive, but at the same time a bit of an acquired taste. Because of its aggressive pattern, it can be successfully transplanted to mainstream reggaetón — a prime example being Bad Bunny's eye-opening use of dembow in his mega-hit "Tití Me Preguntó."
The indisputable king of the format remains El Alfa, the incredibly prolific, 31 year-old singer/songwriter from Santo Domingo who has turned the native riddims and hilarious slang from his homeland into a cottage industry of feverish dance anthems. El Alfa (Emanuel Herrer Batista) releases singles and videos at a breakneck pace, and 2022 found him riding a creative wave. A collaboration with Braulio Fogón and Chael Produciendo, "Tontorón Tontón" grooves with a fervor that borders on insanity, as El Alfa spits out rhymes that fuse hilarious vulgarity with surreal impressionism.
Last Night A Lo-Fi Songstress Saved My Life
While the ubiquitous stars of the Latin pop firmament compete for hundreds of millions of streams, indie artists from Argentina to Mexico continue doing what they do best: writing awesome songs. Easy access to recording equipment has allowed a young generation of female bedroom-pop and lo-fi rock performers to blossom undeterred by any record label interference.
On her brilliant and darkly hued EP Misterios de la Plata, Argentine singer Srta. Trueno Negro channels her devotion to the Velvet Underground. Hailing from Culiacán in Sinaloa, Bratty collaborated with Cuco on the hazy reverie of "Fin Del Mundo." In Brazil, São Paolo native Brvnks flexed her angular, guitar-based hooks on "sei la," an atmospheric duet with Raça. Seeped in the sugary vibes of '80s Argentine bands like Metrópoli, "Tuna" — an under promoted single by young Buenos Aires composer Mora Navarro — is probably one of the most gorgeous Latin songs of the decade.
Bachata Officially Not A Niche Genre Anymore
All those Dominican aristocrats of the early 20th century who looked down on bachata as the filthy music of the lower classes would shake their heads in disbelief if they saw the place of honor it occupies today. Prince Royce and Romeo Santos made headway in bringing the authentic strains of música del amargue into the mainstream.  
But just like salsa in the '90s, bachata is now part of the pop lexicon, and artists from different genres delve into its mystique. Most famously, Rosalía, whose majestic "LA FAMA" distorts the expected guitar lines into jagged, digitalized objects of beauty. The autobiographical lyrics are poignant, and the diva's decision to enlist the Weeknd helped to further the cause (as it turns out, bachata's wounded feelings sting even more deliciously as a duet.) In Colombia, Elsa y Elmar aimed at the very roots of the genre with "atravesao," complete with skittish bongó beats and a vocal delivery that bleeds unrequited romance. Even in Buenos Aires, bachata has attracted the muse of talented songwriters such as Silvina Moreno, whose "Ley de Atracción" muses philosophically on the perverse contradictions of erotic desire.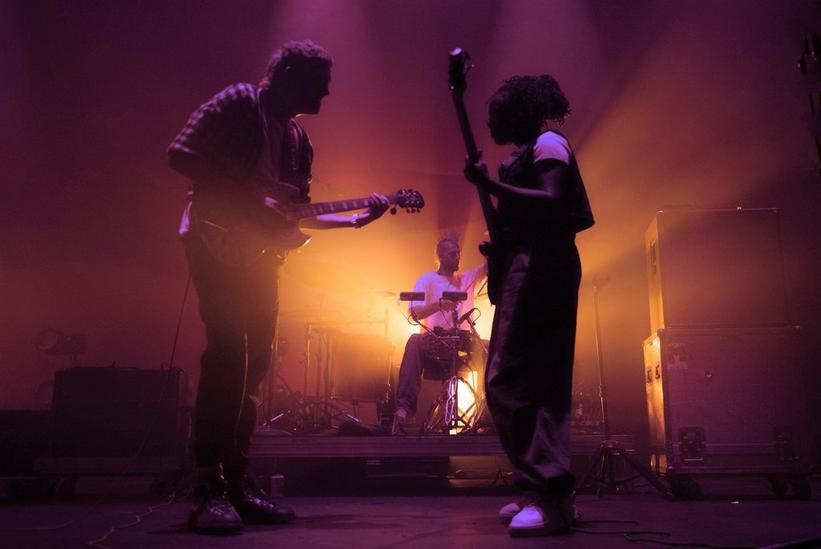 list
A Guide To Modern Funk For The Dance Floor: L'Imperatrice, Shiro Schwarz, Franc Moody, Say She She & Moniquea
James Brown changed the sound of popular music when he found the power of the one and unleashed the funk with "Papa's Got a Brand New Bag." Today, funk lives on in many forms, including these exciting bands from across the world.
GRAMMYs
/
Nov 25, 2022 - 04:23 pm
It's rare that a genre can be traced back to a single artist or group, but for funk, that was James Brown. The Godfather of Soul coined the phrase and style of playing known as "on the one," where the first downbeat is emphasized, instead of the typical second and fourth beats in pop, soul and other styles. As David Cheal eloquently explains, playing on the one "left space for phrases and riffs, often syncopated around the beat, creating an intricate, interlocking grid which could go on and on." You know a funky bassline when you hear it; its fat chords beg your body to get up and groove.
Brown's 1965 classic, "Papa's Got a Brand New Bag," became one of the first funk hits, and has been endlessly sampled and covered over the years, along with his other groovy tracks. Of course, many other funk acts followed in the '60s, and the genre thrived in the '70s and '80s as the disco craze came and went, and the originators of hip-hop and house music created new music from funk and disco's strong, flexible bones built for dancing.
Legendary funk bassist Bootsy Collins learned the power of the one from playing in Brown's band, and brought it to George Clinton, who created P-funk, an expansive, Afrofuturistic, psychedelic exploration of funk with his various bands and projects, including Parliament-Funkadelic. Both Collins and Clinton remain active and funkin', and have offered their timeless grooves to collabs with younger artists, including Kali Uchis, Silk Sonic, and Omar Apollo; and Kendrick Lamar, Flying Lotus, and Thundercat, respectively.
In the 1980s, electro-funk was born when artists like Afrika Bambaataa, Man Parrish, and Egyptian Lover began making futuristic beats with the Roland TR-808 drum machine — often with robotic vocals distorted through a talk box. A key distinguishing factor of electro-funk is a de-emphasis on vocals, with more phrases than choruses and verses. The sound influenced contemporaneous hip-hop, funk and electronica, along with acts around the globe, while current acts like Chromeo, DJ Stingray, and even Egyptian Lover himself keep electro-funk alive and well.
Today, funk lives in many places, with its heavy bass and syncopated grooves finding way into many nooks and crannies of music. There's nu-disco and boogie funk, nodding back to disco bands with soaring vocals and dance floor-designed instrumentation. G-funk continues to influence Los Angeles hip-hop, with innovative artists like Dam-Funk and Channel Tres bringing the funk and G-funk, into electro territory. Funk and disco-centered '70s revival is definitely having a moment, with acts like Ghost Funk Orchestra and Parcels, while its sparkly sprinklings can be heard in pop from Dua Lipa, Doja Cat, and, in full "Soul Train" character, Silk Sonic. There are also acts making dreamy, atmospheric music with a solid dose of funk, such as Khruangbin's global sonic collage.
There are many bands that play heavily with funk, creating lush grooves designed to get you moving. Read on for a taste of five current modern funk and nu-disco artists making band-led uptempo funk built for the dance floor. Be sure to press play on the Spotify playlist above, and check out GRAMMY.com's playlist on Apple Music, Amazon Music and Pandora.
Say She She
Aptly self-described as "discodelic soul," Brooklyn-based seven-piece Say She She make dreamy, operatic funk, led by singer-songwriters Nya Gazelle Brown, Piya Malik and Sabrina Mileo Cunningham. Their '70s girl group-inspired vocal harmonies echo, sooth and enchant as they cover poignant topics with feminist flair.
While they've been active in the New York scene for a few years, they've gained wider acclaim for the irresistible music they began releasing this year, including their debut album, Prism. Their 2022 debut single "Forget Me Not" is an ode to ground-breaking New York art collective Guerilla Girls, and "Norma" is their protest anthem in response to the news that Roe vs. Wade could be (and was) overturned. The band name is a nod to funk legend Nile Rodgers, from the "Le freak, c'est chi" exclamation in Chic's legendary tune "Le Freak."
Moniquea
Moniquea's unique voice oozes confidence, yet invites you in to dance with her to the super funky boogie rhythms. The Pasadena, California artist was raised on funk music; her mom was in a cover band that would play classics like Aretha Franklin's "Get It Right" and Gladys Knight's "Love Overboard." Moniquea released her first boogie funk track at 20 and, in 2011, met local producer XL Middelton — a bonafide purveyor of funk. She's been a star artist on his MoFunk Records ever since, and they've collabed on countless tracks, channeling West Coast energy with a heavy dose of G-funk, sunny lyrics and upbeat, roller disco-ready rhythms.
Her latest release is an upbeat nod to classic West Coast funk, produced by Middleton, and follows her February 2022 groovy, collab-filled album, On Repeat.
Shiro Schwarz
Shiro Schwarz is a Mexico City-based duo, consisting of Pammela Rojas and Rafael Marfil, who helped establish a modern funk scene in the richly creative Mexican metropolis. On "Electrify" — originally released in 2016 on Fat Beats Records and reissued in 2021 by MoFunk — Shiro Schwarz's vocals playfully contrast each other, floating over an insistent, upbeat bassline and an '80s throwback electro-funk rhythm with synth flourishes.
Their music manages to be both nostalgic and futuristic — and impossible to sit still to. 2021 single "Be Kind" is sweet, mellow and groovy, perfect chic lounge funk. Shiro Schwarz's latest track, the joyfully nostalgic "Hey DJ," is a collab with funkstress Saucy Lady and U-Key.
L'Impératrice
L'Impératrice (the empress in French) are a six-piece Parisian group serving an infectiously joyful blend of French pop, nu-disco, funk and psychedelia. Flore Benguigui's vocals are light and dreamy, yet commanding of your attention, while lyrics have a feminist touch.
During their energetic live sets, L'Impératrice members Charles de Boisseguin and Hagni Gwon (keys), David Gaugué (bass), Achille Trocellier (guitar), and Tom Daveau (drums) deliver extended instrumental jam sessions to expand and connect their music. Gaugué emphasizes the thick funky bass, and Benguigui jumps around the stage while sounding like an angel. L'Impératrice's latest album, 2021's Tako Tsubo, is a sunny, playful French disco journey.
Franc Moody
Franc Moody's bio fittingly describes their music as "a soul funk and cosmic disco sound." The London outfit was birthed by friends Ned Franc and Jon Moody in the early 2010s, when they were living together and throwing parties in North London's warehouse scene. In 2017, the group grew to six members, including singer and multi-instrumentalist Amber-Simone.
Their music feels at home with other electro-pop bands like fellow Londoners Jungle and Aussie act Parcels. While much of it is upbeat and euphoric, Franc Moody also dips into the more chilled, dreamy realm, such as the vibey, sultry title track from their recently released Into the Ether.
The Rise Of Underground House: How Artists Like Fisher & Acraze Have Taken Tech House, Other Electronic Genres From Indie To EDC