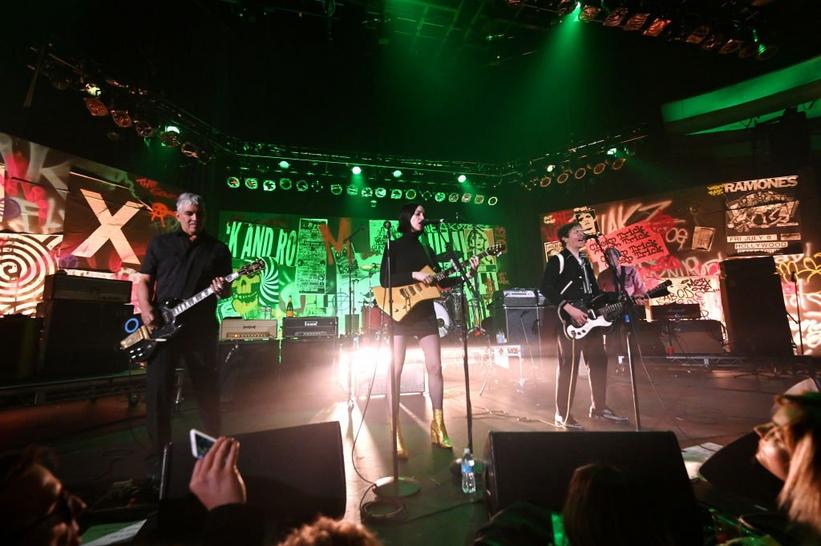 HEAVEN Is Rock And Roll 2020 in Los Angeles
Photo: Kevin Mazur/Getty Images
news
Remaining Members Of Nirvana Reunite At 2020 HEAVEN Benefit Concert In Los Angeles
Joined by Beck, St. Vincent and other special guests, Nirvana members Dave Grohl, Krist Novoselic and Pat Smear revived the legendary grunge outfit for a truly special performance
GRAMMYs
/
Jan 6, 2020 - 11:47 pm
The word "supergroup" was coined in 1966 to describe the band Cream. However, since then, it's become winky shorthand to describe a group of accomplished musicians more interested in goofing off with their equally talented friends than creating anything memorable. But tell that to Dave Grohl, Krist Novoselic and Pat Smear who revived their legendary rock/grunge outfit Nirvana for a truly special performance this past Saturday night (Jan. 4) at the Hollywood Palladium in Los Angeles.
The reunion, a unique talent constellation that also featured Beck, St. Vincent and Grohl's daughter Violet rounding out the band, was part of the 13th year of the HEAVEN gala, a fundraiser for The Art Of Elysium, a charity that brings music and visual arts to hospitals and homeless- and poverty-affected areas across Los Angeles. (The performance also marked Nirvana's first reunion since Foo Fighters' 2018 Cal Jam festival, when Deer Tick singer John McCauley stepped in for late Nirvana frontman Kurt Cobain to perform vocals.) Event partners We Are Hear, the hybrid record label, management company, music publisher and creative consultancy firm from producers Linda Perry and Kerry Brown, curated the 2020 event and theme, which this year was HEAVEN Is Rock And Roll.
Watch: Nirvana's 'Nevermind': For The Record
But while other artists like L7, Marilyn Manson and Cheap Trick also performed on the stage, which was outfitted with a background meant to evoke the iconic New York punk venue CBGB, it was this newly formed incarnation of Nirvana that proved to be the main attraction.
Replacing a charismatic lead singer is dangerously difficult, which might be why the five-song performance was billed as Dave Grohl & Friends. (The absence of their former frontman was noted by Novoselic, a founding member of Nirvana, who requested a "cheer from the crowd for Kurt Cobain.") However, it's difficult to name a performer as prepared as Annie Clark, better known as St. Vincent, for the task, given that her innovative guitar work serves as the highlight of her live shows and regularly lands her on male-dominated Best Guitarist lists. Tearing through opener "Lithium" on her signature Ernie Ball guitar while delivering vocals that sounded equal parts tortured and determined, the artist once again proved her mastery extends to both subtlety and volume.
Read: Smells Like Nirvana
Likewise, Beck carried the same slacker spirit to his turn at the mic. Wearing a Cobain-evoking beanie, he performed vocals for "In Bloom," "Been A Son" and
David Bowie's "The Man Who Sold the World," which Nirvana covered on their 1994 MTV Unplugged In New York live album and performance, with an appropriately deadpan delivery.
The "Loser" singer was definitely living out a few fan fantasies, which he admitted when he recalled seeing Nirvana open for Sonic Youth in 1990. "The most insane mosh pit of my life was in this room," he told the audience, grinning. "I remember being lifted up the whole time and afterwards, my hands were bleeding and I didn't know why."
Read: Nirvana Manager Danny Goldberg Talks 25 Years of 'MTV Unplugged In New York'
But for all the star power onstage, the unexpected highlight of the night was when Grohl's daughter Violet was invited to perform "Heart-Shaped Box," the lead single off Nirvana's 1993 album, In Utero. Peeking out from her silvery hair, the 13-year-old connected on a song she's likely been humming her entire life, giving the kind of quietly passionate performance that only highlights the enduring power of the band.
It isn't just novelty of nostalgia. Call them a supergroup or just a collection of friends: Nirvana isn't going anywhere.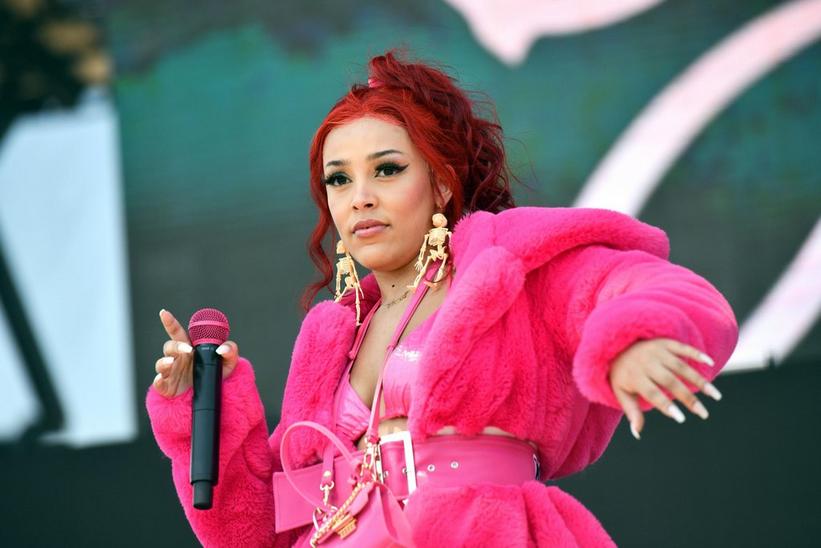 Photo: Scott Dudelson/Getty Images
news
Rolling Loud Festival Los Angeles Reveals 2019 Lineup
Find out who's bringing the heat to the hip-hop fest returning to L.A. this December
GRAMMYs
/
Oct 2, 2019 - 12:11 am
Today, Rolling Loud revealed the massive lineup for their final music festival of 2019, Rolling Loud Los Angeles, which is set to take over the Banc of California Stadium and adjacent Exposition Park on Dec. 14–15.
This iteration of "the Woodstock of Hip-Hop," as the all-knowing Diddy has called it, will feature Chance the Rapper, Lil Uzi Vert, Juice WRLD, Young Thug and Lil Baby as Saturday's heavy-hitting headliners. Sunday's headliners are none other than Future, A$AP Rocky, Meek Mill, YG and Playboi Carti.
L.A.'s own Blueface, Tyga and Doja Cat, are slated to perform, as well as representatives from the diverse rap scenes across the country, including Wale, Juicy J, Lil Yachty, Megan Thee Stallion, Gunna, Tyla Yaweh, Machine Gun Kelly and Yung Gravy.
The lineup announcement follows the successful wrap of Rolling Loud Bay Area in Oakland this past weekend. The event's flagship Miami event took place in May this year, and the New York and Hong Kong debut editions will both take place later this month.
Tickets for Rolling Loud L.A. go on sale this Friday, Oct. 4 at 11 a.m. PST. The complete lineup and more info on this event and their other fests can be found here.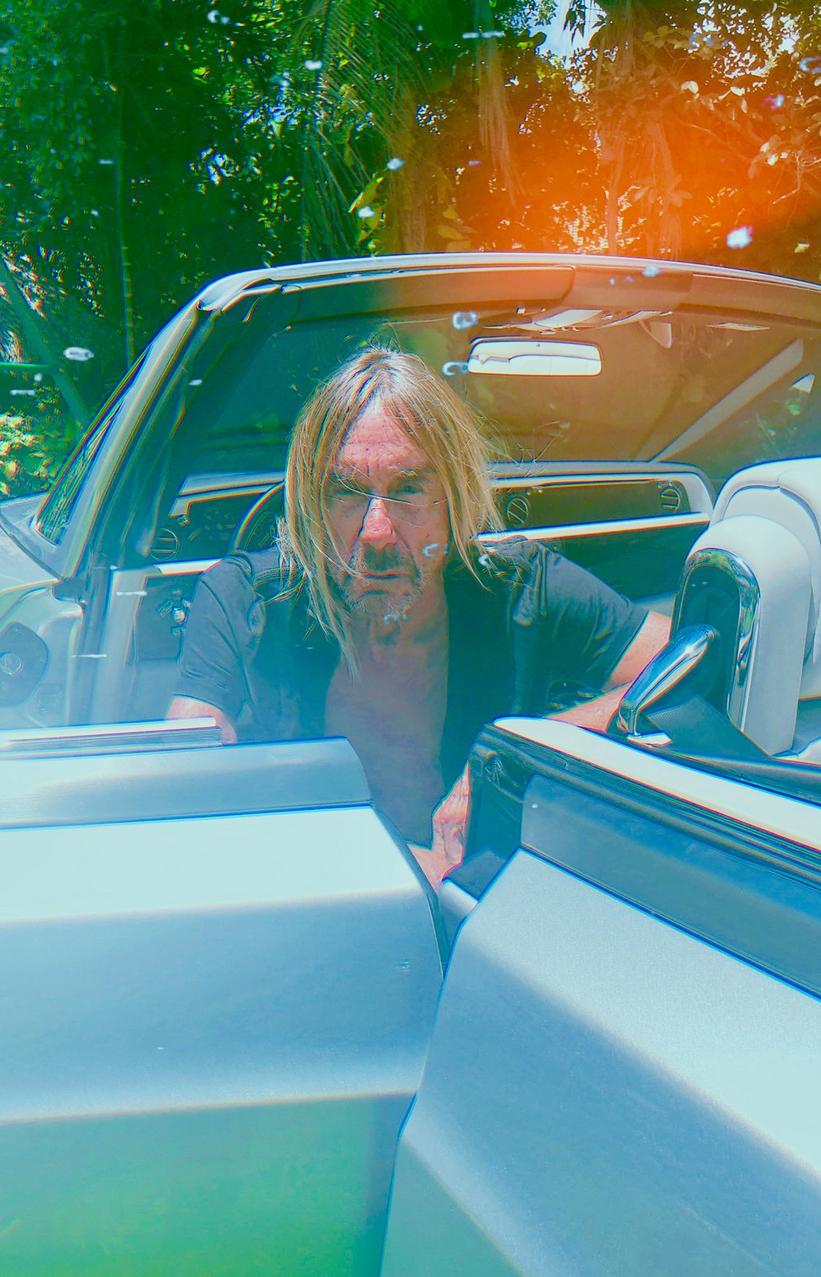 news
Iggy Pop Announces New Album, 'Free', Shares Title Track
"By the end of the tours following Post Pop Depression, I felt sure that I had rid myself of the problem of chronic insecurity that had dogged my life and career for too long. But I also felt drained… I wanted to be free," the Godfather of Punk explained
GRAMMYs
/
Jul 18, 2019 - 11:47 pm
Today, GRAMMY-nominated punk forbearer Iggy Pop revealed the details for his forthcoming 18th solo studio album, along with its short—at under two minutes—yet spacious title track, "Free." The 10-track LP is due out Sept. 6 and follow's 2016's GRAMMY-nominated Post Pop Depression.
"This is an album in which other artists speak for me, but I lend my voice," Pop explains in a press release.
The statement notes jazz trumpeter Leron Thomas and L.A.-based electric guitarist Noveller as the "principal players" collaborating with Pop on this exploratory new project. On "Free," Thomas' horn and Noveller's guitar add layers of depth, somberness and exploration, as Pop's echoing voice cuts through twice to proclaim, "I want to be free."
Pop adds that his last tour left him feeling exhausted but ready for change, and the shifts eventually led him to these new sounds:
"By the end of the tours following Post Pop Depression, I felt sure that I had rid myself of the problem of chronic insecurity that had dogged my life and career for too long. But I also felt drained. And I felt like I wanted to put on shades, turn my back, and walk away. I wanted to be free. I know that's an illusion, and that freedom is only something you feel, but I have lived my life thus far in the belief that that feeling is all that is worth pursuing; all that you need—not happiness or love necessarily, but the feeling of being free. So this album just kind of happened to me, and I let it happen."
Post Pop Depression earned the former Stooges frontman his second GRAMMY nod, at the 59th GRAMMY Awards for Best Alternative Music Album. It was produced by GRAMMY winner Josh Homme of Queens of the Stone Age and as a tribute of sorts to David Bowie, Pop's longtime friend the producer of his first two solo albums, and was released shortly after Bowie's surprising passing.
As the press release states, "While it follows the highest charting album of Iggy's career, Free has virtually nothing in common sonically with its predecessor—or with any other Iggy Pop album."
You can pre-order and pre-save the new album now for the Sept. 6 release here. You can also check out Pop's new book, 'Til Wrong Feels Right, on Sept. 26.
Exclusive: Salvador Santana And Ozomatli's Asdru Sierra Announce New Politically Charged Project RMXKNZ
Photo: Michael Ochs Archives/Getty Images
news
Poll: From "Dreams" To "The Chain," Which Fleetwood Mac Song Is Your Favorite?
"Dreams" experienced a charming viral moment on TikTok after a man posted a video skateboarding to the classic track, and now it's back on the charts, 43 years later
GRAMMYs
/
Oct 16, 2020 - 04:00 am
news
GRAMMY Museum To Launch Cheap Trick: I Want You To Want Me! Sept. 12
Exhibit to feature artifacts from the private collection of the iconic power-pop band
GRAMMYs
/
Dec 3, 2014 - 05:06 am
On Sept. 12 the GRAMMY Museum will launch Cheap Trick: I Want You To Want Me! — a one-of-a-kind exhibit offering visitors an in-depth look at the more than 35-year career of power-pop progenitors Cheap Trick.
Located in the Museum's Mike Curb Gallery on the fourth floor, artifacts on display will include guitars played by Rick Nielsen, including his 1952 Fender Telecaster used during a performance at Budokan in Tokyo; costumes worn on the album cover of 1979's Dream Police; and original lyrics, photographs, and tour ephemera, among other items.
In conjunction with the launch of the exhibit, on Sept. 12 Cheap Trick will visit the GRAMMY Museum's Clive Davis Theater to participate in a question-and-answer session and perform a brief set as part of the Museum's An Evening With series.
Cheap Trick: I Want You To Want Me! will be on display through June 2014.