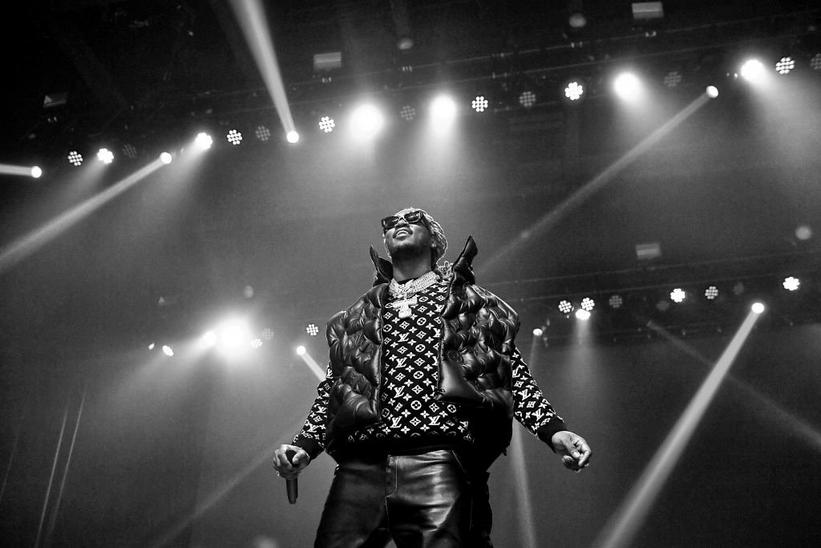 Future
Photo Credit: Paras Griffin
news
On This Day In Music: Future Bridges Hip-Hop And R&B Like Never Before With His Second Album In A Two-Week Span, 'HNDRXX'
Five years ago today, Future followed up his self-titled, No. 1 album with 'HNDRXX,' an ultra-rhythmic nod to his alter ego that would go on to make history
GRAMMYs
/
Feb 24, 2022 - 11:12 pm
Future is a man of many nicknames: Pluto, Super Future, The Wizard, Future Vandross — the list goes on. But no moniker carries more weight for the four-time GRAMMY nominee than Future Hendrix, a brutally honest, R&B-leaning alter ego.
One week after the release of his self-titled fifth studio album, Future was back with his follow-up effort, HNDRXX. The 2017 album displayed Future tapping into his rhythmic side more than at any point during his career, with features from The Weeknd, Rihanna, Chris Brown and Nicki Minaj.
A shock at the time of its release, HNDRXX was a project years in the making, one that would go on to make history and reinvigorate an entire subset of hip-hop.
"I just reflected on it and was thinking about doing this since the end of last summer. I started thinking about how I wanted to put the project out," he told Billboard in 2017. "I didn't know because it was so much music coming out. I wouldn't know the space and timing that I would have for the music."
Well before the full emergence of Future Hendrix, half a decade before HNDRXX came to fruition, Future made his desires to dive into the R&B realm — specifically with a project named after his alter ego — abundantly clear.
"I want to say [Future Hendrix] will be more R&B based, but it's going to be more substance, more passion — just more down with feeling. I know my fans who've been down for me from day one, they understand the growth, and they gonna know when they hear Future Hendrix," Future explained to HipHopDX in 2012. "They'll know that I'm not selling out…they're gonna understand that I'm doing music that was already happening. But I'ma still have street songs."
Future changed the title of his second studio album from Future Hendrix to Honest, but songs like "I Won," "Never Satisfied" and the album's title track served as the soft launch for what became the world's grand introduction to Future Hendrix years later.
The fusion of R&B and street rap was a proven success well before HNDRXX — Ja Rule utilized the formula in the early 2000s to earn four GRAMMY nominations — but what Future did in 2017 was different. Hits such as "Comin Out Strong" with The Weeknd and "Selfish" with Rihanna saw Future incorporate R&B and pop elements to make radio-friendly hits while still maintaining the grittiness of his self-titled album and mixtape campaigns.
Instead of entering the family-friendly world of his pop star features, Future provided an outlet for pop to have a dark side.
"I know she wanna be poppin' all over the 'Gram/ When the cameras come out, wanna hold my hand," The Weeknd sings, just one year removed from his hit album, Starboy. "Must be out of your mind, do you know who I am?"
Between The Weeknd's iconic feature and Rihanna's beautifully sung hook of "let's be selfish," Future unveiled a toxic update to the R&B and street rap crossover formula. And as a result, history was made.
With his self-titled album and HNDRXX, Future became the first solo artist to achieve back-to-back No.1 debuts in successive weeks in the history of Billboard's Top 200 Albums chart. He also became the first artist to succeed himself at No. 1 on the Billboard 200 at all since 1968. FUTURE and HNDRXX placed the Best Rap Performance winner alongside the Beatles, Simon & Garfunkel, the Monkees, Herb Alpert & The Tijuana Brass, and Peter, Paul & Mary as the only acts to ever achieve the feat.
Five years later  — through acts like Gunna, Lil Durk, Moneybagg Yo, Roddy Ricch, and countless others  — the influence of Future Hendrix remains audible.
5 Things Spotify's 'The Big Hit Show' Podcast Has Revealed About Kendrick Lamar's 'To Pimp A Butterfly,' From A Prince Cameo To Kanye West's Influence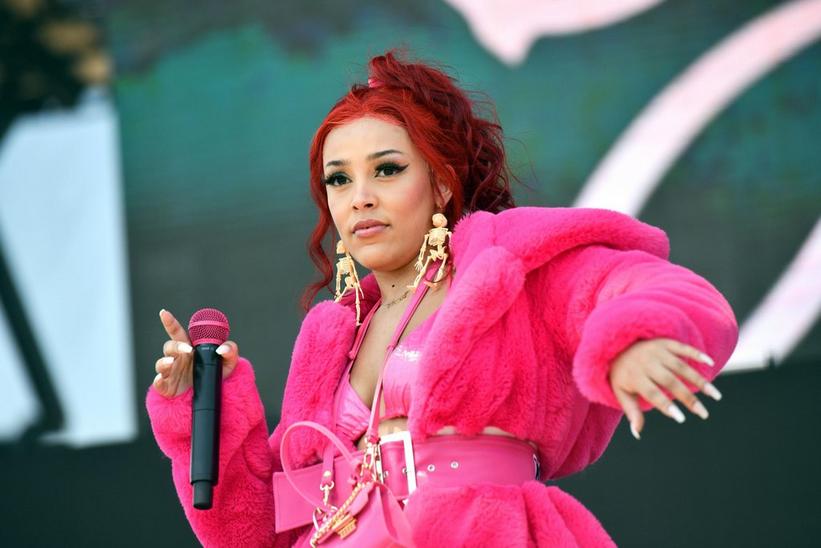 Photo: Scott Dudelson/Getty Images
news
Rolling Loud Festival Los Angeles Reveals 2019 Lineup
Find out who's bringing the heat to the hip-hop fest returning to L.A. this December
GRAMMYs
/
Oct 2, 2019 - 12:11 am
Today, Rolling Loud revealed the massive lineup for their final music festival of 2019, Rolling Loud Los Angeles, which is set to take over the Banc of California Stadium and adjacent Exposition Park on Dec. 14–15.
This iteration of "the Woodstock of Hip-Hop," as the all-knowing Diddy has called it, will feature Chance the Rapper, Lil Uzi Vert, Juice WRLD, Young Thug and Lil Baby as Saturday's heavy-hitting headliners. Sunday's headliners are none other than Future, A$AP Rocky, Meek Mill, YG and Playboi Carti.
L.A.'s own Blueface, Tyga and Doja Cat, are slated to perform, as well as representatives from the diverse rap scenes across the country, including Wale, Juicy J, Lil Yachty, Megan Thee Stallion, Gunna, Tyla Yaweh, Machine Gun Kelly and Yung Gravy.
The lineup announcement follows the successful wrap of Rolling Loud Bay Area in Oakland this past weekend. The event's flagship Miami event took place in May this year, and the New York and Hong Kong debut editions will both take place later this month.
Tickets for Rolling Loud L.A. go on sale this Friday, Oct. 4 at 11 a.m. PST. The complete lineup and more info on this event and their other fests can be found here.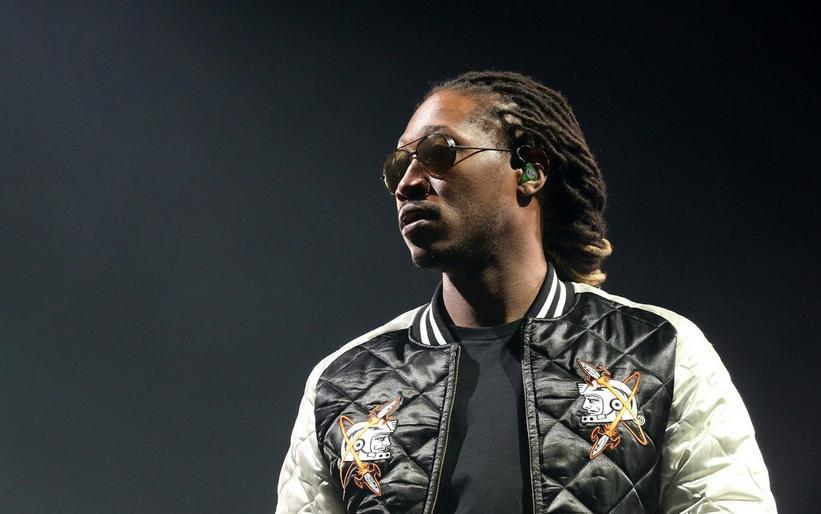 Photo: Gabe Ginsberg/WireImage
news
Future Second Only To Drake In Rap Streaming Revenue
Forbes' Hip-Hop Cash Kings places Future at #10 overall but 2nd only to Drake for revenues from music
GRAMMYs
/
Oct 7, 2017 - 03:52 am
Forbes' Hip-Hop Cash Kings ranks rapper Future at #10 with a $23 million year, pushed there especially by streaming royalties.
Looking at the year June 2016 through June 2017, more than half of the top-15 streamed artists were hip-hop. Future's music revenues were about half of his $23 million payday, placing him second only to the list's #2 Drake for highest royalties. Future's first GRAMMY nomination was for the 59th GRAMMY Awards for his work as a featured artist on Drake's album Views.
On Feb. 17, 2017 Future released his album Future and then on Feb. 24 he released Hndrxx, making music history as both went to No. 1 back-to-back on the Billboard 200 chart. Future was the first artist to knock themselves off the No. 1 position in 50 years and the only artist ever to do so in successive weeks. That kind of cultural relevance is genuinely rare and helps explain how Future's rap streams stay so high.
Sean "Diddy" Combs Tops 2017 Highest Paid Hip-Hop Artists List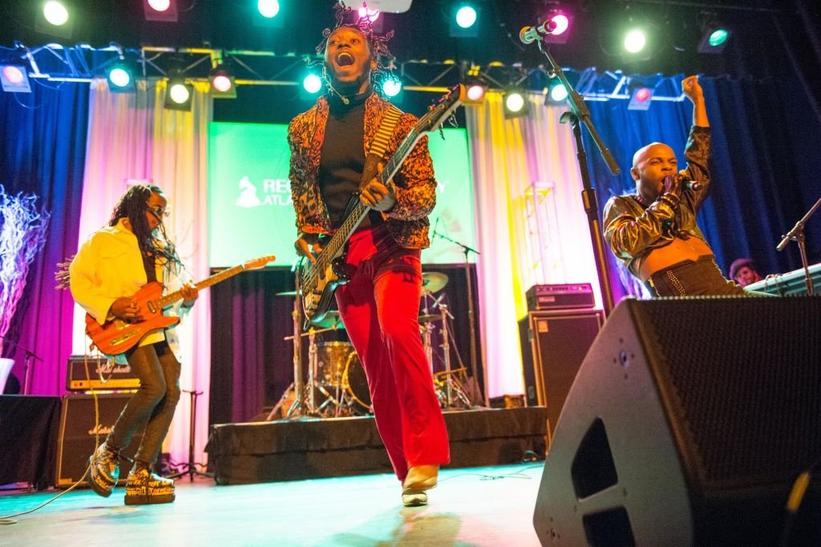 Hero The Band perform at the Recording Academy Atlanta Chapter Annual Membership Celebration
Photo: Marcus Ingram/WireImage
news
Report: Music & Culture Infrastructure Can Create Better "Future Cities"
How sound planning for a creative future in our urban areas makes all the difference for artists and musicians
GRAMMYs
/
Oct 24, 2019 - 01:27 am
The future, as they say, is now. And for music makers around the world, building a future for themselves often starts at home, in their local creative community and in the city where they live. While technology has expanded communication and made the world smaller, cities continue to grow, making planning for the future a critical cultural mission of the present.
To that end, a new report by global organization Sound Diplomacy titled "This Must Be The Place" examines, "The role of music and cultural infrastructure in creating better future cities for all of us." The 37-page deep dive into community planning and development highlights the importance of creative culture in what it calls "Future Cities."
"The government defines 'Future Cities' as 'a term used to imagine what cities themselves will be like," the report states, "how they will operate, what systems will orchestrate them and how they will relate to their stakeholders (citizens, governments, businesses, investors, and others),'"
According to the report, only three global cities or states currently have cultural infrastructure plans: London, Amsterdam and New South Wales. This fact may be surprising considering how city planning and sustainability have become part of the discussion on development of urban areas, where the UN estimates 68 percent of people will live by 2050.
"Our future places must look at music and culture ecologically. Much like the way a building is an ecosystem, so is a community of creators, makers, consumers and disseminators," the report says. "The manner in which we understand how to maintain a building is not translated to protecting, preserving and promoting music and culture in communities."
The comparison and interaction between the intangibility of culture and the presence of physical space is an ongoing theme throughout the report. For instance, one section of the report outlines how buildings can and should be designed to fit the cultural needs of the neighborhoods they populate, as too often, use of a commercial space is considered during the leasing process, not the construction process, leading to costly renovations.
"All future cities are creative cities. All future cities are music cities."
On the residential side, as cities grow denser, the need increases for thoughtful acoustic design and sufficient sound isolation. Future cities can and should be places where people congregate
"If we don't design and build our future cities to facilitate and welcome music and experience, we lose what makes them worth living in."
For musicians and artists of all mediums, the answer to making—and keeping—their cities worth living in boils down to considering their needs, impact and value more carefully and sooner in the planning process.
"The report argues that property is no longer an asset business, but one built on facilitating platforms for congregation, community and cohesion," it says. "By using music and culture at the beginning of the development process and incorporating it across the value chain from bid to design, meanwhile to construction, activation to commercialisation, this thinking and practice will result in better places."
The report offers examples of how planners and leaders are handling this from around the world. For instance, the Mayor Of London Night Czar, who helps ensure safety and nighttime infrastructure for venues toward the Mayor's Vision for London as a 24-hour city. Stateside, Pittsburgh, Penn., also has a Night Mayor in place to support and inform the growth of its creative class.
What is a music ecosystem? We believe the music influences and interacts with various sectors in a city. We have designed this infographic to show how music ecosystems work and impact cities, towns and places: https://t.co/0DIUpN1Dll

— Sound Diplomacy (@SoundDiplomacy) August 14, 2019
Diversity, inclusion, health and well-being also factor into the reports comprehensive look at how music and culture are every bit as important as conventional business, ergonomic and environmental considerations in Future Cites. Using the Queensland Chamber of Arts and Culture as a reference, it declared, "A Chamber of Culture is as important as a Chamber of Commerce."
In the end, the report serves as a beacon of light for governments, organizations, businesses and individuals involved in planning and developing future cities. Its core principals lay out guideposts for building friendly places to music and culture and are backed with case studies and recommendations. But perhaps the key to this progress is in changing how we approach the use of space itself, as the answer to supporting music may be found in how we look at the spaces we inhabit.
"To develop better cities, towns and places, we must alter the way we think about development, and place music and culture alongside design, viability, construction and customer experience," it says. "Buildings must be treated as platforms, not assets. We must explore mixed‑use within mixed‑use, so a floor of a building, or a lesser‑value ground floor unit can have multiple solutions for multiple communities."
Be Like Björk: Iceland Unveils New 'Record In Iceland' Initiative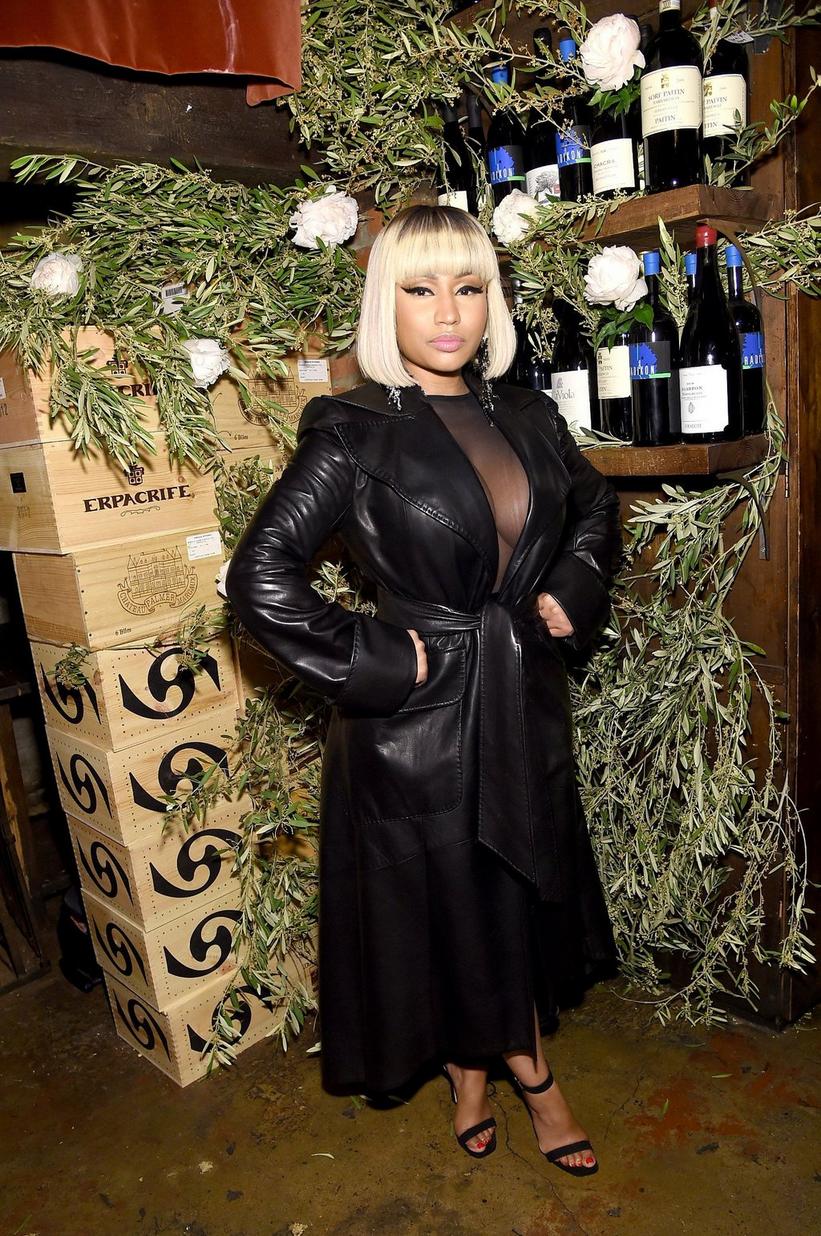 Photo: Jamie McCarthy/Getty Images
news
Nicki Minaj Announces NickiHndrxx Tour With Future
Catch the GRAMMY-nominated rapper as she brings "Chun-Li" to 28 cities across North America
GRAMMYs
/
Jun 12, 2018 - 12:26 am
Nicki Minaj has been going hard ahead of the release of her Aug. 10 studio album, Queen. We've heard a handful of hot new singles, and last week she showed off the royal artwork featured on the album's cover. Now we have a tour announcement.
On June 11 the GRAMMY-nominated rapper announced she will head out on a 28-date North American trek this fall with fellow rapper Future. They'll start their jaunt in Baltimore on Sept. 21 and pass through cities such as Detroit, Boston, Chicago, Toronto, Dallas, Denver, and Los Angeles before wrapping up in Las Vegas on Nov. 24.
For those in Europe, don't worry. Minaj and Future will take the NickiHndrxx tour through Europe starting Feb. 21, 2019, with dates in Berlin, Amsterdam, Paris, London, and more.
I can't wait to see you all on the NICKIHNDRXX TOUR with @1future! Presale starts 6/12 at 10am local time. Public on sale 6/15
Get more info here: https://t.co/1EypbqkaxN pic.twitter.com/VQ4qQUGLC6

— Chun-Li (@NICKIMINAJ) June 11, 2018
You can get your hands on these hot tickets during the presale that starts on June 12 or when sales open to the general public on June 15 via Live Nation.
Catching Up On Music News Powered By The Recording Academy Just Got Easier. Have A Google Home Device? "Talk To GRAMMYs"