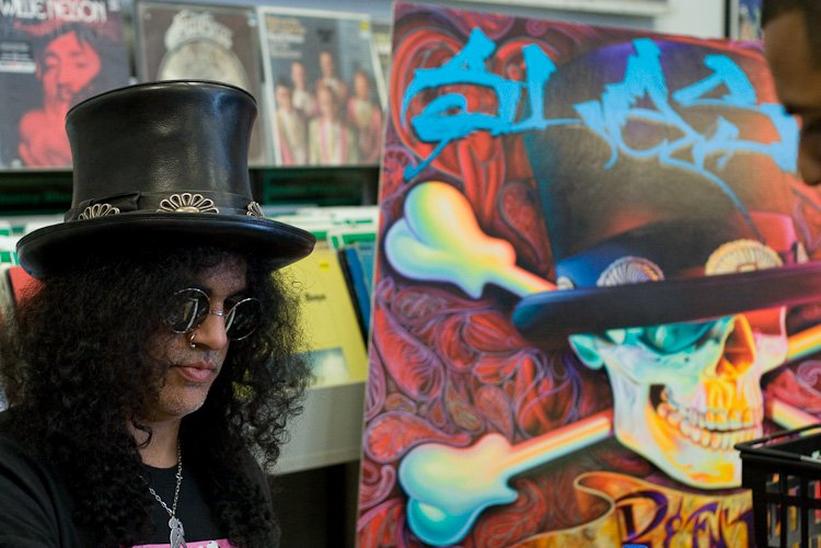 Slash at Amoeba Music during Record Store Day
A day in the life at Record Store Day
GRAMMYs
/
Oct 22, 2021 - 10:34 pm
A young man sporting shoulder-length hair and a Wolfmother T-shirt looked back as he followed an Amoeba Music staffer's direction to the end of the checkout line in the Hollywood, Calif., store on Record Store Day this past Saturday.
"They should have Record Store Week!" the young man said as he took his place, a few pieces of freshly procured vinyl in hand.
He had a point.
Record Store Day was founded in 2007 appropriately by Chris Brown, an employee of the East Coast-based independent record store chain Bull Moose. The goal of the event is to celebrate the unique standing held by independently owned record stores and their importance to their respective communities. From San Diego's Record City to Waterville, Maine-based the Record Collection, more than 700 independent record stores participated in this year's installment. Additionally, more than 100 artists released special RSD vinyl and CD exclusives, including Ani DiFranco, the Beatles, Buddy Guy, Jimi Hendrix, John Lennon, MGMT, Phoenix, Elvis Presley, Bruce Springsteen, Them Crooked Vultures, and Wilco, among others.

Amoeba had been open barely an hour on this day and the line from the cash registers already snaked all the way from the very back corner of the massive store through the classical and blues sections in the rear room, then down the main aisle of the huge, bi-level front room. There were at least 150 people queued up already. And they weren't here for the Slash CD signing (that line was forming outside) or the Smashing Pumpkins performance happening later that day.
They were here simply to buy recorded music.
Among them was Lydia Chain, a 25-year-old "student/starving artist" from Los Angeles, bearing not just goodies gotten by having been poised at the door before opening, but some battle scars incurred in the process.
"I have bruises from trying to get the records I was after," she said. "There were a lot of elbows being thrown."
She didn't actually get the record that had been her primary target — an exclusive vinyl release of the Hold Steady's new Heaven Is Whenever album, released two weeks before other versions in a very limited RSD run of 500 nationwide — but she was anything but bereft of items. Her basket contained $300 worth of music, all vinyl and including some RSD exclusives, among them a Them Crooked Vultures 10-inch and both special seven-inch platters released by Peter Gabriel. Chain said this was an extension of her year-round passion: buying music (especially vinyl) online and at Amoeba and the several other smaller indie stores that remain in the Los Angeles area. It was also a bonding experience with her dad.
"My dad and I are tight," Chain said. "He was around in the great days of music, the '60s. He's like, '$30 for a piece of vinyl?' I have to justify it — 'It's 180 grams, limited edition.' He says, 'I don't care. Just get it.'"
It's a sort of scene you'd expect to find in Record Store Days, a new book looking lovingly at the wonders of indie music stores written by Gary Calamar, a DJ on Santa Monica, Calif.-based public radio station KCRW and GRAMMY-nominated producer and music supervisor, and veteran music journalist Phil Gallo, who a few minutes later took over the Amoeba DJ booth to provide a soundtrack for their book-signing session.
Calamar grabbed the microphone, declared RSD "my favorite holiday of the year" and held up a CD he'd picked out of the vast selections in the bins. "Where else could you find Spuds MacKenzie's Party Faves for $2.99?" he said, with only a little sense of sarcasm.
And with that he said he wanted to start with the first record he ever bought, at a little store in the Bronx, N.Y., and the room was filled with the staggering guitar riff of the Kinks' "All Day And All Of The Night."
Record Store Days chronicles the evolution and impact of this phenomenon as a key thread of modern American history and crucial in the shaping of indie music of all stripes. But given the general perception that the retail music business is dying — and with many record stores having gone under in recent years — should it be filed under history or current events?
"It's current events in 2010," said an adamant Gallo. "But if we'd written this five or six years earlier, it would have been an obituary. All the fun was gone. People were scrounging by. It was a world of gloom and doom. But the people who are starting now are shaping their record stores like the stores in the '60s and '70s."
The vibe of the store is exactly what attracted Slash to Amoeba. His new album, simply titled Slash and featuring the iconic guitarist with such collaborators as Iggy Pop, Ozzy Osbourne, Maroon 5's Adam Levine, Foo Fighters' Dave Grohl, and the Black Eyed Peas' Fergie, was designed for settings such as this. Sure, it's available digitally on iTunes and elsewhere. But to the top-hatted one, Slash was meant to be bought in a store just like this.
"First, we recorded to two-inch tape, so you want it on vinyl," Slash said, noting that the old-school tape format is pretty much dead in the digital age, despite being considered by many to be far superior in sound. His producer, Eric Valentine, had stowed some away when the manufacturers stopped making it, knowing that some project would simply call for it, and Slash's was it.
The guitarist was thrilled to see that so many young people have embraced the plastic platters. Even if it's still a very small part of the market, he sees it as a positive sign. "As long as artists are putting it out in different formats, it's good," he said. "The resurgence of vinyl…people will rise up and surprise you."
Jim Henderson, one of the co-founders of the small Amoeba chain that also includes the original store in Berkeley, Calif., and a second across the Bay in San Francisco's Haight-Ashbury neighborhood, is thrilled with all of the activity — the lines, the frenzies, the vinyl, even the obscure $2.99 items in the clearance bins. Well, everything except the bruises.
"We've seen terrific reactions to what we've done for three years in a row, but never had this reaction where people were fighting tooth and nail," said Henderson. "We expected a good crowd and that people [would want] to share the day. But it was much more aggressive."
He said this in front of one of the big clearance bins filled with CDs at almost giveaway prices — not just special for this event, but an everyday thing now. That, to some, might be a sign that despite this one-day surge, the rest of the year is marked by declining interest in CDs.
"CDs are not as in demand as they used to be," Henderson acknowledged, citing supply and demand for the reduced prices on thousands of items. "But music is. Sales have stayed steady on the used side."
But with reduced revenue?
"We do make it up on volume. And our counter sales, people selling back to us, still do more than 100,000 CDs a month, so we're seeing more recycling of things."
Now, in some ways this day is just a more intense version of normal for Amoeba. The huge shop, which became the dominant record store in the region pretty much on opening in 2001, regularly hosts major in-store performances (GRAMMY winners Paul McCartney and Elvis Costello are just two of the more prominent stars in the last few years) and has such community involvement activities as regular auctions benefiting New Orleans' recovery and other causes. And, of course, for a real music fan, the hunt through the bins is always rewarding.
It's a pretty simple approach, Henderson explained. "Almost everything we do is to keep people coming back."
How about Record Store Year?
(Steve Hochman writes the Around The World music column for AOL's Spinner.com and is the pop music critic for KQED Radio's "The California Report Magazine." He has covered the music world for 25 years for the Los Angeles Times and many other publications.)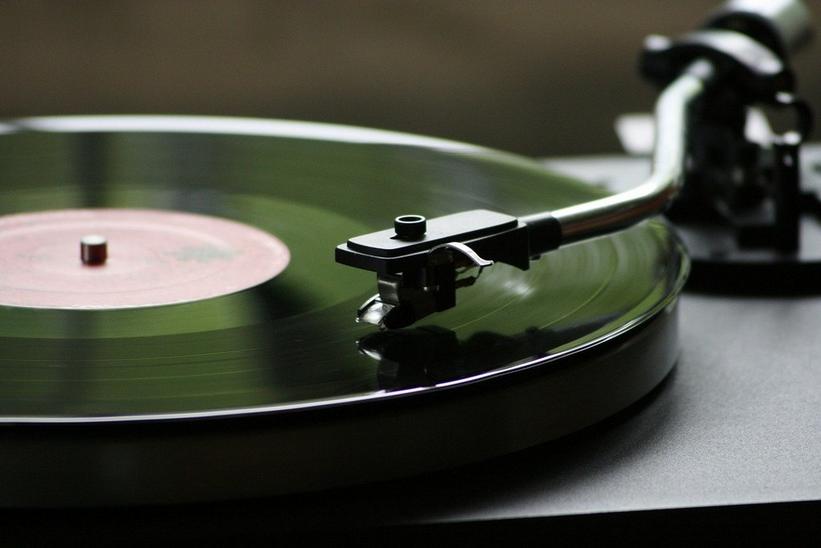 news
HD Vinyl Albums Expected As Early As Summer 2019
Learn why the warmth of vinyl nostalgia bottled with the latest in high-definition audio technology is one step closer to reality
GRAMMYs
/
Apr 13, 2018 - 09:46 pm
Music lovers: Imagine the traditional warmth of vinyl augmented by higher audio fidelity and the latest technology? That's essentially the promise that "high-definition vinyl" would bring to your turntable, and it is one step closer to being delivered soon.
Dating back to 2016, a European patent filing summarized a manner of manufacturing LP records that the inventors claimed would reflect louder volume, higher frequency response, longer playing times, and overall higher audio fidelity. According to Pitchfork, Austrian-based startup Rebeat Innovation has received $4.8 million in funding to further research and development, which could bring the first HD Vinyl LPs to stores by 2019.
What exactly is HD Vinyl? Audio is converted from a high-resolution file into a 3-D topographic stamper, which is the master plate used for stamping the grooves into the vinyl. From there, the map is engraved onto a ceramic plate and the record is pressed using ceramic materials, which "ensures that there's no quality difference between the first and last copy produced."
Rebeat Innovation founder/CEO Günter Loibl describes this method as allowing for records to be made more precisely and with less loss of audio information. The results are vinyl LPs that will boast up to 30 percent more playing time, 30 percent more amplitude, and sound reproduction that is both improved and faithful to the recording.
As for next steps, Rebeat Innovation is plotting the production of test stampers for five initial pressing plants and planning to debut the technology this fall.

"Our goal is to officially present our test stampers at the Making Vinyl conference in October [in Detroit]," said Loibl, referring to the vinyl trade event held in Detroit. "It will take another eight months to do all the fine adjustments. So by summer 2019 we shall see the first HD vinyls in the stores."
With vinyl sales reaching 14.32 million in the U.S. in 2017, a 9 percent year-over-year rise, — HD Vinyl could help bolster the format's continued sales climb.
As for more good news for vinyl lovers? HD Vinyl is 100 percent "backward" compatible, meaning they can be played any record player while still delivering on its promise of improved sonics.
Catching Up On Music News Powered By The Recording Academy Just Got Easier. Have A Google Home Device? "Talk To GRAMMYs"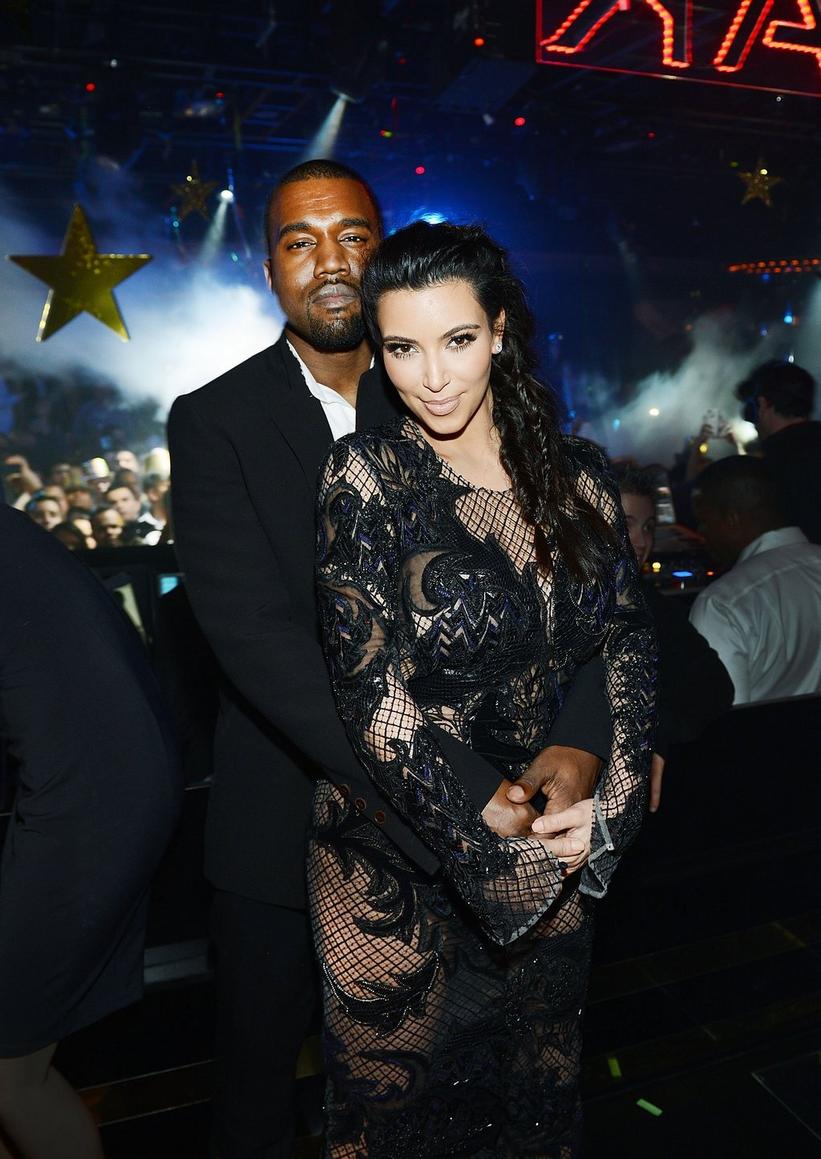 Kanye West and Kim Kardashian
Photo: Denise Truscello/WireImage.com
news
FYI/TMI: Is Kimye Ready For North West?
Kanye West and Kim Kardashian rumored to name baby North; GRAMMY winners to release 2013 Record Store Day exclusives
GRAMMYs
/
Dec 3, 2014 - 05:06 am
(In an effort to keep you fully informed, and fully entertained, below we present today's FYI and TMI — news you need and news that's, well, sometimes needless….)
FYI …
Record Store Day Releases Announced, Track Sales Down In 2013
GRAMMY winners the Black Keys, Bon Jovi, David Bowie, Bob Dylan, Paul McCartney, Mumford & Sons, and the Roots are among the more than 200 artists set to release Record Store Day exclusives on April 20. The list features a combination of new music, EPs, vinyl singles, and rarities. Record Store Day Ambassador Jack White will release a 10th anniversary double-vinyl edition of the White Stripes' GRAMMY-winning album, 2003's Elephant. In related music retail news, track sales are down 2 percent through March 15, according to Nielsen SoundScan. Digital albums have shown a 9 percent year-over-year increase through March 15.
TMI …
Kimye Goes North West
Inspired by his last name and a geographical direction, GRAMMY winner Kanye West and girlfriend Kim Kardashian are rumored to be in love with the name North for their expected child. That would make the child's name North West, arguably the most buzzed-about baby name since Blue Ivy, the daughter of Beyoncé and Jay-Z. No word yet on North's middle name but our suggestion is Mr. West's nickname, Yeezy.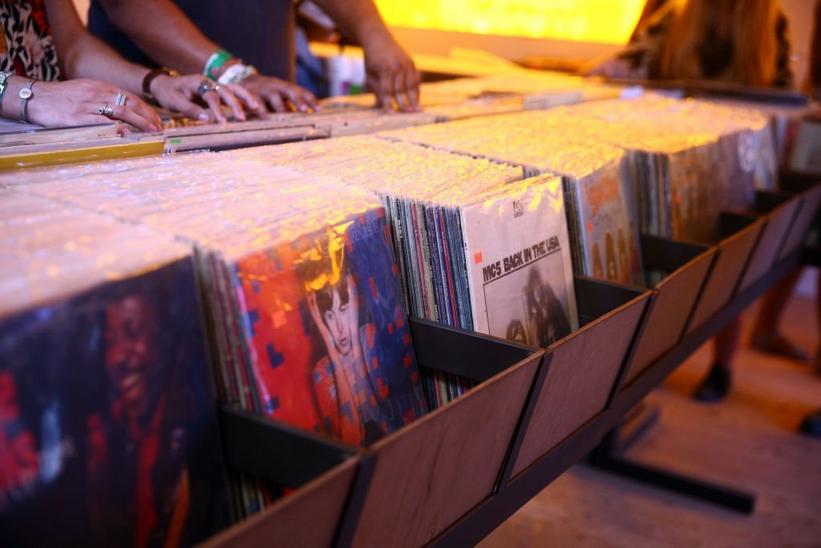 Photo: Rich Fury/Getty Images
news
Indie Stores, Bruce Springsteen Score With Record Store Day 2018
Record-setting sales for RSD 2018 provide an indication that vinyl is still growing and that consumers appreciate the friendly indie retail experience
GRAMMYs
/
May 2, 2018 - 01:26 am
This past 11th annual Record Store Day 2018 on April 21 was set up to be a vinyl celebration like no other and sales did not disappoint.
Nielsen Music statistics for the week ending April 26 showed the best news since Christmas for vinyl, with sales of 733,000 albums. Led by Bruce Springsteen's red-vinyl-pressed Greatest Hits, this was the best-selling Record Store Day ever and the third-best week for vinyl ever since Nielsen started tracking in 1991, with the exceptions of Christmastime 2015 and 2017.
After Springsteen, best-selling vinyl albums were David Bowie's Welcome To The Blackout (Live London '78) and Neil Young's Tonight's The Night Live At The Roxy. At indie stores. the leading exclusive single was Led Zeppelin's 7-inch "Friends"/"Rock And Roll" single, followed by Bowie's "Let's Dance (Full Length Demo)."
In the lead up to this year's festivities, we interviewed record stores Academy Records, Good Records NYC and Rough Trade in New York. The consensus was that customers enjoy what has become an old-fashioned kind of retail shopping — listening, talking, hanging out, and sharing suggestions.
Indeed, this was the best sales week ever for the indie sector, moving 580,000 albums of the 733,000 total. With an overall increase of 23 percent over RSD 2017, one out of four albums for the week were sold at independent retailers. While retail vinyl is only one segment of music distribution, it looks like shopping for music the old-fashioned way is also a growing new experience.
Catching Up On Music News Powered By The Recording Academy Just Got Easier. Have A Google Home Device? "Talk To GRAMMYs"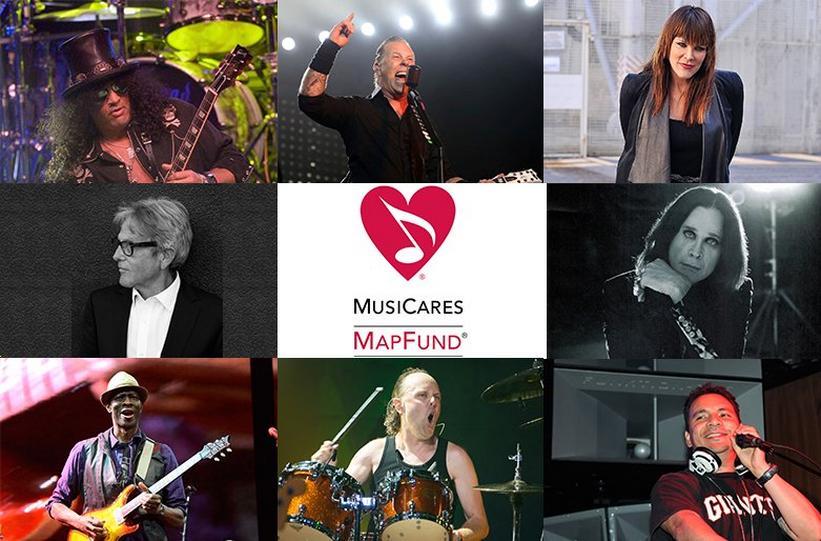 Catch our live-blog of the MusiCares MAP Fund benefit concert on May 12
news
What Is The MusiCares MAP Fund?
GRAMMYs
/
Dec 3, 2014 - 04:22 am
It's no secret that addiction and substance abuse have plagued the music industry for decades. Through the MusiCares MAP Fund, The Recording Academy is able to provide members of the music community access to addiction recovery treatment regardless of their financial situation. But none of this would be possible without support from music fans and the music community. In our latest installment of Ask The GRAMMYs, we detail our upcoming rocking benefit for the MusiCares MAP Fund, and how you can get involved.
I was shopping for concert tickets online and saw tickets for the MusiCares MAP Fund benefit concert with Ozzy and Slash, and more performers. It looks pretty cool, but I've never heard of it. Is it connected to the GRAMMYs? What's it all about?
Nathan S.
Los Angeles
Hi, Nathan. We're impressed with your rock awareness, and what you see is correct. On May 12 at Club Nokia in Los Angeles, MusiCares (a health and human services organization established by The Recording Academy more than 20 years ago) will host the 10th anniversary MusiCares MAP Fund benefit concert.
Ozzy Osbourne will be presented with the Stevie Ray Vaughan Award by GRAMMY winner Joe Walsh for his dedication and support of the MusiCares MAP Fund and for his commitment to helping others with the addiction recovery process. The evening will also honor owner and CEO of the Village studios Jeff Greenberg with MusiCares' From the Heart Award for his unconditional friendship and dedication to the mission and goals of the organization. Greenberg will receive his award from comedian and "The Late Late Show" host Craig Ferguson. Featured performers will include GRAMMY winners Metallica, Keb' Mo' and Osbourne with special guest Slash, among others.
All proceeds from the concert will benefit the MusiCares MAP Fund, which provides members of the music community access to addiction recovery treatment regardless of their financial situation.
Last we heard, general admission tickets have sold out. But don't worry, GRAMMY.com will be onsite to provide you with up-to-the-minute updates via our official MusiCares MAP Fund benefit concert live-blog. Keep checking GRAMMY.com for more information.
(Have a specific GRAMMY Awards process question? Need the 411 on The Recording Academy's advocacy-related work in Washington, D. C.? Are you curious about MusiCares or the GRAMMY Foundation? Ask The GRAMMYs is your opportunity. Send your burning GRAMMY-related question via email to askthegrammys@grammy.com.)