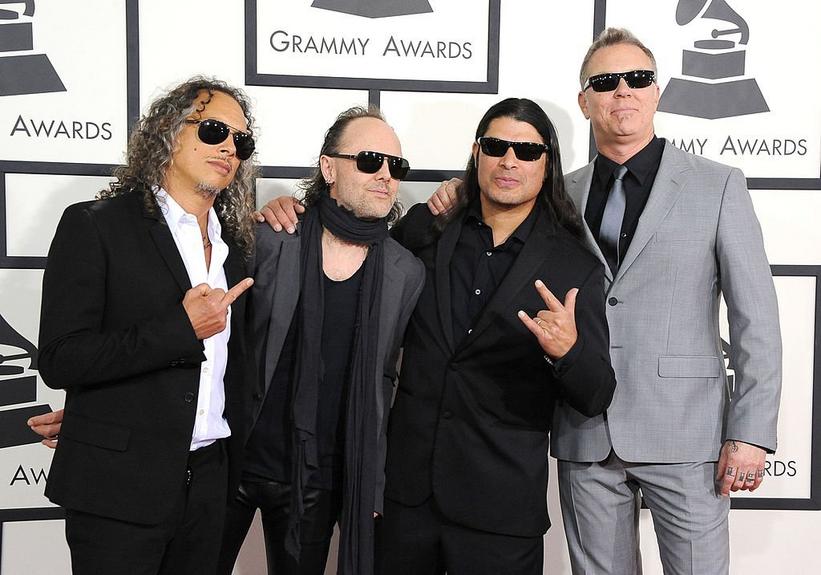 Photo by Steve Granitz/WireImage
news
Metallica Announce Second Annual All Within My Hands 'Day of Service'
The follow-up to last year's event, which asks fans to volunteer at food banks, will take place on May 22
GRAMMYs
/
Apr 10, 2019 - 02:32 am
Last year, Metallica launched the first annual "Day Of Service" in conjunction with Feeding America and their All Within My Hands Foundation, which seeks to create "sustainable communities by supporting workforce education, the fight against hunger, and other critical local services."
This year, the GRAMMY-winning metal gods have announced the second annual "Day Of Service," which invites volunteers to visit food banks in communities that, according to Billboard, have supported the group on the North American dates of their now almost three-year WorldWired Tour. This year's "Day Of Service" is slated to happen on May 22.
According to a statement, more than 50 food banks have opted to participate in this year's "Day Of Service"; each registered volunteer will receive a commemorative All Within My Hands T-shirt.
Since no walk-ins will be accepted day-of, the band asks potential volunteers to sign up here or here.
Metallica originally formed the All Within My Hands in Feb. 2017. With a mission of giving back to the band's fans, All Within My Hands donates to a variety of charities, including local food banks. In 2018, the foundation launched the Metallica Scholars initiative to support workforce education.
Speaking to Rolling Stone about meeting a fan who'd been helping out at food banks for more than 10 years, Metallica drummer Lars Ulrich said, "To me, he exemplifies what this whole effort is about: giving our fans a music-based platform to connect with other members of their local community around volunteer work, giving back and sharing in the good fortune I mentioned earlier … the good fortune and incredible opportunities that most of us in the Western world take for granted."
(L-R) James Hetfield, Kirk Hammett of Metallica performing in 2003
Photo: Brian Rasic/Getty Images
list
5 Revealing Facts About Metallica's 'St. Anger': 20 Years On, The Controversial Album Sounds Better Than You Think
Get beyond the snark about the snare sound and the lack of guitar solos, and 'St. Anger' sounds like a refreshing mid-career reset for the heavy metal lifers.
GRAMMYs
/
Jun 5, 2023 - 06:43 pm
Since its release in 2003, there's been a consistent (pingy) drumbeat of chatter about Metallica's St. Anger.
The quixotic snare sound — which bassist and producer Bob Rock claimed he spent about 15 minutes crafting — is central to the St. Anger discourse; a Google search for "metallica st. anger snare" yields about 661,000 results. As for why the eight-time GRAMMY winners uncharacteristically nixed guitar solos? That question yields millions of hits.
Then there's the 2004 documentary Some Kind of Monster, one of the most uncomfortably revealing portraits of a rock band engulfed in a mid-life crisis. Memorable moments abound, but for one scene alone — drummer Lars Ulrich's Middle Earth-looking dad hearing a take, and telling his son to "delete that" — the film is a must-watch.
Given the controversial status St. Anger has accrued, it may seem like the metal community may want to, well, delete it. While your mileage may vary, this hotly debated album shouldn't be consigned to any internet-snark dustbin.
Listening with the benefit of temporal distance, tracks like "Frantic," "Some Kind of Monster" and "The Unnamed Feeling" sound raw and alive — perhaps of their time, given its adjacency to then-ascendant nü metal. Ultimately, they conjure the sensation of a reset, rather than a capitulation to trends. 
Today, St. Anger seems to hew less to the reputation it's engineered, and more to Rock's characterization of the thing: "To me, this album sounds like four guys in a garage getting together and writing rock songs. There was really no time to get amazing performances out of James. We liked the raw performances… we just did it, boom, and that was it."
To mark the 20th anniversary of St. Anger, here are five facts about the album.
Metallica Started The Album In An Old Army Barracks
By 2001, Metallica hadn't released an album of original material in almost five years, since 1997's Reload (a follow-up to the previous year's Load). 
While these sessions ground to a halt due to personal upheaval and frontman James Hetfield heading to rehab — and the band later continued work at a new studio in San Rafael, California — this no-nonsense setting befitted the unvarnished quality of the music.
Bassist Jason Newsted Left The Band Early On
Newsted was the second bassist for Metallica, after the tragic 1986 death of Cliff Burton. Newsted's departure came the month they began St. Anger, which destabilized progress on the album.
"Due to private and personal reasons, and the physical damage that I have done to myself over the years while playing the music that I love, I must step away from the band," Newsted said in a statement. "This is the most difficult decision of my life, made in the best interest of my family, myself, and the continued growth of Metallica."
St. Anger

Represented Intense Catharsis For James Hetfield
As Hetfield put it, St. Anger was a valve for which to release intense psychological pressure.
"There's a lot of passion in this. There's two years of condensed emotion in this," he told Metal Edge magazine at the time. "We've gone through a lot of personal changes, struggles, epiphanies, it's deep. It's so deep lyrically and musically… It's so hard to talk about, you really need to hear it."
Accordingly, St. Anger is nothing if not visceral — and two decades haven't sanded off those sharp edges.
As

St. Anger

's Recording Wound Down, Robert Trujillo Joined On Bass
While producer Bob Rock recorded the bass parts on St. Anger, his instrumental involvement 
would prove to be transitional; Robert Trujillo joined Metallica on bass in February 2001. 
Having played on all ensuing Metallica albums, 2008's Death Magnetic, 2016's Hardwired… to Self Destruct and 2023's 72 Seasons — all of which were warmly received by critics — Trujillo is now the longest-serving bassist in Metallica.
Critics Were Polarized, Then As With Now
While some contemporaneous critics knocked St. Anger as everything from "an ungodly mess" to having "underwent more processing than cat food," not everyone characterized it that way. 
Allmusic called it a "punishing, unflinching document of internal struggle"; Rolling Stone said "there's an authenticity to St. Anger's fury that none of the band's rap-metal followers can touch."
As for the band themselves, they've seemingly come to accept St. Anger, warts and all. 
"There are things I would like to change on some of the records, but it gives them so much character that you can't change them," Hetfield said in 2017. "St. Anger could use a little less tin snare drum, but those things are what make those records part of our history."
Unflinching, daring and unpolished, St. Anger is one of the ultimate "line in the sand" albums in heavy music history. Whatever your perception of this ugly-duckling entry is, take its 20-year anniversary as an opportunity to revisit its fury with fresh ears.
How Many GRAMMYs Have Metallica Won? Ahead Of New Album '72 Seasons': 6 Questions Answered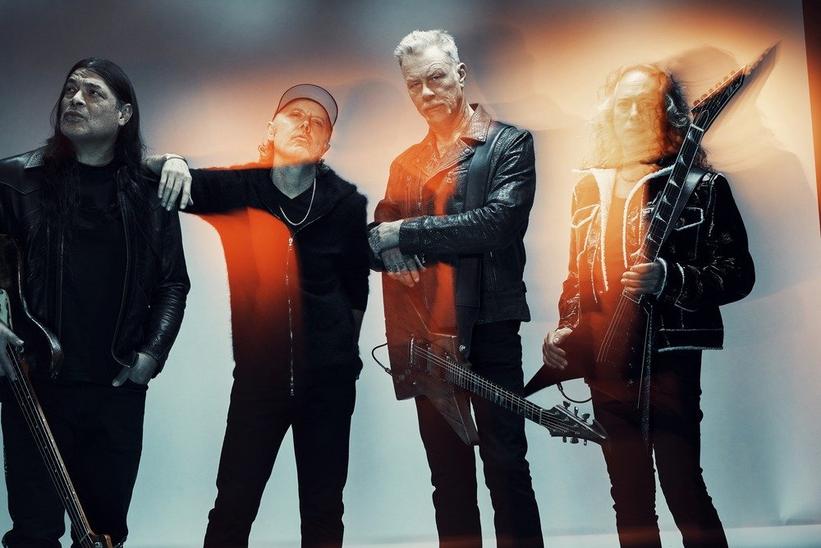 Metallica (L-R): Robert Trujillo, Lars Ulrich, James Hetfield, Kirk Hammett
list
How Many GRAMMYs Have Metallica Won? Ahead Of New Album '72 Seasons': 6 Questions Answered
On their new album, '72 Seasons,' Metallica take inventory of their past while forging ahead into the future. Here are answers to six questions about the eight-time GRAMMY-winning band.
GRAMMYs
/
Apr 13, 2023 - 06:23 pm
On their new album, 72 Seasons, Metallica circle the wagons and consolidate all the elements that make them… well, Metallica. Which, granted, many bands tend to do when they cross the four-decade mark. But for these eight-time GRAMMY winners, it's entirely a new look.
"There was this strange thing for many years in our band," drummer and co-founder Lars Ulrich told The New York Times in 2016. "We were in such a hurry to move forward, and in such a hurry to move away from certain perceptions about us, that we kept chasing something that we didn't really need to chase."
Much like its predecessors, 2008's Death Magnetic and 2016's Hardwired… To Self Destruct, 72 Seasons eschews any detours they've taken in the past. The songs sprawl; guitar solos are firmly back; there are no NWOBHM covers or symphonic collaborations. The title is backward-looking in a different way — a reference to the years between birth and age 18. And the ouroboros nature of 72 Seasons applies to the lyrics, too.
"Full speed or nothin'," founding vocalist and guitarist James Hetfield barks in lead single "Lux Æterna," a direct quote of "Motorbreath" from their 1983 debut album, Kill 'Em All. In "Room or Mirrors," he quotes "broken, beat and scarred" from Death Magnetic. Those 42 years together — approximately 168 seasons? — are clearly on these four men's minds.
With 72 Seasons tantalizingly close to release, take a look back, just as Metallica do on record — and find answers to six key facts about the world-dominating thrash titans.
Who Used To Be In Metallica?
While Metallica has maintained its current lineup since 2003 — Hetfield, Ulrich, guitarist Kirk Hammett and bassist Robert Trujillo — the band has some famous former members.
The spirit of their early bassist, Cliff Burton, hangs heavy in the rearview; he died in a touring van accident in 1986, right as they hit a zenith with 1986's Master of Puppets.
In a spat that honestly deserves its own article, Megadeth leader Dave Mustaine was the original lead guitarist of Metallica; he's credited as a songwriter on a handful of songs on Kill 'Em All and their celebrated second album, 1984's Ride the Lightning.
Other past members include their original bassist, Ron McGovney, and mid-period bassist, Jason Newsted, who left the band in 2001 to focus on his band Echobrain.
How Many Albums Has Metallica Sold?
Metallica have sold more than 125 million albums worldwide — 67 million of those stateside.
At press time, their best-selling album is 1991's Metallica, or The Black Album — the one with indelible hits from "Enter Sandman" to "Nothing Else Matters" — with a whopping 17 million sales.
How Many GRAMMYs Has Metallica Won?
As of 2023, Metallica have won eight GRAMMYs and been nominated for 18.
In order, those eight wins were for… 
Best Rock Performance ("One")

Best Metal Performance ("Stone Cold Crazy")
Best Rock Performance (Metallica*)
Best Metal Performance ("Better Than You")

Best Hard Rock Performance ("Whiskey in the Jar")

Best Rock Instrumental Performance ("The Call Of Ktulu")

Best Metal Performance ("St. Anger"),

Best Metal Performance ("My Apocalypse")

Check out Metallica's complete GRAMMY stats here!
What Is Metallica's Biggest Song?
By the standard of the Billboard Hot 100, Metallica's most successful song was "Until It Sleeps" from their 1996 album Load — their sole top 10 hit, which peaked at No. 10 and remained on the chart for 20 weeks.
(As per the Billboard 200, their most successful album is The Black Album, which peaked at No. 1, hung there for four weeks, and spent an incredible 706 weeks on the chart.)
Song-wise, though, a look at more granular Billboard categories provides a clearer picture. 
"Master of Puppets" is their biggest track in the Hot Rock & Alternative Songs chart; it peaked at No. 5. It's also their most successful song in the Rock Digital Song Sales chart, at No. 2; Hot Rock Songs chart, also at No. 2; Hard Rock Digital Song Sales chart, Hard Rock Streaming Songs, and Hot Hard Rock Songs, all at No. 1; and Rock Streaming Songs chart, at No. 3.
As per the Rock & Alternative Airplay chart, "Lux Æterna" leads the pack, with a peak position of No. 2. And while one can go much deeper into the Billboard archives for further information — and factor in non-stateside success — it's clear "Master of Puppets" comes out on top.
Does Metallica Have A New Album?
They certainly do. As stated, 72 Seasons will be released April 14 via Blackened Recordings. It was teased via four singles: "Lux Æterna," "Screaming Suicide," "If Darkness Had a Son," and the title track.
Early reviews are strong: Rolling Stone called it "some of the deepest, hardest-hitting music of their career." Opined Consequence: "It's the sound of a band having fun, laying into a ton of riffs and embracing its own legacy as metal masters."
When Is Metallica Going On Tour?
Metallica will embark on the M72 world tour starting in late April. The trek, which stretches in 2024, will bring the foursome across Europe and North America. 
Check here for their complete tour dates, and be sure to take a dive into 72 Seasons — the perfect impetus to consider the metal heroes' past, present and exceedingly bright future.
How 1986 Became The Epicenter Of A New Metal Sound: Metallica, Megadeth, Slayer, And The Albums That Defined Thrash Metal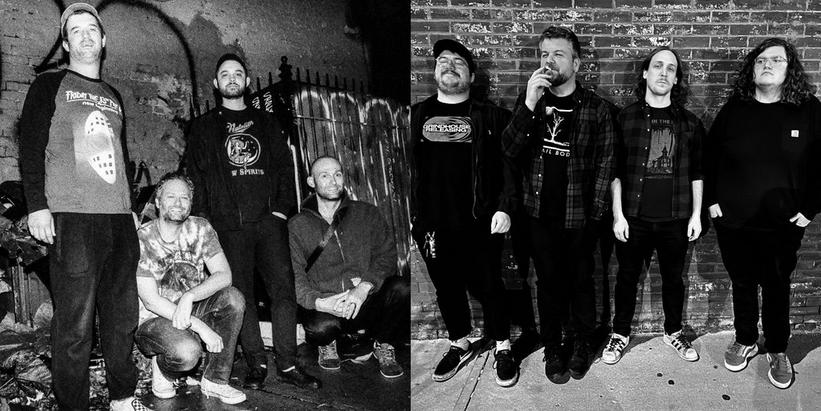 (L-R) Chat Pile, Nerver
Photos (L-R): Max VanTilburg, Juliette Boulay
interview
Chat Pile And Nerver On New Split EP 'Brothers In Christ,' The I-35 Heavy Music Scene & Metallica YouTube Rabbit Holes
In recent years, a seam of brilliant heavy music has opened up in the central United States. And Chat Pile and Nerver's new split EP, 'Brothers in Christ,' is a monument to this ever-swelling artistic community.
GRAMMYs
/
Apr 12, 2023 - 09:16 pm
Chat Pile know they're odd ducks in their hometown of Oklahoma City. "It's either you're hardcore or you're shoegaze," the ascendant sludge-metal or noise-rock or whatever-you-call-it band's bassist, Stin, rues to GRAMMY.com. "Those seem to be kind of the two main options around here."
But it goes several steps beyond that. From singer Raygun Busch's idiosyncratic bark to their themes of mundane horrors to the sheer volume of memes swirling around their 2022 debut, God's Country, there's hardly an analog for this band anywhere.
On the other hand, Nerver are right at home in Kansas City, five hours northeast. The bludgeoning punk band, who released their whiplash second album, CASH, in 2022, are part of a rising tide of dark, heavy weirdos in KC. They're flourishing in many pockets up and down the I-35, which stretches from Duluth, Minnesota to the border between Texas and Mexico.
Birds of a feather: when Nerver played their first-ever Oklahoma City gig, Chat Pile were on the bill, and they became fast friends. Now, this nexus between two potent bands, regions and scenes — in what some dismiss as "flyover country" — is marked with a musical document.
Chat Pile and Nerver are out with a new split EP, Brothers in Christ, out Apr. 14 — a split-label release between Austin label Reptilian Records and Kansas City–based The Ghost is Clear Records. While Chat Pile's two offerings, "King" and "Cut," home in on their odder, mellower side, you'll rarely hear Nerver as heavy as they are on "Kicks in the Sky" and "The Nerve."
Ahead of the EP's release, Stin and Nerver's bassist/vocalist and drummer — Evan Little and Mathew Shanahan — sat down with GRAMMY.com about how Brothers in Christ came to be, the emerging heavy scene in the central United States and their mutual love of Metallica deconstructions on YouTube.
This interview has been edited for clarity.
How did your two bands arrive in each other's lives?
Stin: It's kind of a funny story. I think the third show that Chat Pile ever played was this warehouse show in Oklahoma City. We were supposed to play; there were a couple of local punk bands. But then Nerver were on the bill, and so was Bummer. But Bummer bailed and Nerver ended up showing up, and we just met at the show and hit it off immediately, and we've been good friends ever since.
Evan Little: I think the I-35, as it usually is, was down to one lane, full of construction. We showed up to Oklahoma City super late and loaded in, and Chat Pile had just started playing. We watched them, and I don't think I had ever played Oklahoma City before. I don't want to speak for everybody, but…
Mathew Shanahan: It had been years for me.
Evan: We watched Chat Pile and were like, "Hey guys, that was a great set. Can we stay at any of your houses?" [Laughs.]
Stin: We've just kind of stayed in touch ever since then. We went on a mini-tour with Chat Pile, Nerver, and a band called Meth from Chicago, and we played five or six dates through the Midwest.
Evan: It was in May of '22, because we had originally planned on doing it in 2020, and then COVID shut everything down. Also, Minneapolis was in an uproar when we were originally supposed to play…
Stin: Oh, that's right.
Evan: George Floyd got killed. It was like COVID shut everything down, George Floyd got killed and my dad died all on the same weekend. So, s— just hit the fan, and everything went away. So we were like, "OK, maybe we'll try again in two years." And then it ended up eventually working out.
Stin: That was a really fun tour, too. That was a good time. And the funny thing, too, is I think from the get-go, we had talked about doing a split together. It just took a really long time for us to get our s— together to make it happen.
Evan: We were eager to do a split, and we met those guys around the same time. We lived close enough to each other to where collaborating would be pretty easy.
Stin: That's a good point, too. The proximity is kind of a big thing, because Chat Pile's based in Oklahoma City and Nerver is based in Kansas City, which is about five hours away. You guys have definitely traveled down a couple of times to come hang out with us. 
And music aside, we've come up there and hung out a few times with you guys at different points, too. So, I think that helps. The collaborative part of it has been really cool and fun.
Evan: Even in the middle of the country, five hours is close.
Tell me a little bit about the OKC and Kansas City heavy-music scenes and where your bands fit into those puzzles.
Stin: In Oklahoma City, the heavy scene has changed so much over the years. It used to be relegated to more DIY, Maximum Rocknroll-style hardcore bands.
But after COVID shut everything down, this new hardcore scene has emerged across the globe that has more of what I would call a beatdown quality — that type of hardcore, and it's all people who are extremely young. But it's cool, because the scene is sort of exploding right now with that type of activity. You're seeing an explosion of bands coming around.
As far as more experimental, noisy stuff goes, there's not really a ton of that. I know people will call Chat Pile "noise rock" or whatever, and we're kind of the only band like that in Oklahoma City. It's either you're hardcore or you're shoegaze. Those seem to be kind of the two main options around here.
Kansas City, on the other hand, seems like it's got a lot going on. In fact, I would say it's one of the more exciting music cities in the country right now, at least with the type of stuff that Chat Pile and Nerver are doing.
Evan: There are a lot of really cool bands happening in Kansas City. A lot more noise-rock stuff. Like Austin was saying, we met Chat Pile when we were on tour with Bummer, and there seems to be a scene for loud, sort of darker bands happening right now. So, that's been great for us and allowed us to tour easier and play shows with similar bands easier.
Stin: Matthew, you turned me on to Nightosphere, and they only have a couple of songs out, but man — I can't get enough of those. They just put out a three-way split with Flooding and Abandoncy. One of those bands is from Lawrence [Kansas], right?
Evan: Flooding is from Lawrence.
Stin: Yeah, but still, it's that region. You guys have an embarrassment of riches in terms of all that stuff. Then, I would also say the Denton area of Texas has that kind of stuff going on as well, so it's sort of weird. I guess Kansas City's not really I-35, but…
Evan: Oh, it is.
Stin: OK, it is: cool. So, that switch of I-35 from North Texas to Kansas City: there's a little scene going on of cool, noisy bands right now.
Evan: Yeah, from Austin and Minneapolis. There's a bunch of good bands existing around one interstate. It's good. It's convenient.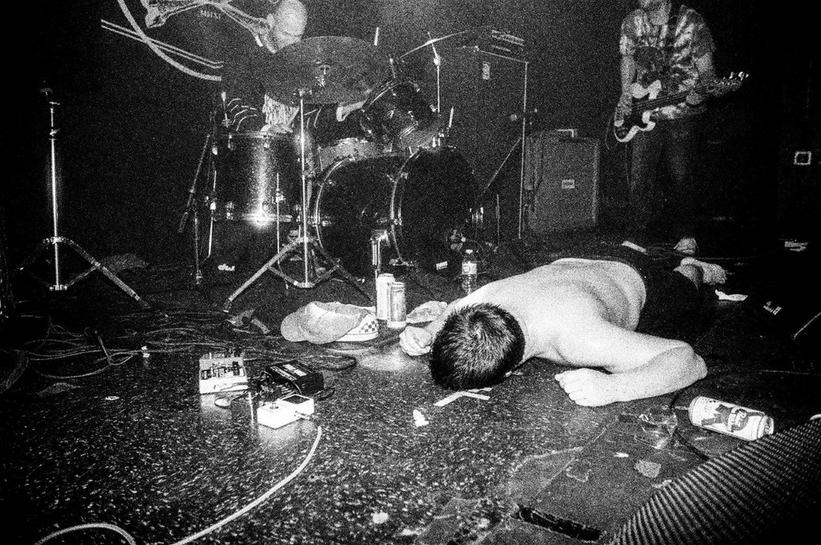 Chat Pile. Photo: Juliette Boulay
Tell me about the tunes themselves — how they came to be, how you curated them to swim in the same bowl.
Stin: On the Chat Pile side of things, we wrote and recorded these songs after God's Country came out. So, the flavor of it is a little bit different than what is on the album. We're leaning more into the indie-rock side of our taste a little bit. We thought this EP would be a good place to put that type of stuff.
The other thing that was kind of crazy about it: like I was saying, it took us a long time to get our act together to put this out. Instrumentally, our songs were written for months and months.
It took forever to do vocals because our singer's partner has some health issues, so he wasn't even living in the state with us at the time. So, we had to wait a long time for him to contribute his part of the music.
Evan: For at least one of the songs on the split, we tried to include it on our 2022 album. We were completely fried from recording and decided, "Let's not push this; let's save the song for another day." And then, Chat Pile was like, "Go ahead, we're ready. We have songs written; we're good to go."
The other song, we wrote specifically knowing that it would end up on a split with them. I know we usually write as we write, and it's never that we write a song for a specific release that we're going to know all the context of beforehand.
We went and recorded both songs at the bass player of Shiner, Paul Malinowski's studio in the suburbs here. Zack Alvey engineered and mixed it. It was a very easy and pleasant recording experience, and the songs turned out good. I think both sides of the split ended up complementing each other really well. It all flows well together, I think.
Stin: I feel the same way. And what's funny, too, is I feel like it's you guys at your heaviest, and us at our most mellow.
Evan: There's a slow song and a fast song, and then two of you guys' weirdest songs.
Stin: We deliberately wanted to do the record with Reptilian and The Ghost is Clear. Reptilian is based out of Austin, and The Ghost is Clear is based out of Kansas City. We wanted to do the record through them to tie everything back to the locale — the regionality of the whole project.
Stin, how has it felt being memed into oblivion?
Stin: It's really flattering, honestly. Because when we started the band, we never in a million years imagined that people would care about the music we're making. That's been the story of our lives up until this point.
So, my thought is: if anybody's thinking about us, whether they hate our band or think we're funny enough to meme or anything, all that's cool with me, because I would rather have people pay attention to us. They say the opposite of love isn't hate.
It's complimentary, too. Some of the memes are really, really funny. Those are the ones that we tend to share. We've obviously struck a chord in some way with people, and it's resonating, and that feels good.
Jonathan Tuite [The Flenser founder/owner, who released God's Country] seems to have this weird knack for grabbing people's imaginations.
Stin: His tastes are incredibly eclectic, and he has a way of finding bands that live in this Venn diagram. They all circulate into or converge into this depressive, sad sort of world.
But it's tongue-in-cheek at the same time.
Stin: Well, I think you can be depressed and sad and angry and still have a sense of humor. Some bands on the label are funnier than others, but I do think that despite the kind of depressive nature of everything, he does have a tendency to pick bands that have some self-awareness and can joke around about that kind of stuff.
As underground musicians, what role do the GRAMMYs play in your lives?
Stin: I would say none at all, other than I am very much aware that people were mad that Metallica lost to Jethro Tull for The Black Album.
Stin: OK, this is going to derail the question a little bit. But I absolutely love The Black Album, and sometimes I forget how much that album is imprinted on my psyche.
I've been reminded of it lately, because I've been going down this YouTube rabbit hole. There are people whose entire thing is they cover Metallica songs, but they do it in the style [of another album]. So, they'll take a song from Ride the Lightning and play it as if it were on …And Justice for All. They copy the style, the production elements… all of it.
There's this guy — I can't remember his name — but he's genius-level at doing this. The best ones are all the songs that get transcribed and played as if they're on The Black Album. I'm like, "Damn, maybe The Black Album is actually my favorite Metallica album," weirdly enough.
Evan: I've been in a YouTube rabbit hole of people replacing every snare in every Metallica song with the St. Anger snare. I think that's my favorite one. They should win a GRAMMY for that — the people who put that s— together.
Mathew: It was cool that Body Count won one not that long ago. That seemed cool. It was the same year that Power Trip was up for it right after [vocalist] Riley [Gale] died, and a lot of people were up in arms that Power Trip didn't win, which they should have. But Body Count still f—s.
Evan: I have no idea what's going on at the GRAMMYs — who wins or who's nominated. I can say confidently that I've never thought about it at all.
You're thinking about it now, buddy.
Evan: Exactly. When Stin told us this interview was happening, he said, "Get your tuxedos ready, boys."
Stin: It's funny, too, because whenever any type of awards show happens, my Twitter feed becomes insufferable for a day or two. It's like, look: awards can be fun. I'm sure it's fun to go, also, and put on your outfit. Look, my dad knowing that I'm doing an interview right now with the GRAMMYs — he can die happy now. So, there are many advantages to it.
Evan: I'm glad that Brendan Fraser won something. I don't know if they're all related, or what.
Where are your bands at in your trajectories? What are you primed to do next?
Stin: Chat Pile is working on a second album right now. It's slowly coming together. But in the meantime, we're gearing up to be way more of a road band than we've ever been before.
In fact, a week from today, we leave to go play Roadburn in the Netherlands, then we're going to play Roskilde in Denmark. Then, we have a weeklong tour in the UK. And then, we're going to embark on two coastal tours, which have not been announced whatsoever.
We're basically gearing up to do lots and lots of touring, and then hopefully, we'll have a second record out. We'll say the goal is by next year, but time will tell what happens with that.
Mathew: We're going on tour next month for 25 days.
Evan: If you live on the West Coast, come see Nerver.
Real quick, before we go: is there anyone you're excited about in your scene or an adjacent one that you'd like to shout out?
Stin: Hell and Primitive Man, to me, are making some of the most exciting music out there right now. I love Jesus Piece. I think they're amazing. I could actually see them being GRAMMY winners in a couple of years.
Evan: OK, I've got a really good answer. This band Missouri Executive Order 44 that just started here. Their whole thing is they play the heaviest music you've ever heard while dressed like bicycle missionaries. All the songs are about being Mormon, and it's a lot of fun to watch. Max makes everybody pray. It's a lot of fun. You guys should definitely give that band a GRAMMY.
Like Turnstile And Code Orange? 10 More Bands Expanding The Boundaries Of Hardcore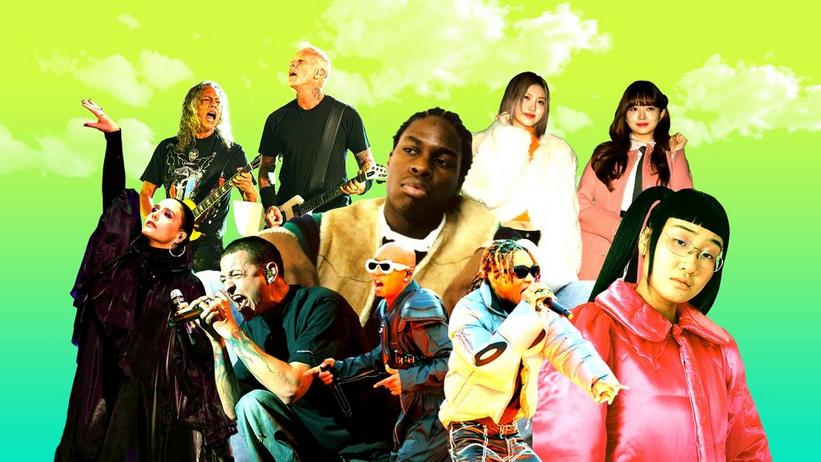 (Clockwise from left) Jessie Ware, Metallica's Kirk Hammett and James Hetfield, Daniel Caesar, IVE, Yaeji, Rae Sremmurd, Chester Bennington of Linkin Park
Gareth Cattermole/Getty Images for BFC;  Jeff Kravitz/Getty Images for P+ and MTV; Cassanova Cabrera; Jung Yeon/JAFP via Getty Images; Dasom Han; Ethan Miller/Getty Images; Kevin Mazur/WireImage
list
15 Must-Hear New Albums Out This Month: Metallica, Yaeji, Daniel Caesar, Hunter Hayes & More
From highly-anticipated returns to can't-miss debut releases, check out 15 albums dropping this April from Linkin Park, IVE, Rae Sremmurd, and many more.
GRAMMYs
/
Apr 3, 2023 - 01:36 pm
Between the annual New Orleans Jazz & Heritage Festival, Coachella and a release calendar stacked with fresh debuts and long-awaited returns, this April makes for an exciting time for music lovers.
This month sees Everything but the Girl's first album since 1999, as well as milestone freshman releases from IVE and Yaeji. Hard rock legends Metallica blend punk with heavy metal on 72 Seasons, and Illenium introduces a host of rock subgenres to his EDM catalog. Y La Bamba and Daniel Caesar bear the honesty and confusion of heartbreak, while Bebe Rexha and NF look toward a more promising future. 
From country jams to pop divas, GRAMMY.com delivers a guide to 15 essential albums dropping in April 2023.
Daniel Caesar -
NEVER ENOUGH
Release date: April 7
With three critically acclaimed albums and a hit collaboration with Justin Bieber under his belt, a soulful rendition of Kanye West's "Street Lights" and his own passionate love ballads, Daniel Caesar has solidified his place as one of R&B's key players. 
Caesar's first studio album in nearly four years, NEVER ENOUGH, features introspective heartbreak singles "Do You Like Me?" and "Let Me Go," each of which meld blues and R&B. Caesar will commence the Almost Enough: The Intimate Sessions tour through North America on April 6 to highlight the new music.
Yaeji -
With A Hammer
Release date: April 7
After a successful slew of festival appearances, mixtapes, EPs and even a merch drop on Animal Crossing, house DJ Yaeji is opening a new chapter of childlike exuberance. Her debut studio album, With A Hammer, features collaborations with fellow rising EDM artists Loraine James, Enayet, K Wata, and Nourished By Time and will dovetail with a North American tour later this month.
In an interview with Pitchfork, Yaeji explained that she curated a 111-page booklet to contextualize the release. The With A Hammer booklet details a fictional journey tinged with magical wizard dogs and conscious hammers, which she loosely references in the music video for the album's second single, "Done (Let's Get It)." Yaeji refers to the story as her inner "spunky kid who has just awakened and is trying to scream."  
Rae Sremmurd -
SREMM4LIFE
Release date: April 7
In the mid-2010's, Rae Sremmurd's "No Flex Zone," "No Type" and "Swang" dominated radio stations and streaming platforms. The Mississippi-based hip-hop duo' "Black Beatles" had similar resonance, becoming the theme song for 2016's viral mannequin challenge and inspired Nicki Minaj's flirty remix, "Black Barbies."  
There has been no news of a comeback since 2018's SR3MM, while frequent solo endeavors from Swae Lee made a fourth release seem unimaginable. On March 9, the pair unexpectedly announced that the wait was finally over: Rae Sremmurd has finally reunited for their fourth album, SREMM4LIFE, leading with the cheeky single, "Tanisha (Pump That)."
Linkin Park -
Meteora (20th Anniversary Edition)
Release date: April 7
Revisit the magic of Linkin Park's Meteora with a repackaged 20th Anniversary Edition. The group's sophomore album features some of the best-selling tracks in the band's discography, including the quadruple-platinum, GRAMMY-winning "Numb" and the Billboard Modern Rock chart-topping "Faint."
The revamped version includes six unreleased songs from the Meteora archives, most notably "Lost," which showcases the vocals of late frontman Chester Bennington. In a press statement, guitarist and vocalist Mike Shinoda said, "Finding this track was like finding a favorite photo you had forgotten you'd taken, like it was waiting for the right moment to reveal itself. For years, fans have been asking us to release something with Chester's voice, and I'm thrilled we've been able to make that happen in such a special way."
NF -
Hope
Release date: April 7
Rapper NF is a silent star, quietly creeping onto the scene in late 2017 with his hit single, "Let You Down." Despite pulling over a billion streams on a single song, most people tend to overlook the existence of the artist born Nathan Feuerstein. In fact, he prefers it that way. NF's music was never about fame, but a place to lay out his battles with OCD and grapple with the resulting trauma of his upbringing.
On his upcoming project, HOPE, NF turns a new leaf, welcoming fans to indulge in a more optimistic view of the future. As he acknowledges the happiness he's found in his wife and children on the album's titular single: "I'm a prime example of what happens when you choose to not accept defeat and face your demons." 
IVE -
I've IVE
Release date: April 10
After stepping into the K-pop landscape in December 2021, IVE quickly became one of the industry's leading fourth generation girl groups. Tracks "Love Dive" (2022) and the viral Gloria Gaynor-sampling "After Like" (2022) ruled Korea's music charts, simultaneously receiving acclaim in the United States as one of the best K-pop songs of 2022 by NME and Teen Vogue. With such skyrocketing success, it's an understatement to say the anticipation for IVE's first studio album, I've IVE, is high.
I've IVE is a culmination of the confident IVE ethos, as their company, Starship Entertainment, described in a press release. To celebrate the release of their long-awaited album, IVE will begin the second leg of their Asia tour, The Prom Queens, this June.
Metallica -
72 Seasons
Release date: April 14
Fans have eagerly anticipated the heavy metal legends' return since March 2019, when bassist Robert Trujillo teased the start of their eleventh studio album. Kicking off their new album is the guitar-heavy, punk-influenced "Lux Æterna." Following "Lux Æterna" are two more classic heavy metal tracks, "Screaming Suicide" and "If Darkness Had a Son."
In support of 72 Seasons, Metallica will embark on a North American tour  with support from Architects, Mammoth WVH, Five Finger Death Punch, Volbeat, Ice Nine Kills, Pantera, and Greta Van Fleet. Each city will see Metallica in a two-night performance containing two completely different setlists and opening acts.
Hunter Hayes -
Red Sky
Release date: April 21
Knowing that the hazy turquoise of Hunter Hayes' Wild Blue would be his final major label studio release, his seventh full-length album, Red Sky, becomes all the more symbolic. 
Red skies often signify change — a fitting title and visual as Hayes comes into himself as a fully independent artist. "This project is about the adventure of finding yourself," Hayes said on Instagram after unveiling two pop-country singles, "Sober" and "Someone Will." "Lyrically, it's for anyone who needs a reminder of how unique your fire inside is and how much the world needs more you in it." 
Hayes will begin his Red Sky Tour on May 6 in San Diego, culminating in Denver on June 3. 
Easy Star All Stars -
Ziggy Stardub
Release date: April 21
New York-via-Jamaica reggae collective Easy Star All-Stars are known for their addicting interpretations of music's most renowned albums: They've conquered the Beatles' Sgt. Pepper's Lonely Hearts Club Band, Michael Jackson's Thriller, and Pink Floyd's Dark Side of the Moon.
Next on their list is David Bowie's The Rise and Fall of Ziggy Stardust and the Spiders from Mars, now titled Ziggy Stardub, out on Easy Star Records. The album will feature guest appearances from Macy Gray, Steel Pulse, Alex Lifeson of Rush, Fishbone, Vernon Reid of Living Colour, and more. The first glimpse into the cosmic world of reggae Ziggy Stardust is "Starman," a charismatic take on Bowie's single of the same name.
Jethro Tull -
RökFlöte
Release date: April 21
On RökFlöte, prog rock pioneers Jethro Tull offer their own take on Norse mythology, specifically the apocalyptic tale of Ragnarök. The band's 23rd album launches with the release of "Ginnungagap," a flute-led rock tune inspired by the god Ymir. 
According to their press release, RökFlöte will largely be an instrumental homage to the group's incorporation of the flute. Throughout, Ian Anderson and co. will explore the storyline of "the characters and roles of some of the principal gods of the old Norse paganism."
Everything but the Girl -
Fuse
Release date: April 21
It was an entirely different century the last time we saw Everything but the Girl. Since the release of Temperamental in 1999, the duo behind the sophisti-pop band got married to each other, published memoirs, and worked on solo efforts. Fuse holds Everything but the Girl in a modern context, exploring topics of love and anxiety.
Chatting with the New York Times, EBTG's Tracey Horn credits quarantine boredom for sparking the idea of reuniting as a duo. "We were confronted with the decision that a lot of people were confronted with: what are we going to do now? Are we going back to what we were doing? Or, is this the start of something new?"
Bebe Rexha -
BEBE
Release date: April 28
In 2018, Bebe Rexha's contemplative Expectations narrated negative self-talk, heartbreak, and instability.  With the release of her 2022 chart-topper, "Blue (I'm Good)," and the lead single from her forthcoming self-titled album, Rexha reveals that she's settled into a happier place. No longer tied down to broken relationships or burdened by depression, Rexha just wants to have fun — and it shows on "Heart What It Wants." 
Bebe is a celebration, a requiem to the nights spent crying that led to her current bliss. Most importantly, it's an opportunity to connect with her supporters. "I want to see my fans in person. I want to play the deeper cuts, feel the energy of my fans," Rexha told Elite Daily in November.
Y La Bamba -
Lucha
Release date: April 28
Latin indie alternative band Y La Bamba's Lucha has been a long time in the making, starting development right before the outbreak of COVID-19. Eventually, Lucha grew into a collection of stories of queerness, Chicanx identity, and loneliness prompted by the isolation of the pandemic. 
The album's lead single, "Dibujos de Mi Alma," chronicles the ambivalent feeling of loving someone but also recognizing it's time to move on. As lead vocalist Luz Elena Mendoza croons in Spanish, "Although it hurts, you will find/ The traces of another will give you affection." If "Dibujos" is any indication, the rest of Lucha's vulnerable yet relatable tracks will pull at your heartstrings.
Jessie Ware -
That! Feels Good!
Release date: April 28
Fresh off Harry Styles' Love On Tour, Jessie Ware returns with her fifth studio album, That! Feels Good! The lead single, "Free Yourself," confirms that the singer is not leaving the disco present on her previous What's Your Pleasure? just yet.
In a press release, Ware explained that the album's second single, "Pearls" was heavily influenced by disco divas Donna Summer, Evelyn "Champagne'' King, Teena Marie, and Chaka Khan. The album is a reflection of her growth, she continued. "That! Feels Good! stems from over 10 years of understanding who I am, and who I enjoy being as an artist and the thrill of performance."
Illenium -
ILLENIUM
Release date: April 28
You probably know Illenium from his dance-pop tracks and remixes, including collaborations from the Chainsmokers, Khalid, Tori Kelly, and most recently, a rendition of Taylor Swift's Midnights' single, "Anti-Hero." But on his upcoming self-titled album, the EDM heavyweight is charting new territory.
With assistance from Jxdn, Travis Barker, Avril Lavigne, All Time Low, Motionless in White, and others, Illenium will be crossing over into rock sub-genres, ranging from emo rap to heavy metal. If you're a lover of EDM-pop fusion, don't worry too much — this album still holds Illenium's signature sound in his tracks with MAX, Nina Nesbitt, JVKE, and Skylar Grey.
Listen: 50 Essential Songs By The Beach Boys Ahead Of "A GRAMMY Salute" To America's Band