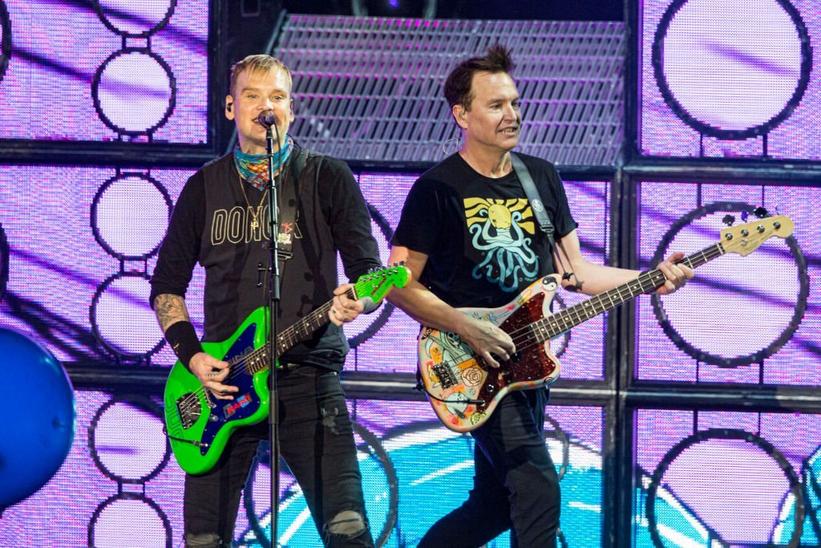 Photo: Daniel Knighton/Getty Images
news
Inkcarceration Lineup 2020: Blink-182, Weezer, Limp Bizkit & More Announced
The third annual music fest will take place at Ohio State Reformatory in Mansfield, Ohio, on July 10–12
GRAMMYs
/
Dec 19, 2019 - 10:45 pm
Blink-182, Weezer and Limp Bizkit will headline Inkcarceration 2020, the Ohio-based rock music and tattoo festival.
The third annual music fest will take place at Ohio State Reformatory in Mansfield, Ohio, on July 10–12. Halestorm, Papa Roach, Mastodon, Underoath, The Aquadolls, New Politics, Puddle Of Mudd and Atreyu are among the other bands performing.
The venue, the Ohio State Reformatory, shapes the festival experience as much as the music itself. Known as the location of the prison set in the 1994 film "The Shawshank Redemption" and the holding place of "infamous prisoners," the fest offers prison tours of the massive historic complex as well as a haunted house attraction. Sixty tattoo artists, food and drinks will also be available on-site.
Ohio State Reformatory Associate Director Dan Smith said the fest attracts music and tattoo fans from all around the world. "The festival continues to bring some of the best music fans and tattoo enthusiasts from all over the world back to Mansfield! We can't wait to share what will be the best Inkcarceration Festival yet!" he told Alternative Press.
Tickets are on sale now.
"The Simpsons" At 30: A Complete History Of Every Band That's Ever Rocked Springfield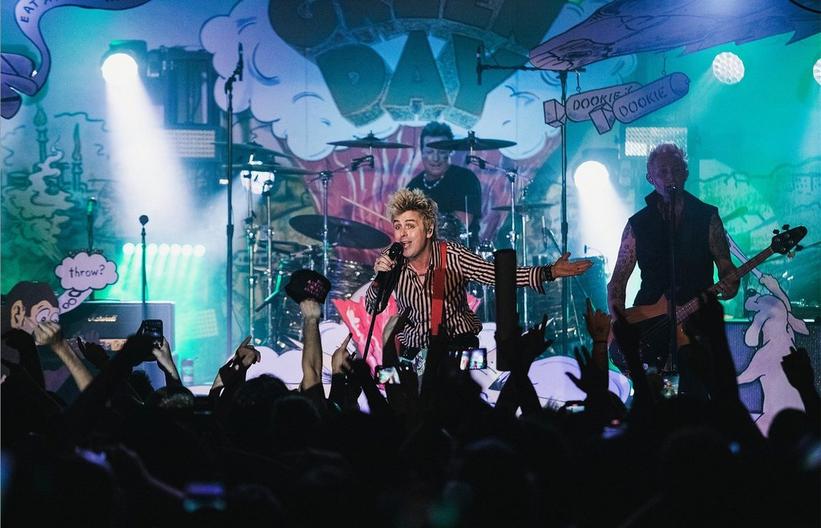 Billie Joe Armstrong of Green Day performs a"not-so-secret" show at Las Vegas' Fremont Country Club
feature
How Las Vegas Became A Punk Rock Epicenter: From When We Were Young To The Double Down Saloon
Viva Punk Vegas! It might have seemed unthinkable a decade ago, but Sin City is "the most punk city in the U.S." GRAMMY.com spoke with a variety of hardcore and legendary punks about the voracious vibe in Vegas that lends itself to punk spirit.
GRAMMYs
/
Oct 25, 2023 - 04:28 pm
These days, what happens in Vegas, slays in Vegas when it comes to the harder side of music.
It might have seemed unthinkable a decade ago, but as Fat Mike of NOFX and Fat Wreck Chords has been putting out there for a while now, Sin City is basically "the most punk city in the U.S." at the moment. Some might find this statement debatable, but Vegas has long attracted subculture-driven gatherings, from Viva Las Vegas rockabilly weekend to the all-metal Psycho Las Vegas to the mixed bag that was Las Rageous. The latest slate of huge punk and punk-adjacent music events (from Punk Rock Bowling and When We Were Young to the just-announced new lineup of Sick New World 2024) back his claim even further. 
Mike's own Punk Rock Museum, which opened in April of this year, has cemented the city's alternative music cred — even as it's still best known for gambling, clubbing, and gorging at buffets. 
In fact, A lot of the audacious new activity is centered away from the big casinos and in the downtown area and arts district of what is known as "old Vegas." Just outside of the tourist-trappy, Times Square-like Fremont Experience, there's a vibrant live music scene anchored by a few key clubs, and an ever-growing slate of fests.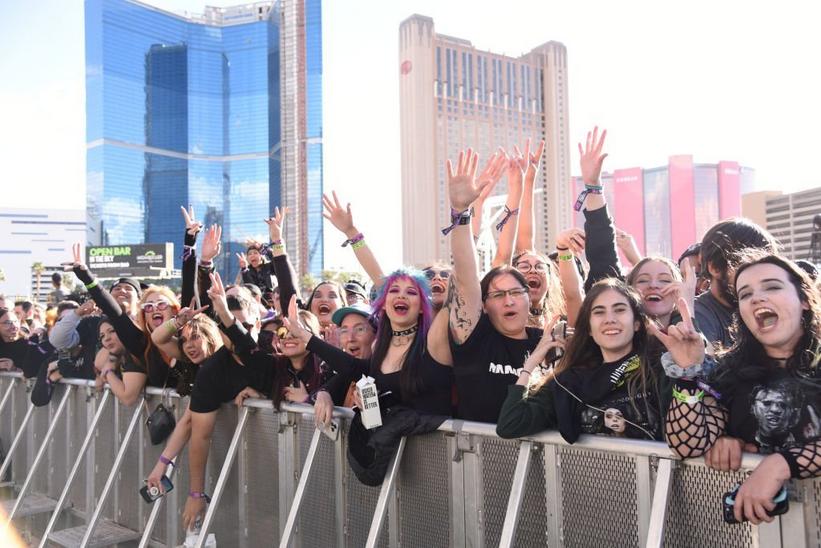 Attendees at 2022's When We Were Young Festival┃Photo: Tim Mosenfelder/FilmMagic
Live Nation's second annual When We Were Young Festival brought out a largely Millennial crowd to see headliners Green Day and blink-182 this past weekend, alongside over two dozen more recognizable openers from emo/pop-punk's heyday. Tickets sold so well when it was first announced, that a second day was added to the schedule.
Green Day didn't stop with their fest gigs; the band played a "not-so-secret" pop-up show last Thursday night at one of the most popular venues in town for punk, alternative and heavy music: Fremont Country Club, just blocks from festival grounds. The show served as a warm-up gig as well as an announcement by Billie Joe Armstrong: His band will join Smashing Pumpkins, Rancid, and others for a 2024 stadium tour. The band also debuted a timely new track, "The American Dream Is Killing Me."  
Read More: Why 2002 Was The Year That Made Pop-Punk: Simple Plan, Good Charlotte & More On How "Messing Around And Being Ourselves" Became Mainstream
"People who like punk and other heavy music want to be in a club environment like ours, not a big casino," says Carlos "Big Daddy" Adley, owner of Fremont Country Club and its adjacent music space Backstage Bar & Grill. Both have become live music hotspots not unlike the ones Adley and his wife/partner Ava Berman ran in Los Angeles before they moved to Vegas over a decade ago. 
"Fremont East," as the neighborhood is called, will soon see a boutique hotel from the pair. Like everything they do, it will have a rock n' roll edge that hopes to draw both visitors and locals.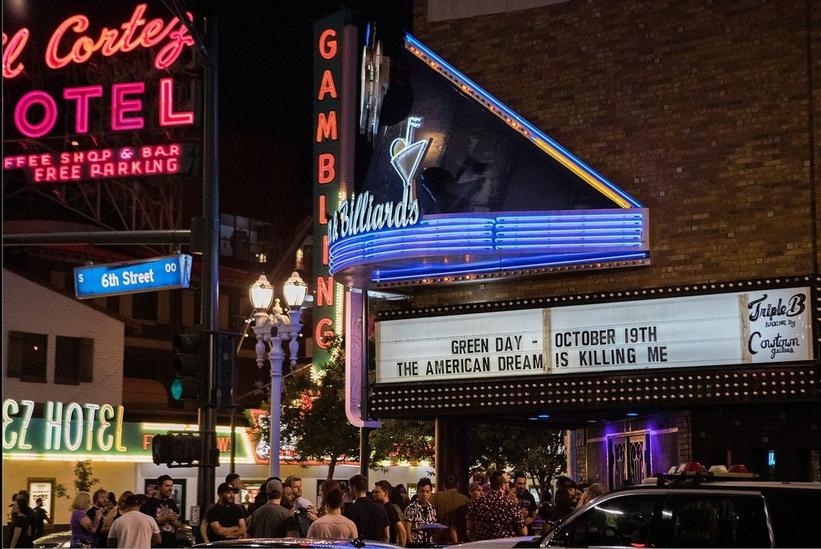 Outside Fremont Country Club┃Photo: Fred Morledge
The duo told GRAMMY.com that a visit to Double Down Saloon, Sin City's widely-recognized original punk bar and music dive was what first inspired them to come to Vegas and get into the nightlife business there. Double Down has been slinging booze (like Bacon Martinis and "Ass Juice" served in a ceramic toilet bowl mug) and booking live punk sounds since it opened back in 1992.
"It's kind of a stepping stone for a lot of bands," says Cameron Morat, a punk musician and photographer, who also works with the Punk Rock Museum as curator of its rockstar-led tour guide program. "People always assume that Vegas is just the strip, but that's only like four miles long. There's a lot more of the ''other city.' There are people who are just into music and into going to local shows who don't ever go to the main strip."
In addition to the Double Down, Morat says Vegas has always had a history of throwing local punk shows at spaces like the Huntridge Theater, which is currently being remodeled and set to re-open soon for local live music. He also points to The Usual Place as a venue popular with local punk and rock bands now, and The Dive Bar — a favorite with the mohawk, patched-up battle vest scene, featuring heavy music seven nights a week, including a night promoted by his partner Masuimi Max called Vegas Chaos.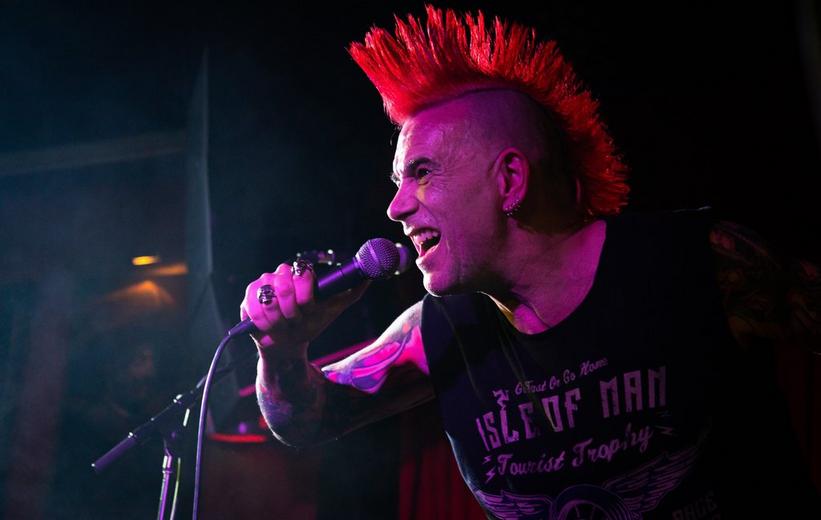 Cameron Morat┃Photo: Kristina Markovich
While glitzy stage shows from legacy artists and mega-pop hit makers like Usher, Elton John, Katy Perry, Carrie Underwood, Gwen Stefani and Lady Gaga still get the most media attention, raucous local shows are starting to factor into a new generation's vacation planning, too.
"There's a really good scene here," Morat proclaims. "It's funny because a lot of people, the sort of gatekeepers of punk, ask 'why is the punk museum in Vegas?' But it is a punk city, and not just because you've got all the local bands and the venues."
Read More: City On Fire: X's Explosive Debut Album Los Angeles At 40
Morat, whose own band Soldiers of Destruction, plays around town on occasion, also notes other acts such as Gob Patrol, Suburban Resistance, and Inframundo as having fierce local followings. He says there's a certain voracious vibe in Vegas that lends itself to punk rock creation, performance and attitude. "A lot of the anger from punk rock — like the disparity of wealth, for instance, is here," he says. "Five minutes down the road, you've got people throwing away a million on the roll of a dice. But you've also got people who are doing like three jobs just trying to pay their rent." 
Over at the Punk Rock Museum, Morat, who moved from Los Angeles to Vegas about seven  years ago, is keeping busy booking big-name guests to share inspirations and war stories, both weekly, and specifically timed with whatever big festival or event happens to be in town. He says he wants to feature artists that might not be thought of as traditional punk rock, but who have relevant backgrounds and stories to share. 
"A lot of these people have punk history the public doesn't know about," he says. "I think if we just stick to a very small well of people, it's going to get pretty boring. So I'm trying to open it up for a bigger cross-section."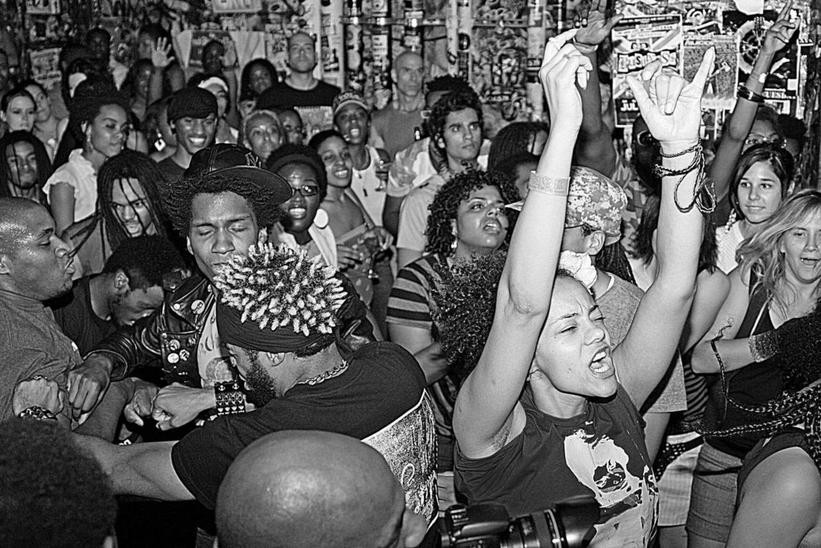 Imagery from "Black Punk Now" | Ed Marshall
The museum is already showing the breadth of punk rock's influence on music in general. During WWWY, the museum held events tied to its new exhibit "Black Punk Now," curated by James Spooner, director of the 2003 documentary Afro-Punk. As Spooner spoke about the film's 20th anniversary and his new book of Black punk authors, musicians playing the weekend's festivities from Sum 41, MxPx, Bayside, Less Than Jake came through to talk too. Warped Tour's Kevin Lyman and Fat Mike himself also took part in the museum's new after-dark guided tour series.
Bringing in a wider audience and a new generation of rebellious kids who seek to channel their angst and energy into music is part of what the museum — and, it seems, the myriad of events in Las Vegas these days — is all about. Despite what some punk rock purists and gatekeepers might say, the inclusion of tangent bands and scenes is in the original punk spirit. He'll be booking guests tied to next year's Sick New World, the Viva Las Vegas rockabilly bash and even EDC in the future (electronic bangers are not unlike hardcore ones and even Moby was a punk before he became a DJ). 
"I think that the museum is great for the punk scene here," he adds. "People will literally come to town just to see the museum, and then if there's a band playing in town in the evening, they'll go. So it's broadening the support for all the bands, local and touring. Some punk bands used to skip Vegas completely on their tours, but not anymore." 
Remembering When We Were Young: Avril Lavigne, Jimmy Eat World & More Bands Reflect On The Peak Of Emo & Hardcore Ahead Of Vegas Fest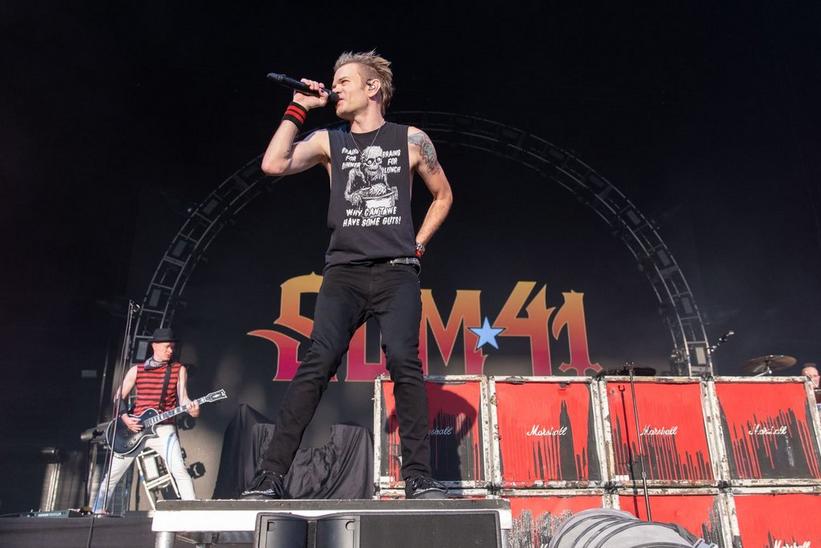 Deryck Whibley performs in 2023.
news
Get Amped For When We Were Young 2023: Sum 41's Deryck Whibley's Favorite Emo Songs By Fellow Performers
Ahead of Sum 41's appearance at When We Were Young Festival in Las Vegas on Oct. 21 and 22, lead singer Deryck Whibley curated a playlist of tracks from Blink-182, KennyHoopla, Good Charlotte and more.
GRAMMYs
/
Oct 20, 2023 - 07:30 pm
For the second year in a row, pop-punk is taking over Las Vegas. The When We Were Young Festival is bringing another slew of emo and pop-punk acts from the mid/late aughts to the Las Vegas Festival Grounds on Oct. 21 and 22, from Yellowcard to Rise Against to Green Day.
"Fat Lip" rockers Sum 41 are one of the 55 artists playing this year's iteration of WWWY, which will mark two of the Canadian group's final shows (in May, they announced they'll be disbanding after their current tour commitments). Though they've been touring for nearly 30 years, frontman Deryck Whibley tells GRAMMY.com that the front row "looks the same as it did in 2001."
"This music speaks to a younger generation, and the new generation always gets into it," he says. "There's just something about this kind of music that is youthful and exciting, and there's energy there. I think it's always going to be here."
In celebration of the 2023 iteration of When We Were Young Fest, Whibley put together a playlist of 15 songs by his fellow performers, including the Offspring, Blink-182 and the Ataris. Whether or not you're headed to Las Vegas, get your dose of pop-punk nostalgia on Spotify, Apple Music, Amazon Music, or Pandora.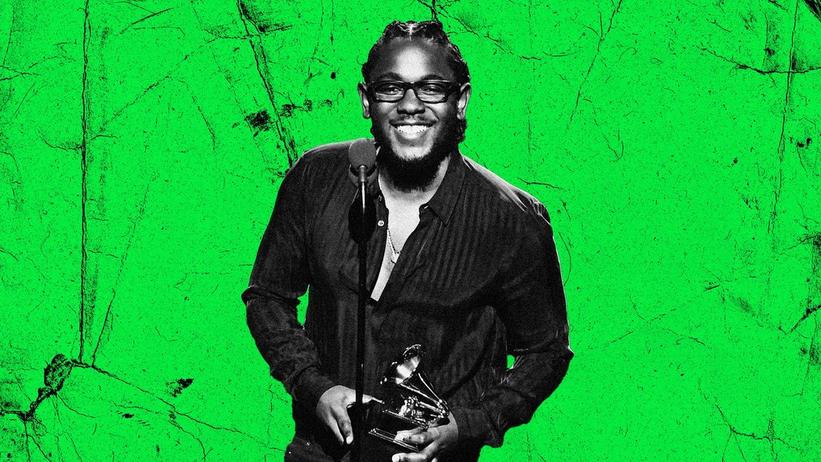 Kendrick Lamar
Photo: Jeff Kravitz/FilmMagic
video
GRAMMY Rewind: Kendrick Lamar Honors Hip-Hop's Greats While Accepting Best Rap Album GRAMMY For 'To Pimp a Butterfly' In 2016
Upon winning the GRAMMY for Best Rap Album for 'To Pimp a Butterfly,' Kendrick Lamar thanked those that helped him get to the stage, and the artists that blazed the trail for him.
GRAMMYs
/
Oct 13, 2023 - 06:01 pm
Updated Friday Oct. 13, 2023 to include info about Kendrick Lamar's most recent GRAMMY wins, as of the 2023 GRAMMYs.
A GRAMMY veteran these days, Kendrick Lamar has won 17 GRAMMYs and has received 47 GRAMMY nominations overall. A sizable chunk of his trophies came from the 58th annual GRAMMY Awards in 2016, when he walked away with five — including his first-ever win in the Best Rap Album category.
This installment of GRAMMY Rewind turns back the clock to 2016, revisiting Lamar's acceptance speech upon winning Best Rap Album for To Pimp A Butterfly. Though Lamar was alone on stage, he made it clear that he wouldn't be at the top of his game without the help of a broad support system. 
"First off, all glory to God, that's for sure," he said, kicking off a speech that went on to thank his parents, who he described as his "those who gave me the responsibility of knowing, of accepting the good with the bad."
He also extended his love and gratitude to his fiancée, Whitney Alford, and shouted out his Top Dawg Entertainment labelmates. Lamar specifically praised Top Dawg's CEO, Anthony Tiffith, for finding and developing raw talent that might not otherwise get the chance to pursue their musical dreams.
"We'd never forget that: Taking these kids out of the projects, out of Compton, and putting them right here on this stage, to be the best that they can be," Lamar — a Compton native himself — continued, leading into an impassioned conclusion spotlighting some of the cornerstone rap albums that came before To Pimp a Butterfly.
"Hip-hop. Ice Cube. This is for hip-hop," he said. "This is for Snoop Dogg, Doggystyle. This is for Illmatic, this is for Nas. We will live forever. Believe that."
To Pimp a Butterfly singles "Alright" and "These Walls" earned Lamar three more GRAMMYs that night, the former winning Best Rap Performance and Best Rap Song and the latter taking Best Rap/Sung Collaboration (the song features Bilal, Anna Wise and Thundercat). He also won Best Music Video for the remix of Taylor Swift's "Bad Blood." 
Lamar has since won Best Rap Album two more times, taking home the golden gramophone in 2018 for his blockbuster LP DAMN., and in 2023 for his bold fifth album, Mr. Morale & the Big Steppers.
Watch Lamar's full acceptance speech above, and check back at GRAMMY.com every Friday for more GRAMMY Rewind episodes. 
10 Essential Facts To Know About GRAMMY-Winning Rapper J. Cole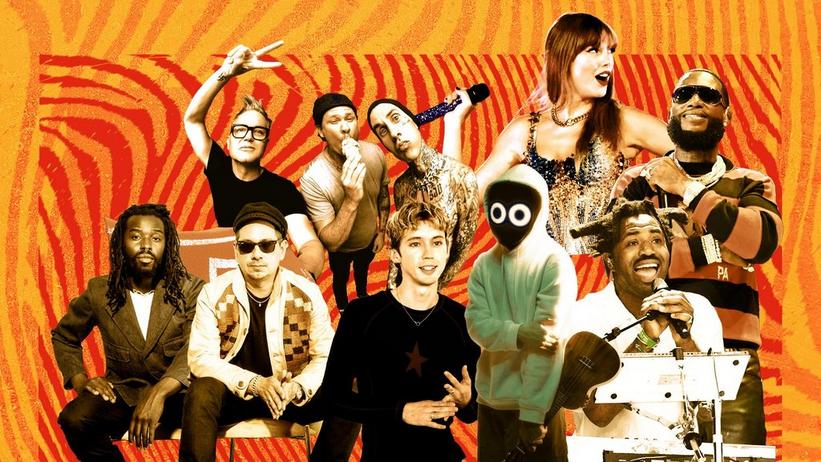 (Clockwise) Black Pumas, Blink-182, Taylor Swift, Gucci Mane, Sampha, BoyWithUke, Troye Sivan
Photos (L-R): Jody Dominigue; Jack Bridgland; Michael Tranafp; Paras Griffin/Getty Images; Jim Dyson/Getty Images; courtesy of the artist; Rodin Eckenroth/Getty Images;
list
15 Must-Hear Albums This October: Troye Sivan, Drake, Blink 182, NCT 127 & More
Don't let the falling leaves bring you down — read on for 15 albums dropping in October from Taylor Swift, Gucci Mane and Riley Green.
GRAMMYs
/
Oct 2, 2023 - 03:22 pm