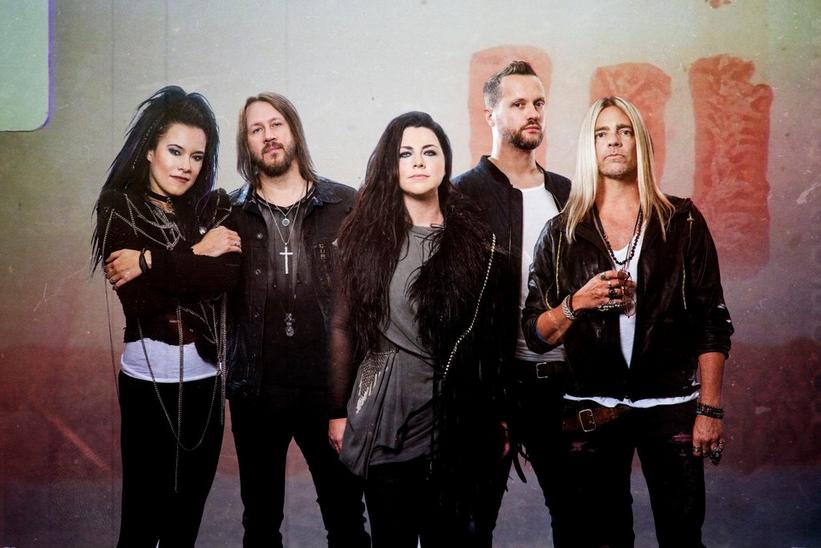 news
Evanescence's Amy Lee Talks Musical Evolution, Growing Up & Life Under Quarantine
The frontwoman opens up to the Recording Academy about the hard-rock mainstays' forthcoming album, 'The Bitter Truth' and its lead single, "Wasted On You"
GRAMMYs
/
May 28, 2020 - 08:56 pm
The current coronavirus quarantine has turned out to be a mixed blessing for Evanescence leader and singer Amy Lee. While she is elated about the new music her band is producing for their first album in nearly nine years, they have to figure out how to finish the project being apart. They also had to postpone touring Europe with Within Temptation and cannot interract with their fans anytime soon. That feels ironic given the anticipation for their new release. At least Lee did not have to face being separated so soon from her five-year-old son Jack and explain why his mother had to go away on tour, and she got to jam virtually with Lzzy Hale on the Halestorm song "Break In." At the same time, Lee admits, her immediate family members are driving each other a little bit crazy. That's to be expected.
Lee and her bandmates have been adjusting to the circumstances. They decided to change the choice for the lead single off of their forthcoming album The Bitter Truth by swapping it out for the song "Wasted On You." Thematically, however unintentionally, it feels like now and features all five band members in their own homes engaging in various activities from contemplation to playing music. The video is very fitting for a band whose singer frequently channels inner emotional turmoil that people struggle with alone. Thus the clip feels like a natural extension of their work.
"Yeah, this is the place I always put myself in," concurs Lee, speaking on the phone to the Recording Academy from her home in Nashville, which fans are seeing for the first time through that video.
"Most of us in the band are very private," notes Lee. "Showing my home is a big deal for me. Just being our real selves without makeup, just living in real life, not acting. What's powerful about that is that everybody around the world is doing the same thing. The idea behind it was to show that at our core we're all still connected even though we're not physically together."
When she saw the first edit of the clip from director P.R. Brown, whom she praises highly, it made her feel very connected to her band. "I missed them," admits Lee. "I pulled the trick on myself, feeling all these emotions about being close to you guys and how we're going through the same stuff. I guess it was going to be effective because it totally worked on me."
Given how depressing life feels for many people right now, Lee believes that new music is extremely necessary, and there are new Evanescence songs still in the making. The Bitter Truth is not actually finished yet, and Lee is not sure how many songs will make up its entirety. Individual tracks will just be released when they are and eventually be collected as a cohesive whole.
"I like living in the moment, and I don't have it all planned out," says Lee. "And that's beautiful. We always wanted to do it this way. It's lucky because we got to continue down our path. We went in for the first batch of songs with Nick Raskulinecz in the beginning of February. We have that batch, but I'm not sure exactly when we're all going to be able to get back together again since we live all over the world. Jen's in Germany. But whether we're going to have to do some things remotely, we still have to get together to some degree."
Usually, the band records new music and it takes a year or so for it to reach the public's ears. They started working on "Wasted On You," a break-up song of sorts about freeing oneself from routine and toxic patterns, the day before New Year's. Sharing it with fans and getting feedback so soon after it was completed feels like a gift of instant gratification that they find special and rare.
Naturally, many fans have been anxious for a new Evanescence album, but they have continued to snap up concert tickets and have remained loyal throughout the near decade-long duration. "It's not like they got pissed off and left," remarks Lee. "They still want it whenever it's going to come, and that's a huge gift. Especially now. There's just so much music out there that you can only find if you're searching for it."
Lee has continued making new music over the last nine years. Following her emancipation from her previous label Wind-up Records in 2014, she jumped into many new projects. The first was the Aftermath album that served as the soundtrack to the movie War Story starring Catherine Keener as a war zone photojournalist. That was done in collaboration with cellist Dave Eggar, who also worked with her and producer/composer/drummer Chuck Palmer on music for the 2015 short film Indigo Grey: The Passage by Irish/hip-hop dance troupe Hammerstep. The musical trio further collaborated on scores for the documentary short I Am Her (2016) and the feature film Blind (2017). In 2016, inspired by the birth of her son two years earlier, Lee did an album of children's music songs entitled Dream Too Much.
Such diversity should not be surprising considering that at the core of Evanescence swirl goth, metal, and pop sounds that commune without overriding each other. This makes the band less easy to tag and simply reflects Lee's diverse musical tastes. Last year, they released a cover of Fleetwood Mac's "The Chain."
"I like a lot of pop music," says Lee. "I like a lot of dark, trippy, trap-pop weirdness. Even if that just comes out in the way that I'm crafting a melody, it's there for me enough that I feel it in the way that I want to feel it. Then all those other elements that play a role, like cool guitar riffs and things from other genres, it's when it all blends together that it really sounds right. That's a picture of who we are."
While she knows people certainly expected certain new music from her, Lee has needed to scratch that creative itch that led her to such outside explorations. She felt that denying herself these opportunities would make her feel like she was not being true to herself, even though her fans craved a new Evanescence album. Lee felt compelled to work on that "weird song idea" or collaboration with a cellist. "If I don't let myself do it, then I get frustrated," she concedes. "There was something else I needed to get off my chest first."
The singer and pianist mentions that when she was pregnant, she thought her mom phase would outweigh work, but her need to create only got stronger because it was such an emotional time for her.
"Up until the week before Jack was born, I was working on that Aftermath album which was so great because it was moody and weird and creative, and it didn't all rely on the same old tricks," recalls Lee. "A lot of it was instrumental. People want me to sing a ballad. I actually wanted to play the piano live with Dave [Eggar] and write as we play and record that, then create the song that's totally weird, electronic, Africa-inspired. There's all kinds of weird stuff on there."
Ten months after Jack was born, a lot of emotions were welling up inside of Lee, which naturally led to Dream Too Much. "I just felt like I had a whole new chamber of my heart that started up that I didn't know about before, and I needed to express it," she elaborates. "Weirdly, becoming a mom made me need to create a lot more. There hadn't been an all original Evanescence album until now, but it's just been everything else." She chose to jump onto all of those "someday, I want to do..." projects.
When Lee did return to making music with her main project, it was for 2017's Synthesis album featuring Evanescence songs reworked with a full orchestra and electronic music elements along with two new songs and three instrumentals. She notes that many people thought that that release was a clue as to where the band's music was heading, but in fact, it was the opposite.
"Because we got to do that very different thing, I felt so motivated and inspired to run the other direction and really dive headfirst into the rock part of our music and our current sound as a band," says Lee. "I think allowing yourself to do all the things that your heart wants to do as an artist is just healthy. It's not like there won't be more fuel inside you that's going to want to create more the next day."
Read More: How Evanescence's Best New Artist Win Championed The Outcasts
The long break between albums certainly helped feed her fire for the band. Further, Lee's artistic life has been augmented lately by two special musicians. The first is aforementioned cellist Eggar, whose resume includes The Who, Josh Groban, Beyoncé, Carly Simon, Bon Jovi and Manhattan Transfer, has been a great collaborator for her.
"He's just got such a bright energy and is so encouraging but also really, really talented," enthuses Lee. "He pushes me to the next level without it being painful, if that makes sense. We were talking about wanting to make a documentary of his life because you just sit down and listen to him talk about stuff like living on a beach in the south of France and playing a million dollar cello."
On the recommendation of Eggar, Evanescence guitarist Jen Majura came into the fold back in 2015 following the departure of longtime member and songwriting collaborator Terry Balsamo. She is the other key player.
"What I've learned over the years is the harder thing about finding a person that's going to be in your band family is the way they fit as a person," explains Lee. "There are a lot of people that can play amazingly, and Jen is a great musician, but for somebody to really fit into your family dynamic is hard. I called her and flew her to New York, and we just spent time together. We went to guitar shops, went to lunch, got drunk, and had conversations about music and jammed a little bit. But mostly it was just becoming friends, and it happened really quickly. It just felt right. We knew that. I knew that I liked her, and I could see things in her that reminded me a little bit of myself. It's been really nice to have such a cool jolt of positive energy that she inserted when we needed it a lot. Now we can also have background vocals. We've never been able to have that before with me being the only girl, and I wanted it to be a female voice."
Circling back to the new song "Wasted On You," there is reference to being "six feet low" that reminds one that on first two Evanescence studio albums there was one song apiece that referenced Lee's late sister, who passed away at the age of three when the singer was six. It turns out that Lee recently lost her younger brother, who died at the age of 24.
"It's really hard," says Lee, turning somber for a few moments. "This has been a crazy time, the last few years. A lot has happened to us within the band. Since the last album, there's a lot to say. We are still who we are, but there have been things that have caused us to change our perspective, and the way that we see the world, the way that we see other people, and the way that we think because of the losses that we've suffered. I'm speaking in plural because our bass player Tim just lost his stepdaughter."
Lee adds that this has been a time during which, in so many ways, she had to grow up and didn't want to. "I just want to be a kid again," she concedes. "I just want to be a kid with my siblings and my mom and dad, and somebody else I know at the end of the day is going to take care of it. Somebody else is going to be the dad, somebody else is going to be in charge. It's a really shitty thing that when you grow up, you have to be the one who does that. You have to be the one to make everybody else feel okay. And sometimes it's not okay. That's the bitter truth."
This moment dovetails into the Recording Academy's recent conversation with Tori Amos about how one does not really understand another's pain unless they have experienced it personally. And a person does not need well-meaning but cliched platitudes from others to deal with pain. They just need to process it in their own way.
"That's a huge part of this band and making music for me from day one," declares Lee. "I just need to process the fact that I hurt right now, and not say, 'But it's gonna be okay.' I still have hope after all, but I think it's important sometimes just to say, 'Hey, I hurt' and let that be the message because other people are hurting too. Instead of being fixed immediately, we need to process our pain, we need to feel the pain. It's important. It's part of what is eventually going to let you get through it. The only way out is through."
That concept might seem anathema to many people caught up in a social media and mass media world where everyone wants to put on a happy face and does not admit to feeling wounded or defeated.
"Right, we don't show the pictures," acknowledges Lee. "I don't Instagram when I'm having a horrible day. We're just showing little clips of life when something was awesome, so when you look through that window into somebody's life you're not getting the full picture. You're just getting the highlight reel. That isn't real."
Funnily enough, the music and videos of Evanescence represent the opposite aesthetic. They show when they are not having a good day.
"That's true," concurs Lee, laughing out loud. "You just listen to my album, and you hear how horrible everything is."
At least that emotional sincerity has allowed her to produce some timeless tunes, with more on the way.
Tori Amos On Maintaining Faith, Vision & Conviction In Troubled Times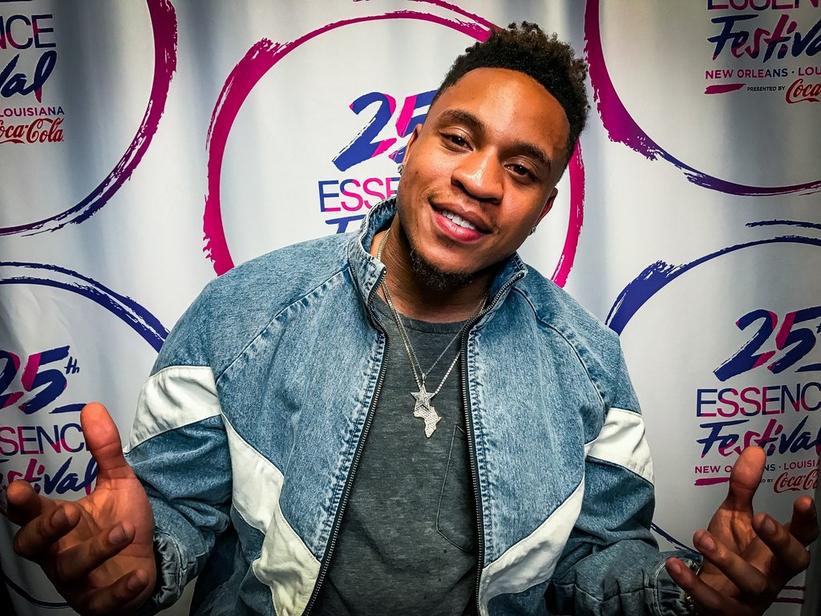 news
Rotimi On Performing At ESSENCE Fest, Growing Up African-American & More
The Nigerian-American singer and actor sat down with the Recording Academy to talk about what inspired his latest album, 'Walk With Me'
GRAMMYs
/
Jul 8, 2019 - 10:04 pm
In 2015, Rotimi stepped into the New Orleans Superdome for the first time to experience the magic of ESSENCE Fest. Four years later, in 2019, the "Love Riddim" singer returned to the celebration as a performer, something he said was spoken into existence.
"Last year me and my manager had a conversation and I said, 'Listen, I'm going to be on the [ESSENCE] mainstage this year. 365 days later, we did it," Rotimi told the Recording Academy at the 25th annual ESSENCE Fest.
Rotimi, also an actor on Starz' "Power," has evolved since his last album, 2017's Jeep Music, Vol.1. The singer said he really hit home with its follow-up, the recently released Walk With Me, a project he worked hard for, putting in hours in the studio after filming on set.
"Walk With Me is the first time I actually felt like I was giving myself as an artist, and personally I feel like with everything else I have going on I wanted to show people that this is really what I do," he said. "I wanted people to understand who Rotimi is, who Rotimi was before, who I want to be and just understand my growth and the journey and my passion for what I do."
Part of why the album felt like such a representation of him is because it embodies beats of his African roots, something he said was very present growing up Nigerian-American.
"I grew up with a lot of Fela Kuti and I grew up with Bob Marley," he said of his musical roots. "But I also grew up with Carl Thomas and Genuine and Usher, so there was a genuine mixture of who I am and what I've grown up to listen to. The actual Walk With Me project was a mixture of influences of Akon and Craig David."
Mumu Fresh On What She Learned From Working With The Roots, Rhyming & More
news
A Tribute In Black To Johnny Cash
A star-studded roster of GRAMMY-winning talent celebrates the music and 80th birthday of Johnny Cash in Austin, Texas
GRAMMYs
/
Dec 3, 2014 - 05:06 am
Though Johnny Cash passed away in 2003, he's having a very good year in 2012. The latest in a series of events honoring the man in black — an 80th-birthday tribute titled We Walk The Line: A Celebration Of The Music Of Johnny Cash — drew a slew of GRAMMY-winning performers to Austin, Texas, for a lively Friday-night show on April 20 at Austin City Limits Live at the Moody Theater.
Top billing went to Cash's surviving Highwaymen brethren, GRAMMY winners Willie Nelson and Kris Kristofferson, who teamed with Shooter Jennings (son of late GRAMMY-winning Highwayman Waylon Jennings) and Jamey Johnson in a reunion of sorts on the song "Highwayman." Under a large banner bearing an image of Cash strumming a guitar, flanked by two silhouettes, Nelson also teamed with GRAMMY winner Sheryl Crow on "If I Were A Carpenter."
Crow sounded almost as if she were addressing Cash when she joked to Nelson, "I would definitely have your baby — if I could. If I didn't have two others of my own. And if you weren't married. And if I wasn't friends with your wife."
Audience members cheered lustily in approval, as they did throughout most of the show, a taped-for-DVD benefit for the childhood muscular dystrophy foundation Charley's Fund. Just hours earlier, many of them had watched as Nelson helped unveil his new statue in front of the theater, which sits on a street also named after him.
The event was produced by Keith Wortman with GRAMMY-winning producer Don Was serving as musical director. Was recruited Buddy Miller, Greg Leisz, Kenny Aronoff, and new Rock and Roll Hall of Fame inductee Ian McLagan of the Faces as the house band. The handpicked all-star roster of performers ranged from Iron & Wine's Sam Beam, Brandi Carlile, the Carolina Chocolate Drops, Andy Grammer, Amy Lee of Evanescence, and Pat Monahan of Train to Ronnie Dunn, Shelby Lynne, Old 97's lead singer Rhett Miller, Lucinda Williams, and even Austin-based actor Matthew McConaughey, who, in addition to emceeing, sang "The Man Comes Around."
"We wanted a real broad, diverse group of artists," Wortman said backstage. "With Cash, you're as likely to find his music in a punk rock music fan, a heavy metal fan and a Nashville music fan, so he's not just a country music guy."
GRAMMY winner Monahan, who sang Kristofferson's "Help Me Make It Through The Night," commented before the show, "I think of Johnny Cash as a style, as you would think of clothing, or music or whatever. He was his own thing. No can can really describe Johnny Cash entirely.
"And no one could deliver a song quite like him," continued Monahan. "He sang hundreds of other songwriters' songs and he made those songwriters important because of the way he delivered what they were saying. There's not much that I don't respect about him, and I told his son [John Carter Cash] earlier that I'm almost more inspired by the love for his family than his music."
Lynne, who won the Best New Artist GRAMMY in 2000, sang "Why Me Lord," another song penned by Kristofferson, and delivered a spirited duet with Monahan on "It Ain't Me Babe," said Cash has influenced "all of us."
"We appreciate the majestic rebellion that Johnny gave us all in the music business. And he's also one of the great American icons of all time," she added.
Among the acts who earned the loudest applause in a night full of high-volume appreciation was the GRAMMY-winning Carolina Chocolate Drops, the bluegrass quartet re-exposing the genre's African-American roots. Their rendition of "Jackson" was among many highlights. Earlier, co-founder Dom Flemons revealed the personal inspiration of Cash's catalog.
"Johnny Cash's music has had an impact on me as a rock and roll singer, a country singer, as a folk music performer and great interpreter of song. I just love everything that he's done," said Flemons.
Bandmate Hubby Jenkins added, "Johnny Cash was really great about putting emotional investment into every song that he sang."
Co-founder Rhiannon Giddens said Cash's core was his voice and his subject matter, and no matter how much production was added, it never diluted his message.
Miller, who named his band after "Wreck Of The Old '97," a song popularized by Cash, said their intent was to sound like "Johnny Cash meets the Clash." He also recalled always picking "Ring Of Fire," a classic inducted into the GRAMMY Hall Of Fame in 1999, on the tabletop jukebox during childhood visits to a Dallas diner.
"I didn't know what it was about, but I knew that the guy who was singing it was singing it with everything he had," said Miller, dressed in black in homage to "one of my all-time heroes." "And there was so much heart behind it, and so much conviction. And nobody could sell a song like Johnny Cash. He meant every word he said, and if he didn't mean it, he made it sound like he meant it."
(Austin-based journalist Lynne Margolis currently contributes to American Songwriter, NPR's Song of the Day and newspapers nationwide, as well as several regional magazines and NPR-affiliate KUT-FM's "Texas Music Matters." A contributing editor to The Ties That Bind: Bruce Springsteen from A To E To Z, she has also previously written for Rollingstone.com and Paste magazine.)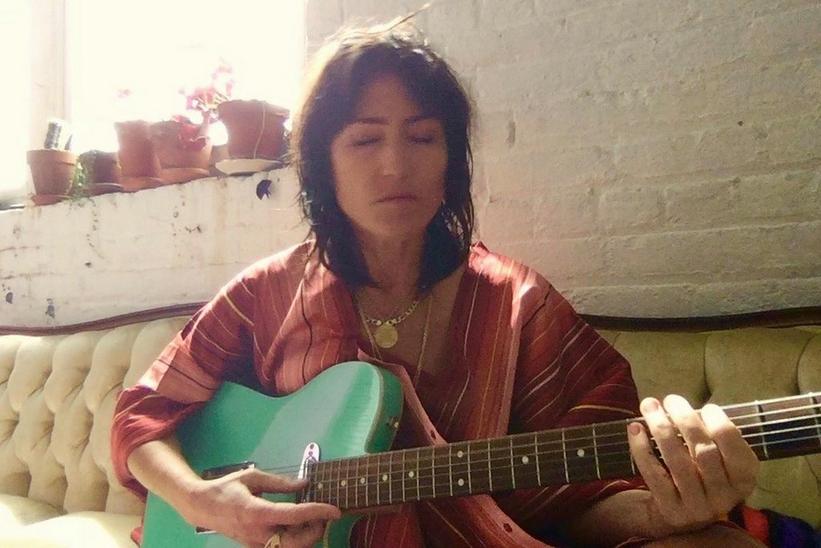 news
Quarantine Diaries: Joan As Police Woman Is Bike Riding, Book Reading & Strumming D'Angelo
As the coronavirus/COVID-19 pandemic continues to rock the music industry, the Recording Academy reached out to a few musicians to see how they were spending their days indoors
GRAMMYs
/
Apr 7, 2020 - 07:21 pm
As the coronavirus/COVID-19 pandemic continues to rock the music industry, the Recording Academy reached out to a few musicians to see how they were spending their days indoors. Today, singer/songwriter Joan Wasser of Joan as Police Woman, whose forthcoming covers album, COVER TWO, includes tracks by The Strokes, Prince, Talk Talk, and more, shares her Quarantine Diary.
Thursday, April 2
[10 a.m.-12 p.m.] Went to bed at 4 a.m. last night after getting drawn into working on a song. Put on the kettle to make hot coffee while enjoying an iced coffee I made the day before. Double coffee is my jam. Read the news, which does not do much for my mood. Catch up with a few friends, which does a lot of good for my mood. Glad it goes in this order.
[12 p.m.-2 p.m.] Make steel cut oats with blueberries, raspberries, strawberries, fresh ginger, fresh turmeric, a sprinkling of cinnamon and cardamom, and of course, coconut butter to melt on top. If you're not into coconut butter (sometimes marketed as coconut "manna"), I'd suggest just going for it and getting it (or ordering it) and putting it on your sweet potatoes, your oats, anywhere you'd put butter. I'm not vegan but I do enjoy hearing the tiny scream uttered by a strawberry as I cut into it.
Contemplate some yoga. Contamplate meditating. Do neither. Resume work on the song I want to finish and send today. I have a home studio and I spend a lot of my time working on music here. The song is a collboration sent to me from Rodrigo D'Erasmo in Milano that will benefit the folks who work behind the scenes in the music touring system in Italy.
[2 p.m.-4 p.m.] I traded in a guitar for a baritone guitar right before all this craziness hit but hadn't had the time to get it out until now. I put on some D'Angelo, plugged into my amp and played along as if I were in his band. Micahel Archer, If you're reading this, I hope you are safe and sound and thank you immensely for all the music you've given us always.
[4 p.m.-6 p.m.] Bike repair shops have been deemed "necessary," thank goodness, because biking is the primary way I get around and I need a small repair. I hit up my neighborhood shop and they get my bike in and out in 10 minutes, enough time to feel the sun for a moment.
I ride fast and hard down to the water's edge and take in a view of the East River from Brooklyn. There are a few people out getting their de-stress walks but it is mostly deserted on the usually packed streets.
[6 p.m.-8 p.m.] Practice Bach piano invention no. 4 in Dm very, very, very slowly. I never studied piano but I'm trying to hone some skills. Realize I'm ravenous. Eat chicken stew with wild mushrooms I made in the slow cooker yesterday. It's always better the second day.
[8 p.m.-10 p.m.] Get on a zoom chat with a bunch of women friends on both coasts. We basically shoot the sh*t and make each other laugh.
Afterwards I still feel like I ate a school bus so I give into yoga. I feel great afterwards. This photo proves I have a foot.
[10 p.m.-12 a.m.] Record a podcast for Stereo Embers in anticipation of my new release on May 1, a second record of covers, inventively named COVER TWO. Continue to work on music (it's a theme).
[12 a.m.-2 p.m.] Tell myself I should think about bed. Ignore myself and confinue to work on music.
[2 a.m.-4 a.m.] Force myself into bed where I have many books to choose from. This is what I'm reading presently, depending on my mood. Finally I listen to Nick Hakim's new song, "Qadir," and am taken by its beauty and grace. Good night.
If you wish to support our efforts to assist music professionals in need, learn more about the Recording Academy's and MusiCares COVID-19 Relief Fund.
If you are a member of the music industry in need of assistance, visit the MusiCares website.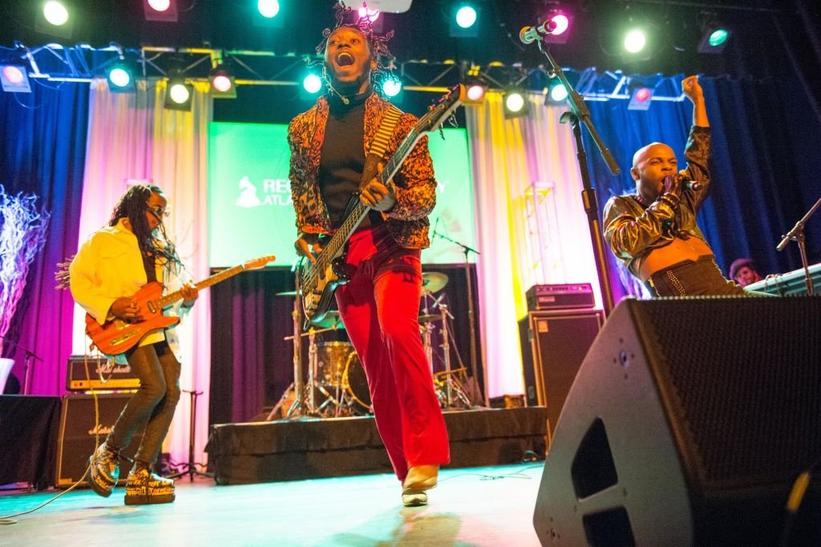 Hero The Band perform at the Recording Academy Atlanta Chapter Annual Membership Celebration
Photo: Marcus Ingram/WireImage
news
Report: Music & Culture Infrastructure Can Create Better "Future Cities"
How sound planning for a creative future in our urban areas makes all the difference for artists and musicians
GRAMMYs
/
Oct 24, 2019 - 01:27 am
The future, as they say, is now. And for music makers around the world, building a future for themselves often starts at home, in their local creative community and in the city where they live. While technology has expanded communication and made the world smaller, cities continue to grow, making planning for the future a critical cultural mission of the present.
To that end, a new report by global organization Sound Diplomacy titled "This Must Be The Place" examines, "The role of music and cultural infrastructure in creating better future cities for all of us." The 37-page deep dive into community planning and development highlights the importance of creative culture in what it calls "Future Cities."
"The government defines 'Future Cities' as 'a term used to imagine what cities themselves will be like," the report states, "how they will operate, what systems will orchestrate them and how they will relate to their stakeholders (citizens, governments, businesses, investors, and others),'"
According to the report, only three global cities or states currently have cultural infrastructure plans: London, Amsterdam and New South Wales. This fact may be surprising considering how city planning and sustainability have become part of the discussion on development of urban areas, where the UN estimates 68 percent of people will live by 2050.
"Our future places must look at music and culture ecologically. Much like the way a building is an ecosystem, so is a community of creators, makers, consumers and disseminators," the report says. "The manner in which we understand how to maintain a building is not translated to protecting, preserving and promoting music and culture in communities."
The comparison and interaction between the intangibility of culture and the presence of physical space is an ongoing theme throughout the report. For instance, one section of the report outlines how buildings can and should be designed to fit the cultural needs of the neighborhoods they populate, as too often, use of a commercial space is considered during the leasing process, not the construction process, leading to costly renovations.
"All future cities are creative cities. All future cities are music cities."
On the residential side, as cities grow denser, the need increases for thoughtful acoustic design and sufficient sound isolation. Future cities can and should be places where people congregate
"If we don't design and build our future cities to facilitate and welcome music and experience, we lose what makes them worth living in."
For musicians and artists of all mediums, the answer to making—and keeping—their cities worth living in boils down to considering their needs, impact and value more carefully and sooner in the planning process.
"The report argues that property is no longer an asset business, but one built on facilitating platforms for congregation, community and cohesion," it says. "By using music and culture at the beginning of the development process and incorporating it across the value chain from bid to design, meanwhile to construction, activation to commercialisation, this thinking and practice will result in better places."
The report offers examples of how planners and leaders are handling this from around the world. For instance, the Mayor Of London Night Czar, who helps ensure safety and nighttime infrastructure for venues toward the Mayor's Vision for London as a 24-hour city. Stateside, Pittsburgh, Penn., also has a Night Mayor in place to support and inform the growth of its creative class.
What is a music ecosystem? We believe the music influences and interacts with various sectors in a city. We have designed this infographic to show how music ecosystems work and impact cities, towns and places: https://t.co/0DIUpN1Dll

— Sound Diplomacy (@SoundDiplomacy) August 14, 2019
Diversity, inclusion, health and well-being also factor into the reports comprehensive look at how music and culture are every bit as important as conventional business, ergonomic and environmental considerations in Future Cites. Using the Queensland Chamber of Arts and Culture as a reference, it declared, "A Chamber of Culture is as important as a Chamber of Commerce."
In the end, the report serves as a beacon of light for governments, organizations, businesses and individuals involved in planning and developing future cities. Its core principals lay out guideposts for building friendly places to music and culture and are backed with case studies and recommendations. But perhaps the key to this progress is in changing how we approach the use of space itself, as the answer to supporting music may be found in how we look at the spaces we inhabit.
"To develop better cities, towns and places, we must alter the way we think about development, and place music and culture alongside design, viability, construction and customer experience," it says. "Buildings must be treated as platforms, not assets. We must explore mixed‑use within mixed‑use, so a floor of a building, or a lesser‑value ground floor unit can have multiple solutions for multiple communities."
Be Like Björk: Iceland Unveils New 'Record In Iceland' Initiative