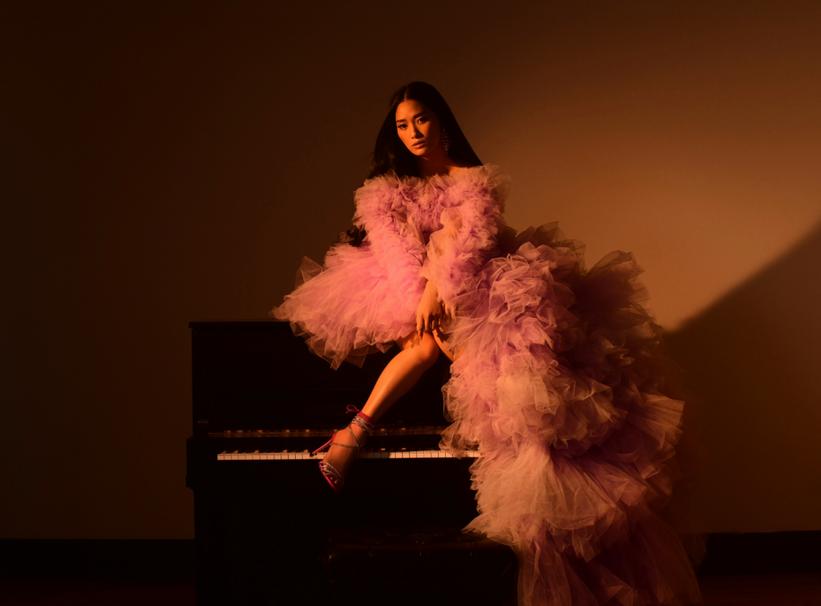 news
Where Do Pop And Classical Music Truly Meet? Cardi B Pianist Chloe Flower May Have The Answer
Chloe Flower initially made waves by accompanying Cardi B at the GRAMMYs, but the pianist-composer isn't done with us yet. Her debut, self-titled album is one of the most believable fusions of pop and classical yet
GRAMMYs
/
Aug 24, 2021 - 12:06 am
Chloe Flower may have landed in the public consciousness by accompanying Cardi B at the 61st GRAMMY Awards, but two years later, she's not fading away. The classical pianist and composer wants to fuse pop and classical in a more encompassing way. Welcome to Popsical, Flower's self-conceived genre tag that aims to close the gap between trap beats and Franz Liszt.
"To me, the whole idea of Popsical is that I felt instrumental music had that stigma. It had to be a certain way," Flower tells GRAMMY.com over Zoom from her Manhattan high-rise. "People told me my entire life 'You have to be really successful in solo piano first before you can add drum beats to something.'" Because Flower loves all kinds of music, from pop to reggaetón, this was a quandary for years. But on her debut, self-titled album, her catholic inspirations have blossomed big.
Read More: Chloe Flower Is Redefining Classical Music (With Some Help From Cardi B)
Chloe Flower, which dropped July 19 via Sony's Masterworks imprint, is the perfect entry point to the musical universe of Popsical. Subdivided into acts with narrations from alternative medicine king Deepak Chopra, the album splits the difference between classical orthodoxy ("Prelude No. 1") and full pop immersion (including an electrified cover of Billie Eilish's "Bad Guy").
While Flower has the headstrong personality and label encouragement to pull off such a feat, she's aware that few other women—especially those of color—have those resources and support systems. With the interest of making classical music a more attractive and inclusive arena, she has a few ideas as to how that world can open up to everybody, not just a few.
Read on for an in-depth interview with Flower about the nexus of pop and classical music, constructing Chloe Flower like a front-to-back cinematic experience, and how young women of color can be encouraged to become producers and composers.
This interview has been edited and condensed for clarity.
I'm a classical music fan, but I don't hear much about it outside of history books or the pages of The New York Times. What's the state of this artform?
I would say it's completely changing. Classical music is so different today, in 2021, than when I signed with Babyface in 2010. It was either crossover—there were a select few crossover artists—or it was strictly classical. I think [the shift is] because of social media, YouTube and all these other outlets, when people can express themselves in any way they want and it's not just up to The New York Times to decide something is cool or OK to do.
Who are the key people to know in modern classical?
There are so many new artists I've been following. I tend to follow pop artists, and that's part of the reason I wanted to start this Popsical movement. I didn't feel like there were enough people on the instrumentals. Not just classical music, but instrumental. People would always be like, "Oh, you play piano! You're like Kenny G!" but that's not the only sound there is—smooth jazz or adult contemporary.
That's why, back in the day, I loved Vanessa-Mae. She's one of the first crossover artists to come out of the U.K. She did Bach's Toccata in Fugue—a song I have on my album as well—with an EDM beat. EDM music doesn't resonate with me in the same way that a trap beat or hip-hop beat does, [but] I was always looking for that artist who was that mixture of pop and instrumental.
I think there must be other people out there who want to explore that instrumental space but don't necessarily fit into that Vanessa-Mae category or the Piano Guys category. I love Piano Guys. They're another crossover classical artist that has done so well. So successful. David Garrett is another one who's been so successful at the violin, doing crossover music, but so different from what I do.
I'm sure Babyface saw that versatility in you when you started working together.
Yeah, I was so shocked. He was the first producer I ever asked to work with me and he was the only one I'd heard of! I just cold-reached out to him on Google. I found his manager's email and just randomly sent him a demo. I think he understood that maybe there was a space here for a new kind of sound.
Deepak Chopra's presence on your debut album is interesting. He's synonymous with new age, a style I find a lot of value in that nonetheless gets a lot of flak.
When people say "new age," there's definitely a stigma associated with it. Even in film. You'll watch movies like [2001's] Serendipity from back in the day and see the crossover flutist, and it's kind of a joke in the movie. That has been the reputation of new age, but as with classical music, audiences are embracing a new style, a new sound. I think a lot of people nowadays are embracing spiritual and holistic health practices.
But for me, Deepak is a close friend. I've known him for many years. I know him personally and he really practices what he preaches. He's very authentic in what he believes. He is truly a believer that music is a powerful tool for healing. It was perfect for me because that's how I view music too. I believe music education should be as accessible as religion or sports education. It's completely inaccessible, and part of the reason is that there's no demand.
People think of instrumental music as Kenny G or new age. They think of it that way, so kids aren't demanding to learn an instrument because they don't necessarily want to. I feel that music is so important because it has that healing power.
We saw during the pandemic how music brought people together, from the people singing on balconies in Italy early on to people using pots and pans in New York City. We could hear it because we live right near a hospital [in Manhattan]. That was music too—it's all a form of sound and using that sound as therapy. You can listen to a song and be in a better mood or feel empowered to take action on something. Deepak shares that philosophy with me.
That's why I'm interested in new age. It has literal utility. And while your music has its own genre tag—Popsical—I can hear that component in your work as well.
I'm so honored and complimented by that! To me, the whole idea of Popsical is that I felt instrumental music had that stigma. It had to be a certain way. People told me my entire life "You have to be really successful in solo piano first before you can add drum beats to something."
I'm not just a solo pianist. I love trap music. I love beats. I love reggaetón. All these sounds together—they don't fit in any category. I really call my album an instrumental mixtape because it's all these different sounds. I can never fit into that classical crossover box ever.
Is there a barrier between young people and classical music that Popsical can traverse?
One of the things that is definitely becoming huge in the instrumental space is what we were talking about earlier: The utilitarian function of music. Peaceful piano, right? That's been huge on playlists: People listening to music in the background. But I feel like instrumental music is more than peaceful piano, [even though] that's a huge market. It's huge. But it doesn't necessarily translate into performance.
Like, would you go play a whole peaceful piano playlist in Madison Square Garden? Would someone buy tickets for that and listen to 90 minutes of peaceful piano? I'm not sure, but I think the market has expanded greatly because of that playlist and that sound in the background.
But the idea of Popsical, to me, is to generate demand in younger people. And not just in younger people, but older people too. I don't think it's ever too early or late to learn an instrument, or to listen to music in a different way—not just to sleep.
Beyond blurring styles, what was the artistic intent behind Chloe Flower?
My album is self-titled—not just because I produced and wrote it—but it was a reflection of me. Like I said earlier, I'm not just a solo pianist. On my album, there's actual works by classical composers and then there's solo piano music that's not classical—a little more pop with a pop structure. Then, there's trap beats.
Track 14 is called "POPSICAL," and it's called that because it's a medley of most of the songs I wrote on the album. It's a medley of those themes. It has a very cinematic quality—I imagined it to be like the end credits of The Sound of Music. That's what I was thinking when I wrote and arranged it. It's a reflection of me and the fact I'm not just one sound.
The label and I were really excited. It's risky for any label to do something that hasn't really been done often or well. It was scary, but it was really cool. I think that's the idea behind this: To showcase instrumental music and the way people listen to it in a different way.
It's interesting that you call it a mixtape when it's separated formally by acts. Was it challenging to square that circle?
No, actually, it was so perfect. That's partly why I had Deepak there. Because it's an instrumental album without lyrics, I wanted people to listen to the album however they want, but [also] from beginning to end, which is why it starts with the prelude and ends with the end credits—the big, thematic Hollywood ending.
Which instrumental records have you been checking out lately?
I actually listen to a lot—a lot—of classical music and Disney soundtracks. I've been listening to a lot of Leroy Anderson. Obviously, a lot of Liberace. I love his brother, George Liberace, who was kind of the quiet, silent partner behind Liberace. He wrote all the arrangements and orchestrated everything. He was a genius arranger. Vladimir Ashkenazy is one of my favorite pianists. I'm always listening to him and Evgeny Kissin.
How can young people interface with classical music in a way that doesn't involve dropping $400 on a ticket?
Totally. It's so inaccessible in that way. And you have to buy your outfit, because you have to dress up when you go to Lincoln Center. You can't just show up in sweats. I think using platforms like YouTube and TikTok [is the answer]. I see so many people who'll tag me doing the Cardi B cover or a classical cover. It's usually "Für Elise" or Bach's Toccata in Fugue, but they're doing it with their own trap beat and it sounds so cool.
As you start to research, you'll see a lot of instrumentalists out there. It's really cool.
I wonder if Popsical can show that classical can not just be melded with pop, but be pop. I'm pretty sure it was pop music hundreds of years ago.
Definitely. I think Mozart was the Justin Timberlake of his time.
I also [wanted to] tell a story. It's a musical journey from beginning to end. I thought of it as a life cycle. For me it was about, in essence, being born with a clean slate. The hardships of life and dealing with that. The darker songs are in the second act and Deepak talks a little bit about suffering. And then you end with hope. If people were to listen to it from beginning to end—which I hope they did—they would experience that with me.
Read More: Women In The Mix 2021 Recap: How Female Powerhouses Convened To Close The Wage Gap And Amplify Women's Voices Across The Music Industry
Have you faced any discrimination in the music business based on who you are or what you look like?
I haven't had an experience that overt, but definitely, as a producer and composer, 100 percent I'm always the only woman. I'm typically the only woman in a studio. It's just me. That by itself is a problem, right? I have such a strong personality and I'm so used to not fitting in, so I can survive that kind of environment and [be] fine, but that's not the case for every woman out there.
I think it's important for there to be more female composers and producers. That's why my label and I wanted to call it Chloe Flower. "Produced by Chloe Flower. Written by Chloe Flower." Because, as a female and a person of color, I represent such a small group of people. Those numbers need to go up.
I met a girl who's 14 or 15 and she's Asian, and I'm working on a solo-piano Christmas album, so I told her I'd include one of her compositions. She's really good.
Read More: Jen Shyu On New Album 'Zero Grasses: Ritual For The Losses,' Overcoming Grief & Discrimination In Enlightened Spaces​
How do we encourage more young women of all backgrounds to enter this field?
I think definitely by promoting as many female producers and composers [as possible]. Not just artists. It's important. So many women don't get songwriting or producer credit. I've been in so many sessions where I play piano on songs and they look at me and go "You don't need the credit."
I've done so many free sessions that I joke about it. When I do a concert, I'm like, "That's a great fee, but if you divide it by the number of hours I've worked and practiced and done free sessions, it's like negative $1,000 an hour."
When I go into a studio and it's all dudes, it doesn't necessarily make me so excited to be in the studio. It's all the time, and I think when women see other women in the studio, it's more fun. It's more empowering than being the only girl.
So, I think it's definitely about promoting and highlighting and honoring these new, young, female composers and producers and showing other women it isn't just a male space.
"At Night, The Disco Goddess": Why Nirvana Songs Make For Killer House Music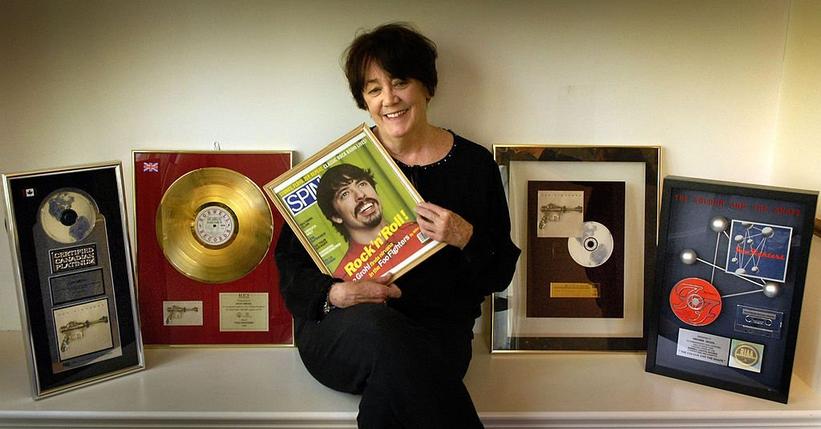 Virginia Grohl, mother of guitarist Dave Grohl, holds a framed cover of a 1977 SPIN magazine with a picture of her son
Photo: Gerald Martineau/The The Washington Post via Getty Images
list
7 Artists Inspired By Their Mothers: Billie Eilish, Jacob Collier & More
In celebration of Mothers' Day, take a look at how moms have made a lasting and loving impact on artists including Tupac, Christina Aguilera and Dave Grohl.
GRAMMYs
/
May 14, 2023 - 06:25 pm
Before Taylor Swift and Beyoncé became household names, their biggest champions were their mothers. Today, these global superstars honor their beginnings by being their own mother's biggest fans.
These musicians honor their moms through everything from social media posts to actually sharing the stage. In recent years, Lizzo has been vocal about the importance of her mom's support (and supportive of her mom and sister parking a food truck outside of stadium concerts); John Legend praises his mom for always encouraging him to sing in school and church. Swift wrote a song in tribute to her mother's cancer journey, while Miranda Lambert and Sheryl Crow have shared important lessons learned from thier moms. Beyoncé tells the world, "I got this s— from Tina."
For Mothers Day, GRAMMY.com honors seven more musicians who celebrate their remarkable moms.
Jacob Collier
Jacob Collier truly grew up in a house of music. The singer/songwriter was raised to love multiple instruments by his mother Suzie Collier, herself an internationally sought-after violinist and conductor who teaches at the Royal College of Music.
Naturally, Collier's music career began in the family home and recording YouTube videos in a room decked with instruments. For more than 10 years, the Colliers  have shared themselves playing lively jazz standards and Christmas songs from this foundational space.
"Really, I was brought up with music as a second language," Collier reflected in an interview with The Irish Times. My mother was extremely encouraging of the sensitivities of my brain. It was this sense of curiosity but never pressure."
Several years and five GRAMMY Awards later, Collier delights his audiences with surprise duets with "Mamma Collier," where they speak this language (and rock fantastic matching jackets) of their own.
Christina Aguilera
Christina Aguilera was taken by her mother, Shelly Loraine Kearns, for singing auditions at the age of 7 and it eventually landed her placement in the iconic "Mickey Mouse Club." Yet childhood was far from perfect for Aguilera. Much of her music written in adulthood is a testament to Kearns' strength and their shared experience of domestic abuse at the hands of her father.
"I watched my mom have to be submissive, watch her Ps and Qs or she's gonna get beat up," Aguilera recalled to Paper Magazine. In considering what kind of woman she wanted to become, she adds, "You can either be, unfortunately, so damaged by it that you take a turn for the worse, or you can feel empowered by it and make choices to never go down that route."
Aguilera powerfully honors her mom's survivorship in several songs, such as "Oh, Mother" and this vulnerable performance of "I'm OK," which offers the chorus: "Bruises fade father, but the pain remains the same… Strength is my mother for all the love she gave / Every morning that I wake I look back to yesterday / And I'm OK."
Tupac Shakur
In Tupac's resonant single "Dear Mama," the rapper praises his mother Afeni Shakur as a "Black queen." He ends the track with, "You are appreciated." 
Afeni's story is as fascinating and complex as her son's. While pregnant with Shakur, Afeni faced a 350 year jail sentence on charges related to her affiliation with the Black Panther Party. She acted as her own attorney in court and served 11 months of the sentence, giving birth as a free woman. While she went on to battle addiction, she and Tupac reunited and she encouraged Shakur in using his creativity in the fight for justice.
This spring, the story continues through a five-part special with the same title on FX Network. 17 year old Shakur accounts in the trailer, "My mother taught me to analyze society and not be quiet."
Shakur's music and legacy center themes of freedom, inspired by his mother. This includes anthems like, "Keep Ya Head Up"  and "Changes."
"My mother taught me to analyze society and not be quiet," he late rapper says in the trailer for an FX docuseries about their relationship. "I think my mother knew that freedom wouldn't come in her lifetime, just like I know that it won't come in mine."
Billie Eilish
Billie Eilish has one of the most recognizable families in music, including her and FINNEAS' mother, Maggie Baird. Baird has appeared in multiple of her daughter's Vanity Fair interviews, documentary, and frequently travels on tour with her daughter. They share a mission in vegan activism and have received environmental awards for their efforts.
Most importantly, Eilish credits her mother for saving her life when she was feeling suicidal. Baird checked in regularly with her daughter giving her permission to take a break from the world stage at any point.
In a most recent birthday post, Eilish affectionately wrote of her mother, "You make the world go round. I told you yesterday that when I think about how much I love you, I want to sob and throw up."
WILLOW
In recent years, WILLOW played homage to her mother, Jada Pinkett Smith, for Mother's Day. After a loving video tribute, she planned a surprise performance of a favorite song from Pinkett Smith's former metal band, Wicked Wisdom, alongside its original members. In which, WILLOW mirrors Pinkett Smith's confidence and vocal range.
Throughout her childhood, WILLOW watched her mother perform with wonder. She elaborates, "I was my mom's biggest fan. Every night, I wanted to ride on the security guard's shoulders and watch her perform. She was a rock star, and I was living for Wicked Wisdom," WILLOW said. "I felt like it was only right for me to pay homage to a time in her life because she showed me what womaning up really is about."
This legacy comes through in WILLOW's most recent explorations in the worlds of alt and pop-punk.
Beyond a shared love of music, WILLOW, Pinkett Smith, and Jada's mother deepen their bond with their show Red Table Talk on Facebook Watch. In which, they share multi-generational, candid conversations on provocative topics ranging from race relations to forgiveness.
Camila Cabello
Camila Cabello and her mother, Sinuhe Estrabao, traveled far to get where she is today as an international pop-star. The two had a month-long journey when migrating from Cuba to the US when Cabello was six years old. Cabello shares in Popsugar, "I think the most important thing I've learned from my mom has been: You're human if you have fear, but you can't ever let it determine how hard you go at a situation. If anything, it should make you go harder — go for it all the way."
Though introverted, Cabello channeled this courage into making the decision to audition for "The X Factor" as a teenager.
When Cabello received Billboard's Breakthrough Artist Award, she began her acceptance speech by acknowledging her No. 1: "The only reason I am standing here on this stage, in this auditorium, on this soil in this country is because of one woman - and that's my mom."
Dave Grohl
Dave Grohl has an immense passion for a mother's role in a musician's life, and even hosts and executive produced the documentary series, "From Cradle to Stage." The series features interviews with rock stars and their moms; his own mother, Virgina Hanlon Grohl, wrote a book in 2017 with the same title.
In a NBC interview, Grohl said, "The relationship between a mother and their child — the mother and the artist — is maybe the most important relationship of any musician's life... It's the foundation of their understanding of love, and love is every artist's greatest muse. You know, every lyric you write is rooted in that."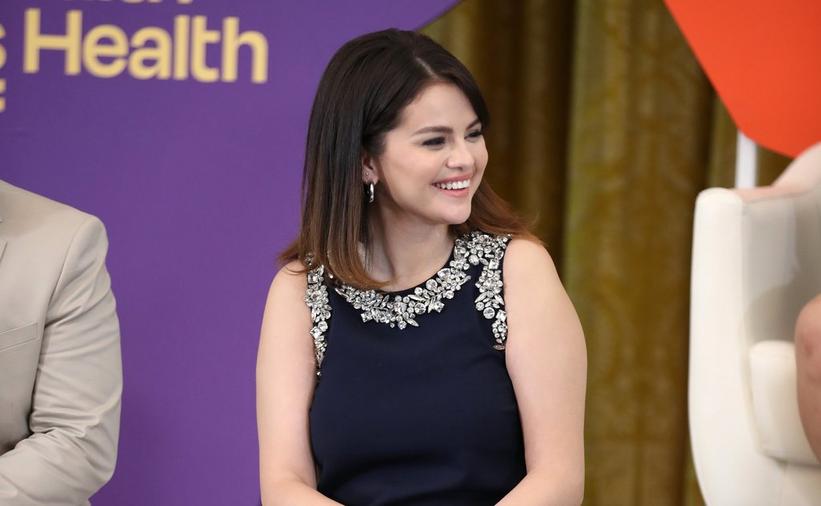 Selena Gomez participates in MTV Entertainment's first ever Mental Health Youth Forum at The White House in 2022.
Photo: Tasos Katopodis/Getty Images for MTV Entertainment 
list
10 Artists Who Are Outspoken About Mental Health: Billie Eilish, Selena Gomez, Shawn Mendes & More
From Ed Sheeran to Janet Jackson, take a look at some of the major music stars who have shared their struggles with mental health — and helped fans feel supported and seen in the process.
GRAMMYs
/
May 9, 2023 - 06:28 pm
Sharing mental health issues with close family or specialized medical professionals can be challenging enough. Add in the pressures of fame and being in the public eye, and any struggles are exponentially more difficult to cope with.
In recent years, though, mental health has become a much more widely discussed topic in celebrity culture. Several artists have used their music and their platform to open up about their own struggles with depression, anxiety and the like, from Bruce Springsteen to Selena Gomez.
In honor of Mental Health Awareness Month this May, GRAMMY.com highlights the inspirational impact of music superstars who speak out about what they're going through, and how they manage their challenges. These 10 performers are making change through their courage and candor.
Ed Sheeran
Ed Sheeran takes fans behind the curtain of his personal life and struggles with mental health in Ed Sheeran: The Sum of It All. The four-episode docuseries, which is now streaming on Disney+, details the pain of losing his best friend Jamal Edwards and his wife Cherry Seaborn receiving a cancer diagnosis while she was pregnant with their daughter Jupiter.
"What I think is really great about the documentary is the themes that it explores, everyone goes through," Sheeran said at the New York City premiere on May 2, according to the Hollywood Reporter. "Everyone goes through grief. Everyone goes through ups and downs of their mental health."
Sheeran dives deeper into his struggles — and is more vulnerable than ever before — on his latest album Subtract, which arrived on May 5. "Running from the light/ Engulfed in darkness/ Sharing my eyes/ Wondering why I'm stuck on the borderline," he sings on album cut "Borderline," which touches on battling suicide thoughts.
Lewis Capaldi
Like Sheeran, Scottish singer Lewis Capaldi also gave fans an incredibly upfront look at his mental health challenges in a documentary, How I'm Feeling Now. The new Netflix release details his experience with anxiety and Tourette's syndrome, taking viewers to physical therapy with Capaldi and discussing how his medication both helps and hurts the quality of his life.
Capaldi's second album, Broken By Desire To Be Heavenly Sent (due May 19) will further explore his anxieties and vulnerability. While he has admitted it wasn't easy to be so raw in his music and on screen, Capaldi wants to make a difference in other people's lives. "If people notice things that are concurrent with what's going on in their life, then it's all been worth it," he told Variety.
Billie Eilish
While Billie Eilish's music has been raw and real from the start, her music has become increasingly more vulnerable throughout the years. Whether in her music or in interviews, the star has opened up about dealing with body dysmorphia, depression and thoughts of self-harm — hoping to inspire fans to speak up when they are hurting, and to know that it gets better.
"It doesn't make you weak to ask for help," she asserts in a 2019 video for Ad Council's Seize The Awkward campaign, which features stars discussing mental health.
"Kids use my songs as a hug," she told Rolling Stone earlier that year. "Songs about being depressed or suicidal or completely just against-yourself — some adults think that's bad, but I feel that seeing that someone else feels just as horrible as you do is a comfort. It's a good feeling."
Selena Gomez
As one of the most-followed stars on social media, Selena Gomez has often used her formidable presence to discuss her mental health and connect with others. In 2022, the singer launched a startup called Wondermind, which is focused on "mental fitness" and helping users maintain strong mental health.
Just a few months later, Gomez further chronicled her own mental health journey in an Apple TV+ documentary, Selena Gomez: My Mind and Me, which shows extremes she's suffered with her depression and bipolar disorder. She has said she was initially hesitant to share the film, but ultimately reflected on how many others could be helped if she did.
"Because I have the platform I have, it's kind of like I'm sacrificing myself a little bit for a greater purpose," she explained in a 2022 cover story with Rolling Stone. "I don't want that to sound dramatic, but I almost wasn't going to put this out. God's honest truth, a few weeks ago, I wasn't sure I could do it."
Shawn Mendes
In 2019, Shawn Mendes first publicly addressed his struggles with anxiety in the dynamic — and GRAMMY-nominated — hit "In My Blood." Three years later, the singer postponed his 2022 tour in order to focus on his mental health, opening up an important conversation to his legion of fans.
"The process was very difficult," he said in a February interview with Wall Street Journal. "A lot of doing therapy, a lot of trying to understand how I was feeling and what was making me feel that way. And then doing the work to help myself and heal. And also leaning on people in my life to help a little bit. 
"It's been a lot of work, but I think the last year and a half has been the most eye-opening and growing and beautiful and just healing process of my life," he continued. "And it just really made me see how culture is really starting to get to a place where mental health is really becoming a priority."
Bruce Springsteen
Even an artist as successful and celebrated as Bruce Springsteen has faced depression. In his 2016 autobiography Born to Run, the 20-time GRAMMY winner cites a difficult relationship with his father and a history of mental illness in the family, sharing that he has sought treatment throughout his life.
"I was crushed between 60 and 62, good for a year, and out again from 63 to 64," he wrote in the book. In that time, he released his 2012 album, Wrecking Ball, which featured a raw track called "This Depression." "Baby, I've been down, but never this down I've been lost, but never this lost," he sings on the opening verse.
As his wife, Patti Scialfa, told Vanity Fair in 2016, "He approached the book the way he would approach writing a song…A lot of his work comes from him trying to overcome that part of himself."
Janet Jackson
The physical and emotional abuse suffered by the famous Jackson family is well-documented in books, documentaries and TV dramatizations. But it's only been in recent years that Janet Jackson has talked about her own depression, which she has referred to as "intense." Her son Aissa has helped her heal from mental health challenges that have followed her all of her life.
"In my 40s, like millions of women in the world, I still heard voices inside my head berating me, voices questioning my value," she wrote in a 2020 ESSENCE cover story. "Happiness was elusive. A reunion with old friends might make me happy. A call from a colleague might make me happy. But because sometimes I saw my failed relationships as my fault, I easily fell into despair."
Elle King
After seeing global success with her debut single, "Ex's & Oh's," Elle King experienced the woes of sudden fame as well as a crumbling marriage. Her second album, 2018's Shake the Spirit, documented her struggles with self-doubt, medicinal drinking and PTSD.
"There's two ways out," she told PEOPLE in 2018, describing her marriage as "destructive," physically abusive and leading her to addiction. "You can take the bad way out or you can get help. I got help because I knew that I have felt good in my life and I knew I could get there again."
Brendon Urie
Certain public situations can trigger crippling anxiety attacks for Brendon Urie, who has been open about mental health concerns throughout his career. He can perform in front of thousands of fans, but he's revealed that being in the grocery store or stuck in an elevator for too long with other people are among some of his most uncomfortable scenarios in his life.
"You would never tell on the surface, but inside it's so painful I can't even describe," the former Panic! At The Disco frontman — who disbanded the group earlier this year to focus on his family — said in a 2016 interview with Kerrang.
Big Sean
Rapper Big Sean and his mother released a series of educational videos during Mental Health Awareness Month in 2021 — two years after the Detroit-born star started talking about his own long-held depression and anxiety publicly.
"I was just keeping it real because I was tired of not keeping it real," he said in an interview with ESSENCE in 2021. "I was tired of pretending I was a machine and everything was cool and being politically correct or whatever. I just was like, I'm a just say how I feel."
Like many of his peers, he hopes that his honesty will help others. "Whatever they can apply to their life and better themselves and maybe it just even starts a whole journey in a different direction as far as upgrading and taking care of themselves and bossing up themselves," he added. "Whatever they're trying to do, I hope it helps them get to that place."
How Durand Jones' Debut Album 'Wait Til I Get Over' Helped Him Explore His Roots & Find Self-Acceptance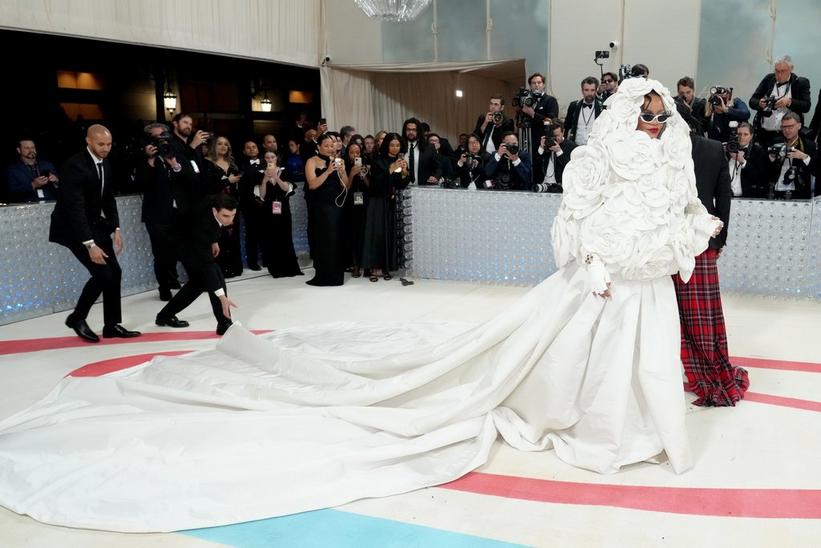 Rihanna attends the 2023 Met Gala Celebrating "Karl Lagerfeld: A Line Of Beauty" at the Metropolitan Museum of Art on May 01, 2023 in New York City
Photo: Jeff Kravitz/FilmMagic
news
Met Gala 2023: All The Artists & Celebrities Who Served Fierce Looks & Hot Fashion On The Red Carpet, From Rihanna To Dua Lipa To Billie Eilish To Bad Bunny To Cardi B To Doja Cat & More
Fashion and music have always been inextricably linked, and the strong longs were on fully on display at the 2023 Met Gala — one of the most anticipated style events of the year. See the red carpet outfits from Rihanna, Lil Nas X, Anitta & more.
GRAMMYs
/
May 1, 2023 - 11:46 pm
It's that time again! The 2023 Met Gala — one of the fashion bonanzas of the year — is in full force. And given that fashion has always been the yin to music's yang, GRAMMY winners and nominees were among the stars studding this glamorous, fashion-forward event.
Presented by gala co-chair Anna Wintour, the editor of Vogue and global editorial director of Condé Nast, the Met Gala this year is co-chaired by Penélope Cruz, Michaela Coel, Roger Federer and three-time GRAMMY winner Dua Lipa.
GRAMMY winners and nominees as well as today's leading artists in music are already setting the Met Gala red carpet on fire, with everyone from Dua Lipa, Phoebe Bridgers, Rita Ora, David Byrne, rising rap sensation Ice Spice, and more showing off their fierce fashion looks. Plus, Rihanna and her partner ASAP Rocky made a last-minute surprise arrival on the 2023 Met Gala red carpet, setting the fashion and music worlds ablaze.
This year's Met Gala celebrates the indelible legacy of the late fashion designer Karl Lagerfeld; the dress code is "In honor of Karl…")
Below, check out some of the most eye-catching red carpet fashion looks from music's biggest stars at the 2023 Met Gala.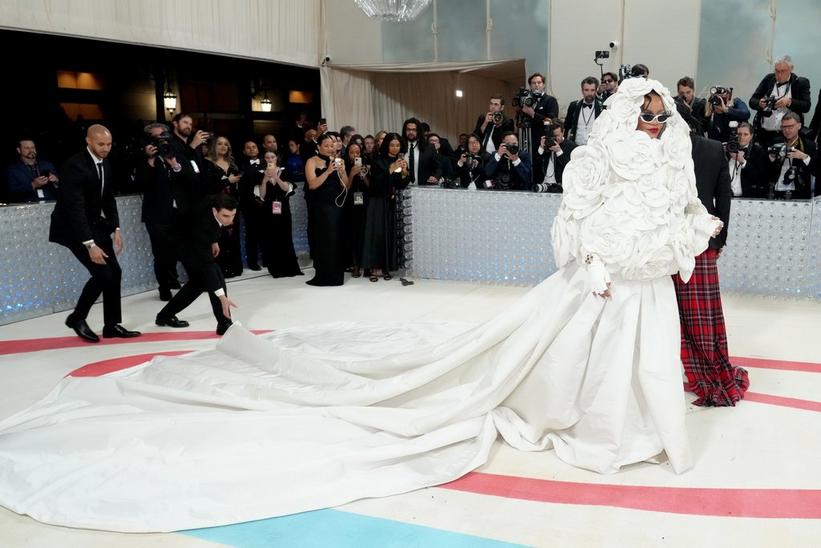 Rihanna attends the 2023 Met Gala Celebrating "Karl Lagerfeld: A Line Of Beauty" at the Metropolitan Museum of Art on May 01, 2023 in New York City | Photo: Jeff Kravitz/FilmMagic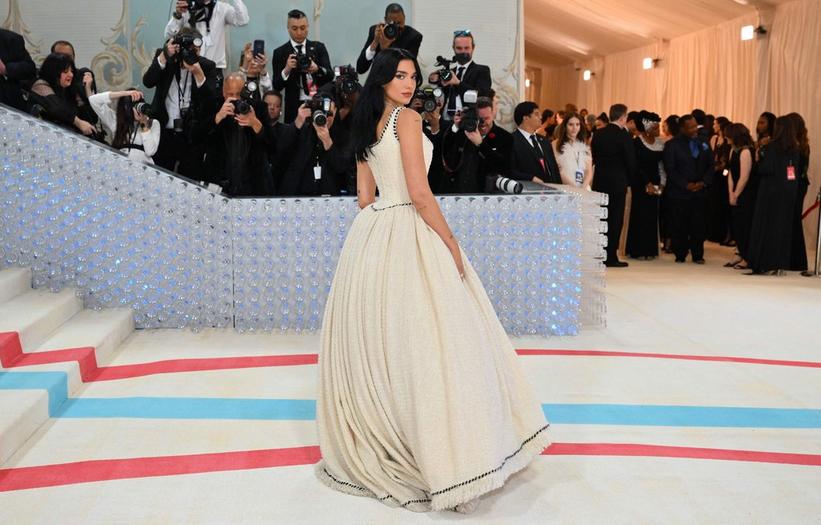 Dua Lipa arrives for the 2023 Met Gala at the Metropolitan Museum of Art on May 1, 2023, in New York | Photo: ANGELA WEISS / AFP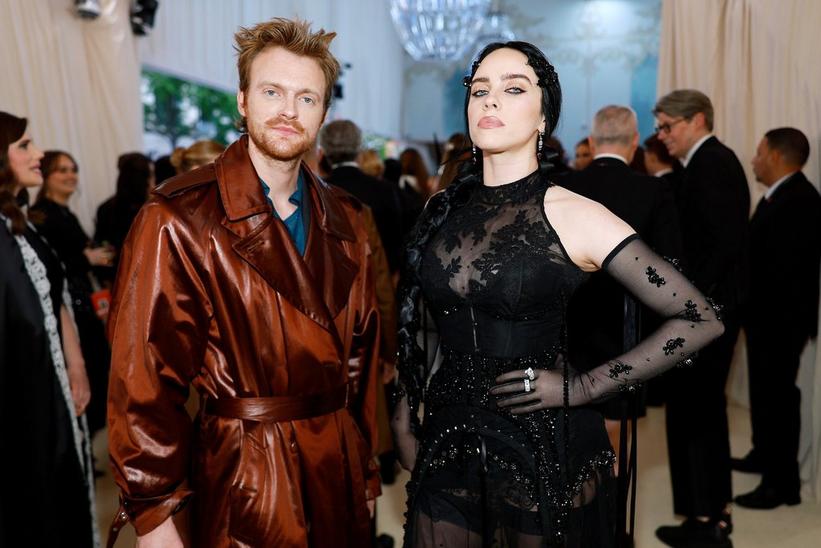 (L-R) Finneas O'Connell and Billie Eilish attend The 2023 Met Gala Celebrating "Karl Lagerfeld: A Line Of Beauty" at The Metropolitan Museum of Art on May 01, 2023 in New York City | Photo: Matt Winkelmeyer/MG23/Getty Images for The Met Museum/Vogue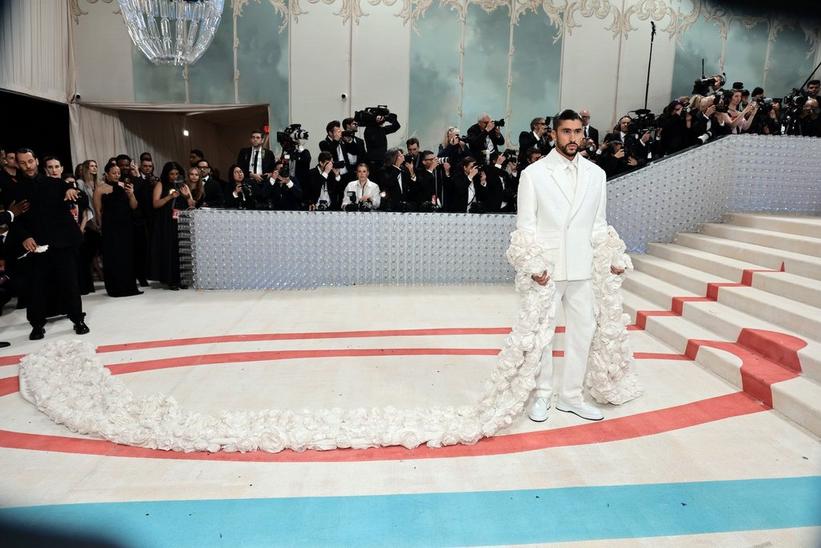 Bad Bunny attends The 2023 Met Gala Celebrating "Karl Lagerfeld: A Line Of Beauty" at The Metropolitan Museum of Art on May 01, 2023 in New York City | Photo by Jamie McCarthy/Getty Images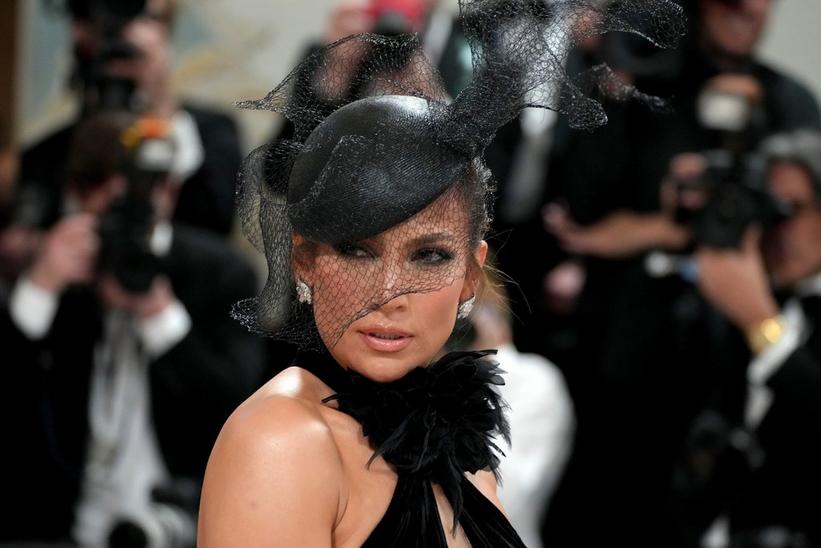 Jennifer Lopez attends the 2023 Met Gala Celebrating "Karl Lagerfeld: A Line Of Beauty" at the Metropolitan Museum of Art on May 01, 2023 in New York City | Photo: Jeff Kravitz/FilmMagic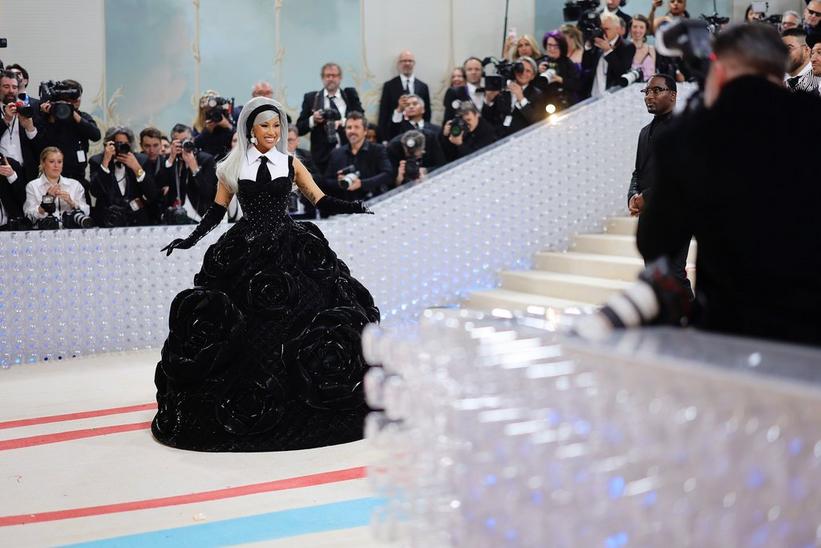 Cardi B attends the 2023 Met Gala Celebrating "Karl Lagerfeld: A Line Of Beauty" at the Metropolitan Museum of Art on May 01, 2023 in New York City | Photo: Matt Winkelmeyer/MG23/Getty Images for The Met Museum/Vogue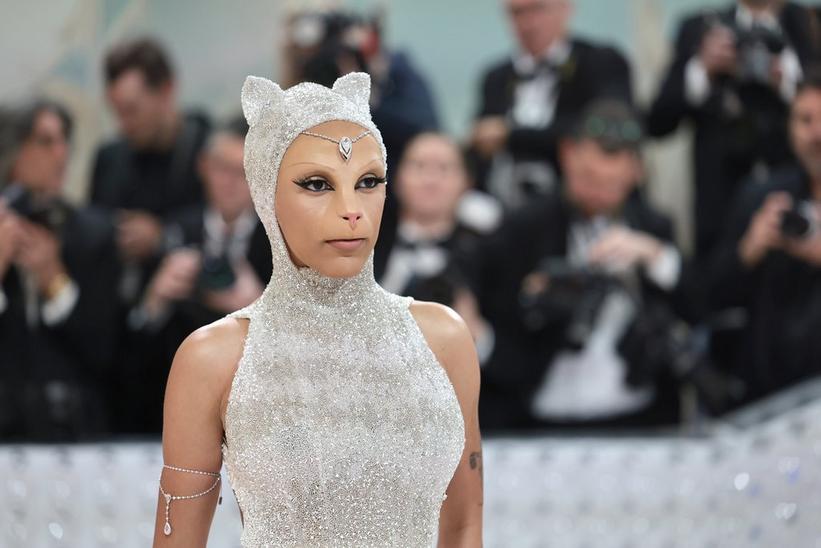 Doja Cat attends the 2023 Met Gala at the Metropolitan Museum of Art on May 01, 2023 in New York City | Photo: Jamie McCarthy/Getty Images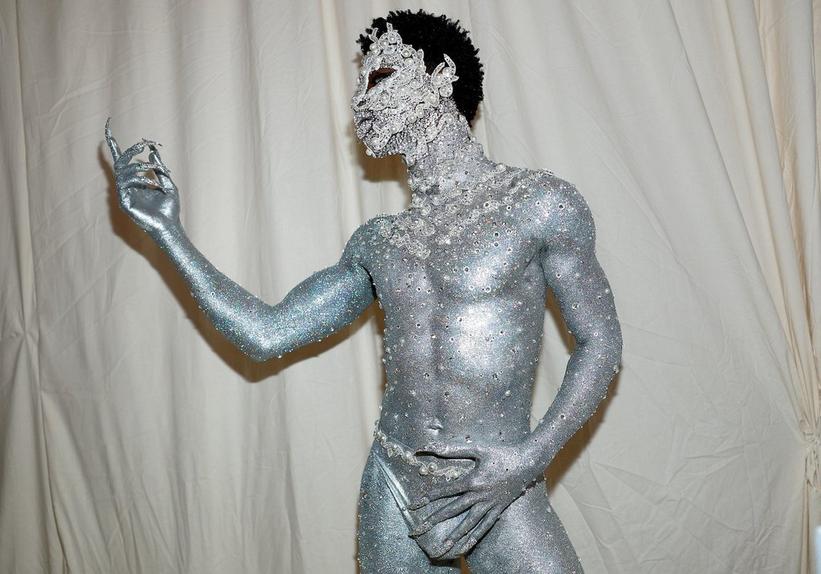 Lil Nas X attends The 2023 Met Gala Celebrating "Karl Lagerfeld: A Line Of Beauty" at The Metropolitan Museum of Art on May 01, 2023 in New York City | Photo: Matt Winkelmeyer/MG23/Getty Images for The Met Museum/Vogue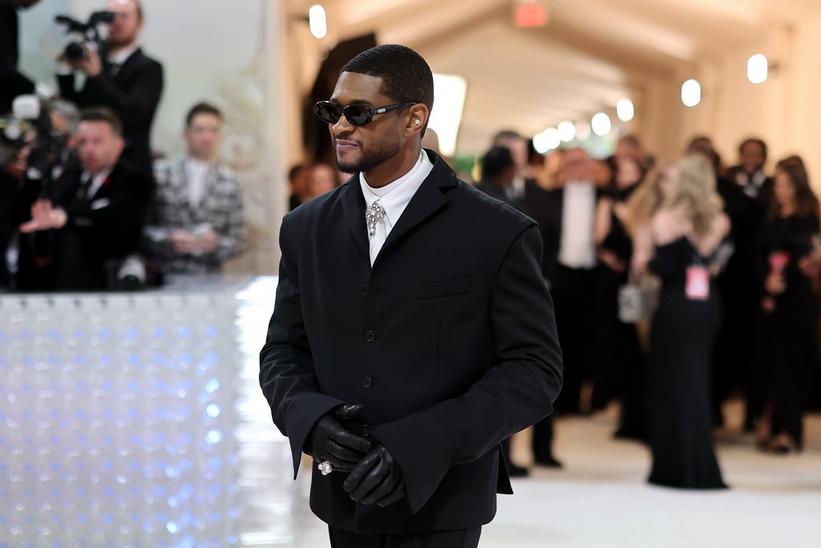 Usher attends the 2023 Met Gala Celebrating "Karl Lagerfeld: A Line Of Beauty" at the Metropolitan Museum of Art on May 01, 2023 in New York City | Photo: Mike Coppola/Getty Images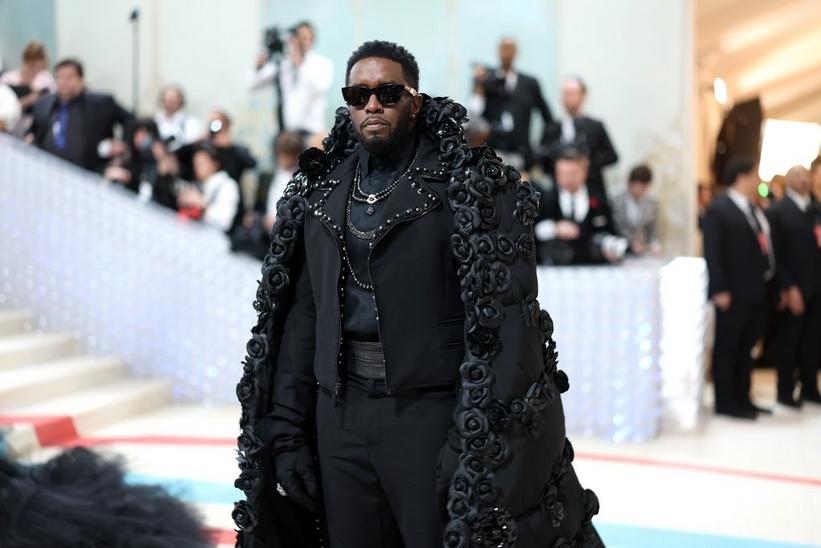 Sean "Diddy" Combs attends The 2023 Met Gala Celebrating "Karl Lagerfeld: A Line Of Beauty" at The Metropolitan Museum of Art on May 01, 2023 in New York City | Photo: Mike Coppola/Getty Images
Phoebe Bridgers attends the 2023 Met Gala at Metropolitan Museum of Art on May 01, 2023 in New York City | Photo: Jeff Kravitz/FilmMagic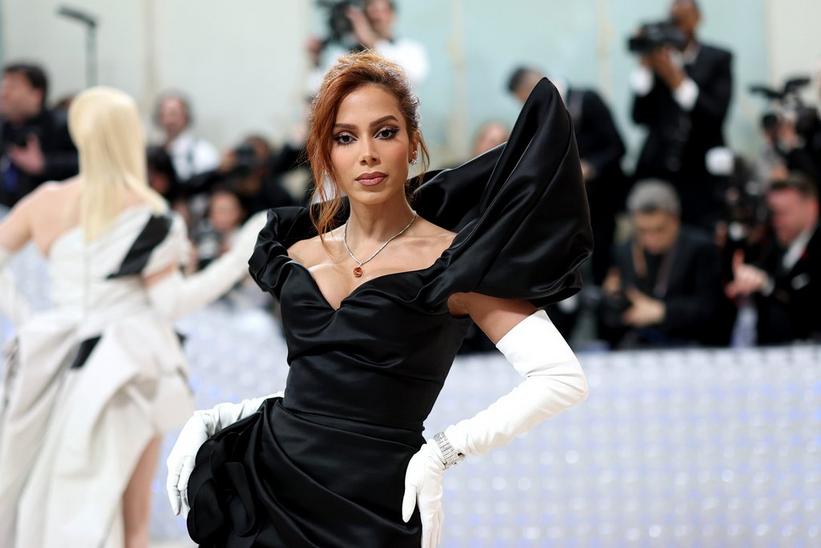 Anitta attends the 2023 Met Gala the Metropolitan Museum of Art on May 01, 2023 in New York City | Photo: Mike Coppola/Getty Images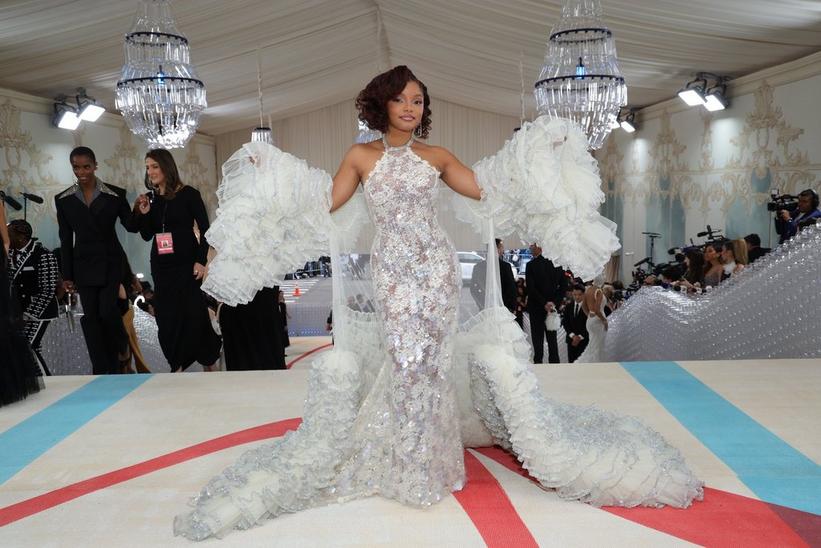 Halle Bailey attends the 2023 Met Gala Celebrating "Karl Lagerfeld: A Line Of Beauty" at the Metropolitan Museum of Art on May 01, 2023 in New York City | Photo: Kevin Mazur/MG23/Getty Images for The Met Museum/Vogue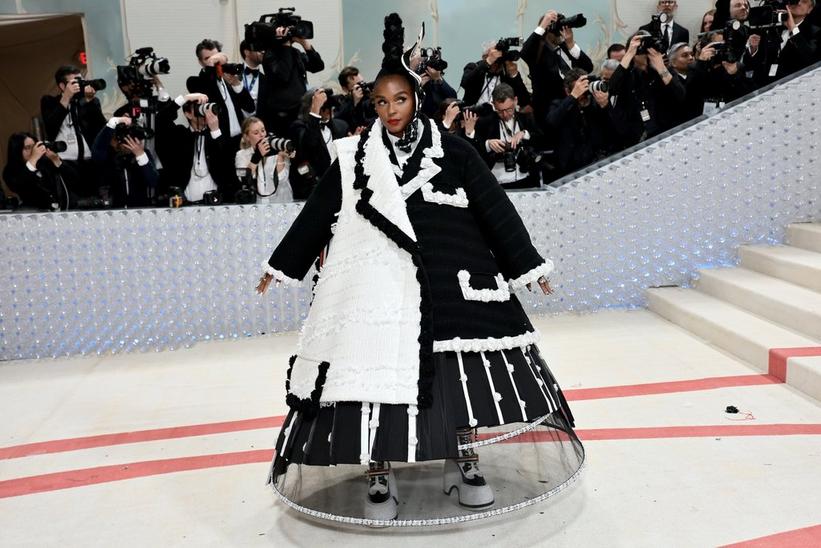 Janelle Monáe attends The 2023 Met Gala Celebrating "Karl Lagerfeld: A Line Of Beauty" at The Metropolitan Museum of Art on May 01, 2023 in New York City | Photo: Jamie McCarthy/Getty Images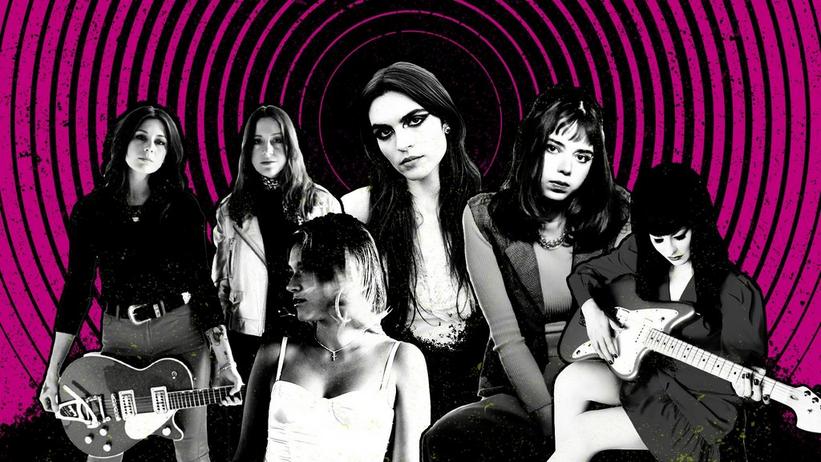 (Clockwise from left) Larkin Poe, Gretel Hänlyn, BRATTY, Olivia Jean, Dutch Mustard
Photos: Jason Stoltzfus; Jasper Cable-Alexander; Christian Alanis; Jada + David; Courtesy of artist 
list
6 Female-Fronted Acts Reviving Rock: Wet Leg, Larkin Poe, Gretel Hänlyn & More
Long a staple of the form, 2023 sees even more women leading the hell out of rock bands. Read on for six rising acts whose bold sound and brash energy are taking rock to new heights.
GRAMMYs
/
Apr 21, 2023 - 01:54 pm
Neil Young once proclaimed that "rock and roll can never die," and while the genre isn't necessarily topping charts or playlists today, there are signs that rock music is coming back in a big way. In 2023, Neil's truth is being upheld by female rockers.  
Long a staple of the form — rock was pioneered by a woman, Sister Rosetta Tharpe, iterated on by female-led groups like Heart and Jefferson Airplane, revived and reformed by the likes of Bikini Kill, and onward to Paramore — women's contributions to rock remain less feted than those of their male counterparts. 
Yet female rockers and female-led bands are resonating with today's younger audiences in big ways, following a culture shift that has resulted in more space for young women to express themselves. Gen-Z and younger millennial artists such as Billie Eilish, Olivia Rodrigo and boygenius are known for their honest lyricism; it's only natural that they've gravitated toward the fiery release of rock to further reflect their own individual experience.
Eilish's GRAMMY-nominated breakup anthem "Happier Than Ever" invokes the classic rock format of beginning acoustic and swelling into an epic band finish complete with a guitar solo and a final 20 seconds of feedback-driven noise. Rodrigo has several rock songs on her smash hit debut album SOUR including "good 4 u," another enraged breakup song with emo tinges that is currently sitting at 1.7 billion streams on Spotify. 
Finally, while the debut album from boygenius, the record, is mostly in the indie wheelhouse of members Phoebe Bridgers, Julien Baker, and Lucy Dacus, the single "$20" is an alt-meter rock song. The trio details the stories of early youth wherein all it takes to avoid responsibility is $20; Bridgers literally screams her request for money at the song's close.
But how to define rock —  is it a feeling or an attitude? A sound or a set of instruments? For the purposes of this list, rock is categorized as guitar-forward and band-based. First and foremost, guitar is at the forefront — generally distorted, though an acoustic or clean sound can lend an upbeat energy or psychedelic quality. Second, rock is a band genre, even if a group is named after one person, the band creates real cohesion (e.g. the Jimi Hendrix Experience, Steve Miller Band).  In 2023, women are leading the hell out of these bands.
Read on for a list of rising artists whose sound and spirit rock.
Wet Leg
As Wet Leg, Rhian Teasdale and Hester Chambers took home a number of golden gramophones at the 2023 GRAMMYs: Best Alternative Music Album for their self-titled debut, and Best Alternative Music Performance for "Chaise Longue." 
Although they didn't win in the "rock" categories, their guitar-driven success defines the current generation of rock music (to the point that they even beat out well-established acts like Arctic Monkeys and Yeah Yeah Yeahs).
Utterly simple in its song form, "Chaise Lounge"  captures Gen Z's disillusionment about college, viewing it as more of a gateway to light-hearted debauchery than a path to vocational freedom. Then they tear through the disillusionment with a high-energy, limb-shaking guitar riff.
Gretel Hänlyn
Rock and roll was certainly invented by Black American artists, but British musicians have consistently innovated and expanded the genre —  from the Beatles launching the British invasion, to Sabbath morphing rock into heavy metal, to Pink Floyd's exploration of progressive psychedelia. Coming out of London, Gretel Hänlyn (pronounced hen-line) is upholding all the best traditions of British rock. 
Hänlyn explores every current corner of rock on her recently released EP, Head of the Love Club, and her previous, Slugeye. 
With a uniquely deep and resonant tone, Hänlyn has the power and versatility of a crooner. That ability defines the sound of "Dry Me" and other works throughout Hänlyn's catalog. She alters her delivery to befit the yelping and joyful side of rock on "King of Nothing" as well as the seething and scary side on "Drive." 
BRATTY
Coming out of Sinaloa Mexico, BRATTY is one of the female rock artists playing Coachella 2023, sharing her invigorated brand of the languorous sound of surf rock.
BRATTY's seaside exploits surely influenced the loungey and chilled-out feel of songs like "Honey, No Estás" and "tarde." With swells and sustains that are reminiscent of ocean sounds, BRATTY's music transcends language barriers. 
Given that the festival has been without a major rock headliner since Guns 'N Roses in 2016, the rock artists on the lineup this year are there to demonstrate the lifeblood of the genre. BRATTY's contribution demonstrates that rock can be slower, softer, and just as effective. 
Olivia Jean
Olivia Jean isn't just a former member of Jack White's touring band. She's not just his wife, either. She's an artist all on her own, and she rocks hard. 
As a solo artist, Jean has released two albums, an EP, and a single on White's Third Man Records. Prior to that, she was releasing on the label via The Black Belles, her all-female garage-goth project, which put out a self-titled album in 2011 along with four singles.
Jean's fingerprints go even deeper into the Third Man archives via her session contributions to different releases like Tom Brosseau and John C. Reilly's seven-inch single, Gonna Lay Down My Old Guitar.
No matter where she's lent her vocal and instrumental talent, her loud yet bubbly sound is a welcome addition to the catalog.
Jean's forthcoming album, Raving Ghost, (out May 5 on Third Man), and its first single, "Trouble," touches on all the traditional rock favorites like pentatonic power chords and call-and-response guitar squeals. You can check out Oliva Jean's rock on her American tour in May and June.  
Larkin Poe
Fun fact about the sisters Megan and Rebecca Lovell of Larkin Poe: They are distantly related to Edgar Allen Poe. With that kind of connection, it's only natural their rendition of rock carries a certain connection to the sounds of generations past. Many of those older sounds of rock and roll stem from their native American South, and manifest in influences of blues and Americana that were born of the same region.
Larkin Poe's Venom & Faith was nominated for Best Contemporary Blues Album at the 2019 GRAMMYs. Grounded in swinging rhythms and twangy notes that have hallmarked the blues since its inception, the Lovells demonstrate their understanding of the music's roots on a technical and emotional level, alongside their ability to carry the genre into the present.
Their latest album, Blood Harmony, follows the hereditary thread of blues giving birth to rock and roll. Larkin Poe dial back the swing just a bit and turn it up to 11 for hot and distorted tracks like  "Bad Spell," which features guitar breaks that will have Stevie Ray Vaughn jamming along in his grave.
Dutch Mustard
Another product of London, Sarah-Jayne Riedel fronts the just-out-of-the-gate alternative rock band, Dutch Mustard. Last year Dutch Mustard released their debut EP An Interpretation of Depersonalisation, and was quickly featured on BBC, getting airplay on Radio 1's Future Artists and being selected by none other than rock's enduring sage Iggy Pop on 6 Music.
Dutch Mustard produces a sound that is as dreamy as it is heavy, finding that middle ground in guitar tone between fuzzy and pristine. Then on songs like "Something To You," vocal layering adds a hopeful flavor. Dutch Mustard, like the other artists on this list, make listeners feel hope not just for the band, but for the future of rock.
That future is especially bright considering Riedel wrote all the songs and demoed all the instruments herself in her bedroom before bringing in other musicians. The first EP was written entirely during the first COVID lockdown as well.
With that kind of creativity and versatility coming from her, there is no telling where she'll take her music as her career moves forward into an open industry.
10 Emerging Jazz Artists To Watch: Simon Moullier, Mali Obomsawin, Julieta Eugenio, Jeremy Dutton & More