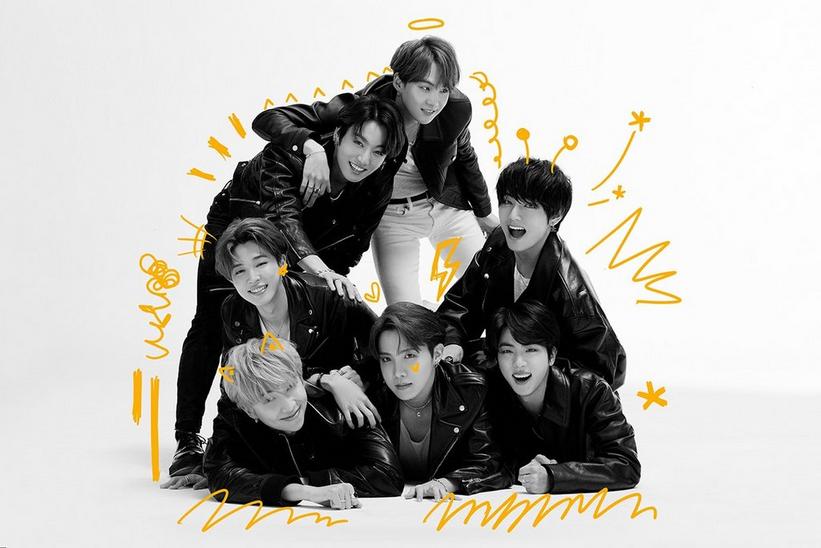 Courtesy: Big Hit Entertainment
news
BTS Talk New Album 'Map Of The Soul: 7': "The Genre Is BTS"
The international pop stars discuss the creative process behind their latest release and shine a light on the growing creative community in South Korea
GRAMMYs
/
Feb 23, 2020 - 01:27 am
International pop stars BTS are used to shattering world records. They've done it time and time again.
In 2018, the septet became the first Korean group to receive gold status from the Recording Industry Association Of America (RIAA), for the Steve Aoki remix of their 2017 track, "Mic Drop," featuring rapper Desiigner. The song, now certified platinum, became the act's first hit in the U.S., setting off an ongoing streak of Stateside hits and world records for the South Korean boyband. That same year, they became the first Korean act to top the Billboard 200 chart with Love Yourself: Tear.
BTS are now back to dominate the charts once again with Map Of The Soul: 7. Released just yesterday (Feb. 21), the new album is already the best-selling album of the year worldwide. Another day, another world record in the life of BTS.
Map Of The Soul: 7, BTS' fourth studio full-length to date, is the next installment in the band's ongoing Map Of The Soul series. It picks up from the 2019 chart-topping Map Of The Soul: Persona EP. In addition to featuring songs from the latter, Map Of The Soul: 7 expands on some of the themes and topics from the overall series, including the concepts of persona, shadow and ego.
"[Map Of The Soul: 7 is a] continuation from the album before, called Persona," BTS member RM tells the Recording Academy. "And this time, we put the other two themes, shadow and ego, and we put it together into [this] album, called 7. The difference is [the] persona, which is like the social mask before the good things that we have, [like] the spotlight. This time [on 7] we talked about the real shades and shadows that we had inside, and also the big manifesto that we admitted: all the shadows as our destinies and we're gonna carry on."
Sonically, Map Of The Soul: 7 touches on many genres and sounds. Album opener "Intro: Persona" sees RM rapping over a guitar-laced, bossy hip-hop beat, while "Interlude: Shadow," a solo track from BTS member Suga, is an atmospheric pop ballad that converts into an industrial rap monster.
For the group, Map Of The Soul: 7 breaks free from genre confines once and for all.
"I think it's less and less meaningful to divide music into genres now," Suga says.
"The genre is BTS. That's the genre we want to make and the music that we want. New genre," the group's Jungkook, V and J-Hope add.
On the day of the album's release, the Recording Academy caught up with BTS—all seven members!—at the Park Hyatt New York in Midtown Manhattan to discuss the creative process behind and deeper meanings within Map Of The Soul: 7, the group's all-star collaborator wishlist and the growing creative footprint of their South Korean homeland.
This interview was edited for clarity and brevity. An interpreter translated all answers from BTS, except for RM.
Can you talk about the creative process behind Map Of The Soul: 7? How does it differ from the rest of your albums?
Suga: It took us a little longer, and this is our first full album in quite a while. But making an album isn't just making the music. We have the songs, there's the choreography and a lot of other elements that come with it, so it took some time. But once we got started, it really started rolling along and it was really fun.
The album features individual tracks that highlight traits from each of the seven BTS members. How does the album reflect each individual member? And how does it reflect BTS as a whole?
Jungkook: I think individually, it really contained what we wanted to put into the music and the ideas that we have, and this is what we put in.
RM: As a group, it's like a big statement or like a manifesto that we finally admitted our shadows and egos at the same time as part of our destiny. So it's like, you're going to carry on and you can bring the pain and we'll carry on.
Map Of The Soul: 7 reflects on the seven years since BTS debuted in 2013. What has been the biggest life and career lessons you've learned so far?
Jin: Thanks to these guys, I think I learned more about music. I didn't really know a lot about music when I started out, but now I've learned how to write music or make melodies. That's what I really got out of the past seven years, thanks to these guys.
Jungkook: I think I really learned how precious music is, how important it is to me. Recording the music for this album, working on the music—through this whole process, [it was] really fun and meaningful because, again, I kind of learned and figured out how precious music is and how important it is to me.
The new album features collaborations with Halsey and Sia. Who are some other artists you want to collaborate with?
All (shouting out loud): Ariana [Grande], Travis [Scott], Taylor [Swift], Beyoncé, Billie Eilish, Post Malone, "Big" Nas, Lil Nas X!
RM: Call our label, please.
Your music as BTS has touched on many genres, from rap to pop. Are there any other genres or sounds you're interested in exploring in the future?
Suga: I think it's less and less meaningful to divide music into genres now.
Jungkook, V, J-Hope: The genre is BTS. That's the genre we want to make and the music that we want. New genre.
Map Of The Soul: 7 is a continuation of Map Of The Soul: Persona. How are the two projects related? And how are they different?
RM: Like you said, [Map Of The Soul: 7 is a] continuation from the album before, called Persona. And this time, we put the other two themes, shadow and ego, and we put it together into [this] album, called 7. The difference is [the] persona, which is like the social mask before the good things that we have, [like] the spotlight. This time [on 7] we talked about the real shades and shadows that we had inside, and also the big manifesto that we admitted: all the shadows as our destinies and we're gonna carry on. We put all the three things [together] and made a series.
Watch: Lil Nas X, BTS & Billy Ray Cyrus Enter The "Old Town Road" Multiverse At The 2020 GRAMMYs
The K-pop genre has exploded across the world over the past few years. Where does K-pop go from here? What would you like to see happen for your community?
Suga: As you said, the stature of K-pop has really grown all over the world. But rather than be recognized as the rise of a genre or the rise of K-pop as a genre, I would like more talented Korean artists to be better known around the world, because I think there are a lot of talented Korean artists, and it's really amazing to have this small country and so many talented people coming out of it. That's what I'd like to see.
Speaking of talented Korean artists, how did you feel when Parasite won so many awards at the Oscars this year?
RM: We felt like we won the GRAMMYs. Parasite is a great movie; I also watched it in the cinema. And like Suga said, we just know that there are a lot of talented people in Korea, also including outside K-pop or K-movie or anywhere else. Parasite's honor is our honor, too. We're happy.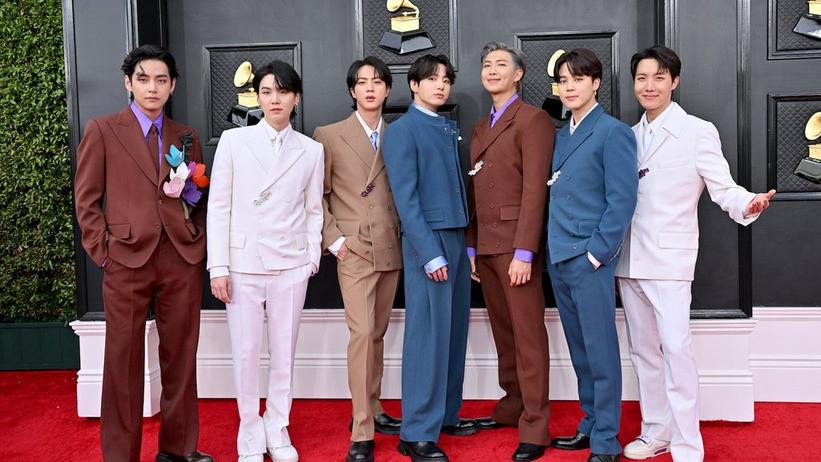 BTS (from left): V, Suga, Jin, Jung Kook, RM, Jimin and J-Hope
PHOTO: AXELLE/BAUER-GRIFFIN/FILMMAGIC
feature
Breaking Down Every Solo Act From BTS: Singles, Debut Albums & What's Next For The Septet
In 2022, BTS announced that the group would take a break as they enlist in South Korea's mandatory military service. The solo careers of Jin, Suga, j-hope, RM, Jimin, V and Jung Kook have launched a new era for the K-pop superstars.
GRAMMYs
/
May 10, 2023 - 02:14 pm
No one can deny that South Korean boy group BTS is a phenomenon. Since their debut in 2013, the septet formed by Jin, Suga, j-hope, RM, Jimin, V and Jung Kook have broken barriers and prejudices against Asian artists, reached notable milestones, and brought together one of the world's most devoted fandoms — known as ARMY.
Their relatable lyrics discuss societal issues and the pressures of growing up, while their intricate storytelling blends art classics, pop culture, and Korean heritage into something entirely new. BTS also offer a wide-range of musical genres — from hip-hop disses like "Mic Drop," to heartfelt ballads like "Spring Day" and feel-good bubblegum pop like "Butter." Regardless of any opinions, it's impossible not to be in awe of their oeuvre.
Taking all that in consideration, it's not surprising that BTS have broken numerous album and tour sales records throughout their career — they sold out Wembley Stadium and the Rose Bowl in 2019, becoming the first non-English-speaking, Asian artists to do so, for example. BTS also won a slew of trophies in South Korean and American award shows, including five GRAMMY nominations. For all of their contributions to South Korea's culture, they also became the youngest recipients of the country's Order of Cultural Merit in 2018.
BTS is, in some ways, a symbol of something bigger than themselves. An entity capable of uniting people all over the world and transmitting much-needed messages in their music. However, that wouldn't be possible if the seven humans behind it weren't as interesting as the whole. Since the beginning, BTS always encouraged its members to develop their own artistry, and all of them released several solos that spotlight their unique talents.
While 2022 brought in the news that BTS would take a break from group activities as they enlist in the South Korean mandatory military service, that meant their solo careers would take on the spotlight, launching in a new era. From Jin's "The Astronaut" to Jung Kook's "Dreamers," GRAMMY.com breaks down all of BTS's solo releases so far.
Jin
Jin isn't just "Mr. Worldwide Handsome," as he became known for his good looks. The eldest member of BTS is also a competent vocalist, whose soothing voice gave life to three solo songs under the group's roster: 2016's "Awake," 2018's "Epiphany" and 2020's "Moon."
The Anyang-born singer also contributed to the band's SoundCloud with the co-written and co-composed tracks "Tonight" and "Abyss." The former, released in 2019, was inspired by the deaths of Jin's dog and two sugar glider pets. Released in 2020, "Abyss" dealt with his fears and anxieties. "I want to find you and tell you/Today, I want to get to know you even more, yeah," he sings.
In 2021, Jin was chosen to sing "Yours," the main theme of TvN's drama "Jirisan." However, the real highlight of that year was "Super Tuna," a short song made for kicks and giggles that wemt viral on YouTube and TikTok.
As the eldest of the group, Jin was also the first to enlist in the military in December of 2022. Shortly before that, he graced fans with his official solo debut single, October's "The Astronaut." Co-written alongside Coldplay, the track placed No. 51 on the Billboard Hot 100; Jin performed the song in Buenos Aires, during the British band's Music of the Spheres World Tour. 
Suga
One of BTS' main songwriters, producers, and rappers, Suga is a prolific artist with a keen view about the world that we live in. Born in the city of Daegu, he began as an underground rapper and initially joined Big Hit Entertainment as a producer. Eventually, Suga became a trainee along with the other members.
Since BTS' debut in 2013, he contributed as a songwriter to the majority of their material, as well as producing and featuring in tracks by other artists such as Halsey's "Suga's Interlude," PSY's "That That," and IU's "Eight." He released five solo tracks as part of the group's discography: 2015's "Intro: The Most Beautiful Moment in Life" and "Intro: Never Mind," 2016's "First Love," 2018's "Trivia: Seesaw," and 2019's "Interlude: Shadow." Each release revealed his talent as a poignant storyteller on the ups and downs of growing up, dealing with fame, and remaining hopeful amid storms.
Concomitantly, he formulated the alter ego Agust D and released two solo mixtapes — 2016's Agust D and 2020's D-2. His first studio album under the alias, April's D-Day, was said to conclude the explosive, evocative trilogy that dealt with themes like anger, vengeance, and pain. Suga is also the first BTS member to headline his own tour, which is happening throughout May and June in the U.S. and Asia.
j-hope
Rapper j-hope was born in the metropolis of Gwangju, where he became known for his dancing skills. His interest in rapping, though, only came once he moved to Seoul and became a trainee under Big Hit Entertainment, where felt inspired by teammates Suga, RM, and producer Supreme Boi.
J-hope gradually developed his skills and became one of BTS' main songwriters, releasing three solo songs: 2016's "Intro: Boy Meets Evil" and "Mama" and 2018's "Trivia 起: Just Dance." Also in 2018, j-hope released his buoyant solo debut mixtape, Hope World. The album peaked at No. 38 on Billboard's 200 chart, turning him into the highest charting Korean soloist at the time. In 2019, he collaborated with Becky G on the hip hop track "Chicken Noodle Soup."
Following the announcement that BTS would be taking a break from group activities in 2022, j-hope was the first member to begin solo promotions. Jack in the Box, his first solo album, came out on July 15, and just 16 days later he became the first South Korean artist to headline Lollapalooza.
As of April, j-hope is currently enlisted in the military, but he left fans a special single to savor while they wait for his return: March's "On the Street," featuring rapper J. Cole.
RM
RM has often been the group's main spokesperson and producer. Through his work, he earned a stellar reputation both inside and outside of South Korea, collaborating with artists such as Fall Out Boy, Lil Nas X, Younha, Tiger JK, and Erykah Badu.
Born in Seoul, RM was a trainee under Big Hit Entertainment for three years before debuting, where he honed his songwriting skills in pre-debut tracks and cuts for other K-pop groups. As part of BTS, the gifted singer and rapper released a few solos: 2013's "Intro: O!RUL8,2?," 2014's "Intro: What Am I to You?," 2016's "Reflection," and 2019's "Trivia: Love" and "Persona." 
He was also the first member of the group to release a solo mixtape, 2015's RM, which showcased his distinct flow and honest self-reflections about rage and the contradictions of fame. In 2018 came his introspective, minimalistic second mixtape, Mono. Although just as honest about his emotions as the first one, Mono showcased a more pensive, or rather matured, side of RM. 
In December 2022, he released his much-awaited debut studio album, Indigo. Described as "the last archive of my 20s," RM continues his thoughtful reflections on what it means to make art and to be human, settling himself as one of today's most intelligent minds.
Jimin
Jimin always made an impression through his elegant dance moves and distinct falsettos, giving an aesthetic flair to all of BTS' releases. The Busan-born artist also showcased more of his talents through three solo tracks under the group's name: 2016's "Lie," 2017's "Serendipity" and 2020's "Filter."
In 2018, he released his first credited solo song, "Promise," followed by "Christmas Love" in 2020. That same year, Jimin collaborated with close friend and singer Ha Sung-woon on "With You," the soundtrack to TvN's 2022 drama "Our Blues," and in January 2023, he co-wrote and featured on Big Bang member Taeyang's single, "Vibe."
In March, Jimin released his long-awaited debut EP, Face. Its single, the synth-pop tune "Like Crazy," topped the Billboard Hot 100 chart, making Jimin the highest-charting Korean soloist of all time.
V
V's baritone, husky voice is one of BTS' most prominent elements, giving depth and texture to their songs. Like Suga, he was born in Daegu and dreamed of becoming a singer. After debuting with BTS, he released three solos under their name: 2016's "Stigma," 2018's "Singularity" and 2020's "Inner Child."
On the group's SoundCloud, he has slowly developed his own tracks. In 2019, he issued the self-composed ballad "Scenery," and later the all-English "Winter Bear." He also contributed to a few drama soundtracks along the years, most notably 2020's "Sweet Night," off JTBC's Itaewon Class, and 2021's "Christmas Tree," off Studio N's Our Beloved Summer.
Although V has been teasing an official mixtape for some time now, there is still no indication of when it will be released.
Jung Kook
At 25 years old, Jung Kook is the youngest member of BTS. Like Jimin, he was born in the coastal city of Busan, but moved to Seoul as a teenager to pursue his dreams of becoming a singer. In "Begin," his first solo song released on BTS' 2016 album Wings, he sings about how the group was largely his introduction to life: "When I was 15 years old, I had nothing/The world was too big and I was small."
Later came 2018's "Euphoria" and 2020's "My Time," off BTS' Love Yourself: Answer and Map of the Soul: 7, respectively. Also in 2020, he released "Stay Alive," the main soundtrack to BTS-based webtoon 7Fates: Chakho. He also publishes occasional solo work via Twitter, including the fan-loved "Decalcomanie," or SoundCloud, where he released "My You" and "Still With You" — the platform's Most-Streamed Pop Song in 2022, despite being released in 2020.
Last year, Jung Kook explored international collaborations. He participated in Charlie Puth's pop hit "Left and Right," and released "Dreamers" for the 2022 FIFA World Cup, later performing it at the opening ceremony of the event. With that, he became the first South Korean artist to release an official FIFA World Cup song.
While Jung Kook has mentioned that he intends to release a mixtape one day, it's still a mystery whether it will happen anytime soon. But judging through his output so far, he has proven to be more than ready to let the world get to know his artistic colors in full — just as all his bandmates have.
Celebrate AAPI Month 2023 With A Genre-Spanning Playlist Featuring BLACKPINK, Yaeji, Olivia Rodrigo & More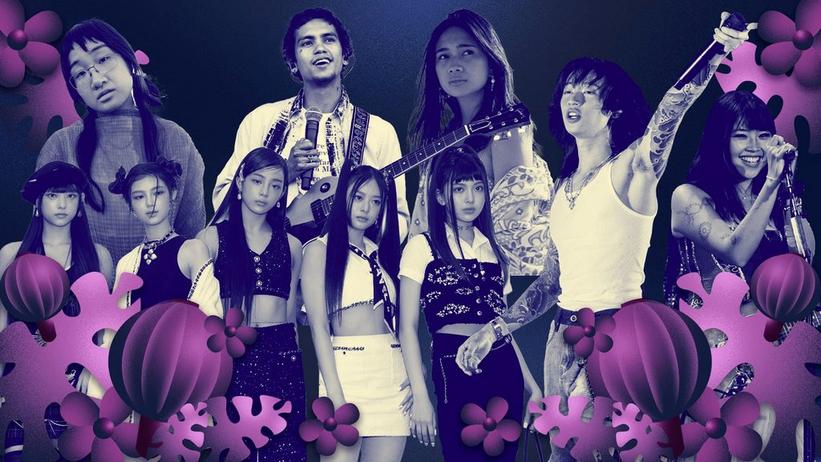 (L-R, clockwise) Yaeji, Dominic Fike, NIKI, Keshi, beabadoobee, NewJeans
Photos (L-R): Dasom Han, Tim Mosenfelder/Getty Images, Gabriel Chiu, Rick Kern/Getty Images, Ethan Miller/TAS23/Getty Images for TAS Rights Management, Han Myung-Gu/WireImage
news
Celebrate AAPI Month 2023 With A Genre-Spanning Playlist Featuring BLACKPINK, Yaeji, Olivia Rodrigo & More
Spotlighting artists of Asian and Pacific Islander descent, GRAMMY.com honors AAPI Heritage Month this May with 44 songs by Japanese Breakfast, NewJeans, Keshi and many more.
GRAMMYs
/
May 1, 2023 - 04:28 pm
As spring blossoms and May rolls around, AAPI Heritage Month reminds us to recognize and reflect on the talents of Asian American and Pacific Islander artists — across the music industry and beyond.
It's vital to celebrate diversity year-round, and May sparks additional dialogue about reshaping spaces to be more inclusive, especially within industries that are traditionally difficult to break into. Today, the music community views difference not as an obstacle, but an opportunity to celebrate individual and collective identity.
While 2023 marks 60 years since the first Asian American GRAMMY winner, AAPI creatives have been making waves in the music community for centuries. Whether you're raging to Rina Sawayama's enterprising electropop or vibing out with NIKI's soulful indie musings, AAPI artists are continuing to shape contemporary genres like never before.
In celebration of AAPI Heritage Month, GRAMMY.com compiled an original playlist to honor AAPI musicians' creativity and novelty. Take a listen to the playlist featuring more than 40 trailblazing creatives on Spotify, Apple Music, Amazon Music and Pandora.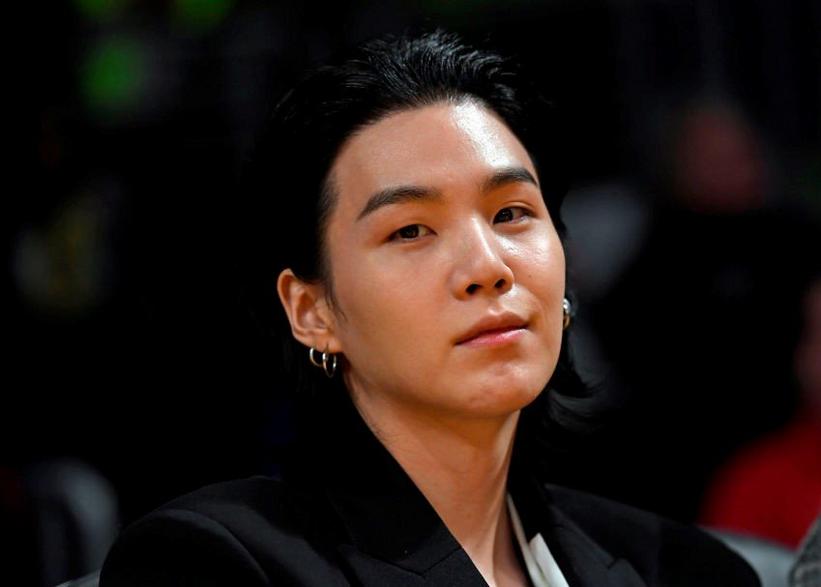 Suga
Photo: Kevork Djansezian/Getty Images
list
5 Takeaways From Suga's New Album, 'D-Day'
Ahead of his international solo tour — a first for any member of BTS — Suga unveils his debut studio album as Agust D. Read on for five takeaways from the intricate, intimate 'D-Day.'
GRAMMYs
/
Apr 24, 2023 - 02:02 pm
As each member of juggernauts BTS unveil solo projects while the group activities take a backseat, April 21 marks the release of rapper, songwriter, and producer Suga's first full album, D-Day.
Under the alter-ego Agust D — a combination of the initials of his birthplace, Daegu Town, and "Suga" written backwards — Suga previously released two acclaimed mixtapes, 2016's Agust D and 2020's D-2. As Suga, he also produced and featured on a slew of tracks by artists like PSY ("That That") and Halsey ("Suga Interlude"), as well as several solo songs within BTS' discography ("Trivia: Seesaw" and "Interlude: Shadow," for example).
Following the same pattern of his previous mixtapes, D-Day's 10 tracks display Suga's acute perceptions about the world and his lethal, self-proclaimed "tongue technology." However, D-Day also shows a more mature side to Agust D's standard anger, pairing his explosions with gentler sounds and features from bandmate j-hope, late composer Ryuichi Sakamoto, and singers IU and The Rose's Woosung.
Throughout its multi-layered glory, here are five takeaways from Suga's debut studio album D-Day.
Suga Reveals More Of Himself 
Although known for never sugarcoating the truth, D-Day sees Suga dive even deeper into his personal struggles and pains. "Really, what is it exactly that's been restricting us? / Maybe we do it to ourselves," he wonders about the state of the world on the title track "Haegeum," later affirming that we're all "slaves to YouTube, slaves to flexin'."
In the poignant "Amygdala," on the other hand, he revisits his mother's heart surgery, an accident he suffered and had to remain silent about, and his father's liver cancer — all "Those things I never asked for / Those things that are out of my hands," but that ultimately led him to bloom "like a lotus flower now."
It Concludes The Agust D Trilogy
Agust D has always served as Suga's gateway to express himself without commercial or conceptual constraints, veering away from his output in BTS and other solo productions. But like any good character arc, a moment of conclusion must eventually come. 
D-Day is the last installment of the Agust D trilogy, wrapping up a journey of highs and lows through the human experience. If and when we'll meet Agust D again is unknown, but his legacy will remain timeless.
Throwbacks & Wordplay Form An Intricate Puzzle
As with any BTS-related content, an encyclopedia is necessary to catch all the references, symbolisms, and double entendres spread along their work. D-Day is no different, and deserves to be explored in detail, and assembled together like a puzzle.
The music video for "Haegeum," for example, parallels the music video for his 2020 single "Daechwita," as well as referencing movies like Scarface (1983) and Oldboy (2003).
In the album, "People Pt. 2 (feat. IU)" works as the sequel to fan-favorite "People," out of his second mixtape D-2. "Interlude : Dawn" alludes to the previous interludes in his mixtapes, but also to his 2020 BTS contribution "Interlude : Shadow."  "SDL" brings over a nod to one of BTS' biggest hits, "Spring Day," while "Life Goes On" presents his solo take on the homonym BTS song. 
Collabs Deepen The Soundscape
D-Day is considerably mellow when compared to Agust D and D-2, and part of that aura is due to Suga's invitees for this album. IU's airy tone adds lightness to the loneliness of "People Pt. 2," while The Rose's Woosung, in his characteristic husky tone, makes the chorus of "Snooze" feel warm like a blanket. The soothing atmosphere is aided by Ryuichi Sakamoto's piano lines, which add a centering, regal element to the track.
But that doesn't mean Agust D forgot his origins — in the fiery diss-track "HUH?! (feat. j-hope)", he duets with his bandmate and recalls some early-BTS moments, passion and rage equally split through their bars. 
Expectations Are Even Higher For His First Solo Tour
It's the first time a BTS member will headline his own international solo tour, making this a significant event on its own, but D-Day also served to raise expectations even higher. 
From the namesake opener to the hopeful closer "Life Goes On," the album reminds the audience why Suga is a master of his craft — never obvious, always incisive — and provides an exploration through his growth that deserves to be celebrated live.
Suga kicks off his first solo tour in Belmont Park, New York on April 26. Following a string of American dates, he will also play shows in Indonesia, Japan, Singapore, Thailand, and South Korea.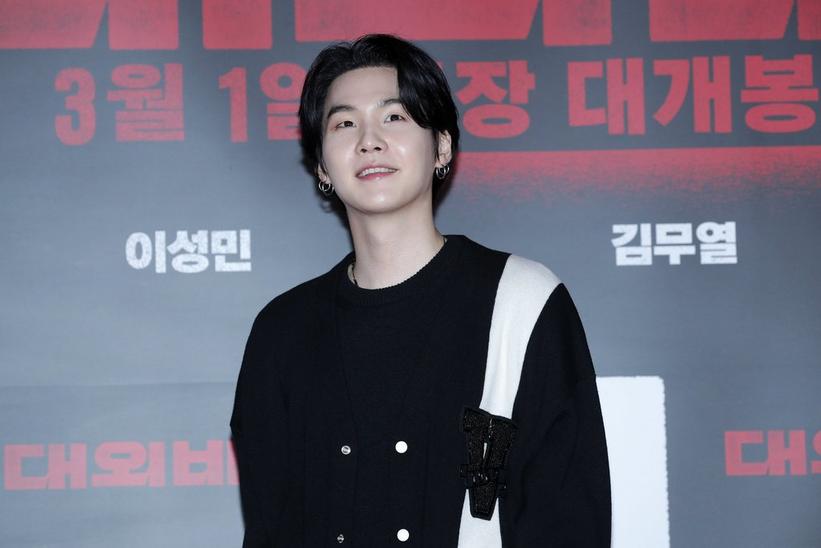 Suga attends a screening of 'The Devil's Deal' in Seoul, South Korea in February 2023.
Photo: Han Myung-Gu/WireImage
list
Everything We Know About Suga's Debut Solo Album, 'D-Day'
Continuing BTS' solo endeavors in the group's second chapter, Suga takes the wheel with the announcement of his debut studio album under his alias Agust D. Here's all the details we know about 'D-Day.'
GRAMMYs
/
Apr 6, 2023 - 08:11 pm
It's almost hard to believe that it has already been almost 10 months since BTS rocked the world with the announcement of their hiatus. But that's mostly because the K-pop powerhouses haven't gone completely quiet — and now, it's Suga's turn on the mic.
As BTS' label, Big Hit Music, announced on April 21, Suga will release his first solo album, D-Day, on April 21. The album will arrive just weeks after his BTS bandmate Jimin released his debut EP, and follows solo projects and performances from j-hope, Jung Kook, Jin and RM. 
Although D-Day marks the first studio album from Suga, his solo discography sees two mixtapes, a feature on MAX's 2020 hit "Blueberry Eyes," and an interlude of Halsey's double-platinum album Manic. Suga has shown his solo chops within BTS, too, taking lead on "Intro: The Most Beautiful Moment in Life," "First Love," "Trivia: Seesaw," and "Interlude: Shadow."
Fans will get a first taste of what Suga is cooking up with his first studio LP with "People Pt. 2" on April 7. As fans get ready for the latest BTS solo venture, GRAMMY.com has compiled a list of everything we know about Suga's album D-Day.
D-DAY
2023. 4. 21.
1PM (KST) | 0AM (ET)#SUGA #슈가 #AgustD #D_DAY pic.twitter.com/ZRzcfsziad

— BIGHIT MUSIC (@BIGHIT_MUSIC) April 2, 2023
D-Day Arrives April 21
Big Hit Music revealed on April 2 that Suga's debut studio album will be released on April 21. In an announcement post on BTS' Weverse page, D-Day was described as "an intimate portrayal of his life as an artist."
Agust D Makes A Comeback
Working on endeavors outside BTS, Suga commonly uses the alias "Agust D," which was used for his self-titled debut and second mixtape, D-2. The moniker is an homage to Suga's stage name and his hometown of Daegu, South Korea — also known as "D-Town." Spelled backward, Agust D becomes "D-T Suga." 
Unfortunately for fans of Suga's alter ego, D-Day will be the closing chapter of the rapper's trilogy as Agust D, as Big Hit declared in the Weverse album announcement.
Suga Took Part In Both Songwriting And Producing
Suga has long been one of the masterminds behind BTS' record-breaking songs, first songwriting and producing on the group's first studio album, Dark & Wild. In 2017, Suga expanded his skills outside of BTS, working with Korean vocalist Suran on her track "Wine." In the years since, he has co-written and produced tracks with Juice WRLD, and Psy, as well as his interlude with Halsey and the BTS collab with Coldplay, "My Universe."
With such extensive and impressive credits under his belt, it was no surprise when Big Hit confirmed Suga participated in the songwriting and producing for D-Day.
He Reunites With A Previous Collaborator On The Pre-Release Single
Though the full tracklist for D-Day has yet to surface, Big Hit has revealed the first song from Suga's debut is "People Pt. 2" featuring K-pop superstar IU. The track is the second collaboration between the pair, who initially worked together in 2020 on IU's single, "Eight."
"People Pt. 2," out April 7, is a continuation of Suga's "People" from his 2020 mixtape, D-2, that discusses the "endless relationships between people and the emotions felt in an Agust D way."
Suga Will Premiere The Music On A Solo Tour
Following the release of D-Day, Suga will embark on an international solo tour beginning April 26 in Belmont Park, New York, credited as both Suga and Agust D. Beyond the United States, Suga will also hit Indonesia, Japan, Thailand, Singapore, and Korea.
The tour marks a first within BTS: Though bandmates j-hope, Jung Kook, and Jin performed at Lollapalooza, FIFA World Cup Qatar, and Coldplay's Music of Spheres stop in Argentina, respectively, Suga is the first BTS member to complete a headlining solo tour.
Disney+ Has Plans To Release A Documentary On Suga's Musical Journey
The day before "People Pt. 2" arrived, Disney+ dropped a trailer for a documentary special, SUGA: Road to D-Day, which will hit the streaming platform the same day the album is released. 
According to a press statement, the documentary follows Suga's musical journey across Korea, Japan, and the United States "in search of inspiration in the form of new sounds and experiences." The film also offers a behind-the-scenes look at Suga's lifestyle as a global phenom on tour as a member of one of the most successful musical groups in history.
D-Day Is Available For Pre-Order Now
If you want to be among the first to hear D-Day on April 21, you can pre-order the album now on the BTS Weverse Shop.
Customers who pre-order the album before April 20 will receive one of the special gifts listed on the Weverse website and will be entered into a raffle for an autographed poster or a video call with Suga.
Breaking Down Every Solo Act From BLACKPINK: From Jennie's "Solo" To Jisoo's 'Me'