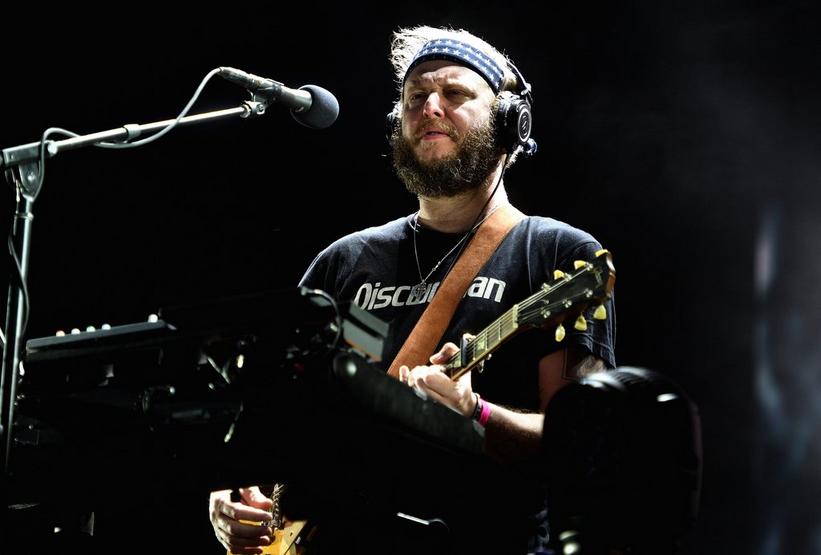 Justin Vernon of Bon Iver
Photo: Gus Stewart/Redferns via Getty Images
news
Bon Iver Announce Fourth Album 'I,I,' Release Two New Songs
The band, led by Justin Vernon, released two new songs, "Faith" and "Jelmore," along with the album announcement
GRAMMYs
/
Jul 12, 2019 - 03:06 am
GRAMMY-nominated indie-folk band Bon Iver has announced their first album in three years. Titled i,i., the fourth album follows 2016's 22, A Million and will be out on Aug. 30.
The band, led by Justin Vernon, also released two new songs, "Faith" and "Jelmore," with the announcement. The songs feature collaborations from Buddy Ross, Francis Starlite, the Brooklyn Youth Chorus with Bryce Dessner, Camilla Staveley-Taylor, Jenn Wasner, Rob Moose, and others, the band said in statement on their website. The 13-track record also features collabs with James Blake, Aaron Dessner, Bruce Hornsby, and Velvet Negroni, according to Pitchfork.
The band previously released "Hey, Ma" and "U (Man Like)" in June.The group recorded the album in Wisconsin's April Base and Texas' Sonic Ranch. "It allowed us to feel confident, comfortable, and completely free of distraction," the band said about their choice to record in two locations.
They continued: "The sense of community around the record grew through honest, generous inspiration within the group of artists involved in the creative process of the record. The 13 new songs on i,i complete a cycle: from the winter of For Emma, Forever Ago came the frenetic spring of Bon Iver, Bon Iver, and the unhinged summer of 22, A Million. Now, fall arrives early with i,i. "
Pre-oder the album here.
ReImagined Returns With More Exclusive & Unexpected Cover Performances All Summer Long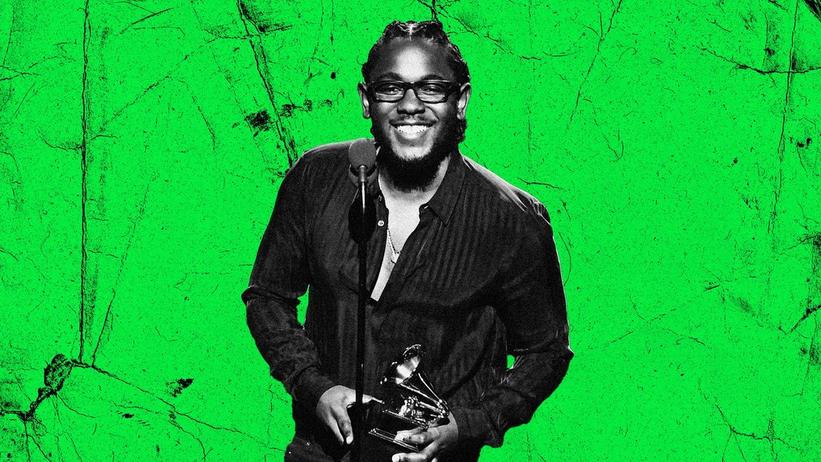 Kendrick Lamar
Photo: Jeff Kravitz/FilmMagic
video
GRAMMY Rewind: Kendrick Lamar Honors Hip-Hop's Greats While Accepting Best Rap Album GRAMMY For 'To Pimp a Butterfly' In 2016
Upon winning the GRAMMY for Best Rap Album for 'To Pimp a Butterfly,' Kendrick Lamar thanked those that helped him get to the stage, and the artists that blazed the trail for him.
GRAMMYs
/
Oct 13, 2023 - 06:01 pm
Updated Friday Oct. 13, 2023 to include info about Kendrick Lamar's most recent GRAMMY wins, as of the 2023 GRAMMYs.
A GRAMMY veteran these days, Kendrick Lamar has won 17 GRAMMYs and has received 47 GRAMMY nominations overall. A sizable chunk of his trophies came from the 58th annual GRAMMY Awards in 2016, when he walked away with five — including his first-ever win in the Best Rap Album category.
This installment of GRAMMY Rewind turns back the clock to 2016, revisiting Lamar's acceptance speech upon winning Best Rap Album for To Pimp A Butterfly. Though Lamar was alone on stage, he made it clear that he wouldn't be at the top of his game without the help of a broad support system. 
"First off, all glory to God, that's for sure," he said, kicking off a speech that went on to thank his parents, who he described as his "those who gave me the responsibility of knowing, of accepting the good with the bad."
He also extended his love and gratitude to his fiancée, Whitney Alford, and shouted out his Top Dawg Entertainment labelmates. Lamar specifically praised Top Dawg's CEO, Anthony Tiffith, for finding and developing raw talent that might not otherwise get the chance to pursue their musical dreams.
"We'd never forget that: Taking these kids out of the projects, out of Compton, and putting them right here on this stage, to be the best that they can be," Lamar — a Compton native himself — continued, leading into an impassioned conclusion spotlighting some of the cornerstone rap albums that came before To Pimp a Butterfly.
"Hip-hop. Ice Cube. This is for hip-hop," he said. "This is for Snoop Dogg, Doggystyle. This is for Illmatic, this is for Nas. We will live forever. Believe that."
To Pimp a Butterfly singles "Alright" and "These Walls" earned Lamar three more GRAMMYs that night, the former winning Best Rap Performance and Best Rap Song and the latter taking Best Rap/Sung Collaboration (the song features Bilal, Anna Wise and Thundercat). He also won Best Music Video for the remix of Taylor Swift's "Bad Blood." 
Lamar has since won Best Rap Album two more times, taking home the golden gramophone in 2018 for his blockbuster LP DAMN., and in 2023 for his bold fifth album, Mr. Morale & the Big Steppers.
Watch Lamar's full acceptance speech above, and check back at GRAMMY.com every Friday for more GRAMMY Rewind episodes. 
10 Essential Facts To Know About GRAMMY-Winning Rapper J. Cole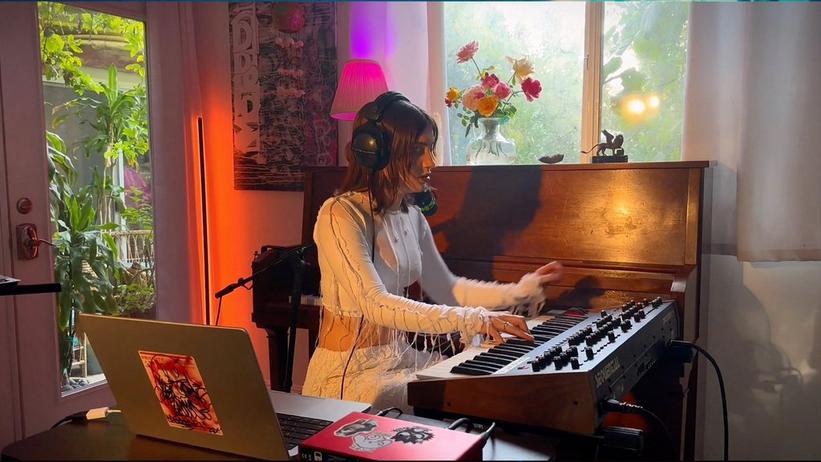 Alé Araya
Photo: Courtesy of Alé Araya
video
ReImagined: Alé Araya Puts An Atmospheric Spin On Bon Iver's "Holocene"
Chilean artist Alé Araya uses her laptop, synthesizer and a well-worn piano to create an enchanting new version of Bon Iver's GRAMMY-nominated hit "Holocene."
GRAMMYs
/
Sep 26, 2023 - 05:00 pm
Bon Iver's breakout moment came in 2011 with the release of "Holocene," the second single off the indie rock act's sophomore album Bon Iver, Bon Iver.
"And at once, I knew I was not magnificent/ Strayed above the highway aisle/ Jagged vacance, thick with ice/ But I could see for miles, miles, miles," frontman and founder Justin Vernon sang in floating falsetto on the song's chorus, over the strum of acoustic guitar and gentle percussion.
In this episode of ReImagined, Chilean artist Alé Araya turns the delicate track into a wistful piano ballad. She shows off her many musical talents as well, pivoting between her laptop, synthesizer and a well-worn upright piano as her crystalline vocals tie everything together.
Bon Iver earned dual GRAMMY nominations for both Record Of The Year and Song Of The Year for "Holocene" the following year. While both of those awards went to Adele's "Rolling in the Deep," Vernon and co. ultimately took home two other trophies — for Best New Artist and Best Alternative Music Album.
Araya is having a breakout year of her own in 2023, recently releasing her debut EP, in pieces, which featured collaborations with greek ("Endless Sky"), aisu ("Citrine") and Joseph Chilliams ("Midnight Gospel"). She also joined forces with honey and Vrdnyn on the collaborative 2023 single "Prada Princess."
Press play on the video above to watch Araya interpretation of Bon Iver's fan-favorite single, and check back to GRAMMY.com for more new episodes of ReImagined.
The National's Aaron Dessner Discusses New Album 'First Two Pages Of Frankenstein': "The Beginning Of A New Chapter"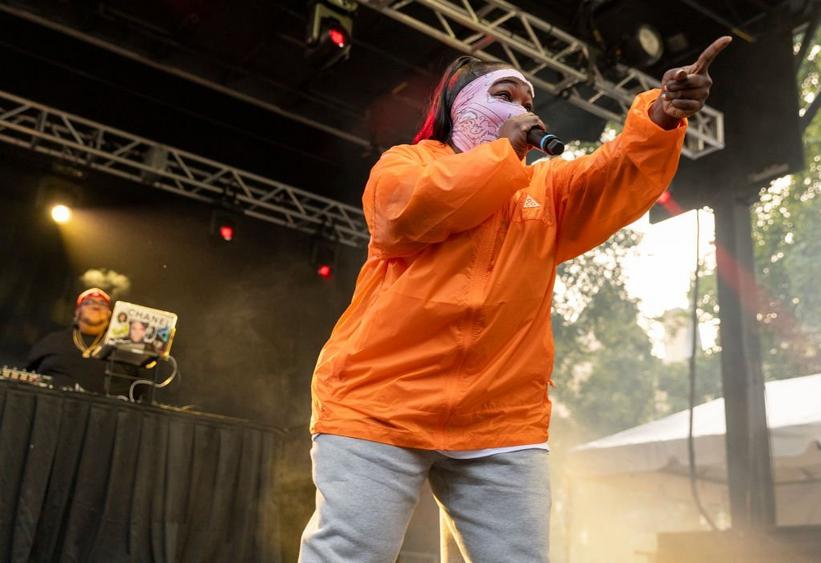 Leikeli47 performs during the first day of Pitchfork Music Festival 2023
Photo: Barry Brecheisen/Getty Images
list
7 Sets From Pitchfork Music Festival 2023: Killer Mike, The Smile, JPEGMAFIA & More
Even lightning couldn't stop Chicago's beloved Pitchfork Music Festival — at least not for long. Revisit seven of the most memorable moments from Pitchfork 2023, from Jockstrap's ethereal performance to Leikeli47's audience turn-up.
GRAMMYs
/
Jul 26, 2023 - 03:59 pm
Pitchfork Music Festival is a Chicago mainstay, taking place in Union Park since 2006. The annual event — which boasts more than 40 bands over the course of three days — hosts around 60,000 attendees as well as legends including the Isley Brothers, LCD Soundsystem, Erykah Badu, and The National. Over the past decade-plus, the festival expanded to Paris, Berlin and London.
From July 21-23, the 13 acre park provided a modest backdrop that rotated an array of talent from various genres. The Smile, Perfume Genius and Alvvays performed on day one of the festival. However, the second day of Pitchfork was marred by lightning, which forced attendees to temporarily evacuate the park. 
Upon their return that evening, folk facet Big Thief delivered a tender set of epic proportions. On Sunday, Kelela enchanted onlookers with ethereal vocals and Bon Iver provided emotional renditions of some of his most notable hits. 
Here are seven of the most unforgettable moments from Pitchfork 2023.
Killer Mike Takes Everyone To Church
In June, Killer Mike released his first solo album in 11 years, Michael. Though he has been making music alongside El-P as one-half of Run The Jewels for the last decade, Killer MIke's refreshing return to form on his latest project was both galvanizing and long overdue. 
Not only did he take us to church on Michael, but he boldly brought his sermon to Pitchfork. Killer Mike — who donned all white attire to match his accompanying choir — gave an excited crowd a poignant performance. From the dynamism of "Down By Law" to the resilience of "Run," the emcee gave his all to some of his most devoted fans. Hearing his voice crack during "Motherless" reminded the audience that even the strongest griot needs love and community.
Leikeli47 Gets The Crowd To Strike A Pose
Leikeli47's discography is full of audacious anthems that place women — and their bodily autonomy — front and center. In recent years, the Brooklyn emcee's songs have taken on new meaning and life, which was very apparent on Pitchfork's Blue stage. 
Leikeli47 not only brought a fierce attitude while giving the crowd renditions of "Look," "Miss Me" and "Wash & Set," but she invited fans onstage to strike a pose alongside her. Whether they were voguing, twerking or jumping, those lucky audience members did exactly what Leikeli47 wanted them to: enjoy the moment without thinking too much about it. 
The Smile Basks In Psychedelia
Thom Yorke could live in Radiohead reverie forever and still remain one of music's most vital auteurs. However, by forming the Smile, he doubled down on pushing the boundaries of his ingenuity alongside fellow Radiohead member Johnny Greenwood and drummer Tom Skinner. The group's debut album, A Light For Attracting Attention, was released in 2022 and predictably met with acclaim.
During their Pitchfork set, saxophonist Robert Stillman livened up "Pana-Vision," "Colours Fly" and "People on Balconies." Yorke ended a night saturated with psychedelic sounds with "Feeling Pulled Apart by Horses," reminding the audience of his creative depth.
JPEGMAFIA Riles Up The Audience
The energy JPEGMAFIA brings to the stage is downright manic, and his time at this year's Pitchfork Music Festival was no different. The electrifying musician balanced his offerings of solo hits ("Jesus Forgive Me, I Am a Thot," "1539 N. Calvert")  with songs from his collaborative album with Danny Brown, Scaring The Hoes ("Steppa Pig," "Garbage Pail Kids"). 
Even when Peggy poked fun at the event by calling it "Conde Nast Fest," he still expressed gratitude to everyone in attendance. He also did a mean cover of Carly Rae Jepsen's "Call Me Maybe" sans autotune after an audio malfunction, proving himself to be a true artist.
Jockstrap Effortlessly Enchant The Audience 
All of the hype surrounding Jockstrap, which praises the electro-pop pair's ability to concoct dissonant yet riveting melodies,, to proven to be warranted. The UK pair's eclectic debut album, 2022's I Love You Jennifer B, featured an 18-piece orchestra and voyages into experimental territory which can be tricky to pull off in a live capacity. However, Jockstrap were more than up for the challenge. 
Vocalist Georgia Ellery strutted her best dance moves as she donned gold lamé, oscillating between singing and captivating the crowd with her violin skills. Songs like "Debra" and "Glasgow" were as enchanting as they were impressive.
JLIN Turns The Stage Into Her Creative Zone
Jlin has managed to take her immense love of music-making and transform it to an experience that is thrilling both visually and sonically. At Pitchfork Fest, the Pulitzer Prize-nominated musician transformed the Blue Stage into her own personal studio. 
The Indiana producer recently announced that a mini-album featuring electronic versions of her songs, Perspective, will be released in September. She treated Pitchfork's audience to a preview of the project by including the hushed yet accentuating rhythms of  "Fourth Perspective" in her set, but Jlin executed it with such intensity that it reminded everyone just how much of a master she is at her craft.
Soul Glo Gets The People Going
This Philly facet formed in 2014 and quickly elevated hardcore punk into an even more complex genre. Named after a fictitious commercial in the classic film Coming To America, Soul Glo brashly combine rap, metal and screamo for an exhilarating sound. 
At Pitchfork, they made sure that mosh pits were galore as the electrifying trio completely dominated the stage. Songs like "GODBLESSYALLREALGOOD" showed off not just the excitement the trio manage to drum up in listeners, but the emotional turmoil they embed in their catalog. Whether it's growing up or growing apart, the discography of Soul Glo encapsulates an assortment of experiences.
Behind The Scenes Of The Eras Tour: Taylor Swift's Opening Acts Unveil The Magic Of The Sensational Concert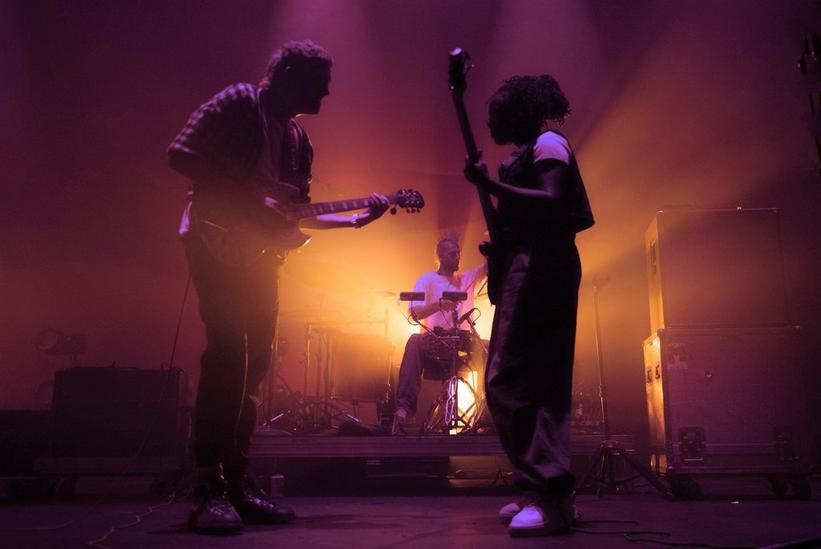 list
A Guide To Modern Funk For The Dance Floor: L'Imperatrice, Shiro Schwarz, Franc Moody, Say She She & Moniquea
James Brown changed the sound of popular music when he found the power of the one and unleashed the funk with "Papa's Got a Brand New Bag." Today, funk lives on in many forms, including these exciting bands from across the world.
GRAMMYs
/
Nov 25, 2022 - 04:23 pm
It's rare that a genre can be traced back to a single artist or group, but for funk, that was James Brown. The Godfather of Soul coined the phrase and style of playing known as "on the one," where the first downbeat is emphasized, instead of the typical second and fourth beats in pop, soul and other styles. As David Cheal eloquently explains, playing on the one "left space for phrases and riffs, often syncopated around the beat, creating an intricate, interlocking grid which could go on and on." You know a funky bassline when you hear it; its fat chords beg your body to get up and groove.
Brown's 1965 classic, "Papa's Got a Brand New Bag," became one of the first funk hits, and has been endlessly sampled and covered over the years, along with his other groovy tracks. Of course, many other funk acts followed in the '60s, and the genre thrived in the '70s and '80s as the disco craze came and went, and the originators of hip-hop and house music created new music from funk and disco's strong, flexible bones built for dancing.
Legendary funk bassist Bootsy Collins learned the power of the one from playing in Brown's band, and brought it to George Clinton, who created P-funk, an expansive, Afrofuturistic, psychedelic exploration of funk with his various bands and projects, including Parliament-Funkadelic. Both Collins and Clinton remain active and funkin', and have offered their timeless grooves to collabs with younger artists, including Kali Uchis, Silk Sonic, and Omar Apollo; and Kendrick Lamar, Flying Lotus, and Thundercat, respectively.
In the 1980s, electro-funk was born when artists like Afrika Bambaataa, Man Parrish, and Egyptian Lover began making futuristic beats with the Roland TR-808 drum machine — often with robotic vocals distorted through a talk box. A key distinguishing factor of electro-funk is a de-emphasis on vocals, with more phrases than choruses and verses. The sound influenced contemporaneous hip-hop, funk and electronica, along with acts around the globe, while current acts like Chromeo, DJ Stingray, and even Egyptian Lover himself keep electro-funk alive and well.
Today, funk lives in many places, with its heavy bass and syncopated grooves finding way into many nooks and crannies of music. There's nu-disco and boogie funk, nodding back to disco bands with soaring vocals and dance floor-designed instrumentation. G-funk continues to influence Los Angeles hip-hop, with innovative artists like Dam-Funk and Channel Tres bringing the funk and G-funk, into electro territory. Funk and disco-centered '70s revival is definitely having a moment, with acts like Ghost Funk Orchestra and Parcels, while its sparkly sprinklings can be heard in pop from Dua Lipa, Doja Cat, and, in full "Soul Train" character, Silk Sonic. There are also acts making dreamy, atmospheric music with a solid dose of funk, such as Khruangbin's global sonic collage.
There are many bands that play heavily with funk, creating lush grooves designed to get you moving. Read on for a taste of five current modern funk and nu-disco artists making band-led uptempo funk built for the dance floor. Be sure to press play on the Spotify playlist above, and check out GRAMMY.com's playlist on Apple Music, Amazon Music and Pandora.
Say She She
Aptly self-described as "discodelic soul," Brooklyn-based seven-piece Say She She make dreamy, operatic funk, led by singer-songwriters Nya Gazelle Brown, Piya Malik and Sabrina Mileo Cunningham. Their '70s girl group-inspired vocal harmonies echo, sooth and enchant as they cover poignant topics with feminist flair.
While they've been active in the New York scene for a few years, they've gained wider acclaim for the irresistible music they began releasing this year, including their debut album, Prism. Their 2022 debut single "Forget Me Not" is an ode to ground-breaking New York art collective Guerilla Girls, and "Norma" is their protest anthem in response to the news that Roe vs. Wade could be (and was) overturned. The band name is a nod to funk legend Nile Rodgers, from the "Le freak, c'est chi" exclamation in Chic's legendary tune "Le Freak."
Moniquea
Moniquea's unique voice oozes confidence, yet invites you in to dance with her to the super funky boogie rhythms. The Pasadena, California artist was raised on funk music; her mom was in a cover band that would play classics like Aretha Franklin's "Get It Right" and Gladys Knight's "Love Overboard." Moniquea released her first boogie funk track at 20 and, in 2011, met local producer XL Middelton — a bonafide purveyor of funk. She's been a star artist on his MoFunk Records ever since, and they've collabed on countless tracks, channeling West Coast energy with a heavy dose of G-funk, sunny lyrics and upbeat, roller disco-ready rhythms.
Her latest release is an upbeat nod to classic West Coast funk, produced by Middleton, and follows her February 2022 groovy, collab-filled album, On Repeat.
Shiro Schwarz
Shiro Schwarz is a Mexico City-based duo, consisting of Pammela Rojas and Rafael Marfil, who helped establish a modern funk scene in the richly creative Mexican metropolis. On "Electrify" — originally released in 2016 on Fat Beats Records and reissued in 2021 by MoFunk — Shiro Schwarz's vocals playfully contrast each other, floating over an insistent, upbeat bassline and an '80s throwback electro-funk rhythm with synth flourishes.
Their music manages to be both nostalgic and futuristic — and impossible to sit still to. 2021 single "Be Kind" is sweet, mellow and groovy, perfect chic lounge funk. Shiro Schwarz's latest track, the joyfully nostalgic "Hey DJ," is a collab with funkstress Saucy Lady and U-Key.
L'Impératrice
L'Impératrice (the empress in French) are a six-piece Parisian group serving an infectiously joyful blend of French pop, nu-disco, funk and psychedelia. Flore Benguigui's vocals are light and dreamy, yet commanding of your attention, while lyrics have a feminist touch.
During their energetic live sets, L'Impératrice members Charles de Boisseguin and Hagni Gwon (keys), David Gaugué (bass), Achille Trocellier (guitar), and Tom Daveau (drums) deliver extended instrumental jam sessions to expand and connect their music. Gaugué emphasizes the thick funky bass, and Benguigui jumps around the stage while sounding like an angel. L'Impératrice's latest album, 2021's Tako Tsubo, is a sunny, playful French disco journey.
Franc Moody
Franc Moody's bio fittingly describes their music as "a soul funk and cosmic disco sound." The London outfit was birthed by friends Ned Franc and Jon Moody in the early 2010s, when they were living together and throwing parties in North London's warehouse scene. In 2017, the group grew to six members, including singer and multi-instrumentalist Amber-Simone.
Their music feels at home with other electro-pop bands like fellow Londoners Jungle and Aussie act Parcels. While much of it is upbeat and euphoric, Franc Moody also dips into the more chilled, dreamy realm, such as the vibey, sultry title track from their recently released Into the Ether.
The Rise Of Underground House: How Artists Like Fisher & Acraze Have Taken Tech House, Other Electronic Genres From Indie To EDC