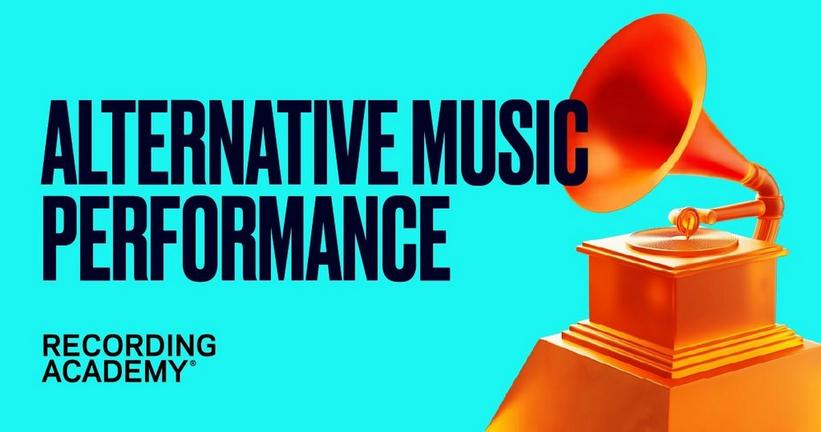 The Recording Academy
Graphic: The Recording Academy
news
Hear The 2022 Nominees For Best Alternative Music Performance At The 2023 GRAMMY Awards
Here's who's up for the 2022 Best Alternative Music Performance, a new category introduced at the 2023 GRAMMY Awards.
GRAMMYs
/
Nov 18, 2022 - 05:14 pm
Call it Tumblr revival or post-quarantine activation, but this year saw plenty of established alternative and indie rock musicians make highly anticipated returns with fresh albums.
Of that set, plenty were recognized in the 2023 GRAMMY Awards' inaugural award for Best Alternative Music Performance. Arctic Monkeys' orchestral single "There'd Better Be A Mirrorball," Florence + The Machine's triumphant "King," and Yeah Yeah Yeahs' first song in nearly a decade, "Spitting Off The Edge Of The World," featuring Perfume Genius, are all up for the trophy.
These long standing musicians are joined in the category by two acts who more recently got their breakthrough moment: Big Thief, who was recognized for their folksy track, "Certainty," and Wet Leg, who is up for their viral hit, "Chaise Longue."
The 2022 Best Alternative Music Performance, which aims to honor and uplift the alternative genre, is just one of the new categories that have been introduced for the 2023 GRAMMY Awards. It will exist in tandem with the Best Alternative Music Album category — which was established in 1958 and was referred to Best Alternative Music Performance in 1991, and from 1994 to 1999. 
Having both categories will provide more opportunities for the Recording Academy to recognize the diverse communities of musicians and creators who work in the alternative genre. 
Read on to learn more about the nominees ahead of the 2023 GRAMMY Awards ceremony, taking place Feb. 5 at Los Angeles' Crypto Arena. 
Read the full list of nominees for the 2023 GRAMMY Awards here.
Arctic Monkeys — "There'd Better Be A Mirrorball"
To follow-up their loungey, high-concept 2018 record Tranquility Base Hotel and Casino, Arctic Monkeys returned in 2022 with The Car. Their seventh studio album folds in elements of jazz, traditional pop, and flourishing film soundtracks.
The album's opening track, "There'd Better Be A Mirrorball" begins with a passage of elegant strings and piano that sets the tone for the rest of the project. Frontman Alex Turner told Variety that the song was specifically influenced by Nat "King" Cole's 1963 ballad "Where Did Everyone Go?"
Founded in 2002, the indie rock band from Sheffield, England has received six total career GRAMMY nominations. They were first recognized in 2006 when their debut record, Whatever People Say I Am, That's What I'm Not, was nominated for Best Alternative Music Album.
Big Thief — "Certainty"
On "Certainty," Big Thief vocalist and songwriter Adrianne Lenker describes a devotion that fluctuates like a sine wave. "Maybe I love you is a river so high / Maybe I love you is a river so low," she sings.
The stripped-down song is one of 20 that appear on the indie rock band's sprawling fifth studio album, Dragon New Warm Mountain I Believe You. It follows the four piece's 2019 albums U.F.O.F. and Not, which have both previously received GRAMMY nods. 
While making Dragon, Lenker said she was becoming more fearless as a writer. "I definitely had a desire for things to be complex: Is this chord progression too simple? Is this lyric too simple? Is this cliche? Is this corny?," she told Pitchfork. "I feel less of that noise in my head, and more of just, 'This is what I want to sing.'" 
Florence + The Machine — "King"
"I'm no mother / I am no bride / I am king," Florence Welch repeats like a mantra on her determined pop-rock anthem "King." It marks Florence + the Machine's seventh GRAMMY nomination since they broke out in 2009.
Written and produced by Welch and Jack Antonoff, the song captures the English artist's sudden "tearing of [her] identity and [her] desires," according to a statement. Though Welch never used to think much of her gender, being a woman in her 30s has brought upon a realization: "To be a performer, but also to want a family might not be as simple for me as it is for my male counterparts." 
"King" appears on the band's fifth studio album, Dance Fever, which was partly inspired by the work of Iggy Pop and choreomania — a Medieval social phenomenon where groups of people danced erratically. 
Wet Leg — "Chaise Longue" 
"Chaise Longue," the debut breakout single from Wet Leg, marks the British indie rock act's first GRAMMY nomination.
The energetic song went viral for its tongue-in-cheek lyrics that allude to academic life ("I went to college and I got the big D") and the 2004 film Mean Girls ("Would you like us to assign someone to butter your muffin"), bringing the duo of Rhian Teasdale and Hester Chambers into new visibility.
In a Rolling Stone interview, Teasdale said Wet Leg weren't "making a conscious effort to write anything," and that "Chaise Lounge" came from "that 13-year-old girl sleepover head space."  The song leads their self-titled first album, which debuted at No. 1 on the UK charts only two years after Teasdale and Chambers decided to become a musical duo. 
Yeah Yeah Yeahs feat.  Perfume Genius — "Spitting Off the Edge of the World"
The Yeah Yeah Yeahs returned this year with their first song in nine years: "Spitting Off The Edge Of The World," an insurgent indie rock track that confronts the climate crisis.
Produced by longtime collaborator Dave Sistek of TV on the Radio, the song is a duet between frontwoman Karen O and Perfume Genius that is equal parts vulnerable and resolute. "Spitting Off The Edge Of The World" was the lead single from the Yeah Yeah Yeahs' long-awaited fifth studio album Cool It Down.
First breaking out in 2000, Yeah Yeah Yeahs have received three previous nominations for Best Alternative Music Album: 2003's Fever to Tell, 2006's Show Your Bones, and 2009's It's Blitz!
Wet Leg performs at SXSW 2022.
Photo: Lorne Thomson/Redferns
list
9 Must-See Acts At SXSW 2023: Wet Leg, Balming Tiger, Armani White, The Lemon Twigs & More
As the music showcases kick off at South by Southwest 2023, get a preview of some of the most-anticipated acts who will hit the stage in Austin.
GRAMMYs
/
Mar 15, 2023 - 03:30 pm
When South by Southwest takes over Austin, Texas every spring, the city explodes with culture, new ideas and fresh sounds. Hundreds of artists descend to perform a variety of engaging showcases, intimate sets and show-stopping performances hoping to make their mark.
Since the festival's inception in 1987, the SXSW music showcase has become one of the largest music festivals in the world; everyone from Patti Smith to Childish Gambino to Garth Brooks has been on the bill. But one of the biggest draws of SXSW is the chance for music discovery, as bands from all over the world travel to Austin each year — and this year alone, 1,400 bands will perform throughout the week.
As the 2023 iteration gets into full swing, check out nine buzzing artists appearing at SXSW, including a recent GRAMMY-winning duo, a viral rapper on a victory lap, and popular English music collective rock outfit who is starting to turn heads stateside.
Wet Leg
Performing as part of the British Music Embassy showcase, the curiously named Wet Leg is composed of Rhian Teasdale and Hester Chambers, who spin bright, buoyant pop that reflects an innocence. As a result, their knack for songwriting and performance garnered them two GRAMMYs in February for Best Alternative Music Performance for single "Chaise Longue"  and Best Alternative Album for their eponymous debut (they were also nominated for Best New Artist). As if that weren't enough, their charming hilarity has helped them they've also become TikTok darlings, collecting over 13 million likes on the platform.
"We're just trying to enjoy where we are and where we're going and see what happens," Chambers told GRAMMY.com last year. "I really can't think too far ahead right now — it's a bit scary."
Sans Soucis
Recently singled out by The Hollywood Reporter as a highlight of this year's festival, Italo-Congolese artist Sans Soucis' sound is branded as a "soul-invigorating" artist. They blend a variety of disparate styles — such as Congolese Rumba, R&B and alt-pop — into a tidy and refreshing sonic package, landing somewhere in between Solange and PinkPantheress. Just listen to the effervescent melodies of the standout track "All Over this Party" for evidence of a sharp talent.
"Sometimes I do solo improvisation sessions," they recently said of their songwriting technique. "I just connect pedals to my synth and record random stuff. On another day, I'll start sampling sounds from them." 
Armani White
Hot off his viral track "Billie Eilish," rapper  Armani White rolls into Texas as one of the festival's more well-known featured performers. It's a victory lap that also marks a new chapter for the 26 year-old Philadelphia native who recently released the follow-up single "GOATED," an extension of what he refers to as "happy hood music."
"You see the smile on my face, you see all my jagged teeth and you have no idea what the hell I've been through," he told Notion earlier this year. "That's really what I want to portray – no matter what you go through, you still find a way to stand up and smile."
Divino Nino
Influenced by '60s-era bands including the Beach Boys and the Lovin' Spoonful, Chicago natives Divino Nino trace their roots back to Bogota, Colombia. As a result, the mix of the music of their heritage along with their various influences from the '60s manifest itself in spirited and catchy songs like "XO" and "Drive" which boast both Spanish and English lyrics.
"When I listen to a good song, my body inherits the feelings of that track," said vocalist Javier Forero to the website 15 Questions. "I just become intoxicated and get inspired to dance or make a track that reminds me of those feelings."
Steam Down
Considered a household name in the busy London music scene, the collective Steam Down makes their American debut at SXSW to demonstrate why their star is rising back home. A music collective founded by the producer Ahanse, their debut single, "Free My Skin," promptly set the internet on fire upon its release. Along with now infiltrating the American market, they're currently prepping a highly anticipated debut album.
"How can we live in a more harmonious way?" says Ahnase of his overarching goal to Sussex Jazz Magazine. "How can we create the feeling of what that can be? That inspired what Steam Down is now, which is: how do we start thinking about how music can be the tool for creating harmony between people?"
Balming Tiger
From a London music collective to a South Korean one, Balming Tiger is made up of a ragtag group of creatives (including rapper Omega Sapien and the singer/songwriter Sogumm). Their esoteric production and melodically adventurous songs may make you think of BROCKHAMPTON, but with a K-pop twist. The group heads to SXSW riding high on their biggest success to date, the popular "섹시느낌 SEXY NUKIM" which features BTS member RM and has collected 52 million streams on Spotify alone.
"We are pushing our agenda to broaden the genre of K-Pop," frontman Omega Sapien told High Snobiety last year. "The world is not ready for this part of K-Pop yet. Welcome to the dark side."
Pigs Pigs Pigs Pigs Pigs Pigs Pigs
With a name like that, you could have perhaps guessed that the group is a stoner-rock band. Hailing from Newcastle, England, the eccentric group — also known as Pigs x7 — has been steadily rising since the release of their quirky 2017 debut Feed the Rats, which began a fearless hard-rock reputation. The group rolls into Austin weeks after the release of their fourth album, Land of Sleeper.
"As a band we're constantly playing on the edge of absurdity and absolute commitment to seriousness," guitarist/producer Sam Grant recently told The Line Of Best Fit. "Somehow we're constantly trying to sit in the middle of it..."
The Lemon Twigs
Hailing from Long Island, New York, this duo made up of brothers Brian and Michael D'Addario was born out of a childhood as Broadway performers. Now in their late 20s, the pair later zeroed an artist project of their own and set to release their fourth studio album, Everything Harmony, in May.
As a result of their indie-slash-glam rock sound, the group has won praise from everyone including Iggy Pop and Elton John, the latter of whom raved of the group: "They're so out of left field in their songs. They don't have any rules and that's sometimes the way it should be."
Baseball Gregg
After California native Samuel Regan met Bologna, Italy-born Luca Lovisetto while studying abroad in Italy, the two became musical partners — and now, they're eight years and four studio albums in. The shimmering sounds of Baseball Gregg will be on display all over Austin, including a showcase presented by the Italian Trade Agency. Their music, meanwhile, has inflections of sunny California pop; take for instance "Sad Sandra" which opens with a glistening synth and is complimented by falsetto vocals that joyfully shine like the sun.
Get Hyped For Ultra Music Festival 2023 With Sounds From Carl Cox, Kx5, Nicky Romero, Claude VonStroke & More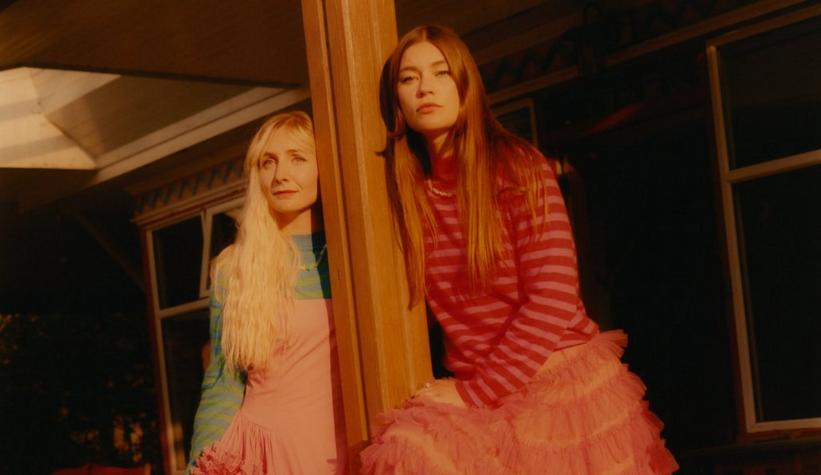 interview
Meet The First-Time GRAMMY Nominee: Wet Leg On How A 6-Week Sleepover Spawned Their "Jaggedy" Indie Rock — And Global Fame
The Isle of Wight duo detail how they overcame fear through collaboration, which resulted in their viral hit "Chaise Longue" and a debut album that earned them three nominations at the 2023 GRAMMYs.
GRAMMYs
/
Jan 23, 2023 - 04:50 pm
When Rhian Teasdale and Hester Chambers first started making music together, they never imagined their silly tracks would ever be heard — let alone get nominated for GRAMMYs.
It was December 2019, and the two singer/songwriters — now better known as indie rock duo Wet Leg — were in the midst of a six-week long sleepover at Chambers' house in the Isle of Wight, a small island off England's South coast where they both grew up. In between doing cozy activities like baking cookies and following Bob Ross tutorials, the two would stay up in the living room quickly getting out unserious song ideas with Chambers' boyfriend, Joshua Omead Mobaraki, who is now their touring guitarist. 
Two years later, a song birthed from those delirious jam sessions called "Chaise Longue" almost instantly took off. The quirky track hooked listeners with its effortlessly cool post-punk guitar riffs, sardonic vocal delivery, Mean Girls-referencing lyrics, and sexual innuendos. 
The viral popularity of the single — as well as of the other impishly upbeat tracks on the duo's 2022 self-titled debut — has propelled Wet Leg's whirlwind success, which includes landing three nominations at the 2023 GRAMMYs and an opening slot on Harry Styles' tour in the spring. (Their album also received two more GRAMMY nominations, Best Engineered Album, Non-Classical and Best Remixed Recording for the Soulwax Remix of single "Too Late Now," but those nominations go to the engineers and remixers, respectively.)
Though the two first met at Isle of Wight College — where they both studied music and subsequently dropped out — they first set out as individual solo artists. After becoming a little defeated from playing countless gigs with no certain direction, they both decided that they should stop taking things so seriously — and having a friend certainly helped.
"I feel like we're quite encouraging of each other," Chambers tells GRAMMY.com from a hotel room in New York City, where she and her bandmate had just arrived the night before. Teasdale grins, "Sometimes quite aggressively." 
This emphasis on joy and camaraderie has led Wet Leg to writing their most gutsy, hilarious lines ("I went to school and I got the big D," goes one cheeky line on "Chaise Longue") as well as lyrics that capture the modern anxieties of directionless millennials. Any sense of unease is erased when their songs descend into cathartic guitar strums — making the magic of Wet Leg as blissful as it is fun.  
Ahead of the 2023 GRAMMYs, Wet Leg reflect on their unexpected nominations, having retro sensibilities and leaning on goofiness.
Welcome to New York! How are you feeling?
Teasdale: A bit dozy, a bit tired. We went to see LCD Soundsystem [during their residency at Brooklyn Steel] last night. The night before that, we were flying from LA on a red eye. So a little bit weary, but it's good to be in New York. 
Congrats on the GRAMMY noms. How have you been processing them?
Teasdale: Well, it's so weird to see us nominated, for one. Then it's so weird to see us sandwiched between like, Karen O <a href="https://www.grammy.com/artists/yeah-yeah-yeahs/15944">of the [Yeah Yeah Yeahs] and Björk in the Alternative Album [category] — all these really legitimate artists. 
Chambers: It's surreal.
Do you have any hopes of winning?
Chambers: I don't really think it's for us to say. Maybe it's common for musicians to not really think about that part of the music industry. The main thing is that we're getting to make music, it's not really about the wins. To be honest, being in New York and getting to go to all these places and play music — that's the win for us that we're most focused on. 
Teasdale: It would just be nice to go. When we got nominated for the Mercury [Prize], it was just cool to see the show and how it all works. I've always dreamed of going to the Mercurys in particular, since it's Brit-centric. But I wouldn't have even thought, "I want to go to America and go to the GRAMMYs." So long and short of it is, I'm very excited to go and see the ceremonious happenings [Laughs]. 
I know you two met in college, but only started making music together in 2019. When you decided to become a duo, what kind of things did you connect on?
Teasdale: I'd say… fear? [Laughs.] I think when we started Wet Leg, we had just been to see some local bands at Isle of Wight Festival, and we were watching a lot of people playing music kind of nonchalantly and not being scared. We were like, "That looks really fun. Why don't we stop caring? Why don't we have a fun time?" It sounds simple and a little bit dumb, but before we started Wet Leg, both of us made music separately, and it was just scary. 
Chambers: Yeah, scary. I found [myself drifting] into not really wanting to do music when I was by myself. When we started [Wet Leg], I definitely felt this feeling of sunshine [wiggles fingers]. It was a big shift, and it's much easier to face the fear when you're not alone. 
Some of the big themes that stood out to me on the album was being a little dissociative and antisocial, and navigating weird sex stuff. When you were writing the songs, were you stopping to talk about these themes, or was it more fast and intuitive?
Teasdale: No, it was really funny when we finished the album and looked back at the patterns in what all the songs were about. It's funny, it's like a snapshot of that point in life. We were 26 and 27, and for me, I didn't really know what I was doing with my life, career-wise, and I had just been through a big breakup. I was feeling like all my friends around me were getting legit jobs and getting married, and I was just going to the same kind of festivals and parties. I was getting that feeling of like, "OK, maybe it's time to knuckle down and find my way." I guess that kind of all [leaks] it's way in there. But we didn't discuss it, because we also didn't really think that we could make an album. 
Chambers: Or that anyone would listen to it. 
Teasdale: Yeah, so it's gonna be interesting going into writing the second album knowing that we can do it. 
What was the vibe of the writing sessions when you were writing these songs on your debut? Can you set the scene? 
Teasdale: With "Chaise Longue" and "Wet Dream," they were both written off the cuff at Josh and Hester's house, in the living room. They were written quite late at night. 
Chambers: Not even writing for Wet Leg, it was just a fun thing to do.
Teasdale: Yeah, they were just supposed to stay in the folder on the computer and never see the light of day. Those ones were just kind of [born] out of silly energy. Oh, and "Ur Mom" was written in a Hilton hotel in Croydon [England] after a long day shooting an ad for KFC. 
Some of [the songs] were written in solitary, then we sent each other the demos. Then some of it was written together. "Too Late Now" would've been written in a band practice environment. So, there's no set way, which is maybe why the album is so jaggedy.
Watching your music videos, you two are wearing prairie dresses and there are retro television sets. I feel like your aesthetic calls back to an older time. Is there any particular reason?
Chambers: I think we do generally have an appreciation for old things. All of the furniture in our room is secondhand, and we wear a lot of vintage clothing. When we get to a city, we always [search for] vintage clothing shops, it's a really good hobby. Aesthetically, in movies and stuff, it's just comforting. 
Teasdale: I also think it's because we shot most of the videos on the Isle of Wight, where we're from. If you ever go there, it's like it's still the '70s over there. 
Chambers: It's also a nice juxtaposition. Because we're making music now.
Teasdale: Yeah, making music with the times, I suppose. 
In the "Wet Dream" video, you have lobster claws on. How did you think of that as a character?
Teasdale: Me and my friend Emma, who was the stylist I used to work for before we started doing music, were somehow like, "Yeah, let's make some lobster claws." Then we were like, "Should we dress everyone in blue, so it looks kind of cult-y?" I don't know where these ideas came from, it just kind of happened. 
Also, the song is "Wet Dream," so obviously the video had to be very sexy. I think that the only way for me to be able to [perform sexy moves in the video] is put on something goofy, like big lobster claws, to embrace my sexuality. There has to be something offsetting it. I'm getting a bit embarrassed saying that.
That reminds me of one of my favorite lyrics of yours, which is on "Too Late Now," when you say that you don't need someone to tell you to "shave your rat." I like it because it's a little gross and unexpected, since the typical slang word would be "kitty" or "cat." 
Teasdale: Maybe it's a U.K. thing, because when I was growing up, I'd hear things like, "Get your rat out!" Not that I'd call mine my rat, but some boy across the street would shout that at me. 
Growing up on an island, do you think that affects your mentality as a musician? Maybe it feels insular, or like you're in a pressure cooker environment?
Teasdale: Now that we've made some musician friends [who live] off the Isle of Wight, you can see how they fit into a scene and everything that they do, the music industry is right there [watching them]. There's an A&R person like, sniffing around.
Chambers: Whereas on the island, it's not as sizzling. There's not so many venues, and you don't get bands coming into town. You're much more incubated, I think. Pressure cooker is a good way to put it, because there's so many passionate, creative people anywhere you go [on Isle of Wight], but there's less [outside] influence. 
Teasdale: But part of Wet Leg being busy and doing alright is that, all of a sudden, bands from the Isle of Wight — like, Coach Party, for example — can ride the wave a little bit. [We're] kind of drawing peoples' attention to Isle of Wight bands, and that's cool. 
Do you have any goals for the far future?
Teasdale: To do 20 consecutive nights at Brooklyn Steel? Leave all our guitars up and not have to go anywhere. 
Chambers: Yeah, we were saying that it must be so nice that LCD can just pop home once they're done with a gig, wake up in their own beds, and then pop over to the venue and play a show. Touring is also nice, but it's just that traveling definitely makes you a little tired bean, doesn't it? 
I really like gigging and seeing places has been really rad, so we're just trying to enjoy where we are and where we're going and see what happens. I really can't think too far ahead right now — it's a bit scary. 
Hear The 2022 Nominees For Best Alternative Music Performance At The 2023 GRAMMY Awards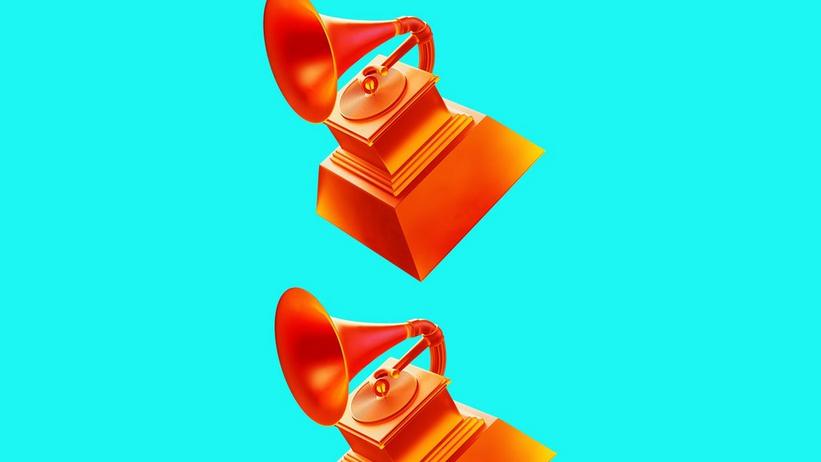 Listen to this comprehensive playlist of the Alternative Music GRAMMY nominees at the 2023 GRAMMYs.
Graphic: The Recording Academy
Listen: All Of The Alternative Music 2023 GRAMMY Nominees In One Playlist
Celebrate ahead of Music's Biggest Night on Feb. 5, 2023, with this playlist of every Alternative nominee at the 2023 GRAMMYs including Arctic Monkeys, Yeah Yeah Yeahs, Björk & more.
GRAMMYs
/
Jan 13, 2023 - 07:45 pm
Alternative music triumphed in 2022, glistening with ambition, sincerity and yearning.
The Recording Academy introduced several new categories for the 2023 GRAMMY Awards, including an addition to the alternative genre's honors: Best Alternative Music Performance. Together with Best Alternative Music Album, these two categories celebrate the alternative genre's greatest music makers.
In the recently added Best Alternative Music Performance category, Arctic Monkeys are nominated for their down-to-earth track about a doomed relationship "There'd Better Be A Mirrorball," alongside Big Thief's folksy "Certainty" and Florence + The Machine's acute "King," which both examine a precarious future with sharpness and heart. 
Best New Artist nominee Wet Leg's tongue-in-cheek wit shines through on "Chaise Longue." In the same category, the Yeah Yeah Yeahs and Perfume Genius unite with a beautifully ominous quality on "Spitting Off The Edge Of The World."
Embracing visionary eclecticism, the following albums are nominated for Best Alternative Music Album: Arcade Fire's WE, Big Thief's Dragon New Warm Mountain I Believe In You, Björk's Fossora, Wet Leg's Wet Leg, and Yeah Yeah Yeahs' Cool It Down.
Listen to all of the above songs and albums in this comprehensive playlist of the Alternative Music GRAMMY nominees at the 2023 GRAMMYs.
Check it out on Amazon Music. Find out who wins on Music's Biggest Night on Sunday, Feb. 5!
Playlist powered by GRAMMY U.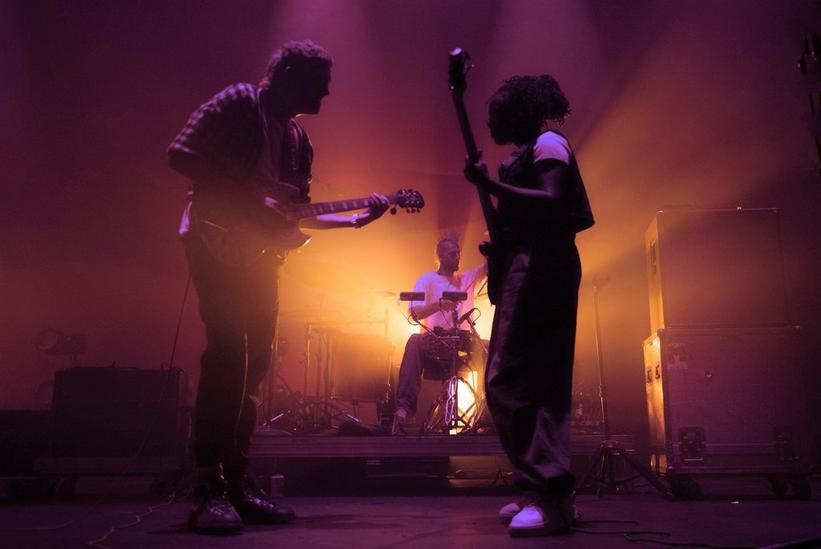 list
A Guide To Modern Funk For The Dance Floor: L'Imperatrice, Shiro Schwarz, Franc Moody, Say She She & Moniquea
James Brown changed the sound of popular music when he found the power of the one and unleashed the funk with "Papa's Got a Brand New Bag." Today, funk lives on in many forms, including these exciting bands from across the world.
GRAMMYs
/
Nov 25, 2022 - 04:23 pm
It's rare that a genre can be traced back to a single artist or group, but for funk, that was James Brown. The Godfather of Soul coined the phrase and style of playing known as "on the one," where the first downbeat is emphasized, instead of the typical second and fourth beats in pop, soul and other styles. As David Cheal eloquently explains, playing on the one "left space for phrases and riffs, often syncopated around the beat, creating an intricate, interlocking grid which could go on and on." You know a funky bassline when you hear it; its fat chords beg your body to get up and groove.
Brown's 1965 classic, "Papa's Got a Brand New Bag," became one of the first funk hits, and has been endlessly sampled and covered over the years, along with his other groovy tracks. Of course, many other funk acts followed in the '60s, and the genre thrived in the '70s and '80s as the disco craze came and went, and the originators of hip-hop and house music created new music from funk and disco's strong, flexible bones built for dancing.
Legendary funk bassist Bootsy Collins learned the power of the one from playing in Brown's band, and brought it to George Clinton, who created P-funk, an expansive, Afrofuturistic, psychedelic exploration of funk with his various bands and projects, including Parliament-Funkadelic. Both Collins and Clinton remain active and funkin', and have offered their timeless grooves to collabs with younger artists, including Kali Uchis, Silk Sonic, and Omar Apollo; and Kendrick Lamar, Flying Lotus, and Thundercat, respectively.
In the 1980s, electro-funk was born when artists like Afrika Bambaataa, Man Parrish, and Egyptian Lover began making futuristic beats with the Roland TR-808 drum machine — often with robotic vocals distorted through a talk box. A key distinguishing factor of electro-funk is a de-emphasis on vocals, with more phrases than choruses and verses. The sound influenced contemporaneous hip-hop, funk and electronica, along with acts around the globe, while current acts like Chromeo, DJ Stingray, and even Egyptian Lover himself keep electro-funk alive and well.
Today, funk lives in many places, with its heavy bass and syncopated grooves finding way into many nooks and crannies of music. There's nu-disco and boogie funk, nodding back to disco bands with soaring vocals and dance floor-designed instrumentation. G-funk continues to influence Los Angeles hip-hop, with innovative artists like Dam-Funk and Channel Tres bringing the funk and G-funk, into electro territory. Funk and disco-centered '70s revival is definitely having a moment, with acts like Ghost Funk Orchestra and Parcels, while its sparkly sprinklings can be heard in pop from Dua Lipa, Doja Cat, and, in full "Soul Train" character, Silk Sonic. There are also acts making dreamy, atmospheric music with a solid dose of funk, such as Khruangbin's global sonic collage.
There are many bands that play heavily with funk, creating lush grooves designed to get you moving. Read on for a taste of five current modern funk and nu-disco artists making band-led uptempo funk built for the dance floor. Be sure to press play on the Spotify playlist above, and check out GRAMMY.com's playlist on Apple Music, Amazon Music and Pandora.
Say She She
Aptly self-described as "discodelic soul," Brooklyn-based seven-piece Say She She make dreamy, operatic funk, led by singer-songwriters Nya Gazelle Brown, Piya Malik and Sabrina Mileo Cunningham. Their '70s girl group-inspired vocal harmonies echo, sooth and enchant as they cover poignant topics with feminist flair.
While they've been active in the New York scene for a few years, they've gained wider acclaim for the irresistible music they began releasing this year, including their debut album, Prism. Their 2022 debut single "Forget Me Not" is an ode to ground-breaking New York art collective Guerilla Girls, and "Norma" is their protest anthem in response to the news that Roe vs. Wade could be (and was) overturned. The band name is a nod to funk legend Nile Rodgers, from the "Le freak, c'est chi" exclamation in Chic's legendary tune "Le Freak."
Moniquea
Moniquea's unique voice oozes confidence, yet invites you in to dance with her to the super funky boogie rhythms. The Pasadena, California artist was raised on funk music; her mom was in a cover band that would play classics like Aretha Franklin's "Get It Right" and Gladys Knight's "Love Overboard." Moniquea released her first boogie funk track at 20 and, in 2011, met local producer XL Middelton — a bonafide purveyor of funk. She's been a star artist on his MoFunk Records ever since, and they've collabed on countless tracks, channeling West Coast energy with a heavy dose of G-funk, sunny lyrics and upbeat, roller disco-ready rhythms.
Her latest release is an upbeat nod to classic West Coast funk, produced by Middleton, and follows her February 2022 groovy, collab-filled album, On Repeat.
Shiro Schwarz
Shiro Schwarz is a Mexico City-based duo, consisting of Pammela Rojas and Rafael Marfil, who helped establish a modern funk scene in the richly creative Mexican metropolis. On "Electrify" — originally released in 2016 on Fat Beats Records and reissued in 2021 by MoFunk — Shiro Schwarz's vocals playfully contrast each other, floating over an insistent, upbeat bassline and an '80s throwback electro-funk rhythm with synth flourishes.
Their music manages to be both nostalgic and futuristic — and impossible to sit still to. 2021 single "Be Kind" is sweet, mellow and groovy, perfect chic lounge funk. Shiro Schwarz's latest track, the joyfully nostalgic "Hey DJ," is a collab with funkstress Saucy Lady and U-Key.
L'Impératrice
L'Impératrice (the empress in French) are a six-piece Parisian group serving an infectiously joyful blend of French pop, nu-disco, funk and psychedelia. Flore Benguigui's vocals are light and dreamy, yet commanding of your attention, while lyrics have a feminist touch.
During their energetic live sets, L'Impératrice members Charles de Boisseguin and Hagni Gwon (keys), David Gaugué (bass), Achille Trocellier (guitar), and Tom Daveau (drums) deliver extended instrumental jam sessions to expand and connect their music. Gaugué emphasizes the thick funky bass, and Benguigui jumps around the stage while sounding like an angel. L'Impératrice's latest album, 2021's Tako Tsubo, is a sunny, playful French disco journey.
Franc Moody
Franc Moody's bio fittingly describes their music as "a soul funk and cosmic disco sound." The London outfit was birthed by friends Ned Franc and Jon Moody in the early 2010s, when they were living together and throwing parties in North London's warehouse scene. In 2017, the group grew to six members, including singer and multi-instrumentalist Amber-Simone.
Their music feels at home with other electro-pop bands like fellow Londoners Jungle and Aussie act Parcels. While much of it is upbeat and euphoric, Franc Moody also dips into the more chilled, dreamy realm, such as the vibey, sultry title track from their recently released Into the Ether.
The Rise Of Underground House: How Artists Like Fisher & Acraze Have Taken Tech House, Other Electronic Genres From Indie To EDC