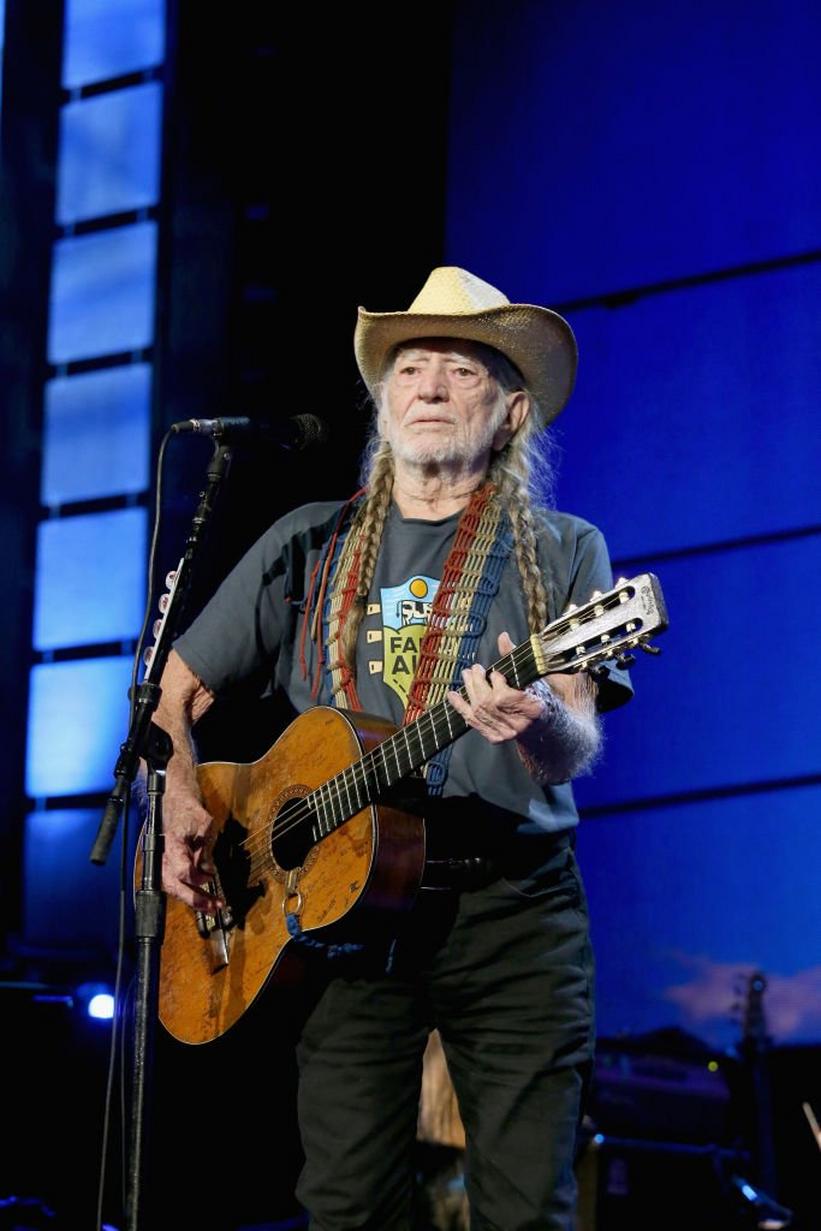 Willie Nelson at Farm Aid 2019
Photo: Gary Miller/Getty Images
news
Willie Nelson's "At Home With Farm Aid" Raises $500k+ For Family Farmers
The GRAMMY-winning co-founder and his organization raised over half a million dollars last Saturday for American farmers and ranchers affected by COVID-19
GRAMMYs
/
Apr 16, 2020 - 01:41 am
Last Saturday, April 11, GRAMMY-winning outlaw country legend Willie Nelson hosted the "At Home With Farm Aid" benefit concert through his co-founded nonprofit organization Farm Aid, in order to bolster support and funds for farmers and ranchers who are facing strain and uncertainty amidst the coronavirus pandemic.
According to a Billboard report, the virtual benefit amassed over $500,000 in proceeds for essential farm and ranch workers and their families. The show was hosted by Nelson in collaboration with his sons Micah and Lukas, and saw performances from GRAMMY-winners including Farm Aid board member Dave Matthews, Neil Young and John Mellencamp.
Our live music event on Saturday, #AtHomeWithFarmAid, raised $500,000 to support our effort to strengthen family farmers and ranchers affected by the COVID-19 pandemic. Thank you!https://t.co/SpLGL2gyoW pic.twitter.com/jcKtXgkM8H

— Farm Aid (@FarmAid) April 13, 2020
Commenting on the current crisis and efforts to mobilize around it, Nelson said in a statement "The coronavirus has disrupted our entire country and is a grave threat to all of us. One of its many impacts is that it has helped us to better see the value of essential people like healthcare workers, grocery store clerks, delivery truck drivers, and farmers and ranchers." He continued, "We are here now to support farmers and ranchers in this crisis, without whom we could not eat. The time to build a resilient family farm food system is now!"
The organization followed the sentiment in a post-concert statement, saying "Farm Aid is proud to invest in our farm and food system, from farm to plate, and take care of the farmers and ranchers who are providing essential services by feeding their communities."
Proceeds gathered during the virtual event will be distributed and invested into farmer-led solutions in response to COVID-19. Support will go to things like emergency grants, pooling of resources for the national Farm Aid network, support of additional local, state and national farming organizations and a hotline (1-800-FARM-AID), which will be used to help connect farmers to legal, financial and mental health support systems as they navigate this crisis.
The first Farm Aid concert was officially organized by Nelson and Mellencamp in 1985. The collective leans its efforts towards supporting America's essential family farmers and ranchers and keeping them on land through "great music, supporting farmers, and strengthening America."
For more information on supporting farm and ranch workers during this time of uncertainty through donations to the Farm Aid, you can visit the organization here.
Sheila E. Honors Prince's Unmatched Musical Legacy: "There's Only One Prince"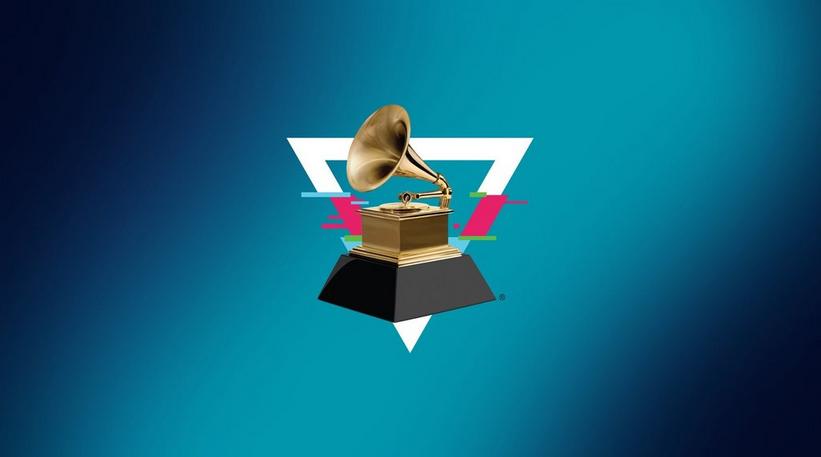 news
Find Out Who's Nominated For Best Rap Album | 2020 GRAMMY Awards
Dreamville, Meek Mill, 21 Savage, Tyler, The Creator, and YBN Cordae all earn nominations in the category
GRAMMYs
/
Nov 20, 2019 - 06:28 pm
The 2020 GRAMMYs are just around the corner, and now the nominations are in for the coveted honor of Best Rap Album. While we'll have to wait until the 62nd GRAMMY Awards air on CBS on Jan. 26 to find out who will win, let's take a look at which albums have been nominated for Best Rap Album.
Revenge of the Dreamers III – Dreamville
This star-studded compilation album from 11-time GRAMMY nominee
J. Cole
and his Dreamville Records imprint features appearances from some of the leading and fastest-rising artists in hip-hop today, including label artists EARTHGANG, J.I.D, and Ari Lennox, plus rappers T.I, DaBaby, and Young Nudy, among many others. Recorded in Atlanta across a 10-day recording session,
Revenge of the Dreamers III
is an ambitious project that saw more than 300 artists and producers contribute to the album, resulting in 142 recorded tracks. Of those recordings, 18 songs made the final album, which ultimately featured contributions from 34 artists and 27 producers.
Dreamers III, the third installment in the label's Revenge of the Dreamers compilation series, debuted at No. 1 on the Billboard 200 chart and achieved gold status this past July. In addition to a Best Rap Album nod, Dreamers III is also nominated for Best Rap Performance next year for album track "Down Bad," featuring J.I.D, Bas, J. Cole, EARTHGANG, and Young Nudy.
Championships – Meek Mill
In many ways, Championships represents a literal and metaphorical homecoming for Meek Mill. Released in November 2018, Championships is the Philadelphia rapper's first artist album following a two-year prison sentence he served after violating his parole in 2017. Championships, naturally, sees Meek tackling social justice issues stemming from his prison experience, including criminal justice reform. The album debuted at No. 1 on the Billboard 200, his second chart-topper following 2015's Dreams Worth More Than Money, and reached platinum status in June 2019. Meek Mill's 2020 Best Rap Album nod marks his first-ever GRAMMY nomination.
i am > i was – 21 Savage
Breakout rapper and four-time GRAMMY nominee 21 Savage dropped i am > i was, his second solo artist album, at the end of 2018. The guest-heavy album, which features contributions from Post Malone, Childish Gambino, J. Cole, and many others, has since charted around the world, topped the Billboard 200 – a first for the artist – in the beginning of 2019, and achieved gold status in the U.S. As well, nine songs out of the album's 15 original tracks landed on the Hot 100 chart, including multi-platinum lead single "A Lot," which is also nominated for Best Rap Song next year. 21 Savage's 2020 Best Rap Album nomination, which follows Record of the Year and Best Rap/Sung Performance nods for his 2017 Post Malone collaboration, "Rockstar," marks his first solo recognition in the top rap category.
IGOR – Tyler, The Creator
The eccentric Tyler, The Creator kicked off a massive 2019 with his mid-year album, IGOR. Released this past May, IGOR, Tyler's fifth solo artist album, is his most commercially successful project to date. The album debuted at No. 1 on the Billboard 200, marking his first time topping the coveted chart, while its lead single, "Earfquake," peaked at No. 13, his highest entry on the Hot 100. Produced in full by Tyler and featuring guest spots from fellow rap and R&B stars Kanye West, Lil Uzi Vert, Solange, and Playboi Carti, among many others, IGOR follows the rapper's 2017 album, Flower Boy, which received the Best Rap Album nod that same year.
The Lost Boy – YBN Cordae
Emerging rapper YBN Cordae, a member of the breakout YBN rap collective, released his debut album, The Lost Boy, to widespread critical acclaim this past July. The 15-track release is stacked with major collaborations with hip-hop heavyweights, including Anderson .Paak, Pusha T, Meek Mill, and others, plus production work from J. Cole and vocals from Quincy Jones. After peaking at No. 13 on the Billboard 200, The Lost Boy now notches two 2020 GRAMMY nominations: Best Rap Album and Best Rap Song for album track "Bad Idea," featuring Chance the Rapper.
news
A Tribute In Black To Johnny Cash
A star-studded roster of GRAMMY-winning talent celebrates the music and 80th birthday of Johnny Cash in Austin, Texas
GRAMMYs
/
Dec 3, 2014 - 05:06 am
Though Johnny Cash passed away in 2003, he's having a very good year in 2012. The latest in a series of events honoring the man in black — an 80th-birthday tribute titled We Walk The Line: A Celebration Of The Music Of Johnny Cash — drew a slew of GRAMMY-winning performers to Austin, Texas, for a lively Friday-night show on April 20 at Austin City Limits Live at the Moody Theater.
Top billing went to Cash's surviving Highwaymen brethren, GRAMMY winners Willie Nelson and Kris Kristofferson, who teamed with Shooter Jennings (son of late GRAMMY-winning Highwayman Waylon Jennings) and Jamey Johnson in a reunion of sorts on the song "Highwayman." Under a large banner bearing an image of Cash strumming a guitar, flanked by two silhouettes, Nelson also teamed with GRAMMY winner Sheryl Crow on "If I Were A Carpenter."
Crow sounded almost as if she were addressing Cash when she joked to Nelson, "I would definitely have your baby — if I could. If I didn't have two others of my own. And if you weren't married. And if I wasn't friends with your wife."
Audience members cheered lustily in approval, as they did throughout most of the show, a taped-for-DVD benefit for the childhood muscular dystrophy foundation Charley's Fund. Just hours earlier, many of them had watched as Nelson helped unveil his new statue in front of the theater, which sits on a street also named after him.
The event was produced by Keith Wortman with GRAMMY-winning producer Don Was serving as musical director. Was recruited Buddy Miller, Greg Leisz, Kenny Aronoff, and new Rock and Roll Hall of Fame inductee Ian McLagan of the Faces as the house band. The handpicked all-star roster of performers ranged from Iron & Wine's Sam Beam, Brandi Carlile, the Carolina Chocolate Drops, Andy Grammer, Amy Lee of Evanescence, and Pat Monahan of Train to Ronnie Dunn, Shelby Lynne, Old 97's lead singer Rhett Miller, Lucinda Williams, and even Austin-based actor Matthew McConaughey, who, in addition to emceeing, sang "The Man Comes Around."
"We wanted a real broad, diverse group of artists," Wortman said backstage. "With Cash, you're as likely to find his music in a punk rock music fan, a heavy metal fan and a Nashville music fan, so he's not just a country music guy."
GRAMMY winner Monahan, who sang Kristofferson's "Help Me Make It Through The Night," commented before the show, "I think of Johnny Cash as a style, as you would think of clothing, or music or whatever. He was his own thing. No can can really describe Johnny Cash entirely.
"And no one could deliver a song quite like him," continued Monahan. "He sang hundreds of other songwriters' songs and he made those songwriters important because of the way he delivered what they were saying. There's not much that I don't respect about him, and I told his son [John Carter Cash] earlier that I'm almost more inspired by the love for his family than his music."
Lynne, who won the Best New Artist GRAMMY in 2000, sang "Why Me Lord," another song penned by Kristofferson, and delivered a spirited duet with Monahan on "It Ain't Me Babe," said Cash has influenced "all of us."
"We appreciate the majestic rebellion that Johnny gave us all in the music business. And he's also one of the great American icons of all time," she added.
Among the acts who earned the loudest applause in a night full of high-volume appreciation was the GRAMMY-winning Carolina Chocolate Drops, the bluegrass quartet re-exposing the genre's African-American roots. Their rendition of "Jackson" was among many highlights. Earlier, co-founder Dom Flemons revealed the personal inspiration of Cash's catalog.
"Johnny Cash's music has had an impact on me as a rock and roll singer, a country singer, as a folk music performer and great interpreter of song. I just love everything that he's done," said Flemons.
Bandmate Hubby Jenkins added, "Johnny Cash was really great about putting emotional investment into every song that he sang."
Co-founder Rhiannon Giddens said Cash's core was his voice and his subject matter, and no matter how much production was added, it never diluted his message.
Miller, who named his band after "Wreck Of The Old '97," a song popularized by Cash, said their intent was to sound like "Johnny Cash meets the Clash." He also recalled always picking "Ring Of Fire," a classic inducted into the GRAMMY Hall Of Fame in 1999, on the tabletop jukebox during childhood visits to a Dallas diner.
"I didn't know what it was about, but I knew that the guy who was singing it was singing it with everything he had," said Miller, dressed in black in homage to "one of my all-time heroes." "And there was so much heart behind it, and so much conviction. And nobody could sell a song like Johnny Cash. He meant every word he said, and if he didn't mean it, he made it sound like he meant it."
(Austin-based journalist Lynne Margolis currently contributes to American Songwriter, NPR's Song of the Day and newspapers nationwide, as well as several regional magazines and NPR-affiliate KUT-FM's "Texas Music Matters." A contributing editor to The Ties That Bind: Bruce Springsteen from A To E To Z, she has also previously written for Rollingstone.com and Paste magazine.)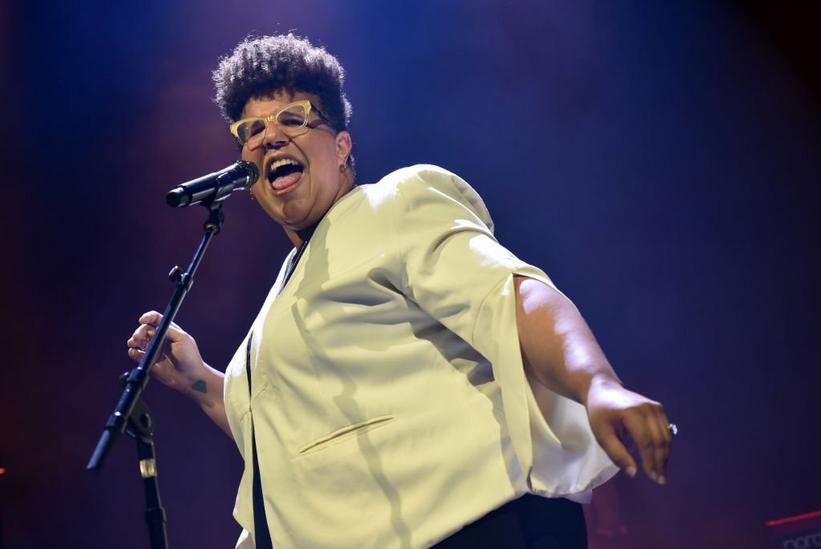 Photo: C Brandon/Redferns/Getty Images
news
Brittany Howard, Brandi Carlile, Leon Bridges, 2 Chainz & More Join Small Business Live Benefit Livestream
Proceeds from the event will be go toward loans to small businesses founded by people of color, with additional support to women-owned and immigrant-owned businesses, via Accion Opportunity Fund
GRAMMYs
/
Jun 16, 2020 - 04:13 am
This Saturday, June 20, artists including Brittany Howard, Brandi Carlile, Leon Bridges, 2 Chainz and more will come together for Small Business Live, a livestream fundraiser event for small businesses facing challenges from the COVID-19 pandemic.
Proceeds from the livestream will go to Accion Opportunity Fund to support small businesses founded by people of color, with additional support to women-owned and immigrant-owned businesses.
"Entrepreneurs of color are denied credit more often and charged higher rates for money they borrow to fund their businesses. We need to accelerate support to underserved businesses in order to reach our full potential," Accion Opportunity Fund CEO Luz Urrutia said. "We have to decide what we want our Main Streets to look like when this is over, and we must act decisively to keep small businesses alive and ready to rebuild. This is a fun way to do something really important. Everyone's support will make a huge difference to small business owners, their families and employees who have been devastated by this pandemic, the recession, and centuries of racism, xenophobia and oppression."
Tune in for Small Business Live Saturday, June 20 from 4:00 p.m. to 10:00 p.m. EDT on smallbiz.live. The site also provides a full schedule of programs and links to watch the livestream on all major digital platforms. To learn more about Accion Opportunity Fund, visit the organization's website.
Ivan Barias On Silence As Complicity, Holding Major Labels Accountable & How To Be A Non-Black Latinx Ally
news
Aloe Blacc, Melissa Etheridge, Wille Nelson Rock GRAMMY Foundation Legacy Concert
View Twitter and Instagram posts, video, photos and a complete set list from Lean On Me: A Celebration Of Music And Philanthropy
GRAMMYs
/
Feb 7, 2015 - 05:40 am
GRAMMY winners Melissa Etheridge, John Mellencamp and Willie Nelson were among the performers at Lean On Me: A Celebration Of Music And Philanthropy, the 17th Annual GRAMMY Foundation Legacy Concert. The sold-out event took place Feb. 5 at the Wilshire Ebell Theatre in Los Angeles and also featured performances by current GRAMMY nominee Aloe Blacc, singer/songwriter Rozzi Crane, violinist Lindsey Stirling, GRAMMY-nominated artist Robin Thicke, and indie pop/rock band Walk The Moon.
Below are highlights from the event shared via Twitter and Instagram, video recap, and a complete set list of songs performed.
Just so wow! @aloeblacc @metheridge @thegrammys Foundation #LeanOnMe pic.twitter.com/IqAl5qqgIZ

— Tearose (@Tearose777) February 6, 2015
"And I can't wait to get on the road again" @willienelson pic.twitter.com/EvPwWjSaMA

— GRAMMY Foundation (@GRAMMYFdn) February 6, 2015
Red carpet vibes at the @GrammyFdn #LegacyConcert pic.twitter.com/IKHug7Rzzy

— WALK THE MOON (@WALKTHEMOONband) February 6, 2015
.@johnmellencamp's performing "Longest Days" #LegacyConcert pic.twitter.com/k0mBbkYecw

— GRAMMY Foundation (@GRAMMYFdn) February 6, 2015
.@plainwhitets do @cyndilauper proud on "True Colors" #LegacyConcert pic.twitter.com/3MKpGSQkdH

— GRAMMY Foundation (@GRAMMYFdn) February 6, 2015
.@robinthicke and @ImEricaCampbell have the crowd on their feet with"Higher Ground" pic.twitter.com/7zcEjHoimd

— GRAMMY Foundation (@GRAMMYFdn) February 6, 2015
Set List:
Rozzi Crane
"Get Together"
"Ooh Child"
Aloe Blacc
"We Shall Overcome" (Pete Seeger cover)
"Love Is The Answer"
John Mellencamp
"Longest Days"
Willie Nelson
"On The Road Again"
"We Don't Run"
Melissa Etheridge And Aloe Blacc
"While My Guitar Gently Weeps" (Beatles cover)
Walk The Moon And Deborah Cox
"All These Things That I've Done"
"Heroes"
"Gimme Shelter" (Rolling Stones cover)
Lindsey Stirling
"Do They Know It's Christmas?" (Band Aid cover)
"We Are The World" (USA For Africa cover)
Plain White T's
"True Colors" (Cyndi Lauper cover)
Robin Thicke
"Fragile"
"Higher Ground" with Erica Campbell (Stevie Wonder cover)
Melissa Etheridge
"I Need To Wake Up"
"Lean On Me" (Bill Withers cover)