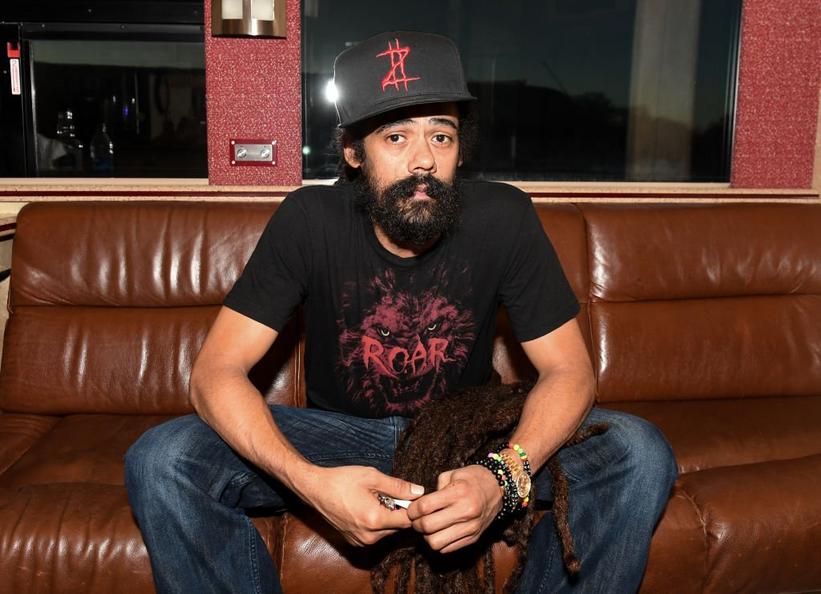 Photo by Paras Griffin/WireImage
news
This Is What We Live: Damian Marley On The 15th Anniversary Of 'Welcome To Jamrock'
The pioneering reggae artist spoke with GRAMMY.com about the value of family, the spirit of reggae and making his name through powerfully political art
GRAMMYs
/
Sep 22, 2020 - 07:52 pm
"Reggae is more than just a party," Damian Marley admits. "It has spiritual depth, social commentary, and social consciousness. It's an awakening music."
On September 12, 2005, Marley released a record simultaneously steeped in the multifaceted vitality of his family legacy and showed a path forward for his unique ability to blend deejaying, hip-hop, and more into reggae's political, social and spiritual depths.
Welcome To Jamrock earned Bob Marley's youngest son rave reviews around the world, reaching number seven on the Billboard 200 and earning two GRAMMYs—one for Best Reggae Album and the other for Best Urban/Alternative Performance for the title track. The album featured international star power, with features reaching from Nas and The Roots' Black Thought to New Jack Swing throwback Bobby Brown, as well as Jamaican heroes such as Bunny Wailer and Eek-a-Mouse. Damian's brother, Stephen, co-produced the album, further keeping the circle tight around Damian's righteous strength and incisive criticism of a sociopolitical system of racism and oppression.
The title track rolls and riots, Damian exposing the world to the reality of life in the poverty-stricken areas of Jamaica, to the ravages that both gangs and politicians can wreak. That gritty realism powers the entire album, Damian refusing to play to the expectations of reggae put on by the masses or the music industry.
In honor of the 15th anniversary of Damian Marley's Welcome to Jamrock, the pioneering reggae artist spoke with GRAMMY.com about the value of family, the spirit of reggae and making his name through powerfully political art.
Tell me a little bit about where your head was when you were working on Welcome To Jamrock. How were you feeling in terms of your career and creativity?
My album prior to Welcome to Jamrock had been on Motown, and that relationship didn't really work out for me and had just come to an end. So at that point in time, I was saying to myself, "I'm going to just make the music I love. I'm not going to make music to try to appease a record company and try to make international singles. I'm just going to try to make some music I want to listen to and my friends can listen to." Then when the title track came out as a single and started to do very well internationally, it put us back in somewhat of a state of making an international record. So toward finishing the album, we worked on some new collaborations with Nas and Black Thought and rounded it out a bit more to capture the momentum.
Was there something you tapped into for this album that you hadn't explored previously?
Ah! The way that we were picking singles is probably the biggest thing. We were picking songs and trying to put songs together that would be appealing to American radio. If you listen to the single, it's not really built to be a commercial single for radio. It's really a hardcore street single. So I would say it's more in the approach of how we're releasing the music than how we were making the music. Instead of trying to put together a very polished single with a nice sing-along hook, I just wanted to put out the kind of music I listened to, which at the time would have been really hardcore music.
You worked very closely with your brother Stephen on the album, and it's clear that family and your dad's legacy have had a huge impact on your entire career. Is that just inherently part of you or is that something you've focused on intentionally?
We are very family-oriented people. Our original home is Jamaica where we were born and grew up, and a lot of us live here now in Miami. But those of us who live in Miami still live just five minutes away from each other. So we are very close-knit as a family. And as you mentioned, Steve has been a big brother who has been a guiding force in my life since I was very young. He does a lot of production on all my albums. On the earlier ones, before I was able to do a lot of production for myself, he would take all of the responsibility of production. So over the years we've always been involved with each other's careers.
Does having that community and trust shift the way that you approach the actual production of the music?
Yeah. There's a value in that in terms of life, and music is just a part of that. I rely on family for support. I believe in family support, 100%, in whatever you do. So you can only imagine how important that is in music. It's also good to have artists' opinions around you, people who give you their honest opinions, and it's also good to have fresh ears sometimes. I do a lot of work with my family, so it's important to bring in new people and new energy too. Music is all opinion-based, and I don't always have to agree with their opinions. But there are certain people's opinion that, whether or not I agree with it, I respect it. Those are the kind of people I like to hear out.
This album was immediately beloved, both by fans and critics. How did it feel for you at the time to get that reception?
There were a lot of things going on at the time. First of all, because of the situation with Motown, there was a bit of anger. I was angry about that whole situation and I felt like I needed to prove myself. So the success of this record was proof that I had potential as an artist.
As an artist, when you put out music, you hope for the best of everything. You don't put out a song and when it becomes successful say you were surprised. You put out the song hoping it would be successful. Now, we didn't know exactly what would happen, but it's very satisfying when you put out a song and it becomes popular because that's the aim of what you're trying to accomplish. It felt like I was finally accomplishing my dream of having music that is internationally known and becoming a hit. I was very proud of that.
I had also lost a very close friend of mine right around the time of all of this too. So I was very introspective at the time. He was a musician also, and actually the beat of "Jamrock" was supposed to be something he and I worked on together, and it didn't work out that way.
And then there's also the fact that when you're in the middle of it, it happens so fast and you're so busy that it's more so when you step back that you can analyze how you were feeling then. At the time you're just going through the motions very quickly. You get busier than you've ever been in your life. The phone is ringing off the hook. Every other day I'm flying out to take a meeting or going to do some radio show or whatever. The pace of everything becomes so fast and you get more caught up in thinking about when's the next flight and when's the next phone call instead of actually enjoying the moment of the success.
Beyond winning a GRAMMY and having the title track become a hit, I can imagine it must have felt so rewarding to have such a politically important song hit so much crossover success. That doesn't happen very often.
Just like I was talking about being angry about the situation with Motown, when I look back now in retrospect, I say to myself, "I'm glad that things worked out that way because the song that I got known for is the kind of music that I like to do." It's not trying to really put together something to appease popular culture. It's more what we feel at heart. Being able to be known for politically driven themes in my music has been a blessing for me in my career. That's where my heart is to begin with. So if I had blown up on the previous album, perhaps I wouldn't be known for this kind of content. I'm glad that the song that the world knows best is "Welcome To Jamrock," which is a politically driven song.
It's important to note we're talking about the anniversary of this record in the midst of the Black Lives Matter movement, that some of the issues of oppression and racism that you were speaking about then are still sadly relevant. How does it feel to have those political messages still feel so vital?
This is what we live. We're not advocates now just because it's time to be an advocate. We have been advocates from the very beginning. Even right now with the atmosphere that's going on, I don't have an urgency to release music that's speaking on the topics of what's going on now, because I have albums of that. I have enough material about that already. That's what we live. It's been a privilege for us to be able to come and present that music and be known for that music instead of being known as a romantic artist or something of that nature.
Your music has always taken from many different traditions and infused it into reggae. Have you seen yourself as having a responsibility of bringing reggae to the world in that way?
I think when it comes down to the spirit of my music, I'm a reggae purist. When I say I lived this advocacy, the genre of roots spiritual reggae music, there's many other people who have been doing the same thing. From my father's generation coming up, a lot of reggae musicians stand for these values. So, it still comes through in the lyrics. It still comes through in the sounds, the songwriting. The themes are still very authentic to reggae in terms of what the reggae movement and its philosophy is all about.
What is that spirit to you?
It's a concern for people. Reggae is more than just a party. It has spiritual depth, social commentary and social consciousness. It's an awakening music. I don't want to use the cliche "one love" phrase, but that's still a part of what it is. It's "one love" in terms of mutual respect for one another. That is a common theme. And of course, rastafari, our faith, is always present in our music. It's a music that is dealing with very serious topics and very serious issues.
A good example of that is the track "Confrontation," which sets a tone and preps people for what they're about to experience musically, spiritually and politically. You have an introduction from Bunny Wailer and a sample of Marcus Garvey. It's just such a smart way to deliver your themes.
Bunny Wailer had done the intro for my previous album, so we stayed consistent with having him open this album. It was really my brother Steve's idea to put in the Marcus Garvey sample for that particular track. Ideas like that aren't really pre-planned or premeditated. Sometimes it comes in the moment of working on a track when inspiration comes and you try it out. You have to remember that what the public hears is what worked. They don't hear the things that we tried that didn't work. You try different things to get something that feels right.
"Road To Zion" featured Nas and in a sense launched your collaborative album, Distant Relatives. What was it about that connection that proved so fruitful?
I'm a fan of a lot of music, but not every musician would necessarily go well together because of what they stand for as opposed to what we stand for. It doesn't mean that we can't enjoy their music, but we like to do music with people that we feel have a common message. We've always had that admiration for Nas even before knowing him, based on his lyrics. A lot of the time when we try get someone to collaborate with, we're already hearing their voice on the beat, just their cadence and their tone.
We had a few tracks that were left over from Welcome To Jamrock that didn't make the album, one of which was a song about Africa. So the idea came up to use that leftover track and do a few more tracks for an EP based on Africa, which ended up becoming an album. So you're right in saying that you would never have Distant Relatives without Welcome To Jamrock.
Is there anything about the album or its creation that you would change?
If you had asked me that question maybe eight years ago, I'd probably give you a different answer than I'd give you now. For example, when we did "Welcome To Jamrock," that was the first single from the album. The second single, at the time, the company wanted to go with "Beautiful," the song with Bobby Brown. But I chose to go with "Road To Zion" as the second single. "Beautiful" may have had the potential to become a bigger commercial single than "Road To Zion" ever became, because Bobby Brown was really hot at the time because of his reality show. But again, out of "Road To Zion" comes Distant Relatives and other things. So, in retrospect, I'm glad that I'm known for "Road To Zion" as opposed to being known for "Beautiful."
So where I am in my life, looking back, no I don't think I would have really changed anything. It worked out in the end. Doing other things may have brought me more immediate commercial success, but there's a certain integrity that I've gained by those choices. This album will forever be my stamp. The previous album, I won a GRAMMY for that album also, but it doesn't compare to the stamp that Welcome To Jamrock made. It hopefully solidified my place in music as perhaps one of the greats of my genre.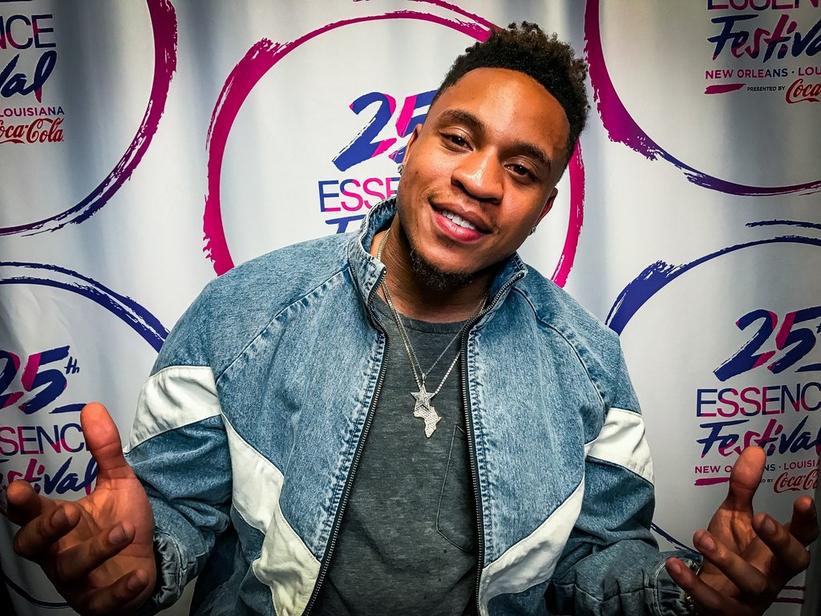 news
Rotimi On Performing At ESSENCE Fest, Growing Up African-American & More
The Nigerian-American singer and actor sat down with the Recording Academy to talk about what inspired his latest album, 'Walk With Me'
GRAMMYs
/
Jul 8, 2019 - 10:04 pm
In 2015, Rotimi stepped into the New Orleans Superdome for the first time to experience the magic of ESSENCE Fest. Four years later, in 2019, the "Love Riddim" singer returned to the celebration as a performer, something he said was spoken into existence.
"Last year me and my manager had a conversation and I said, 'Listen, I'm going to be on the [ESSENCE] mainstage this year. 365 days later, we did it," Rotimi told the Recording Academy at the 25th annual ESSENCE Fest.
Rotimi, also an actor on Starz' "Power," has evolved since his last album, 2017's Jeep Music, Vol.1. The singer said he really hit home with its follow-up, the recently released Walk With Me, a project he worked hard for, putting in hours in the studio after filming on set.
"Walk With Me is the first time I actually felt like I was giving myself as an artist, and personally I feel like with everything else I have going on I wanted to show people that this is really what I do," he said. "I wanted people to understand who Rotimi is, who Rotimi was before, who I want to be and just understand my growth and the journey and my passion for what I do."
Part of why the album felt like such a representation of him is because it embodies beats of his African roots, something he said was very present growing up Nigerian-American.
"I grew up with a lot of Fela Kuti and I grew up with Bob Marley," he said of his musical roots. "But I also grew up with Carl Thomas and Genuine and Usher, so there was a genuine mixture of who I am and what I've grown up to listen to. The actual Walk With Me project was a mixture of influences of Akon and Craig David."
Mumu Fresh On What She Learned From Working With The Roots, Rhyming & More
news
Let Freedom Ring With The March On Washington GRAMMY Playlist
Celebrate the 50th Anniversary of the March on Washington with a song
GRAMMYs
/
Dec 3, 2014 - 05:06 am
On Aug. 28, 1963, Dr. Martin Luther King Jr. stood on the steps of the Lincoln Memorial in Washington, D.C., and declared in his landmark "I Have A Dream" speech, "Now is the time to lift our nation from the quicksands of racial injustice to the solid rock of brotherhood."
In 2012 The Recording Academy recognized King's speech for its historical significance by inducting the recording into the GRAMMY Hall Of Fame. Delivered before 250,000 people, "I Have A Dream" culminated the March on Washington for Jobs and Freedom, a rally organized by a coalition of civil rights organizations that called for the passage of meaningful civil rights legislation and a program to provide jobs, among other demands.
Several artists have used music to call for a solid rock of brotherhood and sisterly love over the years. GRAMMY winners Bob Dylan; Peter, Paul & Mary; and Mahalia Jackson were among the performers who stood beside King at the March on Washington and dared to dream of a better America. On Aug. 28 President Barack Obama — joined by fellow GRAMMY winners such as LeAnn Rimes and BeBe Winans and former Presidents Jimmy Carter and Bill Clinton — will deliver his own speech at the Let Freedom Ring Commemoration and Call to Action bell-ringing ceremony at the Lincoln Memorial, commemorating the 50th anniversary of the March on Washington.
As bells toll throughout the country, we encourage you to let freedom ring by marching to the beat of our March on Washington 50th anniversary GRAMMY playlist.
"Blowin' In The Wind"
Peter, Paul & Mary, Best Performance By A Vocal Group, Best Folk Recording, 1963; GRAMMY Hall Of Fame, inducted 2003
Peter, Paul & Mary's cover of Bob Dylan's popular protest song was one of two songs performed by the trio at the March on Washington. The two-time GRAMMY-winning track fittingly asked marchers, "How many roads must a man walk down/Before you call him a man?" The answer, of course, was blowin' in the wind.
"A Change Is Gonna Come"
Sam Cooke, GRAMMY Hall Of Fame, inducted 2000
Considered one of the defining anthems of the civil rights movement, "A Change Is Gonna Come" was released in 1964 by R&B singer Cooke as a response to Dylan's "Blowin' In The Wind." Cooke's harrowing track was voted No. 12 on Rolling Stone's 500 Greatest Songs of All Time list and epitomizes the hope and change King called for 50 years ago.
"Ohio"
Crosby, Stills, Nash & Young, GRAMMY Hall Of Fame, inducted 2009
Although written by Canadian Neil Young, "Ohio" spoke to the outrage many felt over the Kent State shootings in Kent, Ohio, in 1970. The song openly questioned the deaths of four unarmed students who were killed by the Ohio National Guard during a campus Vietnam War protest.
"Get Up, Stand Up"
Bob Marley & The Wailers, GRAMMY Hall Of Fame, inducted 1999
Written by Bob Marley and Peter Tosh, this classic reggae tune was featured on the Wailers' 1973 album Burnin'. The group's signature call to action demanded people "get up, stand up/Stand up for your rights." In 1999 the track was the first reggae song to be inducted into the GRAMMY Hall Of Fame.
"Born In The U.S.A."
Bruce Springsteen, Record Of The Year nominee, 1985
Though often misinterpreted as a patriotic anthem, "Born In The U.S.A." actually speaks to the desperate flip side of the American dream encountered by some Vietnam War veterans. Still, the album of the same name garnered a GRAMMY nomination for Album Of The Year, spawned no less than seven Top 10 hits and was inducted into the GRAMMY Hall Of Fame in 2012.
"Fight The Power"
Public Enemy, Best Rap Performance nominee, 1989
It might take a nation of millions to hold back listeners of Public Enemy's confrontational and controversial hit "Fight The Power." Chosen by director Spike Lee as the musical theme for his 1989 film Do The Right Thing, the track calls out everyone from Elvis to the American government, imploring people to "fight the powers that be."
"Guerrilla Radio"
Rage Against The Machine, Best Hard Rock Performance, 2000
Featured on Rage Against The Machine's 1999 GRAMMY-nominated album The Battle Of Los Angeles, "Guerrilla Radio" is the band's call to cut off the lights, turn up the radio and tune out those they describe as "vultures who thirst for blood and oil."
"Revolution 1"
The Beatles, The Beatles, GRAMMY Hall Of Fame, inducted 2000
A year before John Lennon and Yoko Ono famously held a two-week bed-in for peace in 1969, the Beatles released this Lennon/McCartney penned tune featured on The Beatles ("The White Album"). The song spoke to Lennon's skepticism about some of the radical tactics used to protest the Vietnam War, offering the tongue-in-cheek guarantee that everything was "gonna be alright."
"War"
Edwin Starr, Best R&B Vocal Performance, Male nominee, 1970
Written by Barrett Strong and Norman Whitfield in protest of the Vietnam War, "War" was originally recorded by the Temptations. Starr's version of this classic track helped him achieve legendary status on the soul circuit. His cover was intense and direct, simply stating: "I said, war, good gawd ya'll/What is it good for?/Absolutely nothing!"
"The Times They Are A-Changin'"
Bob Dylan, GRAMMY Hall Of Fame, inducted 2013
After the release of "Blowin' In The Wind," Dylan provided another anthemic protest song with "The Times They Are A-Changin'." Since its release in 1964, the song has been covered by artists such as the Beach Boys, Joan Baez, Phil Collins, Billy Joel, and Nina Simone, among others, during both challenging and ever-changing times.
"What The World Needs Now Is Love"
Jackie DeShannon, GRAMMY Hall Of Fame, inducted 2008
After all the protests, marches and calls for change have quieted down, arguably no song should be cranked up as loud as DeShannon's 1965 hit "What The World Needs Now Is Love." Per DeShannon: All we need "is love, sweet love/No, not just for some, but for everyone."
Know a song that changed the world? Let us know in the comments.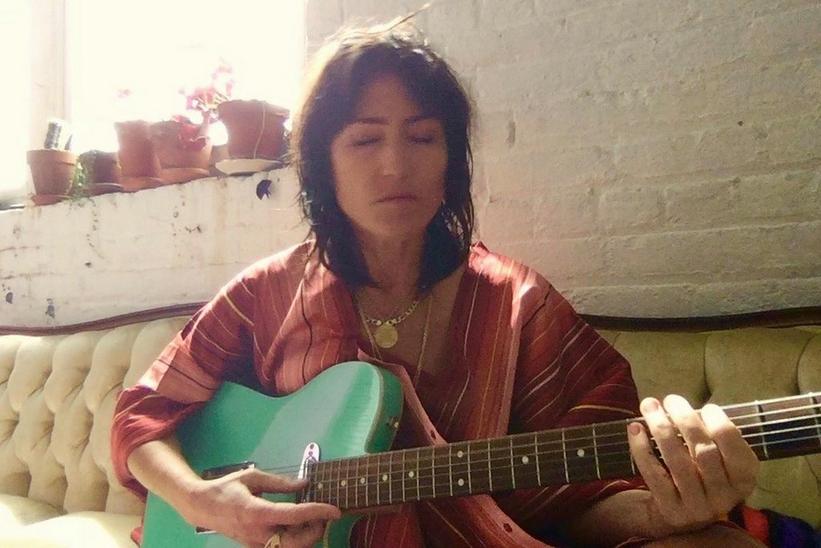 news
Quarantine Diaries: Joan As Police Woman Is Bike Riding, Book Reading & Strumming D'Angelo
As the coronavirus/COVID-19 pandemic continues to rock the music industry, the Recording Academy reached out to a few musicians to see how they were spending their days indoors
GRAMMYs
/
Apr 7, 2020 - 07:21 pm
As the coronavirus/COVID-19 pandemic continues to rock the music industry, the Recording Academy reached out to a few musicians to see how they were spending their days indoors. Today, singer/songwriter Joan Wasser of Joan as Police Woman, whose forthcoming covers album, COVER TWO, includes tracks by The Strokes, Prince, Talk Talk, and more, shares her Quarantine Diary.
Thursday, April 2
[10 a.m.-12 p.m.] Went to bed at 4 a.m. last night after getting drawn into working on a song. Put on the kettle to make hot coffee while enjoying an iced coffee I made the day before. Double coffee is my jam. Read the news, which does not do much for my mood. Catch up with a few friends, which does a lot of good for my mood. Glad it goes in this order.
[12 p.m.-2 p.m.] Make steel cut oats with blueberries, raspberries, strawberries, fresh ginger, fresh turmeric, a sprinkling of cinnamon and cardamom, and of course, coconut butter to melt on top. If you're not into coconut butter (sometimes marketed as coconut "manna"), I'd suggest just going for it and getting it (or ordering it) and putting it on your sweet potatoes, your oats, anywhere you'd put butter. I'm not vegan but I do enjoy hearing the tiny scream uttered by a strawberry as I cut into it.
Contemplate some yoga. Contamplate meditating. Do neither. Resume work on the song I want to finish and send today. I have a home studio and I spend a lot of my time working on music here. The song is a collboration sent to me from Rodrigo D'Erasmo in Milano that will benefit the folks who work behind the scenes in the music touring system in Italy.
[2 p.m.-4 p.m.] I traded in a guitar for a baritone guitar right before all this craziness hit but hadn't had the time to get it out until now. I put on some D'Angelo, plugged into my amp and played along as if I were in his band. Micahel Archer, If you're reading this, I hope you are safe and sound and thank you immensely for all the music you've given us always.
[4 p.m.-6 p.m.] Bike repair shops have been deemed "necessary," thank goodness, because biking is the primary way I get around and I need a small repair. I hit up my neighborhood shop and they get my bike in and out in 10 minutes, enough time to feel the sun for a moment.
I ride fast and hard down to the water's edge and take in a view of the East River from Brooklyn. There are a few people out getting their de-stress walks but it is mostly deserted on the usually packed streets.
[6 p.m.-8 p.m.] Practice Bach piano invention no. 4 in Dm very, very, very slowly. I never studied piano but I'm trying to hone some skills. Realize I'm ravenous. Eat chicken stew with wild mushrooms I made in the slow cooker yesterday. It's always better the second day.
[8 p.m.-10 p.m.] Get on a zoom chat with a bunch of women friends on both coasts. We basically shoot the sh*t and make each other laugh.
Afterwards I still feel like I ate a school bus so I give into yoga. I feel great afterwards. This photo proves I have a foot.
[10 p.m.-12 a.m.] Record a podcast for Stereo Embers in anticipation of my new release on May 1, a second record of covers, inventively named COVER TWO. Continue to work on music (it's a theme).
[12 a.m.-2 p.m.] Tell myself I should think about bed. Ignore myself and confinue to work on music.
[2 a.m.-4 a.m.] Force myself into bed where I have many books to choose from. This is what I'm reading presently, depending on my mood. Finally I listen to Nick Hakim's new song, "Qadir," and am taken by its beauty and grace. Good night.
If you wish to support our efforts to assist music professionals in need, learn more about the Recording Academy's and MusiCares COVID-19 Relief Fund.
If you are a member of the music industry in need of assistance, visit the MusiCares website.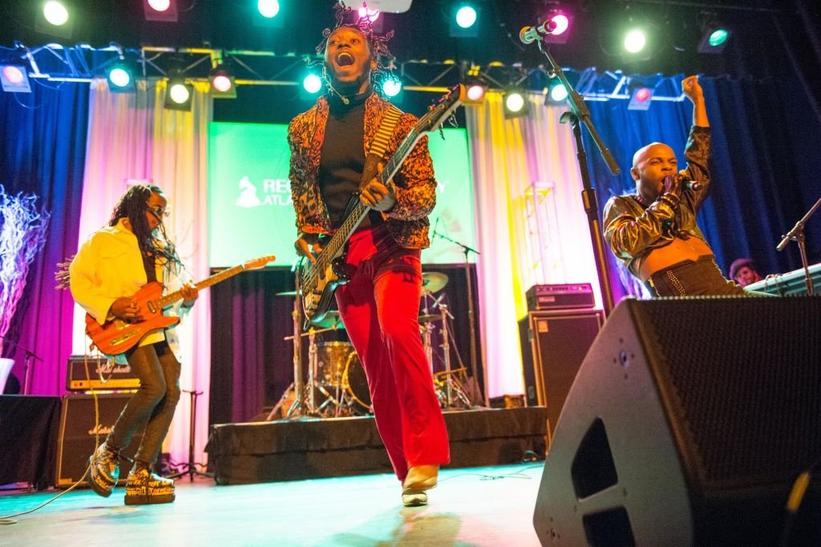 Hero The Band perform at the Recording Academy Atlanta Chapter Annual Membership Celebration
Photo: Marcus Ingram/WireImage
news
Report: Music & Culture Infrastructure Can Create Better "Future Cities"
How sound planning for a creative future in our urban areas makes all the difference for artists and musicians
GRAMMYs
/
Oct 24, 2019 - 01:27 am
The future, as they say, is now. And for music makers around the world, building a future for themselves often starts at home, in their local creative community and in the city where they live. While technology has expanded communication and made the world smaller, cities continue to grow, making planning for the future a critical cultural mission of the present.
To that end, a new report by global organization Sound Diplomacy titled "This Must Be The Place" examines, "The role of music and cultural infrastructure in creating better future cities for all of us." The 37-page deep dive into community planning and development highlights the importance of creative culture in what it calls "Future Cities."
"The government defines 'Future Cities' as 'a term used to imagine what cities themselves will be like," the report states, "how they will operate, what systems will orchestrate them and how they will relate to their stakeholders (citizens, governments, businesses, investors, and others),'"
According to the report, only three global cities or states currently have cultural infrastructure plans: London, Amsterdam and New South Wales. This fact may be surprising considering how city planning and sustainability have become part of the discussion on development of urban areas, where the UN estimates 68 percent of people will live by 2050.
"Our future places must look at music and culture ecologically. Much like the way a building is an ecosystem, so is a community of creators, makers, consumers and disseminators," the report says. "The manner in which we understand how to maintain a building is not translated to protecting, preserving and promoting music and culture in communities."
The comparison and interaction between the intangibility of culture and the presence of physical space is an ongoing theme throughout the report. For instance, one section of the report outlines how buildings can and should be designed to fit the cultural needs of the neighborhoods they populate, as too often, use of a commercial space is considered during the leasing process, not the construction process, leading to costly renovations.
"All future cities are creative cities. All future cities are music cities."
On the residential side, as cities grow denser, the need increases for thoughtful acoustic design and sufficient sound isolation. Future cities can and should be places where people congregate
"If we don't design and build our future cities to facilitate and welcome music and experience, we lose what makes them worth living in."
For musicians and artists of all mediums, the answer to making—and keeping—their cities worth living in boils down to considering their needs, impact and value more carefully and sooner in the planning process.
"The report argues that property is no longer an asset business, but one built on facilitating platforms for congregation, community and cohesion," it says. "By using music and culture at the beginning of the development process and incorporating it across the value chain from bid to design, meanwhile to construction, activation to commercialisation, this thinking and practice will result in better places."
The report offers examples of how planners and leaders are handling this from around the world. For instance, the Mayor Of London Night Czar, who helps ensure safety and nighttime infrastructure for venues toward the Mayor's Vision for London as a 24-hour city. Stateside, Pittsburgh, Penn., also has a Night Mayor in place to support and inform the growth of its creative class.
What is a music ecosystem? We believe the music influences and interacts with various sectors in a city. We have designed this infographic to show how music ecosystems work and impact cities, towns and places: https://t.co/0DIUpN1Dll

— Sound Diplomacy (@SoundDiplomacy) August 14, 2019
Diversity, inclusion, health and well-being also factor into the reports comprehensive look at how music and culture are every bit as important as conventional business, ergonomic and environmental considerations in Future Cites. Using the Queensland Chamber of Arts and Culture as a reference, it declared, "A Chamber of Culture is as important as a Chamber of Commerce."
In the end, the report serves as a beacon of light for governments, organizations, businesses and individuals involved in planning and developing future cities. Its core principals lay out guideposts for building friendly places to music and culture and are backed with case studies and recommendations. But perhaps the key to this progress is in changing how we approach the use of space itself, as the answer to supporting music may be found in how we look at the spaces we inhabit.
"To develop better cities, towns and places, we must alter the way we think about development, and place music and culture alongside design, viability, construction and customer experience," it says. "Buildings must be treated as platforms, not assets. We must explore mixed‑use within mixed‑use, so a floor of a building, or a lesser‑value ground floor unit can have multiple solutions for multiple communities."
Be Like Björk: Iceland Unveils New 'Record In Iceland' Initiative