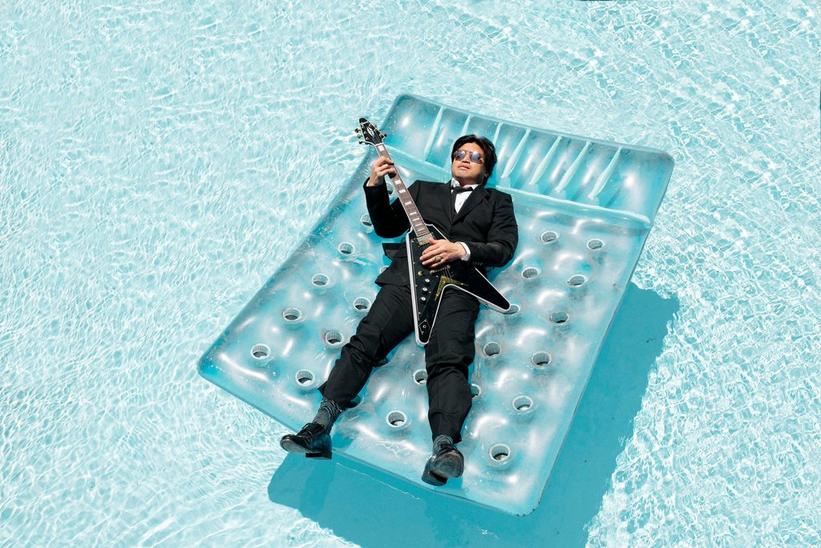 Chad Hugo
Photo courtesy of the artist 
interview
Silence Is Golden: Chad Hugo On The Neptunes' Otherworldly Success
"What do you do after a magician reveals his tricks?" asks the notoriously quiet GRAMMY-winning producer.
GRAMMYs
/
May 30, 2022 - 10:00 am
Silent partners are often obscured by overt counterparts — even more so when you're in groups with Pharrell Williams. Producer and songwriter Chad Hugo actively chose the background.
As one-half of production crew the Neptunes and one third of hip-hop/rock group N.E.R.D., Hugo at times receded from public view during waves of massive success. The Virginia Beach-based musician would resurface to work with the likes of Jay Z and Rhianna, or Nigos' recent reunion track, "Punch Bowl," which featured old collaborators the Clipse.
All this is in line with Hugo's withdrawn demeanor. He's been called a silent savant for his consistent lack of hubris, despite three decades of enormous song credits. He'd rather emulate keyboard clinks than explain how things came about, taking umbrage with media when questions felt a bit constrictive: "What do you do after a magician reveals his tricks? That's how I felt and through the years I've tried to refrain about getting into music theory with people because artists have a freedom that comes without getting too technical," he tells GRAMMY.com.
Hugo and Williams met in band camp as teenagers, and famously wowed pioneering producer Teddy Riley at a local talent show. Riley took them under his wing, ushered the pair into the music industry and set them loose at his famed Future Records Recording Studios in Virginia Beach. The experience was "mind blowing," Hugo recalls. Riley would later sign the Neptunes to Virgin Records in 1999.
By the time they reached their twenties, Hugo and Williams were among the industry's most successful songwriting duos. The Neptunes' diverse sound helped define modern pop music in the 2000s, and they became the go-to brain trust for top tier acts. Following "Superthug," Noreaga's highest charting hit ever, the Neptunes caught the ear of Jay Z, who introduced them to Justin Timberlake, whose solo debut they produced the majority of. Consider 2004's "Drop It Like It's Hot," a hit that not only gave Snoop's career a much needed shot of adrenalin, but remains lodged on commercial radio to this day.
They've since worked with Gwen Stefani, Ed Sheeran, Britney Spears and a laundry list of others. Standout moments with Kendrick and Andre 3000, too. Two GRAMMY Awards followed, including Producer of the Year, Non-Classical, and Best Pop Vocal Album for Timberlake's Justified.
On June 16, Hugo and Williams will be inducted into the Songwriters Hall of Fame — a club that includes the likes of Burt Bacharach, Bruce Springsteen and Curtis Mayfield. Despite his reserved nature, the honor is not lost on Hugo, who came close to gushing: "I always considered myself a studio rat, just offering touches to songs or whatever I could add. I feel so blessed to do that and to be recognized for this."
Here, Hugo rather openly – and perhaps uncharacteristically— spoke on how both his immigrant experience and rapport with Pharrell impacted his worldview and musical philosophy. These days, Hugo luxuriates in the fundamental sounds that inform his futurist pursuits.
I've read that you've recently immersed yourself in the blues and making connections between swing and hip-hop. Unpack that a bit for us. 
With all the crazy times we've gone through, the blues seemed like such an appropriate soundtrack for everything. Without getting too dark, things were getting crazy with the pandemic — for me and everyone I suppose. And with the blues, there's chord changes and progressions that are rooted in people singing while working hard in the fields. There's a connection with hip-hop that goes all the way back to the slave days.
In some ways, you can call the blues church. It has a mired, sad sound to it. The blues is a simple formula where you repeat mantras, say things that have happened, and things you want to happen, or just express sadness. I've just been concentrating on that, playing jazz, bebop, and swing and just American music from earlier times.
You've been sitting in with local music educators and bands from Virginia Beach. What's that interaction been like? 
Music was a way of meeting and competing with other people, and sharing new music we've never heard before. We share riffs that have been passed down for generations. Some of these melodic lines that have been passed down is like a vocabulary that we can still use today. It's a way to keep culture thriving.
I'd like to touch on your early history a bit. Teddy Riley discovered you and Pharrell and next thing you know, you're in his studio. What was that experience like? 
I remember when we went to Future Records it looked like a surf shop [laughs]. I remember seeing fancy cars you don't see in the suburbs of Virginia. Pharrell and our other friend, Mike Shae, and I went to Future after the talent show and we caught the ear of Omar Chandler, who eventually became our manager.
I remember seeing lots of records being made. They had three private studio rooms and loud music was blaring through the speakers at all times. It was like a big factory: engineers everywhere and people at desks and everyone was there just to make sounds. It blew me away.
What do you remember specifically about Teddy? How did he strike you? 
I remember seeing Teddy reacting to all the rhythms that were coming out of the speakers. It was awesome seeing him react to the music. He'd also walk over and mute or turn sounds up on this huge multi-track mixing board. He was orchestrating things. Just seeing how his operation ran as an institution was incredible.
I wasn't too familiar with Teddy to be honest. Back then, Future Records was a scene itself. Black Street was there of course. It felt like its own nightclub. We were too young to go there late at night [laughs] and just wanted to be a part of everything and make some dope sounds. It was nice seeing Teddy control all of that.
A lot has been made of Neptunes' radio hits, but not all were radio friendly. Your work with The Clipse gained a strong following despite much radio play. In your recent GQ profile, Pusha T called you a genius. What are your thoughts on Pusha and tell us what you remember from that era. 
The street life stuff he raps about, I can't say I witnessed it. Probably a good thing [laughs]. But really, I think he's just telling stories through his music. I remember him getting to the studio and stretching out his arms and having a notepad to write things down.
At the time, we were like a utilitarian swiss army knife. We would add this and that as needed, you know, make vibes and ultimately to make dope records. Pusha has always been 'bout it and had such a positive attitude. We had two schools of thought in the studio. Pusha wanted to make people move with his words and we wanted to make people move on the dancefloor. So it was truly different frames of thought that came together.
I know that you come from an immigrant household. Given that this is AAPI month, we'd be remiss to not touch on how being a child of immigrants may have impacted your outlook on music. 
My parents came from the Philippines and we were in Jersey before moving to Virginia Beach. My mother was a med tech, dad was in the Navy.
We had a piano growing up, which was the go-to entertainment system in our house. I'm the youngest of three, and my sister and brother would convene at our piano teacher's house to play. We'd always play music for my parents' friends from the Filipino community. They were always working and did what they could. They cooked for us when they had time and tried to have us speak Tagalog. We knew the bad words of course [laughs]. Enrolled us in Catholic school where we had to wear uniforms and having to wear a tie and shirt teaches you that you're in the same institution and situation as others. One of the first hip-hop people I met was a Filipino pop-locker at one of the community centers we'd frequent.
What are some of your earliest memories of being exposed to music? 
I grew up off of everything. Earliest memories would probably be church songs, then things like "The Sound of Music," where I learned all those "do-re-mi" notes. I always had an idea… that there is such a concept as sounds and [knowing] how they connect to instruments and electronics. Also, I watched a lot of old TV shows, black and white shows from the '60s and '70s and still remember all their theme songs.
You essentially went from watching those TV shows to winning GRAMMYs in a matter of years. What did winning a GRAMMY feel like? 
I felt like we made it. We made those records, you know? There's one thing my band teacher used to say, which is you're only as good as your last performance. If you didn't practice the part that was given to you on the sheet music, then you're only as good as that. Where you take it from there is the main question. So there was always pressure to win, sometimes too much. But that was a memorable day for sure.
Moving towards now, I also read about your recent saxophone lessons. Why the sax specifically?   
I just decided to keep up with it. I played it in my elementary years and for my latest sessions, I've been using a sax I bought when I lived in California years ago. I'm glad I put it to use. The whole idea was to learn riffs that I kept hearing, so I just wanted to brush up on my playing as a instrumentalist musician. I just love hearing tones from the sax.
The idea of working out my fingers has always been important to me. Certain people know the gym routine better than others, so this, to me, is just doing a better routine. Shout out to my teacher, I still have to turn in my most recent homework assignment [laughs].
We need to talk about your recent induction into the Songwriting Hall of Fame. After GRAMMYs and all your successes, how does this one feel? 
Man, it's just a huge honor. What I gathered recently was that the Songwriters Hall of Fame was founded by Johnny Mercer from the Tin Pan Alley days. I mean, he released a version of "Jingle Bells" in the '40s! He wrote all these legendary standards. This is the hugest honor to be a part of.
It's remarkable how your career unfolded and the monumental triumphs you've had. What's next when it seems like you've already done it all? 
Thankfully I'm always working. Right now, I've had a heavy focus on Filipino and Asian artists, and have been doing some great stuff with Jo Koy, Dan the Automator, and some amazing new artists like the Blssm and Eyedress.  It's an honor to lift up my fellow Asian musicians and the next generation.
I've also been doing things with M.I.A. which I'm very excited about. I love these projects because they added an element of challenge. If I'm not learning or challenging myself, I lose interest pretty quickly.
Meet Son Lux, Composers Of 'Everything Everywhere All At Once'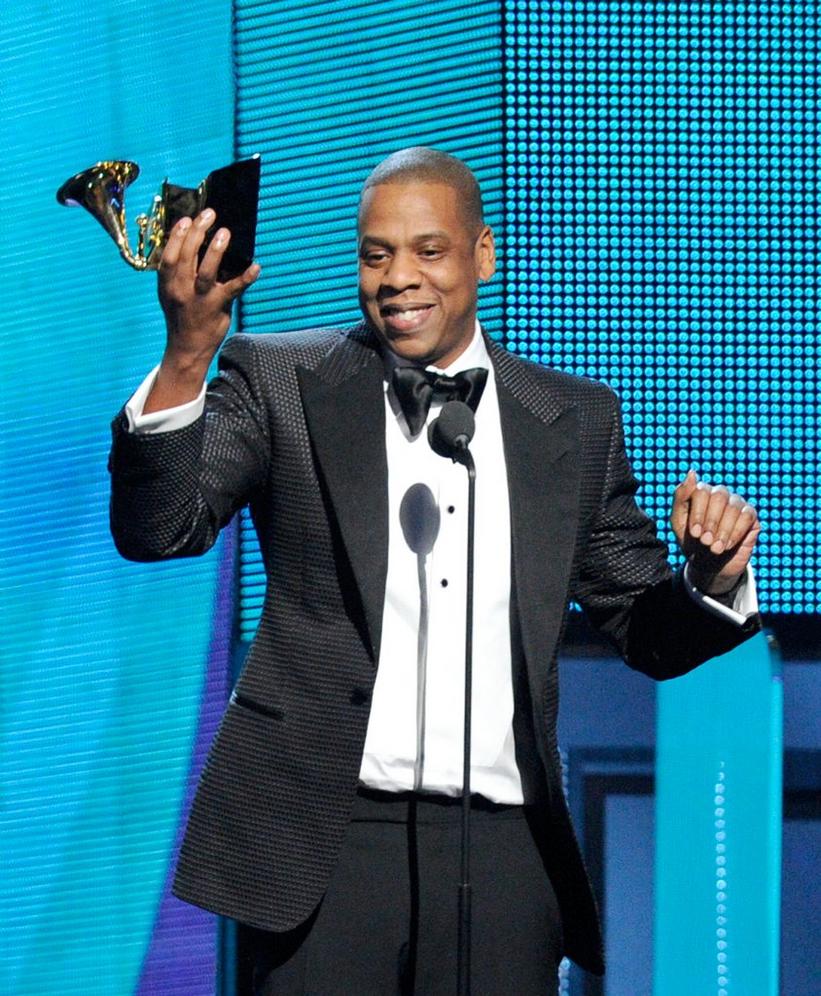 Jay Z is the first rapper to enter the Songwriters Hall of Fame
Photo: John Shearer/WireImage.com
news
Songwriters Hall to honor Jay Z, Alan Menken, Max Martin
The Songwriters Hall of Fame will soon honor their latest slate of scribes whose songs stay with us
GRAMMYs
/
May 15, 2017 - 01:36 pm
On June 15 the Songwriters Hall of Fame will induct new members and bestow special honors, including their highest honor — the Johnny Mercer Award — named after the writer who first taught America to "Accentuate the Positive" as well as a founding member of The Recording Academy.
With his induction, Jay Z earns the distinction of being the first rapper to enter the Songwriters Hall of Fame. The 21-time GRAMMY winner has won the GRAMMY for Best Rap Song three times in his career, including the 2010 award for the modern classic "Empire State Of Mind" with Alicia Keys.
Fellow GRAMMY winner Alan Menken will receive this year's Johnny Mercer Award. Menken's name gives the words "Music by …" extra meaning, whether in the credits of Little Shop Of Horrors, The Little Mermaid, Beauty And The Beast, Newsies, or more recently, Sausage Party.
The same can be said for the other songwriters who will be recognized at this year's ceremony. 2017 inductees include GRAMMY winners Jimmy Jam and Max Martin, who was awarded Best Song Written For Visual Media at the 59th GRAMMYs for co-authoring the Trolls tune "Can't Stop The Feeling!" Jam also appeared on the GRAMMY stage this February as a member of the Time for Bruno Mars' Prince tribute. Also fresh off the 59th GRAMMY stage, Ed Sheeran will receive the Songwriters Hall of Fame Hal David Starlight Award.
Watch Adele and Greg Kurstin's Song Of The Year acceptance speech "Hello"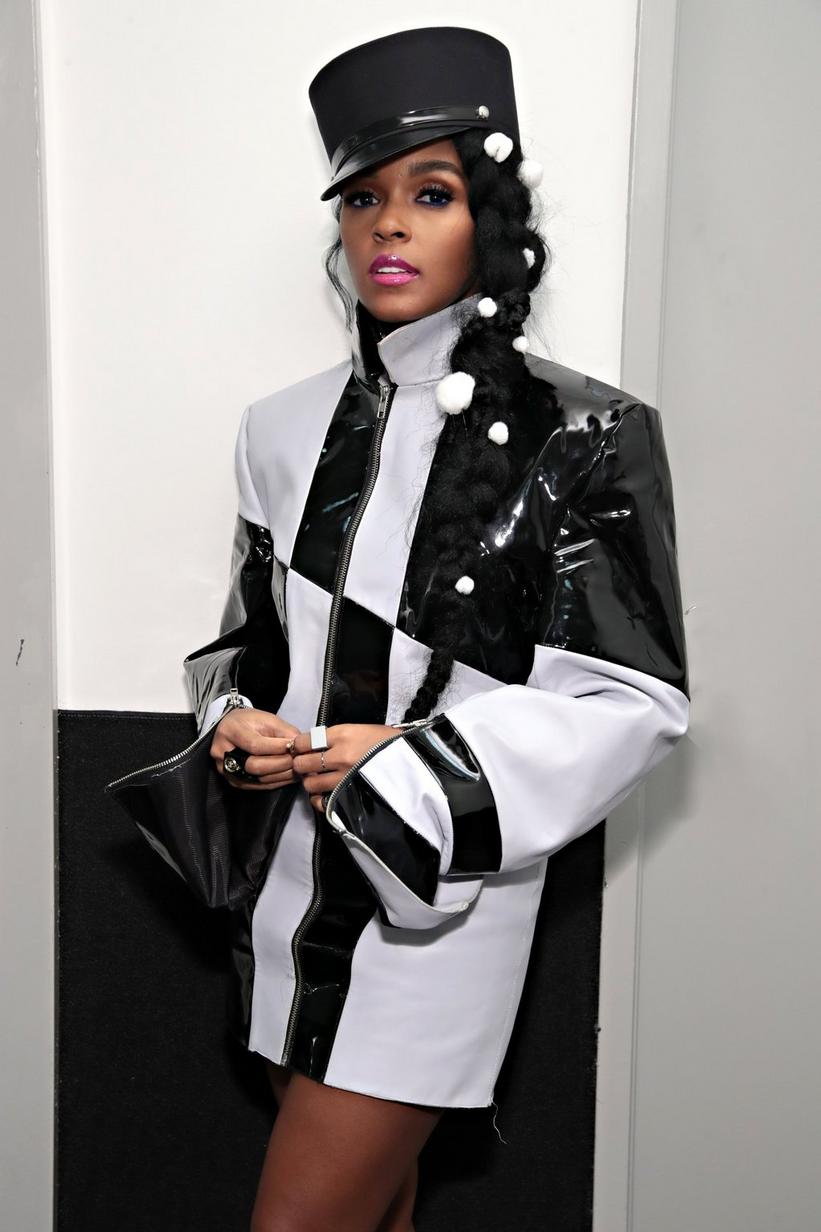 Photo: Cindy Ord/Getty Images
news
Janelle Monáe: 'Dirty Computer' Track List Features Brian Wilson, Pharrell Williams
The R&B singer reveals the inspiration behind each of the 14 tracks on her upcoming studio album
GRAMMYs
/
Apr 25, 2018 - 10:30 pm
We're just two days out from Janelle Monáe's first studio album since 2013's The Electric Lady, and today she revealed the LP's track list thanks to an interactive website packed with goodies.
The interactive website announcing Dirty Computer's track list requires users to type "I am a dirty computer" before entering. Then we get to the details, including the titles, guest artists and inspirations behind the 14-track album — which are prompted when a user clicks through the tracks on an orange circular backdrop.
Dirty Computer will feature guest appearances by former Beach Boy Brian Wilson ("Dirty Computer"), Zoë Kravitz ("Screwed"), the previously released collaboration with Grimes ("Pynk"), and Pharrell Williams ("I Got The Juice").
We also learn the wide-ranging and often political influences Monáe has channeled for the LP, which range from Bible verses to the National Museum of African American History and Culture in Washington, D.C., to Barack Obama, Quincy Jones, Prince, and Black Panther and "the vibranium in Wakanda."
The reveal of Dirty Computer's track list also comes one day before the 44-minute sci-fi Dirty Computer: An Emotion Picture short film starring Monáe and actor Tessa Thompson that will air exclusively on MTV and BET on April 26. It features a futuristic storyline in a society where citizens are referred to as "computers" and will set the tone for the album's release the following day on April 27.
"Dirty Computer is a near-future story about a citizen who finds love and danger in a totalitarian society. She's an outlaw because she's being herself," she said, per Billboard. "Overall, I wanted to reflect what's happening in the streets right now, and what might happen tomorrow if we don't band together and fight for love."
Catching Up On Music News Powered By The Recording Academy Just Got Easier. Have A Google Home Device? "Talk To GRAMMYs"
news
Jay Z Tops 56th GRAMMY Nominations With Nine
Kendrick Lamar, Macklemore & Ryan Lewis, Justin Timberlake, and Pharrell Williams earn seven nods each; other top nominees include Daft Punk, Drake, Lorde, Bruno Mars, and Taylor Swift
GRAMMYs
/
Dec 3, 2014 - 05:06 am
Nominations for the 56th GRAMMY Awards were announced tonight by The Recording Academy and reflected one of the most diverse years with the Album Of The Year category alone representing the rap, pop, country and dance/electronica genres, as determined by the voting members of The Academy. Once again, nominations in select categories for the annual GRAMMY Awards were announced on primetime television as part of "The GRAMMY Nominations Concert Live!! — Countdown To Music's Biggest Night," a one-hour CBS entertainment special broadcast live from Nokia Theatre L.A. Live.

Jay Z tops the nominations with nine; Kendrick Lamar, Macklemore & Ryan Lewis, Justin Timberlake, and Pharrell Williams each garner seven nods; Drake and mastering engineer Bob Ludwig are up for five awards.

"This year's nominations reflect the talented community of music makers who represent some of the highest levels of excellence and artistry of the year in their respective fields," said Neil Portnow, President/CEO of The Recording Academy. "Once again, The Academy's awards process and its voting membership have produced an impressive list of nominations across various genres promising music fans a spectacular show filled with stellar performances and unique 'GRAMMY Moments.' We are off to a great start and look forward to GRAMMY Sunday as Music's Biggest Night takes the stage."

Following are the nominations in the General Field categories:
Album Of The Year:
The Blessed Unrest — Sara Bareilles
Random Access Memories — Daft Punk
Good Kid, M.A.A.D City — Kendrick Lamar
The Heist — Macklemore & Ryan Lewis
Red — Taylor Swift

Record Of The Year:
"Get Lucky" — Daft Punk & Pharrell Williams
"Radioactive" — Imagine Dragons
"Royals" — Lorde
"Locked Out Of Heaven" — Bruno Mars
"Blurred Lines" — Robin Thicke Featuring T.I. & Pharrell Williams

Song Of The Year:
"Just Give Me A Reason" — Jeff Bhasker, Pink & Nate Ruess, songwriters (Pink Featuring Nate Ruess)
"Locked Out Of Heaven" — Philip Lawrence, Ari Levine & Bruno Mars, songwriters (Bruno Mars)
"Roar" — Lukasz Gottwald, Max Martin, Bonnie McKee, Katy Perry & Henry Walter, songwriters (Katy Perry)
"Royals" — Joel Little & Ella Yelich O'Connor, songwriters (Lorde)
"Same Love" — Ben Haggerty, Mary Lambert & Ryan Lewis, songwriters (Macklemore & Ryan Lewis Featuring Mary Lambert)

Best New Artist:
James Blake
Kendrick Lamar
Macklemore & Ryan Lewis
Kacey Musgraves
Ed Sheeran

Following is a sampling of nominations in the GRAMMY Awards' other 29 Fields:

For Best Pop Solo Performance, the nominees are "Brave" by Sara Bareilles; "Royals" by Lorde; "When I Was Your Man" by Bruno Mars; "Roar" by Katy Perry; and "Mirrors" by Justin Timberlake.

The nominees for Best Pop Duo/Group Performance are "Get Lucky" by Daft Punk & Pharrell Williams; "Just Give Me A Reason" by Pink Featuring Nate Ruess; "Stay" by Rihanna Featuring Mikky Ekko; "Blurred Lines" by Robin Thicke Featuring T.I. & Pharrell Williams; and "Suit & Tie" by Justin Timberlake & Jay Z.
For Best Dance/Electronica Album, the nominees are Random Access Memories by Daft Punk; Settle by Disclosure; 18 Months by Calvin Harris; Atmosphere by Kaskade; and A Color Map Of The Sun by Pretty Lights.

The Best Rock Performance nominees are "Always Alright" by Alabama Shakes; "The Stars (Are Out Tonight)" by David Bowie; "Radioactive" by Imagine Dragons; "Kashmir (Live)" by Led Zeppelin; "My God Is The Sun" by Queens Of The Stone Age; and "I'm Shakin'" by Jack White.

For Best Alternative Music Album, the nominees are The Worse Things Get, The Harder I Fight, The Harder I Fight, The More I Love You by Neko Case; Trouble Will Find Me by The National; Hesitation Marks by Nine Inch Nails; Lonerism by Tame Impala; Modern Vampires Of The City by Vampire Weekend.

The nominees for Best Rap/Sung Collaboration are "Power Trip" by J.Cole Featuring Miguel; "Part II (On The Run)" by Jay Z Featuring Beyoncé; "Holy Grail" by Jay Z Featuring Justin Timberlake; "Now Or Never" by Kendrick Lamar Featuring Mary J. Blige; and "Remember You" by Wiz Khalifa Featuring The Weeknd.

For Best Rap Album, the nominees are Nothing Was The Same by Drake; Magna Carta…Holy Grail by Jay Z; Good Kid, M.A.A.D City by Kendrick Lamar; The Heist by Macklemore & Ryan Lewis; and Yeezus by Kanye West.

The Best Country Album nominees are Night Train by Jason Aldean; Two Lanes Of Freedom by Tim McGraw; Same Trailer Different Park by Kacey Musgraves; Based On A True Story by Blake Shelton; and Red by Taylor Swift.

The nominees for Best Americana Album are Old Yellow Moon by Emmylou Harris & Rodney Crowell; Love Has Come For You by Steve Martin & Edie Brickell; Buddy And Jim by Buddy Miller And Jim Lauderdale; One True Vine by Mavis Staples; and Songbook by Allen Toussaint.

This year's Producer Of The Year, Non-Classical nominations go to Rob Cavallo, Dr. Luke, Ariel Rechtshaid, Jeff Tweedy, and Pharrell Williams.

This year's GRAMMY Awards process registered more than 22,000 submissions over a 12-month eligibility period (Oct. 1, 2012 – Sept. 30, 2013). GRAMMY ballots for the final round of voting will be mailed on Dec. 11 to the voting members of The Recording Academy. They are due back to the accounting firm of Deloitte by Jan. 8, 2014, when they will be tabulated and the results kept secret until the 56th GRAMMY telecast.

The 56th Annual GRAMMY Awards will be held Jan. 26, 2014, at Staples Center in Los Angeles and once again will be broadcast live in high-definition TV and 5.1 surround sound on CBS from 8–11:30 p.m. (ET/PT). The 56th Annual GRAMMY Awards are produced by AEG Ehrlich Ventures for The Recording Academy. Ken Ehrlich is executive producer, and Louis J. Horvitz is director.

For updates and breaking news, visit The Recording Academy's social networks on Twitter and Facebook.
news
Ed Sheeran: GRAMMY winner to make 'Game Of Thrones' cameo
GRAMMY winner joins Janelle Monáe and John Legend as the latest artists to crossover into the world of TV and film
GRAMMYs
/
May 15, 2017 - 01:36 pm
Ed Sheeran's having a big month. His latest album, Divide, has raced up the charts to No. 1 on both sides of the Atlantic, and he broke a Spotify streaming record for number of first-day streams. But for Sheeran fans, perhaps the most exciting development is his upcoming role on season seven of "Game Of Thrones."
Watch Ed Sheeran perform "Shape Of You" at the 59th GRAMMYs
"Game Of Thrones" executive producers David Benioff and D.B. Weiss made the announcement at a SXSW panel on March 12. The details of Sheeran's role have yet to be announced, but the producers originally extended an ask in season three. The reason? "Game Of Thrones" star Maisie Williams, who plays Arya Stark, is a big Sheerio.
"For years we were trying to get Ed Sheeran on the show to surprise Maisie and this year we finally did it," said Benioff.
Sheeran will join a line of previous musical "Game Of Thrones" guest stars, including Snow Patrol's Gary Lightbody, Coldplay's Will Champion and three members from GRAMMY-nominated metal band Mastodon. But Sheeran is just the latest artist to take his talents from the stage to the screen. The Best Picture Oscar nominees this year had no shortage of musician actors.
GRAMMY-nominated R&B singer/songwriter Janelle Monáe had supporting roles in both the Best Picture Oscar-winning Moonlight and Best Picture-nominated Hidden Figures. She studied acting before her music career took off, so the smooth transition she's made into the film world makes sense.
She was called to her surrogate mother-figure role in Moonlight, a coming of age film about a young black man growing up in a rough Miami neighborhood, because of her understanding of what it means to be "other."
"As a black woman who has experienced sexism and racism, I feel obligated to say something," Monáe told Billboard. "The script had me crying as soon as I read it — I knew these characters."
Monae felt similarly called to her role in Hidden Figures, which tells the story of female African-American mathematicians, called "computers" in the days before such technology existed, who served vital roles in the U.S. space program in the 1960s, but were largely left out of history. GRAMMY winner Pharrell Williams, who served as a producer on the film, told Billboard, "Janelle poured her heart and soul into this role — this story was important for her to get right."
Another Best Picture-nominated film, La La Land, which was mistakenly announced as the winner during 2017's Academy Awards ceremony, stars GRAMMY winner John Legend, who plays a musician with aims to modernize jazz and bring it to the silver screen.
Legend identified with his character, Keith, on innovation in music. "As much as you can be influenced by the past or have heroes from the past, it's important to carry that forward and create something new," Legend told Entertainment Weekly. "Any artist that's been successful, no matter how much they've been influenced by other artists, they do something innovative."
For artists such as Sheeran, Monáe, Williams, and Legend, perhaps that innovation in our modern multimedia landscape means branching their talents out to roles large and small onscreen.
Want to watch more musicians on TV? Check out our Carpool Karaoke roundup