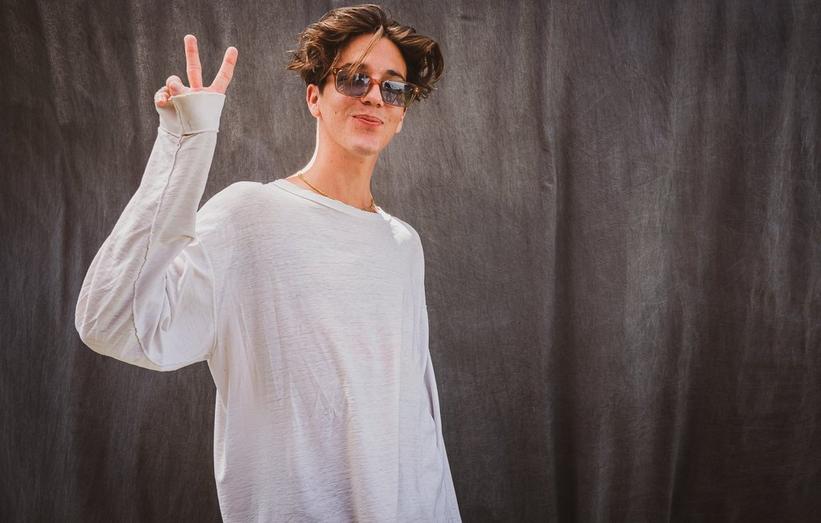 Photo by Daniel Mendoza / The Recording Academy
news
Role Model On Playing Lolla For The First Time, Omar Apollo & New Music And Tour Dates
"I'm extremely happy with the music I've been making, and I just want it out, like, now," the singer-songwriter tells the Recording Academy
GRAMMYs
/
Aug 8, 2019 - 10:18 pm
Tucker Pillsbury, who is better known as singer-songwriter Role Model, is just getting started. He recently released his debut EP, Arizona In The Summer, but already he's playing enormous festivals, like Lollapalooza 2019.
The 21-year-old performer stopped by to chat with the Recording Academy before his debut Lolla set, where he talked about his mentality going into playing to live audiences (he doesn't like to overthink things), feeling impatient to release new music and more.
"I'm not good at planning stuff ahead like that. I just can't overthink it," he said of his mindset going into playing live. "Me and my band members, we don't do any of the huddle stuff or anything. We just get on stage. We try not to plan too much. We just see how it goes."
But just because he's playing doesn't mean he hasn't had time to see some of his friends hit the Lolla stage. "I just saw my best friend Omar Apollo perform on the Bud Light stage, which was insane," Pillsbury tells us. "I had goosebumps the whole time. I [also] saw Maggie Rogers. She's amazing. Tierra Whack, love her. Big fan."
Finally, Pillsbury filled us in on what he's got coming up: "I have another single coming out soon. I'll be performing it today," he said. "And then a project and a tour that hasn't been announced. We're announcing the tour next week. And hopefully a project right before.
"It's been stressful," he continued. "You've been sitting on these songs for a year and making songs that you think are much better. It's hard because you've been listening to them for so long that you're sick of it, but no one's heard it. So it's mad stressful. But I'm extremely happy with the music I've been making, and I just want it out, like, now. I just want to show people what I've been working on."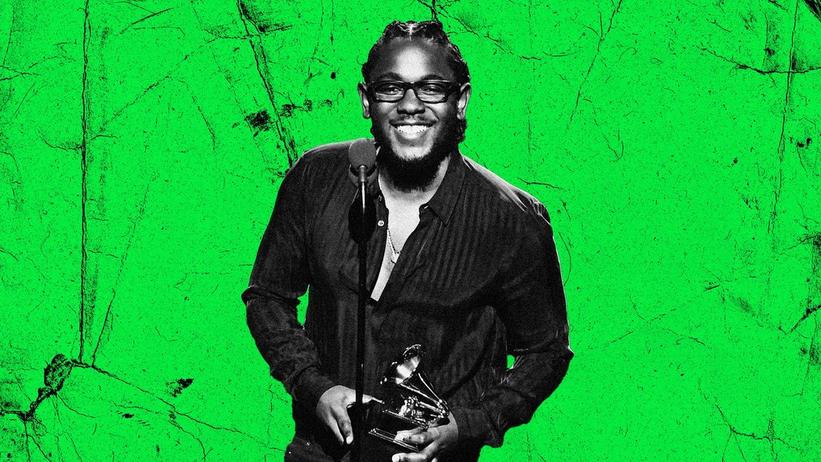 Kendrick Lamar
Photo: Jeff Kravitz/FilmMagic
video
GRAMMY Rewind: Kendrick Lamar Honors Hip-Hop's Greats While Accepting Best Rap Album GRAMMY For 'To Pimp a Butterfly' In 2016
Upon winning the GRAMMY for Best Rap Album for 'To Pimp a Butterfly,' Kendrick Lamar thanked those that helped him get to the stage, and the artists that blazed the trail for him.
GRAMMYs
/
Oct 13, 2023 - 06:01 pm
Updated Friday Oct. 13, 2023 to include info about Kendrick Lamar's most recent GRAMMY wins, as of the 2023 GRAMMYs.
A GRAMMY veteran these days, Kendrick Lamar has won 17 GRAMMYs and has received 47 GRAMMY nominations overall. A sizable chunk of his trophies came from the 58th annual GRAMMY Awards in 2016, when he walked away with five — including his first-ever win in the Best Rap Album category.
This installment of GRAMMY Rewind turns back the clock to 2016, revisiting Lamar's acceptance speech upon winning Best Rap Album for To Pimp A Butterfly. Though Lamar was alone on stage, he made it clear that he wouldn't be at the top of his game without the help of a broad support system. 
"First off, all glory to God, that's for sure," he said, kicking off a speech that went on to thank his parents, who he described as his "those who gave me the responsibility of knowing, of accepting the good with the bad."
He also extended his love and gratitude to his fiancée, Whitney Alford, and shouted out his Top Dawg Entertainment labelmates. Lamar specifically praised Top Dawg's CEO, Anthony Tiffith, for finding and developing raw talent that might not otherwise get the chance to pursue their musical dreams.
"We'd never forget that: Taking these kids out of the projects, out of Compton, and putting them right here on this stage, to be the best that they can be," Lamar — a Compton native himself — continued, leading into an impassioned conclusion spotlighting some of the cornerstone rap albums that came before To Pimp a Butterfly.
"Hip-hop. Ice Cube. This is for hip-hop," he said. "This is for Snoop Dogg, Doggystyle. This is for Illmatic, this is for Nas. We will live forever. Believe that."
To Pimp a Butterfly singles "Alright" and "These Walls" earned Lamar three more GRAMMYs that night, the former winning Best Rap Performance and Best Rap Song and the latter taking Best Rap/Sung Collaboration (the song features Bilal, Anna Wise and Thundercat). He also won Best Music Video for the remix of Taylor Swift's "Bad Blood." 
Lamar has since won Best Rap Album two more times, taking home the golden gramophone in 2018 for his blockbuster LP DAMN., and in 2023 for his bold fifth album, Mr. Morale & the Big Steppers.
Watch Lamar's full acceptance speech above, and check back at GRAMMY.com every Friday for more GRAMMY Rewind episodes. 
10 Essential Facts To Know About GRAMMY-Winning Rapper J. Cole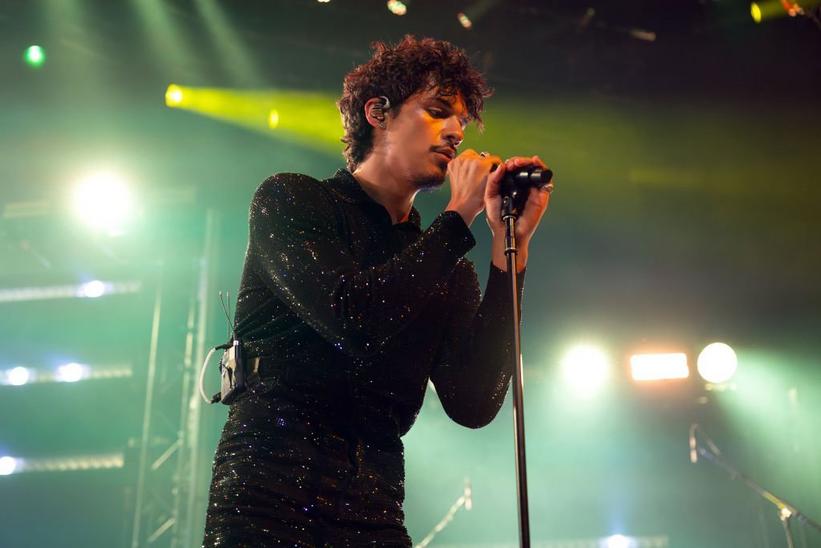 Omar Apollo
Photo: Burak Cingi/Redferns
news
On Omar Apollo's New EP 'Live for Me,' Limitless Experimentation Created Catharsis
Omar Apollo has made longing his bread and butter, often singing about unrequited love and the complexities of romantic relationships. But on 'Live for Me', he flips the script.
GRAMMYs
/
Oct 5, 2023 - 06:02 pm
In the ever-evolving landscape of music, where artists strive to carve their niche and leave their mark, Omar Apollo has emerged as a formidable force. In six short years (with a pandemic in the middle), the Chicano star has risen from humble beginnings to GRAMMY nominee, captivating listeners around the world with his distinctive blend of genres, unforgettable voice, and lyrics that tug at the heartstrings.

His new EP, Live For Me, out Oct. 6, is the perfect amalgamation of the above. With just four tracks — "Ice Slippin," "Live For Me," "Angel" and "Pilot" — the project is a small but sturdy bridge into Apollo's next chapter. "These four songs are about letting go of the old in order to become my new self and salvage whatever purity I had left," Apollo tells GRAMMY.com. "[It's my] coming to terms and addressing parts of me that I had compartmentalized."

While some might have been expecting a longer-form project following the success of his 2022 debut album Ivory and Best New Artist nomination at the 2022 GRAMMYs, the succinct nature of an EP made sense to Apollo. "I know it's only four songs," he tells GRAMMY.com, "but they hold a lot of the weight I've been carrying throughout my life. I feel lighter now and ready for the next phase of whatever life has to offer."
Apollo has been carrying a heavy musical history throughout much of his young life. The 26-year-old grew up in Hobart, Indiana, listening to everything from Vicente Fernández and Juan Gabriel to Lauryn Hill and Prince. He began his own musical journey as tween, when he traded an electric guitar his parents had gifted him for an acoustic one and learned to play through YouTube covers and guidance from one of his tíos.
When he was 17, Apollo experienced a serendipitous moment at a music store. "There was a little microphone there that said, 'Make music.' And I was like, 'Damn, I want to make music,'" he recounted to NPR. The realization made him get a job at McDonald's, where he miraculously saved up enough to get a tiny studio setup. 
Apollo's early tracks reflected his eclectic tastes and influences, featuring a unique blend of R&B, soul, pop, and indie rock that would later become his signature sound. From those early days, Apollo began weaving his life stories into every song he created — no matter how poignant or negligible. On "Brakelights," Apollo turns an ode to his beaten-up car into a poem about unrequited love — one of the singer's trademarks.
Apollo's breakthrough came in 2017 after he borrowed $30 from a friend to upload "Ugotme" onto Spotify. The song was immediately added to the streamer's Fresh Finds playlist and, within a day, garnered tens of thousands of streams. As royalties from "Ugotme" and other tracks slowly trickled in, Apollo realized music could be a viable career, to the dismay of his parents. 
"It was tough for them at first to understand," Apollo told GRAMMY.com earlier this year. "If I was living in Mexico and crossed the border illegally so my kids could have a better life, and then my kid wakes up one day and is like, 'Oh, I wanna be a singer,' I would be stressed out too. I never blamed them for it."
While it might not have seemed like much of a career, people were taking notice of Omar Apollo. Months after "Ugotme" blew up, Apollo linked up with soon-to-be-manager Dylan Shanks on Twitter. Shanks bridged the gap between the Los Angeles industry and the Indiana attic full of "asbestos and black mold" where Apollo lived with four other people and had set up his home studio.
Apollo's attic sessions saw the light of day in his 2018 debut EP, Stereo, which featured guitar-heavy tracks like the hazy "Erase" and the funky "Hijo de Su Madre." Aside from giving us a taste of his genre-hopping, the EP also showcased Apollo's ability to seamlessly switch between Spanish and English, which resonated with a diverse audience. 
He continued this vein with the release of Friends in 2019. Bass-heavy tracks like "Kickback" and disco-tinged "So Good" incorporated even more elements of funk and neo-soul into his repertoire, with an acoustic core ("Friends," "There for Me," "Hearing Your Voice") showcasing his versatility.
Later that year, Apollo collaborated with in-demand producer Kenny Beats on singles "Frío," an all-Spanish track with reggaeton sensibilities, and the groovy rap-adjacent "Hit Me Up" featuring "Euphoria"'s Dominic Fike. These collaborations expanded his musical horizons and contributed to his rising success.
In 2020, Apollo released his debut mixtape, Apolonio. Featuring standouts like the R&B-infused track "Stayback" and indie gem "Kamikaze," Apolonio marked an inflection point: Not only did the album receive critical acclaim and catapult him into the mainstream, but it also demonstrated his artistic growth. Thematically, Apollo's lyrics were more painfully self-aware and personal. Sonically, mixing became even more eclectic, combining his tried-and-true soul and funk tendencies with poppier inflections and bleeding over to trap and Mexican corrido. 
Much like his hair — which changed color at least four times during this period — Apollo was finding comfort in the transitory and experimental.
With more steam and eyes on him than ever before, Apollo joined forces with Spanish crooner C. Tangana on "Te Olvidaste," off his sophomore studio album El Madrileño. The song received two nominations at the 22nd Latin GRAMMYs, including Record Of The Year. The collaboration streak continued with the first hints of what would become Ivory. The soulful heartbreak ballad "Bad Life," Apollo's second song with Kali Uchis, ushered in 2022 for the budding star. The next month, he released "Invincible" featuring Daniel Caesar, a minimalist track carried by guitar strums and plucks, suave drum and bass, and, above all, the singers' tender harmonies.
Apollo's debut studio album, Ivory, which he dubbed as his magnum opus to Rolling Stone, finally arrived in April 2022. Mainly produced with the help of Carter Lang (who is best known for his work on SZA's Ctrl and SOS), the project showcased Apollo's genre-blending prowess and songwriting skills. However, the Ivory that we first listened to was not the Ivory that Apollo first created.
"I scrapped the first album because I hated it," he told GRAMMY.com earlier this year. "I wasn't excited to perform it. Everything was post-rationalized; it didn't have any theme. It was just me linking up with a bunch of producers and then putting whatever happened in those two months all together. It didn't feel like me by any means." 
Speaking to Complex shortly after the album's release, Apollo confirmed that the only songs "from the vault" that made it to Ivory's final form were "Bad Life," "Waiting On You," and "Mr. Neighbor." 
To complete the record, he embarked on a journey of self-discovery, isolating himself in houses he rented in California and New York with his sound engineer and childhood best friend, Manuel Barajas. While largely hunkering down on alt-R&B and psych-soul, Ivory best demonstrates Apollo's willingness to explore new sonic territories with the goal of crafting truly representative songs. 
The album includes Apollo's best corrido to date, the emotional "En El Olvido," as well as the Spanglish trap anthem "Tamagotchi." On the latter, Pharrell Williams' unmistakable four-count start makes it obvious that this is a Neptunes production.
Upon its release, Ivory entered the Billboard 200 chart — a first for Apollo. Almost half a year after the album's release, deep-cut "Evergreen" went viral on TikTok. Apollo made the song in a day during his retreat. "It was so simple. Being far away from everybody, not having access to do things, things become clear," he told Billboard.
The song earned Apollo his first-ever entry on the Billboard Hot 100 chart. In November 2022, Apollo would receive a GRAMMY nomination for Best New Artist. 

"In the beginning … I didn't even think I was a person who could win a GRAMMY. It was just kind of survival mode," Apollo said to Insider. "[But] I really went for it with this last album. So I definitely was hoping for sure, in the back of my head, like, 'That would be crazy if I got nominated.' And it happened, and it was just insane."
Although Apollo did not win Best New Artist (that honor went to singer Samara Joy), he continued to move forward in his personal and professional growth. Live For Me is proof of his unapologetic nature and growing vulnerability, which, among other things, manifests in openly addressing his sexuality.
"Making music is very vulnerable, and I always used to feel kind of embarrassed when I played things for people," he told Complex "I used to get so annoyed when somebody would ask me to explain what a song is about. But now, I'm willing to explain and willing to talk about it. I'm not embarrassed."
Apollo's recent releases take his authenticity a step further. "When I first started writing songs, I would often write about unrequited love. Eventually, I wrote songs about the complexities that come with a relationship," the artist said in a statement announcing his new single "3 Boys." The slow doo-wop jam marked Apollo's"first time writing about something non-monogamous" and signaled a pitstop into his new "new era," as he himself put it on Instagram.
The Live For Me track "Ice Slippin" is Apollo at his rawest. Heavy on autotune and drum pads, the piano-led vibey track is inspired by the experience of coming out to his family. "This song is a reflection and reaction of all the emotions I had to face before and after I decided to leave the icy streets of Indiana," the artist shared in a press release.
If Ivory was Apollo "trying to access [the] broken, traumatized parts of me to sell it to the masses," then Live For Me is focused on inner healing. Amid pen, paper, arpeggios and distorted adlibs, Apollo finds solace and, of course, life. 
Mitski's Road To 'The Land Is Inhospitable And So Are We': How Expanding Sonically Illuminated The Liminal Space Between Brutality & Love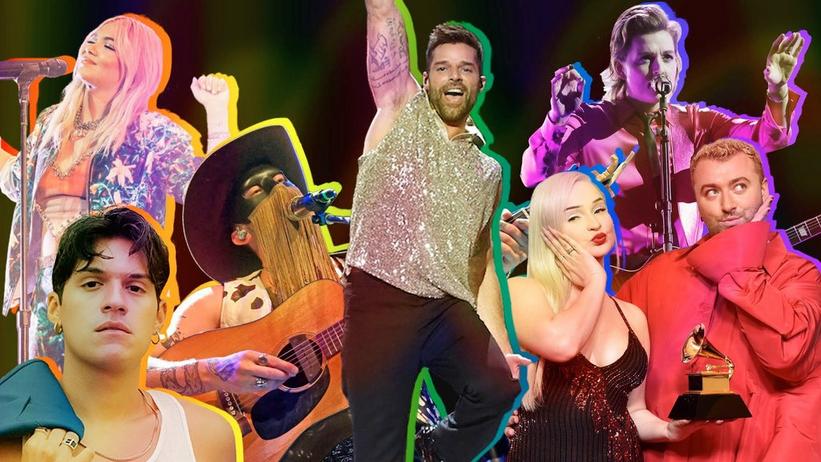 (L-R, clockwise): Hayley Kiyoko, Ricky Martin, Brandi Carlile, Sam Smith, Kim Petras, Orville Peck, Omar Apollo
Photo: Kristy Sparow/Getty Images, Kevin Winter/Getty Images for LARAS, Kevin Winter/Getty Images for The Recording Academy, Alberto E. Rodriguez/Getty Images for The Recording Academy, Stephen J. Cohen/Getty Images, Gustavo Garcia Villa
news
Listen To GRAMMY.com's LGBTQIA+ Pride Month 2023 Playlist Featuring Demi Lovato, Sam Smith, Kim Petras, Frank Ocean, Omar Apollo & More
Celebrate LGBTQIA+ Pride Month 2023 with a 50-song playlist that spans genres and generations, honoring trailblazing artists and allies including George Michael, Miley Cyrus, Orville Peck, Lady Gaga and Ariana Grande and many more.
GRAMMYs
/
Jun 1, 2023 - 04:21 pm
In the past year, artists in the LGBTQIA+ community have continued to create change and make history — specifically, GRAMMY history. Last November, Liniker became the first trans artist to win a Latin GRAMMY Award when she took home Best MPB Album for Indigo Borboleta Anil; three months later, Sam Smith and Kim Petras became the first nonbinary and trans artists, respectively, to win the GRAMMY Award for Best Pop Duo/Group Performance for their sinful collab "Unholy."
Just those two feats alone prove that the LGBTQIA+ community is making more and more of an impact every year. So this Pride Month, GRAMMY.com celebrates those strides with a playlist of hits and timeless classics that are driving conversations around equality and fairness for the LGBTQIA+ community.
Below, take a listen to 50 songs by artists across the LGBTQIA+ spectrum — including "Unholy" and Liniker's "Baby 95" — on Amazon Music, Spotify, Apple Music, and Pandora.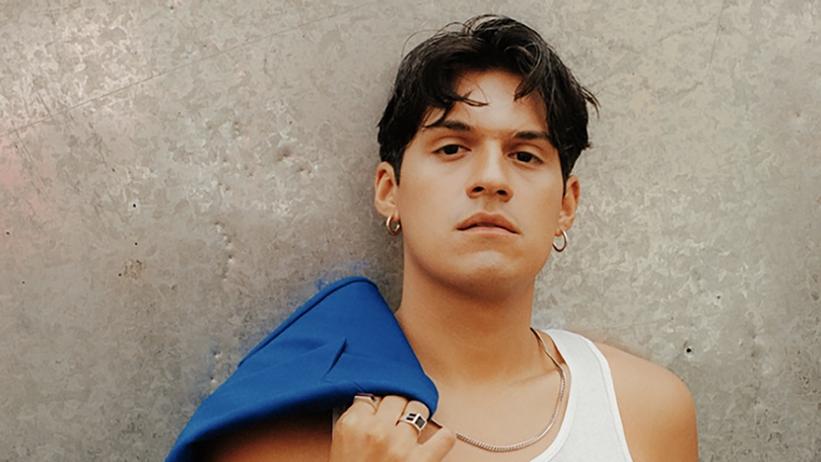 Omar Apollo
Photo: Gustavo Garcia Villa
interview
Meet The First-Time GRAMMY Nominee: Omar Apollo On "Evergreen," Growth & The Art Of Longing
Omar Apollo sings, raps and dances. No matter what the Best New Artist nominee does, he does it with soul.
GRAMMYs
/
Jan 13, 2023 - 04:00 pm
Omar Apollo's career began with a stolen guitar. It almost ended with one, too.
The self-taught musician, then 14, had been playing for two or three years when robbers took his beloved instrument from the family car after a gig. With no money to replace it, Apollo took up dancing and worked various jobs while in high school. He had let his music-making days go — until one day he couldn't anymore. 
"The feeling overwhelmed me," he tells GRAMMY.com. "Music had taken over the part in my brain that needed to be creative." He went to a pawn shop and bought another guitar.
Following that feeling served him well. Apollo uploaded his song "Ugotme" to Spotify in 2017 and it was quickly blew up after being placed on a Fresh Finds playlist. Over the next three years, he released two EPs and a mixtape — Stereo (2018), Friends (2019) and Apolonio (2020) — which showcased his wide range of sounds including funk, pop, disco, R&B and Spanish corridos. Apollo's dreamy croons and wistful lyrics about love (or lack of it) were a raw new voice to the youth experience of putting words to yet-unplumbed feelings. The son of Mexican immigrants, he also became a relatable figure for fellow first-generation Latinos.
This past year has been especially momentous. In April 2022, Apollo released his debut album, Ivory, which features Kali Uchis ("Bad Life"), Daniel Caesar ("Invincible") and production by the Neptunes ("Tamagotchi"). Another single from the LP, "Evergreen," went viral on TikTok, earned him his first placement on Billboard's Hot 100 chart and currently boasts over 118 million Spotify streams. It's all culminated in a Best New Artist nomination for the 65th GRAMMY Awards. 
Of course, these achievements didn't all come easily. Behind the scenes, he reckoned with scrapped albums, tight deadlines and the type of overthinking that can crumble any artist's career. Yet these hurdles only helped Apollo sharpen his vision — and he's just only getting started.
How did your parents react to your nomination?
My dad was like, "Congratulations." My dad's thought every single award was a GRAMMY nomination. So like, I won an award recently and he's like, "I heard you got another GRAMMY, mijo." And I was like, it wasn't a GRAMMY [laughs]. It was so fun. My mom instantly was like, "What are we wearing?"
Are you bringing them to the GRAMMYs?
Of course.
As a fellow child of immigrants, I think we're very aware of the sacrifices that our parents made to build the life that we have now. How does that impact you?
With my parents being from Mexico, then coming here so their kids could have a better life, there's that pressure of needing to be successful or wanting to be — not so much in a creative way; more like, no, you go to college and get a job, that kind of thing.
But honestly, the feeling to make music was far greater than the pressure. I didn't think of it as a career; it just kind of snowballed into one. It was tough for them at first to understand. If I was living in Mexico and crossed the border illegally so my kids could have a better life, and then my kid wakes up one day and is like, oh, I wanna be a singer, I would be stressed out too. So I never blamed them for it. Now I have a great relationship with them.
How do you feel about the general Best New Artist category?
I'm happy to be recognized as new [laughs]. I wake up every day and just think about the future, and wanting to keep making music and progressing. Some people are like, you've been touring for a while, but I honestly feel like I'm barely getting started. It's just wonderful to be recognized, and with other great talented artists that I've known about and really like their music, too.
Ivory almost didn't happen in its current state. Why did you scrap the first version of the album, and how did you know you were on the right track for this one?
I scrapped the first album because I hated it. I wasn't excited to perform it. Everything was post-rationalized; it didn't have any theme. It was just me linking up with a bunch of producers and then putting whatever happened in those two months all together. It didn't feel like me by any means. It wasn't made on my laptop while I've been making music; it was on everyone else's computers. It was just weird. 
I learned so much from working with other people that I don't regret that at all. It also led me to making an album that I was proud of. So after I realized that it was an album that I didn't like, I made a new one in like three months. I booked houses in Idyllwild and Greenpoint in New York and just isolated myself, just took everything I learned. Very few people were involved in that process. I didn't even play it for my manager or nobody until it was done. I think that boundary really made all those songs into what they are.
Three months to make a new album sounds incredibly stressful. Do you find that you thrive in periods of crunch time?
That was definitely my most stressful time with music for sure. It was very dark. I felt like I was gonna burn a bridge with my label. But I got so much done. I made a hundred songs in three months and cut it down. Now I don't think I need to do that. 
Now it's not so much discovery, it's more execution. Discovery can take years, you know? I think that the process of Ivory and me releasing it gave me so much to learn from next time I'm in the process of writing.
Like what?
Themes, tones, overall cohesiveness and making an album. I could be like, this album is about this as opposed to doing 10 different genres. At the heart of everything that I do, I feel like there's soul even when I'm rapping. I think that's when I realized it's the type of music that I wanna make and play forever.
Did you expect "Evergreen" to take off the way that it did?
I don't think any of us did. It's so funny 'cause I always hear people talk about, when the song goes big, they're like, "we never knew." But we genuinely never knew. We even had a conversation when we were doing the splits of the song. It was me, Manny [Barajas], and Teo [Halm], and something came up along the lines of like, yeah, this isn't gonna be like, the song [laughs]. It's just funny that it was.
Why do you think it resonated with so many people?
There was a giant release on that song and it almost didn't happen. The bridge is the release, the thing that ties the whole song together. Otherwise, it would just be a very sad song. I think that the part where [I sing] "You didn't deserve me at all" — just the way that it was set up and done — people could relate to it.
 It's a feeling that we've all felt in a relationship where it's just like, you tell yourself things to get over it and move on. One of those things is like, you didn't deserve me and the love I had to give.
I personally love "En El Olvido." Have you thought about making an album entirely of corridos or an all Spanish language record?
I totally have. I don't know how I would do it though. Right now I'm focused on writing. I'm going to the studio every day; I'm probably gonna go after this. There's just things I have to get out first, but who knows, they might develop or change. I just try to honor the inspiration that I feel and get it out as much as I can.
What's inspiring you now?
I've become obsessed with synthesizers; I just got one that I've been making every song on. And analog, '70s stuff. The atmospheric tones from that era have been inspiring me. I've been listening to a lot of Brian Eno, a lot of ambient [music]. 
I made a playlist, it's four hours long, that I spent like eight hours making one day in the green room. I was doing a show and just made like a whole… all of my knowledge of ambient music and even new stuff, just altogether in one thing. I don't know why, I've just been really drawn to that ambient feeling. I want to be able to sing over it because I love how it makes me feel. I want to amplify that feeling, that atmosphere, that world. Just be engulfed in it.
Tell me more about that world.
It slows everything down for me. I feel like when you're on the road and you have to constantly be perceived, it gets kind of heavy and then you start overthinking every interaction. Even the ones that aren't being recorded. That music puts me to sleep at night and makes me feel like everything's okay. 
Longing has been a major theme in your work. What is longing to you and why is it so dominant in your music?
Living in a state of longing is probably some of the most intense moments that I've had and the ones that I remember. Always traveling and not being able to have a conventional relationship as much as I'd like to. I've accepted longing as a feeling and, instead of being sad about it, I just like to live in it, I like to bask in it. It's like a Freudian slip. Whenever I talk about longing, it's just there, like a sadness that I love to carry. 
I feel that. When you talked about how Pedro Infante's "Cien Años" was foundational to your understanding and love of corridos, as soon as I read that I had to listen to it. It's still stuck in my head.
It's so good, man. Especially when you're longing for somebody but you know you'll see them again. The longing of someone unrequited is what sucks. That one I don't like [laughs]. But the longing of somebody's presence, wanting to see them, be around them, see how they react to the simplest things. You get joy from it. That's the part I miss.
You're big on manifestation. In the last few years you've manifested two "Tonight Show" appearances, a Coachella gig and possibly this Best New Artist win. So let's put it out there: What else do you want to manifest?
What I want to manifest ultimately is being able to say what I wanna say in the most poetic way. That's all I really think about, is just being able to put words to these feelings that I get, and make something that I'm proud of.