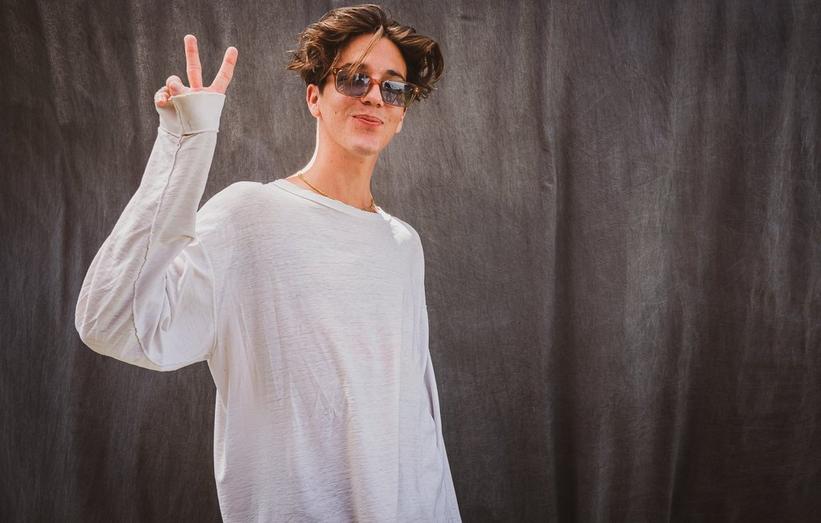 Photo by Daniel Mendoza / The Recording Academy
news
Role Model On Playing Lolla For The First Time, Omar Apollo & New Music And Tour Dates
"I'm extremely happy with the music I've been making, and I just want it out, like, now," the singer-songwriter tells the Recording Academy
GRAMMYs
/
Aug 8, 2019 - 10:18 pm
Tucker Pillsbury, who is better known as singer-songwriter Role Model, is just getting started. He recently released his debut EP, Arizona In The Summer, but already he's playing enormous festivals, like Lollapalooza 2019.
The 21-year-old performer stopped by to chat with the Recording Academy before his debut Lolla set, where he talked about his mentality going into playing to live audiences (he doesn't like to overthink things), feeling impatient to release new music and more.
"I'm not good at planning stuff ahead like that. I just can't overthink it," he said of his mindset going into playing live. "Me and my band members, we don't do any of the huddle stuff or anything. We just get on stage. We try not to plan too much. We just see how it goes."
But just because he's playing doesn't mean he hasn't had time to see some of his friends hit the Lolla stage. "I just saw my best friend Omar Apollo perform on the Bud Light stage, which was insane," Pillsbury tells us. "I had goosebumps the whole time. I [also] saw Maggie Rogers. She's amazing. Tierra Whack, love her. Big fan."
Finally, Pillsbury filled us in on what he's got coming up: "I have another single coming out soon. I'll be performing it today," he said. "And then a project and a tour that hasn't been announced. We're announcing the tour next week. And hopefully a project right before.
"It's been stressful," he continued. "You've been sitting on these songs for a year and making songs that you think are much better. It's hard because you've been listening to them for so long that you're sick of it, but no one's heard it. So it's mad stressful. But I'm extremely happy with the music I've been making, and I just want it out, like, now. I just want to show people what I've been working on."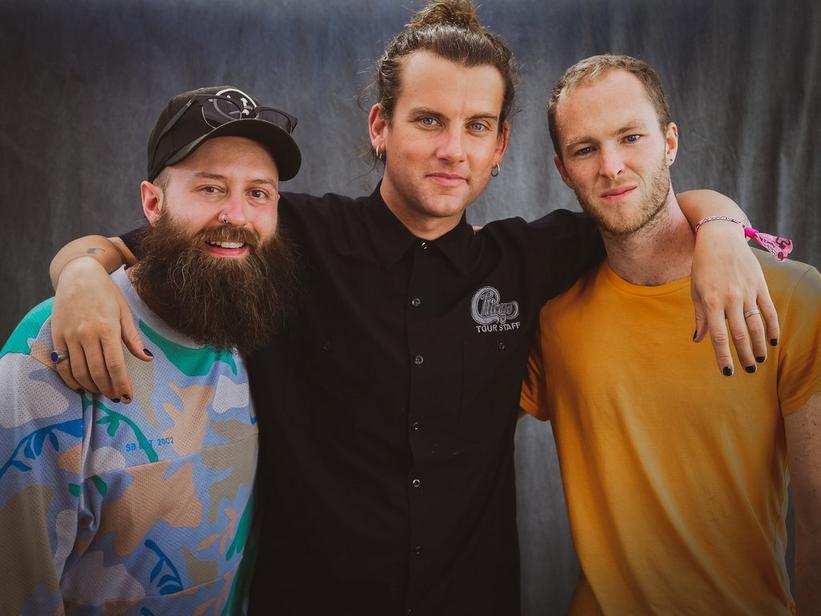 Photo by Daniel Mendoza / The Recording Academy
news
Judah & The Lion On Choosing Hope In Tough Times: "Just Talk About It, And You'll Feel Less Alone"
"Choosing hope and choosing a way forward is something that we all have the power to do," the Nashville trio told the Recording Academy at Lollapalooza 2019
GRAMMYs
/
Aug 7, 2019 - 10:23 pm
Nashville trio Judah & The Lion, a.k.a. singer/guitarist Judah Akers, singer/mandolinist Brian Macdonald and banjoist/singer Nate Zuercher, recently released a powerful third LP called Pep Talks.

Dealing with tough themes like death and divorce, Pep Talks covers some deeply difficult subjects, but it is also the band's way of connecting with audiences, who might be going through their own hard times.
"It's really wild what people are going through in life. People struggle, whether or not they admit it," lead singer Judah Akers tells the Recording Academy at Lollapalooza 2019. "People are going through stuff. And I think that music is such a beautiful way for us to express that. What we like to share is, 'You're not alone in this.'"
Akers went on, describing the way fans approach him to tell him how the band's music has helped them get through some difficult times:
"We had somebody the other day who came up to us and say, 'Your song really helped me out. I was wanting to commit suicide, and I listened to it, and I didn't want to anymore.' And I'm like, 'Oh no, dude, it's OK that you're having those thoughts, but go and talk to someone. Express the way that you feel. Somebody that you trust. If you can go to counseling, talk to a friend, talk to a sibling, someone that you love and trust.'
"Nine times out of 10, or 10 times out of 10, in my experience, that person is going to meet you with so much empathy and solidarity. And then you can just talk about it, and you feel less alone in the world. That's what we're trying to do as humans, is figure this sh*t out. Nobody's got it all together. Nobody's perfect. We're just going for it. Choosing hope and choosing a way foward is something that we all have the power to do."
Check out Judah & The Lion's interview in full above.
Take A Look Back At Lollapalooza 2019, With Alesso, Loud Luxury, SHAED And More | On The Road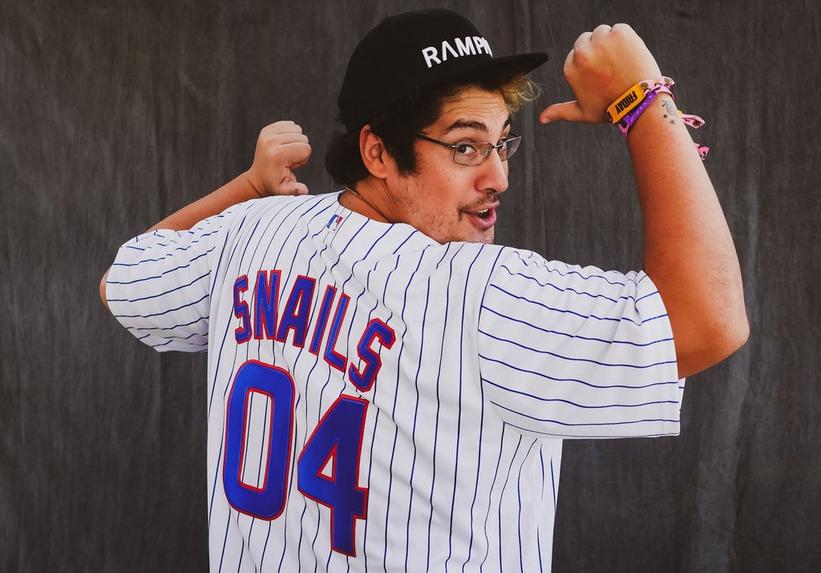 news
SNAILS On His DJ Battle With Gud Vibrations At Lolla '19
"It's a dream coming true, it's pretty insane," the Canadian DJ told the Recording Academy
GRAMMYs
/
Aug 10, 2019 - 12:45 am
news
The GRAMMYs At Lollapalooza With My Morning Jacket, Skylar Grey
Backstage with My Morning Jacket and Skylar Grey at the 20th anniversary of Lollapalooza
GRAMMYs
/
Dec 3, 2014 - 05:06 am
The Recording Academy Chicago Chapter played host for The GRAMMYs At Lollapalooza during the festival's 20th anniversary installment this past weekend in Chicago's Grant Park. The Chapter conducted exclusive backstage interviews with artists performing at the festival, including GRAMMY-nominated indie rock group My Morning Jacket and GRAMMY-nominated singer/songwriter Skylar Grey.
My Morning Jacket — Tom Blankenship (bass), Carl Broemel (guitar), Patrick Hallahan (drums), Jim James (vocals/guitar), and Bo Koster (keys) — discussed headlining Lollapalooza, physical versus digital music, advice for young musicians, and the band's evolution, among other topics.
"We're all about trying to find that special place where time and space stop and you're not anywhere anymore," said James on performing live. "That's our goal always — to try to transcend wherever we are and hope that the audience comes with us."
Formed in 1998 in Louisville, Ky., My Morning Jacket released their debut album, The Tennessee Fire, in 1999. The quintet has released several albums since, including 2008's Evil Urges, which earned a GRAMMY nomination for Best Alternative Music Album and peaked at No. 9 on the Billboard 200. The group took a subsequent three-year hiatus to explore other avenues, with James joining indie rock super group Monsters Of Folk. My Morning Jacket reconvened for 2011's Circuital, which peaked at No. 5 on the Billboard 200.
Grey discussed topics such as her forthcoming debut solo album Invinsible, how she got involved in hip-hop, co-writing Eminem and Rihanna's collaboration "Love The Way You Lie," and her transformation from Holly Brook into Skylar Grey, among other topics.
"It's one of those things that I think a lot of people can relate to," said Grey regarding "Invisible," the single off her forthcoming debut album, "Feeling like no matter how hard you try, nobody's noticing. Life is hard and there's a lot of struggle, [but] I just know that there's a reason I'm here. I know that in that gray area of life, in the unknowns, there are also opportunities."

In 2010 Grey received two GRAMMY nominations for Song Of The Year and Best Rap Song for "Love The Way You Lie," a song she co-wrote with Alex Da Kid and Eminem. That same year she collaborated with Dr. Dre and Eminem on "I Need A Doctor," and performed the song with the rappers on the 53rd Annual GRAMMY Awards telecast in February. Invinsible is due out this fall.
Come back to GRAMMY.com later this week for more exclusive backstage interviews from The GRAMMYs At Lollapalooza.

(The GRAMMYs At Lollapalooza: Videography by Colleen Mares and Thomas Brankin; Interviews by Kiana Basu and Max O'Kane)
The GRAMMYs At Lollapalooza 2011: Arctic Monkeys, Atmosphere, Black Cards, Haley Bonar, Cage The Elephant, Cults, Dale Earnhardt Jr. Jr., Deadmau5, Dani Deahl, Deluka, DJ Lady D, Fitz And The Tantrums, Foster The People, Gold Motel, Ellie Goulding, Skylar Grey, Mayer Hawthorne, Kids These Days, Le Butcherettes, Maps & Atlases, My Morning Jacket, Tab The Band, and Young The Giant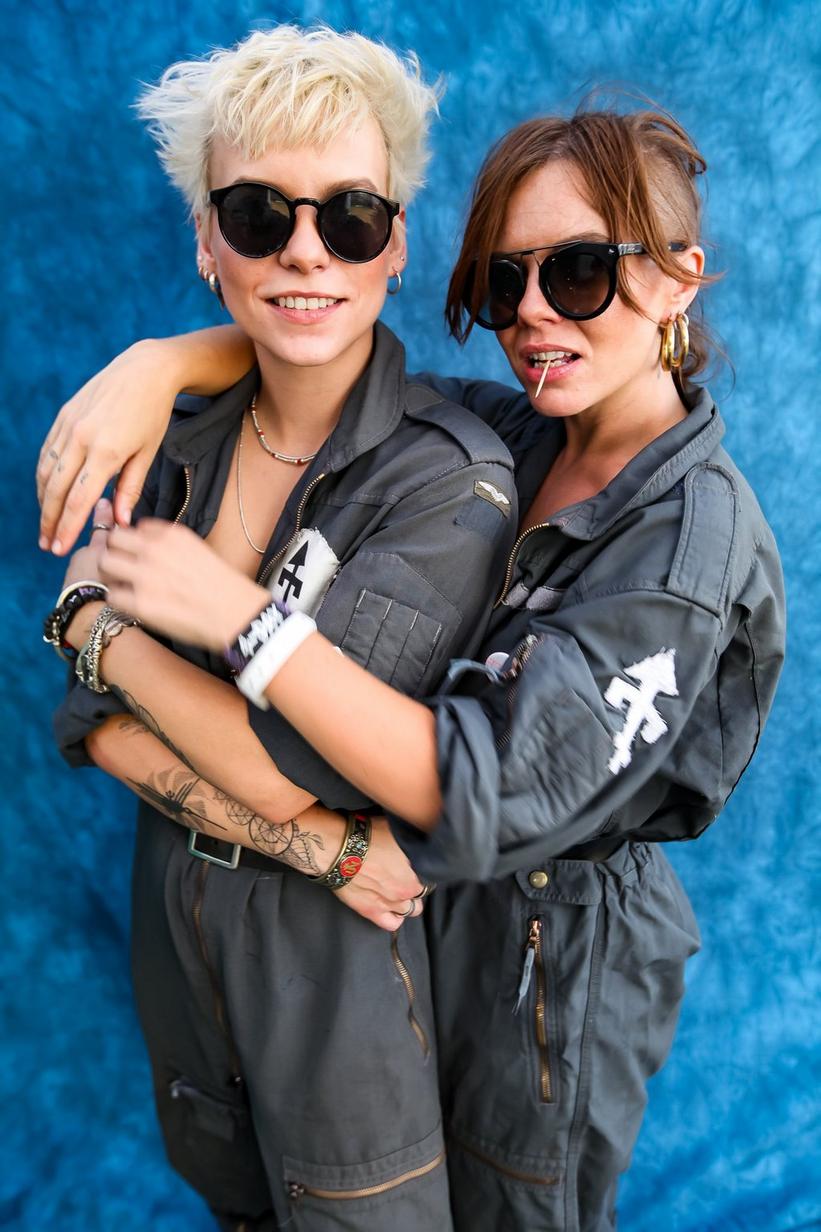 Photo: Daniel Mendoza/Recording Academy
news
Exclusive: BONES On "Creature" & Music As A Platform For Empowerment
British rock duo talks about their music and their message backstage at Lollapalooza
GRAMMYs
/
Aug 6, 2018 - 05:17 am