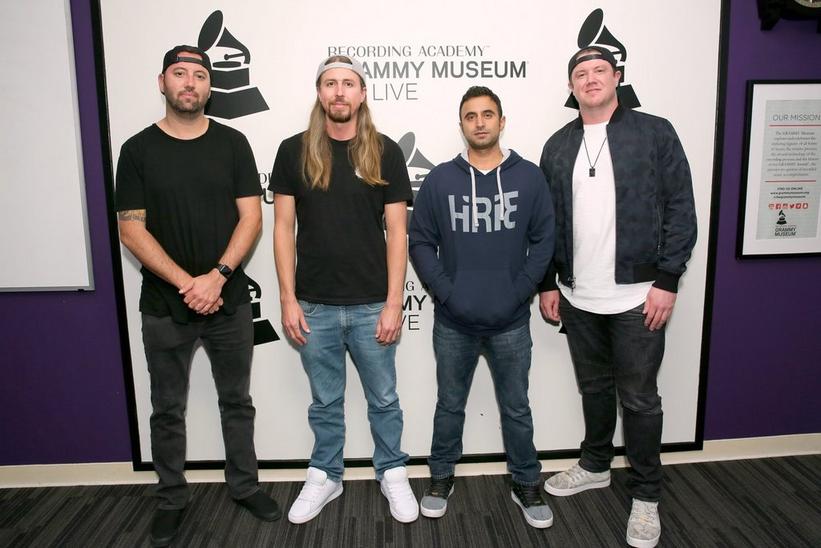 Photo: Rebecca Sapp/WireImage
news
Rebelution Plots Good Vibes Summer Tour With Protoje, Collie Buddz & More
The reggae band from California will bring its get-away-from-it-all vibe cross-country this June through August, with even more show dates added
GRAMMYs
/
Mar 1, 2019 - 05:46 am
Rebelution, the GRAMMY-nominated reggae band from Santa Barbara,Calif., has added even more dates to its recently-announced Good Vibes Summer Tour 2019 with Protoje, Collie Buddz, Durand Jones & the Indications and more. The 30+ date tour kicks off on June 13 in Albuquerque, N.M., visiting amphiteaters and other summer-ready outdoor venues across the country, closing out at the Beach at Mandalay Bay in Las Vegas on Aug. 30 and 31.
Towards the end of the tour, on Aug. 24 the band will make a stop at the iconic Red Rocks Amphitheatre in Morrison, Colo., where they recorded 2016's Live At Red Rocks album. This scenic show will feature support from both Protoje, who's joining the first nine shows, and Collie Buddz, who joins for the tenth, as well as a special appearance from GRAMMY-winning reggae group Morgan Heritage, plus the Meditations and Judge Roughneck. Durand Jones & the Indications are on board for the first 13 dates, after which Iya Terra will swap with them for two shows in Costa Mesa, Calif.
Rebelution's most recent album, 2018's Free Rein, was their fifth time breaking into the Billboard 200. Discussing its track "City Life," Eric Rachmany told us it inspires getting away from it all to "beautiful, pristine places," which follow him when he performs it. "I'm like 'oh, as soon as this tour is over I'm gonna go lay low on a beach somewhere in Hawaii,'" he said. "Every time we play that song live, that's what I think about."
Recent first-time GRAMMY nominee Protoje will supporting 20 of their dates. He was the featured artist on Rebelution's track "Inhale Exhale" from their 2016 album Falling Into Place, which was nominated for Best Reggae Album at the 59th GRAMMY Awards. Protoje's 2018 album A Matter Of Time was recently nominated in the same category at the 61st GRAMMY Awards.
Tickets are on sale at Rebelution's website, including details regarding the changing lineup. DJ Mackle will be supporting the group throughout their tour.
One Take: Rebelution's Eric Rachmany On Touring & Good Advice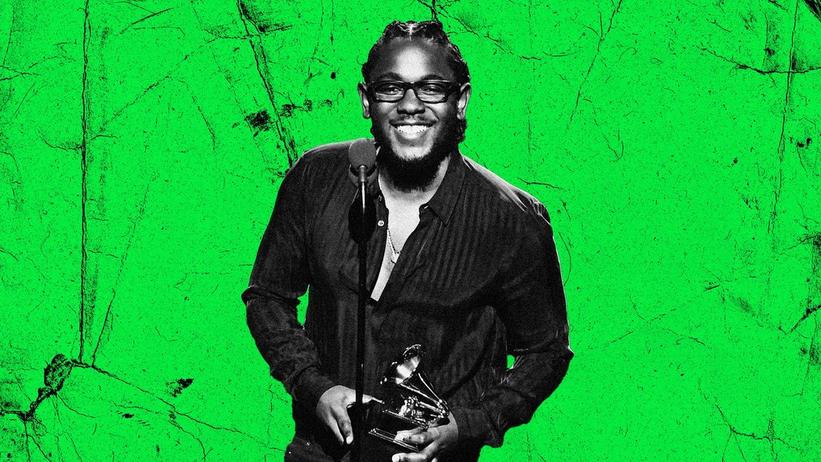 Kendrick Lamar
Photo: Jeff Kravitz/FilmMagic
video
GRAMMY Rewind: Kendrick Lamar Honors Hip-Hop's Greats While Accepting Best Rap Album GRAMMY For 'To Pimp a Butterfly' In 2016
Upon winning the GRAMMY for Best Rap Album for 'To Pimp a Butterfly,' Kendrick Lamar thanked those that helped him get to the stage, and the artists that blazed the trail for him.
GRAMMYs
/
Oct 13, 2023 - 06:01 pm
Updated Friday Oct. 13, 2023 to include info about Kendrick Lamar's most recent GRAMMY wins, as of the 2023 GRAMMYs.
A GRAMMY veteran these days, Kendrick Lamar has won 17 GRAMMYs and has received 47 GRAMMY nominations overall. A sizable chunk of his trophies came from the 58th annual GRAMMY Awards in 2016, when he walked away with five — including his first-ever win in the Best Rap Album category.
This installment of GRAMMY Rewind turns back the clock to 2016, revisiting Lamar's acceptance speech upon winning Best Rap Album for To Pimp A Butterfly. Though Lamar was alone on stage, he made it clear that he wouldn't be at the top of his game without the help of a broad support system. 
"First off, all glory to God, that's for sure," he said, kicking off a speech that went on to thank his parents, who he described as his "those who gave me the responsibility of knowing, of accepting the good with the bad."
He also extended his love and gratitude to his fiancée, Whitney Alford, and shouted out his Top Dawg Entertainment labelmates. Lamar specifically praised Top Dawg's CEO, Anthony Tiffith, for finding and developing raw talent that might not otherwise get the chance to pursue their musical dreams.
"We'd never forget that: Taking these kids out of the projects, out of Compton, and putting them right here on this stage, to be the best that they can be," Lamar — a Compton native himself — continued, leading into an impassioned conclusion spotlighting some of the cornerstone rap albums that came before To Pimp a Butterfly.
"Hip-hop. Ice Cube. This is for hip-hop," he said. "This is for Snoop Dogg, Doggystyle. This is for Illmatic, this is for Nas. We will live forever. Believe that."
To Pimp a Butterfly singles "Alright" and "These Walls" earned Lamar three more GRAMMYs that night, the former winning Best Rap Performance and Best Rap Song and the latter taking Best Rap/Sung Collaboration (the song features Bilal, Anna Wise and Thundercat). He also won Best Music Video for the remix of Taylor Swift's "Bad Blood." 
Lamar has since won Best Rap Album two more times, taking home the golden gramophone in 2018 for his blockbuster LP DAMN., and in 2023 for his bold fifth album, Mr. Morale & the Big Steppers.
Watch Lamar's full acceptance speech above, and check back at GRAMMY.com every Friday for more GRAMMY Rewind episodes. 
10 Essential Facts To Know About GRAMMY-Winning Rapper J. Cole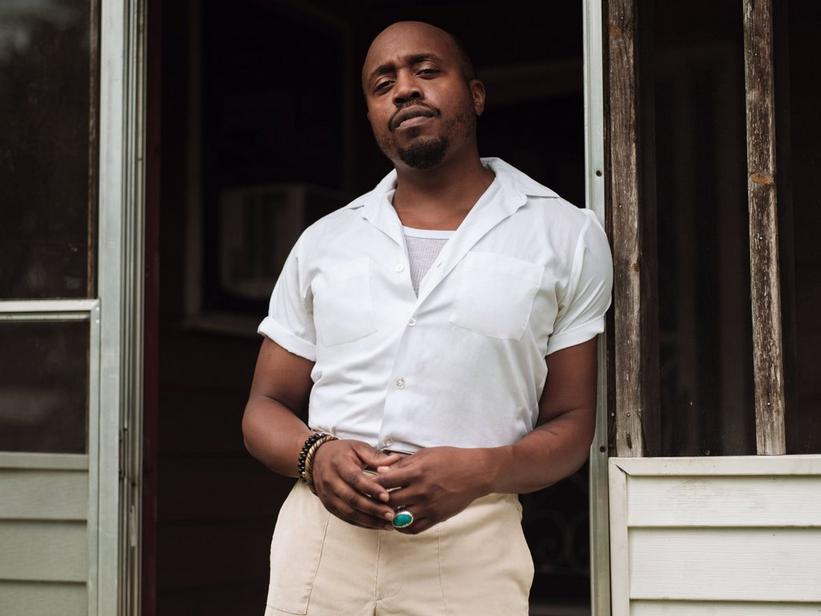 interview
How Durand Jones' Debut Album 'Wait Til I Get Over' Helped Him Explore His Roots & Find Self-Acceptance
The soul singer — best known for his work in the quintet Durand Jones and the Indications — reflects on home, family and having faith in yourself on 'Wait Til I Get Over,' his debut solo album.
GRAMMYs
/
May 5, 2023 - 01:06 pm
Durand Jones has been around the world — traveling much further than his humble beginnings would belie. As a founding member of popular soul group Durand Jones & the Indications, the 30-year-old singer has packed the Hollywood Palladium and sold out European tours; he'll soon head to Japan as a solo act.
Yet the independent artist wanted his debut solo album to be an evocative, almost visceral portrait of the unincorporated hamlet along the Mississippi River where he grew up. "I wanted it to sound like hot, musty, zesty, sweet magnolias on a hot July day," he says.
While that may be a highly specific sense tied to memory, it's with good reason. Jones is from the sugarcane field-laden Hillaryville, Louisiana, a town in the Atchafalaya Basin wetlands about an hour from New Orleans. Hillaryville's history, characters, sounds, and smells are the bedrock of Wait Til I Get Over, the singer/songwriter's sonic memoir.
"Leaving Hillaryville for the very first time, I realized just how special it was, and how unique it was — the people, the music, the culture, the art of it," Jones tells GRAMMY.com. "I wanted to tell my story…but where does it begin? And it didn't begin with me. It began after the Civil War when these eight formerly enslaved men created this town. And so I wanted to start there and find a way to capture that musically."
The results are a cornucopia of Southern soul, from its roots in gospel and blues to fuzzy, muddy rock and spoken word. Throughout, Jones creates nuanced portraits of the characters that have populated his life — his grandmother, members of his church, a married lover — whose presence help Jones investigate his sense of self. Faith, queerness and determination all feature in the 12-track LP, which is equal parts earnest reflection and deep groove.
Jones has carried that bounty of emotion ground with him throughout his musical journey, yet Wait Til I Get Over (out May 5 via Dead Oceans) is the first time he's truly dove deep. "Too many of us in places like where I'm from are often shut down, or just made to believe that you're not capable of doing something like this," he says. "But if I could tell my 17-year-old self that he's worth it, I would." 
Durand Jones doesn't have his bags packed in the hours before flying from his home in San Antonio to Bloomington, Indiana — where he went to college with members of the Indications and where he'll rehearse for his upcoming solo tour — but he was ready to dive into the baggage of youth, place and the concept of home with GRAMMY.com. 
This interview has been edited for length and clarity.
You went to college at Indiana University, Bloomington; it's funny that that's still kind of a home base for you.
I know! They have a little term in Bloomington: the Bloomerang. I just keep going back. I'm a Gulf kind of guy, so it's weird to me to fall in love with a place so landlocked. There's something about it, got a little charm to it.
Home is obviously a major theme that runs through your record; when did you leave Hillaryville?
I left for the first time when I was 17 years old in 2007. And then I went back to Hillaryville around 2014. I didn't think that I was going to stay a while, but there were different plans from the universe. And I stayed there until the end of 2020.
I was just getting the small-town blues, honestly. It was nice to be at home when I was on the road for 200 days of the year, but being in Hillaryville during the pandemic every day, small town things started to get to me. It made me realize I still need to travel and see the world and do things.
Did you ever think you would be homesick or wistful for this place that you've spent so much of your life?
I never thought I would. I started to get real homesick once I started to realize just how special it was to me and to the people in the community, even though it's no longer what it once was.
Why was it important to you to put those feelings out and use this place as the setting for your debut?
Well, I wanted to tell my story. My work with the Indications is done collectively, so you're only getting a part of me — you're not getting the full thing.
I was really inspired a lot through books like Sing Unburied Sing and Mean We Reaped by Jesmyn Ward; Citizen, Claudia Rankine, Just Above My Head and Fire Next Time by James Baldwin; Grapefruit, Yoko Ono [and] Toni Morrison. These books really inspired me to tell a story in a memoir or a novel form, but through music.
So I wanted to hit these things that I was going through. I wanted to capture the essence of it all. [Secretly Group Co-Founder] Chris Swanson asked me what I wanted this record to sound like, and I straight up told him I wanted it to sound like hot, musty, zesty, sweet Magnolias on a hot July day in Louisiana. And he wrote with me with that [in mind].
I really wanted to have night sounds and the feeling of being next to the river. We gathered pictures of Hillaryville — specifically my father's trailer — we wanted these raw raucous sounds to be there as well as some sweet and tender moments. [We wanted to] capture the essence of my grandmother and the elders.
As somebody who's been following your career for a while, it's easy to follow the musical through lines from revivalist soul to disco to gospel and beyond. But when we spoke last about Colemine Records and I asked how this album was going, you sort of took a deep breath and said, "Man, I made a rock record."  Why was that definition nerve wracking to you?
I really built this house of sorts with the Indications. We've been moving towards a sweeter and sweeter sound as our records progress, which has been really great for me because it's challenged me so much to learn how to change my voice and mix it up. It made me fall in love even more with artists like Luther Vandross and Dionne Warwick. But deep in my soul, I'm such a student of Otis Redding and Wilson Pickett. And those were parts of myself that I really desired to express.
So during this record, I really wanted to go back to my roots a bit and, and push myself a little more and push the band a little more too. I'm really, really proud of the outcome.
The album has all of these big, kind of operatic songs. As a whole, Wait Til I Get Over moves from somber and a little serious to rocking and exploding with joy. Was the expression of joy important to you?
Definitely. I almost named this record A Letter To My 17-Year-Old-Self, but in a way it's still a letter to not only that 17-year-old kid within me, but also to all of these other kids in the rural South. I hope that they will have a chance to see or hear this record and hear that joy and hear the seriousness, the pain, the triumphs, all of it, and know that they could do something like this.
Too many of us in places like where I'm from are often shut down or just made to believe that you're not capable of doing something like this. But if I could tell my 17-year-old self that he's worth it, I would. Lose that impostor syndrome. You deserve any seat you get at any table.
Did you feel like you were put down or not encouraged in the way you would have liked to when you were younger? Or was your family generally pretty supportive?
It was very contradicting, it's so weird. My grandmother, from the beginning, really supported me. She was the light in the darkness for me and my siblings growing up, because we were estranged from my mom. I didn't know my mom. She left me when I was about 3 years old.
My grandmother really stepped in and really helped my dad take care of us. She was the first person that took me to get my very first musical instrument — a saxophone — and she always encouraged me to go beyond and do college and do music. [My dad] was like, "great, but I'm not going to pay for anything." And I appreciated that because it made me work really hard, but it did kind of sting.
Doing all of the recitals and all of those different things and seeing other friends' families fill up and like my family, not, it really kinda hurt. Once I started to do stuff with the Indications and people started to ask him about what I was doing while he was at church, he started to get interested. Once he saw me on TV then really got interested.
Are the characters on this album — Gerri Marie, Sadie — real people?
Yes. I love starting this record with Gerri Marie, because it really embodies the spirit of her. She has such a welcoming spirit and presence. She has this pristine quality about her that feels expensive, but she's also like a Southern lady. So like she still has that hot sauce in her bag, you know?
I wanted to capture all those beautiful things about her. She's someone that I truly love deeply. I just don't know if I can be the guy for her that she wants me to be, because I'm such a rolling stone. I showed the song to her and she was really ecstatic about it; very tearful.
Sadie is a lady I met in New Orleans. And I was a young 20-something guy, naive and gullible. And once we met, she would invite me over to her house for crawfish etouffee. One thing will lead to another and we would end up fooling around, which was cool. But she was married.
I think I was looking for love in all kinds of crazy places. But I realized that those kinds of thrills lead to nothingness. And that's not what I'm looking for. [When] my friends hit me up about the music for "Sadie," I immediately knew I was going to write about this lady. But I wanted to do a turn in the lyrics and make it seem like the husband found out — he didn't really find out.
We might not be having this conversation if he did.
Hell no! I'd be six feet in somebody's casket, for real. My homewrecking days are over.
Speaking of love in all its permutations, "That Feeling" is really tender and the first love song you've written about a man. I'm curious why it's taken you until now to come out with your music.
I'm starting to ask myself why it's taken me so long. And I think a lot of that had to do with I was so afraid of what my small little community would think. And in a lot of ways, I'm still afraid; I haven't been back to Hillaryville since that song has come out. But for the most part, I've been met with love and acceptance and empathy. It's been such a beautiful process for me to come out as a bisexual dude.
I think the answer is why it took so long is, I had to unpack the trauma that I held deep inside of myself. I grew up in church and I love my pastor — he gave me my first car, granted it was like 1996 Honda Elantra, little rinky dink car, but he think me to be like, really exceptional —  but also at the same time, nearly every Sunday, he was talking about how homosexuality was wrong. Being gay was bad, you're gonna go to hell if you do s— like that.
Anytime he would bring that stuff up, it always felt like a knife to the heart and it would make me so frickin' anxious and really sad. I remember just being an adolescent and like praying to God and being like, If you love me like why did you make me this way?
I had to unpack all of that stuff. And I've learned through James Baldwin that if I wanted to overcome this, one of the best ways to do it is to do art in vulnerability, because that's an ultimate form of strength. And if I wanted to tell my story, this had to be included within it.
Speaking of church, the title track features a choir to fantastic effect — but it's really your voice layered multiple times, and recorded in your bedroom. Why did you choose to record yourself as a choir as opposed to using an actual choir?
There was a sound that I was going for that I knew couldn't necessarily be taught. There's like, knowledge and wisdom; you live to get the wisdom and you learn to get the knowledge.
I felt like doing it myself would be a real big challenge, but also I could try to honor the folks that are big inspirations for me vocally that were at home. Like this man Jardino, I tried to sing like him in there; I tried to sing like Miss Dawn, like Vanessa …. I tried to emulate these different voices. At first I was afraid it would sound like a bunch of Durands, but I've been surprised that people don't know it's all me.
There's also a line in that song that really stuck with me, "Getting by with just self-esteem." Can you tell me a little bit about what that line, or that theme, means to you?
At the time I was writing these tunes, I was literally getting by with nothing. Like I didn't have any money. At the lowest point, I was working a minimum wage job and they would schedule you like 37, 38, 39 hours a week just so they could make sure that you wouldn't get 40 hours so they didn't have to give you health insurance. That job, and going back and forth to court to keep felonies off my record, and all of this bulls— that happened in Indiana, right when I was finishing grad school, which was insane.
All I had was the belief that I still was worth it. I still had something to give, something to say in this music, life, world, place. Sometimes for you to be successful, you need to fail. Fall right on your face. Maybe once or twice, maybe three times. I'm still falling on my face. And I feel like failures are just as important as the success. 
Joy Oladokun's 'Proof Of Life' Honors Her Own Experience — And Encourages Others To Do The Same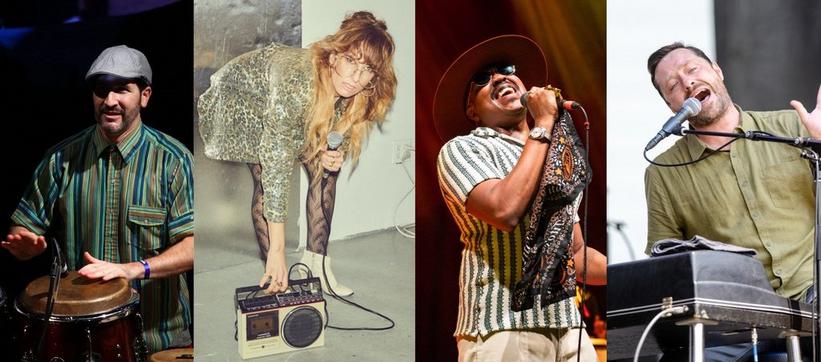 (From left) Colemine artists Steve Haney of Jungle Fire, Kendra Morris, Durand Jones and Kelly Finnigan of Monophonics
Photos: JC Olivera/Getty Images; Milton Arellano; Lorne Thomson/Redferns); Josh Brasted/FilmMagic
list
Get To Know Colemine Records, Ohio's Funk And Soul Heartbeat
Colemine Records has released some of the most forward-thinking funk and soul, including Monophonics and Durand Jones and the Indications. In honor of their 15th anniversary, strap on your hard hat and dig 15 of Colemine's biggest productions.
GRAMMYs
/
Dec 21, 2022 - 09:31 pm
Suburban Loveland, Ohio might seem an unlikely location for the crossroads of contemporary American funk and soul, but an unassuming gray brick building with a record store on the ground level and a studio above — Stax style — has become the nexus of a national scene.
Established in 2007 by brothers Terry and Bob Cole, Colemine Records made a name for itself as a haven for artists whose work didn't quite fit the style or insular nature of bigger indies. In such, they stand in contrast to labels like California's Ubiquity and the hip-hop heavy Stones Throw, or Brooklyn-based revivalists Daptone Records.
"The landscape back then was really like, nobody's getting in. We're doing our thing," Terry Cole tells GRAMMY.com. "We were somewhere physically, and maybe sonically, in the middle of those." He chalks up Colemine's rapid development to his attitude of, "If I liked it, cool. Whether I produced it, or it was a license deal, or whatever."
Over the past 15 years, Colemine has released some 120 7" singles and 50 LPs from bands based in New York City, Los Angeles, Oakland, Seattle, Chicago, and Bloomington, Indiana. The sound of the label is as diverse as its roster, spanning gritty funk, cinematic instrumental soul, reggae, Latin funk, Afrobeat and more.
Terry doesn't believe his label has made "monumental cultural shifts" in the sound of soul — but they don't need to. "I think we've done a lot of connecting," he says. "Just due to my personality — and, by and large, the personality of people that I work with — I think it's created a lot of virtual or physical community, and connections to folks that would not otherwise be connected.
"Connecting this New York scene to this L.A. and San Francisco scene through Ohio, I think that's been our contribution," Terry adds. "Just creating this familial thing in the scene."
The label has been an enormous learning opportunity for Terry — an irreverent and laid-back, long-haired 30-something who is just nice by industry standards. He sold records to put himself through college, and began the label while he was a high school teacher.
In 2015, Terry resigned from his post — the same year he opened Colemine's brick and mortar shop, Plaid Room Records. He slowly grew the business, and his knowledge, with each release: "I tell everybody that works for me, never be afraid to say you don't know, because making up s— is 10 times worse."  
Today, Colemine provides a lot of "financial and spiritual guidance" for artists, often doing art direction and distribution to a diligently developed network of independent stores; a few records were recorded at Colemine's studio. They opened a rock-influenced imprint, Karma Chief, in 2018 and began signing acts. What was once a hobby now is a seven-person operation that's quadrupled its wholesale numbers in six years.
"The thing that I love the most about the record label and the record store is sharing. I've never been a person that's, like, a coveter," Terry says. "The biggest high I get is sharing cool music with somebody that hasn't heard yet or that will enjoy it."
In honor of the label's 15th anniversary, Terry Cole and Colemine artists tell the stories behind 15 of its most important productions.
Ikebe Shakedown - "Hard Steppin" (2009)
Terry: This 45" was so heavy; it was so loud and just so intense, relative to the cinematic direction that they went later on. I love those Poets Of Rhythm records and Antibalas records, and I loved the idea of being able to put out a record that had some gnarly Afrobeat elements to it.
That's the first time I had to make a contract. I was convincing these New Yorkers that I knew what I was doing when I had no idea what I was doing. That was a monumental one that really did break us into the New York scene. At that point, who the hell were we? We were just a bunch of pig farmers from Ohio.
Monophonics - "Like Yesterday" (2011)
Terry: I met [Monophonics singer/keyboardist Kelly Finnigan] through a rapper named Othello, who's the sweetest dude. He was like, "Man, you remind me of this dude I met named Kelly Finnigan." I was like, "Why?" He's like, "Just the way you guys talk about making records and the kind of records you want to make." So when I spoke to Kelly, he's like, "Hey man, I just joined this band Monophonics. I'll send you this track we just recorded with Sergio Rios from ORGŌNE."
He sent it to me and I thought Kelly's vocals were samples. He's like, "Oh bro, that's me." This record is important because it started work with Monophonics and Kelly, but it's also important because that is what broke us into the West Coast scene.
Postales [Original Motion Picture Soundtrack]
(2012)
Terry: That's John Carbonella and Mike Deller from the Budos Band; that's their baby. They just didn't have a home for the record; they were like, "It's a real soundtrack to a real movie. We just want to have some copies made."
That was the first LP that I pressed and paid for; that was a terrifying prospect. My then wife was like, "These better sell." I was like, "I don't know if they will, but …." And me as a public school educator, and obviously flush with cash, I became the de facto and financier of this operation. But the expectations were really low back then.
It's such a cool record. There's some gangster-sounding Wu-Tang rhythms on there. There's cool dub s—. There are beautiful Peruvian vibes on there. It's just a really beautiful, lush record.
Jungle Fire - "Comencemos" (2014)
Terry: This is a kind of a continuation of the West Coast s—, but that one blew up with DJs. But that's one of the best selling 45s still today. We still sell gobs of that record every year. That breakbeat is massive. Cut Chemist was juggling doubles of that real early. Other people saw that and were like, "What is that?" So that was the first time we got a taste of that.
Steve Haney (Jungle Fire, percussion): "Comencemos" a.k.a. Fela Kuti's "Let's Start" actually propelled the band forward, which wasn't really the intention since the band started as just a jam for a one off party. Kelly Finigan heard the tune recorded over at Orgone's Sergio Rios' Killion studios, then he shared the tunes with Terry at Colemine.
Terry: Steve called me. I remember pacing around my backyard talking on the phone 'cause he was grilling me with all these questions that I did not have the answers to. I was like, "I don't know bro, I'm going to do this and I'm going to do this and here's what I normally do and blah, blah, blah." He's an inquisitive artist. Not all artists ask questions, but they should.
Haney: Working with Terry has always been positive. I admire his passion and drive to release good music. He's been very transparent in all his business dealings. We appreciate his push putting out 4 of our 45's into the world and especially into DJ's hands.
The Sure Fire Soul Ensemble -
The Sure Fire Soul Ensemble
(2015)
Terry: Sure Fire, they're one band we've done the most work with over the years. We didn't have an online store, so physically in Loveland, Ohio, there are 200 motherf—ers that came in and bought that record because we were playing it all the time. It was one of those times where it was just so cool to see a local community respond to what we were doing.  It just sold it by the gobs to anybody that came in, I mean, you're in San Diego. It's major keys and sunny vibes.
Tim Felten (Sure Fire, keys): Our S/T LP was both a foundation for our band, and our relationship with Colemine Records. Through the label, we became instantly associated with incredible artists like Monophonics and Jungle Fire, and soon after, Orgone and Durand Jones and the Indications. We are forever grateful to Terry, Bob, and the rest of the crew for believing in our music and our four LPs and countless 7" releases partnership.
Durand Jones and the Indications -
Durand Jones and the Indications
(2016)
Terry: [Guitarist] Blake Rein was visiting his family in Cincinnati and hit me up and said he could fix my Hammond M3 to make it run to my Leslie. And I was like, "Bro, that's all you have to say. That's reason enough to hang out if you can fix that for me."
And then he said, "I'm in this band, Durand Jones & The Indications" and sent me some MP3s of the entire album. I had the CD in my Cavalier and the song "Make A Change" came on, and my ex-wife said she liked it. I remember thinking, Well there's no way I can put this s— out, because she and I had very different music tastes.
Then I was playing whatever's on my iTunes over the speakers [in the store] and enough people kept asking about it and I was like, maybe we should release this. And we already had plans to release a 45", but that was what motivated me to be like, "Blake, we should just do the whole record."
Durand Jones (singer): We owe our careers to Colemine, because those dudes believed that we had something. We couldn't even convince ourselves that we did — we were thinking that we didn't have a concise collection of songs. But we were young and we had so much more to learn about ourselves, and about art and music, and what it can be. And Terry opened that gate in our minds, and I really appreciate him for that.
I was working in a science lab and the boss was trying to convince me to go into science full time and give up the music thing. And when that record came out, I'd be walking down the street in Bloomington, Indiana and random folks would stop me just to let me know how beautiful that record was. And I really do believe that that record gave me a second chance at a career in music, because I thought it was lost.
Terry: The release night in Loveland was crazy. We started playing [the album] and selling them way before the street date and so, when they came to play the release show on June 15, the place was packed. This little tiny store that could probably legally only hold 30 people, there was, I think, 150 people packed into this tiny room. That record obviously changed the trajectory for us. The first week it came out, the record immediately sold out, through distribution. And that's the first time that it happened.
Soul Slabs Vol. 1
(2017)
Terry: That time period's fun because it's varied [in terms of the sound of our releases]. Soul Slabs 1 came out that year and was a huge release. That was such a monumental thing to put a comp together to showcase all of the sevens. Because sevens are such a hard push for stores. And to put all these things together into one package, that's an easy sell. It's like, "Oh hey, here's the first hit. You'll love it." And then you're hooked.
The Flying Stars of Brooklyn, Ny - "My God Has A Telephone"
(2017)
Terry: I didn't even know what the f— Spotify was and, all of a sudden I saw all this money coming in from our digital distributor for "My God has a Telephone." It was on these massive playlists generating crazy revenue.
It was also just fun, Aaron [Frazer] and I working on that stuff, and trying to figure out a way to market our private press, gospel lo-fi thing. And it really was foreshadowing Aaron's provincial solo career. Because, the idea was to make a Flying Stars LP, but it was like, "Oh no, Aaron's probably just going to make his own record."
It was also the first time Rob Thomas from Matchbox Twenty tweeted about us, which has forever been in my phone as Rob Thomas Day: Nov. 22
Delvon Lamarr Organ Trio -
Close But No Cigar
(2018)
Terry: The Delvon record was significant because I always wanted to do an organ trio or a proper organ-centric, prestige, Booker T, Meters vibe. So much organ s— is just wanking, just playing as much as possible. And Delvon plays so melodically, and singably, and Jimmy [James] and David [McGraw] are so pocket.
I knew I liked it, but I was pretty blown away with how other people responded to it as well. That's one of those records that we sell to metalheads, to punk dudes, to jazzers, and soul dudes. It also broke us into the Pacific Northwest.
Kelly Finnigan -
The Tales People Tell
(2019)
Terry: I think that's one of the best records we've ever made. There's a lot of people on that record — he's got his core crew and then there's lots of friends; he did some of it with me in Loveland, and then with Sergio [from ORGŌNE] in L.A., and his dad's on there, and [drummer] James Gadson's on there.
Kelly and I just have the exact same stylistic, aesthetic desires. Every time he called me with a demo, I was like, "Yes, just do it more, and dirtier. And more drums." We were just constantly sending inspirations and vibes, and aesthetics, and track references, and just came very, very naturally. At the end of it, we looked back and we were like, "God damn, this record f—ing smashes."
Kelly Finnigan (singer, keys): It was an extremely organic process. I did not plan on making a solo record; I was simply writing songs, coming up with ideas and putting them together in the studio on the spot. Once I got a half a dozen songs completed, I realized I was onto something. Terry Cole encouraged me to finish it,  and his guidance was crucial to the success of the project. It was a very fulfilling experience, I enjoyed making the album and I'm very proud of it.
Black Pumas -
Black Pumas
(2019)
Terry: Ah the Black Pumas. Adrian Quesada sent me that record in December of, I don't remember what year, and it took me too many weeks to get back with him. As soon as Bob and I heard it, Bob was like, "It kind of reminds me of Alabama Shakes in a way." And I was like, "But that's not Colemine."
And I was like, "Here it is. Let's do it. This is Karma Chief." And it was a one LP deal. Adrian's such a sweetheart, and a good dude to work with, but it really took on a life of its own beyond what we could properly service.
Rudy De Anda -
Tender Epoch
(2020)
Terry: Rudy is also a very different style for us, which goes to the whole aesthetic of Karma Chief. The only reason we sign people is if I like the music, and we like the people. And I've always loved Rudy as a person, but musically what has always grabbed me about him is the level of authenticity. Rudy knows he's not the greatest singer in the whole world, but I believe everything that Rudy says.
Rudy De Anda: As a Chicano, it was truly great to release a record with both English and Spanish. I'm honored to be a part of a label that's vinyl-forward.
Terry: Rudy was the first one that was bumped [because of the pandemic]...  and I was nervous because this was going to be our first thing we're going to release on Karma Chief during the pandemic. But, it sold out pretty instantly. It was the third or fourth Karma Chief deal.
Monophonics -
It's Only Us
(2020)
Terry: Monophonics always felt like one where I was like, oh man, I can't wait to get to the point where I can feel really good about having the financial resources and the human resources to be able to service this band. So going into that record, it was a big deal for us. And the record came out on Friday, March 13, 2020, which is like D-day; that was the weekend when s— really started to shut down.
There's a lot of very doomsday, weird songs on that record. It sort of ended up being this strange soundtrack for the pandemic in a lot of ways; there's songs of hope on there, but there's songs of massive despair on there as well. Everything about that record ended up being very, very successful — physically, digitally, sync-wise — in spite of the circumstances.
Brighter Days Ahead
(2021)
Terry: This was sort of a marketing campaign that grew out of necessity, because the pandemic just totally f—ed our release schedule and all of our plans. Everything was on pause; the pressing plant was closed down for several months; we couldn't have staff and Bob and I had to revert back to shipping packages. I had a real sense of guilt for our artists; I was like: Man, I wish there was something I could do.
[Brighter Days] felt like a way to keep artists happy, and if we can do it collectively as a Colemine family, it can become more impactful than any of those individual releases. Every Thursday night, we would premiere whatever track was coming out on Friday on YouTube. And then it would almost be a mini DJ set basically from the artist, where they would just pick 20 to 30 minutes worth of stuff. And we'd just be in the chat room talking s—, and just talking about the songs, talking about their song, talking about their record.
It became this little community building exercise. We never had more than 150 or 200 people in those chat rooms, but it felt like it just kept swelling during the whole campaign. And it really felt like it gave folks something to look forward to.  
Kendra Morris -
Nine Lives
(2022) 
Terry: We put out 16 LPs this year, so it's hard to pick. But it's really nice to have some women on the label being top artists for us. Our staff is women at the shop and the label. And so it's like, it's always nice to just not work with a bunch of white dudes all the time. Or just dudes, dudes being dudes.
When Kendra put out her first stuff on Wax Poetics' [label] back in the day, I remember just thinking she has a unique sound, like this dark, mysterious, weird s—. And I was just like, God, it'd be fun to work with her one day. Her stuff always felt a little bit contemporary and it didn't necessarily fit into this Colemine model. And so once Karma Chief was a thing, I hit her up and I was like, Hey, let's revisit this conversation.
Kendra Morris: It's incredible to have Terry and a label that allows me to grow and to try new things. I just love that there's artist development, and that you come up with an idea and they're super encouraging of that. Growth is painful, and probably a lot of people don't want to watch your pain — or be a part of your pain if their dollars are on it. But you have to go through those things to find a diamond.  Terry loves being a part of that. I've never felt so secure as an artist. To have creative security, that's the best feeling in the world.
Terry: Damn, that's the highest praise you can get from an artist.
2023
Terry: We have so many things [for 2023]. We're reissuing Kendra's Babble, expanded. There's Steve Okonski's first record which is called Magnolia; Steve is the keyboard player in Durand Jones. GA-20 have a Live In Loveland record, which was the last show before the pandemic. Andrew Gabbard has a country record out, it's adorable, it's called Cedar City Sweetheart; his mom told him to make a country record, so he did. The Ironsides is the biggest sounding record with a full orchestra, really going at the David Axelrod vibe.
I'm not saying we're at the apex of record labeling, but we're obviously at a point where I don't have that pit in my stomach that I used to, where I felt like something I was doing was somehow a limiting factor in the success of a project. It's a good feeling to be confident in what you're giving your artists.
Next year, we're going to try to not only stock our friends from Big Crown and Numero Group and Daptone, but other releases that are independent that we're like, "Hey, this is dope." The idea of Colemine still being a label primarily, but also becoming more of this curator. If we do grow as a brand or whatever — or as a curator or editorial, whatever it is — it only enhances our ability to offer services to our artists. It only brings more eyes to them and that's the ultimate goal.
Catching Up With The Chainsmokers: Their Hopes For Another "Golden Age" Of Dance Music, A Latin Collab And Yes, Going To Space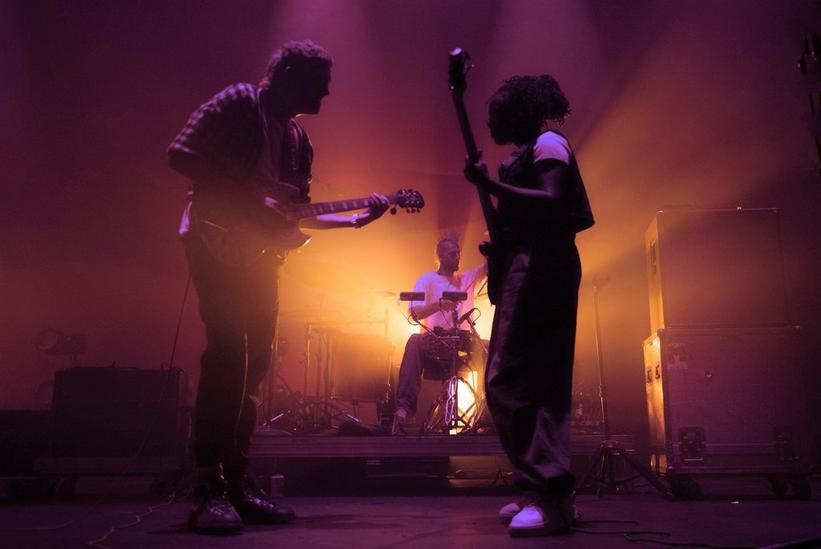 list
A Guide To Modern Funk For The Dance Floor: L'Imperatrice, Shiro Schwarz, Franc Moody, Say She She & Moniquea
James Brown changed the sound of popular music when he found the power of the one and unleashed the funk with "Papa's Got a Brand New Bag." Today, funk lives on in many forms, including these exciting bands from across the world.
GRAMMYs
/
Nov 25, 2022 - 04:23 pm
It's rare that a genre can be traced back to a single artist or group, but for funk, that was James Brown. The Godfather of Soul coined the phrase and style of playing known as "on the one," where the first downbeat is emphasized, instead of the typical second and fourth beats in pop, soul and other styles. As David Cheal eloquently explains, playing on the one "left space for phrases and riffs, often syncopated around the beat, creating an intricate, interlocking grid which could go on and on." You know a funky bassline when you hear it; its fat chords beg your body to get up and groove.
Brown's 1965 classic, "Papa's Got a Brand New Bag," became one of the first funk hits, and has been endlessly sampled and covered over the years, along with his other groovy tracks. Of course, many other funk acts followed in the '60s, and the genre thrived in the '70s and '80s as the disco craze came and went, and the originators of hip-hop and house music created new music from funk and disco's strong, flexible bones built for dancing.
Legendary funk bassist Bootsy Collins learned the power of the one from playing in Brown's band, and brought it to George Clinton, who created P-funk, an expansive, Afrofuturistic, psychedelic exploration of funk with his various bands and projects, including Parliament-Funkadelic. Both Collins and Clinton remain active and funkin', and have offered their timeless grooves to collabs with younger artists, including Kali Uchis, Silk Sonic, and Omar Apollo; and Kendrick Lamar, Flying Lotus, and Thundercat, respectively.
In the 1980s, electro-funk was born when artists like Afrika Bambaataa, Man Parrish, and Egyptian Lover began making futuristic beats with the Roland TR-808 drum machine — often with robotic vocals distorted through a talk box. A key distinguishing factor of electro-funk is a de-emphasis on vocals, with more phrases than choruses and verses. The sound influenced contemporaneous hip-hop, funk and electronica, along with acts around the globe, while current acts like Chromeo, DJ Stingray, and even Egyptian Lover himself keep electro-funk alive and well.
Today, funk lives in many places, with its heavy bass and syncopated grooves finding way into many nooks and crannies of music. There's nu-disco and boogie funk, nodding back to disco bands with soaring vocals and dance floor-designed instrumentation. G-funk continues to influence Los Angeles hip-hop, with innovative artists like Dam-Funk and Channel Tres bringing the funk and G-funk, into electro territory. Funk and disco-centered '70s revival is definitely having a moment, with acts like Ghost Funk Orchestra and Parcels, while its sparkly sprinklings can be heard in pop from Dua Lipa, Doja Cat, and, in full "Soul Train" character, Silk Sonic. There are also acts making dreamy, atmospheric music with a solid dose of funk, such as Khruangbin's global sonic collage.
There are many bands that play heavily with funk, creating lush grooves designed to get you moving. Read on for a taste of five current modern funk and nu-disco artists making band-led uptempo funk built for the dance floor. Be sure to press play on the Spotify playlist above, and check out GRAMMY.com's playlist on Apple Music, Amazon Music and Pandora.
Say She She
Aptly self-described as "discodelic soul," Brooklyn-based seven-piece Say She She make dreamy, operatic funk, led by singer-songwriters Nya Gazelle Brown, Piya Malik and Sabrina Mileo Cunningham. Their '70s girl group-inspired vocal harmonies echo, sooth and enchant as they cover poignant topics with feminist flair.
While they've been active in the New York scene for a few years, they've gained wider acclaim for the irresistible music they began releasing this year, including their debut album, Prism. Their 2022 debut single "Forget Me Not" is an ode to ground-breaking New York art collective Guerilla Girls, and "Norma" is their protest anthem in response to the news that Roe vs. Wade could be (and was) overturned. The band name is a nod to funk legend Nile Rodgers, from the "Le freak, c'est chi" exclamation in Chic's legendary tune "Le Freak."
Moniquea
Moniquea's unique voice oozes confidence, yet invites you in to dance with her to the super funky boogie rhythms. The Pasadena, California artist was raised on funk music; her mom was in a cover band that would play classics like Aretha Franklin's "Get It Right" and Gladys Knight's "Love Overboard." Moniquea released her first boogie funk track at 20 and, in 2011, met local producer XL Middelton — a bonafide purveyor of funk. She's been a star artist on his MoFunk Records ever since, and they've collabed on countless tracks, channeling West Coast energy with a heavy dose of G-funk, sunny lyrics and upbeat, roller disco-ready rhythms.
Her latest release is an upbeat nod to classic West Coast funk, produced by Middleton, and follows her February 2022 groovy, collab-filled album, On Repeat.
Shiro Schwarz
Shiro Schwarz is a Mexico City-based duo, consisting of Pammela Rojas and Rafael Marfil, who helped establish a modern funk scene in the richly creative Mexican metropolis. On "Electrify" — originally released in 2016 on Fat Beats Records and reissued in 2021 by MoFunk — Shiro Schwarz's vocals playfully contrast each other, floating over an insistent, upbeat bassline and an '80s throwback electro-funk rhythm with synth flourishes.
Their music manages to be both nostalgic and futuristic — and impossible to sit still to. 2021 single "Be Kind" is sweet, mellow and groovy, perfect chic lounge funk. Shiro Schwarz's latest track, the joyfully nostalgic "Hey DJ," is a collab with funkstress Saucy Lady and U-Key.
L'Impératrice
L'Impératrice (the empress in French) are a six-piece Parisian group serving an infectiously joyful blend of French pop, nu-disco, funk and psychedelia. Flore Benguigui's vocals are light and dreamy, yet commanding of your attention, while lyrics have a feminist touch.
During their energetic live sets, L'Impératrice members Charles de Boisseguin and Hagni Gwon (keys), David Gaugué (bass), Achille Trocellier (guitar), and Tom Daveau (drums) deliver extended instrumental jam sessions to expand and connect their music. Gaugué emphasizes the thick funky bass, and Benguigui jumps around the stage while sounding like an angel. L'Impératrice's latest album, 2021's Tako Tsubo, is a sunny, playful French disco journey.
Franc Moody
Franc Moody's bio fittingly describes their music as "a soul funk and cosmic disco sound." The London outfit was birthed by friends Ned Franc and Jon Moody in the early 2010s, when they were living together and throwing parties in North London's warehouse scene. In 2017, the group grew to six members, including singer and multi-instrumentalist Amber-Simone.
Their music feels at home with other electro-pop bands like fellow Londoners Jungle and Aussie act Parcels. While much of it is upbeat and euphoric, Franc Moody also dips into the more chilled, dreamy realm, such as the vibey, sultry title track from their recently released Into the Ether.
The Rise Of Underground House: How Artists Like Fisher & Acraze Have Taken Tech House, Other Electronic Genres From Indie To EDC