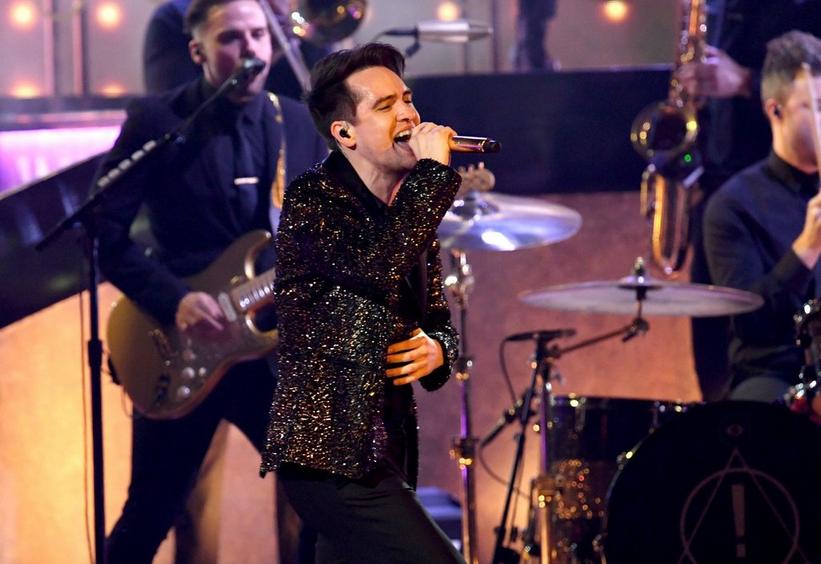 Brendon Urie of Panic! At The Disco
Photo: Kevin Winter/Getty Images for dcp
list
Everything We Know About Panic! At The Disco's New Album 'Viva Las Vengeance'
Brendon Urie describes Panic! At The Disco's new album, out Aug. 19, as "a look back at who I was 17 years ago." Here's everything GRAMMY.com could find about 'Viva Las Vengeance.'
GRAMMYs
/
Jun 21, 2022 - 05:17 pm
Over the years, there have been many Panic! At The Discos — and they've all been been nothing short of interesting.
Remember the emo heroes who made A Fever You Can't Sweat Out back in 2005? The Sgt. Pepper-style baroque poppers of Pretty. Odd. three years later? And how the band became Brendon Urie's solo project in the back-half of the 2010s? (Not to mention Urie's pivotal pop turn on Taylor Swift's "Me!" during the Lover era.)
Now, Panic! — Urie's  solo version of the GRAMMY-nominated act — is consolidating its identity with Viva Las Vengeance, out Aug. 19 on Fueled By Ramen/DCD2 Records. As the press release explains, Urie cut the album live to tape with creative partners Jake Sinclair and Mike Viola.
Collectively, the Viva Las Vengeance songs explore "the fine line between taking advantage of your youth, seizing the day and burning out." As Urie himself put it, "Viva Las Vengeance is a look back at who I was 17 years ago and who I am now with the fondness I didn't have before."
Ahead of the release of Viva Las Vengeance — and subsequent tour dates stretching into the fall of 2022 and spring of 2023 — here's everything GRAMMY.com could find about the album.
We're In For A Ride Through Urie's Past
The album's title is an homage to Viva Las Vegas, the motto of the band's (and Urie's) birthplace.
From the sounds of it, the content will be nostalgic too: according to the press release,  "The songs take an introspective look into his relationship with his decade plus career including growing up in Las Vegas, love, and fame."
So, it's safe to say, expect some Sin City-related scene-setting on Viva Las Vengeance — as well as some deep plumbing of Urie's personal development since his hellraising days.
The Tracklist Is Out There — And It's Suitably Splashy
Speaking of (misspent) youth: the Viva Las Vengeance tracklist includes titles like "Star Spangled Banger," "God Killed Rock And Roll" and "Sugar Soaker." (Judging by those, fans craving a muted, low-key Panic! album should probably wait until the next one.)
Urie Has Been Teasing The Album Since 2019
"I thought I would take a little more time off and I'm already starting music," Urie said at the Billboard Music Awards in 2019, a year after "High Hopes" became a global smash. "Not with anything planned in mind, but just working on some ideas.
"I can't help myself," he continued, not long after the release of their last album, Pray For The Wicked,  "so I don't think it'll be too long before another Panic! record."
Viva Las Vengeance's Title Track Is Both Personal And Retro
And so is its video,  where Urie and company rock out on a '70s-looking soundstage, complete with a stiff and stoic host. Eventually, things get macabre, as gore flies and the piano appears to eat Urie whole.
"This is the tale about growing up in Las Vegas," Urie states in the description. "It's about love, fame, burnout and everything that happens in between." And if this power-chord-fueled rocker is any indication, we're in for a helping of tripped-down pop-punk on Viva Las Vengeance.
The Album Will Arrive In Limited-Edition Variants And Exclusive Bundles
This includes multicolored splatter vinyl, album-specific threads and — true to the retro vibe — a cassette.