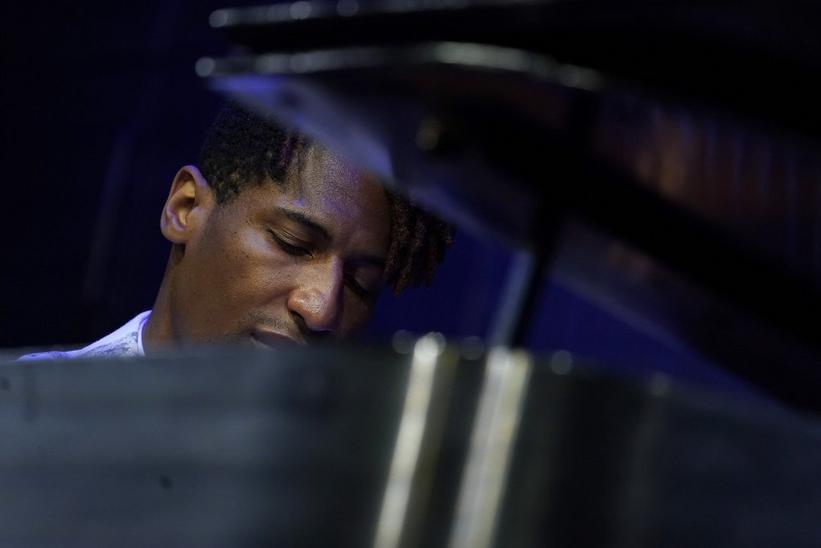 Jon Batiste performing during the GRAMMY Museum's "A New York Evening with Jon Batiste"
Photo: John Lamparski/Getty Images
feature
Jon Batiste Kicks Off The GRAMMY Museum's "A New York Evening With…" Series With Revealing Q&A, Intimate Solo Performance
"I feel like everyone here, I'd probably like a lot," Batiste told the gobsmacked and masked audience at Lincoln Center — reminding them that he isn't just a GRAMMY-sweeping musical juggernaut, but a highly present human being.
GRAMMYs
/
Jun 22, 2022 - 06:02 pm
Jon Batiste has been a household name since 2015, but he's seemingly just now arriving as an honest-to-goodness star.
By the time he took the stage at a small auditorium at Lincoln Center on June 17, he had been up for a scarily long time — beginning with an early appearance on "The Today Show" that morning. Still, Batiste's natural charisma was undimmed. Almost immediately, the beyond-media-trained musician laid waste to the N95-ed audience — and all it took was a quick shimmy and a gleaming grin.
If all Batiste did at the New York Performing Arts Library was smile and dance and wave, it would have amounted to an Instagrammable moment, at the very least. Instead, the house was in for an uncommonly deep Q&A and performance, to kick off the GRAMMY Museum's "A New York Evening With…" series presented by City National Bank and in partnership with the City of New York Mayor's Office of Media and Entertainment. (It'll run until the end of 2022; click here for more details.) 
Speaking with the GRAMMY Museum's Chief Curator and VP of Curatorial Affairs, Jasen Emmons, Batiste held forth about his childhood, family life, and constant potpourri of creative projects — which spans everything from film to TV to Carnegie Hall to lower-key collaborations. Batiste followed it up with an audience Q&A and then a livewire, seemingly improvisatory set on piano and voice, threading his GRAMMY-winning originals with standards germane to Black America.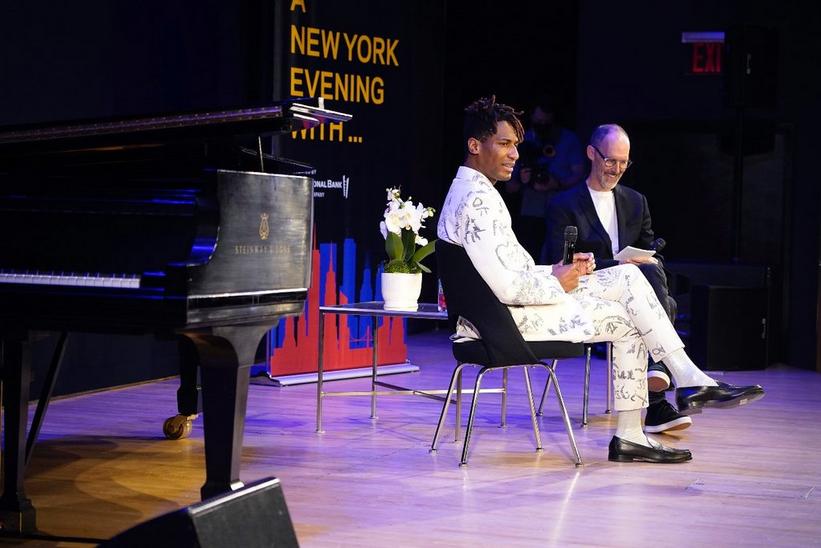 Jon Batiste speaking with the GRAMMY Museum's Jasen Emmons. Photo: John Lamparski/Getty Images
Back to all those projects for a second. How, exactly, does Batiste juggle it all? The words "frontburner" and "backburner" came up several times. His American Symphony, coming up at Carnegie was on the backburner for years until it was on the front. A good-intentioned request from an audience member to work in Broadway? "I've never really decided I want to focus on that on the front burner," he replied. "I think it has to be the right project."
Elsewhere in the hour-long talk, Batiste rhapsodized about his hometown of New Orleans ("We also have this incredible family that is musical, and this incredible city that's musical, and everybody plays"), revealed that he sweats over lyrics ("That's the hardest part, in that it takes the most time") and decried the notion of "world music" ("I want to abolish that, actually").
On top of all that, he recalled meeting Stephen Colbert for the first time and described the philosophy he brought to the Pixar film Soul, which he and other blue-chip jazz musicians like Herbie Hancock, Terri Lyne Carrington and Aaron Diehl chipped into. "It was a real labor of love to really make it right, make it feel authentic," Batiste said "We really went for it."
Stars at Batiste's level can be inaccessible, an entertainment module more than an approachable person. Batiste is the opposite. The Q&A radiated love for his family, roots, and future friends; his old piano teacher was even in the audience. And the brief set Batiste performed afterward didn't feel predetermined or prepackaged; it felt like a genuine expression in the moment.
Weaving originals like "We Are" and "Cry" with shopworn tunes like "Sinner Man," "St. James Infirmary Blues" and Bill Withers' "Ain't No Sunshine," Batiste made celestial connections between music's past — which he clearly, deeply understands — and his present. Between tunes, he almost seemed taken aback at what had transpired, like he was observing himself. "I was just playing," he quietly noted at one point. "I like that."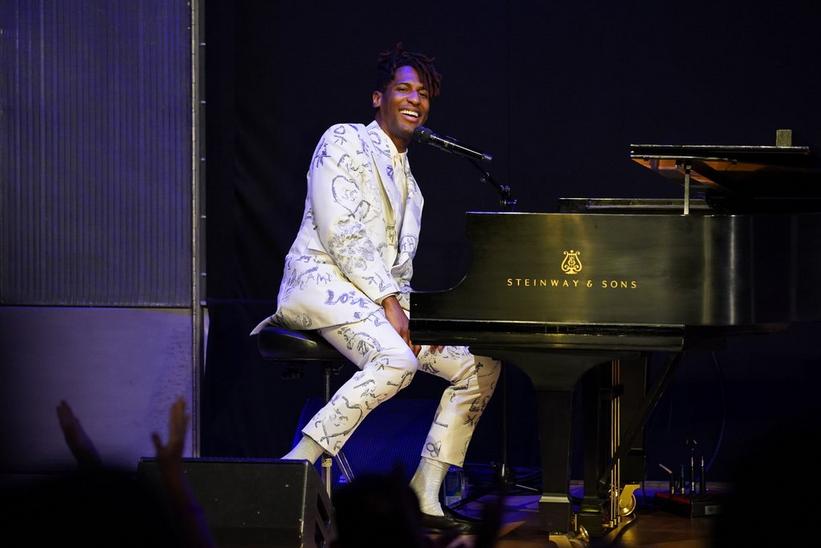 Jon Batiste performing post-Q&A. Photo: John Lamparski/Getty Images
The piano-and-a-microphone set — which contained material from his 2022 GRAMMYs-sweeping album We Are provided a window into how talented this guy truly is. But at a certain point, it all came back to that born starpower. Perhaps maintaining it means not being thrown off by an early morning, or the fact he couldn't see anyone's full faces. Maybe it means tapping into a shared energy, no matter what.
"I feel like everyone here, I'd probably like a lot," Batiste said before performing his final song of the night, "We Are." And from the sound of the enraptured crowd at Lincoln Center, the answer was clear: back atcha.
Check below for more details on the "A New York Evening With…" series, and keep checking RecordingAcademy.com for more recaps of these intimate, unforgettable East Coast evenings — courtesy of the GRAMMY Museum.
GRAMMY Museum Announces New York City Program Series, Kicking Off With Jon Batiste & Presented By City National Bank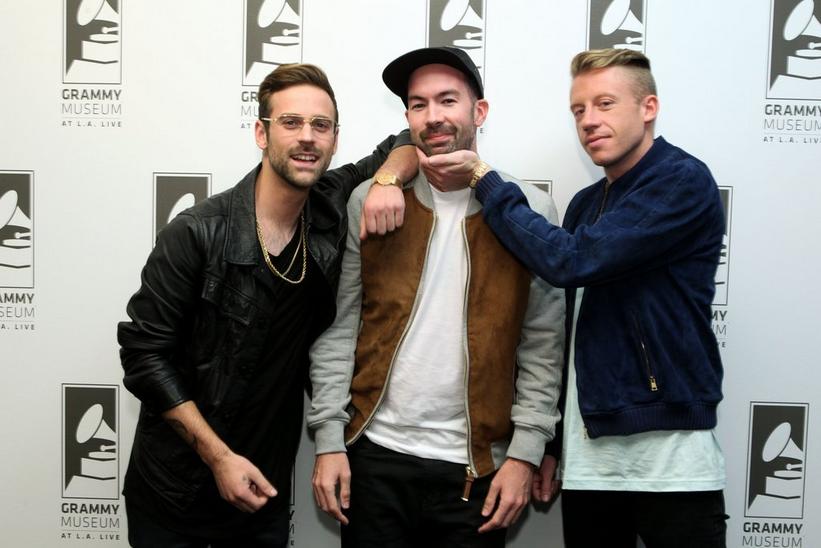 Ryan Lewis, Zach Quillen and Macklemore
Photo: Rebecca Sapp/WireImage.com
video
Macklemore & Ryan Lewis Take Over The GRAMMY Museum
Hip-hop duo discuss their career beginnings and creating their GRAMMY-nominated album The Heist
GRAMMYs
/
Dec 3, 2014 - 05:06 am
Current seven-time GRAMMY nominees Macklemore & Ryan Lewis, along with their manager Zach Quillen, recently participated in an installment of the GRAMMY Museum's A Conversation With series. Before an intimate audience at the Museum's Clive Davis Theater, the hip-hop duo and Quillen discussed the beginning of the Macklemore & Ryan Lewis' career, having creative control over their work and recording their GRAMMY-nominated Album Of The Year, The Heist.
"I met somebody [who] had the same dedication as me, [who] put everything into the music, everything into the craft," said Ben Haggerty (aka Macklemore) regarding meeting Lewis. "I wanted a career and Ryan was somebody [who] had the same discipline and sacrificed everything."
"I think it took a little while before it became clear to me who [Macklemore] was going to be," said Lewis. "I think the first indication of that was with the song 'Otherside' from the VS. Redux EP]. … That song … embodied so much. It was a story nobody was telling. … It was just somebody who was dying to be on the mike and to say something."
Seattle-based rapper Macklemore and DJ/producer Lewis have been making music fans take notice since they released their debut EP, 2009's The VS. EP. They followed with VS. Redux, which reached No. 7 on the iTunes Hip-Hop chart. The duo made waves in 2011 with the release of their hit single "Can't Hold Us" featuring Ray Dalton. The next year Macklemore was featured on the cover of XXL Magazine's coveted freshman class issue, and Rolling Stone dubbed the duo an "indie rags-to-riches" success story.
Released in 2012, Macklemore & Ryan Lewis' debut studio album, The Heist, reached No. 2 on the Billboard 200, propelled by the No. 1 hits "Can't Hold Us" and "Thrift Shop," the latter of which reached multi-platinum status and remained on top of the charts for six weeks. The album garnered a nomination for Album Of The Year and Best Rap Album at the 56th GRAMMY Awards, while "Thrift Shop" earned a nod for Best Rap Performance and Best Rap Song. The duo's Top 20 hit "Same Love" featuring Mary Lambert earned a nomination for Song Of The Year and has been adopted by some as a pro-equality anthem. The duo garnered additional nominations for Best New Artist and Best Music Video for "Can't Hold Us."
Upcoming GRAMMY Museum events include Icons Of The Music Industry: Ken Ehrlich (Jan. 14) and A Conversation With Peter Guralnick (Jan. 15).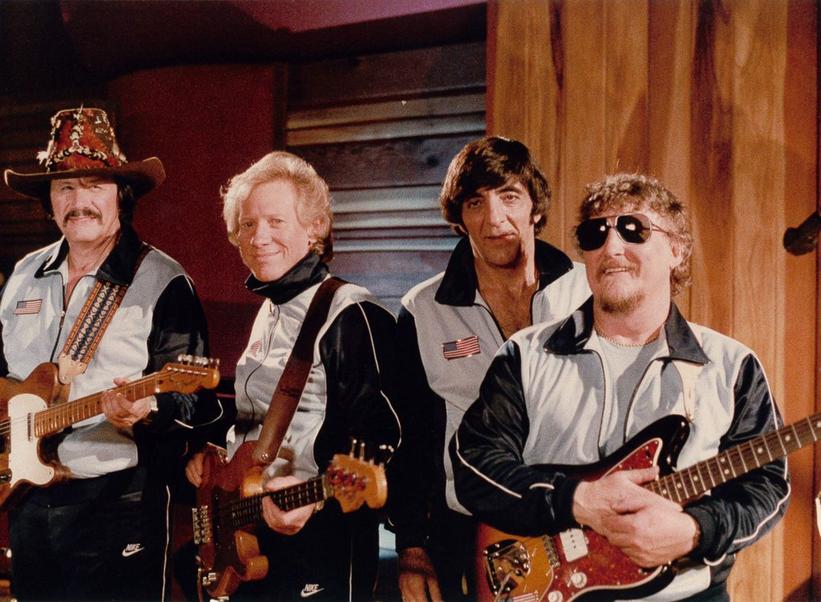 news
Walk, Don't Run: 60 Years Of The Ventures Exhibit Will Showcase The Surf-Rock Icons' Impact On Pop Culture
The exhibit, opening Dec. 7, will feature late band member Mel Taylor's Gretsch snare drum, a 1965 Ventures model Mosrite electric guitar, the original 45 rpm of "Walk Don't Run" and more
GRAMMYs
/
Nov 22, 2019 - 01:44 am
Influential instrumental rock band The Ventures are getting their own exhibit at the GRAMMY Museum in Los Angeles that will showcase the band's impact on pop culture since the release of their massive hit "Walk, Don't Run" 60 years ago.
The Rock Hall of Fame inductees and Billboard chart-toppers have become especially iconic in the surf-rock world, known for its reverb-loaded guitar sound, for songs like "Wipeout," "Hawaii Five-O" and "Walk, Don't Run." The Walk, Don't Run: 60 Years Of The Ventures exhibit opening Dec. 7 will feature late band member Mel Taylor's Gretsch snare drum, a 1965 Ventures model Mosrite electric guitar, the original 45 rpm of "Walk Don't Run," a Fender Limited Edition Ventures Signature guitars, rare photos and other items from their career spanning six decades and 250 albums.
"It's such an honor to have an exhibit dedicated to The Ventures at the GRAMMY Museum and be recognized for our impact on music history," said Don Wilson, a founding member of the band, in a statement. "I like to think that, because we 'Venturized' the music we recorded and played, we made it instantly recognizable as being The Ventures. We continue to do that, even today."
Don Wilson, Gerry McGee, Bob Spalding, and Leon Taylor are current band members. On Jan. 9, Taylor's widow and former Fiona Taylor, Ventures associated musician Jeff "Skunk" Baxter and others will be in conversation with GRAMMY Museum Artistic Director Scott Goldman about the band's journey into becoming the most successful instrumental rock band in history at the Clive Davis Theater.
"The Ventures have inspired generations of musicians during their storied six-decade career, motivating many artists to follow in their footsteps and start their own projects," said Michael Sticka, GRAMMY Museum President. "As a music museum, we aim to shine a light on music education, and we applaud the Ventures for earning their honorary title of 'the band that launched a thousand bands.' Many thanks to the Ventures and their families for letting us feature items from this important era in music history."
The exhibit will run Dec. 7–Aug. 3, 2020 at the GRAMMY Museum.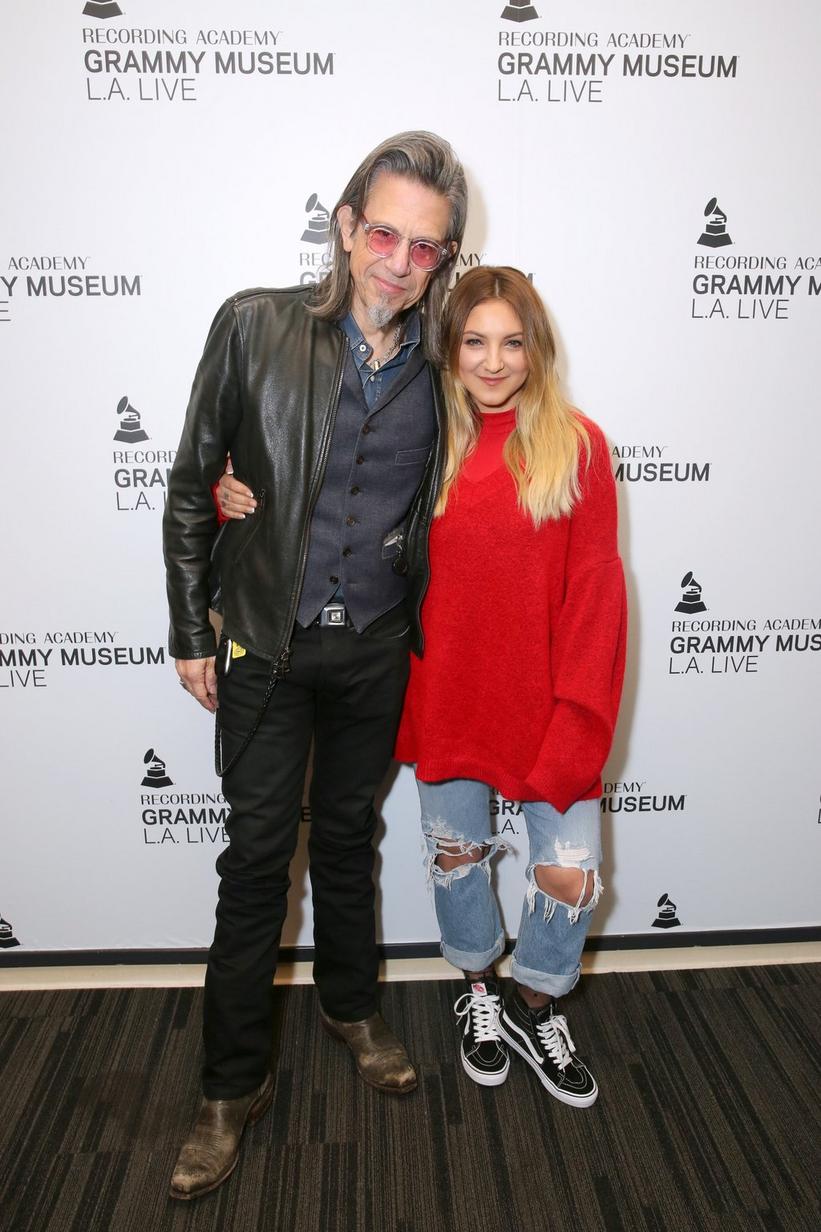 Scott Goldman and Julia Michaels
Photo: Rebecca Sapp/WireImage.com
news
Julia Michaels Deconstructs "Issues," Writing Songs | "Required Listening" Podcast
Go inside the bright mind of one of pop's most promising singer/songwriters and learn about her songwriting process, her transition to the spotlight and the three female artists she admires
GRAMMYs
/
Feb 8, 2018 - 11:57 pm
Julia Michaels' career has soared within the past year. Already a talented songwriter with writing credits such as Selena Gomez, Justin Bieber, Demi Lovato, Ed Sheeran, and Fifth Harmony to her name, Michaels took a leap of faith with the release of her third solo EP, 2017's Nervous System.
Listen Now: "Required Listening," Episode 3 With Julia Michaels
Though Michaels has admitted to being nervous about moving to the forefront as an artist in her own right, the gamble paid off. The single "Issues" went gangbusters all the way to No. 11 on the Billboard Hot 100 and her EP cracked the Top 50. Plus, the Davenport, Iowa, native scored two nominations for the 60th GRAMMY Awards: Song Of The Year for "Issues" and Best New Artist.
What makes Michaels tick musically, how did she overcome her trepidation and why does she rely on feelings to guide her songwriting?
You'll learn the answers and so much more on the latest episode of "Required Listening," the new music podcast by HowStuffWorks and the GRAMMY Museum in partnership with the Recording Academy.
"It depends on the person. A lot of the times I'll just talk to them [first]," said Michaels regarding collaborating with other artists. "I mean we're all human. We all cry the same. We all bleed the same. So I try to make people feel as comfortable as possible to be able to tell me things, even if the artist that I'm with doesn't write, just having them talk is lyrics in itself. You know, them explaining their day or expressing how they feel. It's like, "That's amazing ... if that's how you're feeling we should write that.'"
As a matter of fact, Michaels told the host of "Required Listening," GRAMMY Museum Executive Director Scott Goldman, that she lets her feelings pilot her songwriting instead of traditional conventions — a process that has yielded gems such as "Issues."
"I'm not that calculated when I write," said Michaels. "I'm all heart when I write so I don't think about the algorithm of a song or the mathematics of a song. I just think, 'This feels good to me,' and just kind of go with that."
When peppered by Goldman with a question about coming into the limelight as a recording artist, Michaels was quick to point out that she has benefitted from plenty of help and encouragement.
"I think a lot of people have helped me get there," said Michaels. "My manager, Beka Tischker, she's been with me for six years. She's always believed in me. … And this year a lot of people have come into my life. I mean even my band — Dan Kanter, who's my guitar player … he's been with me since the beginning of the artist transition. I can't even do it without him at this point. ... There's a lot of people in my life, especially this year, that have made me feel comfortable and confident."
Speaking of confidence, Michaels has taken cues from plenty of her self-assured peers. She cited three artists, in particular, who have inspired her career path.
"I'm not that calculated when I write. I'm all heart." — Julia Michaels
"[Pink is] a bad*," said Michaels. "I love Fiona Apple. I love a lot of artists that are not afraid to say what they want to say. I love artists that write their own music. Laura Marling — she's very much from her point of view, very much whatever she wants to do. And plus her voice is so haunting and beautiful."
"Required Listening" launched on GRAMMY Sunday, Jan. 28, with the first episode featuring an in-depth conversation with GRAMMY winners Imagine Dragons and the second detailing "The Defiant Ones" with Allen Hughes and Jimmy Iovine.
Future guests will include Sean "Diddy" Combs, Dan Auerbach, Kenneth "Babyface" Edmonds, and Lindsey Buckingham and Christie McVie of Fleetwood Mac, among others.
Attention Music Fans: Take The GRAMMY Challenge Now On Kik And Facebook Messenger
news
GRAMMY Museum To Launch Cheap Trick: I Want You To Want Me! Sept. 12
Exhibit to feature artifacts from the private collection of the iconic power-pop band
GRAMMYs
/
Dec 3, 2014 - 05:06 am
On Sept. 12 the GRAMMY Museum will launch Cheap Trick: I Want You To Want Me! — a one-of-a-kind exhibit offering visitors an in-depth look at the more than 35-year career of power-pop progenitors Cheap Trick.
Located in the Museum's Mike Curb Gallery on the fourth floor, artifacts on display will include guitars played by Rick Nielsen, including his 1952 Fender Telecaster used during a performance at Budokan in Tokyo; costumes worn on the album cover of 1979's Dream Police; and original lyrics, photographs, and tour ephemera, among other items.
In conjunction with the launch of the exhibit, on Sept. 12 Cheap Trick will visit the GRAMMY Museum's Clive Davis Theater to participate in a question-and-answer session and perform a brief set as part of the Museum's An Evening With series.
Cheap Trick: I Want You To Want Me! will be on display through June 2014.