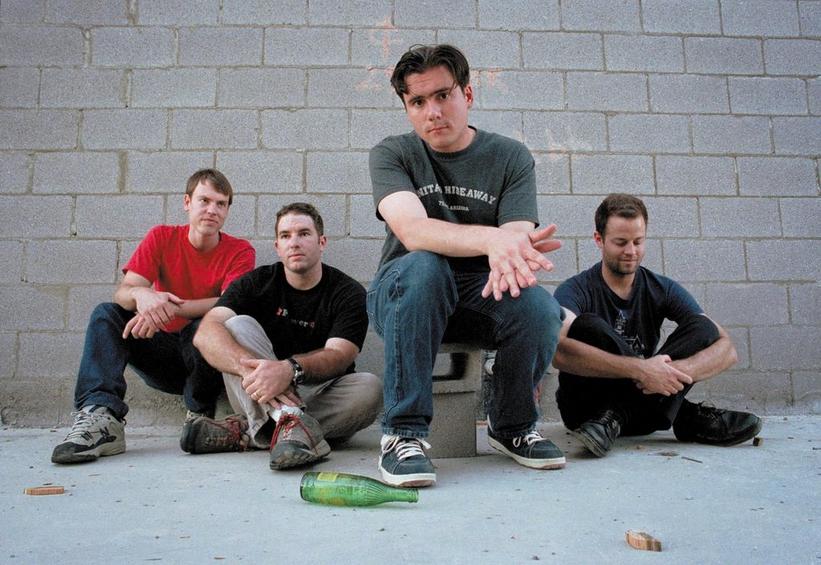 Photo: Christopher Wray-McCann
news
It Just Takes Some Time: The Story Of Jimmy Eat World's Breakthrough 'Bleed American' At 20
On their fourth strike, 'Bleed American,' Arizona quartet Jimmy Eat World simplified their sound, swung for the fences, broke into the mainstream, and opened the doors for a new generation of alternative and pop-punk bands
GRAMMYs
/
Jul 24, 2021 - 05:06 am
Second chances are hard to come by in the music business, and the 1990s alt-rock gold rush was no different. For every Pearl Jam and Stone Temple Pilots success story, there were bands like Fig Dish and For Love Not Lisa, whose albums failed to launch.
And yet there was Jimmy Eat World, an emo-punk band scooped by Capitol Records right out of high school in '95 only to be dropped after two albums in. Fast-forward to 2002, and the band is performing their breakout hit, "The Middle," on "Late Night with Conan O'Brien." Then "The Tonight Show with Jay Leno." Then "Saturday Night Live." The song's uplifting lyrics—"Don't write yourself off yet ... It doesn't matter if it's good enough / For someone else"—sound almost like a masterclass in self-motivational life lessons.
"The Middle," from Jimmy Eat World's fourth album, Bleed American, which celebrates its 20-year anniversary this month, shot to the Top 5 on the Billboard Hot 100 all-genre chart and made the four then-twentysomethings from Mesa, Arizona, darlings of late-night TV and MTV. While it's easy to read into the lyrics two decades later, the song wasn't written as a kiss-off to their former label. But it was the ultimate about-face, the "phoenix-like rising from the ashes of being dropped," as Steve Martin of Nasty Little Man, who orchestrated the publicity campaign for Bleed American, puts it.
"Where they had gotten in their development, and the musical zeitgeist of the time, were just so aligned," Martin tells GRAMMY.com. "Even if they hadn't been [aligned], it was such an undeniable collection of songs."
For Bleed American, the band went for simplicity. While the album peppered elements from their previous releases—the barbed post-punk guitar riffs from the band's 1996 album, Static Prevails, giving the title track its teeth, the jangly atmospherics from Clarity (1999) chiming in the background of "Hear You Me" and "Cautioners"—the scaled-back approach marked a significant change to their sound. Still, the songs on Bleed American are also front-loaded with hooks that get straight to business: The band reaches both the bludgeoning chorus of "Bleed American" and the bouncy singalong of "The Middle" in 35 seconds flat.
"I think I started finally getting Bruce Springsteen and the Everly Brothers after we made Clarity," lead vocalist and guitarist Jim Adkins says. "I started recognizing that simpler construction, simpler arrangements, [the] everything-you-need/nothing-you-don't type of songwriting is actually really, really challenging and worth pursuing."
Before they made Bleed American, though, they had to get out of their contract with Capitol. Adkins estimates the band sold maybe (his emphasis) 10,000 copies combined of Static Prevails and Clarity. The pairing was a mismatch, according to the band. The label treated Jimmy Eat World like a development project, while Adkins says Capitol was set up to "drop the hammer on the thing that's moving 15,000 to 30,000 [records] a week." So, when the label dropped them in 1999, it was a relief. It was also a chance to rebuild.
In reality, the band simply continued with business as usual. They were already operating as their own European distributor, buying copies of Clarity at wholesale prices from the college department at Capitol and shipping them to Germany; the move paid off when 400 people showed up to their first gig in the country, as Jimmy Eat World were touring to save up money to record Bleed American. Toward that end, they also released Singles, a compilation of their seven-inch singles and one-offs, on the now-defunct independent label Big Wheel Recreation in 2000.
With demos of new songs like "Sweetness" circulating online and in industry channels, the band settled in at Cherokee Studios in Los Angeles with producer Mark Trombino, whose confidence in the band was so high, he waived his fee until the group worked out a new label deal. And sure enough, representatives from major labels began showing up at their recording sessions to see what the buzz was all about.
"It was a very welcomed change," drummer Zach Lind says. "You go from feeling kind of like the red-headed stepchild to being in a position where you have a little bit of leverage, whereas before, we didn't really have any leverage."
Jimmy Eat World 2.0 signed with DreamWorks, an artists-first label created by music industry veteran David Geffen with filmmakers Steven Spielberg and Jeffrey Katzenberg, whose roster also included Elliott Smith, Morphine and Eels. Retooled with a new label, new management, and their new album's title track as the first single, the band hit the promotion circuit hard in the summer of 2001, playing dates on the Warped Tour as well as headlining club shows.
"When 'Bleed American' started happening, things changed quickly," bassist Rick Burch tells GRAMMY.com. "The venues got bigger. We weren't driving ourselves in the van anymore; we had a bus driver and a bus, so we could do far more gigs for a longer stretch, and we were playing in front of more people than we ever had before."
The terrorist attacks of September 11, 2001, changed all that. Although the song was doing well on alternative radio, "Bleed American" "just fell off the face of the Earth" after 9/11 happened, according to Lind.
As Americans regrouped in the aftermath of the world-changing event, so, too, did Jimmy Eat World. They rechristened the album as Jimmy Eat World and transitioned to pushing "The Middle," which was on deck as the second single.
Written in response to a fan email sent to the band's Aol. account in the '90s, "The Middle" addresses themes like alienation and low self-confidence. Its perspective outlines a position of rallying and understanding how someone's teenage years are only a small part, e.g. "the middle," of a person's journey. Radio embraced "The Middle," but what really put the song over the top was the video and its subsequent spins on MTV's "Total Request Live" countdown show.
Paul Fedor, who directed the music video for "The Middle," pitched the theme: A classic dream sequence where you show up to school, work—or in this case, a house party—naked. But in this instance, the roles are reversed. The protagonist shows up to a party fully clothed, while his peers dance and cavort in their underwear. Just as he succumbs to peer pressure, he meets someone just like him. It was a simple concept, but it could have easily gone wrong.
"I think we just decided, 'Let's lean into this and do it and make sure it's done right,' make sure it's not overly gratuitous or inappropriate in a way that feels creepy," drummer Lind says. "So, we tried to thread that needle. I think there was a little bit of apprehension, but once we decided to go down that road, and once we were done with it, we felt really good about it."
As their popularity rose, Jimmy Eat World's touring schedule broadened. They played the main stage at several European festivals to a "sea of humanity," according to Burch, and recorded a sold-out performance at the 9:30 Club in Washington, D.C., for the Believe in What You Want DVD. The touring bubble insulated them from seeing just how big things had gotten.
"We were just touring, and it all felt like kind of the same way it felt working with Capitol," frontman Adkins says, "[like] we were totally getting away with something. 'This isn't real. We're just taking the ride for the funny stories while we have the chance.' It didn't sink in that, 'Oh, wait, this is actually connecting with people. This is something that is really getting out there.' It wasn't until maybe a record later or two records later we realized actually how big it was."
In summer 2002, as the album's third single, the fan-favorite "Sweetness," peaked at No. 2 on Billboard's Alternative Airplay chart, Jimmy Eat World signed on to open the Pop Disaster Tour co-headlined by Green Day and Blink-182. The two-month jaunt grossed $20 million at amphitheaters and arenas, according to Billboard, and the bands wasted no time in hazing each other.
"We hired some male strippers to storm [Blink-182's] stage during their song 'All the Small Things,'" bassist Burch remembers, with a laugh. "The audience just loved it. They thought it was part of Blink's act, and the Blink guys loved it, too. We actually ended up helping them, giving them a cool element to their set that everyone was stoked with. It wasn't distracting to them at all."
Green Day, however, flexed their "vast resources" mercilessly. "When they came out on stage, the first thing they did was shoot super soakers," Burch recalls. "The next layer was boxes of dehydrated mashed potatoes. [When you] combine that with the water, it turns into glue." Then their crew deployed Ping-Pong balls and glitter bombs from the overhead lighting trusses.
"That starts raining down," Burch adds, "and when the glitter meets the mashed potato glue, it's a very strong bond. Even to this day, there's bits of glitter adhered to the guitar I was playing."
When the dust, and some of the glitter, settled on their nearly two-year campaign for Bleed American, the members of Jimmy Eat World had come home to platinum plaques and an album that continues to rank high on "best of" lists; readers of Rolling Stone voted the album one of the 10 Best Pop-Punk Albums of All Time. Bands tagged with the "emo" label in the years that followed, like Panic At the Disco, All Time Low and Fall Out Boy, owe a big debt to Jimmy Eat World for crashing the gate to mainstream acceptance.
"The way that Bleed American just opened doors for us was maybe one of the most satisfying experiences of my life," Lind reflects. "In the wake of all the frustration and banging our head against the wall at Capitol, it just felt like everything aligned perfectly, and I think we were lucky to be able to experience that in that way, because I don't think a lot of people get that moment in their life."
Saves The Day's Chris Conley Talks 20 Years Of Through Being Cool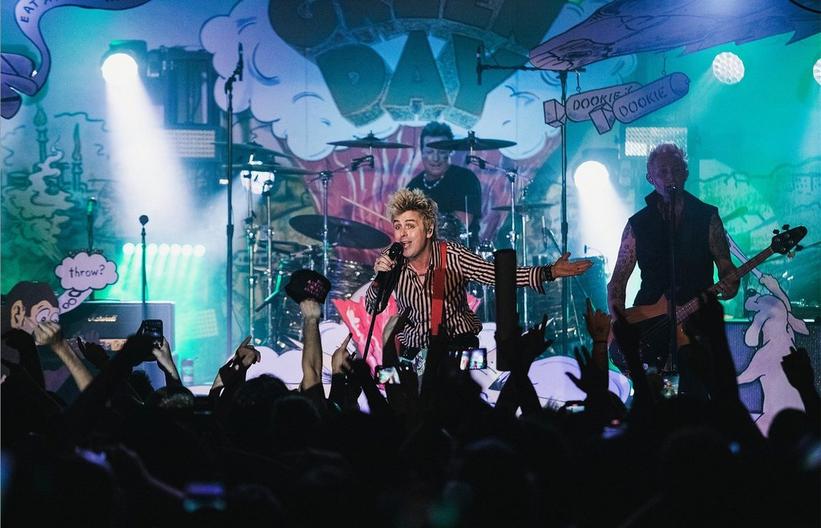 Billie Joe Armstrong of Green Day performs a"not-so-secret" show at Las Vegas' Fremont Country Club
feature
How Las Vegas Became A Punk Rock Epicenter: From When We Were Young To The Double Down Saloon
Viva Punk Vegas! It might have seemed unthinkable a decade ago, but Sin City is "the most punk city in the U.S." GRAMMY.com spoke with a variety of hardcore and legendary punks about the voracious vibe in Vegas that lends itself to punk spirit.
GRAMMYs
/
Oct 25, 2023 - 04:28 pm
These days, what happens in Vegas, slays in Vegas when it comes to the harder side of music.
It might have seemed unthinkable a decade ago, but as Fat Mike of NOFX and Fat Wreck Chords has been putting out there for a while now, Sin City is basically "the most punk city in the U.S." at the moment. Some might find this statement debatable, but Vegas has long attracted subculture-driven gatherings, from Viva Las Vegas rockabilly weekend to the all-metal Psycho Las Vegas to the mixed bag that was Las Rageous. The latest slate of huge punk and punk-adjacent music events (from Punk Rock Bowling and When We Were Young to the just-announced new lineup of Sick New World 2024) back his claim even further. 
Mike's own Punk Rock Museum, which opened in April of this year, has cemented the city's alternative music cred — even as it's still best known for gambling, clubbing, and gorging at buffets. 
In fact, A lot of the audacious new activity is centered away from the big casinos and in the downtown area and arts district of what is known as "old Vegas." Just outside of the tourist-trappy, Times Square-like Fremont Experience, there's a vibrant live music scene anchored by a few key clubs, and an ever-growing slate of fests.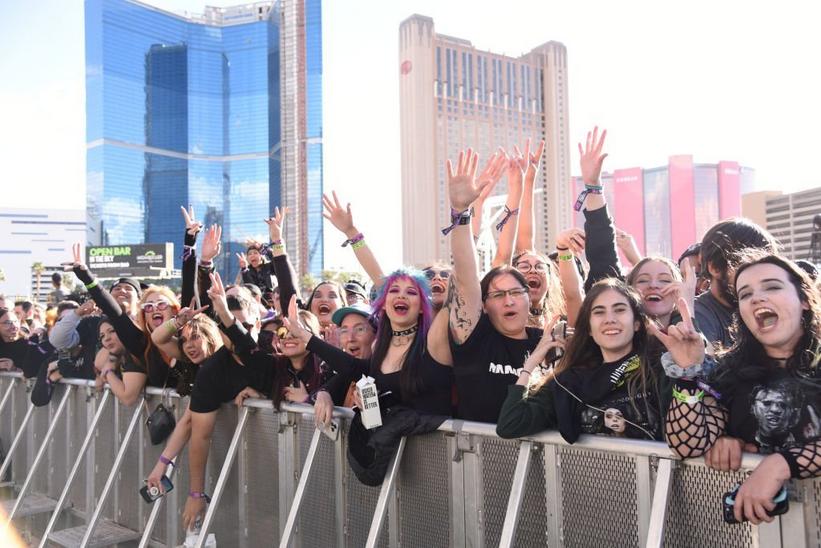 Attendees at 2022's When We Were Young Festival┃Photo: Tim Mosenfelder/FilmMagic
Live Nation's second annual When We Were Young Festival brought out a largely Millennial crowd to see headliners Green Day and blink-182 this past weekend, alongside over two dozen more recognizable openers from emo/pop-punk's heyday. Tickets sold so well when it was first announced, that a second day was added to the schedule.
Green Day didn't stop with their fest gigs; the band played a "not-so-secret" pop-up show last Thursday night at one of the most popular venues in town for punk, alternative and heavy music: Fremont Country Club, just blocks from festival grounds. The show served as a warm-up gig as well as an announcement by Billie Joe Armstrong: His band will join Smashing Pumpkins, Rancid, and others for a 2024 stadium tour. The band also debuted a timely new track, "The American Dream Is Killing Me."  
Read More: Why 2002 Was The Year That Made Pop-Punk: Simple Plan, Good Charlotte & More On How "Messing Around And Being Ourselves" Became Mainstream
"People who like punk and other heavy music want to be in a club environment like ours, not a big casino," says Carlos "Big Daddy" Adley, owner of Fremont Country Club and its adjacent music space Backstage Bar & Grill. Both have become live music hotspots not unlike the ones Adley and his wife/partner Ava Berman ran in Los Angeles before they moved to Vegas over a decade ago. 
"Fremont East," as the neighborhood is called, will soon see a boutique hotel from the pair. Like everything they do, it will have a rock n' roll edge that hopes to draw both visitors and locals.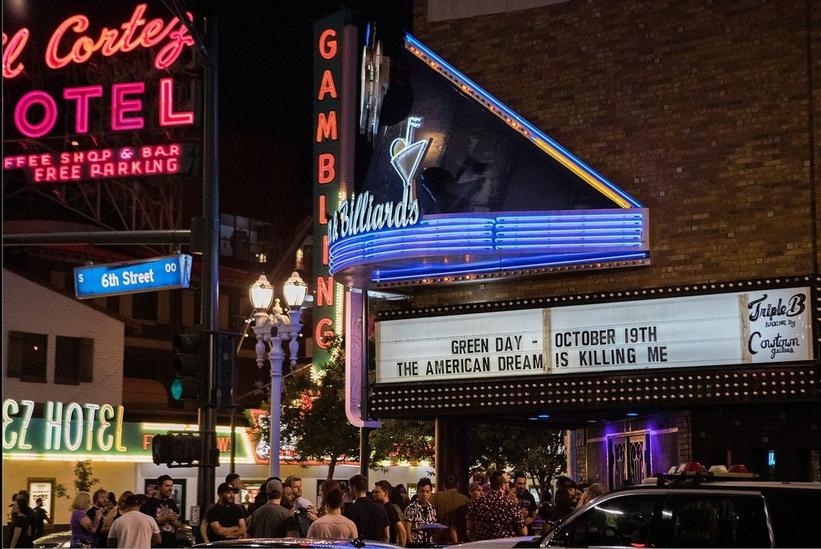 Outside Fremont Country Club┃Photo: Fred Morledge
The duo told GRAMMY.com that a visit to Double Down Saloon, Sin City's widely-recognized original punk bar and music dive was what first inspired them to come to Vegas and get into the nightlife business there. Double Down has been slinging booze (like Bacon Martinis and "Ass Juice" served in a ceramic toilet bowl mug) and booking live punk sounds since it opened back in 1992.
"It's kind of a stepping stone for a lot of bands," says Cameron Morat, a punk musician and photographer, who also works with the Punk Rock Museum as curator of its rockstar-led tour guide program. "People always assume that Vegas is just the strip, but that's only like four miles long. There's a lot more of the ''other city.' There are people who are just into music and into going to local shows who don't ever go to the main strip."
In addition to the Double Down, Morat says Vegas has always had a history of throwing local punk shows at spaces like the Huntridge Theater, which is currently being remodeled and set to re-open soon for local live music. He also points to The Usual Place as a venue popular with local punk and rock bands now, and The Dive Bar — a favorite with the mohawk, patched-up battle vest scene, featuring heavy music seven nights a week, including a night promoted by his partner Masuimi Max called Vegas Chaos.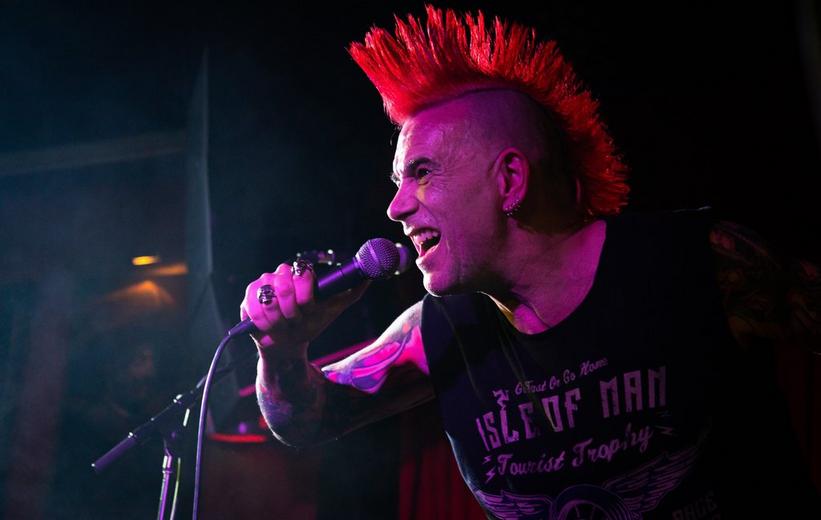 Cameron Morat┃Photo: Kristina Markovich
While glitzy stage shows from legacy artists and mega-pop hit makers like Usher, Elton John, Katy Perry, Carrie Underwood, Gwen Stefani and Lady Gaga still get the most media attention, raucous local shows are starting to factor into a new generation's vacation planning, too.
"There's a really good scene here," Morat proclaims. "It's funny because a lot of people, the sort of gatekeepers of punk, ask 'why is the punk museum in Vegas?' But it is a punk city, and not just because you've got all the local bands and the venues."
Read More: City On Fire: X's Explosive Debut Album Los Angeles At 40
Morat, whose own band Soldiers of Destruction, plays around town on occasion, also notes other acts such as Gob Patrol, Suburban Resistance, and Inframundo as having fierce local followings. He says there's a certain voracious vibe in Vegas that lends itself to punk rock creation, performance and attitude. "A lot of the anger from punk rock — like the disparity of wealth, for instance, is here," he says. "Five minutes down the road, you've got people throwing away a million on the roll of a dice. But you've also got people who are doing like three jobs just trying to pay their rent." 
Over at the Punk Rock Museum, Morat, who moved from Los Angeles to Vegas about seven  years ago, is keeping busy booking big-name guests to share inspirations and war stories, both weekly, and specifically timed with whatever big festival or event happens to be in town. He says he wants to feature artists that might not be thought of as traditional punk rock, but who have relevant backgrounds and stories to share. 
"A lot of these people have punk history the public doesn't know about," he says. "I think if we just stick to a very small well of people, it's going to get pretty boring. So I'm trying to open it up for a bigger cross-section."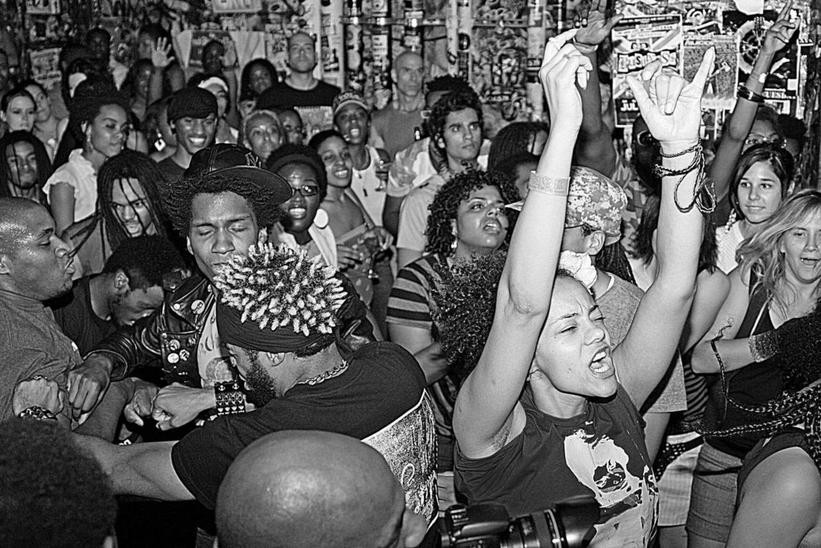 Imagery from "Black Punk Now" | Ed Marshall
The museum is already showing the breadth of punk rock's influence on music in general. During WWWY, the museum held events tied to its new exhibit "Black Punk Now," curated by James Spooner, director of the 2003 documentary Afro-Punk. As Spooner spoke about the film's 20th anniversary and his new book of Black punk authors, musicians playing the weekend's festivities from Sum 41, MxPx, Bayside, Less Than Jake came through to talk too. Warped Tour's Kevin Lyman and Fat Mike himself also took part in the museum's new after-dark guided tour series.
Bringing in a wider audience and a new generation of rebellious kids who seek to channel their angst and energy into music is part of what the museum — and, it seems, the myriad of events in Las Vegas these days — is all about. Despite what some punk rock purists and gatekeepers might say, the inclusion of tangent bands and scenes is in the original punk spirit. He'll be booking guests tied to next year's Sick New World, the Viva Las Vegas rockabilly bash and even EDC in the future (electronic bangers are not unlike hardcore ones and even Moby was a punk before he became a DJ). 
"I think that the museum is great for the punk scene here," he adds. "People will literally come to town just to see the museum, and then if there's a band playing in town in the evening, they'll go. So it's broadening the support for all the bands, local and touring. Some punk bands used to skip Vegas completely on their tours, but not anymore." 
Remembering When We Were Young: Avril Lavigne, Jimmy Eat World & More Bands Reflect On The Peak Of Emo & Hardcore Ahead Of Vegas Fest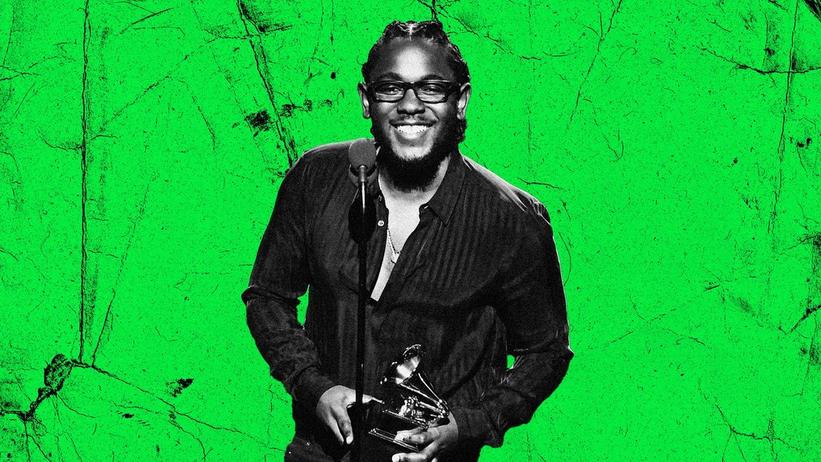 Kendrick Lamar
Photo: Jeff Kravitz/FilmMagic
video
GRAMMY Rewind: Kendrick Lamar Honors Hip-Hop's Greats While Accepting Best Rap Album GRAMMY For 'To Pimp a Butterfly' In 2016
Upon winning the GRAMMY for Best Rap Album for 'To Pimp a Butterfly,' Kendrick Lamar thanked those that helped him get to the stage, and the artists that blazed the trail for him.
GRAMMYs
/
Oct 13, 2023 - 06:01 pm
Updated Friday Oct. 13, 2023 to include info about Kendrick Lamar's most recent GRAMMY wins, as of the 2023 GRAMMYs.
A GRAMMY veteran these days, Kendrick Lamar has won 17 GRAMMYs and has received 47 GRAMMY nominations overall. A sizable chunk of his trophies came from the 58th annual GRAMMY Awards in 2016, when he walked away with five — including his first-ever win in the Best Rap Album category.
This installment of GRAMMY Rewind turns back the clock to 2016, revisiting Lamar's acceptance speech upon winning Best Rap Album for To Pimp A Butterfly. Though Lamar was alone on stage, he made it clear that he wouldn't be at the top of his game without the help of a broad support system. 
"First off, all glory to God, that's for sure," he said, kicking off a speech that went on to thank his parents, who he described as his "those who gave me the responsibility of knowing, of accepting the good with the bad."
He also extended his love and gratitude to his fiancée, Whitney Alford, and shouted out his Top Dawg Entertainment labelmates. Lamar specifically praised Top Dawg's CEO, Anthony Tiffith, for finding and developing raw talent that might not otherwise get the chance to pursue their musical dreams.
"We'd never forget that: Taking these kids out of the projects, out of Compton, and putting them right here on this stage, to be the best that they can be," Lamar — a Compton native himself — continued, leading into an impassioned conclusion spotlighting some of the cornerstone rap albums that came before To Pimp a Butterfly.
"Hip-hop. Ice Cube. This is for hip-hop," he said. "This is for Snoop Dogg, Doggystyle. This is for Illmatic, this is for Nas. We will live forever. Believe that."
To Pimp a Butterfly singles "Alright" and "These Walls" earned Lamar three more GRAMMYs that night, the former winning Best Rap Performance and Best Rap Song and the latter taking Best Rap/Sung Collaboration (the song features Bilal, Anna Wise and Thundercat). He also won Best Music Video for the remix of Taylor Swift's "Bad Blood." 
Lamar has since won Best Rap Album two more times, taking home the golden gramophone in 2018 for his blockbuster LP DAMN., and in 2023 for his bold fifth album, Mr. Morale & the Big Steppers.
Watch Lamar's full acceptance speech above, and check back at GRAMMY.com every Friday for more GRAMMY Rewind episodes. 
10 Essential Facts To Know About GRAMMY-Winning Rapper J. Cole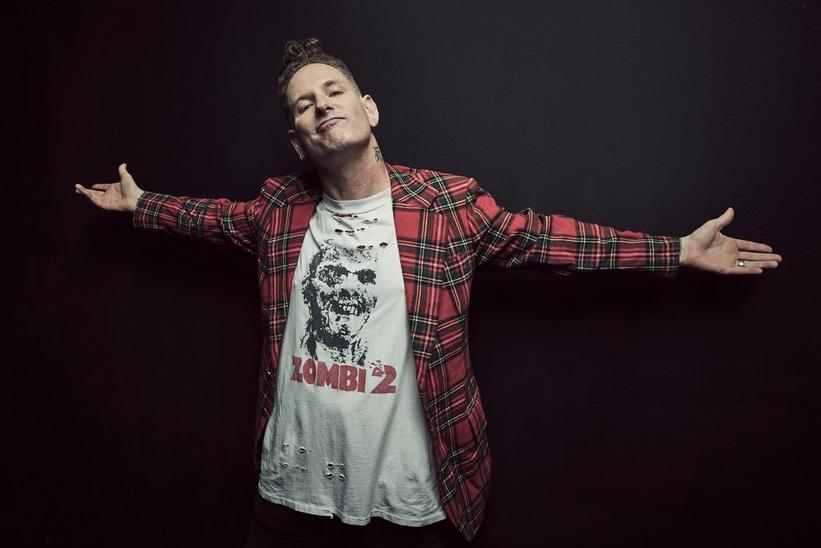 interview
Corey Taylor Finds Home Within Exploration On 'CMF2': "This Is The Closest To The Real Me That I've Been"
Amid his latest solo tour, Slipknot frontman Corey Taylor details to GRAMMY.com how his second solo album expanded on his multifaceted musical universe — and helped him find himself in the process.
GRAMMYs
/
Sep 13, 2023 - 02:37 pm
Solo albums by famous lead singers can be dicey gambits. They can offer an artist a fresh musical pulpit, or they could divide the group that made them famous. Luckily for Corey Taylor, his solo endeavors haven't interfered with his main metal mission.
With CMFT and CMF2 — the latter of which arrives Sept. 15 — Taylor crafted legitimately interesting albums that also suit the odyssey of his multiple musical personalities. Best known for fronting the GRAMMY-winning metal band Slipknot, Taylor's masked persona has allowed him to vent rambunctious energy on and off stage; his original group, Stone Sour, saw Taylor explore more melodic heavy rock avenues. While his solo work is somewhat aligned with the music that made him famous, it's another animal altogether.
Taylor first began performing solo acoustic shows in late 2011, nearly a decade before 2020's CMFT. The shows completely shed any musical assumptions people would associate with the singer, as he covered songs he wouldn't normally do with his other bands and gave people a look into his true multifaceted identity. His solo performances also included various spoken word segments with spontaneous comedy bits, a nod to his literary instincts (to date, he's authored four books and a comic book series).
CMF2 continues to bring the unexpected. While many of its 13 tracks are heavy, they also span wider genre influences, notably '70s and '80s classic rock sounds. Tracks like "Post Traumatic Blues" and "All I Want Is Hate" bristle with intense electric energy and the acoustic ballad "Sorry Me" taps into introspective territory; the bluesy "Breath of Fresh Smoke" resides between the two sonically, building from a gentle first half into a spirited electric guitar solo at its center. "Dead Flies" closes the album by invoking '90s hard rock vibes – ultimately proving that there's really no rock style Taylor can't tackle.
GRAMMY.com caught up with Taylor in the midst of his recent tour with his solo band to discuss the new album, his artistic progress over the last 30 years, and how his solo ventures are a good way for him to transition into other musical adventures.
While your label is promoting the heavier tracks like "Beyond" from CMF2, there's a bit more nuance here than on your first album, which had some mellower moments.
Absolutely. This is the only way I've been able to describe it — the first album was "I've got all these tunes, let's just see if anybody likes them." There was really no plan, there was really no focus. I'd never really had the opportunity to present the songs that I've written over the years to see if people even like these things.
Once I realized that the audience was there for my songwriting — not the band, not the aesthetic of anything, just me writing as an artist — then we could lean into this. Now I can tap into stuff that I really want to do and really try to focus this album and make it a journey.
What I've tried to do with every album that I'm involved with, whether I'm producing or not, is to make it feel like I'm taking people somewhere, and hopefully bring them back. So on this album, the nuances are overstated. The heavies feel heavy, the quiets still quiet. The contemplative nature is still there, but the songs are just really, really good.
What's the most personal song on the new album for you?
Oh man, that's tricky. There's so many different sides to me on this album. It's a toss up between "Post Traumatic Blues" and "Sorry Me." Just from a strictly selfish point of view.
If I was talking about the more optimistic, almost romantic side, "Starmate," "Beyond," "Someday I'll Change Your Mind" — songs that I've written for my wife — that stuff brings that whole other side out of me. But when it comes to just those moments of contemplation and really dealing with those darker moments that depression affords me, "Sorry Me" is definitely one of those things where you're just sitting there and feel dog-piled by the mistakes that you've made in your life. You know it's not something that you're doing, it's the depression pulling those out of you. It's pulling those memories out to almost weigh you down even more, and fighting your way through that to get back to the surface of that ocean is tough.
"Sorry Me" is almost like that moment where you have to forgive yourself for the mistakes that you've made in your life and realize that time is moving on. And if you don't allow yourself a little levity, then you're just going to be carrying around a million tons of bricks for the rest of your life.
A lot of your lyrics, metaphorically, go into a place of trying to find home. Not home within your house, but home within yourself.
You're absolutely right. I spent so many years on the road when I was a kid that I had no real sense of what a home was. The only real home I knew was my grandmother's house. That was the only place I felt safe. It was the only place where, when I got there, I felt like I didn't have to worry about what was going to happen to me. It was the only house in the world where I felt like I could just be myself.
As I've gotten older, my home that I have now is that. I didn't really have that over the years, even when I was living by myself — maybe because I wasn't comfortable with myself. I was still finding myself. But my home now is definitely the place where I can take that deep breath and feel okay with it.
So, musically, maybe that's where my journey is still going, and maybe that's one of the reasons why I enjoy writing in so many different genres. I've never felt like there's one genre that feels like home. I'm constantly exploring different things. Then again, maybe it's just music in general that feels like home. So why can't I explore all of these different genres? Because I feel really comfortable. There's a flip side of that coin that I've never really considered before.
Your acoustic sets show another side of you, and you get to pull out unusual covers. You have a rowdy crowd, but they're willing to indulge you. Do you think because of the way you can embody these different styles, you've been able to pull in a lot of metal fans who might not normally be along for the ride?
I think so. I've definitely inspired a sort of trust because of just how many years I've been doing it now, and the fact that anything I do has really showed that it comes from the heart. It doesn't come from any other place other than this really true, honest place. I've never written music just to write music. I've written music because I wanted to write that type of music, I wanted to play that type of music. And, to me, that's the best way to try to ensure that the audience is going to show up and listen. The second you throw them for a loop and it's not honest, they're going to be like, "Nope, we're never trusting you again."
I've never known anything other than to be completely honest musically. So you're right — when it comes to the acoustic shows, there would be the handful of metal dudes [coming who were], like, the closeted metal fan who loves softer stuff but never wanted to admit it before. "If it's not Slayer, it's not heavy!"
It's those guys [who are] singing [the Slipknot ballad] "Snuff" the loudest. When you have something that touches people like that, man, it doesn't matter genre-wise.
I think that's one of the reasons why I've come to be this solo artist because, to me, the songs are what matter. A good song transcends a genre. It will transcend your gatekeeping for a certain type of music, and it will make you go, "You're going to enjoy this whether you like it or not. You just need to get over yourself."
In the "Beyond" video, I see that Corey is learning to do some lead guitar work.
Well, I'm finally sharing it, anyway. A lot of people don't know this, but when I started Stone Sour back in '92, I played rhythm and lead while singing. It was largely because everybody that we tried out just wasn't good enough, and that was the story of my life, really.
When I first started playing music, it was almost a catch-22. I was always better than the drummer that we had in the band. And when I was playing drums, I was always better than the singer that we had in the band. It was one of those instances where it was either s— or get off the pot. I had to pick one. Finally I was like, I'd rather sing. I feel really good when I sing. Not that I don't love playing drums, and I still play drums. But I would rather sing because, to me, the challenge is finding those ways to emote and do those things.
The same with guitar playing. I didn't necessarily want to be the lead guitar player, but at the same time, I've got these songs that I really love and nobody's playing them the way I want them to be played. So I have to do that. Then once I discovered people like Jim Root and all the other people that I've been blessed to work with, I've been able to give up that.
But when I demoed "Beyond" and I wrote that solo, it was one of the coolest solos I'd ever written. It's short, it's concise, it's melodic, it's got a hook of its own. I knew that if we recorded it I wanted to be the one to do it. It's just one of my favorite solos which is one of the reasons why it's the one that I do on the album.
You also play mandolin on the album, and you say your piano playing has been getting better. It's not often you see a lead singer as a multi-instrumentalist or soloist.
I guess it's because I just love writing music. I love writing songs, period, and to me, the best way to be able to write different kinds of songs is to learn to play different types of instruments. Because I learned by ear, I'm pretty adept at getting good fairly quickly. It takes me a minute. And obviously, I'm not going to go out and perform with the London Philharmonic, but at the same time getting to learn chords on the piano, or learning different tunings on the mandolin, is a lot of fun. It helps me explore stuff to the point where if I want to write something now in any genre, or any style, I can pull the Wurlitzer out on this and lay down a Doobie Brothers kind of thing and just have fun with it. That, to me, is the exciting part of learning different instruments.
You've done a lot of guest appearances and collabs over the years— everyone from Korn to Apocalyptica to comedian/voice actor Tom Kenny. What's been the most challenging?
That's a good question. I've been really lucky in the fact that everything that I've done I've been very adept at and really taken to it. Some of these genres [I've worked in] I'm already a fan, so I already have a taste of it. I will say the most nervous I ever was, and this is true, was getting up with Tom and doing the "SpongeBob Theme Song". It was so rad and we had so much fun doing it. Tom is such a sweetheart of a person, and I don't even think he realizes what a fan I have been of him for years. When we were making the very first Slipknot album, we watched Mr. Show with Bob and David every day. We had all of the episodes on videocassette, and we would watch them at the end of every night and just laugh hysterically. I just think he's one of the funniest people on the planet. Not only do I love him from that, but my son was a massive SpongeBob fan, so his voice has literally been in my life for over 25 years. It's cool to be able to have that moment now, and hopefully we'll have some more because he's like, "We have to stay in touch." And I'm like, "Oh God, this is gonna get fun now."
You've got a couple of "secret" guest musicians on this album. Duff McKagan wrote some notes for the promo materials. So is he one of them? Or are we being left to guess?
Actually, no. He sadly didn't. I would have loved to have had Duff, and maybe I'll do it on the third album. But there were two real people who played on the album, one of which was Fred Mandel. He provided the Hammond work. Roger Manning was on there and did this incredible key work on stuff like "We Are The Rest." But the two other names are actually pseudonyms for me. Richard Manitoba was one of my hotel aliases that I used in the past.
Handsome Dick Manitoba from the Dictators!
Yeah, yeah. That's where I got it from because I was a massive Dictators fan when I was a kid, and then Pebbly Jack Glasscock was a baseball player from the 1940s. That has been my email name for years.
The reason why I was almost forced to use those is because [producer] Jay Ruston refused to not credit me on the album for all of the stuff that I had played. I didn't want my list of musical credits to look like, "Oh, look, he's just got to have credit for everything." And he was just like, "We've got to put something on here." I was like, "God dammit." So I gave him those aliases. And he ran with it.
The song "The Rest Of Us" talks about the effects of PTSD and the prolonged impostor syndrome hanging over your life. For people who don't understand that — because you've had all this success, you've done all these great things — what do you think keeps that imposter syndrome lingering for you despite your achievements?
That's a good question. Maybe unresolved issues from my childhood, the stuff that I've never had the chance to explore with a therapist because there's always so many crazy things going on in my current life. That's at the bottom of the list because it just doesn't have priority.
I don't know, maybe it's because of the things that were done to me and the things that were said to me — not just when I was younger, but from prior relationships. I had a bad habit of getting together with people who didn't like the fact that I was really good at what I did, and that I was in demand. So it would consciously or unconsciously come out in the abuse that they would pile on me, and it definitely takes a toll. When you have people who don't try to inspire you to be yourself, it will make you feel like you didn't earn the things that you've earned. It's something I still struggle with.
I know people hear that, and they go, "Are you out of your mind?" Maybe I am a little bit. But it's tough when you're paraded and told that you're not any good for so many years, or that you don't deserve anything, or you're not even responsible for the things that you've earned. All you can do is try to work it out in therapy. Then once you get to the point where you're a little stronger in your life, you go, "I'm not going to allow that in my life anymore. I want to surround myself with people who appreciate me." And that's just it.
Luckily, I'm in a wonderful marriage now. We inspire each other, and we push each other to be the very best. And that leads to inspiring my kids to do that. So I'm slowly but surely giving up the ghost on that. But it's something that maybe will still haunt me until I'm towards the end of my career. Who knows?
You've talked about the fact that, with Slipknot, you can only can keep up this pace for so long. That sounds like a smart idea for you to transition into exploring other things, and still have that audience and be you, without people expecting you to jump on stage with a mask and go crazy for two hours.
Right. As a performer you physically want to rise to that occasion. The only thing that holds us back in performance is age, and I'm lucky that I'm healthy enough that I can still go at a certain level. But I know I can't continue that forever. The guys in Slipknot also know that, and that's something that we're talking about very honestly. "What do we do?" "What does the next level of Slipknot look like?"
We're looking at it from an artistic point of view. How do we make it still seem frenetic and off the chain, but also something that we can deal with from a strength point of view? It'll be interesting to see where that challenge takes us.
It also allows me to be able to do stuff like this solo thing. It's high-energy right now, but when it gets to the point where I want to tame it down a little bit, I have songs that I can lean into and let them do the heavy lifting for me.
This is probably the closest to the real me as a performer that I've been in my whole career. Because obviously with Slipknot, it's really one side of the genre. With Stone Sour, I was being held back because of certain people in the band. But with this, there are no limitations, and I can do music carte blanche as far as genre goes and performance goes. I have a band that can play anything, which is just criminal. It's really, really cool. I'm just really fortunate to be in the place where I am right now.
Songbook: How Avenged Sevenfold's Unpredictable Rock Path Led To 'Life Is But A Dream'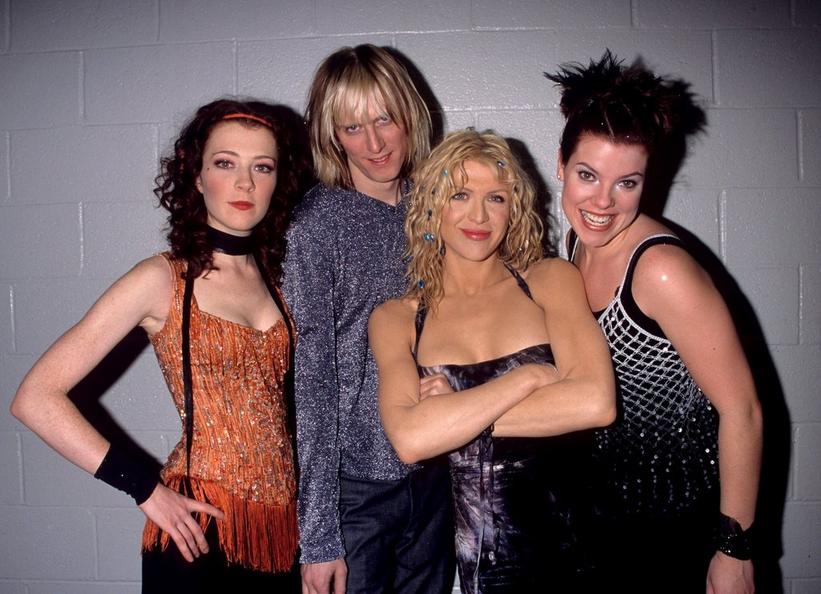 Hole at the 1998 Billboard Music Awards.
Photo: Kevin Mazur/WireImage
feature
How Hole Moved Beyond The Grunge Scene By Going Pop On 'Celebrity Skin'
As Hole's pop-leaning album, 1998's 'Celebrity Skin,' turns 25, GRAMMY.com looks back at the concept album which pushed Hole from the fringes of the mainstream to four-time GRAMMY-nominated success.
GRAMMYs
/
Sep 8, 2023 - 01:38 pm
Upon the release of Hole's third album, 1998's Celebrity Skin, guitarist Eric Erlandson revealed to Spin the biggest worry he and founding member Courtney Love had in their early days: "that Hole could not be a mainstream band, and we wanted to be popular enough and sell enough records." Within the space of 12 months, such fears had unequivocally been put to bed.
Indeed, Celebrity Skin sold 86,000 copies in its first week to become the group's first Top 10 entry on the Billboard 200. It also picked up four GRAMMY nominations including Best Rock Album, spawned two Hot 100 hits and shifted more than 1.4 million copies in the United States alone. Suddenly a band whose first three singles were titled "Retard Girl," "Dicknail" and "Teenage Whore" had become part of the MTV elite.
In an era when pop was still very much considered a dirty word, Hole brazenly refused to be shackled by the music industry's self-appointed tastemakers. They pursued a sound which owed just as much to the harmony-laden soft rock of Rumors-era Fleetwood Mac as the caustic grunge of 1994 predecessor Live Through This. Their new set of collaborators indicated a shift, too: After initially courting Brian Eno, the quartet teamed up with Michael Beinhorn, the man who'd helped spearhead the careers of Red Hot Chili Peppers and Soundgarden ("probably the Michael Bay of record producers," drummer Patty Schemel wryly noted in her memoir). They also requested the services of Love's ultimate frenemy Billy Corgan halfway through recording to boost its hooky appeal.
This change in direction was no doubt inspired by the quartet's decision toreturn to Los Angeles, with Erlandson opting for Laurel Canyon, Schemel and bassist Melissa Auf der Maur residing in Silverlake Hills, and Love settling in Beverly Hills. But as hinted on its front cover — a slightly blurry Polaroid shot of the band standing in front of a burning palm tree — Celebrity Skin was no picture-perfect tribute to Californian life.
Take the title track, for example: Named after the voyeuristic porn magazine (and not, as Love once joked, because she'd "touched a lot of it"), "Celebrity Skin" fully embraces the idea that Hollywood is a place where dreams go to die rather than be fulfilled. "Oh, look at my face/ My name is might have been," Love sings on the second verse. "My name is never was/ My name's forgotten." Hammering the point home, its dazzling Gentlemen Prefer Blondes-inspired promo, firmly in keeping with the blockbuster tone, even had Love and Auf der Maur lying in open caskets.
It was a fitting narrative for Love, who  had reinvented herself over the past four years from the rock scene's enfant terrible (in 1995 alone, she'd punched Kathleen Hanna, gatecrashed a Madonna interview and even attacked her own fans) to a respectable Hollywood darling. She earned a Golden Globe nomination for her performance as the titular pornographer's wife Althea in 1996's The People versus Larry Flynt, later partying with celebrity boyfriend Edward Norton on the Oscars' red carpet ("The most thorough transformation since Eliza Doolittle met Henry Higgins," wrote Time).
However, she was still keen to depict the state as a den of decadence which chews people up and spits them out. The driving power pop of "Awful," for instance, takes aim at the music scene's corruption of young girls, including Love's teenage self ("And they royalty rate all the girls like you/ And they sell it out to the girls like you"). "Hit Me Hard" (which references the Crystals' "He Hit Me (And Then He Kissed Me)") is a similarly tricky portrait of domestic violence in which Love envisages herself drowning — a theme which, partly influenced by the tragic death of friend Jeff Buckley, is prevalent throughout Celebrity Skin.
Interestingly, the album's theme was very much a last-minute decision. Frustrated by the direction of their early demos, Love decided it would be better to tie everything together with a concept, "even if it's fake." Yet, it was one which made sense with her new lifestyle.
"It was her Hollywood phase," Auf der Maur remarked, adding that the frontwoman's daily routine consisted of chain-smoking Marlboro lights, auditioning and heading to the beach with her personal trainer at the ungodly hour of 7 a.m. The title track is unarguably where all these elements coalesced to perfection.
The most striking thing about "Celebrity Skin," though, is how it leaned into the super-sized pop metal sound Hole and their ilk were supposed to have made obsolete. Its crunching riffs could easily have been lifted from Motley Crüe, Skid Row or any other group from the height of Sunset Strip excess. (And while Love firmly denied rumors Corgan was the true mastermind behind the record, she was more than happy to give him credit on the title track.)
It's hard to believe this is the same band whose 1991 debut, Pretty on the Inside, reveled in a challenging, and often cacophonic, mix of noise-rock, art punk and sludge metal. Yet they still pull off the pop-metal sound. Indeed, "Celebrity Skin" not only scored Hole their first No. 1 on Billboard's Alternative Airplay chart, but it also earned two GRAMMY nominations, for Best Rock Performance by a Duo or Group with Vocal and Best Rock Song. And the fact it's since been covered by the Glee Cast and Doja Cat — not to mention being subjected to the slightly creepy AI treatment, too — further proves just how much it crossed over.
Second single "Malibu," both the best and the biggest of the band's career, also found a place on radio stations that previously wouldn't have touched Hole with a bargepole. Originally penned with Stevie Nicks in mind, the melodic slice of AM rock doubles up as a desperate plea for a drug-addicted boyfriend to seek sobriety before it's too late. Contrary to popular belief, however, it was inspired by Love's first boyfriend Jeff Mann, not, late husband Kurt Cobain.
In fact, Celebrity Skin only occasionally touches on the Nirvana frontman's passing — despite being the band's first chance to address it on record (Live Through This came out just a week after the tragedy). Macabre track "Reasons to Be Beautiful" includes a subverted line from Cobain's suicide note ("It's better to rise than fade away"), and almost feels like Love is writing her very own ("Love hangs herself/With the bedsheets in her cell"). And towards the end of the album, Love delivers a thinly veiled attack on Cobain's Nirvana bandmates Dave Grohl and Krist Novoselic — who she'd soon become embroiled in various legal battles with — on "Playing Your Song." ("You trusted everything/They sold you out.")
If all this sounds a little angst-ridden for a record specifically designed for the masses, Love and Co. help sugarcoat things with an array of blissful vocal harmonies, shiny guitar riffs and singalong melodies perfect for driving down the highway. Craig Armstrong, then best known for his BAFTA-winning score for Baz Luhrmann's Romeo + Juliet, also provides some beautifully elegiac strings on "Dying" and closer "Petals," a bittersweet reflection on the fleeting nature of relationships and life itself.
It's not all dark cautionary tales and meditations on grief, either. "Heaven Tonight," an ode to a "sun in the form of a girl" (which some believe is Love's daughter, Frances Bean Cobain), is possibly the sweetest thing Hole ever recorded. And although "Boys on the Radio" eventually becomes another cutting riposte to men in suits, it initially looks back fondly at the days when Love used to seek solace in her pop idols (bizarrely, her teenyboppers of choice were the tartan-clad glam rockers Bay City Rollers).
Sadly, Celebrity Skin was also the album which literally broke Hole. After wearing Schemel down with weeks of punishing studio time, Beinhorm managed to convince the band that session musician Deen Castronovo would be a better fit; Love later admitted regret over listening to the producer and essentially ruining the drummer's life. Erlandson would also describe the making of its 12 tracks as "insane," and by the time the Hole name was revived for 2010's Nobody's Daughter, Love had assembled a whole new line-up, a move she later acknowledged was "a mistake" that cheapened their legacy.
Despite all the contention, there's been much talk of a Celebrity Skin-era reunion, Schemel included, since. In 2014, Rolling Stone wrongly reported Love's solo single "Wedding Day" had emerged from a recording session with all four members, although the singer did reveal that they'd spent time playing together again. And five years later, they all apparently enjoyed rehearsal time at, rather aptly, the Hollywood Walk of Fame. But should they fail to nail down anything else in the studio, Celebrity Skin is one hell of a highly polished swansong.
The Twin Halves Of 'Mammoth II': Wolfgang Van Halen's Sorrow And Jubilation