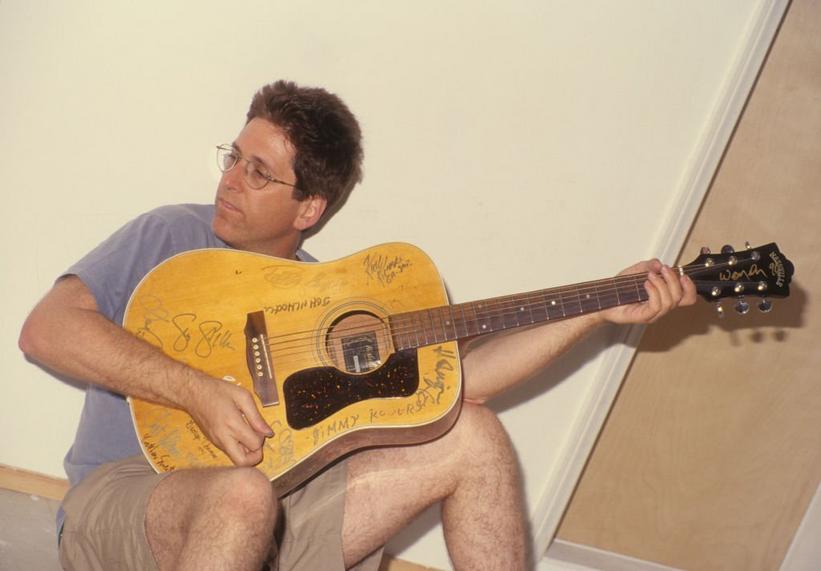 Photo: Jim Steinfeldt/Michael Ochs Archives/Getty Images
news
Jack Sherman, Former Red Hot Chili Peppers Guitarist And Songwriter, Dies At 64
As RHCP's second guitarist, he played and recorded on the group's 1984 self-titled debut album and co-wrote a majority of the band's second album, 'Freaky Styley,' in 1985
GRAMMYs
/
Aug 22, 2020 - 09:44 pm
Jack Sherman, a former guitarist and songwriter for rock icons Red Hot Chili Peppers (RHCP) who played and recorded on the band's 1984 self-titled debut album, has died, Rolling Stone reports. He was 64. No cause of death has been confirmed.
On Friday (Aug. 21), the group confirmed Sherman's death on its official social media accounts, writing on Instagram, "We of the RHCP family would like to wish Jack Sherman smooth sailing into the worlds beyond, for he has passed … He was a unique dude and we [to] thank him for all times good, bad and in between. Peace on the boogie platform."
Sherman, who joined RHCP in late 1983 when he replaced founding member and original guitarist Hillel Slovak, can be heard on The Red Hot Chili Peppers, the group's only album to feature him on guitar. He also co-wrote a majority of the group's second album, Freaky Styley (1985), but he was replaced by Slovak who'd rejoined the group in early 1985 and ultimately recorded the guitar parts on the LP. (Following Slovak's death due to a heroin overdose in 1988, RHCP cycled through a number of guitarists, including Dave Navarro, Josh Klinghoffer, DeWayne McKnight, Arik Marshall and Jesse Tobias; longtime on-again, off-again guitarist John Frusciante rejoined the group last December.)
Sherman would later partially rejoin RHCP to record background vocals on a couple of tracks off the band's 1989 album, Mother's Milk, including "Higher Ground," a cover of Stevie Wonder's 1973 hit that earned the act its first-ever GRAMMY nomination, for Best Rock Performance By A Duo Or Group With Vocal, at the 1991 GRAMMYs.
Elsewhere, Sherman featured on albums from Bob Dylan, George Clinton, Peter Case, Tonio K. and others.
While RHCP were inducted into the Rock & Roll Hall Of Fame in 2012, Sherman was not included as part of the induction ceremony, Rolling Stone notes.
"It's really painful to see all this celebrating going on and be excluded," Sherman told Billboard in 2012. "I'm not claiming that I've brought anything other to the band ... but to have soldiered on under arduous conditions to try to make the thing work, and I think that's what you do in a job, looking back. And that's been dishonored. I'm being dishonored, and it sucks."
GRAMMY Rewind: Watch Red Hot Chili Peppers Shout Out Little Richard & Mother Nature At The 1993 GRAMMYs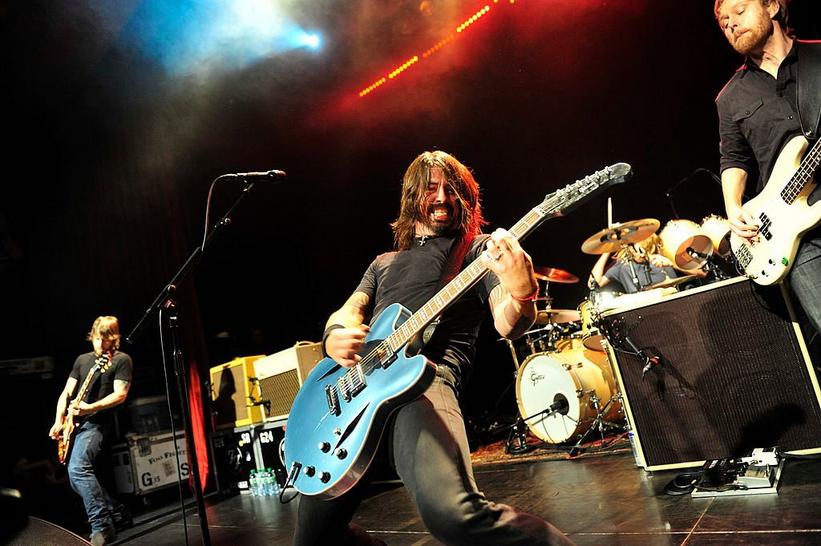 Dave Grohl of Foo Fighters performs in Cologne, Germany in 2011
Photo: Peter Wafzig/Getty Images
list
Foo Fighters Essential Songs: 10 Tracks That Show The Band's Eternal Rock Spirit
On their recently released album, 'But Here We Are,' Dave Grohl and company offer a gripping confessional of both painful loss and blistering resilience. In honor of their 11th album, revisit 10 of the Foo Fighters' most essential tracks.
GRAMMYs
/
Jun 7, 2023 - 05:48 pm
Foo Fighters — one of contemporary rock's most pivotal mainstays — boasts an almost mythical history. What began as Dave Grohl's one-man band in 1994 after the devastating end of Nirvana has become a seminal machine with a catalog that spans three decades.
The group currently holds the record for the most GRAMMY wins in the Best Rock Album category, picking up awards in 2000 (There Is Nothing Left to Lose), 2003 (One By One), 2007 (Echoes, Silence, Patience & Grace), 2012 (Wasting Light) and 2022 (Medicine at Midnight). At the 2023 GRAMMY Awards, Medicine at Midnight also took home awards for Best Rock Performance ("Making a Fire") and Best Rock Song ("Waiting on a War").
Their recently released 11th studio album, But Here We Are, is the facet's first project following the death of drummer and vocalist Taylor Hawkins last year. Hawkins, who joined Foo Fighters in 1997 and would become a driving creative force in the group, was mourned by musicians and fans across the world. Tribute concerts in London and Los Angeles presented by the Hawkins family in conjunction with Foo gracefully paid homage to his legacy. 
Grohl and company managed to push through their collective grief on But Here We Are. The project serves as a gripping confessional of both painful loss and blistering resilience. In honor of their latest endeavor, GRAMMY.com lists 10 of Foo Fighters' most essential tracks.
"Big Me,"
Foo Fighters
(1995)
Released one year after Kurt Cobain's death, Foo Fighters' debut  album brimmed with promise. "Losing Kurt was earth-shattering, and I was afraid of music after he died," he told Anderson Cooper during a 2014 episode of "60 Minutes."
Though Grohl insisted that the record was just an outlet for grief, it marked the beginning of his illustrious career. "Big Me," the final saccharine single from the project, proved that the drummer-turned-frontman had a knack for crafting catchy tunes that would become undeniable hits. 
The campy nature of the track was the result of Grohl not putting much thought into the album, but that intrinsically simple approach — which trickled down to the song's video which famously parodied Mentos commercials — was the start of something great.
"Everlong,"
The Colour and The Shape
(1997)
One of Foo Fighters' most exhilarating moments to date comes in the form of a love song. "Everlong," which was the second single from the band's sophomore effort, pulls listeners in with its gentle, melodic chords, keeping  their attention with sweltering percussion and heart wrenching lyricism. 
"Everlong" is about being so in tune with a romantic partner that the conclusion of that relationship is wholly devastating. "Come down and waste away with me," Grohl serenely sings. "Down with me/Slow, how you wanted it to be/I'm over my head/Out of her head, she sang." He performed it for the first time acoustic in 1998 on "The Howard Stern Show," which Grohl said "gave the song a whole new rebirth" during a performance at Oates Song Fest 7908.
"Breakout,"
There Is Nothing Left To Lose
(1999)
"Breakout" appeared on both the band's third album, There Is Nothing Left To Lose, and is filled with a frenzied, punk energy that channels Grohl's grunge roots. While critics praised the album and noted the Foos' notable progression toward more melodic anthems, this quick, fast hit remains worthy of the hype it received over 20 years ago. 
The track also appeared in the 2000 comedy film Me, Myself & Irene starring Jim Carrey, and several of its stars appear in its music video. There Is Nothing Left To Lose also spurred the radio hit "Learn To Fly," which won the GRAMMY Award for Best Short Form Music Video in 2000. 
"Times Like These,"
One By One
(2002)
The Foo Fighters' fourth studio album marked a turbulent period in the band's history. Aside from personal issues, Grohl had just recorded drums for Queens of the Stone Age's Songs for the Deaf, and joined the group for a subsequent tour. 
While the fate of Foo remained unknown, a triumphant performance at Coachella in 2002 gave the members a new outlook on their future. "'Times Like These' was basically written about the band disappearing for those two or three months and me feeling like I wasn't entirely myself," Grohl stated in the group's 2011 documentary Back and Forth. "I just thought, 'Okay, I'm not done being in the band. I don't know if they are, but I'm not.'"
 With its lyrical simplicity and crippling sincerity ("It's times like these you learn to live again/It's times like these you give and give again"), the song has come to embody love, togetherness and hope.
"Best Of You,"
In Your Honor
(2005)
"I've got another confession to make/I'm your fool," Dave Grohl howls at the top of lungs on the riveting opening for "Best of You." His declaration is followed by the existential proposition: "Were you born to resist or be abused?" 
In Your Honor's lead single is ripe with emotion, in which the Foo frontman is buoyantly defiant and encourages those listening to his words to be the same. That sentiment was politically driven, as "Best of You" was penned after Grohl made several appearances on the 2004 Democratic presidential campaign for John Kerry. 
"It's not a political record, but what I saw inspired me," he told Rolling Stone in 2005. "It's about breaking away from the things that confine you." "Best of You" is their only song in the U.S. to reach platinum status.
"The Pretender,"
Echoes, Silence, Patience & Grace
(2007)
One of the group's most highest charting songs was "The Pretender," from 2007's Echoes, Silence, Patience & Grace. Grohl's songwriting on the track is of macabre proportions, as introductory solemn chords give way to the lyrics: "Send in your skeletons/Sing as their bones go marching in again/They need you buried deep/The secrets that you keep are ever ready." 
Heavier riffs and pulsating percussion make it quite the auditory experience. Perfectly paced crescendos on the "The Pretender" give it just the right amount of suspense, making it indelible to the Foo discography.
"White Limo",
Wasting Light
(2011)
In 2012, Wasting Light earned four GRAMMY Awards including Best Rock Album. "White Limo" snagged the accolade for Best Hard Rock/Metal Performance — and for good reason. 
The second single from Foo Fighters' seventh studio album is a ferocious number saturated with primal screams and whirlwind rhythms. "White Limo" was one of their most raucous songs to date and the group does their best Motorhead impression (Lemmy Kilmister's appearance in the music video serves as the ultimate seal of approval). The group was intentional in maximizing their aggression on the heavy-metal track, making "White Limo" the sonic equivalent of a lightning bolt in their immense catalog.
"Make It Right,"
Concrete & Gold
(2017)
2017's Concrete and Gold wasn't about redefining the wheel as much as it was perfecting it. The group's ninth studio album is as rock 'n' roll as it gets. 
There were a slew of memorable guest appearances including Paul McCartney on "Sunday Rain," Boyz II Men's Shawn Stockman on "Concrete & Gold," and the Kills' Alison Mosshart on "The Sky Is a Neighborhood" and "La Dee Da." 
The album's best track, "Make It Right," features an uncredited, sonically off-putting cameo from Justin Timberlake . Yet the collaboration's venture into heavier territory pays off, with Grohl paying respect to Led Zeppelin. The rock legends'  influence oozes all over "Make It Right"  in the form of ragged taunts and splintering riffs. Timberlake slinks into the background with additional vocals, making sure to not alter Foo's formula in any way.
"Waiting on a War,"
Medicine at Midnight
(2021)
Foo Fighters' 10th album, Medicine at Midnight, was a refreshing return to form for the rockers. 
Sparked by a conversation by Grohl's daughter, "Waiting on a War" embodied the group's pensiveness about  America's ominous future.  Over four minutes, Grohl  states that he's "waiting for the sky to fall," though his melancholy thoughts ultimately transform from wistful crooning over acoustic guitar chords to a rumbling, full-throated ferocious outro. Foo's bold approach snagged them a GRAMMY Award in 2022 for Best Rock Song.
"Rescued,"
But Here We Are
(2023)
The power in "Rescued," the emotionally-charged first single from But Here We Are, relies not only on the lyrics to spell out the feeling of despondency, but on Grohl's expression of them. 
"We're all free to some degree/To dance under the lights," he sings. "I'm just waiting to be rescued/Bring me back to life." His voice languishes between fatigue and vigor as swirling guitars and ethereal buildups provide catharsis for both the band and the listener. The vulnerability of "Rescued" channels the intriguing self-awareness heard on albums like The Colour and The Shape and In Your Honor. But this song represents a brand new chapter for Foo and it's one that confronts their pain head on.
Foo Fighters Are An Indestructible Music Juggernaut. But Taylor Hawkins' Death Shows That They're Human Beings, Too.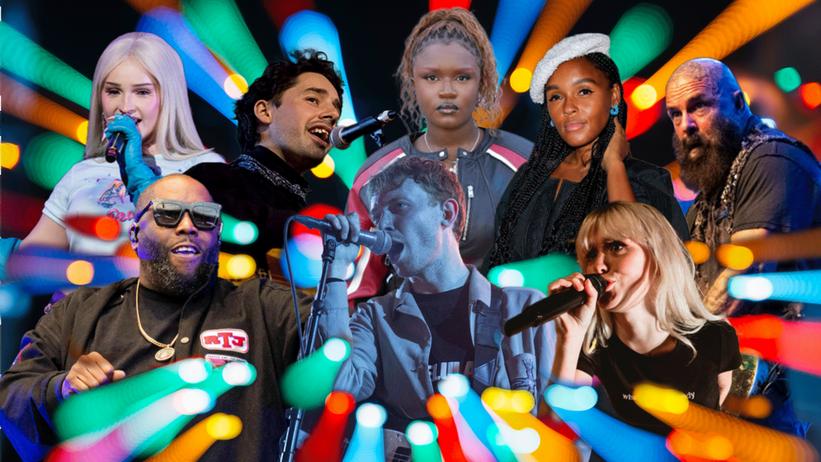 (Clockwise) Kim Petras, Juan Wauters, Amaarae, Janelle Monáe, Tim Armstrong of Rancid, Maisie Peters, King Krule, Killer Mike
Photos:  Alberto Tamargo; Xavi Torrent/WireImage; Gonzalo Marroquin/Getty Images for REVOLVE; Rachpoot Bauer-Griffin/GC Image; Scott Dudelson/Getty Images; Mike Lewis Photography/Redferns; Jim Bennett/WireImage; Jim Bennett/Getty Images
list
15 Must-Hear New Albums Out This Month: Janelle Monáe, King Krule, Killer Mike & More
From highly-anticipated debuts to long-awaited returns, check out 15 albums dropping this June from Kim Petras, Amaarae, Foo Fighters and many more.
GRAMMYs
/
Jun 2, 2023 - 01:39 pm
June is an important moment in the year, as it brings us Pride Month, Black Music Month and Juneteenth. It also marks the official start of summer, where rising temperatures invite late afternoons enjoying good music — whether it's outdoors at one of the season's many festivals or in the comfort of your own home.
As for the good music, this month brings us plenty of new releases by queer artists, like Kim Petras' long-awaited debut, Feed The Beast, and the Aces' I've Loved You For So Long. Black musicians have much on offer in June as well, including Janelle Monáe (who is also queer) The Age of Pleasure, house music DJ and producer Jayda G's Guy, and Ghana-born singer Amaarae's Fountain Baby. Last but not least, June also marks the return of both Foo Fighters and Lucinda Williams after life-altering events, and the ultimate release of Bob Dylan's 2021 concert film soundtrack, Shadow Kingdom.
To inspire you further with their bold artistry and moving stories, GRAMMY.com compiled a guide to the 15 must-hear albums dropping June 2023. 
Foo Fighters -
But Here We Are
Release date: June 2
In dark times, humans often turn to art. Even if they have no answers for what the future holds, the transmuting power of expression reminds us that, sometimes, existing is enough. But Here We Are, Foo Fighters' 11th studio album, does just that.
After "a year of staggering losses, personal introspection and bittersweet remembrances," as they state in their website  — referring to the sudden loss of longtime drummer, Taylor Hawkins,  and of frontman Dave Grohl's mother, Virginia — they find both grievance and strength in what has been called "the first chapter of the band's new life."
In support of this change, Foo Fighters have announced over 25 performances across the U.S. and Europe in the upcoming months. But Here We Are drops on June 2, and features ten new tracks, including promotional singles "Rescued," "Under You," "Show Me How," and "The Teacher."
Juan Wauters -
Wandering Rebel
Release date: June 2
For most of his life, the Uruguay-born, New York-raised singer Juan Wauters was a rover — never for too long in one place. But as he sings on the upcoming titular track of his new album, Wandering Rebel, "During COVID I discovered/ that I like stability."
In a statement, Wauters reflected about moving back to his home country because of the pandemic, and the personal changes that came with it: "New York was the place I always came back to, but I never really had a 'home.' My parents left Uruguay, their home, when I was young. Now, [in Montevideo], I have a place to come home to, and people that are waiting for me."
The 12 songs on Wandering Rebel are defined as "candid reflections on subjects like career, romantic commitment, mental health, and the personal toll of touring," some of which can be seen through singles "Milanesa al Pan (ft. Zoe Gotusso)" and "Modus Operandi (ft. Frankie Cosmos)." As to not lose sight of his itinerant roots, Wauters will embark on a lengthy U.S. tour starting this month.
Bob Dylan -
Shadow Kingdom
Release date: June 2
When the COVID-19 pandemic stalled Bob Dylan's illustrious Never Ending Tour, he decided to baffle the world with something entirely different.
First released in 2021 as a concert film directed by Alma Har'el, Shadow Kingdom sees Dylan perform 14 tracks from the first half of his career in an acoustic, intimate atmosphere. In the setlist, "It's All Over Now, Baby Blue" from 1965's Bringing It All Back Home marks the earliest composition to be featured, while "What Was It You Wanted" from 1989's Oh Mercy is the latest.
With little-to-no prior information, the film originally premiered on livestream platform Veeps, and swiftly disappeared 48 hours after. On June 2, an official soundtrack release will revive the experience for all those who missed it.
Rancid -
Tomorrow Never Comes
Release date: June 2
Breaking a six-year absence of new music, California's boisterous Rancid are back. Tomorrow Never Comes, the band's tenth album, proves that the verve from one of punk rock's biggest acts in the mid-1990s is still alive.
Produced by longtime collaborator and Bad Religion guitarist Brett Gurewitz, the record holds 15 tracks, but runs just short of 29 minutes — Rancid's briefest album yet. But judging by singles "Tomorrow Never Comes," "Don't Make Me Do It," and "Devil in Disguise," quick-paced or not, the quality remains the same.
Right after the release, Rancid will kick off an European tour for the rest of the month, before hitting Canada and a few cities in the U.S. starting September.
The Aces -
I've Loved You For So Long
Release date: June 2
Pride month celebrations have just gotten the perfect soundtrack: I've Loved You For So Long, the Aces' third studio album, comes out on June 2. 
Preceded by the title track and singles "Girls Make Me Wanna Die," "Always Get This Way," and "Solo," the album marks the Utah quartet's first release since 2020's LP Under My Influence. According to a press release, I've Loved You For So Long is "rife with songs that celebrate their queer identities, juxtaposed by tracks that reflect on their early relationships with Mormonism."
The 11-track collection is also described as "a nostalgic look back at the formative experiences that shaped who they are as a band today, like pages straight from their diaries that will leave their listeners feeling seen and critics wanting more."
Janelle Monáe -
The Age of Pleasure
Release date: June 9
Marking her return to music five years after 2018's Dirty Computer, the chameleonic singer and actor Janelle Monáe ushers in The Age of Pleasure. Her fourth studio album features 14 tracks, including collaborations from Grace Jones, Amaarae, Seun Kuti, and others.
During an interview with Zane Lowe on Apple Music 1, Monáe said all the songs "were written from such an honest space," with the goal of being "so specific to this Pan-African crowd who are my friends. I want it to be a love letter to the diaspora."
If its two delightful singles "Float" and "Lipstick Lover" are any indication, it looks like Monáe has nailed her target — while also providing us a much-needed new era for the summer.
Amaarae -
Fountain Baby
Release date: June 9
"Coming back after so long, I had a lot of time to think and reflect on what I wanted my message to be. Last time it was about confidence, this time it's about love and faith," said Ghanaian-American singer Amaarae in a statement about her single, "Reckless & Sweet."
The mystifying track gives a taste of her upcoming sophomore album, Fountain Baby, set to release on June 9. Following her acclaimed 2020 debut The Angel You Don't Know, the album also features last month's cheeky "Co-Star," and points to an expansion of the singer's avant-garde Afro-pop sound, as well as a celebration of Black women all over the world.
Jayda G -
Guy
Release date: June 9
Canadian producer and DJ Jayda G was only 10 years old when she lost her father, William Richard Guy. However, his memories shaped her life in significant ways, and now she is ready to share them with the world through her upcoming studio album, Guy.
Through a press release, Jayda said that she wanted the album to be "a blend of storytelling, about the African American experience, death, grief, and understanding." The singer also added that "it's about my dad and his story, and naturally in part my story, too, but it's also about so many people who wanted more for themselves and went on a search to find that. This album is just so much for people who have been oppressed and who have not had easy lives."
The first single of the project, "Circle Back Around," features archival footage of Jayda and her father — an endearing portrait that ultimately delivers an uplifting message. As she explains further in the press release: "I think it's just a testament that it's never too late to look at yourself and try to understand why you are the way you are, and strive to be better. Understanding the Black man's experience, Black people's experience in terms of America, and rising above what society tells you you're supposed to be."
King Krule -
Space Heavy
Release date: June 9
British singer King Krule was inspired by "the space between" his London and Liverpool commutes — both places he considers home — to craft Space Heavy, his fourth studio album.
Written throughout 2020 to 2022, the record was produced by Dilip Harris, and recorded alongside bandmates Ignacio Salvadores, George Bass, James Wilson, and Jack Towell. In April, the hazy "Seaforth" was released as the album's first single.
King Krule, whose real name is Archy Marshall, will soon embark on a summer tour spanning North America, Europe, and the UK. The first stop is in Minneapolis on July 21.
Killer Mike -
Michael
Release date: June 16
It's been more than a decade since Killer Mike released a solo album (2012's R.A.P. Music), but June brings forward new, exciting material from the Atlanta rapper and member of Run the Jewels. Upcoming LP Michael is said to be his "most autobiographical" work so far, and features 14 tracks that depict "an origin story," according to a statement.
2022 singles "RUN" and "Talkin Dat S—!" are also included in the album, as well as this year's "Don't Let The Devil" and "Motherless" — whose two music videos form a short film paying homage to Mike's late mother, Mama Niecy. The rapper is also set to perform a 19-stop tour in the U.S. this summer.
Home Is Where -
the whaler
Release date: June 16
Florida emo band Home Is Where built a reputation for delivering catharsis through their gloomy lyrics and angry melodies. Their upcoming sophomore LP, the whaler, takes that up a notch: It was defined as a project about "getting used to things getting worse" in a press release.
Produced by Jack Shirley and containing 10 interconnected songs, the whaler "paints a bleak picture of a world in an endless state of collapse — of ruined utopias and desperate people faking normalcy — [but] there's a humanity-affirming undercurrent throughout that screams to break free."
Ahead of the release, the band shared the lead single "yes! yes! a thousand times yes!," and is currently gearing up for a U.S. tour through the East Coast and Midwest in July and the West Coast in September.
Kim Petras -
Feed the Beast
Release date: June 23
The much-awaited debut LP of German singer Kim Petras, Feed the Beast, finally has a birth date: June 23. After struggling with the leaking and eventual scrapping of would-have-been album Problématique, Petras compiled 15 tracks for this new effort — including last year's mega hit "Unholy" featuring Sam Smith, which earned them both a GRAMMY Award for Best Pop Duo/Group Performance.
In an interview with Vice, the singer said Feed the Beast marks "a transition from being an independent artist to being at a major label now. Spearheaded by singles "If Jesus Was a Rockstar," "Brrr," and lead single "Alone" featuring Nicki Minaj, Petras will celebrate the release with a performance at NBC's TODAY Citi Concert Series, as well as live sets at Governor's Ball in NYC and Life is Beautiful Festival in Las Vegas.
Lunice -
OPEN
Release date: June 23
Described as a project that "focuses on the natural human ability and behavior of intuition, instinct, openness, flexibility, and adaptation," and also as "a bizarre ride through the Montreal underground," OPEN is the sophomore album by Canadian producer and TNGHT member, Lunice.
Following up his 2017 acclaimed solo debut, CCCLX, the new record aims to be even more dynamic, with every track conceived to be performed live. Featuring collaborations with Cali Cartier, Zach Zoya, Yuki Dreams Again, DAGR and GRAMMY-winning producer DRTWRK, OPEN drops on June 23.
"No Commas," the pulsating first single off the project, sets the mood to the upcoming folly. "This track is the result of multiple natural occurrences where the melody, drums, and vocal performance coincidentally fit with each other in the moment of creation without any prior motive behind it," Lunice said in a statement. "I find these instinctual moments of creativity beautiful and inspiring."
Maisie Peters -
The Good Witch
Release date: June 23
British singer/songwriter Maisie Peters calls herself The Good Witch — the "keeper of the keys and the holder of the cards" to her own universe, soon on display through her upcoming second album.
Written last year while she was on tour, Peters explains that its 15 tracks represent a time when she was "searching for balance between career highs and personal lows," a quality that can be seen through "Body Better," the album's acutely honest lead single. 
"This is my heart and soul, my blood on the page, the collection of stories that I've managed to capture in the past year," said Peters. "A true chronicle of my life in recent history, it is my own twisted version of a breakup album and it all draws upon the same couple of months' worth of experiences and inspirations." 
The singer is also set to tour 27 cities in the U.S. and Canada from August to October.
Lucinda Williams -
Stories From a Rock n Roll Heart
Release date: June 30
Lucinda Williams is living proof that getting older doesn't mean getting duller. The Americana legend just celebrated her 70th birthday in January — and the last three years of her life have been some of the most tumultuous yet.
In 2020, her Nashville home was damaged by a tornado. Then, came the COVID-19 pandemic. And lastly, a stroke that affected her ability to play the guitar, therefore changing the way she writes songs. But Williams didn't let any of that stop her — Stories from a Rock n Roll Heart, her 15th studio album, comes out on June 30, and shows that she's only getting better.
The project already has three singles out: "New York Comeback," "Stolen Moments," and "Where the Song Will Find Me," and counts on backing vocals from artists like Bruce Springsteen, Patti Scialfa, and Angel Olsen.
Listen To GRAMMY.com's LGBTQIA+ Pride Month 2023 Playlist Featuring Demi Lovato, Sam Smith, Kim Petras, Frank Ocean, Omar Apollo & More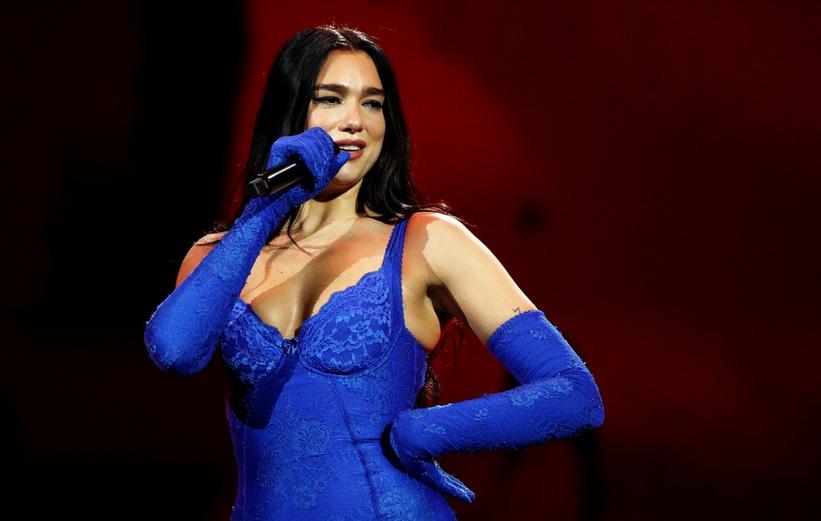 Dua Lipa performs in Sydney, Australia in November 2022.
Photo: Don Arnold/Getty Images
list
9 Artist-Hosted Podcasts You Should Check Out Now: Sam Smith, David Guetta, Norah Jones & More
From Dua Lipa to Joe Budden, some of music's biggest names have added "podcast host" to their impressive resumes. Grab your headphones and take a listen to nine of the most insightful and creative shows led by artists.
GRAMMYs
/
May 30, 2023 - 06:13 pm
As podcasts have become increasingly popular among listeners, they've also become a preferred playground for music makers to express themselves — and in turn, show a new side of their artistry.
Whether it's hours-long interviews courtesy of early adopter Questlove, breezy conversations with a musical accompaniment by Norah Jones, or a vital history lesson from Sam Smith, podcasts are allowing artists to further connect with their fans. And though there's already a disparate array of musician-led shows out there, it's seemingly just the beginning of a new podcast wave.
Below, get to know nine of the most interesting artist-hosted podcasts available.
A relatively new addition to the podcast sphere, Norah Jones is Playing Along is exactly what it sounds like. Hosted by the "Come Away With Me" crooner, the show features Jones jamming on a piano with a cadre of her musician friends and colleagues. The show's guest list is similarly varied, with recent episodes including memorable conversations with indie folk artist Andrew Bird, country singer-songwriter Lukas Nelson and jazz virtuoso and Robert Glasper all of whom took viewers on a musical journey through their catalogs and beyond.
Known as music's wise sage, legendary music producer Rick Rubin showcases his zen energy and insatiable passion for music on this informative podcast, which he hosts alongside  journalist-author Malcolm Gladwell, New York Times editor Bruce Headlam and producer Justin Richmond. Much like Rubin's list of collaborators — which has ranged from everyone including Johnny Cash, Adele and Rage Against the Machine — the show zig-zags between insightful interviews with a range of music's most accomplished names, including Giles Martin, Feist, Usher, The Edge, Aaron Dessner, and Babyface.
Aside from her GRAMMY-winning music career, pop icon Dua Lipa has a bubbling entrepreneurial streak in the form of Service 95, a multi-platform lifestyle brand which includes a newsletter and special events. It also produces the popular podcast At Your Service, on which Lipa interviews a diverse range of personalities including musicians (collaborators Charli XCX and Elton John), cultural luminaries (Dita Von Teese) and activists (Brandon Wolf) for laidback conversations about their respective careers.
Amid his roles as a founding member of the Roots, bandleader on "The Tonight Show Starring Jimmy Fallon," a prolific filmmaker and a best-selling author, Questlove adds podcast host to his rich cultural tapestry with Questlove Supreme. The show prides itself on loose, intimate and in-depth conversations with a who's who of music's luminaires, whether a multi-hour, emotional chat with Mariah Carey, an insightful conversation with trumpet legend Herb Alpert, or icons ranging from the late Wayne Shorter to Bruce Springsteen and manager Shep Gordon.
British songstress Jessie Ware teams up with her mother, Lennie, on this effervescent podcast, which showcases the "Free Yourself" singer munching on a delicious home cooked meal while having a conversation that's equally scrumptious. Whether the two are having pink salmon with Pink, eggplant pie with Shania Twain or spinach pie and florentines with Kim Petras, it all makes for an extremely listenable (and hunger-inducing) spin on the medium.
Earlier this year, Red Hot Chili Peppers guitarist Flea launched the interview series This Little Light, which zeroes in on the importance of music education. In short order, the podcast has already boasted heavy-hitter guests, including Cynthia Erivo, Patti Smith and Margo Price. "I wanted to do This Little Light to benefit my music school, the Silverlake Conservatory of Music," he said in a statement upon its release. "The idea behind it being music education, falling in love with music and embarking on a musical journey for your life. Everybody's path is so different, and it's fascinating to learn how every musician came to music and developed their study of it over time."
Five-time GRAMMY winner Sam Smith hosts a touching and informative history of the AIDS crisis from a UK perspective — from the earliest, heart-wrenching days of the disease to modern-day tales, including the death of Terry Higgins (one of the region's earliest deaths) as well as breakthrough treatments. Meticulously researched and told in a documentary-style, the BBC podcast is equal parts inspiring and heartbreaking — but above all, demonstrates that artists can effectively tell stories beyond the realm of music, while raising awareness at the same time. 
A departure from every other podcast on this list, dance music king and David Guetta strays from the interview format and lets the music do the talking. Guetta hosts this weekly hour-long podcast doubles as a playlist, which features a selection of songs handpicked by Guetta himself. Typically opening with a remix from Guetta himself (he recently featured his spin on Kim Petras' and Sam Smith's GRAMMY-winning hit "Unholy,") the show then explores a variety of electronic tracks from a disparate list of artists, including tracks from dance music mavens Olivier Giacomotto, Idris Elba and Robin Shulz. 
Still going strong eight years after its launch, The Joe Budden Podcast is hosted by the eponymous rapper and his friends as they talk through matters of hip-hop and their own lives, with recent topics focusing on everything from Cher's love life to the Met Gala. Each episode —  which regularly hovers around the three-hour mark — is like being a fly on the wall to Budden and friends. Of course, there's celebrity interviews along the way, with headline-making chats with the likes of Akon and N.O.R.E. 
10 Music Books To Dig Into This Summer: A Kate Bush Bio, A First-Hand Account Of The Grunge Scene & Feminist Punk Histories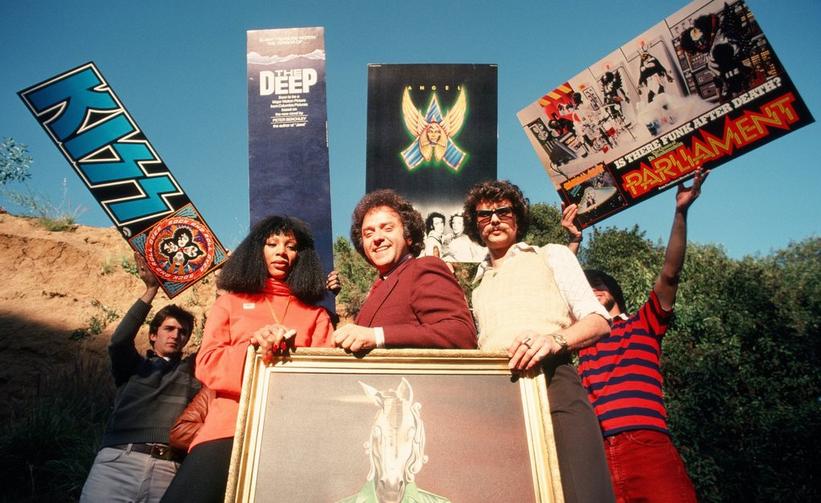 Donna Summer (left) and Neil Bogart (center) in 1976.
Photo: Michael Ochs Archives/Getty Images
list
A History Of Casablanca Records In 10 Songs, From Kiss To Donna Summer To Lindsay Lohan
As the Casablanca Records story hits the big screen with 'Spinning Gold' on March 31, revisit some of the hits that have defined the now-reinvented label's legacy.
GRAMMYs
/
Mar 31, 2023 - 03:26 pm
Over the past five years, some of the most famous (and infamous) stories of the music industry have hit movie theaters, from Freddie Mercury's meteoric arrival in Bohemian Rhapsody to Elton John's breakthrough years in Rocketman, and most recently Whitney Houston's remarkable rise in Whitney Houston: I Wanna Dance With Somebody. Now it's time for the big-screen debut of a name that might not be as familiar: trailblazing record executive Neil Bogart.
Bogart is the outsized personality at the center of a new biopic, Spinning Gold, which hits theaters March 31. The film tracks the monumental first decade of Casablanca Records, the larger-than-life label that Bogart dreamed up in the summer of 1973. 
The industry upstart defied the odds to become one of the definitive labels of the 1970s, with a highly eclectic roster that included KISS, Donna Summer, Village People and George Clinton's Parliament. At the same time, Casablanca Records typified 1970s excess, with infamous stories of drug-fuelled parties, flagrant spending and unchecked egos — all rich material for a big-screen treatment.
Written and directed by Bogart's eldest son Tim, Spinning Gold stars Jeremy Jordan as Bogart alongside a cast of current music luminaries in key roles, including Wiz Khalifa as George Clinton, Tayla Parx as Donna Summer, Ledisi as Gladys Knight and Jason Derulo as Ron Isley. (The hit-filled soundtrack is just as star-studded.)
After he was pushed out at Casablanca, Bogart went on to found Boardwalk Records (signing a young Joan Jett) before his tragic death in 1982, at the age of 39. In the decades since, Casablanca has had several lives, including its reinvention as a dance music label in 2012. 
To celebrate the release of Spinning Gold, we're taking a trip back through 10 of the label's hallmark releases from the 1970s to the 2010s. 
KISS, "Rock and Roll All Nite" (1975)
Neil Bogart's first gamble as a label boss was on New York shock rockers KISS. Bogart signed the band to Casablanca Records on the strength of their demo tape, recorded with DIY grit alongside former Jimi Hendrix producer Eddie Kramer. While initially dubious of the group's garish makeup, he backed their lean and mean 1974 debut album, KISS, even as it failed to ignite the charts.
As detailed in Classic Rock Magazine, KISS played Casablanca's launch party at Los Angeles' Century Plaza Hotel, bemusing the glamorous crowd to a flurry of smoke bombs and a levitating drum kit. Bogart stuck by his hard rockers, and in 1975 they released Dressed to Kill, featuring the undeniable anthem "Rock and Roll All Nite," one of KISS' setlist staples to this day. 
As the story goes, Bogart, who is a credited producer on "Rock N Roll All Nite," challenged songwriters Paul Stanley and Gene Simmons to write the definitive KISS song. Later in 1975, the band hit No. 9 on the Billboard 200 with the live album, Alive!, and their fire-breathing, fake-blood-spitting path was set. 
Parliament, "Give Up The Funk (Tear The Roof Off The Sucker)" (1976)
If KISS represented one extreme of Casablanca's early catalog, George Clinton's Parliament confirmed there was no rulebook. Bogart recognised Clinton's shambolic genius early on, signing the bandleader and his funk disciples to Casablanca in 1973. After a pair of slow-burning albums, in 1975 Parliament released Mothership Connection, an outlandish concept record exploring afrofuturism in outer space.
On an album that sounded like nothing else out there, "Give Up The Funk (Tear the Roof off the Sucker)" was a supremely funky standout. It became Parliament's first certified million-selling single and gave the group the cachet to build their signature stage prop, The Mothership, which landed theatrically mid-show in a swirl of smoke. 
Donna Summer, "I Feel Love" (1977)
Bogart's circle of gifted friends included Giorgio Moroder, the Italian producer behind the hallowed Musicland Studios in Munich, Germany. In 1975, Moroder played Bogart a song he'd produced for an up-and-coming American singer named Donna Summer, who was living as an expat in Munich after appearing in the musical Hair.
That song was "Love To Love You Baby," a slow, slinky disco number that, on Bogart's insistence, morphed into a 17-minute version. In its extended form, "Love To Love You Baby" seduced dance floors and took disco into a new realm of slow-burning sexuality. 
In 1976, Summer returned to Musicland Studios with Moroder and his studio partner Pete Bellotte to record "I Feel Love," released on Casablanca the next year. Still exhilarating and influential to this day, the record's futuristic synth sound cemented Casablanca as the go-to disco label. 
Village People, "Y.M.C.A." (1978)
With Donna Summer now a certified star, Bogart found his next disco hitmakers in Village People. Founded in 1977 by French dance producers Jacques Morali and Henri Belolo, and fronted by vocalist Victor Willis, the group emerged from and celebrated New York's gay club culture, with each member adopting a "macho man" persona and costume.
Village People's third album on Casablanca, 1978's Cruisin', featured the instant earworm "Y.M.C.A.," which hit No. 2 on the Billboard Hot 100 in 1979. A winking advertisement for the fraternal pleasures of the Y.M.C.A., the song became a gay anthem and paved the way for future hits "In The Navy," "Go West" and an actual song called "Macho Man." 
"[Casablanca] was a very trendy label," Belolo recalled to DJHistory in 2004. "Neil Bogart was known as an entrepreneur who had the guts to take risks, and he was a very good promoter." 
KISS, "I Was Made For Lovin' You" (1979)
Released on their 1979 album, Dynasty, "I Was Made for Lovin' You" proved even KISS weren't immune to disco fever. Coming two years after the hard rocking Love Gun album, this glam, light-on-its-feet return had some fans reeling.
Co-written by Paul Stanley with pop songwriters Desmond Child and Vini Poncia, the single sold over 1 million copies and remains a favorite sing-along at KISS shows. To this day, its detractors include none other than Gene Simmons, who never liked his pop-tinged vocal part. 
Cher, "Take Me Home" (1979)
While Casablanca was founded on new talent, by the late 1970s, the label was courting already established stars. With 14 albums to her name by 1977, Cher met Neil Bogart through her then-boyfriend Gene Simmons. After a run of underperforming releases, Cher came around to trying disco.
"Take Me Home," Cher's shimmering foray into the still-hot genre, unleashed her inner disco diva, which she explored further on two Casablanca albums, Take Me Home and Prisoner. While the legendary singer later strayed from disco, the lush, Studio 54-soaked sound of "Take Me Home" is testament to Casablanca's gravitational pull. 
Lipps Inc., "Funkytown" (1980)
As the 1970s ticked over into the '80s, Casablanca went looking for the next sound. Behind the scenes, the label was in turmoil. With Polygram now overseeing Casablanca, co-founder Larry Harris quit and Bogart was pushed out. Disco's popularity was also waning in the wake of the infamous Disco Demolition Night at Chicago's Comiskey Park.
If times were tough, you couldn't hear it in "Funkytown," a party-starting track by Minnesotan funk/disco band Lipps, Inc. Featuring Cynthia Johnson's peppy vocals over a perfect marriage of synths, strings and cowbell, the song was a surprise hit for Casablanca and a gentle clapback to the disco doomsayers. 
Irene Cara, "Flashdance…What A Feeling" (1983)
Throughout its first decade, Casablanca was closely aligned with Hollywood — after all, the label took its name from the Golden Age classic starring Humphrey Bogart and Ingrid Bergman. In the mid-'70s, the label even merged with a film production company to make Casablanca Record And Filmworks, Inc.
Following Bogart's exit from Casablanca, the label struck gold with Irene Cara's "Flashdance…What A Feeling" from the 1983 dance drama Flashdance. Produced by label mainstay Giorgio Moroder, the song is a pure hit of 1980s nostalgia, elevated by Moroder's synth and Cara's roof-raising vocals. 
"Flashdance…What A Feeling" won the GRAMMY for Best Female Pop Vocal Performance and the Academy Award for Best Original Song, giving Casablanca Records one last victory lap before it folded in 1986. 
Lindsay Lohan, "Rumors" (2004)
Two decades after Jennifer Beals spun and vaulted through the music video for "Flashdance…What A Feeling," Casablanca was relaunched under Universal by veteran music exec Tommy Mottola.
One of Mottola's early signings was "it-girl" Lindsay Lohan, who was coming off star-making roles in Freaky Friday and Mean Girls. Lohan's 2004 debut album, Speak, featured the bonus track "Rumors," a club banger with spiky lyrics aimed at paparazzi and rumor-mongers hounding her every move. A long way from the halcyon days of KISS and Donna Summer, "Rumors" is still a time capsule to a quainter era before Instagram and iPhones. 
Mottola's other mid-aughts signings included singer and actress Brie Larson (long before she was Captain Marvel) and pop artist Mika, whose 2007 album, Life in Cartoon Motion — and particularly its infectious lead single, "Grace Kelly" — was a breakthrough success.
Tiesto, "Red Lights" (2013)
After its brief mid-2000s run, Casablanca Records went quiet again — that is, until its next relaunch in 2012 as a dance/electronic imprint under Republic Records. Capitalizing on the EDM boom at the time, Casablanca snapped up Dutch superstar Tiesto and his label Musical Freedom.
In December 2013, Tiesto dropped "Red Lights," the lead single from his fifth studio album, A Town Called Paradise, released on Casablanca the following year. A surging dance-pop confection built for Tiesto's then-residency at Hakkasan Las Vegas, "Red Lights" endures today as a three-minute flashback to EDM's heyday. 
While Tiesto is no longer with Casablanca, the label has been a steady home for both veteran and rising dance acts over the past decade, including Martin Solveig, Chase & Status, Nicky Romero, Felix Jaehn and James Hype. Meanwhile, Lindsay Lohan has remained with the label, releasing her club-ready comeback single, "Back to Me," in 2020. 
Bringing the story full circle, a resurgent Giorgio Moroder also landed back on Casablanca Records in 2016. As the story of Casablanca's glory days hits the big screen, the label's latest chapter is still being written.
Listen: 50 Essential Songs By The Beach Boys Ahead Of "A GRAMMY Salute" To America's Band