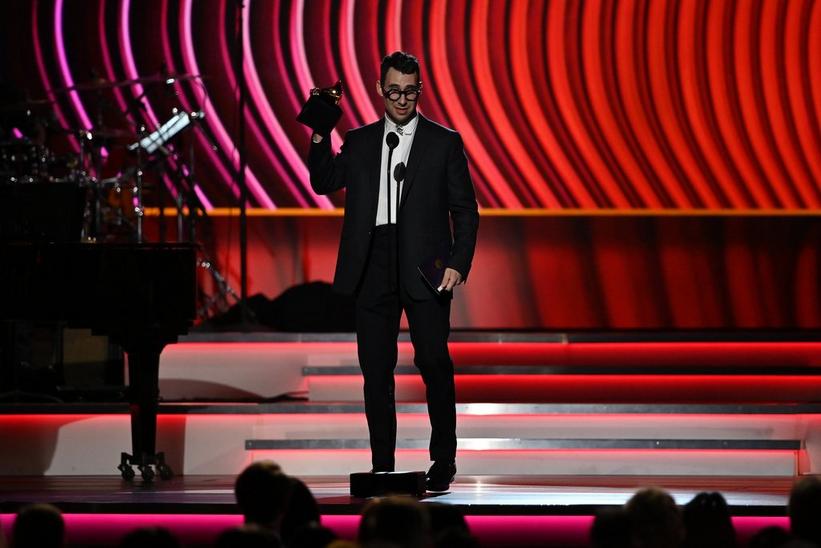 Jack Antonoff accepts the award for Producer of the Year, Non-Classical, onstage during the 64th Annual GRAMMY Awards Premiere Ceremony at MGM Grand Marquee Ballroom on April 03, 2022 in Las Vegas, Nevada.
PHOTO: Denise Truscello/Getty Images
news
Jack Antonoff Wins Producer Of The Year, Non-Classical | 2022 GRAMMYs
Jack Antonoff wins Producer Of The Year, Non-Classical at the 2022 GRAMMYs for his work with Lana Del Rey. Taylor Swift, St. Vincent and others
GRAMMYs
/
Apr 3, 2022 - 11:09 pm
Jack Antonoff won the GRAMMY for Producer Of The Year, Non-Classical at this year's award ceremony. This is the Antonoff's — whose work this year includes songs by Lana Del Ray, St. Vincent, Taylor Swift, Lorde, Bleachers and Clair —  first win of the night and sixth total GRAMMY of his career.
"This is for all the people who sit at home and make s<em></em>* that they think is really cool and keep making it and keep making it," Antonoff said onstage at the Premiere Ceremony. "I'm really at a loss, man. It's the coolest, it means the world to me."
Rogét Chahayed, Mike Elizondo, Hit-Boy and Ricky Reed were the other nominees in the prestigious category.
Check out the complete list of winners and nominees at the 2022 GRAMMYs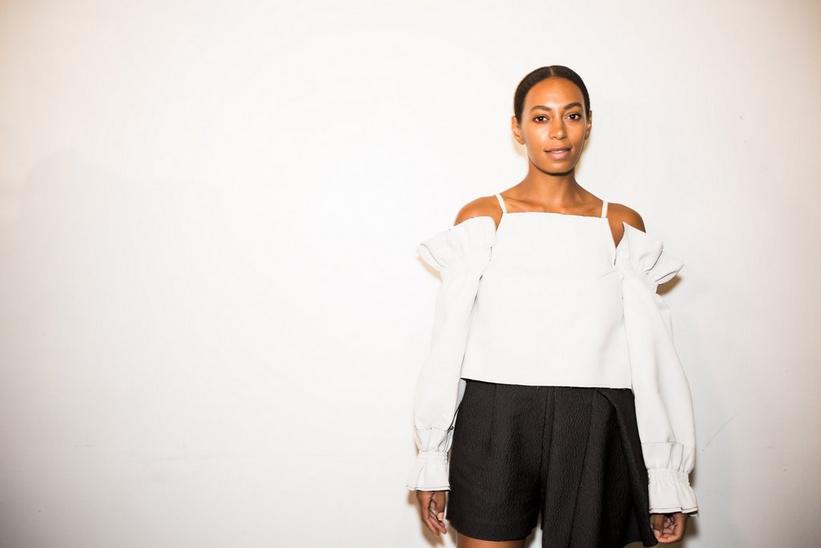 Photo: Daniel C. Sims/Getty Images
news
Solange To Play Benefit Show For Hurricane Harvey Relief
GRAMMY winner adds her name to the list of artists who are helping to raise millions in relief efforts for victims
GRAMMYs
/
Aug 31, 2017 - 04:37 am
GRAMMY winner Solange has announced she will be performing a benefit show to raise money for Hurricane Harvey relief efforts. The performance, called Orion's Rise, will be held at Boston's Orpheum Theatre on Sept. 8.
"I'm committed to partnering with organizations on the ground in Houston and making contributions to uplift the city that raised me with so much love," said Solange, a Houston native.
This announcement comes on the heels of other artists pledging their support, including Solange's sister, Beyoncé. But they are certainly not the only ones.
Beyoncé Vows "To Help As Many As We Can" In Wake Of Hurricane Harvey
Houston rapper Bun B and manager Scooter Braun (Justin Bieber, Ariana Grande) are organizing a televised benefit concert that will reportedly air on four national networks on Sept. 12.
Comedian Kevin Hart pledged $50,000 to relief efforts, and the fund he organized has earned nearly $2 million in additional financial support, with contributions from artists such as the Chainsmokers. All funds will go to the American Red Cross.
The Kardashians and Jenners, Nicki Minaj, and DJ Khaled have also announced they will make donations. Jennifer Lopez and her partner Alex Rodriguez joined in the fundraising efforts, pledging $25,000 each to the Red Cross.
In addition, GRAMMY winner Jack Antonoff is matching donations up to $10,000 for the Montrose Center in Houston, an LGBT community center. Chris Brown will donate $100,000 directly to "the people," and T.I. will donate $25,000 to relief efforts.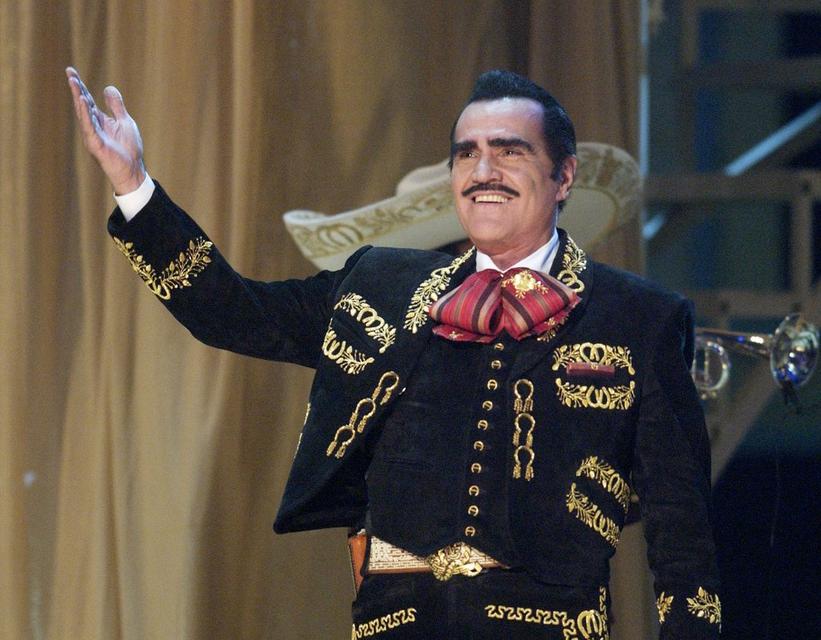 Vicente Fernandez performs at the 2002 Latin GRAMMY Awards
Photo: M. Caulfield/WireImage
news
Vicente Fernández Posthumously Wins GRAMMY For Best Regional Mexican Music Album | 2022 GRAMMYs
The late Mexican legend, who died in December at 81, won the GRAMMY for Best Regional Mexican Music Album (Including Tejano) for his 2020 album, 'A Mis 80's'
GRAMMYs
/
Apr 3, 2022 - 10:44 pm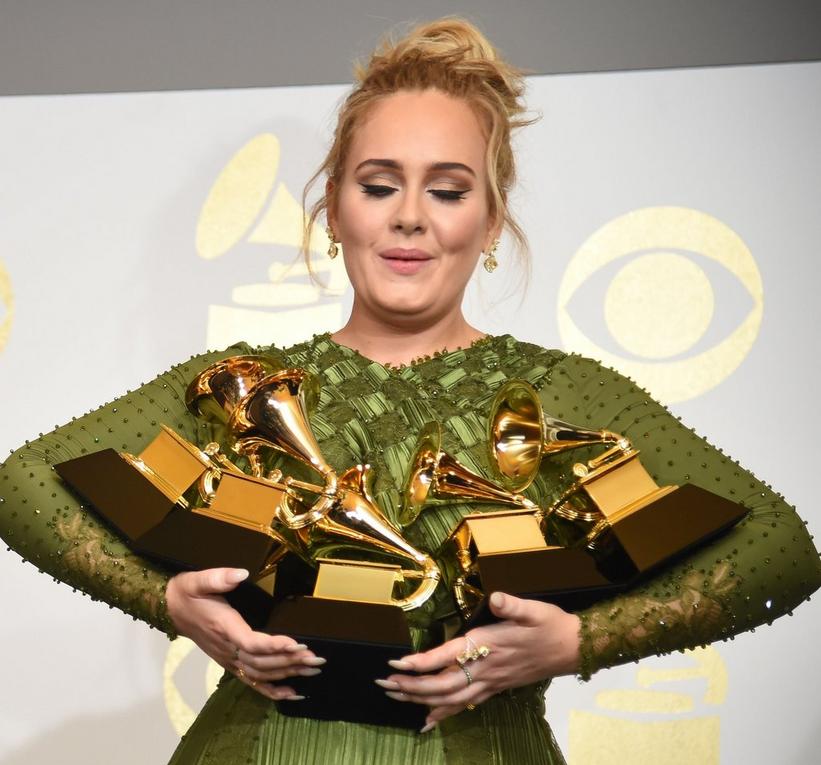 GRAMMY trophies at the 59th GRAMMY Awards in 2017
Photo: ROBYN BECK/AFP via Getty Images
news
The Recording Academy Announces Major Changes For The 2022 GRAMMY Awards Show
Process amendments include the elimination of nominations review committees and the addition of two new GRAMMY Award categories, including Best Global Music Performance and Best Música Urbana Album
GRAMMYs
/
May 1, 2021 - 01:27 am
Editor's Note: The 2022 GRAMMYs Awards show, officially known as the 64th GRAMMY Awards, <a href="https://www.grammy.com/news/2022-grammys-awards-64th-new-air-show-date-location-las-vegas-april-3-announcement "https://www.grammy.com/news/2022-grammys-awards-64th-new-air-show-date-location-las-vegas-april-3-announcement"">has been rescheduled to Sunday, April 3, at the MGM Grand Garden Arena in Las Vegas. The below article was updated on Tuesday, Jan. 18, to reflect the new show date and location.
The Recording Academy announced today that it has made significant changes to its Awards process that reflect its ongoing commitment to evolve with the musical landscape and to ensure that the GRAMMY Awards rules and guidelines are transparent and equitable. Among the changes are the elimination of Nominations Review Committees, a reduction in the number of categories in which voters may vote, two GRAMMY Award category additions, and more. These updates are a result of extensive discussions and collaboration over the course of the last year among a special subcommittee of Recording Academy members and elected leaders, and were voted on by the Academy's Board of Trustees. These changes go into effect immediately for the 2022 GRAMMY Awards show, officially known as the 64th GRAMMY Awards, taking place Sunday, April 3. The eligibility period for the 64th GRAMMY Awards is Sept. 1, 2020, through Sept. 30, 2021.
Additional rule amendment proposals will be discussed and voted on at an upcoming Recording Academy meeting and the full rulebook for the 64th GRAMMY Awards will be released in May.
"It's been a year of unprecedented, transformational change for the Recording Academy, and I'm immensely proud to be able to continue our journey of growth with these latest updates to our Awards process," Harvey Mason jr., Chair & Interim President/CEO of the Recording Academy, said. "This is a new Academy, one that is driven to action and that has doubled down on the commitment to meeting the needs of the music community. While change and progress are key drivers of our actions, one thing will always remain — the GRAMMY Award is the only peer-driven and peer-voted recognition in music. We are honored to work alongside the music community year-round to further refine and protect the integrity of the Awards process."
APPROVED RULE AMENDMENTS INCLUDE:
Voting Process Changes
Elimination Of Nominations Review Committees In General And Genre Fields

Nominations in all of the GRAMMY Award general and genre fields will now be determined by a majority, peer-to-peer vote of voting members of the Recording Academy. Previously, many of the categories within these fields utilized 15-30 highly skilled music peers who represented and voted within their genre communities for the final selection of nominees. With this change, the results of GRAMMY nominations and winners are placed back in the hands of the entire voting membership body, giving further validation to the peer-recognized process. To further support this amendment, the Academy has confirmed that more than 90 percent of its members will have gone through the requalification process by the end of this year, ensuring that the voting body is actively engaged in music creation. Craft committees remain in place (see below for craft category realignment.)

Reduction In Number Of Categories Voter May Vote

To ensure music creators are voting in the categories in which they are most knowledgeable and qualified, the number of specific genre field categories in which GRAMMY Award Voters may vote has been reduced from 15 to 10. Additionally, those 10 categories must be within no more than three fields. All voters are permitted to vote in the four General Field categories (Record Of The Year, Album Of The Year, Song Of The Year, and Best New Artist). Proposed by a special voting Task Force who brought forth the recommendation, this change serves as an additional safeguard against bloc voting and helps to uphold the GRAMMY Award as a celebration of excellence in music, with specific genre field categories being voted on by the most qualified peers.

Craft Category Realignment

To better reflect the overlapping peer groups within the voter membership body, six existing craft fields will be consolidated into two fields: Presentation Field and Production Field. In either newly consolidated field, voters would have the ability to choose how many categories they feel qualified to vote in, respecting category vote limits, without being excessively limited by the three-field restriction. This benefits the integrity of these Awards by embracing and utilizing the specializations of the voters, without restricting their choice or contributions due to the field limits imposed by the recent reduction of the number of categories voters may vote in. Field updates are as follows:

Package Field, Notes Field and Historical Field renamed and consolidated to Presentation Field

Production, Non-Classical Field; Production, Immersive Audio Field; and Production, Classical Field renamed and consolidated to Production Field
New Categories Added
Two new categories have been added, bringing the total number of GRAMMY Award categories to 86:
Best Global Music Performance (Global Music Field)

Best Música Urbana Album (Latin Music Field)
"The latest changes to the GRAMMY Awards process are prime examples of the Recording Academy's commitment to authentically represent all music creators and ensure our practices are in lock-step with the ever-changing musical environment," said Ruby Marchand, Chief Industry Officer at the Recording Academy. "As we continue to build a more active and vibrant membership community, we are confident in the expertise of our voting members to recognize excellence in music each year."
"As an Academy, we have reaffirmed our commitment to continue to meet the needs of music creators everywhere, and this year's changes are a timely and positive step forward in the evolution of our voting process," said Bill Freimuth, Chief Awards Officer at the Recording Academy. "We rely on the music community to help us to continue to evolve, and we're grateful for their collaboration and leadership." 
The Recording Academy accepts proposals from members of the music community throughout the year. The Awards & Nominations Committee, comprised of Academy Voting Members of diverse genres and backgrounds, meets annually to review proposals to update Award categories, procedures and eligibility guidelines. The above rule amendments were voted on and passed at a Recording Academy Board of Trustees meeting held on April 30, 2021. For information on the Awards process, visit our GRAMMY Voting Process FAQ page.
The Recording Academy will present the 2022 GRAMMY Awards show on Sunday, April 3, live from the MGM Grand Garden Arena in Las Vegas, on the CBS Television Network and stream live and on demand on Paramount+ from 8–11:30 p.m. ET / 5–8:30 p.m. PT. Prior to the telecast, the GRAMMY Awards Premiere Ceremony will be streamed live on GRAMMY.com and the Recording Academy's YouTube channel. Additional details about the dates and locations of other official GRAMMY Week events, including the GRAMMY Awards Premiere Ceremony, <a href="https://www.musicares.org/person-year "https://www.musicares.org/person-year"">MusiCares' Person of the Year, and the Pre-GRAMMY Gala, are available here.
2022 GRAMMY Nominations
Graphic by the Recording Academy
news
Announcement: 2022 GRAMMYs Postponed
After careful consideration and analysis with city and state officials, health and safety experts, the artist community and our many partners, the Recording Academy and CBS have postponed the 64th Annual GRAMMY Awards Show
GRAMMYs
/
Jan 5, 2022 - 10:45 pm
The following is a Joint Statement from the Recording Academy and CBS:
"After careful consideration and analysis with city and state officials, health and safety experts, the artist community and our many partners, the Recording Academy and CBS have postponed the 64th Annual GRAMMY Awards Show. The health and safety of those in our music community, the live audience, and the hundreds of people who work tirelessly to produce our show remains our top priority. Given the uncertainty surrounding the Omicron variant, holding the show on January 31st simply contains too many risks. We look forward to celebrating Music's Biggest Night on a future date, which will be announced soon."
2022 GRAMMYs Awards Show: Complete Nominations List