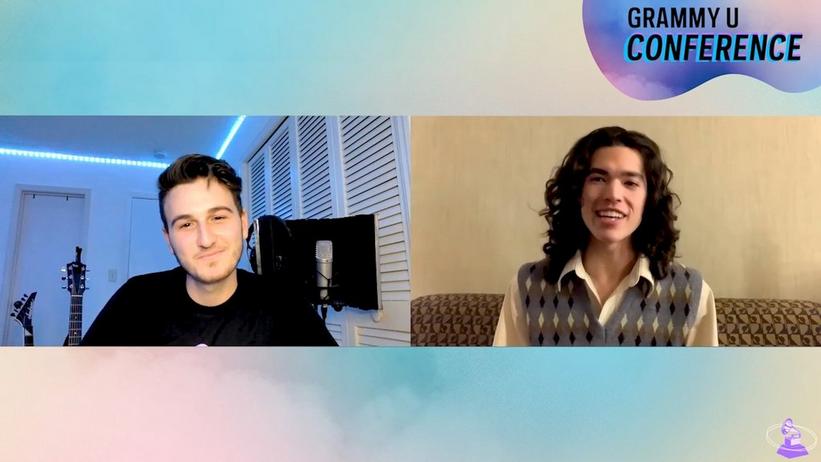 National GRAMMY U Representative Sam Merkin (left) and singer/songwriter Conan Gray
list
10 Takeaways From GRAMMY U's 2022 Conference Featuring Conan Gray
An effort of GRAMMY U's student representatives, the 2022 conference featured multiple industry professionals and rising singer/songwriter Conan Gray, who advised student musicians on exploring their artistry, creating work, and marketing their music.
GRAMMYs
/
May 3, 2022 - 04:50 pm
The 2022 GRAMMY U Conference — an effort of all 14 student GRAMMY U representatives across the country — was held virtually on April 29.  This year's conference aimed to guide aspiring student musicians as they identify and explore artistry, write and record their work, and offer advice on effectively marketing their music on social media and beyond.  
Resourceful Recording, the conference's first panel, was presented in partnership with the Recording Academy's P&E Wing and geared towards musicians recording in studio as well as recording/mixing engineers. The conversation was moderated by Pacific Northwest GRAMMY U Representative Cameron Mangione, and featured award-winning mixing engineer and Recording Academy Florida Chapter Board member Marcella Araica, who provided tips on how sound engineers can best work with artists, managers and producers during recording studio sessions.   
In the keynote conversation titled Finding Your Sound, singer/songwriter Conan Gray spoke with National GRAMMY U Representative Sam Merkin about the writing and recording processes he used for his forthcoming album Superache. Gray cited authenticity as the most important quality of an artist's brand and lyricism.
The conference concluded with a panel on music marketing featuring Lucia Kaminsky, Head of Digital at Sandbox Entertainment, moderated by Atlanta GRAMMY U Representative Kalee Kitchens. Laminksy encouraged students to collaborate within their college departments and with peers to facilitate successful media campaigns.
GRAMMY U's Conference offered many innovative ways for young artists and their teams to create and share their original music. Below are 10 industry takeaways that artists can implement using readily available tools:    
Push The Boundaries Of Songwriting 
Finding, developing and polishing your sound as a singer/songwriter is a process that takes time. Keynote speaker Conan Gray advised conference attendees that consistently writing and practicing is key to cultivating a distinctive sound.  
"Once you learn what a perfect song is, that's when you learn to take that structure and push its limits," Gray explained.  
Gray's sophomore album Superache, due in June, is evidence of that consistent work. Gray experiments with the conventions of pop music on the album by modifying verse melodies and eliminating pre-choruses. Adjusting a verse's cadence and vocal tonalities will allow new artists to assert their own style, Gray noted.
Vulnerability And Musical Elasticity Will Take You Far  
Conan Gray is known for his raw, emotional lyricism, and encouraged students to be vulnerable songwriters. That openness will resonate with audiences, he said.
It's easy to become hyper-aware and self conscious about the personal stories you release into the world as an artist, Gray added, citing his 2020 debut Kid Krow. Although it can be daunting, using real-life narratives to inform songs can allow listeners to connect with your music on a deeper level.   
Speaking with National GRAMMY U Representative Sam Merkin, Gray also encouraged artists to not be dissuaded by the trial and errors of music making — especially when trying to appease large audiences. Instead, artists should focus on making material that they enjoy listening to and that speaks truthfully about their artistic identity.   
"Make music that you enjoy, and let the ideas that you have come to full fruition before knocking them down," he advised.
Learn How To Read The Room  
Resourceful Recording panelist and mixing engineer Marcella Araica acknowledged the essential, yet stressful, role that recording engineers play during studio sessions.
"A large part of our job as engineers is psychology — being able to read the room, read the temperature and read the energy of people in the room," she said. Mixing and recording engineers to flourish in high-pressure situations if they learn how to maintain calm and composure when working with new clients.  
Trusting your musical intuition and technical skills are also important factors when collaborating with new artists or delivering work on deadline. "Don't overthink it. You know what you're doing, and most importantly have fun!" 
View Critiques As Redirection 
While working with three-time GRAMMY nominated producer Daniel Nigro, Gray reflected on how he perceives critiques from producers and songwriters. The singer/songwriter employs a mentality of "let's try this" rather than "let's fix it" mentality.  
Establishing a positive comradery amongst an artist's team members — producers, engineers and co-writers — will produce the best results during studio sessions. Maintaining those professional and cohesive relationships throughout the songwriting and recording process is essential to creative growth.  
Every artist can benefit from external guidance and adjustments when recording, but having a shared interest for the artist's ultimate success is the driving force of a successful collaboration.   
Ask Questions  
Open communication with a performer or producer is crucial to being an engineer.
"If you are a true engineer, you are the person that's helping build out the sound of a song. Getting a true understanding of the artist's vision and asking the right questions about a project's expectations is key," Araica noted in the Resourceful Recording panel. 
Sound engineers play an equally important role in seeing an artist's conceptual idea to fruition, for they provide the expertise needed to foster a singer or musician's unique sound. When meeting artists for the first time, an engineer should ask questions about their vocal effect preferences, such as compression or reverb levels, to create a more comfortable setting for all involved.   
Araica expressed that "artists will be thankful if you're aware of how they want the product to end up."
Master The Fundamentals  
For students who want to pursue a career in recording or mixing engineering, one of the first steps to creating a workflow foundation is choosing a digital audio workstation (DAW).   
"If you're working off a student budget, FL Studio or Ableton Live are great ones," Araica suggested. "Some DAWs are better for recording, while others are better for mixing and production work."   
Araica continued that FL Studio is an affordable option that allows for recording, mixing, and production at the same time, which is beneficial for students that want to explore multiple avenues of sound engineering. Additionally, booking sessions at your university's studio is helpful to experiment with DAWs in a low-stakes environment.   
Engage In Authentic Marketing  
Panelist and digital marketing strategist Lucia Kaminsky highlighted authenticity as an artist's main focus when branding themselves. "Anything with your own touch, people are going to want. If you make something hand-made, people are going to love it," Kaminsky told GRAMMY U's Atlanta Representative Kalee Kitchens. 
Distribution of merchandise is one way to convey the lyrical message of an artist's music. When participating in a marketing campaign as an artist, portraying a genuine and authentic version of yourself is Kaminsky's No. 1 rule.   
"If it doesn't feel authentic, then don't do it. People can see through it when you're not being true to yourself," she said.
Success Looks Different For Every Artist  
The success of marketing campaigns varies amongst independent and signed artists. For independent artists, growing a fanbase is often the most important goal.
"If we've reached new people, that's helpful. It's hard to measure success, but we also look at engagement and streaming numbers," Kaminsky noted.   
It's also important for artists to express their personality outside of music through posting on social media about family, friends and hobbies. Kaminsky added that students who are proficient at basic design/video editing and photoshop are likely to be competitive candidates when applying for jobs and internships as digital media marketers in the music industry.
Utilize School Resources  
Partnering with  music, fashion, digital and other departments within your university is a great place to begin a song or album campaign. Collaborating with students and peers on and off campus is a perfect way to begin branding yourself as an artist within your local community and city.   
"For independent artists/students, reach out to your peers. The people I was in school with are the people I work with now," added Kaminsky.   
Cater To All Audiences  
With the continuing rise of digital media applications, Kaminsky describes that there is a unique opportunity for artists to engage across all social media outlets. These markets include YouTube, Instagram, TikTok, Facebook and Twitter, and Kaminsky advised that artists take advantage of each different platform's audiences.   
"You have different fan bases on every platform. Make sure that you're catering to all streaming platforms- you have this unique chance to get your music out there through digital media," Kaminsky said. To avoid alienating one's listeners, independent artists must be strategic about distributing original music to multiple music markets.   
You can watch GRAMMY U's Conference, Finding Your Sound, by visiting the Recording Academy's  YouTube Channel or Twitch Channel .For more information on how to join GRAMMY U, visit the Recording Academy's Membership Page.