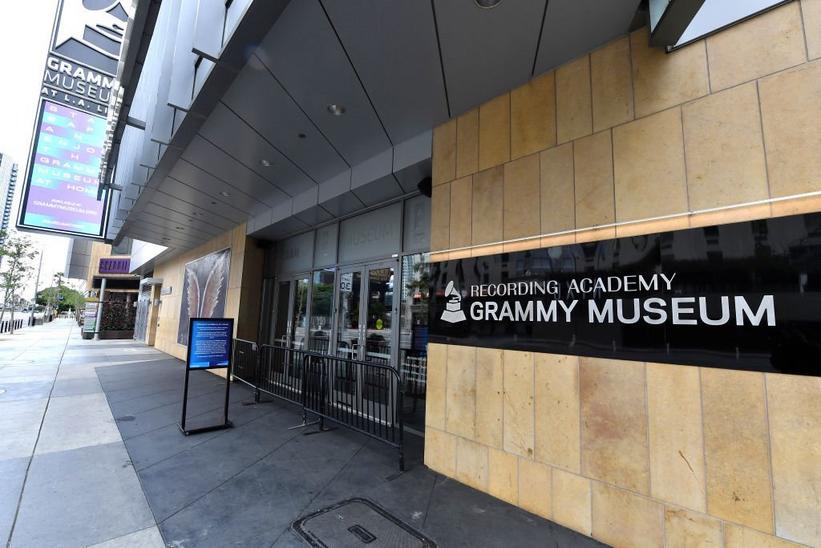 Photo: Frazer Harrison/Getty Images
news
GRAMMY Museum Announces Digital Museum October Schedule
Check out all the new programs coming to COLLECTION:live, plus Columbia Records' takeover of Spotlight Saturdays, exclusive Instagram livestreams and more
GRAMMYs
/
Oct 1, 2020 - 05:00 pm
October is shaping up to be a busy month at the GRAMMY Museum's digital museum. Today, they revealed theier schedule for the upcoming, inlcuding a slew of programs to be added to the recently launched COLLECTION:live official online streaming service and much more.
Following last month's launch, COLLECTION:live is adding new programs in October featuring Ashe, Phoebe Bridgers, FKA Twigs, The Killers, PJ Morton, LInda Ronstadt, Jaden Smith, Soccer Mommy, SuperM and more, plus never-before released programs from the GRAMMY Museum archives.
Also, the Spotlight Saturdays Series continues with Columbia Records taking over for October featuring artists from its roster such as 24KGoldn, Polo G and more. The GRAMMY Museum will also be hosting exclusive Instagram livestreams and releasing a new virtual exhibit featuring blues legend John Lee Hooker.
See below for the full October schedule:
COLLECTION:LIVE SCHEDULE
Thurs., Oct. 1
FKA twigs
Nicole Richie
Jaden Smith
SuperM
Tues., Oct. 6
The Meteoric Rise Of Latin Hitmakers: Top Charting Songs & Voices Of Cultural Change
Featuring Becky G, De La Ghetto, Play-N-Skillz, Sons of Sonix, and Tainy
Tuesday, October 6, 2020; 3 pm PT
Thurs., Oct. 8
Ashe
Juice WRLD's Legends Never Die – featuring a conversation with Manny Marroquin, Nick Mira, Dorien Theus, Lil Bibby, & Max Lord
Soccer Mommy
Plus, never-before-released programs from the archives including The Chainsmokers, Judy Collins, Morris Day & David Ritz, and Shovels & Rope.
Thurs., Oct. 15
Grimes
Oliver Riot
Phoebe Bridgers
Thurs., Oct. 22
LP
Pearl Jam's Gigaton – featuring a conversation with album producer Josh Evans & bassist Jeff Ament
PJ Morton
Plus, never-before-released programs from the archives including Common, Estelle, Ghost, LP, Billy Porter, Maggie Rogers, Sharon Van Etten, Weird Al Yankovic, and more.
Thurs., Oct. 29
Sarah Jarosz and John Leventhal
The Killers
Linda & The Mockingbirds – featuring a conversation with Linda Ronstadt, music journalist
Randy Lewis, director James Keach, and Los Cenzontles founder Eugene Rodriguez
Spotlight Saturdays Series Takeover By Columbia Records
10/3 - Polo G
10/10 - Orville Peck
10/17 - 24kGoldn
10/24 - Elaine
10/31 - Labrinth
INSTAGRAM LIVESTREAMS
10/8 at 12 pm PT – La Marisoul moderated by Raúl Campos and Pili Montilla from Pili, Raúl and La Música
10/13 at 1 pm PT – Laura Marano moderated by GRAMMY Museum education senior coordinator Schyler O'Neal
DIGITAL EXHIBIT
10/2 – John Lee Hooker: King of the Boogie
GRAMMY Museum At Home continues to release new programming each month including digital educational content and lesson plans as part of the GRAMMY In The Schools Knowledge Bank.
COLLECTION:live is available for $2.99/month or $29.99 a year. GRAMMY Museum members receive 50 percent off the annual subscription price. Proceeds benefit the Museum's music education initiatives and help keep the Museum's mission alive while the physical location remains closed due to COVID-19.
You can access the GRAMMY Museum's Digital Museum at www.grammymuseum.org and COLLECTION:live at watch.grammymuseum.org.
Billie Eilish & FINNEAS To Appear On GRAMMY Museum's New Streaming Service COLLECTION:live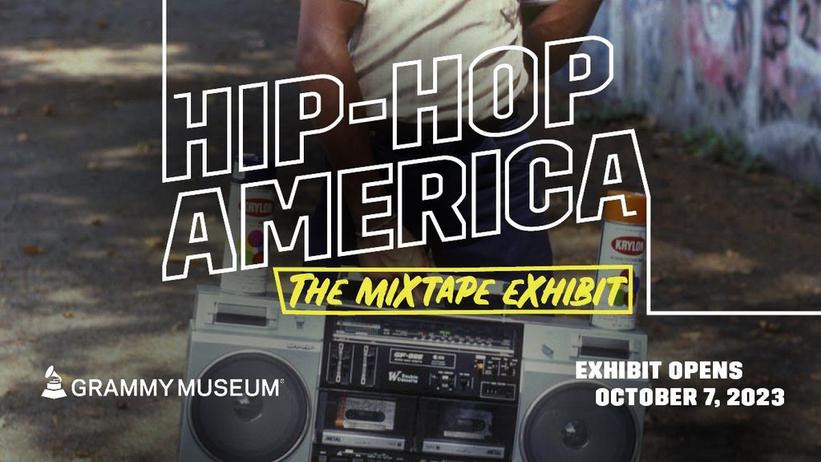 The GRAMMY Museum's 'Hop America: The Mixtape Exhibit' opens Saturday, Oct. 7, 2023
Image courtesy of the GRAMMY Museum
news
GRAMMY Museum To Celebrate 50 Years Of Hip-Hop With 'Hip-Hop America: The Mixtape Exhibit' Opening Oct. 7
The new exhibit honors the 50th anniversary of hip-hop through an expansive and interactive exploration that features artifacts from legendary artists including the Notorious B.I.G., Tupac Shakur, LL Cool J, and more.
GRAMMYs
/
Sep 7, 2023 - 03:11 pm
The GRAMMY Museum is celebrating the 50th anniversary of hip-hop this fall with the newly announced Hip-Hop America: The Mixtape Exhibit, an immersive, interactive, 5,000-square foot experience celebrating the multifaceted world of hip-hop and the global impact and influence of the genre and culture. Launching Saturday, Oct. 7, and running through Wednesday, Sept. 4, 2024, the exhibit will feature expansive exhibits exploring hip-hop music, dance, graffiti, fashion, business, activism, and history as well as artifacts from hip-hop pioneers like Tupac Shakur, the Notorious B.I.G., LL Cool J, and many more.
Additionally, the exhibit features a one-of-a-kind Sonic Playground, featuring five interactive stations that invite visitors of all ages to partake in DJing, rapping and sampling, all essential elements comprising hip-hop culture. Additional virtual and in-person education and community engagement programs will be announced at a later date.
Exploring the countless ways hip-hop music and culture has dominated popular culture over the last 50 years, Hip-Hop America: The Mixtape Exhibit was curated by a team of four co-curators who bring a deep knowledge of hip-hop, academic rigor and creativity to the project. They include:
Felicia Angeja Viator, associate professor of history, San Francisco State University, author of 'To Live And Defy In LA: How Gangsta Rap Changed America,' and one of the first women DJs in the Bay Area hip-hop scene

Adam Bradley, Professor of English and founding director of the Laboratory for Race and Popular Culture (the RAP Lab) at UCLA, and co-editor of 'The Anthology of Rap'

Jason King, Dean, USC Thornton School of Music and former chair of the Clive Davis Institute of Recorded Music at NYU

Dan Charnas, Associate Arts Professor, NYU Clive Davis Institute of Music, and author of 'Dilla Time: The Life And Afterlife Of The Hip-Hop Producer Who Reinvented Rhythm'
The co-curators worked in conjunction with GRAMMY Museum Chief Curator and Vice President of Curatorial Affairs Jasen Emmons as well as a 20-member Advisory Board.
Read More: 50 Artists Who Changed Rap: Jay-Z, The Notorious B.I.G., Dr. Dre, Nicki Minaj, Kendrick Lamar, Eminem & More
Hip-Hop America: The Mixtape Exhibit is an educational journey through several key themes:
Origins: Discover the roots of hip-hop in the Bronx and New York City, where DJs were the original stars, and graffiti and breakdancing were integral to the culture.

Innovation: Explore how hip-hop artists have innovatively used technology, from transforming turntables into musical instruments to pioneering sampling techniques.

Sounds of Hip-Hop: Experience the diverse sounds of hip-hop in four themed studios, showcasing the evolution of production, the intersection of hip-hop and car culture, the craft of hip-hop lyrics, and the influence of R&B.

Fashion: Dive into the world of hip-hop fashion, featuring iconic clothing, jewelry and style.

Regionalism: Discover 14 hip-hop scenes across the United States, showcasing the importance of local and regional contributions.

Entrepreneurialism: Learn about the transformation of hip-hop from a back-to-school party in the Bronx to a multi-billion-dollar global industry.

Media: Discover the role of media in shaping hip-hop's development, from radio stations to pioneering shows like "Yo! MTV Raps."

Community: Explore how hip-hop has brought people together over the last 50 years, with an interactive 'Hip-Hop America' playlist featuring 200 songs that trace the genre's evolution.
Highlights from Hip-Hop America: The Mixtape Exhibit include:
The Notorious B.I.G.'s iconic 5001 Flavors custom red leather peacoat he wore in Junior M.A.F.I.A.'s music video "Players Anthem"

Kurtis Blow's original handwritten lyrics for his 1980 hit single, "The Breaks," the first gold-certified rap song

Black suede fedora hat and Adidas Superstars belonging to Darryl "DMC" McDaniels of Run-D.M.C.

Tupac Shakur's handwritten essay "Give Me Liberty or Give Me Death," circa 1992

Two outfits designed by Dapper Dan, Harlem fashion icon: 1) a half-length black leather jacket worn by Melle Mel (Melvin Glover, b. 1961) in performance at the 1985 GRAMMY Awards; and a black-and-yellow leather bucket hat and jacket worn by New York hip-hop artist Busy Bee (David James Parker)

Egyptian Lover's gold Roland 808, the beat-making tool

LL Cool J's red Kangol bucket hat 
Hip-Hop America: The Mixtape Exhibit is a key event taking place as the world is celebrating 50 years of hip-hop this year. The origins of hip-hop can be traced back to Aug. 11, 1973, when DJ Kool Herc DJed a birthday party inside the recreation room of an apartment building located on 1520 Sedgwick Avenue in the South Bronx, New York City. This history-making date marks the birth of hip-hop and is the reason why we're celebrating hip-hop's 50th anniversary this year. The 50th anniversary of hip-hop means artists, fans, and the music industry at-large are celebrating the momentous milestone via hip-hop concerts, exhibits, tours, documentaries, podcasts, and more around the globe across 2023.
Visit the GRAMMY Museum website for more information regarding advanced ticket reservations for Hip-Hop America: The Mixtape Exhibit.
50 Artists Who Changed Rap: Jay-Z, The Notorious B.I.G., Dr. Dre, Nicki Minaj, Kendrick Lamar, Eminem & More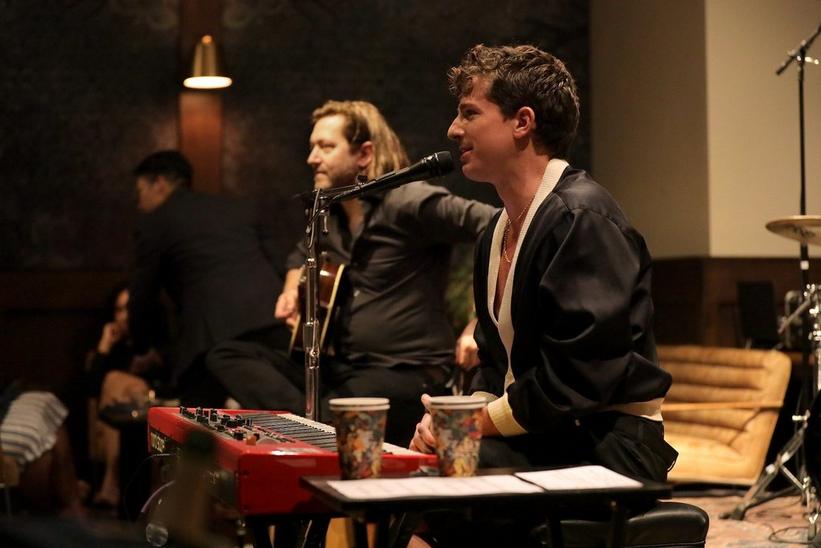 Charlie Puth at the GRAMMY Museum's Sunday Brunch With... series in July 2023.
Photo: Courtesy of the Recording Academy/Photo by Rebecca Sapp, Getty Images 2023
list
6 Things To Know About Charlie Puth, From His Unusual Inspirations To His Teaching Aspirations
On the heels of his last U.S. tour stop, Charlie Puth wowed fans at a special GRAMMY fundraising brunch in Los Angeles. Take a look at six takeaways from the intimate event.
GRAMMYs
/
Jul 20, 2023 - 07:45 pm
Just after Charlie Puth wrapped his North American tour on July 11, the pop hitmaker treated 150 fans to the ultimate fan experience: brunch with a side of Puth.
Part of The GRAMMY Museum's Sunday Brunch With… series, the event — a fundraiser for the organization's GRAMMY In The Schools program that was sponsored by City National Bank and Porsche — invited fans to enjoy a three-course brunch followed by an intimate 45-minute acoustic set from Puth. 
From the stage at his friend (and 17-time GRAMMY Award-winning mixer) Manny Marroquin's restaurant, VERSE LA in Toluca Lake, California, Puth told stories about his days at Berklee College Of Music and his journey to stardom. He also let attendees in on his songwriting process, performing some of his most beloved tracks in the process. 
For those who weren't able to make it to the sold-out event, here are six takeaways from Sunday Brunch With Charlie Puth.
He May Just Become A Music Teacher In The Future
Early on in the show, Puth made a point of shouting out one of his old Berklee professors from the stage. Turns out it was Prince Charles Alexander, a multi-GRAMMY Award winning mixer and engineer who has worked with Mary J. Blige, Destiny's Child, P. Diddy, Usher, and Aretha Franklin. 
Puth said he'd often pop into Alexander's office to run ideas by him, with Alexander offering up tips in return. Puth told the crowd he still thinks about Alexander's advice when he's making his own records all these years later, and shouted out not just his professor but all music educators, saying that he's a firm believer in the value of music in our schools. He even joked that he'd like to become a music teacher himself "if this whole music thing doesn't work out."
One Of His Songs Was Inspired By A Rainy Walk…
When Puth wrote "How Long" back in 2017, it was on a long walk. He was strutting around the town wondering why there weren't more tracks written at a perfect walking tempo when it started to rain. The sound of his feet combined with the wet concrete and suddenly, he told the crowd, "it was like the chords fell out of the sky." 
Puth then kicked into a smooth and resonant performance of the song — which sounded excellent on whatever sound system Marroquin installed in his restaurant — prompting one attendee to shout out in glee, "ooh, you better sing!"
…And Another Was Inspired By Ed Sheeran
Puth says he started writing "We Don't Talk Anymore" when he was on the road in Osaka, Japan. He'd fallen in love with the percussive guitar on Ed Sheeran's song "Bloodstream" and wanted to use that same sort of tone on his own track. 
Puth says he also wanted to write what he called "the worldliest sounding record," or "a record that would take me around the world." Given that "We Don't Talk Anymore" hit the top 10 in 20 different countries and the video has more than three billion views on YouTube to date, it's fair to say he did just that.
He Likes To Use "Light Switch" To Inspire Up-And-Coming Musicians
When the freshly signed Puth was first in LA in the early 2010s, a producer suggested they take his newly recorded tracks to a club, where they'd play them for the crowd and see what hit. It was a novel idea for Puth at the time, but something he's adapted a bit for the modern age, when he throws bits of songs and ideas up on his TikTok, hoping to see what flies. 
That's exactly how his 2022 hit "Light Switch" came to be: The simple percussive sound that you hear when you turn the lights on and off. 
In videos he's posted on TikTok, he's tried to show fans that, like that song, music can come from anywhere. "You don't need a multi-million dollar recording studio to make a record," he told the crowd, reminding everyone that Soulja Boy's "Crank That" was self-produced on the rapper's home computer before breaking big on social media. 
Anyone, Puth said, can make and release their own music, even if they're not currently in possession of the dream recording set-up. It's just about passion and perseverance, and a desire to make something new.
He Likes To Blend Classical Riffs With Perfect Pop Melodies
When Puth started to write "Attention," it was with a little classical riff he was fooling around with on the piano. He decided to take the classical bars and throw them into a pop song, reminding the room that it's not all that uncommon. For instance, he said, Toni Wine and Carole Bayer Sager's "A Groovy Kind Of Love" contains the Rondo from Muzio Clementi's Sonatina, Opus 36, No. 5. In Puth's view, classical music and pop can live in perfect harmony, feeding off each other and building toward something even bigger than the sum of their parts.
He's Proof Of The Power Of Being Yourself
In 2012, at the height of "weight for the drop" style EDM hits, Puth felt discouraged as he was trying to break into music himself. As he recalled, he'd moved home to his parents house and was laser focused on the pop charts, tailoring his songs to whatever was No. 1 at the moment — but they were all getting turned down by labels. Finally, he said, an A&R person gave him a piece of advice, saying, essentially, "We've heard all this before. We want to hear something from you." 
That's how, on his way to record a dance track at some studio in LA, Puth decided to lay down a piano ballad instead. He says it was like "See You Again" fell into his lap and attributes its success to the fact that he wasn't trying to be anyone but himself. 
"See You Again changed my life," he told the brunch crowd, noting that he'll be proud and lucky if he gets to perform it for the rest of his life. As he played it live, the whole room joyfully sang along — hinting that Puth may have crafted a lifelong hit.
Behind The Scenes Of The Eras Tour: Taylor Swift's Opening Acts Unveil The Magic Of The Sensational Concert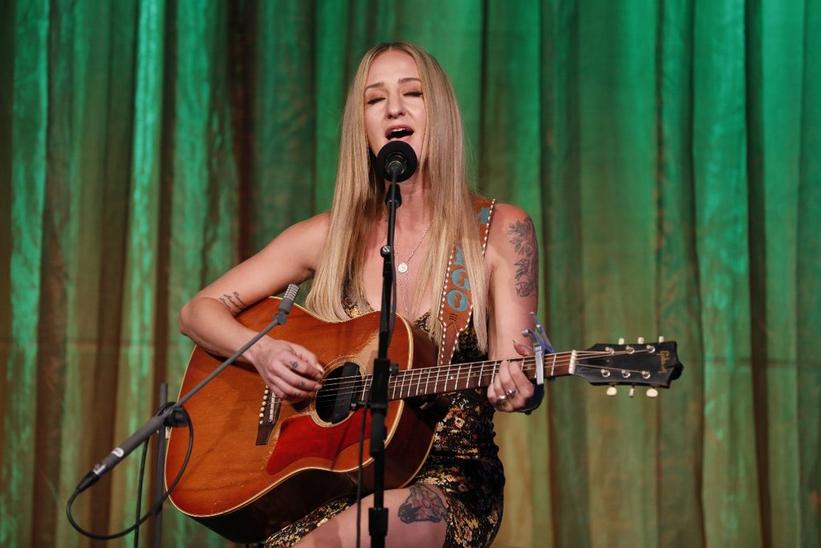 Margo Price
Photo: Rob Kim/Getty Images for The Recording Academy
list
6 Things To Know About Margo Price: Her Struggles, Writing Process & Unforgettable Success Story
Country-adjacent singer Margo Price is a craftswoman with gallons of candor. At a special GRAMMY Museum event, she got real about her new album, 'Strays,' and memoir, 'Maybe We'll Make It.'
GRAMMYs
/
Jun 28, 2023 - 08:09 pm
The adjective "vulnerable" is something of a music press cliché. Margo Price is capital-v. Because before she released her 2022 memoir, Maybe We'll Make It, she was in a state of abject terror over how her family would react to her confessions therein.
"I was having panic attacks, thinking about all of this being out there," Price told The Guardian. "I know what people do on the internet, and I was imagining the names they were gonna call me. They're gonna say I'm a horrible mother, that I'm a drunk."
But then, there's that word again: "I also [hope] that people are going to appreciate my vulnerability."
This attribute — married to sterling craft — has launched Price into the stratosphere; none other than Willie Nelson provided a blurb for Maybe We'll Make It's front cover. ("Margo's book hits you right in the gut — and the heart," he wrote. "Just like her songs.")
As she details in the book, the masterful Nashville singer/songwriter knocked around town for more than a decade in search of a record deal, and dealt with poverty, alcohol abuse and numberless other calamities. But Price was stubborn and persistent; her ascent began with her exceptional 2016 solo debut Midwest Farmer's Daughter, released on Third Man Records. 
She continued her winning streak in 2017 with All American Made; the following year, she was nominated for a GRAMMY for Best New Artist. That streak continued with 2020's That's How Rumors Get Started, produced by Sturgill Simpson. In 2023, she released another excellent album, the Jonathan Wilson-produced Strays, which she's promoting alongside Maybe We'll Make It.
At a recent edition of the GRAMMY Museum's "A New York Evening With…" interview and performance series at the Greene Space at WNYC and WQXR in New York City, Price sat down with moderator Craig Finn of the Hold Steady. Together, they discussed the counterbalances of Strays with Maybe We'll Make It, and her wild, tragic, joyful story that's contained in both; the result was a window into Price's psychology. 
Here are six takeaways about this GRAMMY-nominated master of words and melodies.
Her Album And Memoir Influenced Each Other
Early in the conversation, Finn inquired about the dynamic between a book and an album, as the publishing process typically takes much longer than the writing and recording process.
"They definitely ended up kind of influencing each other, because I was working on them in tandem," Price said. "I did kind of lose myself in it for a moment. My husband would say things like, 'You haven't written a song in months.' I was like, 'I'm an author now.'"
Price Finished Her Memoir Through Routine
In 2018 — upon getting pregnant and coming off the road — Price needed to keep her mind busy.
Despite not having a book deal, she and her husband, fellow musician Jeremy Ivey, would take their son to school, go to an East Nashville coffee shop and write from "about 8 in the morning until maybe noon or 1. And I just did that for maybe five or six months." By her telling, there were "many, many, many drafts" prior to the one we can hold in our hands today.
Observing Herself From The Outside Proved Beneficial
In reading about her experiences in the way a consumer of her memoir would, Price identified a seam of compassion for herself that she didn't realize she had.
"You can suddenly give yourself a break. I feel like I'm my own worst critic," she said. "There was always a breadcrumb to keep us going — and then there was something to knock us back down." However, "if there wasn't a struggle, I wouldn't be Margo Price."
Patti Smith's Memoir Influenced Her Own
Patti Smith's 2010 book Just Kids, a document of her relationship with artist Robert Mapplethorpe, is a go-to rock tell-all; Maybe We'll Make It shares some of its DNA.
"I had heard some of her songs and things before, but I think once I really devoured her written works, I started digging into her albums," Price said of Smith. "And I just thought it was incredible the way that she used poetry and just felt unafraid to throw it all in the pot and mix it all up."
On the literary front, one cue Price took from Smith was her use of descriptive detail for everyday scenes: "She talks about living off of tomato soup," she says, connecting that to the $2 frozen tilapia filets and bags of edamame she and Ivey used to subsist on.
"When you can taste what's going on, it puts you there in the kitchen with us," she said. "You can starve with the artist."
Price Is Becoming More Open To Collaborating — Judiciously
Price is skeptical of some of the team-ups she sees in the music industry. "Sometimes, I see a collaboration happening," she says, and I'm like, 'That looks forced. I don't know, man. I feel like they're just doing that for the Spotify plays.' So, I really try to only do it if it's meaningful."
Somebody in her camp presented a list of potential writing partners; she didn't bite. But when her manager suggested GRAMMY-winning guitar great Mike Campbell, she changed her tune.
"I'm like, 'Duh, of course. We're trying to write Tom Petty and the Heartbreakers songs over here anyway, so if we can get him in on it, then it legitimizes the whole thing… he sang on ["Light Me Up" on] my record, and it was just very natural."
She Might Join Your Band
"I'd love to play more drums," Price said during a brief audience Q&A before performing tunes like All American Made's "Pay Gap" and Strays' "Country Road" for the crowd. "Just drums in a band sometime, where I'd just be in the pack. It'd be so much less pressure.
"I need to find a gig," she added mirthfully. "If anybody knows something, let me know after the show."
The Hold Steady's Craig Finn On New Album The Price Of Progress, The Band At 20 & His Constant Search For New Stories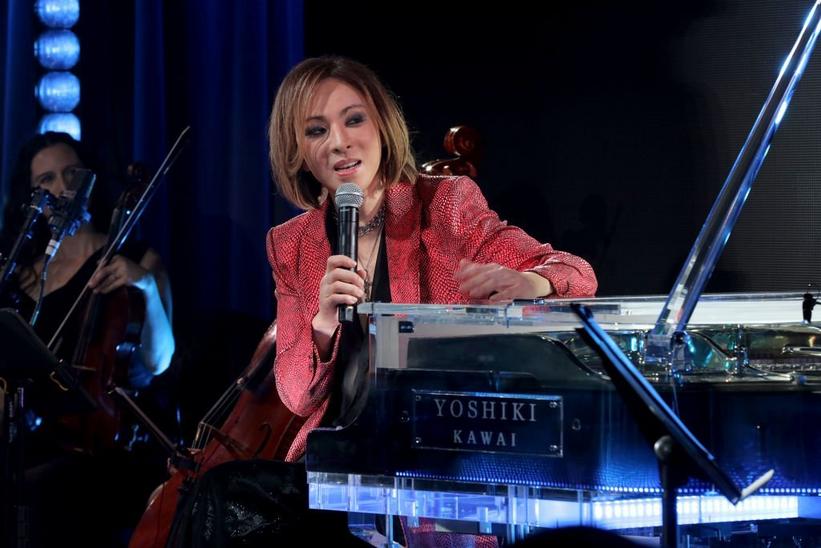 Yoshiki performs at the GRAMMY Museum
Photo: Rebecca Sapp/Getty Images for The Recording Academy
list
5 Things To Know About Yoshiki: A Musical Childhood, Upcoming Tour & Playing Through Pain
The multi-hyphenate rock and classical musician dropped by the GRAMMY Museum for an intimate chat with the Museum's curator, as well as a performance of some stripped-down songs.
GRAMMYs
/
May 18, 2023 - 08:18 pm
A select group of fans and die-hards got up close and personal with Yoshiki when he popped into the GRAMMY Museum for an intimate chat and performance. 
A multi-hyphenate in the truest sense of the world, Yoshiki has spent the past few decades balancing his work as a musician, songwriter, composer, producer, fashion designer and winemaker, producing a diverse and robust body of work. As the leader and co-founder of X Japan, he helped inspire the rock scene's striking visual kei movement, something that wasn't always easy — in the early '80s,  it was hard for him to even get a cab in Tokyo with his big, blonde, spiked hair.
He's since gone on to found another musical supergroup, The Last Rockstars, and he's become a big name in the classical world, producing several studio albums and collaborating with everyone from George Martin to Bono to Sarah Brightman. He has penned music for TV and film, written a concerto for the Japanese emperor, and even launched his own celebrated line of kimonos, Yoshikimono.
Yoshiki has lived a truly fascinating whirlwind of a life for the past few decades, and he was happy to open up about much of it in this week's conversation. Here are five things we learned at the GRAMMY Museum event "The Drop: Yoshiki." 
He Has A Long History With & Bold Future In Classical Music
Yoshiki sat down with Jasen Emmons, the Museum's Chief Curator, for an hour-long discussion about the star's career in the music industry, which he says was first nurtured when he was given a piano at age 4. He took to the instrument pretty much instantly, choosing to play in his darkened bedroom because he liked the vibe. His music-loving parents kept giving him instruments — one each year for his birthday — leading him to take up everything from the trumpet (which he quit after seeing a picture of himself playing) to the drums. 
He's become wildly famous for both his percussion and piano skills, and this fall, will embark on a four-city tour of classical venues. On his Requiem tour, which begins in October, Yoshiki will become the first Japanese artist ever to headline Carnegie Hall, Royal Albert Hall, the Dolby Theater in Los Angeles, and the Tokyo Garden Theater.  
His Upcoming Classical Tour Is Inspired By His Late Mother
The name "Requiem," Yoshiki said, comes from a piece he wrote for his mother, who passed away in 2022. When she died, he told Emmons, he couldn't stop crying for three or four days. Yoshiki went to seek the help of a doctor, who told him he just had to embrace his grief. 
He turned to composing, and as he told the room, "my tears turned into melody," and the solemn concerto slowly emerged. It's still unfinished — there's no strings arrangement yet, he says — but it's one of the pieces he'll be performing on tour later this year. 
Yoshiki Works A Lot, But At His Own Pace
Speaking of tours: Yoshiki also gave fans in attendance some hints about future tours, saying he's working to bring the Last Rockstars back to the states sometime in the future, noting that they're working on a new record but poking fun at his work load and perfectionism by joking, "Everything I'm involved in takes time." 
That includes "Angel," the new single from X Japan due to be released July 28. At the show, he performed an abbreviated classical arrangement of the song with Orchid Quartet and the singer Beverly. It's an arrangement he'll also most likely be performing on his classical shows, though Yoshiki says the X Japan version of the track will be much more rock-focused, with ample drums and guitar.
Yoshiki said that he wrote "Angel" some time ago, and that he composes music pretty much constantly. "Melodies fall into me even now," he said, noting that the frequency with which he hears music is "pretty much endless." 
When he composes a song, he added, it's just about transposing the vision in his head. Actually laying it down in a studio gets more complicated, Yoshiki said, in part because he views recording as a "compromising process" that never quite sounds like he envisions in his mind. 
He Thinks Rock And Classical Music Have A Lot In Common 
As far as Yoshiki is concerned, any good melody can become both a rock track and a classical cut. He cited the example of Rachmaninoff's Piano Concerto no. 2, which he says has a second movement that he thinks sounds like Celine Dion — or, as he joked, does Celine Dion sound like Rachmaninoff? He thinks it can go either way, showing Emmons and the audience what he meant by playing a few bars of some of his more rock-oriented tracks on his piano. 
Yoshiki Has Given His Entire Body And Soul To Performing
Though he looks to be about 30 years old, Yoshiki is actually well into his fifties and years of feverish performance have taken a toll on his body. That's clear in We Are X, a movie about the history of X Japan, where viewers can see Yoshiki getting frequent cortisone injections into his neck and back. He told Emmons he thinks he's had hundreds at this point, as well as two neck surgeries. (He might even have a third one, he said.) 
That's because, as he explained, he likes to play "every single show as if this was my last stage," and always tries "to give 1,000 percent." Yoshiki says he doesn't always realize the pain he's in until after he's left the stage, though he does seem to think it's all worth it, since as he told the audience, "I was given this life. I just want to go all the way." 
Of course, Yoshiki was also full of jokes at the event, telling silly stories about his first time getting acupuncture, when he was so new to the process that he worried about whether he'd be able to take a bath after the procedure, lest water seep in though all the holes left in his body. He poked fun at his last-minute whims, including flying Beverly over from the Philippines just for the show. He also told a story about eating Fugu, or blowfish, every single day for the three months he was just in Japan, in part because that's what his staff kept ordering for him. 
Amidst wrapping up the show with performances of "Miracle," "Red Swan," and "Endless Rain," Yoshiki stopped for a moment to call out to his friends in the audience, including Lollapalooza co-founder Marc Geiger and Joelle Benioff, the mother of Yoshiki's good friend, Salesforce CEO Marc Benioff. (The latter was actually sitting in the seat that Yoshiki had sponsored in the Clive Davis Theater, which is pretty cool.) 
Yoshiki wrapped up the evening by addressing the audience in a way that seemed both soft and sincere, saying, "because of you, I'm still here creating music" and adding, "I hope the music I create can help you, too." 
6 Things To Know About Bonnie Raitt: Her Famous Fans, Legendary Friends & Lack Of Retirement Plan