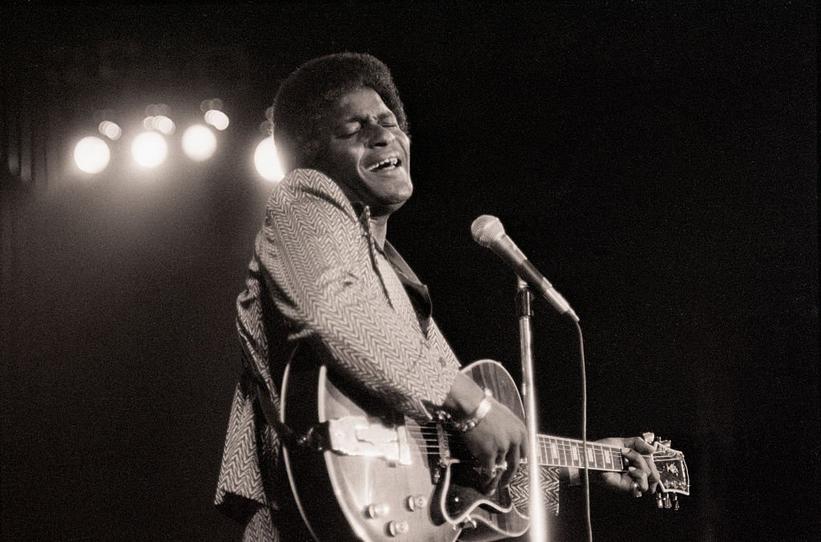 Photo: Bettmann / Contributor
news
For Charley Pride, Black Country Music Was A Self-Evident Truth
The late icon may have stuck out like a sore thumb in Nashville, but given that country music is a rightfully Black art form, he was a participant, not an anomaly
GRAMMYs
/
Dec 15, 2020 - 05:41 am
Charley Pride was on the on-ramp to Nashville fame—then his audience discovered how he looked. In 1967, after two non-charting singles, his third, "Just Between You And Me," had pierced the Top 10 on the Hot Country Songs chart. Pride had guitar pioneer Chet Atkins, producer "Cowboy" Jack Clement and manager-agent Jack Johnson in his corner. In short, he was moving. But when Pride strolled into the spotlight at the Olympia Stadium in Detroit, clamorous applause curdled into an awkward silence.
Undoubtedly aware of the audience's reaction, Pride hesitated before laying into his first song. Instead, he leaned his arms on his acoustic guitar, as if to drag over a chair and say, "Let's rap for a moment."
"Ladies and gentlemen, I realize it's kind of unique, me coming out here on a country music show wearing this permanent tan," he quipped. "But my name's Charley Pride, and I am from Mississippi. My daddy was a farmer down there, and I sing country music. And I want to entertain you if you'll let me."
Was Pride unique in the country music world? Absolutely. To date, the Grand Ole Opry has welcomed 211 performers as members; Pride is one of only three Black members. (The others include DeFord Bailey, the harmonica trailblazer, and Darius Rucker, the singer of Hootie & The Blowfish.)
That said, was Pride an anomaly? An interloper? A novelty act? God, no. The three-time GRAMMY winner and Recording Academy Lifetime Achievement Award recipient was right where he belonged, alongside country music's giants. He stayed there until his death, caused by COVID-19 complications, this weekend (Dec. 12). He was 86.
"Music is about breaking barriers. As one of the first Black superstars in country music, Charley Pride did just that," Harvey Mason jr., Chair & Interim President/CEO of the Recording Academy, said in a statement. "A three-time GRAMMY winner and 13-time nominee, the Recording Academy feels this loss deeply. During his nearly five-decade-long career, Pride inspired artists and paved the way for so many in the industry, which is why the Academy honored him with our Lifetime Achievement Award in 2017. He'll be sorely missed, but we are grateful for the remarkable legacy he leaves behind."
If you trace country music's lineage, it's a straight line through Black American sounds, from the Civil War to Lil Nas X's genre-bending "Old Town Road," despite an apparent lack of visibility of Black artists in the genre.
"I think the history books, unfairly, will mostly note that Charley Pride was a great country singer who was African-American," radio host Bobby Bones said in the 2019 documentary, American Masters: Charlie Pride: I'm Just Me. "You can take off the African-American part."
Exhibit A of country music's Black origins lies in the banjo, which has so many roots in Africa that Béla Fleck once spent a whole multimedia project tracking them down. Flash-forward to the late-19th and early-20th centuries: Pride was keenly aware that Black folks formed the country's musical building blocks. "American music is made up of gospel, country and the blues. Those three," he explained in the documentary. "And I think each one borrowed from the other over the years that I've grown up and listened to the music."
Read: Mickey Guyton On Navigating Country Music As A Black Woman: "My Professional Journey Has Been Very Difficult"
Comb through Wikipedia, and you'll find numberless examples of this transracial interchange, from Jimmie Rodgers' and Louis Armstrong's "Blue Yodel No. 9" to Buck Owens' and Bettye Swann's long-unreleased collaborations. Since the 1920s, though, when labels segregated albums by "hillbilly records" and "race records" and effectively scrubbed Black fingerprints from country music, many people have associated the genre as a largely white sound. Country's historically whitewashed hegemony, which made Pride out to be less a natural participant than an interloper, still reflects this artificial wedge between the two races.
Any critical analysis of Pride's life and career will tell you he was country to the bone, regardless of his melanin content. Hard-luck story? Check: Pride was the fourth of 11 children born to sharecropper parents in Sledge, Miss. He ran from the punishing, unrelenting work of cotton-picking for the rest of his life. "It reminds me of what I don't ever want to go back to doing because it hurts my fingers and my back and my knees," Pride said during a televised performance before launching into Lead Belly's "Cotton Fields." Does his music check out? No doubt: Pride played straight-ahead, traditional country and western with a magnetic voice somewhere in George Jones' zip code.
Pride was anything but oblivious to racism, but he once maintained that he never caught as much as a flippant remark. "It never did happen," he said in I'm Just Me. "I've never had one catcall, or iota of something like Jackie Robinson went through in my whole career, to this very moment. When that question is asked, I say, 'No, I haven't.' I get that 'I can't believe' look or 'You gotta be kidding' look or 'I don't believe you.'" As his mother, Tessie Pride, told him, according to the documentary, "Don't go around with a chip on your shoulder. There's good people everywhere. You've got a lot you're going to have to do, and you can't do it carrying a load of resentment with you."
Pride could have ignored that maternal advice and wielded his Blackness in a provocative or inflammatory way. Given the history of anti-Black violence, segregation and oppression in America, few would have blamed him. Instead, he chose to acknowledge his racial background good-naturedly and good-humoredly, and he never wavered from the idea that God put him on this Earth to be a country singer.
No matter what the good old boys in Music City, U.S.A., might have thought, Pride was a Black artist in a rightfully Black art form. As such, the story of country music contained a blank page with his name on it. Zoom out and consider the whole timeline, and you'll find that Pride playing country music was like Chuck Berry architecting rock 'n' roll, Mary Lou Williams braiding jazz, gospel and swing, or Kendrick Lamar recoding the DNA of the rap game. No person would question their credentials in their genres, and no matter how outnumbered Pride was in a white-centric market, he belonged to the country music world just as much.
Back to Pride on stage at the Olympia Stadium, standing alone against stunned silence. He could have rightfully hectored the crowd as a bunch of bigoted hillbillies, but that wasn't Pride. Instead, he disarmed them with a joke. "Then, he started singing," Vanderbilt professor Alice Randall said in I'm Just Me. "The applause came back."
John Prine Was The Master Of Lyrical Economy
feature
The Soundtrack Hit Makes A Comeback: How 'Encanto,' 'Top Gun' & 'Black Panther' Went From Chart-Toppers To GRAMMY Nominations
The once-golden bridge between Hollywood and Billboard has been quiet in recent years, perhaps due in part to the pandemic. But over the past 12 months, that trend has been truly broken.
GRAMMYs
/
Jan 23, 2023 - 04:15 pm
It's the kind of development even an animated fortune teller voiced by John Leguizamo couldn't have predicted.
Lin-Manuel Miranda's 2021 animated film Encanto was all-conquering, and its success also touched the Billboard charts. The film's "We Don't Talk About Bruno" entered the first Hot 100 chart of 2022 at No. 50, quickly becoming a record-breaking, multi-million-selling phenomenon. It also led to the renaissance of a particular crossover: the soundtrack hit.
With the domestic box office now showing signs of returning to pre-COVID days, the soundtrack single has, once again, become a key marketing tool and chart staple. The nominees for Best Song Written For Visual Media at the 2023 GRAMMYs are proof: Four of the six nominated songs charted on the Billboard Hot 100, with "We Don't Talk About Bruno" sitting at No. 1 for five weeks — the highest tally for a soundtrack release in seven years. (Aladdin favorite "A Whole New World" is also in the exclusive club of Disney animation No. 1s.)
2022 spawned five Top 10  hits from film soundtracks — a feat last achieved in 2018 via Kendrick Lamar's Black Panther collabs with the Weeknd ("Pray for Me") and SZA ("All the Stars"), Swae Lee and Post Malone's "Sunflower" (Spiderman: Into the Spider-Verse), Khalid & Normani's "Love Lies" (Love, Simon), and the A Star Is Born cut "Shallow." Yet the once-golden bridge between Hollywood and Billboard was quiet in the intervening years, perhaps due in part to the pandemic.  Not one TV or movie tie-in graced the Top 10 in 2021 or 2020. And although Oscar-winning "Shallow" reached pole position in 2019, it began its chart trajectory the year previously.
Over the past 12 months, however, this drought has been well and truly broken. And for a while, single-handedly by Encanto.
The Encanto OST picked up three GRAMMY nominations — Best Compilation Soundtrack For Visual Media, Best Score Soundtrack For Visual Media and Best Song Written For Visual Media for "Bruno" — and spawned seven Hot 100 singles, including another Top 10 smash, "Surface Pressure." Not bad for an album which in its first week entered the charts at No. 197.
Unlike the inescapable "Let It Go" from 2013's Disney juggernaut Frozen, the success of "Bruno" happened more organically. Its chart and streaming dominance wasn't steered by record executives, but by the public who deemed it more stream-worthy than any other track from the film. The biggest soundtrack from a live-action film, Top Gun: Maverick, told a similar story.
Lady Gaga's power ballad "Hold My Hand" was primed to replicate the chart-topping, Academy Award-winning success of Berlin's "Take My Breath Away" from the 1986 original. But while Gaga's lead single received a Best Song Written For Visual Media nomination at the 65th GRAMMY Awards, its chart peak was overwhelmingly eclipsed by OneRepublic's "I Ain't Worried."
The uptempo Peter, Bjorn and John-sampling track played over key scene where Tom Cruise, Glen Powell and Miles Teller play football shirtless on the beach, and became Ryan Tedder and co.'s biggest hit since 2013's "Counting Stars" (No. 6 on Hot 100, over 660 million streams). The synergy between moviegoers and OneRepublic fans caught the band's record label off guard; Interscope pulled promotion of then-current single "West Coast" to capitalize on all the buzz.
2022 also witnessed a return-to-form from pop music-savvy director Baz Luhrmann, whose expert curation helped Romeo and Juliet, Moulin Rouge and The Great Gatsby spawn radio hits. Luhrmann was never going to give his Elvis Presley biopic a traditional soundtrack; instead he favored a mix of nostalgia and anachronism.
Elvis is peppered with songs performed by The King himself, as well as covers sung by former teen idol/lead actor Austin Butler and a host of newcomers and established artists. Yet the film's sole Top 10 hit was contemporary: Doja Cat's "Hound Dog"-sampling "Vegas." For Luhrmann's vision, Elvis was nominated alongside Encanto, "Stranger Things," Top Gun: Maverick and West Side Story for Best Compilation Soundtrack For Visual Media GRAMMY Award.
Even Rihanna came out of self-imposed musical retirement for a film soundtrack, releasing the lead single from Black Panther: Wakanda Forever in late October. While the dramatic balladry of "Lift Me Up" might not have been the floor-filling banger many fans hoped for — the song is Rihanna's first solo single in six years — it still returned the Barbadian to the upper echelons of the hit parade, reaching No. 2.
No stranger to the film soundtrack, Taylor Swift's contribution to haunting drama Where the Crawdads Sing, "Carolina," is also nominated in the Best Song Written for Visual Media category alongside "Nobody Like U" — Turning Red's fictional boyband song co-penned by Billie Eilish. And while the monolithic state of the comic book universe has rarely translated to the singles chart, The Batman's use of Nirvana's "Something In The Way" catapulted 1992's Nevermind up the charts.
As movie hits were abundant, so were songs featured in big-time TV shows — bringing new songs and decades-old hits back into public consciousness. Chief among these small screen-to-chartoppers was  Kate Bush's 1985 single "Running Up That Hill," which played over a significant moment in the mammoth fourth season of Netflix's "Stranger Things."
The song was the British singer/songwriter's first Top 40 hit in the U.S., peaking at No. 30 on the Hot 100 in the '80s. Nearly 30 years later, without any label backing, the majestic synth-pop classic enjoyed a much-deserved second wind, shooting all the way up to No. 3 faster than you can say "flesh-eating Demogorgon."
The sci-fi nostalgia-fest also gave another, although much heavier, '80s gem a new lease of life when Joseph Quinn's Eddie Munson shredded Metallica's "Master of Puppets" in its season finale. The thrash metal favorite subsequently enjoyed a belated chart debut at No. 35, returning the headbangers to the Hot 100 for the first time in 14 years.
Elsewhere, video game adaptation "Arcane" spawned the first TV theme hit in eons with unlikely dream team Imagine Dragons and JID's "Enemy," while "Euphoria" regular Labrinth scored a chart hit with "I'm Tired," a gospel-tinged song he performs in the second season's fourth episode as Zendaya's Rue imagines entering a church. The new golden age of television combined with the return to multiplexes ensured that 2022 was a banner year for the OST.
2023 looks promising, too: Dua Lipa is rumored to be contributing to Barbie's long-awaited cinematic debut; Disney is set to give The Little Mermaid the live-action treatment featuring Chloe x Halle's Halle Bailey; and several franchises that previously spawned No. 1 soundtrack songs have new installments on the way (The Hunger Games: The Ballad of Songbirds and Snakes, Fast X). Regardless, expect the soundtrack hit renaissance to continue growing like the "grapes that thrive on the vine."
Watch The 2022 Nominees For Best Song Written For Visual Media Nominees At The 2023 GRAMMY Awards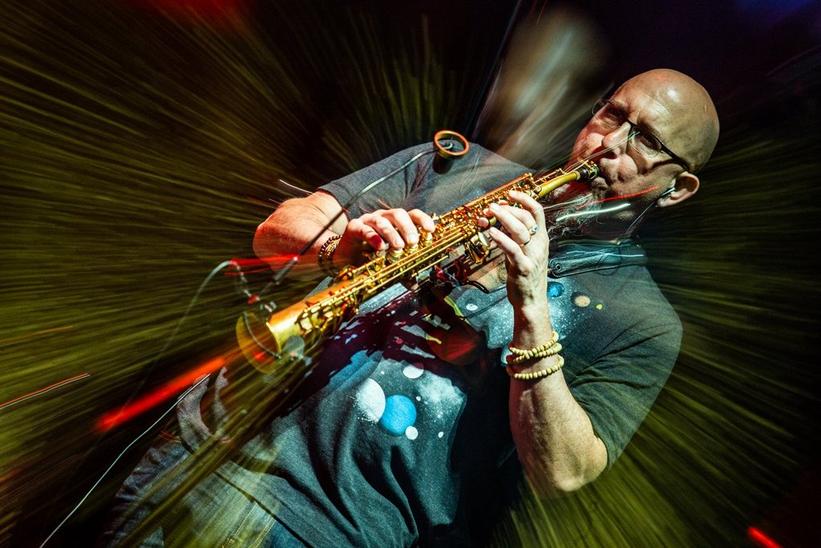 interview
Jeff Coffin On His GRAMMY-Nominated Album 'Between Dreaming And Joy,' Constant Education, Playing With Dave Matthews & Béla Fleck
Jeff Coffin's legacies with Dave Matthews Band and Béla Fleck and the Flecktones are more than enough to hang his hat on. But his solo career is a kaleidoscope of ideas, connected to musical traditions from all over the world.
GRAMMYs
/
Jan 12, 2023 - 07:21 pm
Hanging out with Jeff Coffin is a bit like listening to his music. Engulfed in a whirlwind of musical references, you're never lost. Music seems dizzyingly limitless when he describes it, like the fractals in the cartoon eye on his new album's self-drawn cover.
For a three-time GRAMMY winner with bona fides in two household-name bands, Dave Matthews Band and Béla Fleck and the Flecktones — Coffin has zero airs and a whole lot of music knowledge. 
Our conversation left me to check out Albert Ayler's rip-your-heart-out gospel album Goin' Home, Van Morrison's country-breezy Tupelo Honey and Charles Mingus' warped masterpiece Oh Yeah. 
Understanding Coffin's background enhances the listening experience of his inspired latest release, 2022's Between Dreaming and Joy, which is nominated for Best Contemporary Instrumental Album at the 2023 GRAMMYs.
Read More: 2023 GRAMMY Nominations: See The Complete Nominees List
Featuring "Middle Eastern frame drums, Brazilian percussion, Moroccan vocals, a turntable artist, multiple horns, an ice cream truck, a Hungarian tárogató and an African ngoni" — as well as modern greats like guitarist Robben Ford, bassist Vicente Archer and drummer Chester Thompson — the album feels jubilant and companionable.
It's surprising to learn the album was recorded completely remotely. 
"It was crafted in a way that I've really never crafted a record before," Coffin tells GRAMMY.com in its New York Chapter Office, ahead of DMB's sold-out Madison Square Garden gig. So, to him, this GRAMMY nomination is extra sweet: "it's a recognition of the process, but also a recognition of the work. Not just in this record, but the 19 others before it."
If you're familiar with Fleck and/or Matthews but not so much Coffin and his musical universe, let Between Dreaming and Joy act as a gateway to all 19 — with the Mu'tet, in co-billed LPs, all of it. And read on for an in-depth interview with the musician, clinician and searcher.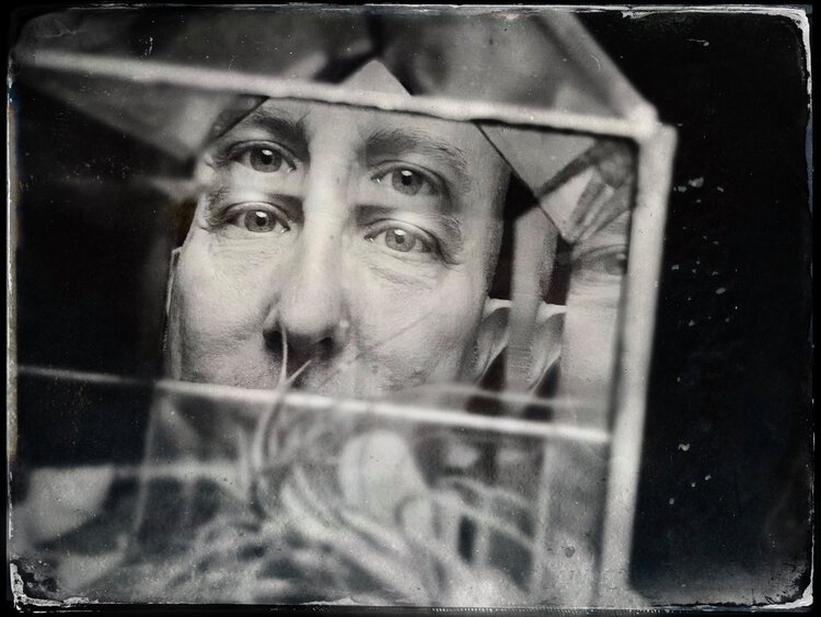 Jeff Coffin. Photo: Rodrigo Simas
This interview has been edited for clarity.
Congratulations on your nomination for Best Contemporary Instrumental Album at the 2023 GRAMMYs. What role has the Recording Academy played in your career over the decades?
You know, when I was in the Flecktones, we were nominated a number of times; I won three GRAMMYs with Béla. It's always kind of been interwoven with the things that I've done. 
The Flecktones were a hard band to pin down. We won for Best Pop Instrumental Album [for 2008's Jingle All the Way; we were nominated [that same year] for Best Country Instrumental Performance [for "Sleigh Ride"].
It's interesting; I remember the first time we were nominated was for Left of Cool [at the 1999 GRAMMYs]. I remember it being my first time there, and just being like, "Wow, this is unbelievable." We didn't win, and I remember thinking that I wasn't disappointed: Oh, it's OK, it's not a big deal that we didn't win. It reaffirmed that this is not why I do what I do.
You know, it's funny. [With Dave Matthews Band], it's a machine. We have like 90 people on the road with us, of course, and the band is really all about the music. We've talked about it a lot: how the music has got to come first.
Elaborate.
I think that music is a service industry. I think that first, we serve the music. Then, we serve the other musicians we're playing with, and then we serve the audience. So, we're at least fourth on the list. But by serving those others, we get served.
I talk to my students about this all the time: how important it is to recognize that circle. I think about management, and I'm thinking, Well, they're just thinking dollars and butts in seats. Which I understand: that's part of it. But I feel a disconnect sometimes in the way they approach things, as opposed to the way we approach things.
So, for me, with awards and accolades and things like that: I've had my fair share, and I'm very honored and grateful for that. But that's not why I do it. I'm not like, I'm going to do this record and submit it for a GRAMMY.
Read More: Béla Fleck Has Always Been Told He's The Best. But To Him, There Is No Best.
At this point, you've won three GRAMMYs. How does it feel to earn another nomination for Between Dreaming and Joy?
It's big for me. It really is. There was a ton of work put into it during the pandemic. Most of the record was remote, although you'd never know listening to it. It was crafted in a way that I've really never crafted a record before. So, it's a recognition of the process, but also a recognition of the work. Not just in this record, but the 19 others before it.
I've got six others in the can that I'm working on, that are basically ready to go. It was a very prolific time for me during the lockdown. So, this material on the record was culled from a lot of other stuff I had recorded also. 
I wrote about 30 or 34 new tunes, and they were all over the place from the standpoint of genre or style. So, when I put this together, I had to decide which tunes I was going to put into this pot. There are a couple that I was on the fence about initially, but I'm really glad they're on there because it kind of diverges, and then comes back into a particular space.
So, yeah, I'm just thrilled about it, and the GRAMMY Foundation <a href="https://grammymuseum.org/national-reach/grant-program/">now the [GRAMMY Museum Foundation] has been part of that. I love what they do educationally; I want to be more involved with that, because I do a lot of education work outside of touring. I've done 325-plus clinics over the years, and I've been teaching at Vanderbilt now for eight years.
Tell me more about your teaching style, and how it's in dialogue with the other parts of your career.
I've looked at people that have kind of been DIY, like Dave Liebman, Bob Mintzer, Bobby Shew, these kinds of people. I don't try to do exactly what they did, because that's how they see things. But I've been able to kind of muddle out a career [incorporating] certain aspects of what they do.
The books that I've written are all for my students; they have nothing to do with the things that I'm working on, because I've already done it. So, the method books, the etude books — I have something called The Road Book, which is all the things you do before you leave the driveway. These are for students that are just getting out there and doing this stuff, to help them along the way.
I really respect what [The Recording Academy] has done educationally around the country and the world. I think it's awesome, and really makes a big difference. You know, music is an essential part of education on every level — not just in higher education, but deep in the schools. A lot of those programs are being cut, and it's categorically unfair.
Let's talk a little more about Between Dreaming and Joy. You mentioned that you pulled these songs from disparate sources. So what was the throughline, or thesis? What made these songs swim together in the same tank?
When I was with Béla, one of the things I remember him talking about was the sequence of a record, and talking about how it really makes or breaks a record. It's really the flow, now that I think about it. 
I put a lot of effort into putting sequences together. The middle tune, "Spinning Plates," is just me — all me, all horns. I think there's percussion on there, and it's sort of the place where you would flip the record over. It's a breath between the first and second section of the record. I did it that way on purpose.
It's kind of the spirit of the tunes that [make them] work. "Vinnie the Crow" wouldn't have worked in any other place except for opening the record.
It's very strident. It has that swagger in it.
Yeah, and it has the only co-writer on the whole record: a drummer named Alex Clayton, who was living in Nashville and a Belmont student. He's turned me on to some really great s—. He was the first person who ever told me about Anderson .Paak and Donald Glover. He's really got his ear in these different places. 
He's a very, very dear friend. We were just hanging out and were like, "Let's write a tune." He had a groove, so I put some stuff down, and just kind of went from there.
But coming back to the sequence: I want it to be a journey. I don't want it to be the same tune written seven or eight different times. I wanted to touch on the different influences and interests I had musically, but not be so removed from the other tunes that it doesn't connect.
Because there's a bunch of stuff that I also wrote that's very global music-oriented. There's this one tune written off this traditional Peruvian folk melody that wouldn't have fit on this record. It's this really elaborate thing. I've got Brazilian percussion on it. There's some Afrobeat stuff that I did with Chester Thompson. 
There's a lot of pretty esoteric stuff, too. [Turns to publicist Lydia Liebman, Dave Liebman's daughter] Stuff your pops would be way more into than this kind of thing.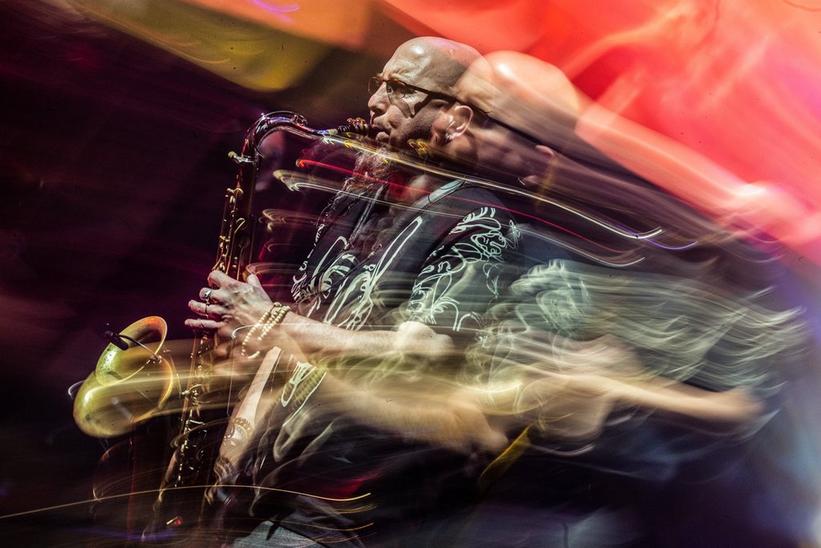 Jeff Coffin. Photo: Rodrigo Simas
I remember something Béla said to me years ago: "I'll never be an Indian musician. I'll never be an African musician. But I can bring those elements into what I do, and have them inspire the music that I make." 
And it's the same with Dave Matthews. He's from South Africa, and he went back in his early teens and grew up there for a number of years. His music is very influenced by that music — by those dances, by that structure of music, and there's a hybrid of things that are going on there. So, to me, using the term "jam band" for a group like that doesn't do it justice at all. I don't have any idea what you'd call it.
I love when they asked Miles about his music. They said it was jazz, but they said, "What should we call it?" He said, "Call it music." I'm totally down with that, and that's how I look at it. It's just music.
It's coming from different places I'm influenced by. Bob Dylan, Johnny Cash, Ornette Coleman, Miles Davis, et cetera, et cetera: they're all the same spirit. That's what I'm looking for in the music that I make, the players I play with, the way I'm putting something together. I like art that is mysterious — that I don't totally understand.
We first spoke for an article about Yusef Lateef. Given the sheer range of ethnic instruments you play on Between Dreaming and Joy, it seems like you're in his lineage. Can you talk about your ongoing process of learning new instruments and weaving them into your work — choosing what's appropriate and what isn't?
Here's the thing, too: I know a lot of people who play a lot of different instruments. Michael League was playing Moroccan frame drums, but everybody knows Michael from playing bass with Snarky Puppy. And the ngoni on "When Birds Sing" was played by a Moroccan woman named Sarah Ariche, who also sang. The title is kind about her, also: what she's doing is this angelic vocal stuff.
I'm really interested in a lot of different sounds. Some of this is also coming from people like Roland Kirk. This gets into a whole other tangent, but the idea of string theory is that everything is a vibration; therefore, everything is sound.
I have the tárogató I bought from Charles Lloyd; my bass flute is Yusef Lateef's. I feel like I'm just the curator of these instruments, because I'm always like, "This is Yusef Lateef's bass flute." I don't ever say, "This is my bass flute." [Same with] the tárogató. There's kind of a spirit imbued in the instruments.
You're calling out a spirit, even when the musician is alive and well — in Lloyd's case.
Right, yeah. I bought Yusef's main tenor and bass flute after he passed. The first time I played the tenor, I recorded it; I was like, I want to hear what happens the first time. And this tune came out. I called it "Yusef." And as I tell people, he left the tune in the horn. It's a very powerful tune. My hands were off of it.
For those who might know Dave or Béla but not be familiar with your solo work, with the Mutet or otherwise: how do you conceptualize it in relation to these household names? What's the nature of that isthmus between these two massive entities?
Let me take a step back. 
So, people ask about my influences. My main influences are people like Coltrane, Sonny Rollins and Ornette. Then there are the people I played with all these years, having spent 14 years with Béla, Victor Wooten and Roy Wooten — Future Man. And now, 14 years with Dave, [bassist] Stefan [Lessard], [trumpeter] Rashawn [Ross], [violinist] Boyd [Tinsley] when he was in the band, [drummer] Carter Beauford, [guitarist] Tim Reynolds, and now [keyboardist] Buddy Strong. 
I mean, we are creating every single night for three hours a night — playing some of the same music, but recreating it nightly also. So, there are no more profound influences on me than those players: the people that I play with at home, that I've had in my bands, where we're digging deep in a way that is proactive.
So, when I'm listening, I'm active in that process, but I'm not participatory in that process — in the sense that I'm not making music when I'm listening to a Coltrane record or whatever. But when I'm making music, I'm participatory; even if I'm being silent, I'm still part of what's going on. To me, that changes everything.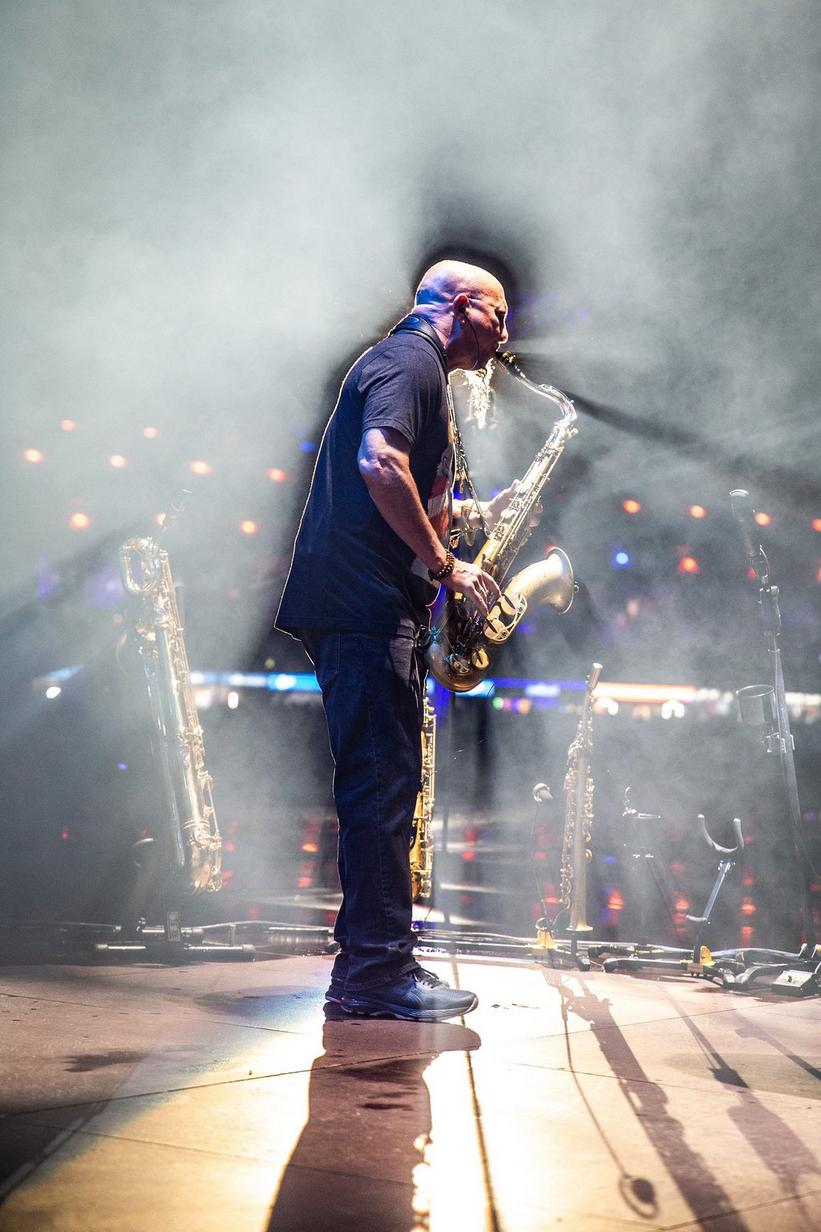 Jeff Coffin. Photo: Rodrigo Simas
Can you connect this to your experiences with Matthews and the Flecktones?
I remember that when I first started playing with Béla, I was like, "I don't know any of your music; your audience knows the music better than I do." Which was the same thing when I joined Matthews: "The audience" — they still do, actually — "knows all the words."
With the Flecktones, one of things that was an epiphany for me was that I would look out and see people dancing. We'd be playing in 13 or 17 or some crazy s—, or moving time signatures throughout the piece.
But what it made me realize is that it's all on up or down. It doesn't even matter. Like, even on the Matthews stuff, there's a tune called "Rapunzel." I remember the first time we heard it, when I was with Béla because we were doing the opening dates. 
We couldn't figure out the time signature. You have four great musicians who are listening to this and just going, "What is going on?" It's in five, but if you listen to it, you would not know that it's in five, unless you're really tuning in and going, "OK, I've got to figure this out," or watching somebody's foot, given the way Carter's playing polyrhythmically over it.
But, again, we joke about this: everything's in one. Just one-one-one-one-one-one. If the pulse is there, than it's going to feel good. It's going to make a mixed meter not feel like a mixed meter, because it's going to be all pulse. 
That's why I love African music so much; it's all pulse. You can feel it in six; you can feel it in two; you can feel it in three. You can also put different groupings; you can do sevens over the top. It all works, as long as the pulse is there.
It seems that you've conceptualized your solo work as an ongoing investigation of your influences.
I think that's a great way to put it: an ongoing investigation of my influences. Not only my immediate musical influences, but my historic musical influences also, and trying to see it from above. Not just the immediacy of it, but the things that are in the periphery also.
I'm kind of going, I wonder what would happen if I did this, and drop this in there. I wonder what the sound of bass flute and bass trumpet is. The tárogató was on the new Dave record also, and it's a Hungarian instrument, It's a wooden soprano, basically. It's like an English horn.
Sometimes, I'll also give myself parameters to work within. I was doing a livestream every Friday all the way through the pandemic. There were nights when I would be like, I'm going to start writing a song at six o'clock because my livestream is at seven. I'm going to get it done within an hour, play it for them on the livestream, and maybe play along.
I tried to bring them into my process of doing what I was doing. It was really fun. It was really, really challenging. And I didn't have any idea what the f— I was doing. 
So, it's really just about exploring and trying things. There's an element of randomness to it, but also an element of focus and "Let's try this and see what happens." I've always been really into pedals, envelope filters and harmonizers. Doing double-horn stuff. I've got this triplicate flute with one mouthpiece. I've got singing bowls and bells and gongs. I'm a total bell freak. Anything I can get my hands on that I can make music from, I'm going to try it.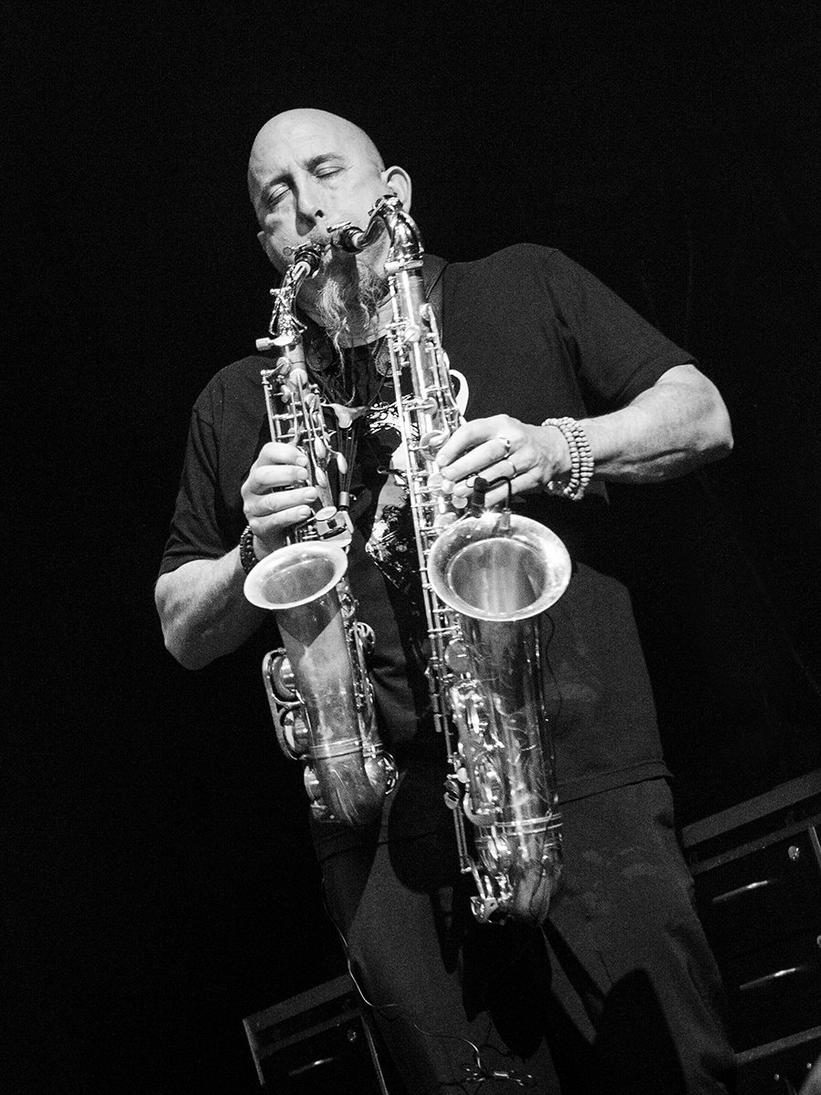 Jeff Coffin. Photo: Rodrigo Simas
You've mentioned, like, 15 musical traditions and 150 instruments in this interview. Do you ever feel like you're still getting started in learning about all the music the world has to offer?
I do, actually, yeah. I feel more creative than I've ever felt in my life. 
But here's the thing, too: I play for a different reason now than I used to. I think that's partially because I'm able to articulate my own feelings better — not only verbally, but musically. When I was younger, I was playing from a different emotional place. Today, some of the reasons for playing are the same; some are very different. But I feel like I can make decisions based on experience.
I'm still wrong a lot, by the way, which is really interesting to me. I'll listen to a couple of tracks with some people, and I'll think: OK, I know the one that I like. I'll say, "What do you guys think?" and they'll both pick the other one. I'll be like, Oh, OK, great. Let's use that one. Good thing that wasn't up to me.
A year and a half ago, I went down to New Orleans and did a record with [drummer] Johnny Vidacovich, [saxophonist] Tony Dagradi and [drummer] James Singleton [of jazz quartet Astral Project]; Helen Gillet was on the cello on one tune. It's very, very different than this record. It's open and free.
I'm trying to mix it myself, and I've been working on it for a while. I think it sounds pretty good. But I'm not a mixing engineer, and those guys are wizards. So, I'm sitting around with some people, and I'm like, "Look, man, I want your brutally honest feedback. If it doesn't sound good, I want to know, because I'm trying to mix it."
I still second-guess myself on certain things, which I think is great, because I think that's how we learn also. You've got to keep making mistakes, because after a while, you find those successes in there. I think it's Vic Wooten who says something along these lines: "The only reason you don't succeed is because you eventually stop trying."
The History Of Yellowjackets In 10 Songs: A Gateway To The Jazz Fusion Greats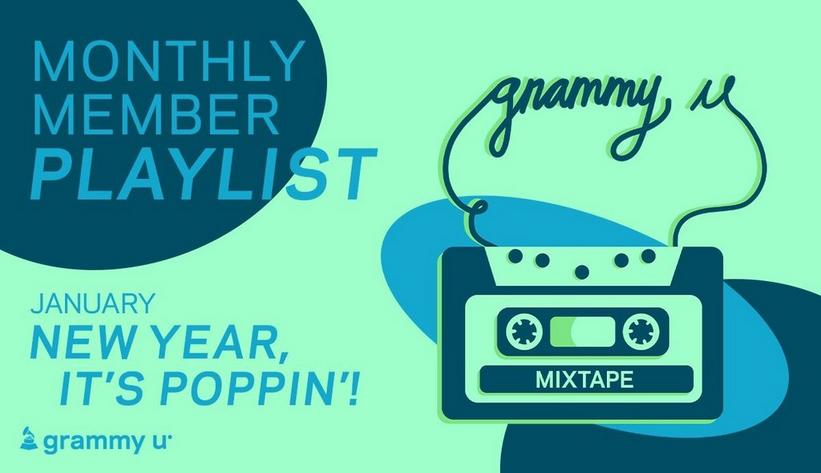 news
Press Play On GRAMMY U Mixtape: New Year, It's Poppin'! Monthly Member Playlist
The GRAMMY U Mixtape is a monthly, genre-spanning playlist to quench your thirst for new tunes, all from student members. GRAMMY U celebrates new beginnings with fresh pop tunes that will kickstart 2023.
GRAMMYs
/
Jan 6, 2023 - 12:17 am
Did you know that among all of the students in GRAMMY U, songwriting and performance is one of the most sought after fields of study? We want to create a space to hear what these students are creating today!
The GRAMMY U Mixtape, now available for your listening pleasure, highlights the creations and fresh ideas that students are bringing to this industry directly on the Recording Academy's Spotify and Apple Music pages. Our goal is to celebrate GRAMMY U members, as well as the time and effort they put into making original music — from the songwriting process to the final production of the track.
Each month, we accept submissions and feature 20 to 25 songs that match that month's theme. This month we're ringing in 2023 with our New Year, It's Poppin'! playlist, which features fresh pop songs that bring new year, new you vibes. Showcasing talented members from our various chapters, we felt these songs represented the positivity and hopefulness that GRAMMY U members embody as they tackle this upcoming year of exciting possibilities.
So, what's stopping you? Press play on GRAMMY U's Mixtape and listen now on Spotify below and Apple Music.
Want to be featured on the next playlist? Submit your songs today! We are currently accepting submissions for songs of all genres for consideration for our February playlist. Whether you write pop, rock, hip hop, jazz, or classical, we want to hear from you. Music must be written and/or produced by the student member (an original song) and you must be able to submit a Spotify and/or Apple Music link to the song. Students must be a GRAMMY U member to submit.
About GRAMMY U:
GRAMMY U is a program that connects college students with the industry's brightest and most talented minds and provides those aspiring professionals with the tools and opportunities necessary to start a career in music.     
Throughout each semester, events and special programs touch on all facets of the industry, including the business, technology, and the creative process.
As part of the Recording Academy's mission to ensure the recorded arts remain a thriving part of our shared cultural heritage, GRAMMY U establishes the necessary foundation for music's next generation to flourish.
Not a member, but want to submit to our playlist? Apply for GRAMMY U Membership here.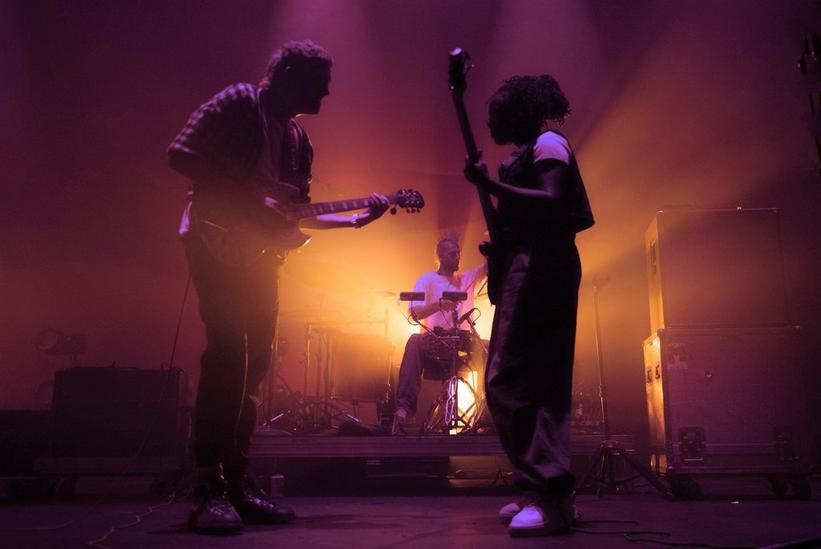 list
A Guide To Modern Funk For The Dance Floor: L'Imperatrice, Shiro Schwarz, Franc Moody, Say She She & Moniquea
James Brown changed the sound of popular music when he found the power of the one and unleashed the funk with "Papa's Got a Brand New Bag." Today, funk lives on in many forms, including these exciting bands from across the world.
GRAMMYs
/
Nov 25, 2022 - 04:23 pm
It's rare that a genre can be traced back to a single artist or group, but for funk, that was James Brown. The Godfather of Soul coined the phrase and style of playing known as "on the one," where the first downbeat is emphasized, instead of the typical second and fourth beats in pop, soul and other styles. As David Cheal eloquently explains, playing on the one "left space for phrases and riffs, often syncopated around the beat, creating an intricate, interlocking grid which could go on and on." You know a funky bassline when you hear it; its fat chords beg your body to get up and groove.
Brown's 1965 classic, "Papa's Got a Brand New Bag," became one of the first funk hits, and has been endlessly sampled and covered over the years, along with his other groovy tracks. Of course, many other funk acts followed in the '60s, and the genre thrived in the '70s and '80s as the disco craze came and went, and the originators of hip-hop and house music created new music from funk and disco's strong, flexible bones built for dancing.
Legendary funk bassist Bootsy Collins learned the power of the one from playing in Brown's band, and brought it to George Clinton, who created P-funk, an expansive, Afrofuturistic, psychedelic exploration of funk with his various bands and projects, including Parliament-Funkadelic. Both Collins and Clinton remain active and funkin', and have offered their timeless grooves to collabs with younger artists, including Kali Uchis, Silk Sonic, and Omar Apollo; and Kendrick Lamar, Flying Lotus, and Thundercat, respectively.
In the 1980s, electro-funk was born when artists like Afrika Bambaataa, Man Parrish, and Egyptian Lover began making futuristic beats with the Roland TR-808 drum machine — often with robotic vocals distorted through a talk box. A key distinguishing factor of electro-funk is a de-emphasis on vocals, with more phrases than choruses and verses. The sound influenced contemporaneous hip-hop, funk and electronica, along with acts around the globe, while current acts like Chromeo, DJ Stingray, and even Egyptian Lover himself keep electro-funk alive and well.
Today, funk lives in many places, with its heavy bass and syncopated grooves finding way into many nooks and crannies of music. There's nu-disco and boogie funk, nodding back to disco bands with soaring vocals and dance floor-designed instrumentation. G-funk continues to influence Los Angeles hip-hop, with innovative artists like Dam-Funk and Channel Tres bringing the funk and G-funk, into electro territory. Funk and disco-centered '70s revival is definitely having a moment, with acts like Ghost Funk Orchestra and Parcels, while its sparkly sprinklings can be heard in pop from Dua Lipa, Doja Cat, and, in full "Soul Train" character, Silk Sonic. There are also acts making dreamy, atmospheric music with a solid dose of funk, such as Khruangbin's global sonic collage.
There are many bands that play heavily with funk, creating lush grooves designed to get you moving. Read on for a taste of five current modern funk and nu-disco artists making band-led uptempo funk built for the dance floor. Be sure to press play on the Spotify playlist above, and check out GRAMMY.com's playlist on Apple Music, Amazon Music and Pandora.
Say She She
Aptly self-described as "discodelic soul," Brooklyn-based seven-piece Say She She make dreamy, operatic funk, led by singer-songwriters Nya Gazelle Brown, Piya Malik and Sabrina Mileo Cunningham. Their '70s girl group-inspired vocal harmonies echo, sooth and enchant as they cover poignant topics with feminist flair.
While they've been active in the New York scene for a few years, they've gained wider acclaim for the irresistible music they began releasing this year, including their debut album, Prism. Their 2022 debut single "Forget Me Not" is an ode to ground-breaking New York art collective Guerilla Girls, and "Norma" is their protest anthem in response to the news that Roe vs. Wade could be (and was) overturned. The band name is a nod to funk legend Nile Rodgers, from the "Le freak, c'est chi" exclamation in Chic's legendary tune "Le Freak."
Moniquea
Moniquea's unique voice oozes confidence, yet invites you in to dance with her to the super funky boogie rhythms. The Pasadena, California artist was raised on funk music; her mom was in a cover band that would play classics like Aretha Franklin's "Get It Right" and Gladys Knight's "Love Overboard." Moniquea released her first boogie funk track at 20 and, in 2011, met local producer XL Middelton — a bonafide purveyor of funk. She's been a star artist on his MoFunk Records ever since, and they've collabed on countless tracks, channeling West Coast energy with a heavy dose of G-funk, sunny lyrics and upbeat, roller disco-ready rhythms.
Her latest release is an upbeat nod to classic West Coast funk, produced by Middleton, and follows her February 2022 groovy, collab-filled album, On Repeat.
Shiro Schwarz
Shiro Schwarz is a Mexico City-based duo, consisting of Pammela Rojas and Rafael Marfil, who helped establish a modern funk scene in the richly creative Mexican metropolis. On "Electrify" — originally released in 2016 on Fat Beats Records and reissued in 2021 by MoFunk — Shiro Schwarz's vocals playfully contrast each other, floating over an insistent, upbeat bassline and an '80s throwback electro-funk rhythm with synth flourishes.
Their music manages to be both nostalgic and futuristic — and impossible to sit still to. 2021 single "Be Kind" is sweet, mellow and groovy, perfect chic lounge funk. Shiro Schwarz's latest track, the joyfully nostalgic "Hey DJ," is a collab with funkstress Saucy Lady and U-Key.
L'Impératrice
L'Impératrice (the empress in French) are a six-piece Parisian group serving an infectiously joyful blend of French pop, nu-disco, funk and psychedelia. Flore Benguigui's vocals are light and dreamy, yet commanding of your attention, while lyrics have a feminist touch.
During their energetic live sets, L'Impératrice members Charles de Boisseguin and Hagni Gwon (keys), David Gaugué (bass), Achille Trocellier (guitar), and Tom Daveau (drums) deliver extended instrumental jam sessions to expand and connect their music. Gaugué emphasizes the thick funky bass, and Benguigui jumps around the stage while sounding like an angel. L'Impératrice's latest album, 2021's Tako Tsubo, is a sunny, playful French disco journey.
Franc Moody
Franc Moody's bio fittingly describes their music as "a soul funk and cosmic disco sound." The London outfit was birthed by friends Ned Franc and Jon Moody in the early 2010s, when they were living together and throwing parties in North London's warehouse scene. In 2017, the group grew to six members, including singer and multi-instrumentalist Amber-Simone.
Their music feels at home with other electro-pop bands like fellow Londoners Jungle and Aussie act Parcels. While much of it is upbeat and euphoric, Franc Moody also dips into the more chilled, dreamy realm, such as the vibey, sultry title track from their recently released Into the Ether.
The Rise Of Underground House: How Artists Like Fisher & Acraze Have Taken Tech House, Other Electronic Genres From Indie To EDC