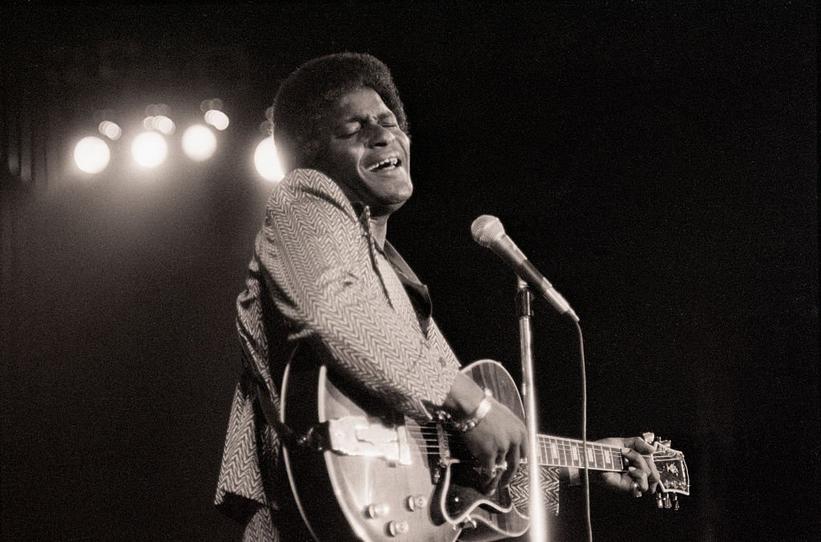 Photo: Bettmann / Contributor
news
For Charley Pride, Black Country Music Was A Self-Evident Truth
The late icon may have stuck out like a sore thumb in Nashville, but given that country music is a rightfully Black art form, he was a participant, not an anomaly
GRAMMYs
/
Dec 15, 2020 - 05:41 am
Charley Pride was on the on-ramp to Nashville fame—then his audience discovered how he looked. In 1967, after two non-charting singles, his third, "Just Between You And Me," had pierced the Top 10 on the Hot Country Songs chart. Pride had guitar pioneer Chet Atkins, producer "Cowboy" Jack Clement and manager-agent Jack Johnson in his corner. In short, he was moving. But when Pride strolled into the spotlight at the Olympia Stadium in Detroit, clamorous applause curdled into an awkward silence.
Undoubtedly aware of the audience's reaction, Pride hesitated before laying into his first song. Instead, he leaned his arms on his acoustic guitar, as if to drag over a chair and say, "Let's rap for a moment."
"Ladies and gentlemen, I realize it's kind of unique, me coming out here on a country music show wearing this permanent tan," he quipped. "But my name's Charley Pride, and I am from Mississippi. My daddy was a farmer down there, and I sing country music. And I want to entertain you if you'll let me."
Was Pride unique in the country music world? Absolutely. To date, the Grand Ole Opry has welcomed 211 performers as members; Pride is one of only three Black members. (The others include DeFord Bailey, the harmonica trailblazer, and Darius Rucker, the singer of Hootie & The Blowfish.)
That said, was Pride an anomaly? An interloper? A novelty act? God, no. The three-time GRAMMY winner and Recording Academy Lifetime Achievement Award recipient was right where he belonged, alongside country music's giants. He stayed there until his death, caused by COVID-19 complications, this weekend (Dec. 12). He was 86.
"Music is about breaking barriers. As one of the first Black superstars in country music, Charley Pride did just that," Harvey Mason jr., Chair & Interim President/CEO of the Recording Academy, said in a statement. "A three-time GRAMMY winner and 13-time nominee, the Recording Academy feels this loss deeply. During his nearly five-decade-long career, Pride inspired artists and paved the way for so many in the industry, which is why the Academy honored him with our Lifetime Achievement Award in 2017. He'll be sorely missed, but we are grateful for the remarkable legacy he leaves behind."
If you trace country music's lineage, it's a straight line through Black American sounds, from the Civil War to Lil Nas X's genre-bending "Old Town Road," despite an apparent lack of visibility of Black artists in the genre.
"I think the history books, unfairly, will mostly note that Charley Pride was a great country singer who was African-American," radio host Bobby Bones said in the 2019 documentary, American Masters: Charlie Pride: I'm Just Me. "You can take off the African-American part."
Exhibit A of country music's Black origins lies in the banjo, which has so many roots in Africa that Béla Fleck once spent a whole multimedia project tracking them down. Flash-forward to the late-19th and early-20th centuries: Pride was keenly aware that Black folks formed the country's musical building blocks. "American music is made up of gospel, country and the blues. Those three," he explained in the documentary. "And I think each one borrowed from the other over the years that I've grown up and listened to the music."
Read: Mickey Guyton On Navigating Country Music As A Black Woman: "My Professional Journey Has Been Very Difficult"
Comb through Wikipedia, and you'll find numberless examples of this transracial interchange, from Jimmie Rodgers' and Louis Armstrong's "Blue Yodel No. 9" to Buck Owens' and Bettye Swann's long-unreleased collaborations. Since the 1920s, though, when labels segregated albums by "hillbilly records" and "race records" and effectively scrubbed Black fingerprints from country music, many people have associated the genre as a largely white sound. Country's historically whitewashed hegemony, which made Pride out to be less a natural participant than an interloper, still reflects this artificial wedge between the two races.
Any critical analysis of Pride's life and career will tell you he was country to the bone, regardless of his melanin content. Hard-luck story? Check: Pride was the fourth of 11 children born to sharecropper parents in Sledge, Miss. He ran from the punishing, unrelenting work of cotton-picking for the rest of his life. "It reminds me of what I don't ever want to go back to doing because it hurts my fingers and my back and my knees," Pride said during a televised performance before launching into Lead Belly's "Cotton Fields." Does his music check out? No doubt: Pride played straight-ahead, traditional country and western with a magnetic voice somewhere in George Jones' zip code.
Pride was anything but oblivious to racism, but he once maintained that he never caught as much as a flippant remark. "It never did happen," he said in I'm Just Me. "I've never had one catcall, or iota of something like Jackie Robinson went through in my whole career, to this very moment. When that question is asked, I say, 'No, I haven't.' I get that 'I can't believe' look or 'You gotta be kidding' look or 'I don't believe you.'" As his mother, Tessie Pride, told him, according to the documentary, "Don't go around with a chip on your shoulder. There's good people everywhere. You've got a lot you're going to have to do, and you can't do it carrying a load of resentment with you."
Pride could have ignored that maternal advice and wielded his Blackness in a provocative or inflammatory way. Given the history of anti-Black violence, segregation and oppression in America, few would have blamed him. Instead, he chose to acknowledge his racial background good-naturedly and good-humoredly, and he never wavered from the idea that God put him on this Earth to be a country singer.
No matter what the good old boys in Music City, U.S.A., might have thought, Pride was a Black artist in a rightfully Black art form. As such, the story of country music contained a blank page with his name on it. Zoom out and consider the whole timeline, and you'll find that Pride playing country music was like Chuck Berry architecting rock 'n' roll, Mary Lou Williams braiding jazz, gospel and swing, or Kendrick Lamar recoding the DNA of the rap game. No person would question their credentials in their genres, and no matter how outnumbered Pride was in a white-centric market, he belonged to the country music world just as much.
Back to Pride on stage at the Olympia Stadium, standing alone against stunned silence. He could have rightfully hectored the crowd as a bunch of bigoted hillbillies, but that wasn't Pride. Instead, he disarmed them with a joke. "Then, he started singing," Vanderbilt professor Alice Randall said in I'm Just Me. "The applause came back."
John Prine Was The Master Of Lyrical Economy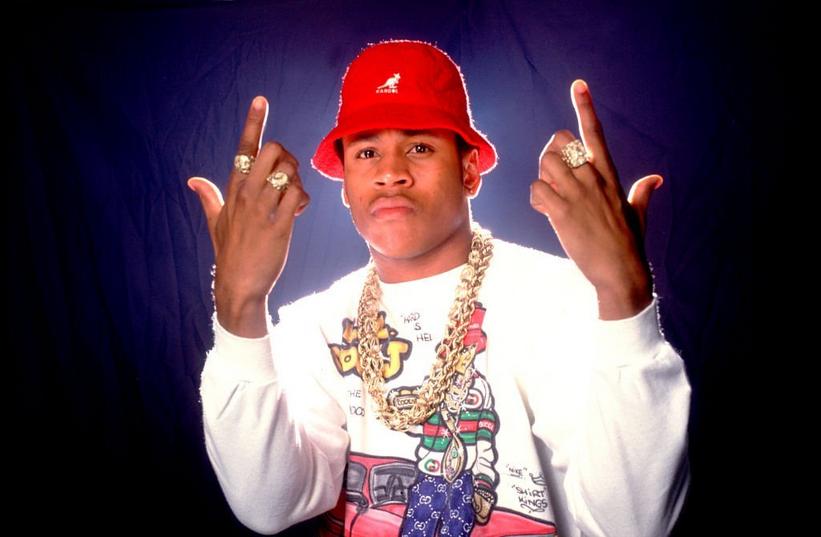 LL Cool J
Credit: Paul Natkin/Getty Images
news
20 Iconic Hip-Hop Style Moments: From Run-D.M.C. To Runways
From Dapper Dan's iconic '80s creations to Kendrick Lamar's 2023 runway performance, hip-hop's influence and impact on style and fashion is undeniable. In honor of hip-hop's 50th anniversary, look back at the culture's enduring effect on fashion.
GRAMMYs
/
Nov 29, 2023 - 03:01 pm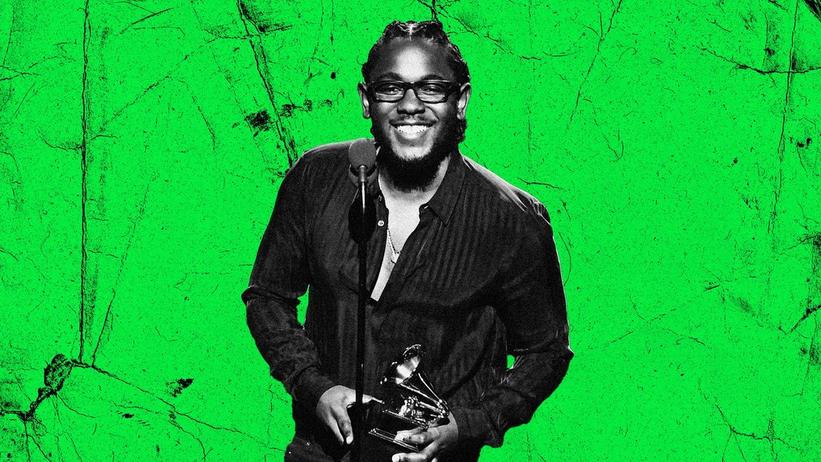 Kendrick Lamar
Photo: Jeff Kravitz/FilmMagic
video
GRAMMY Rewind: Kendrick Lamar Honors Hip-Hop's Greats While Accepting Best Rap Album GRAMMY For 'To Pimp a Butterfly' In 2016
Upon winning the GRAMMY for Best Rap Album for 'To Pimp a Butterfly,' Kendrick Lamar thanked those that helped him get to the stage, and the artists that blazed the trail for him.
GRAMMYs
/
Oct 13, 2023 - 06:01 pm
Updated Friday Oct. 13, 2023 to include info about Kendrick Lamar's most recent GRAMMY wins, as of the 2023 GRAMMYs.
A GRAMMY veteran these days, Kendrick Lamar has won 17 GRAMMYs and has received 47 GRAMMY nominations overall. A sizable chunk of his trophies came from the 58th annual GRAMMY Awards in 2016, when he walked away with five — including his first-ever win in the Best Rap Album category.
This installment of GRAMMY Rewind turns back the clock to 2016, revisiting Lamar's acceptance speech upon winning Best Rap Album for To Pimp A Butterfly. Though Lamar was alone on stage, he made it clear that he wouldn't be at the top of his game without the help of a broad support system. 
"First off, all glory to God, that's for sure," he said, kicking off a speech that went on to thank his parents, who he described as his "those who gave me the responsibility of knowing, of accepting the good with the bad."
He also extended his love and gratitude to his fiancée, Whitney Alford, and shouted out his Top Dawg Entertainment labelmates. Lamar specifically praised Top Dawg's CEO, Anthony Tiffith, for finding and developing raw talent that might not otherwise get the chance to pursue their musical dreams.
"We'd never forget that: Taking these kids out of the projects, out of Compton, and putting them right here on this stage, to be the best that they can be," Lamar — a Compton native himself — continued, leading into an impassioned conclusion spotlighting some of the cornerstone rap albums that came before To Pimp a Butterfly.
"Hip-hop. Ice Cube. This is for hip-hop," he said. "This is for Snoop Dogg, Doggystyle. This is for Illmatic, this is for Nas. We will live forever. Believe that."
To Pimp a Butterfly singles "Alright" and "These Walls" earned Lamar three more GRAMMYs that night, the former winning Best Rap Performance and Best Rap Song and the latter taking Best Rap/Sung Collaboration (the song features Bilal, Anna Wise and Thundercat). He also won Best Music Video for the remix of Taylor Swift's "Bad Blood." 
Lamar has since won Best Rap Album two more times, taking home the golden gramophone in 2018 for his blockbuster LP DAMN., and in 2023 for his bold fifth album, Mr. Morale & the Big Steppers.
Watch Lamar's full acceptance speech above, and check back at GRAMMY.com every Friday for more GRAMMY Rewind episodes. 
10 Essential Facts To Know About GRAMMY-Winning Rapper J. Cole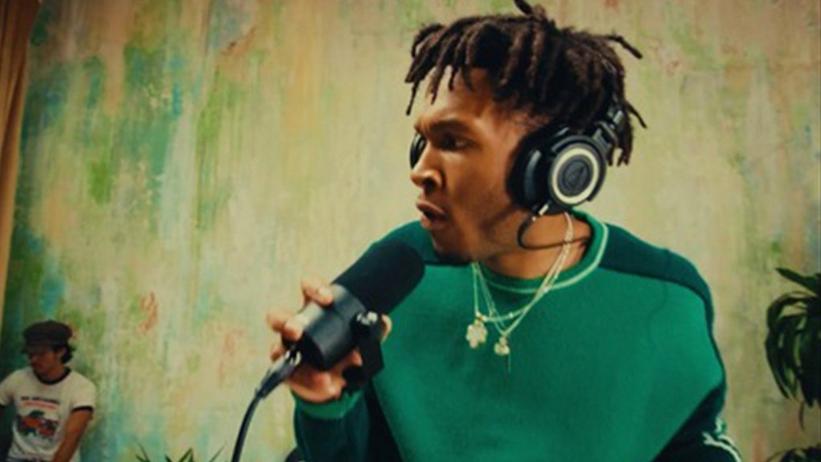 Asha Imuno
Photo: Courtesy of Asha Imuno
video
Hip-Hop Re:Defined: Watch Asha Imuno Personalize Kendrick Lamar's "i" With A Sparkling New Chorus
Rap newcomer Asha Imuno offers an upbeat cover of Kendrick Lamar's GRAMMY-winning hit "i," one of the many tracks that inspired the sound for Imuno's upcoming project, 'PINS & NEEDLES.'
GRAMMYs
/
Aug 16, 2023 - 05:02 pm
Growing up in Compton, California, Kendrick Lamar never thought he would see the day he was happy, confident and, most importantly, hopeful. But his lead single from 2015's To Pimp A Butterfly, "i," proves that reality wasn't so far-fetched — even when confronted with gun violence and police brutality.
In this episode of Hip-Hop Re:Defined, rap newcomer Asha Imuno delivers his rendition of "i," which won Lamar both Best Rap Performance and Best Rap Song at the 2015 GRAMMYs. Though the original track's groovy instrumental remains, Imuno adds a personal touch to his cover with a new chorus. 
"And I love myself/ The world is a ghetto with big guns and picket signs/ And I love myself/ But they can do what they want, whenever they want, I don't mind," he sings. "And I love myself/ He said I gotta get up, there's more to life than suicide."
Imuno is a longtime fan of Lamar, and according to a press statement, his upcoming album, PINS & NEEDLES, was heavily inspired by Lamar's To Pimp A Butterfly. On June 14, Imuno released the first single from the debut project, "PUSHING BUTTONS."
Press play on the video above to hear Asha Imuno's uplifting cover of Kendrick Lamar's "i," and check back to GRAMMY.com for more new episodes of Hip-Hop Re:Defined, a limited series celebrating hip-hop's 50th anniversary.
50 Artists Who Changed Rap: Jay-Z, The Notorious B.I.G., Dr. Dre, Nicki Minaj, Kendrick Lamar, Eminem & More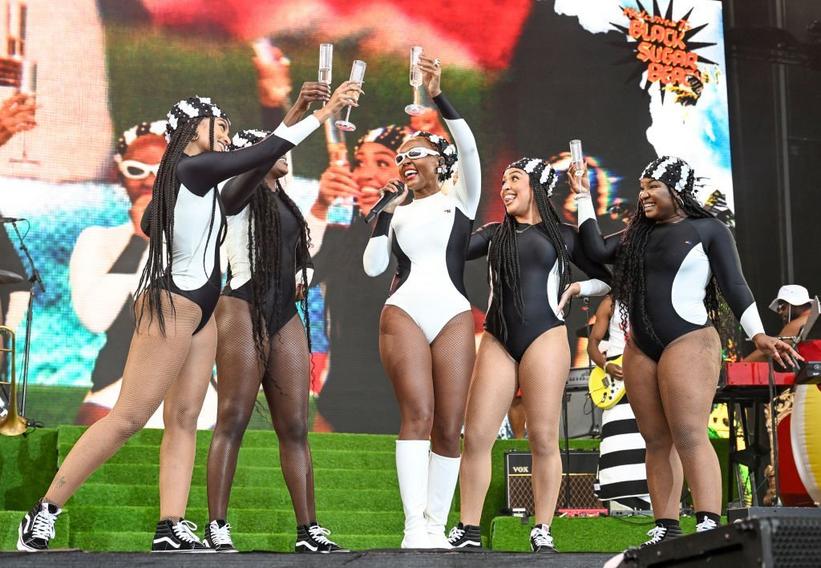 Janelle Monáe performs at the 2023 Outside Lands Festival
Photo: Steve Jennings/WireImage
list
7 Unforgettable Sets From Outside Lands 2023: Foo Fighters' Special Guests, Lana Del Rey's Return & A Superhero DJ Shaq
The 15th edition of San Francisco's foggy summer festival brought the musical heat — and lots of wild surprises.
GRAMMYs
/
Aug 15, 2023 - 01:57 pm
On Aug. 11-13, Outside Lands returned to San Francisco's Golden Gate Park for the 15th time. The city's premiere multi-day music and food festival attracted approximately 75,000 daily attendees, and promoter Another Planet says that about half of the 225,000 ticket holders live outside the Bay Area. 
Though it takes place in the peak of summer, San Francisco in August is relatively cold and nicknamed "Fogust," which may have shocked any of the out of towners who showed up in shorts and barely-there tops.
The mild weather conditions meant that the true heat was left up to the performers  to generate, and the more than 90 acts happily delivered. Below, we recount seven of the sets that were worth braving the summer cold to witness.
Shaq Takes Day One Championship
Moonlighting as DJ Diesel, NBA legend Shaquille O'Neal apologized for starting his incredibly surprising set a few minutes late.
"Sorry I'm late, I was just hanging with Steph Curry and Draymond Green," he said, name checking the Golden State Warriors' star players. He laced his banter with basketball metaphors and later brought out Warriors guard Gary Payton II to play Queen's "We Are The Champions" in the team's honor.
After dropping jaws by firing up aggressively, atonal EDM beats, he invited the crush of fans to come up on stage and "party with Diesel" one at a time. His set veered from Guns N Roses to Imogen Heap and he has to be the first DJ to call for a "ladies only mosh pit" while playing Aqua's "Barbie World." 
When he threw a young blonde boy on his shoulders and they both pumped their fists in unison, it was everything — and that's how a superhero DJs.
Janelle Monáe Celebrates The Fam
With a towering stack of Jamaican sound system-styled speakers, giant beach balls, a towel-waisted band and swimsuited dancers, Janelle Monáe brought the sexy "Black Sugar Beach" and "Lipstick Lover" vibes of her new album The Age of Pleasure to the Lands End main stage, which she last graced in 2018. 
Monáe has since come out as nonbinary and greatly expanded her fanbase; at Outside Lands, she dedicated her performance to "my community, the LGBTQIA+ community," saying, "I love you so much. To be Black, to be queer, to be nonbinary, to evolve and to have family like you is a blessing."
Monáe's natural charisma has only gotten sharper over time, and her dance moves are more infused with the quick steps of the Godfather of Soul James Brown and Prince. Her almost Rockettes-level line choreography with her dancers has leveled up as well.
This year's Outside Lands also saw the debut of the LGBTQIA+-centric Dolores' stage, which was powered all weekend by local party crews such as Hard French, Fake and Gay and Oasis. A highlight was Reparations, an all-Black drag show hosted by the incomparable Nicki Jizz, San Francisco's serial Drag Queen of the Year (according to local publication 48 Hills) who wore a large penis hat that she claimed was true to her actual size. The most overtly queer-friendly edition of Outside Lands was something beautiful to continue and build on in the future.
Kendrick Lamar Brings The Friday Night Light
Last seen rapping to a small but rapturous crowd on a secondary stage at Outside Lands in 2015, Kendrick Lamar has grown immeasurably as a recording artist and live performer. Lamar commanded the Lands End stage, closing the festival's first night with quietly assertive control and grace in a performance that felt like a rightful graduation. This veritable elder statesman slot has been previously held by major acts like Radiohead, Neil Young With Crazy Horse and Paul McCartney.
His 2022 album Mr. Morale & the Big Steppers featured prominently in the 21-song set, which included leftfield covers of Pusha T's "Nosetalgia" and The Weeknd's "Sidewalks." But Lamar knows that people still want to yell their lungs out to earlier cuts like "Swimming Pools (Drank)," "Bitch, Don't Kill My Vibe," "m.A.A.d city," "HUMBLE." and "Alright" and he obliged.
Lana Del Rey Swings Back To Twin Peaks
Flower crowns were all the rage when Lana Del Rey made her Outside Lands debut in 2016 at Twin Peaks, the festival's second largest stage. A new generation has since discovered the singer's outsize character and vibe, and as the gates opened on Saturday, giddy groups of teenage girls rushed to park themselves at the edge of that very same stage to catch Del Rey's big return to Golden Gate Park.
This time, Del Rey's set included a projection that said "God Bless You San Francisco" and a giant swing woven with flowers that flung her into the air while she sang. Her set spanned her classics, like "Video Games" from 2012's Born To Die, current hits, such as the title track from this year's album Did You Know That There's a Tunnel Under Ocean Blvd., and a loving cover of Tammy Wynette's 1968 country hit "Stand By Your Man." 
Though she's revered as an almost otherworldly figure and was an angelic vision in white, Del Rey doesn't act untouchable in 2023 — in fact, she literally came down and touched some of those fans who waited all day for her.
Foo Fighters Come Out Crooning
"We've gotta fit 28 years into two f—ing hours!" Dave Grohl explained early in the Foo Fighters' set. It was a towering goal that they tackled with consummate ease, reaching back to hits such as "Times Like These" and "The Pretender" and showing the continuum through to recent songs like "Rescue."
After playing a few choice riffs of "Enter Sandman," it would have been less of a surprise to see a member of two-time Outside Lands headliner (and Bay Area natives) Metallica join them on stage than who actually came out for a cameo. After flying in from Argentina, Michael Bublé initially pretended to be a regular audience member before going onstage to sing his hit "Haven't Met You Yet." 
The Foo-Bublé connection is fun and surprising: New drummer Josh Freese has also played for the Canadian crooner, and "Haven't Met You Yet" is part of a medley that the Foo Fighters are doing on tour that is comprised of other bands Freese has supported (including Devo's "Whip It" and Nine Inch Nails' "March of the Pigs").
Of course, the late drummer Taylor Hawkins will always be a prominent part of the Foo Fighters and their shows, and they played "Aurora" in his memory. As the park's Polo Field lit up in violet-colored lights, Grohl's 17-year-old daughter Violet Grohl also joined to sing three songs with her father, which he said was his absolute favorite thing in the world to do. 
"I'm sure I'm embarrassing her right now!" he said.
Gabriels Tributes Tina Turner
"We're California boys, but this is our first time in San Francisco," shared Gabriels singer Jacob Lusk before turning the Sutro stage into the Church of Outside Lands, and instructing everyone to share some neighborly love.
The Los Angeles band has some meteoric fans: Elton John invited Lusk, whose early resume includes being a former "American Idol" contestant who was in a gospel group with the late Nate Dogg, to sing with him on stage at this year's Glastonbury. Lusk's incredible vocal range flexes from baritone to falsetto on a dime, and he frequently takes a step back from the microphone while singing, as if not to overwhelm it.
In a particularly touching moment, Gabriels performed Tina Turner's "Private Dancer" while a montage of footage of Turner filled the screen.
Megan Thee Stallion Triumphs Over Tragedy
Fog flooded the park as a super snatched Megan Thee Stallion took to the stage in a hot Barbie pink outfit and long red hair, but she blazed through the haze with ground-sweeping twerking and saucy tracks like "Body," "Her," "WAP" and "Big Ole Freak." It was her first performance since Tory Lanez was sentenced to 10 years for shooting her, and she was feeling noticeably buoyant.
"F— all my haters!" she said in the middle of the set. "None of the s— you was doing or saying broke me." 
She received nothing but love from the crowd, and she was delighted by a big pocket of "boys" that she saw. Meg truly loves her "Hotties," and even stopped in between songs to sign someone's graduation cap. A recent grad herself, she is proud of her fans who follow suit.
"Real college girl s—!" she exclaimed.
7 Blazing Sets From Rolling Loud Miami 2023: Travis Scott, Sexyy Red, Rae Sremmurd & More