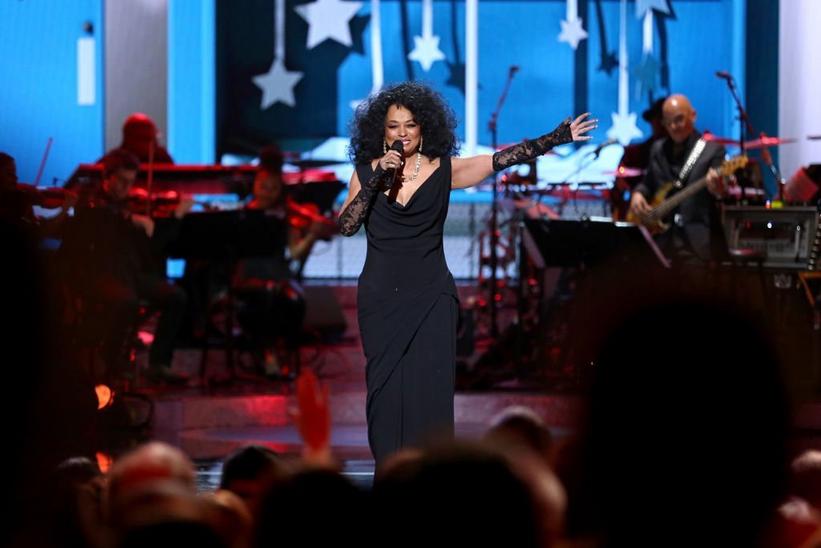 Photo: Rich Polk/Getty Images for The Recording Academy
news
Diana Ross Announces First U.K. Tour In More Than 10 Years
The "I'm Coming Out" singer will kick off the 2020 Top Of The World tour in Leeds on June 30 after her set at the Glastonbury music fest
GRAMMYs
/
Oct 26, 2019 - 03:46 am
Diana Ross has performed all over the U.S. this year, a.k.a. her 75th birthday Diamond Diana year, and it looks like she's continuing the momentum into 2020. The music icon has announced a short European tour that will launch in June.
The "I'm Coming Out" singer will kick off the 2020 Top Of The World tour in Leeds on June 30 after her set at the Glastonbury music fest. She will then travel to Liverpool, Manchester, Glasgow and Birmingham, before her last stop in London on July 8.
"I am in total appreciation of all. I'm feeling Great, life is so good.," she tweeted with the announcement of her tour dates. "My love, my light is steady and constant. I focus on joy. I love looking at the energy all around me. I am so so so grateful."
According to the BBC, the tour is the first since 2008 she's done in the U.K. and she's happy to be returning. "I look forward to performing at Glastonbury and touring in the UK and being in London and the UK is like coming home," she said in a statement.
Ross's U.S. tour in celebration of her 75th birthday ended in July. Tickets for her European tour go on sale Nov. 1, presale starts Oct. 31.
Behind The Record Celebrates Behind-The-Scenes Creators Of Your Favorite Albums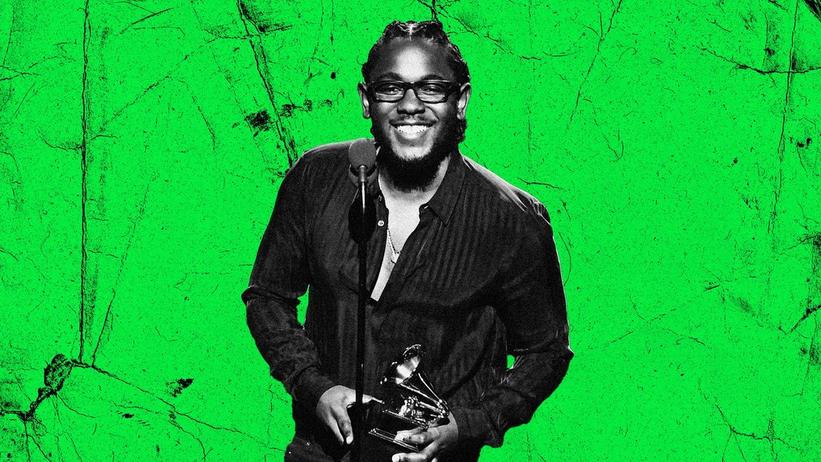 Kendrick Lamar
Photo: Jeff Kravitz/FilmMagic
video
GRAMMY Rewind: Kendrick Lamar Honors Hip-Hop's Greats While Accepting Best Rap Album GRAMMY For 'To Pimp a Butterfly' In 2016
Upon winning the GRAMMY for Best Rap Album for 'To Pimp a Butterfly,' Kendrick Lamar thanked those that helped him get to the stage, and the artists that blazed the trail for him.
GRAMMYs
/
Oct 13, 2023 - 06:01 pm
Updated Friday Oct. 13, 2023 to include info about Kendrick Lamar's most recent GRAMMY wins, as of the 2023 GRAMMYs.
A GRAMMY veteran these days, Kendrick Lamar has won 17 GRAMMYs and has received 47 GRAMMY nominations overall. A sizable chunk of his trophies came from the 58th annual GRAMMY Awards in 2016, when he walked away with five — including his first-ever win in the Best Rap Album category.
This installment of GRAMMY Rewind turns back the clock to 2016, revisiting Lamar's acceptance speech upon winning Best Rap Album for To Pimp A Butterfly. Though Lamar was alone on stage, he made it clear that he wouldn't be at the top of his game without the help of a broad support system. 
"First off, all glory to God, that's for sure," he said, kicking off a speech that went on to thank his parents, who he described as his "those who gave me the responsibility of knowing, of accepting the good with the bad."
He also extended his love and gratitude to his fiancée, Whitney Alford, and shouted out his Top Dawg Entertainment labelmates. Lamar specifically praised Top Dawg's CEO, Anthony Tiffith, for finding and developing raw talent that might not otherwise get the chance to pursue their musical dreams.
"We'd never forget that: Taking these kids out of the projects, out of Compton, and putting them right here on this stage, to be the best that they can be," Lamar — a Compton native himself — continued, leading into an impassioned conclusion spotlighting some of the cornerstone rap albums that came before To Pimp a Butterfly.
"Hip-hop. Ice Cube. This is for hip-hop," he said. "This is for Snoop Dogg, Doggystyle. This is for Illmatic, this is for Nas. We will live forever. Believe that."
To Pimp a Butterfly singles "Alright" and "These Walls" earned Lamar three more GRAMMYs that night, the former winning Best Rap Performance and Best Rap Song and the latter taking Best Rap/Sung Collaboration (the song features Bilal, Anna Wise and Thundercat). He also won Best Music Video for the remix of Taylor Swift's "Bad Blood." 
Lamar has since won Best Rap Album two more times, taking home the golden gramophone in 2018 for his blockbuster LP DAMN., and in 2023 for his bold fifth album, Mr. Morale & the Big Steppers.
Watch Lamar's full acceptance speech above, and check back at GRAMMY.com every Friday for more GRAMMY Rewind episodes. 
10 Essential Facts To Know About GRAMMY-Winning Rapper J. Cole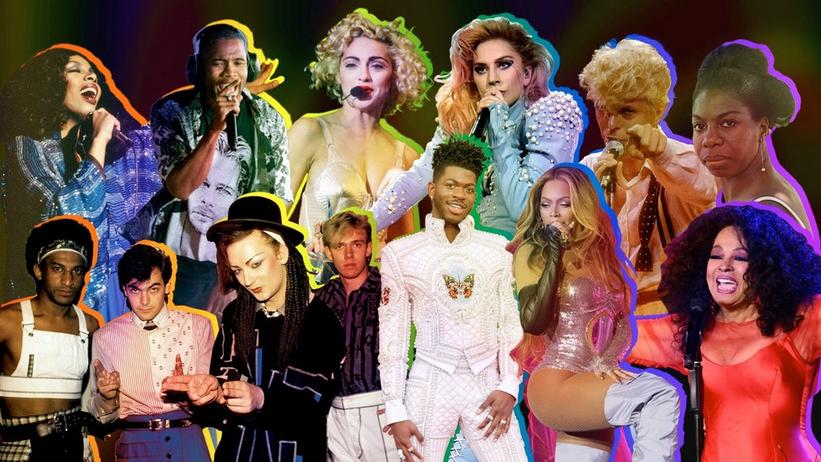 (Top row) Donna Summer, Frank Ocean, Madonna, Lady Gaga, David Bowie, Nina Simone (Bottom row) Culture Club, Lil Nas X, Beyonce, Diana Ross
Photos: Michael Ochs Archives/Getty Images; Visionhaus#GP/Corbis via Getty Images; Gie Knaeps/Getty Images; Kevin Mazur/Getty Images for Live Nation; Robin Platzer/Getty Images; Photo by David Redfern/Redferns; Mason Poole Ebet Roberts/Redferns; Amy Sussman/Getty Images; PATRICK T. FALLON/AFP via Getty Images
feature
The Evolution Of The Queer Anthem: From Judy Garland To Lady Gaga & Lil Nas X
Music is a creative tool of liberation, with queer communities finding meaning — overt or otherwise — in songs by a myriad of artists. GRAMMY.com unpacks the long history of queer anthems, from a 1920s cabaret to the top of the charts.
GRAMMYs
/
Jun 5, 2023 - 01:50 pm
When a young Judy Garland sang "Somewhere Over the Rainbow" in 1939, dreaming of a more exciting, joyous and colorful life elsewhere, few might have known that her words would go on to inspire generations of queer people who found a glimmer of freedom where "the dreams that you dare to dream really do come true."
For decades, if not longer, music has continued to serve as a creative tool of liberation, with queer communities finding meaning — overt or otherwise — in songs either written directly for them or appropriated from the work of (seemingly) straight artists. Often with time, but occasionally immediately, such music becomes a queer anthem. While pride in one's identity has often been a central theme, these anthems have also tackled the communal trauma — from the HIV/AIDS epidemic to discrimination that continues to this day. 
As the messages and musical styles have adapted with the times, what's most powerful in the evolution of queer anthems is just how much more openly gay they have become. An increasing number of artists are able to unabashedly express their identity, including in genres that have been traditionally reticent or hostile to minorities. Tracing the history of the queer anthem provides an opportunity to see how far the LGBTQ+  community has come, and how creative expression can be used to fight for rights that are still being threatened. 
Press play on the Spotify playlist below, or visit Apple Music, Pandora or Amazon Music for an accompanying playlist of queer anthems.
In Glitter Up the Dark: How Pop Music Broke the Binary, music writer Sasha Geffen explores the history of queer anthems past and present.
"I think it's important to honor these ancestors in the queer narrative and point to how things don't always go from worse to better," Geffen tells GRAMMY.com. "Right now in our current historical moment, where we're seeing a lot of closing in and that can be really scary, but there has always kind of been this pulsing and there has always been the survival." 
A Global Musical Movement
In fact, "Somewhere Over the Rainbow" wasn't even the first gay anthem. One of the earliest is the 1920 German cabaret number "Das lila Lied" ("The Lavender Song"), a clear product of the relative sexual freedom of the Weimar Republic. Written around the time of sexologist Magnus Hirschfeld hosting the First International Conference for Sexual Reform, the song recognized the struggles queer people faced while also declaring, "and still most of us are proud/ to be cut from different cloth!"
In Europe, musicals provided sly opportunities to explore queer themes, notably the work of English playwright Noël Coward, whose hidden sexuality was expressed in unrequited love songs such as "Mad About the Boy'' and "If Love Were All." In the United States, Black women defined many of these early queer anthems, notably Ma Rainey and Billie Holiday, with "Prove It on Me Blues" and "Easy Living," respectively. As Geffen says, their music was "playful and raunchy and it sold." 
Holiday and Rainey, along with her prodigy, Bessie Smith, were all bisexual — an identity that along with their race and gender threatened their professional careers. They faced not only social ostracization, but also legal threats due to their sexuality. Yet these pioneers still expressed their emotions openly, as Ma Rainey sings on "Prove It on Me Blues": "I went out last night with a crowd of my friends'/It must've been women, 'cause I don't like no men/ Wear my clothes just like a fan/ Talk to the gals just like any old man."
The war years and social conservative of the 1950s didn't see many lasting gay anthems, as white, male musicians appropriated and made famous the rebellious rock and roll sound of Black musicians. This was clear in songs like Little Richard's "Tutti Frutti" (with clear sexual undertones) and "Hound Dog" by Big Mamma Thornton, who wore men's clothes and has been appreciated for representing Black queerness. 
Through the sexual revolution of the mid-20th century, Black women continued to produce some of the most boundary-pushing music. Nina Simone switched the gender preference in her bubbly version of "My Baby Just Cares for Me" — from Lana Turner to… Liberace — and Diana Ross delivered a sultry take on "Ain't No Mountain High Enough," showing the depths someone is willing to go for their paramour. 
Yet it's impossible to include just one song by the disco diva in a compendium of queer anthems, overt or implied. The inspiration for 1980's "I'm Coming Out" actually came out of a New York gay bar: Famed songwriter Nile Rodgers went to the bathroom and noticed a group of Ross impersonators. As Rodgers told Billboard in 2011, "I ran outside and called Bernard [Edwards, his frequent collaborator] and told him about it and said, 'What if we recognize Diana Ross' really cool alignment with her fan base in the gay community?' So we sat down and wrote, 'I'm Coming Out.'"
During this period of second-wave feminism, songs of female empowerment were also adapted by the queer community, such as Lesley Gore's "You Don't Own Me" (Gore herself came out as a lesbian in 2005). Some male acts embraced all that defied social norms, whether around identity or sexuality (although some of their depictions of race and gender can be questioned): "Lola" by the Kinks, "Walk on the Wild Side" by Lou Reed and "Rebel Rebel" by David Bowie, whose glam rock pushed against boundaries in terms of gender presentation.
More so than any genre before it, the arrival of disco in the 1970s provided a soundtrack for the LGBTQ+ community. In fact, it could be said it was the first genre made for and by queer folks was disco, with high-rotation tracks like Donna Summer's "I Feel Love," Chaka Khan's "I'm Every Woman" or even ABBA's "Dancing Queen." But arguably the most powerful queer anthem was Gloria Gaynor's "I Will Survive," an unabashed tribute to overcoming against all odds that can still be heard blasting from Pride floats today. 
In maybe a less nuanced but equally impactful sense during this time, the Village People also played with gay sexual fantasies in both their appearance and music, notably with their songs "Macho Man" and "Y.M.C.A." While the camp was turned up to 11, the Village People's influence in bringing queer life to the mainstream cannot be underestimated.
Openly queer artists also began asserting themselves more than ever by the 1980s and the rise of synth pop, finding fans among straight and queer communities, often in a "you know if you know way," according to Geffen. The sound coming from British groups like Culture Club ("Do You Really Want to Hurt Me"), Soft Cell ("Tainted Love") or Bronski Beat ("Smalltown Boy") was inextricable from queerness; an uptempo beat and thematic undercurrent ran through many of the era's biggest pop songs. These artists were "talking about an experience that was very specific to the queer community — this idea of figuring out who you are and leaving home and not knowing where you're gonna be ending up and just trusting something out there might be better than what you've got," Geffen notes.
Also during the 1980s, queer anthems also began to proliferate beyond English-language music, proving that a desire to express queerness through music was universal. This was notably seen in Canadian-French artist Mylène Farmer's "Libertine" and "Sans contrefaçon" about embracing androgyny. And in the Spanish-speaking world, there was Alaska y Dinarama's "¿A quién le importa?" which translates to "who cares?" 
Anthems Rocked By Trauma
But this relative opening in terms of gay acceptance in popular culture was quickly shaken by the HIV/AIDS crisis, when queer anthems took on an even stronger political role. Whether it be Queen's "I Want to Break Free" or "Somebody to Love," Frankie Goes to Hollywood's "Relax" or Sylvester's "You Make Me Feel (Mighty Real)," these anthems were unabashed about expressing romantic feelings and sexual desire, as well as fighting back against violence, silence and stereotyping. 
Known for his falsetto voice, Sylvester was one of the leading voices in San Francisco's growing queer community before passing away from AIDS-related complications in 1988. His song "Stars" is one of Geffen's favorite queer anthems, particularly for how he conveyed both the joy and hardship of the queer experience. 
"He had such a powerful voice and powerful control over the subtleties of using it," Geffen continues. "There was this kind of melancholy that I can hear coming through sometimes of celebrating the world that you're in, this kind of sub-world inside the world where these forms of relationships are possible."
Read more: 'Spiceworld' At 25: How The Spice Girls' Feminine Enthusiasm & Camp Became A Beacon For Queer Youth
Female artists — many of whom were open allies of the queer community — also addressed the devastation of the epidemic. TLC's "Waterfalls" (a cautionary tale with a hopeful note to "believe in yourself") and Cyndi Lauper's "True Colors," a torch song to light the way in the darkest of times. Although, this relationship of seemingly straight artists to the queer community was not without faults. Madonna became a queer icon for her string of hits before kicking off the 1990s with "Vogue," a track that brought queer ballroom culture to a mainstream audience. While Madonna was clearly celebrating this art form, and giving a certain amount of recognition to those who created it, she was also making money off the talent and creativity of underrecognized queer communities of color.
Outside of mainstream music, the 1990s saw queer female artists asserting their identity, accompanied by the riot grrrl movement and Lilith Fair. These ranged from the Indigo Girls' reflective "Closer to Fine" to k.d. lang's yearnful "Constant Craving" to Bikini Kill's "Rebel Girl," "the queen of my world." 
The Sound Of A New Millennium
The turn of the millennium heralded the beginning of a more assertive acceptance, with anthems coming from sometimes unexpected sources: Christina Aguilera's "Beautiful," P!nk's "Raise Your Glass,'' Robyn's "Dancing on My Own" or Macklemore's "Same Love." With the political fight for marriage equality quickly gaining ground in the U.S., pop artists began responding with overtly pro-LGBTQAI+ messages in their music: Lady Gaga kicked off the 2010s with "Born This Way," with the theme that there is nothing abnormal about being queer.
 More recently, anthems have shed any need to hide their queerness through hidden messages or innuendos. Proudly queer artists are creating music clearly for their communities, and beyond: think Janelle Monae's ode to female pleasure "Pynk," Perfume Genius' searing "Queen" or Hayley Kiyoko's "Girls Like Girls," whose title says it all (and was followed up with the more cheerful anthem "for the girls"). 
Perhaps most notably, genres that have been slower to embrace LGBTQAI+ artists have also had their share of anthems. Rap in particular has embraced queer artists from Cupcakke ("LGBT") to Frank Ocean ("Channel") to Leikeli47's ​​("Attitude") to anything by Mykki Blanco. This also has been true in country: See Katie Pruitt's "Loving Her," Kacey Musgraves' "Follow Your Arrow'' or Orville Peck and his interpretation of "Smalltown Boy." This honoring of queer history and pioneers defines many modern queer anthems, perhaps most strongly in Beyoncé's Renaissance.
Read more: How Christina Aguilera's "Beautiful" Made An Important Statement About Acceptance — For Society And Herself
While her whole discography is full of bangers that have entered the queer pantheon, her latest release Renaissance is an ode to the queer and Black tradition of disco and house. Tracks like "COZY," an embrace of being "comfortable in my skin," quickly entered into heavy rotation at clubs around the world. Beyoncé has centered queer artists like Big Freedia, the queen of New Orleans bounce who wrote a powerful anthem in 2020's "Chasing Rainbows" featuring Kesha (who herself named an album Rainbow and released "We R Who We R" after a series of suicides of gay teens across the U.S.).
Most significantly, songs about the queer experience are now defining the careers of many artists and garnering them unprecedented large audiences. This is the case for MUNA with "Silk Chiffon," King Princess with "1950" Troy Sivan with "Bloom'' or even Sam Smith and Kim Petras with "Unholy." This last sexy jam bought Petras unprecedented acclaim after years in the music industry and made her the first openly trans person to win a GRAMMY Award.
This trend might be most clearly seen in the rise of Little Nas X, who grew up mastering the language and codes of the internet before breaking through and quite quickly coming out. Geffen highlights how he uses shock to garner attention and push back against the homophobic haters, like giving Satan a lap dance in the music video "MONTERO (Call Me By Your Name)."
"I think of Little Nas X as a troll who trolled his way to the top," says Geffen," knowing what people will respond to positively and what will piss people off."
Contrasting this increase in openly queer anthems and depictions of queer people in media is a sharp political reality: anti-trans laws proliferate in many states and lawmakers attempt to limit the rights of LGBTQ+ people, threatening many of the forward momentum in queer liberation. 
Read more: The Rise Of The Queer Pop Star In The 2010s
This moment in social and political history highlights the importance of an anthem, which  serves as a form of celebration and signaling of allegiance, as well as a salve against repression and motivation to continue the fight.
Of course, this list of queer anthems is far from exhaustive. Artists as diverse as the B-52s, Eurythmics, the Pet Shop Boys, Elton John, Cher, George Michael, RuPaul, Mariah Carey, Janet Jackson, the Smiths, Kylie Minogue, Brandi Carlile, Carley Rae Jepsen, Sufjan Stevens, SOPHIE, Taylor Swift and many, many others have released music that has deeply impacted the queer community. 
And really, any song can be a queer anthem if it speaks to someone on a personal level, providing a sense of connection and belonging. As Geffen notes, the magic occurs when a piece of music creates a moment of collective celebration or momentary bliss.
"There's nothing else quite like that feeling of the physical release of having a song run through you when it's also running through tons of other people who are in the crowd with you," they said, highlighting the power of that anxiety of whether you fit in dissolving away: "It opens a window into what's possible, in a world beyond the one we're in right now."
Queer Christian Artists Keep The Faith: How LGBTQ+ Musicians Are Redefining Praise Music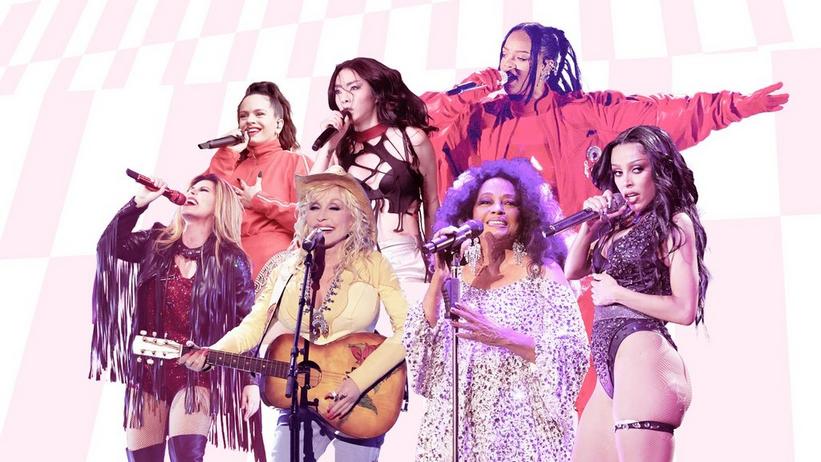 (L-R, clockwise): Rosalía, Rina Sawayama, Rihanna, Doja Cat, Diana Ross, Dolly Parton, Shania Twain
Photos (L-R, clockwise): Kevin Mazur/Getty Images for Roc Nation, Scott Dudelson/Getty Images for Coachella, Adam Bow/Icon Sportswire via Getty Images, Kevin Winter/Getty Images for Coachella, Kevin Mazur/Getty Images for Academy Museum of Motion Pictures, Kevin Winter/Getty Images for ACM, Terry Wyatt/Getty Images
news
Listen To GRAMMY.com's Women's History Month 2023 Playlist: Swim In The Divine Feminine With These 40 Songs By Rihanna, SZA, Miley Cyrus, BLACKPINK & More
Who run the world? Harness positive energy during Women's History Month with this immersive playlist honoring Beyoncé, Rina Sawayama, Kim Petras, and more female musicians.
GRAMMYs
/
Mar 1, 2023 - 03:59 pm
In the words of recent GRAMMY winner Lizzo, it's bad b— o'clock. To kick off Women's History Month, GRAMMY.com is celebrating with an extensive playlist spotlighting women's divine musical artistry. Perpetually shaping, reinvigorating, and expanding genres, women's creative passion drives the music industry forward.
This March, get ready to unlock self-love with Miley Cyrus' candid "Flowers," or hit the dancefloor with the rapturous Beyoncé's "I'm That Girl." Whether you're searching for the charisma of Doja Cat's "Woman" or confidence of Rihanna's "B— Better Have My Money," this playlist stuns with diverse songs honoring women's fearlessness and innovation.
Women dominate the music charts throughout the year, but this month, dive into their glorious energy by pressing play on our curated Women's History Month playlist, featuring everyone from Dua Lipa to Missy Elliott to Madonna to Kali Uchis.
Listen below on Amazon Music, Spotify, Apple Music, and Pandora.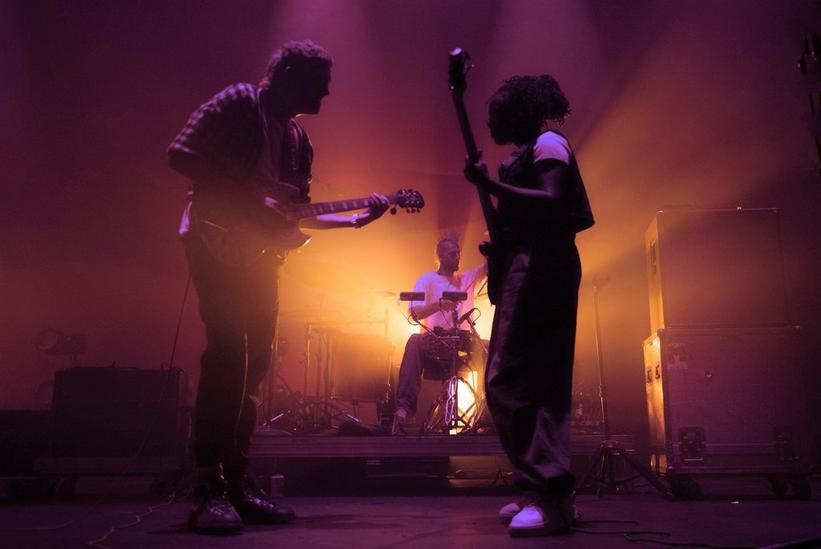 list
A Guide To Modern Funk For The Dance Floor: L'Imperatrice, Shiro Schwarz, Franc Moody, Say She She & Moniquea
James Brown changed the sound of popular music when he found the power of the one and unleashed the funk with "Papa's Got a Brand New Bag." Today, funk lives on in many forms, including these exciting bands from across the world.
GRAMMYs
/
Nov 25, 2022 - 04:23 pm
It's rare that a genre can be traced back to a single artist or group, but for funk, that was James Brown. The Godfather of Soul coined the phrase and style of playing known as "on the one," where the first downbeat is emphasized, instead of the typical second and fourth beats in pop, soul and other styles. As David Cheal eloquently explains, playing on the one "left space for phrases and riffs, often syncopated around the beat, creating an intricate, interlocking grid which could go on and on." You know a funky bassline when you hear it; its fat chords beg your body to get up and groove.
Brown's 1965 classic, "Papa's Got a Brand New Bag," became one of the first funk hits, and has been endlessly sampled and covered over the years, along with his other groovy tracks. Of course, many other funk acts followed in the '60s, and the genre thrived in the '70s and '80s as the disco craze came and went, and the originators of hip-hop and house music created new music from funk and disco's strong, flexible bones built for dancing.
Legendary funk bassist Bootsy Collins learned the power of the one from playing in Brown's band, and brought it to George Clinton, who created P-funk, an expansive, Afrofuturistic, psychedelic exploration of funk with his various bands and projects, including Parliament-Funkadelic. Both Collins and Clinton remain active and funkin', and have offered their timeless grooves to collabs with younger artists, including Kali Uchis, Silk Sonic, and Omar Apollo; and Kendrick Lamar, Flying Lotus, and Thundercat, respectively.
In the 1980s, electro-funk was born when artists like Afrika Bambaataa, Man Parrish, and Egyptian Lover began making futuristic beats with the Roland TR-808 drum machine — often with robotic vocals distorted through a talk box. A key distinguishing factor of electro-funk is a de-emphasis on vocals, with more phrases than choruses and verses. The sound influenced contemporaneous hip-hop, funk and electronica, along with acts around the globe, while current acts like Chromeo, DJ Stingray, and even Egyptian Lover himself keep electro-funk alive and well.
Today, funk lives in many places, with its heavy bass and syncopated grooves finding way into many nooks and crannies of music. There's nu-disco and boogie funk, nodding back to disco bands with soaring vocals and dance floor-designed instrumentation. G-funk continues to influence Los Angeles hip-hop, with innovative artists like Dam-Funk and Channel Tres bringing the funk and G-funk, into electro territory. Funk and disco-centered '70s revival is definitely having a moment, with acts like Ghost Funk Orchestra and Parcels, while its sparkly sprinklings can be heard in pop from Dua Lipa, Doja Cat, and, in full "Soul Train" character, Silk Sonic. There are also acts making dreamy, atmospheric music with a solid dose of funk, such as Khruangbin's global sonic collage.
There are many bands that play heavily with funk, creating lush grooves designed to get you moving. Read on for a taste of five current modern funk and nu-disco artists making band-led uptempo funk built for the dance floor. Be sure to press play on the Spotify playlist above, and check out GRAMMY.com's playlist on Apple Music, Amazon Music and Pandora.
Say She She
Aptly self-described as "discodelic soul," Brooklyn-based seven-piece Say She She make dreamy, operatic funk, led by singer-songwriters Nya Gazelle Brown, Piya Malik and Sabrina Mileo Cunningham. Their '70s girl group-inspired vocal harmonies echo, sooth and enchant as they cover poignant topics with feminist flair.
While they've been active in the New York scene for a few years, they've gained wider acclaim for the irresistible music they began releasing this year, including their debut album, Prism. Their 2022 debut single "Forget Me Not" is an ode to ground-breaking New York art collective Guerilla Girls, and "Norma" is their protest anthem in response to the news that Roe vs. Wade could be (and was) overturned. The band name is a nod to funk legend Nile Rodgers, from the "Le freak, c'est chi" exclamation in Chic's legendary tune "Le Freak."
Moniquea
Moniquea's unique voice oozes confidence, yet invites you in to dance with her to the super funky boogie rhythms. The Pasadena, California artist was raised on funk music; her mom was in a cover band that would play classics like Aretha Franklin's "Get It Right" and Gladys Knight's "Love Overboard." Moniquea released her first boogie funk track at 20 and, in 2011, met local producer XL Middelton — a bonafide purveyor of funk. She's been a star artist on his MoFunk Records ever since, and they've collabed on countless tracks, channeling West Coast energy with a heavy dose of G-funk, sunny lyrics and upbeat, roller disco-ready rhythms.
Her latest release is an upbeat nod to classic West Coast funk, produced by Middleton, and follows her February 2022 groovy, collab-filled album, On Repeat.
Shiro Schwarz
Shiro Schwarz is a Mexico City-based duo, consisting of Pammela Rojas and Rafael Marfil, who helped establish a modern funk scene in the richly creative Mexican metropolis. On "Electrify" — originally released in 2016 on Fat Beats Records and reissued in 2021 by MoFunk — Shiro Schwarz's vocals playfully contrast each other, floating over an insistent, upbeat bassline and an '80s throwback electro-funk rhythm with synth flourishes.
Their music manages to be both nostalgic and futuristic — and impossible to sit still to. 2021 single "Be Kind" is sweet, mellow and groovy, perfect chic lounge funk. Shiro Schwarz's latest track, the joyfully nostalgic "Hey DJ," is a collab with funkstress Saucy Lady and U-Key.
L'Impératrice
L'Impératrice (the empress in French) are a six-piece Parisian group serving an infectiously joyful blend of French pop, nu-disco, funk and psychedelia. Flore Benguigui's vocals are light and dreamy, yet commanding of your attention, while lyrics have a feminist touch.
During their energetic live sets, L'Impératrice members Charles de Boisseguin and Hagni Gwon (keys), David Gaugué (bass), Achille Trocellier (guitar), and Tom Daveau (drums) deliver extended instrumental jam sessions to expand and connect their music. Gaugué emphasizes the thick funky bass, and Benguigui jumps around the stage while sounding like an angel. L'Impératrice's latest album, 2021's Tako Tsubo, is a sunny, playful French disco journey.
Franc Moody
Franc Moody's bio fittingly describes their music as "a soul funk and cosmic disco sound." The London outfit was birthed by friends Ned Franc and Jon Moody in the early 2010s, when they were living together and throwing parties in North London's warehouse scene. In 2017, the group grew to six members, including singer and multi-instrumentalist Amber-Simone.
Their music feels at home with other electro-pop bands like fellow Londoners Jungle and Aussie act Parcels. While much of it is upbeat and euphoric, Franc Moody also dips into the more chilled, dreamy realm, such as the vibey, sultry title track from their recently released Into the Ether.
The Rise Of Underground House: How Artists Like Fisher & Acraze Have Taken Tech House, Other Electronic Genres From Indie To EDC