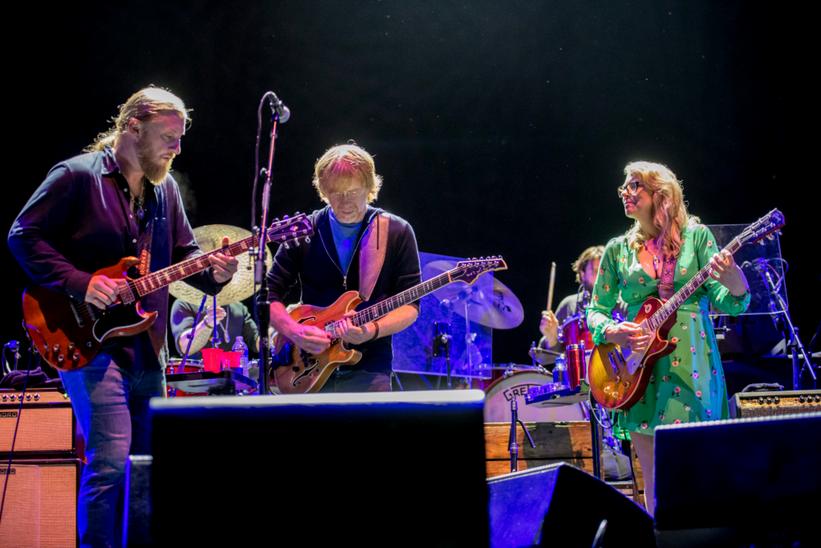 (L-R) Derek Trucks, Trey Anastasio, Susan Tedeschi
news
Derek Trucks On Tedeschi Trucks Band's 'Layla Revisited' Concert Album: "There Are Some Nights You Feel Like You Can Play Anything"
Two years ago, Derek Trucks, Susan Tedeschi and Phish's Trey Anastasio covered Derek and the Dominos' 'Layla and Other Assorted Love Songs' live in full. Now, as gigs fire up again, the Tedeschi Trucks Band is sharing the smoking results
GRAMMYs
/
Jul 15, 2021 - 09:48 pm
The band Derek and the Dominos launched a generation of guitarists, but they arguably only launched one full-fledged human being. "I was named after that record," the two-time GRAMMY-winning guitar slinger Derek Trucks told JamBands soon after performing their sole studio album, 1970's Layla and Other Assorted Love Songs, front to back at a festival.
The connections didn't stop there, though: One of his earliest memories is of the LP leaning against—true to Duane Allman's involvement—a peach crate. The GRAMMY-winning singer/guitarist Susan Tedeschi, his wife and creative partner in the Tedeschi Trucks Band, was born on the very day it was released. "I was named after this thing; she was born on the day," Trucks continued. "Pretty good stuff!"
With almost no rehearsal, Tedeschi, Trucks and their pal, Trey Anastasio of Phish, convened to perform Layla and Other Assorted Love Songs at Lockn', an annual jam-band bash known for unique pairings. The result—after a gig-free year and a half—is Layla Revisited (Live at Lockn'), a document of that unrepeatable evening, due out July 16 via Fantasy Records, that will blow your hair back.
Whether together or separately, Tedeschi and Trucks had performed in various settings some of the Eric Clapton-led band's tunes, like "Bell Bottom Blues," "Keep on Growing" and the classic "Layla," Clapton's wounded howl to his BFF George Harrison's then-wife, Pattie Boyd. Trucks had even shared stages with the Strat man known to some as "God," peppering him with requests to perform some of the tunes.
"He had a funny response at one point," Trucks tells GRAMMY.com. "He was like, 'I didn't know people really like that [Derek and the Dominos] record. It seemed like the record that kind of flew by.'" On the contrary, Clapper: Most people think it's your best work. And now, two of your finest protoges are making sure rock fans in the 21st century know it.
GRAMMY.com caught up with Trucks while on the road with Tedeschi Trucks Band to discuss his lifelong relationship with Layla, how the tribute concert came about and why—true to the one-and-done band—they may never try this album onstage again.
Tell me about your history with Layla and Other Assorted Love Songs.
It's one of those records that's always been a huge presence from the very beginning. I've had connections with some of the tunes over the years, whether it was playing with my solo band or the Allmans or, eventually, with Eric. But I never sat down to learn the whole thing! [Chuckles.] It was really nice to finally dig into something that had always been there. You uncover more and more the deeper you go into something like that.
I remember that album cover as one of my first memories. It's a striking image—when I was growing up with parents who had vinyl leaning against peach crates in the living room. It's the first stuff you see, so it was a strange thing to eventually play some of that music with Eric in London. I remember Pattie Boyd—"Layla"—came out to one of the shows. A lot of it felt full-circle along the way, but finally playing the whole record felt like something that maybe we needed to do at some point.
To you, is the essence of the record the interplay between Eric and Duane?
That's a lot of it. You can feel what Eric was going through the more you dig into the lyrics of the record and the whole thing. But I think some of it was when you start learning all those guitar parts, you kind of start imagining the way the songs were written. There's a lot of open tunings and capoed guitars and little quirky st that just I never thought to dig into.
You realize he was probably listening to a lot of singer/songwriters at the time. Some of it almost feels like that Tulsa, Western-swing thing. It feels like a different era for him. It wasn't just straight Bluesbreakers stuff. You can tell they were getting into some other things. That's one of the things I noticed digging into the tunes, but definitely, the Eric-and-Duane interplay and that connection.
From what I hear, Eric was excited about the Dominos and they were writing tunes, but the record wasn't really getting off the ground in the way they had hoped. When Duane stepped in out of the blue, the whole thing took on a different life. But also, from what I hear, Duane was that kind of character. He came into the room with the pedal pretty much to the floor. That's how he operated.
It was this perfect collision. They met at the right time and this amazing thing happened.
What weird little quirks did you find? I'm sure as with many other albums of the era, there are things that wouldn't fly in a studio today.
Yeah, totally. All the best st is kind of made that way. You don't think about what it takes to get there; you just hear something in your head and figure it out.
Even digging into a tune like "Thorn Tree in the Garden," me and Sue recorded it, and I always imagined it sounds like a few people in a room playing and singing. There's at least a third guitar in there. There's one that's just kind of pedaling the harmonics and there's guitars that are not doing much, but if you take that little piece away, you all of a sudden notice that it changes the whole movement of the thing.
"I Am Yours" is a really uniquely constructed song. You wouldn't pick up a guitar and start strumming those first-position cowboy chords. That's a different way of going about it.
I think you're right on the money by implying that it's not a traditional 12-bar blues album. As you said, there are those cowboy chords and singer/songwriter influences.
Yeah. But then when it's time, it goes straight 12-bar! They're like, "Oh yeah, and then there's this. Let's not forget where it came from." It's a pretty amazing balance in that way.
I'm sure Eric has told you stories about this record.
When I was out with him, I was certainly lobbying to play some of those tunes. He had a funny response at one point. He was like, "I didn't know people really like that [Derek and the Dominos] record. It seemed like the record that kind of flew by." Obviously, "Layla" became the song of the record. But I was like, "No, that's the one, man. That's the one everyone goes to!"
I've noticed that when we did the Mad Dogs and Englishmen thing with Leon Russell, some of these seminal records don't feel that way to the artist when they do them, because maybe it wasn't received that way when it came out. That's your impression of it, and then you just move on down the road and have bigger hits with other things. It doesn't dawn on you that this is the one people really come back to. [Laughs.] So, I thought that was an interesting revelation.
Your Layla concert took place in 2019. Why, at that stage in the arc of your development, did it feel right to tackle that whole record and make a live album out of it?
It was specific to that festival. Every time we play Lockn', part of the thing that makes that festival unique is that they try to pair artists and have these big collaborations. They reached out about doing a few nights with me and Trey—me sitting in with his band one night and him sitting in with our band one night.
When we were bouncing around ideas, I thought maybe some of the Dominos tunes would be fun, and he had a list of tunes of ours that might be fun to play. We were in Red Rocks, I was about to get on the phone with Trey about finalizing the set, and I mentioned to a friend of mine that we might play a few Dominos tunes, and she was like, "You should just do the whole f*ing record!" [Laughs.]
Right when she said it, it felt like the most obvious thing in the world. It wasn't something I ever thought we would do. It wasn't something that was long-planned. It was just kind of an idea that made sense. And then the more I thought about it, the more sense it made. I remember when I mentioned it to [Trey], that was a record he had studied and listened to a bunch. Susan has an amazing connection to that music too. So, it felt like home at that point.
What was involved in learning the songs and preparing for the gig? I don't know if you had the multitrack—if you could hear the guitars layer by layer.
He was on the road, I believe, and we were on the road pretty nonstop, so it was everyone in their headphones just listening as we were out doing other things. We didn't have any access to anything other than the same material [everyone has]. It was just a lot of listening. Everyone in our band really did our homework and dug into it and [dedicated] a few soundchecks to working up a song at a time.
It was really one full rehearsal with Trey in New York City and then a little half-day of rehearsal when [guitarist] Doyle [Bramhall II] showed up on-site at Lockn'. It came together pretty quickly once everyone was there. When Doyle finally showed up, he was that last ingredient. He had played with Eric so long and I'd played with Doyle together with Eric, so some of those parts fell right into place.
He's a master of putting things where they need to be. You almost don't notice they're there, but you notice if it's not there. [Laughs.] When Doyle stepped in, I knew the set was going to feel good. It went off, right out of the gate, better than any of us could have hoped, from the first note.
You could tell there were good nerves onstage from the first song. You can feel everyone's excitement about what we were doing. A few songs in, you can feel that the energy shifted where everyone was fully in it and letting it fly. There are some nights you feel like you can play anything. You don't have to think about it at all. It got to that place, which is rare when you're not doing material you know all that well.
That was nice, you know? You hope it's going to go off that way. It doesn't always go off that way. It's refreshing to know it wasn't just the energy of the crowd or the excitement of doing it, but it actually held up when we listened back to it. You never know.
Sometimes, you play a show you think is great, then you go back months or even years later and you go "Well, maybe it'd be more fun if you were there." This one had a different feel to it, and it held up.
Is this the only time you and Susan have performed it in full?
Yeah, and I think it's probably the only time we will do it that way. There's something special about keeping it to that.
Well, it's like the band itself. One and done. Get in and get out.
Totally. Don't let anything f* up your legacy!
Dave Mason On Recording With Rock Royalty & Why He Reimagined His Debut Solo Album, 'Alone Together'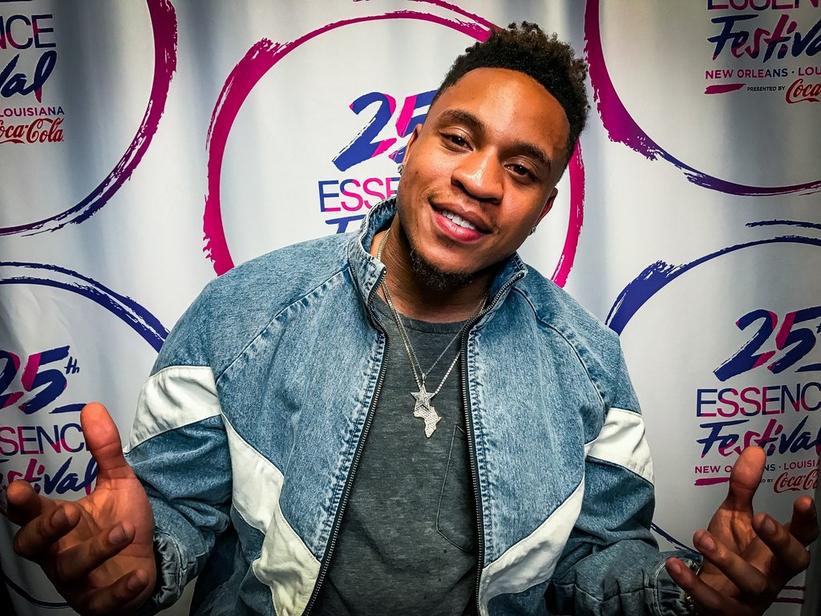 news
Rotimi On Performing At ESSENCE Fest, Growing Up African-American & More
The Nigerian-American singer and actor sat down with the Recording Academy to talk about what inspired his latest album, 'Walk With Me'
GRAMMYs
/
Jul 8, 2019 - 10:04 pm
In 2015, Rotimi stepped into the New Orleans Superdome for the first time to experience the magic of ESSENCE Fest. Four years later, in 2019, the "Love Riddim" singer returned to the celebration as a performer, something he said was spoken into existence.
"Last year me and my manager had a conversation and I said, 'Listen, I'm going to be on the [ESSENCE] mainstage this year. 365 days later, we did it," Rotimi told the Recording Academy at the 25th annual ESSENCE Fest.
Rotimi, also an actor on Starz' "Power," has evolved since his last album, 2017's Jeep Music, Vol.1. The singer said he really hit home with its follow-up, the recently released Walk With Me, a project he worked hard for, putting in hours in the studio after filming on set.
"Walk With Me is the first time I actually felt like I was giving myself as an artist, and personally I feel like with everything else I have going on I wanted to show people that this is really what I do," he said. "I wanted people to understand who Rotimi is, who Rotimi was before, who I want to be and just understand my growth and the journey and my passion for what I do."
Part of why the album felt like such a representation of him is because it embodies beats of his African roots, something he said was very present growing up Nigerian-American.
"I grew up with a lot of Fela Kuti and I grew up with Bob Marley," he said of his musical roots. "But I also grew up with Carl Thomas and Genuine and Usher, so there was a genuine mixture of who I am and what I've grown up to listen to. The actual Walk With Me project was a mixture of influences of Akon and Craig David."
Mumu Fresh On What She Learned From Working With The Roots, Rhyming & More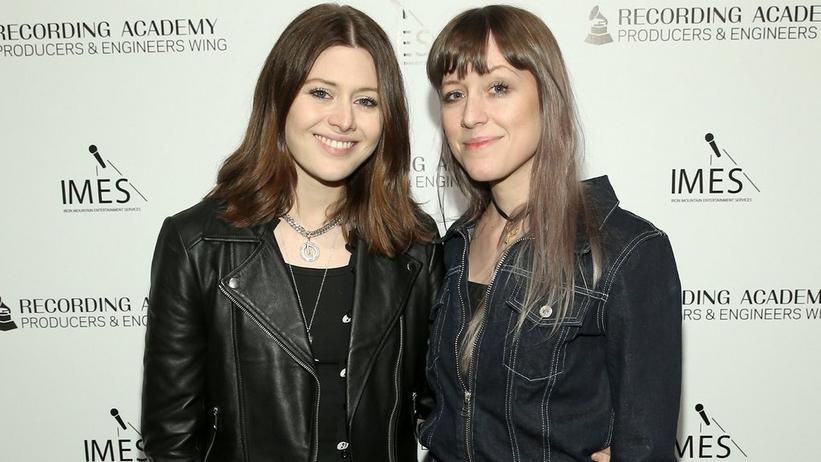 Photo: Jesse Grant/Getty Images
news
Herbal Tea & White Sofas: Larkin Poe On Their Love For Local Snacks On Tour
Watch Rebecca and Megan Lovell, a.k.a. Larkin Poe, discuss their favorite parts of touring, which include trying local snacks and connecting with their fans
GRAMMYs
/
Sep 1, 2021 - 10:44 pm
You know when you're at a party and the food is so delicious, you wish you had a little more room in your stomach? And if the host gives you a little to-go container when you leave, it's the perfect chef's kiss moment.
For GRAMMY-nominated roots rock 'n roll sister duo Larkin Poe, touring with legendary British artist Elvis Costello was a bit like this. As they explain in the latest episode of GRAMMY.com's Herbal Tea & White Sofas, they loved the gourmet cheese he had backstage so much, they'd wrap up leftovers in napkins to snack on later.
In the video above, watch Rebecca and Megan Lovell, a.k.a. Larkin Poe, discuss their favorite parts of touring, which include trying local snacks and connecting with their fans.
11 Things We Learned About Larkin Poe At The GRAMMY Museum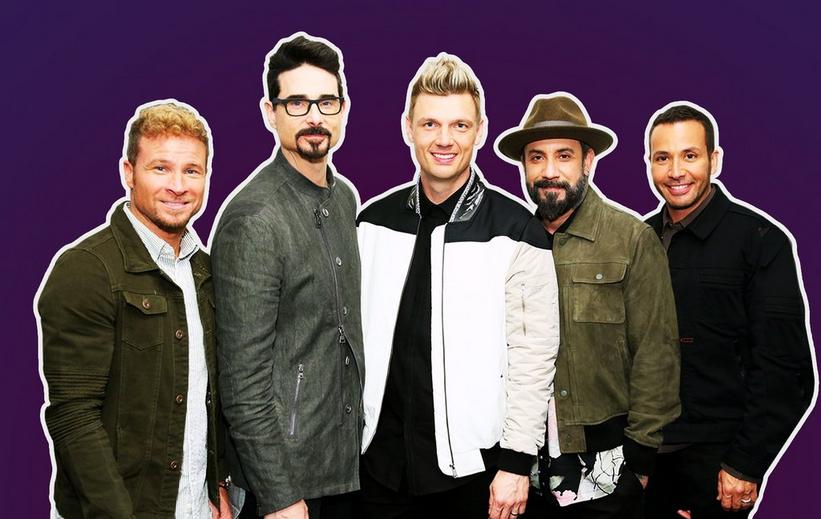 Photo: Rebecca Sapp | Design: F. Inomata
news
Backstreet Boys Talk GRAMMY Museum "Experience," 'Millennium' Legacy & Touring
As they unveil the interactive 'Backstreet Boys: The Experience' exhibit, we go behind the scenes with the GRAMMY-nominated boy band to look back on their 26 years together
GRAMMYs
/
Apr 19, 2019 - 02:10 am
On April 8, the Backstreet Boys visited the GRAMMY Museum for a very special evening; the preview night of the newest exhibit there, Backstreet Boys: The Experience. AJ McLean, Howie Dorough, Nick Carter, Kevin Richardson and Brian Littrell all played a part in making the exhibit happen, sorting through old wardrobe trunks to choose which iconic '90s and '00s looks to put on display and sifting through the countless fan photos and homemade memorabilia they've been gifted over their 26-year career.
We went behind the scenes with the GRAMMY-nominated group right after they explored the newly set up exhibit for the first time, as they reflected on who BSB is today, their legacy, having fun in Las Vegas and their excitement for the DNA World Tour. Or, as McLean put it, their "biggest tour in 18 years," in support of 2019's DNA.
"I think [The Experience] is gonna surprise a lot of people, bring back a lot of memories…if you're a fan, this plays homage to you," Carter told us about the new exhibit. "[There's] a lot of things you can interact with, but just really cool things that remind people who the Backstreet Boys are and where we've come from, so it's a cool experience."
Speaking of looking back, the group also discussed the 20th anniversary of their record-breaking album Millennium, which was the best-selling album of 1999.
"Millennium is probably, to this day, one of the biggest album's we've ever had. I think if we weren't on the map by that time in most people's eyes and ears, we were definitely at that point," Dorough said. "I think that itself is what's continued the legacy of the Backstreet Boys."
Backstreet Boys: The Experience is currently on display at the GRAMMY Museum L.A. Live in Downtown Los Angeles until Sept. 2. Learn how and when to have your special BSB experience on the Museum's website.
LANY Is The Modern, Thoughtful Pop Group The World Needs Right Now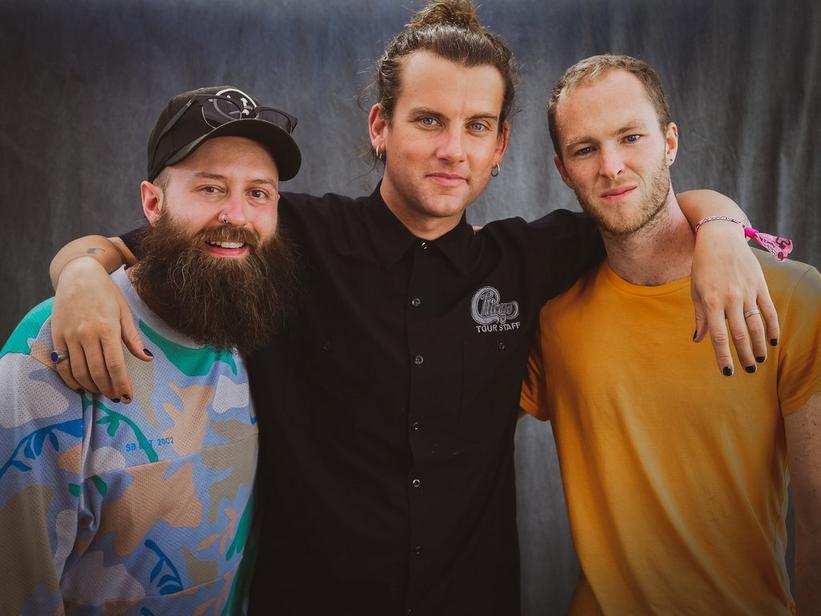 Photo by Daniel Mendoza / The Recording Academy
news
Judah & The Lion On Choosing Hope In Tough Times: "Just Talk About It, And You'll Feel Less Alone"
"Choosing hope and choosing a way forward is something that we all have the power to do," the Nashville trio told the Recording Academy at Lollapalooza 2019
GRAMMYs
/
Aug 7, 2019 - 10:23 pm
Nashville trio Judah & The Lion, a.k.a. singer/guitarist Judah Akers, singer/mandolinist Brian Macdonald and banjoist/singer Nate Zuercher, recently released a powerful third LP called Pep Talks.

Dealing with tough themes like death and divorce, Pep Talks covers some deeply difficult subjects, but it is also the band's way of connecting with audiences, who might be going through their own hard times.
"It's really wild what people are going through in life. People struggle, whether or not they admit it," lead singer Judah Akers tells the Recording Academy at Lollapalooza 2019. "People are going through stuff. And I think that music is such a beautiful way for us to express that. What we like to share is, 'You're not alone in this.'"
Akers went on, describing the way fans approach him to tell him how the band's music has helped them get through some difficult times:
"We had somebody the other day who came up to us and say, 'Your song really helped me out. I was wanting to commit suicide, and I listened to it, and I didn't want to anymore.' And I'm like, 'Oh no, dude, it's OK that you're having those thoughts, but go and talk to someone. Express the way that you feel. Somebody that you trust. If you can go to counseling, talk to a friend, talk to a sibling, someone that you love and trust.'
"Nine times out of 10, or 10 times out of 10, in my experience, that person is going to meet you with so much empathy and solidarity. And then you can just talk about it, and you feel less alone in the world. That's what we're trying to do as humans, is figure this sh*t out. Nobody's got it all together. Nobody's perfect. We're just going for it. Choosing hope and choosing a way foward is something that we all have the power to do."
Check out Judah & The Lion's interview in full above.
Take A Look Back At Lollapalooza 2019, With Alesso, Loud Luxury, SHAED And More | On The Road