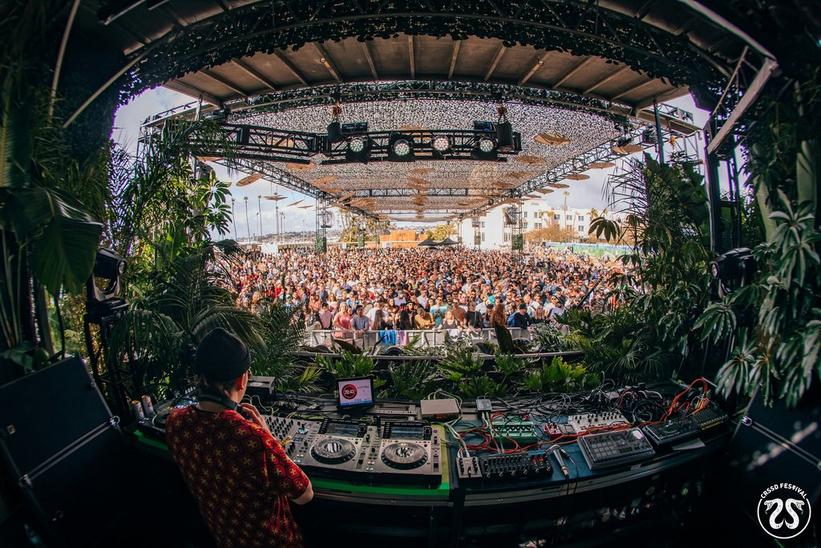 CRSSD Festival Spring 2019
news
CRSSD Fest Fall 2019: Hot Chip, Yaeji, Kaskade, FISHER, Portugal. The Man & More
KAYTRANADA, Richie Hawtin, Amelie Lens, Eli & Fur, MK, Shiba San and Walker & Royce are among some of the other artists bringing fire to the bi-annual San Diego festival
GRAMMYs
/
May 30, 2019 - 06:35 am
Today, CRSSD Festival announced its phase one fall lineup, which includes GRAMMY winners Portugal. The Man, GRAMMY nominees Hot Chip, FISHER, and Kaskade. Beloved beats maestros Yaeji and KAYTRANADA, techno heavy-hitters Richie Hawtin and Amelie Lens and house music favorites MK and Eli & Fur will also perform at the event, which returns to its scenic oceanside home at Waterfront Park in San Diego, Calif. on Sept. 28–29.
Since its launch in spring 2015, the bi-annual fest has earned a reputation as being one of the California's top electronic music events, bringing a solid mix of rising and established talent in the house, techno, electro-pop worlds.
This year, dance music legend and festival favorite Kaskade will be tapering down his EDC-level production for a special edition of his Redux show, where he offers deep cuts and a more intimate club-inspired vibe. Dirtybird Records labelmates and tech house performers Shiba San and Walker & Royce will be playing a collab B2B set, while Chicago underground house trailblazers Derrick Carter and Mark Farina will also be doing a B2B show.
In addition to the beautiful California coast music festival experience CRSSD offers, they also take over San Diego with "CRSSD By Day" and "After Dark" parties that will keep the world-class dance music bumping all day and night.
Tickets go on sale Tues., June 11. More info, including the complete phase one lineup, can be found on CRSSD's site.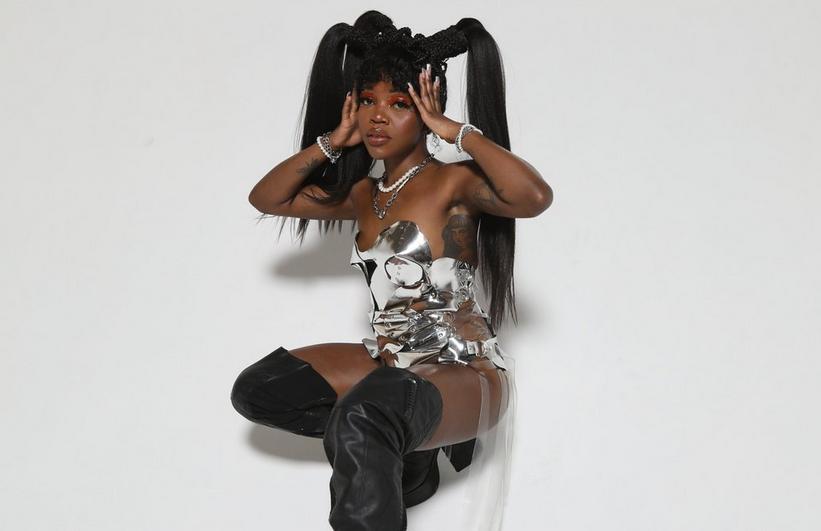 interview
Tkay Maidza On Her 'Sweet Justice' Inspirations: Tarot Cards, Lost Passports And Trusting Herself
Tkay Maidza knows karma tastes sweet. In an interview with GRAMMY.com, the singer-rapper reflects on her second album Sweet Justice, self-discovery after getting stranded in Berlin, and working with GRAMMY-winning producers Flume and Kaytranada.
GRAMMYs
/
Nov 21, 2023 - 03:10 pm
There are few situations more stressful than losing your passport. But luckily, for Tkay Maidza, the panic-ridden circumstance ended up being a blessing in disguise.
Forced to wait in Berlin for her visa, the hip-house musician decided to take advantage of her involuntary months-long stay by making a pact with herself to do something new every few days. Soon, late nights and new friends reminded Maidza what life was all about, and Berlin became the birthplace of creative renewal — and her second album Sweet Justice.
"I feel the most creatively free when I'm having fun," the Zimbabwe-born, Australia-raised artist tells GRAMMY.com over Zoom. True to her vibrant spirit, Sweet Justice is a product of not only her search for novel experiences, but also the liberty she unlocks by breaking routine.
Long before her rejuvenating Berlin ventures, Maidza's 10-year-plus musical journey took off with her stomping debut single "Brontosaurus," leading to the success of her 2016 self-titled debut album. Influenced by visionaries like Azealia Banks and Kendrick Lamar, the singer/rapper honed her skills even further with a refreshing EP trilogy titled Last Year Was Weird (2019-2021) — and her ambition landed her opening slots on Billie Eilish and Dua Lipa's massive 2022 tours.
Ups and downs transpired after her three-prong EP series — as Maidza changed management, ended some rocky friendships, and moved to Los Angeles. Following this transitional period — and a few insightful tarot card readings — karma emerged as a core theme for Sweet Justice.
While Maidza is in firm control of her artistic vision (she gives thanks to her Capricorn placements), she's still welcome to the liberation that manifests upon leaving everything up to the universe. There's a restorative, exhilarating energy that floods Sweet Justice, and with influences like Missy Elliott and Janet Jackson, it's no wonder her fusion of hip-house, R&B, and alternative pop resonates so deeply.
Maidza is continuing to tap into life's many joys and adventures. As much as she loves diving into Reddit threads and playing tennis, she's back on the road, celebrating her album release by touring through 2023's last couple months.
Fresh off a flight from London, Maidza chatted with GRAMMY.com about her creative reinvention, understanding music as an experience, and how Sweet Justice came to life.
This interview has been edited for clarity.
Tarot card readings helped inspire some of the themes in Sweet Justice, like karma and rebirth. Tell me about that.
I've kind of been always obsessed with tarot card reading since I started touring. I think it's because my mom would tell me that she kind of knew that I was going to venture off into music, but she was waiting for the right moment to tell me. So it became something to do whenever I had some confusion in terms of where to go.
After the Last Year Was Weird project, I was going through a lot of transitions — in regards to friends, from moving cities from Australia to LA. There was a big question mark of what to do next after my EPs. I remember, in a lot of the situations that I was experiencing, it didn't feel really fair. But when I had tarot readings, I kept getting the Justice card… that was kind of my theme for the album. I was like, I just have to regain my confidence and be healthy and be well and leave it all to the universe.
Also, I just took inspiration from the actual [Justice card] artwork with the reds, golds, and how the person in the terracotta is like sitting down in the middle; it's about balance and transformation.
I was just about to say, the album cover is gorgeous. Was it partially inspired by the Empress tarot card, too? I feel like they're a bit similar.
Definitely. There's always the High Priestess and the Empress. I just felt like with the Justice card, there's a lot of red, and I wanted to focus more on those colors.
But yeah, when I was doing my last EPs, that was more based on the High Priestess, where the centerpiece is a woman, and it's also the idea of birth and rebirth and abundance and enlightenment. And I think it has this ethereal feeling as well, and those three pictures, they also give that emotion of endless possibilities.
You've worked with some big names to produce Sweet Justice — Flume, KAYTRANADA and Stint, to name a few. Tell me about a moment one of those producers helped you push your creative boundaries.
I feel like I've always been working up to working with these producers. They were on my wish list since I began making music. Working with them in person, I feel like I was being pushed by basically trying to impress them, like I wanted to make sure it was a song that I could imagine them having with another artist. It was just putting my best foot forward.
I'm so lucky that they're all really nice people. And they were like, Whoa, this is sick. Wow. This is cool. They weren't really trying to control the sessions or anything, it was more so them letting me be myself. And that level of me pushing myself just came from making sure it was up to par with how I see them as producers.
What surprised you the most about the album making process?
The thing that surprised me the most was probably the amount of trust that I had in myself. I hadn't really trusted myself that much before, and in this process, I was working with so many different producers, so I kind of held it together more than I thought. I thought it might turn into a big mess where you're like, Oh my god, I need to rely on someone, but it flowed so easily. I felt like I was in a really good energy for two or three months where I made six songs that I just really love.
Beforehand, I was kind of in this bubble of not writing for eight months. So I was like, oh my god, I have to literally finish this before the end of the year. And it was the right time, right place, right people. And it came together. I think it was mostly just my attitude towards the whole process was what surprised me because I've definitely had moments where I feel stuck.
Right, finding the right headspace is just so important, especially for creative projects. When you kind of stumble into a period of uncertainty, or face a creative block, how do you navigate that?
I try to listen to a lot of music, but I also just try to live and have fun. If I get into a block, there seems to be some sense of monotony going on in my life; I'm not as inspired because I'm not experiencing enough. It could just be like, I'm just too zoned in on one aspect of my life. But when I open it up, then there's like a more free flowing energy, and I'm able to make the most out of every moment of the day.
It's important to switch up your routine! What are your favorite hobbies, outside of music?
I love playing tennis. I honestly love being on Reddit. I don't even know if that's a hobby. Listening to podcasts, hiking, going bowling, going to aquariums. Going on long drives to random places that I've never been, just seeing the environment that I'm in. And I think I'm really lucky being in LA because you can travel 30 minutes to an area you've never been in. It's a completely new experience.
Your EP trilogy Last Year Was Weird served as your reintroduction to the world. What was your approach to that three-part project versus Sweet Justice?
When I went into the three LPs, it was almost like a rebranding for me, in the music sense, but [also] as a person. I wrote down 50 things I hoped to achieve five years from now… I had to grow as a person as well, because I was on the beginning of experimenting with old R&B, old rap, and all that. I knew I really liked it.
But then those three EPs were the process of me improving. I hoped that when each project came out, it would catch onto more people. So that was the rebrand and hopefully, there's new people that come on the journey. And I was really lucky to see that that's what happened.
With Sweet Justice, the idea was reconfirming and doubling down that this is the space that I sit in… In some ways, it's saying I'm a chameleon, but I think there's a common thread with a lot of songs from the EPs and this album.
And that's what I wanted to further cement because I feel like sometimes artists can do something that's really dope, and then they just completely jump to the other side again, and you're just like, What? So yeah, I just wanted to further cement that I'm like, This is who she is, and I hope you like it.
You mentioned rebranding. Does that process feel natural to you, or do you feel like there's more of a pressure to reinvent yourself constantly?
It wasn't natural; it felt necessary to me. When I started off in the music industry, I wasn't really sure what I was doing; everything I released felt like trial and error. By the time I got to Last Year Was Weird, I was like, OK, we've been in the music industry for like, five years, and now we can't be reactive, we have to be proactive. So it just felt more meaningful when things worked out, because it was what I was setting out to do each time. I just wanted to make sure that I had control of the direction that I was going instead of being like, oh, this random song that I made in a session worked out.
One thing I love about your artistry is that you emphasize making music into a full, lush experience. What are some of the ways you feel music transcends just pressing play on your phone?
Having the complete package brings you back to a moment in time. When I think of when Kanye West released ​​My Beautiful Dark Twisted Fantasy, you can remember that year — when you saw the music videos, the emotion that evoked. And how it was relevant to your actual life.
When you cover all those bases, it's not just a song. You're living it. And I'm almost inviting everyone to understand my perspective… Making it immersive is so important to me. Because sometimes you might not understand the song, but if you see it, and you see the way the person is holding themselves, it sells it more to you, and it makes you love it more… they're coming along on this journey with you.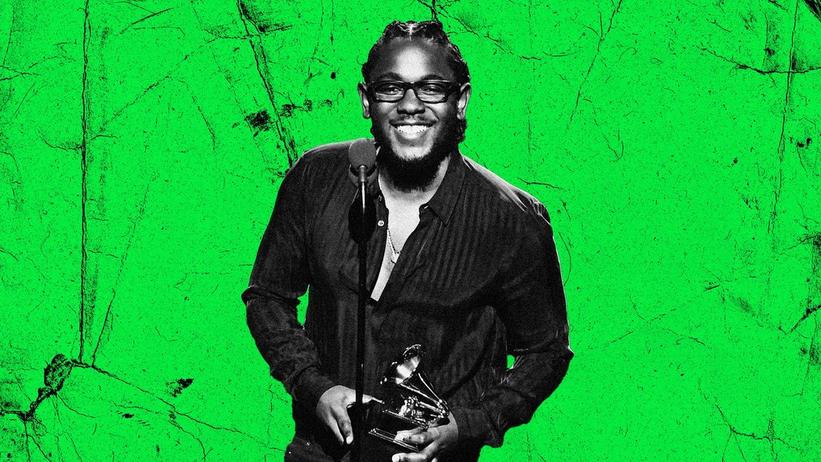 Kendrick Lamar
Photo: Jeff Kravitz/FilmMagic
video
GRAMMY Rewind: Kendrick Lamar Honors Hip-Hop's Greats While Accepting Best Rap Album GRAMMY For 'To Pimp a Butterfly' In 2016
Upon winning the GRAMMY for Best Rap Album for 'To Pimp a Butterfly,' Kendrick Lamar thanked those that helped him get to the stage, and the artists that blazed the trail for him.
GRAMMYs
/
Oct 13, 2023 - 06:01 pm
Updated Friday Oct. 13, 2023 to include info about Kendrick Lamar's most recent GRAMMY wins, as of the 2023 GRAMMYs.
A GRAMMY veteran these days, Kendrick Lamar has won 17 GRAMMYs and has received 47 GRAMMY nominations overall. A sizable chunk of his trophies came from the 58th annual GRAMMY Awards in 2016, when he walked away with five — including his first-ever win in the Best Rap Album category.
This installment of GRAMMY Rewind turns back the clock to 2016, revisiting Lamar's acceptance speech upon winning Best Rap Album for To Pimp A Butterfly. Though Lamar was alone on stage, he made it clear that he wouldn't be at the top of his game without the help of a broad support system. 
"First off, all glory to God, that's for sure," he said, kicking off a speech that went on to thank his parents, who he described as his "those who gave me the responsibility of knowing, of accepting the good with the bad."
He also extended his love and gratitude to his fiancée, Whitney Alford, and shouted out his Top Dawg Entertainment labelmates. Lamar specifically praised Top Dawg's CEO, Anthony Tiffith, for finding and developing raw talent that might not otherwise get the chance to pursue their musical dreams.
"We'd never forget that: Taking these kids out of the projects, out of Compton, and putting them right here on this stage, to be the best that they can be," Lamar — a Compton native himself — continued, leading into an impassioned conclusion spotlighting some of the cornerstone rap albums that came before To Pimp a Butterfly.
"Hip-hop. Ice Cube. This is for hip-hop," he said. "This is for Snoop Dogg, Doggystyle. This is for Illmatic, this is for Nas. We will live forever. Believe that."
To Pimp a Butterfly singles "Alright" and "These Walls" earned Lamar three more GRAMMYs that night, the former winning Best Rap Performance and Best Rap Song and the latter taking Best Rap/Sung Collaboration (the song features Bilal, Anna Wise and Thundercat). He also won Best Music Video for the remix of Taylor Swift's "Bad Blood." 
Lamar has since won Best Rap Album two more times, taking home the golden gramophone in 2018 for his blockbuster LP DAMN., and in 2023 for his bold fifth album, Mr. Morale & the Big Steppers.
Watch Lamar's full acceptance speech above, and check back at GRAMMY.com every Friday for more GRAMMY Rewind episodes. 
10 Essential Facts To Know About GRAMMY-Winning Rapper J. Cole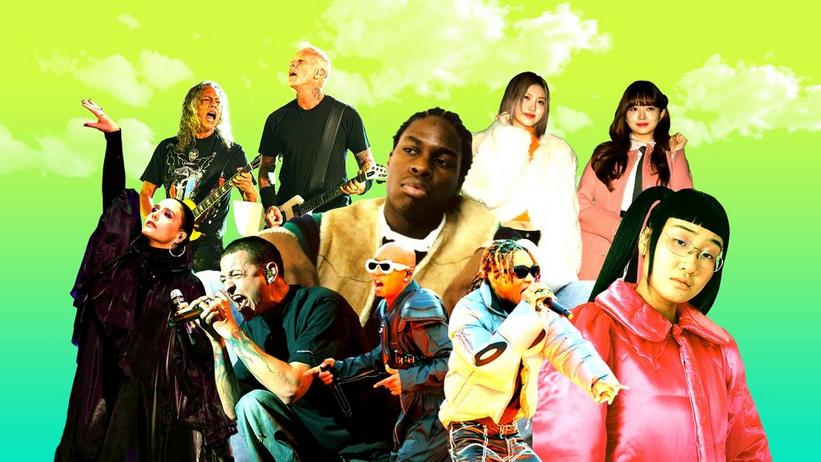 (Clockwise from left) Jessie Ware, Metallica's Kirk Hammett and James Hetfield, Daniel Caesar, IVE, Yaeji, Rae Sremmurd, Chester Bennington of Linkin Park
Gareth Cattermole/Getty Images for BFC;  Jeff Kravitz/Getty Images for P+ and MTV; Cassanova Cabrera; Jung Yeon/JAFP via Getty Images; Dasom Han; Ethan Miller/Getty Images; Kevin Mazur/WireImage
list
15 Must-Hear New Albums Out This Month: Metallica, Yaeji, Daniel Caesar, Hunter Hayes & More
From highly-anticipated returns to can't-miss debut releases, check out 15 albums dropping this April from Linkin Park, IVE, Rae Sremmurd, and many more.
GRAMMYs
/
Apr 3, 2023 - 01:36 pm
Between the annual New Orleans Jazz & Heritage Festival, Coachella and a release calendar stacked with fresh debuts and long-awaited returns, this April makes for an exciting time for music lovers.
This month sees Everything but the Girl's first album since 1999, as well as milestone freshman releases from IVE and Yaeji. Hard rock legends Metallica blend punk with heavy metal on 72 Seasons, and Illenium introduces a host of rock subgenres to his EDM catalog. Y La Bamba and Daniel Caesar bear the honesty and confusion of heartbreak, while Bebe Rexha and NF look toward a more promising future. 
From country jams to pop divas, GRAMMY.com delivers a guide to 15 essential albums dropping in April 2023.
Daniel Caesar -
NEVER ENOUGH
Release date: April 7
With three critically acclaimed albums and a hit collaboration with Justin Bieber under his belt, a soulful rendition of Kanye West's "Street Lights" and his own passionate love ballads, Daniel Caesar has solidified his place as one of R&B's key players. 
Caesar's first studio album in nearly four years, NEVER ENOUGH, features introspective heartbreak singles "Do You Like Me?" and "Let Me Go," each of which meld blues and R&B. Caesar will commence the Almost Enough: The Intimate Sessions tour through North America on April 6 to highlight the new music.
Yaeji -
With A Hammer
Release date: April 7
After a successful slew of festival appearances, mixtapes, EPs and even a merch drop on Animal Crossing, house DJ Yaeji is opening a new chapter of childlike exuberance. Her debut studio album, With A Hammer, features collaborations with fellow rising EDM artists Loraine James, Enayet, K Wata, and Nourished By Time and will dovetail with a North American tour later this month.
In an interview with Pitchfork, Yaeji explained that she curated a 111-page booklet to contextualize the release. The With A Hammer booklet details a fictional journey tinged with magical wizard dogs and conscious hammers, which she loosely references in the music video for the album's second single, "Done (Let's Get It)." Yaeji refers to the story as her inner "spunky kid who has just awakened and is trying to scream."  
Rae Sremmurd -
SREMM4LIFE
Release date: April 7
In the mid-2010's, Rae Sremmurd's "No Flex Zone," "No Type" and "Swang" dominated radio stations and streaming platforms. The Mississippi-based hip-hop duo' "Black Beatles" had similar resonance, becoming the theme song for 2016's viral mannequin challenge and inspired Nicki Minaj's flirty remix, "Black Barbies."  
There has been no news of a comeback since 2018's SR3MM, while frequent solo endeavors from Swae Lee made a fourth release seem unimaginable. On March 9, the pair unexpectedly announced that the wait was finally over: Rae Sremmurd has finally reunited for their fourth album, SREMM4LIFE, leading with the cheeky single, "Tanisha (Pump That)."
Linkin Park -
Meteora (20th Anniversary Edition)
Release date: April 7
Revisit the magic of Linkin Park's Meteora with a repackaged 20th Anniversary Edition. The group's sophomore album features some of the best-selling tracks in the band's discography, including the quadruple-platinum, GRAMMY-winning "Numb" and the Billboard Modern Rock chart-topping "Faint."
The revamped version includes six unreleased songs from the Meteora archives, most notably "Lost," which showcases the vocals of late frontman Chester Bennington. In a press statement, guitarist and vocalist Mike Shinoda said, "Finding this track was like finding a favorite photo you had forgotten you'd taken, like it was waiting for the right moment to reveal itself. For years, fans have been asking us to release something with Chester's voice, and I'm thrilled we've been able to make that happen in such a special way."
NF -
Hope
Release date: April 7
Rapper NF is a silent star, quietly creeping onto the scene in late 2017 with his hit single, "Let You Down." Despite pulling over a billion streams on a single song, most people tend to overlook the existence of the artist born Nathan Feuerstein. In fact, he prefers it that way. NF's music was never about fame, but a place to lay out his battles with OCD and grapple with the resulting trauma of his upbringing.
On his upcoming project, HOPE, NF turns a new leaf, welcoming fans to indulge in a more optimistic view of the future. As he acknowledges the happiness he's found in his wife and children on the album's titular single: "I'm a prime example of what happens when you choose to not accept defeat and face your demons." 
IVE -
I've IVE
Release date: April 10
After stepping into the K-pop landscape in December 2021, IVE quickly became one of the industry's leading fourth generation girl groups. Tracks "Love Dive" (2022) and the viral Gloria Gaynor-sampling "After Like" (2022) ruled Korea's music charts, simultaneously receiving acclaim in the United States as one of the best K-pop songs of 2022 by NME and Teen Vogue. With such skyrocketing success, it's an understatement to say the anticipation for IVE's first studio album, I've IVE, is high.
I've IVE is a culmination of the confident IVE ethos, as their company, Starship Entertainment, described in a press release. To celebrate the release of their long-awaited album, IVE will begin the second leg of their Asia tour, The Prom Queens, this June.
Metallica -
72 Seasons
Release date: April 14
Fans have eagerly anticipated the heavy metal legends' return since March 2019, when bassist Robert Trujillo teased the start of their eleventh studio album. Kicking off their new album is the guitar-heavy, punk-influenced "Lux Æterna." Following "Lux Æterna" are two more classic heavy metal tracks, "Screaming Suicide" and "If Darkness Had a Son."
In support of 72 Seasons, Metallica will embark on a North American tour  with support from Architects, Mammoth WVH, Five Finger Death Punch, Volbeat, Ice Nine Kills, Pantera, and Greta Van Fleet. Each city will see Metallica in a two-night performance containing two completely different setlists and opening acts.
Hunter Hayes -
Red Sky
Release date: April 21
Knowing that the hazy turquoise of Hunter Hayes' Wild Blue would be his final major label studio release, his seventh full-length album, Red Sky, becomes all the more symbolic. 
Red skies often signify change — a fitting title and visual as Hayes comes into himself as a fully independent artist. "This project is about the adventure of finding yourself," Hayes said on Instagram after unveiling two pop-country singles, "Sober" and "Someone Will." "Lyrically, it's for anyone who needs a reminder of how unique your fire inside is and how much the world needs more you in it." 
Hayes will begin his Red Sky Tour on May 6 in San Diego, culminating in Denver on June 3. 
Easy Star All Stars -
Ziggy Stardub
Release date: April 21
New York-via-Jamaica reggae collective Easy Star All-Stars are known for their addicting interpretations of music's most renowned albums: They've conquered the Beatles' Sgt. Pepper's Lonely Hearts Club Band, Michael Jackson's Thriller, and Pink Floyd's Dark Side of the Moon.
Next on their list is David Bowie's The Rise and Fall of Ziggy Stardust and the Spiders from Mars, now titled Ziggy Stardub, out on Easy Star Records. The album will feature guest appearances from Macy Gray, Steel Pulse, Alex Lifeson of Rush, Fishbone, Vernon Reid of Living Colour, and more. The first glimpse into the cosmic world of reggae Ziggy Stardust is "Starman," a charismatic take on Bowie's single of the same name.
Jethro Tull -
RökFlöte
Release date: April 21
On RökFlöte, prog rock pioneers Jethro Tull offer their own take on Norse mythology, specifically the apocalyptic tale of Ragnarök. The band's 23rd album launches with the release of "Ginnungagap," a flute-led rock tune inspired by the god Ymir. 
According to their press release, RökFlöte will largely be an instrumental homage to the group's incorporation of the flute. Throughout, Ian Anderson and co. will explore the storyline of "the characters and roles of some of the principal gods of the old Norse paganism."
Everything but the Girl -
Fuse
Release date: April 21
It was an entirely different century the last time we saw Everything but the Girl. Since the release of Temperamental in 1999, the duo behind the sophisti-pop band got married to each other, published memoirs, and worked on solo efforts. Fuse holds Everything but the Girl in a modern context, exploring topics of love and anxiety.
Chatting with the New York Times, EBTG's Tracey Horn credits quarantine boredom for sparking the idea of reuniting as a duo. "We were confronted with the decision that a lot of people were confronted with: what are we going to do now? Are we going back to what we were doing? Or, is this the start of something new?"
Bebe Rexha -
BEBE
Release date: April 28
In 2018, Bebe Rexha's contemplative Expectations narrated negative self-talk, heartbreak, and instability.  With the release of her 2022 chart-topper, "Blue (I'm Good)," and the lead single from her forthcoming self-titled album, Rexha reveals that she's settled into a happier place. No longer tied down to broken relationships or burdened by depression, Rexha just wants to have fun — and it shows on "Heart What It Wants." 
Bebe is a celebration, a requiem to the nights spent crying that led to her current bliss. Most importantly, it's an opportunity to connect with her supporters. "I want to see my fans in person. I want to play the deeper cuts, feel the energy of my fans," Rexha told Elite Daily in November.
Y La Bamba -
Lucha
Release date: April 28
Latin indie alternative band Y La Bamba's Lucha has been a long time in the making, starting development right before the outbreak of COVID-19. Eventually, Lucha grew into a collection of stories of queerness, Chicanx identity, and loneliness prompted by the isolation of the pandemic. 
The album's lead single, "Dibujos de Mi Alma," chronicles the ambivalent feeling of loving someone but also recognizing it's time to move on. As lead vocalist Luz Elena Mendoza croons in Spanish, "Although it hurts, you will find/ The traces of another will give you affection." If "Dibujos" is any indication, the rest of Lucha's vulnerable yet relatable tracks will pull at your heartstrings.
Jessie Ware -
That! Feels Good!
Release date: April 28
Fresh off Harry Styles' Love On Tour, Jessie Ware returns with her fifth studio album, That! Feels Good! The lead single, "Free Yourself," confirms that the singer is not leaving the disco present on her previous What's Your Pleasure? just yet.
In a press release, Ware explained that the album's second single, "Pearls" was heavily influenced by disco divas Donna Summer, Evelyn "Champagne'' King, Teena Marie, and Chaka Khan. The album is a reflection of her growth, she continued. "That! Feels Good! stems from over 10 years of understanding who I am, and who I enjoy being as an artist and the thrill of performance."
Illenium -
ILLENIUM
Release date: April 28
You probably know Illenium from his dance-pop tracks and remixes, including collaborations from the Chainsmokers, Khalid, Tori Kelly, and most recently, a rendition of Taylor Swift's Midnights' single, "Anti-Hero." But on his upcoming self-titled album, the EDM heavyweight is charting new territory.
With assistance from Jxdn, Travis Barker, Avril Lavigne, All Time Low, Motionless in White, and others, Illenium will be crossing over into rock sub-genres, ranging from emo rap to heavy metal. If you're a lover of EDM-pop fusion, don't worry too much — this album still holds Illenium's signature sound in his tracks with MAX, Nina Nesbitt, JVKE, and Skylar Grey.
Listen: 50 Essential Songs By The Beach Boys Ahead Of "A GRAMMY Salute" To America's Band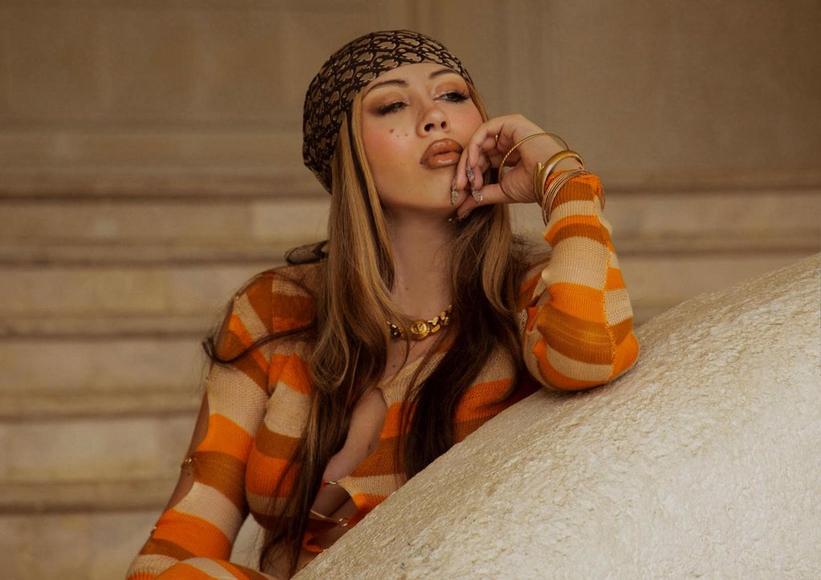 list
Kali Uchis Essentials: 9 Songs That Flaunt Her Soulful Magnetism
In honor of Kali Uchis' new album 'Red Moon In Venus,' take a listen to these instant classics by the ​​Colombian American singer/songwriter.
GRAMMYs
/
Mar 9, 2023 - 06:20 pm
Kali Uchis knows how to make her fantasies a reality. Pushing aside others' skepticism early in her career, the singer/songwriter blithely traverses progressive R&B, neo soul, and Latin pop with allure. Following a mixtape and handful of EPs, Uchis' breakthrough debut album Isolation showcased her spectacular dynamism and embrace of risk, charting within the Billboard Top 40 in 2018.
Since, Uchis has continued to connect with her audiences on even grander scales. Her genre-bending music, especially on her 2020 album Sin Miedo (del Amor y Otros Demonios), champions the importance of staying true to oneself. She's remained refreshingly lucid and intentional with her artistry — and her most recent project takes the shape of divine freedom.
On her recently released Red Moon In Venus, Uchis invites us into her secret garden. Inside, femininity reigns supreme, its potency and power concealed by an irresistible pearly glamor.
In honor of the GRAMMY-winning musician's latest lush record and upcoming tour — which begins in Austin, Texas in April — tune into these nine Kali Uchis essentials, and soak up her divine style and versatility.
"Melting,"
Por Vida
(2015)
Although the song's title refers to ice cream, Uchis laces "Melting" with a sweet, mellow warmth. It paints the honeymoon stages of a relationship in pink shades; you can picture blushing cheeks, fawning eyes, and shared smiles between lovers.
The track comes from Uchis' debut EP, exemplary of the power of the singer's reflective, rosy whimsy at an early point in her career. The EP melds R&B, soul and dream pop, and "Melting" twirls with affection and comfort — encapsulating the soft serenity that Uchis continues to embrace today.
"El Ratico" with Juanes,
Mis Planes Son Amarte
(2017)
"Se acabó el ratico, aquí está el anillo," Juanes and Uchis sing on "El Ratico," which translates to "Time's up, here's the ring."
The high-profile duet, which was also nominated for a Latin GRAMMY for Record Of The Year, is an ode to the lost time in a relationship. The Colombian singers are in harmony as they detail sleepless nights filled with tossing and turning, blue skies turning gray. The song's use of popular Colombian rhythms serve Uchis well, further showcasing her effortless versatility.
"Your Teeth In My Neck,"
Isolation
(2018)
Based on its title, one might anticipate "Your Teeth In My Neck" to be a twisted love song of sorts. The track, however, sees Uchis aim frustration at wealthy corporations for exploiting immigrants and working class families. From an immigrant family from Pereira, Colombia, Uchis understands the dangers of hustle culture and prioritizing productivity above all else.
"Rich man keeps getting richer, taking from the poor," she sings. "You gotta get right, 'cause you know better…" She repeats the last clause nonchalantly, pleasantly in theme with Isolation's groovy serenity, but its repetition reminds listeners of the song's rightfully accusatory nature.
"After The Storm" ​​feat. Tyler, The Creator and Bootsy Collins,
Isolation
(2018)
Optimism looks good on Uchis. "Someday we'll find the love, 'cause after the storm's when the flowers bloom," she sings, reminding listeners there's always love to be found. Aided by a clean-cut rap verse from Tyler, the Creator, the track also gets a funky boost from Bootsy Collins' satisfying karma-themed ad libs.
Longing pulses through the song's breezy psychedelia, and its desire-filled serenity will have you listening on repeat. "After The Storm" is exemplary for the way Uchis naturally fuses funk and R&B with her own contemporary twist — a trademark of Isolation's fluidly experimental soundscape. 
"10%" with KAYTRANADA,
BUBBA
(2019)
A year before dropping Sin Miedo, Uchis joined forces with Canadian electronic producer KAYTRANADA on their song "10%," which was released as the lead single off his GRAMMY-winning album BUBBA.
A thematic parallel to "Your Teeth In My Neck," Uchis questions, "You keep on takin' from me, but where's my ten percent?" KAYTRANADA's adventurous beat  propels Uchis' voice forward without distracting from her, and the shiny, club-ready collaboration won Best Dance Recording at the 2021 GRAMMYs.
"Dead To Me,"
Isolation
(2018)
With striking trumpeting horns opening this track, Uchis wants all eyes on her for a very important announcement.
"You're dead to me," she drawls, then quickening her flow for a demand: "You're obsessed, just let me go." You can almost imagine her rolling her eyes in someone's face, then turning and clicking away in heels.
One of Uchis' signature tracks, "Dead To Me" is the perfect encapsulation of indifference toward the past. Even though it's from 2018, the song's contemporary sheen and cherished brashness proved that Uchis isn't just ahead of her time — she's timeless.
"Fue Mejor" feat. SZA,
Sin Miedo (Deluxe)
(2020)
"Fue Mejor" begins with the rev of a car engine, and it's clear that Uchis is in the driver's seat. On this remixed track from her sophomore's deluxe, she hits the gas pedal with steamy, smoke-ring R&B. "Take a little sip, take a little puff," Uchis invites without hesitation. 
SZA rides shotgun for the collaboration (well, in the music video, she's on top of a moving car, but beside that). The singer fits into the track like a missing puzzle piece, her vocals brilliantly matching Uchis' soulful, sultry tone.
"telepatía,"
Sin Miedo (del Amor y Otros Demonios)
(2020)
One of Uchis' biggest hits for good reason, "telepatía" is a lucid dream come true. It dissolves into your consciousness like sugar, enamoring with a controlled, intense passion. Singing in Spanish and English, Uchis flutters over a groovy but placid synth with ease — and when Uchis sings "I can read your mind," you believe her without a second thought.
The song comes off of Sin Miedo, which is Uchis' first album predominantly in Spanish and was nominated for Best Música Urbana Album at the 2022 GRAMMYs. The track also made Uchis the first female soloist to hit No. 1 on Billboard's Hot Latin Songs Chart in nearly a decade, defeating the 27-week top-spot reign of Bad Bunny and Jhay Cortez's global hit "Dákiti." 
"I Wish you Roses," 
Red Moon In Venus
(2023)
Tapping into an especially bewitching atmosphere, "I Wish you Roses" is one of Uchis' most infatuating songs and the first single from her 2023 release.
While album opener "in My Garden" whispers and whirs, bristling with hopeful suspense, "I Wish you Roses" meets the anticipation with perfect extravagance. Romance flourishes amid sleek instrumentals, crafting a luxurious and beautifully overgrown fantasy. 
Uchis wishes an ex-lover roses with earnestness, and you can feel her ecstasy in letting go — though, in true Kali fashion, she reminds them that "You're gonna want me back" casually in the outro.
Kali Uchis On What It Means To Be A Latin "Crossover" Star In The 21st Century