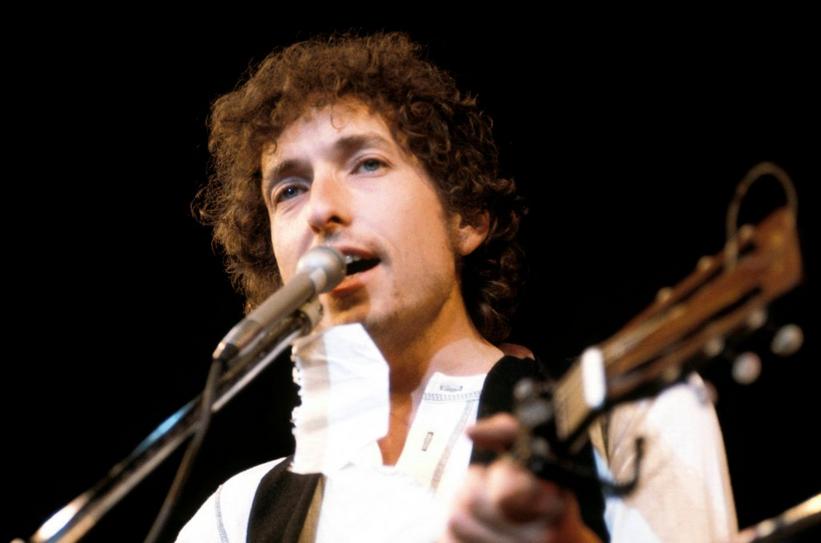 Bob Dylan performing in 1974
Photo: Steve Morley/Redferns
list
Why Did Bob Dylan Change His Name? 8 Questions About The Legendary Singer/Songwriter Answered
Bob Dylan is arguably the most venerated singer/songwriter in American history, but he tends to kick up far more questions than answers. Here are eight of them, addressed.
GRAMMYs
/
Dec 29, 2022 - 07:04 pm
Pretty much everyone in the Western world knows Bob Dylan is eminently cagey and elusive. But to the point that a 4,000-word interview still leaves you scratching your head?
Said Q&A appears in a recent issue of The Wall Street Journal. Questions abound: which TV shows would he designate as "dog a—"? Has he really "seen Metallica twice"? And regarding his new book, and why he thanked the crew from Dunkin' Donuts? We got a non-answer.
File them all away with questions about his Victoria's Secret commercial, as well as all his misdirections in the recent Rolling Thunder Revue doc: Bob's gonna Bob.
GRAMMY.com can't claim to have all the answers — who does? — but it can at least address some oft-posed questions about the 10-time GRAMMY winner. Read on for eight of them.
Why Did Dylan Change His Name?
Common wisdom dictates that Robert Zimmerman changed his name based on his love of the poet Dylan Thomas; all the way back in 1961, he swatted that down.
"Straighten out in your book that I did not take my name from Dylan Thomas," he told The New York Times. "Dylan Thomas' poetry is for people that aren't really satisfied in their bed — for people who dig masculine romance."
He may have not directly lifted his name from Thomas, but he was in the ether. And "Bob Dylan" was actually one of several nicknames he tried on; it's just the one that stuck.
As to a single, concrete reason why? It remains to be seen.
What Inspired "Like a Rolling Stone"?
Is it about Edie Sedgwick? Joan Baez? Marianne Faithfull? None of the above? The epochal "Like a Rolling Stone" is naturally one of the most analyzed tunes by Dylanologists.
To answer this question, it's almost impossible to grab onto a single human subject. The most realistic scenario was outlined by Dylan himself: a generalized feeling of revenge.
What Inspired "Blowin' in the Wind"?
Hung on the melody to the pre-Civil War spiritual "No More Auction Block For Me," the elliptical "Blowin' in the Wind" became a cherished civil rights anthem, was covered by hundreds of artists, and recently fetched $1.8 million for a one-of-a-kind record.
As Dylan has explained, the song's list of deeply felt, rhetorical questions is its essence; it's not about any one world event, but the entire nature of peace, war and brotherhood.
"[The answers] ain't in no book or movie or TV show or discussion group," Dylan said at the time of its writing. "Man, it's in the wind — and it's blowing in the wind."
Why Did Dylan Paint His Face?
No, Dylan's face makeup on the Rolling Thunder Revue tour wasn't due to seeing KISS in Queens — thank you very much.
That was one of the many misdirections in Martin Scorcese's 2019 doc Rolling Thunder Revue: A Bob Dylan Story. Rather, the lion's share of the evidence points to Dylan finding inspiration in the 1945 French film Children of Paradise.
What Religion Is Bob Dylan?
It's flickered back and forth over the years, most intensely during Dylan's born-again Christian period in the '80s. The following decade, Dylan seemed to set the record straight:
"This is the flat-out truth: I find the religiosity and philosophy in the music. I don't find it anywhere else," he told Newsweek in 1997. Songs like 'Let Me Rest on a Peaceful Mountain' or 'I Saw the Light' — that's my religion. I don't adhere to rabbis, preachers, evangelists, all of that. I've learned more from the songs than I've learned from any of this kind of entity. The songs are my lexicon. I believe the songs."
Then again, Dylan just said "I'm a religious person. I read the scriptures a lot, meditate and pray, light candles in church. I believe in damnation and salvation, as well as predestination."
Is that simply proof that a lot can change in 25 years? Or another winking bit of misdirection? The answer is… well, you know.
Why Did Dylan Not Accept His Nobel Prize?
He did. After months of uncertainty and speculation as to whether he would. Whatever the reason for the lag, Dylan accepted the Nobel Prize in Literature graciously, calling the honor "truly beyond words" and akin to "standing on the moon."
What Is Bob Dylan Up To In 2022?
Dylan stepped out with the rare Wall Street Journal interview because he's promoting The Philosophy of Modern Song, his predictably strange, illuminating and quixotic 2022 breakdown of canonical tunes that galvanize and inspire him.
As far as the young 2023? On Jan. 27, he'll release Fragments, a boxed set encompassing the sessions around his beloved 1997 album Time Out of Mind.
Is Bob Dylan On Tour?
Amazingly, Dylan is still on his so-called Never Ending Tour, which has been rolling up, down, to and fro interstates since 1988.
And after a pandemic-related break from the road, he promises the current leg, which promotes his latest album Rough and Rowdy Ways, will continue until 2024.
And a lot can happen in those two years. Maybe even that Metallica collab, sponsored by Dunkin' Donuts? Bob knows.
Here's What Went Down At Bob Dylan's Mysterious "Shadow Kingdom" Livestream Concert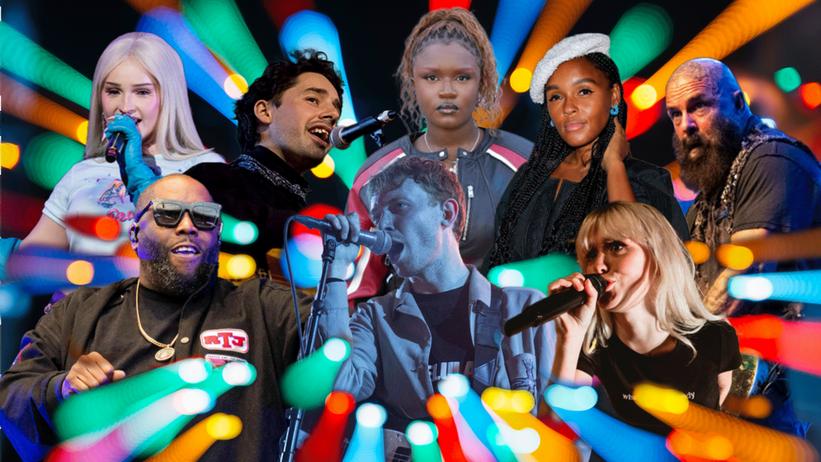 (Clockwise) Kim Petras, Juan Wauters, Amaarae, Janelle Monáe, Tim Armstrong of Rancid, Maisie Peters, King Krule, Killer Mike
Photos:  Alberto Tamargo; Xavi Torrent/WireImage; Gonzalo Marroquin/Getty Images for REVOLVE; Rachpoot Bauer-Griffin/GC Image; Scott Dudelson/Getty Images; Mike Lewis Photography/Redferns; Jim Bennett/WireImage; Jim Bennett/Getty Images
list
15 Must-Hear New Albums Out This Month: Janelle Monáe, King Krule, Killer Mike & More
From highly-anticipated debuts to long-awaited returns, check out 15 albums dropping this June from Kim Petras, Amaarae, Foo Fighters and many more.
GRAMMYs
/
Jun 2, 2023 - 01:39 pm
June is an important moment in the year, as it brings us Pride Month, Black Music Month and Juneteenth. It also marks the official start of summer, where rising temperatures invite late afternoons enjoying good music — whether it's outdoors at one of the season's many festivals or in the comfort of your own home.
As for the good music, this month brings us plenty of new releases by queer artists, like Kim Petras' long-awaited debut, Feed The Beast, and the Aces' I've Loved You For So Long. Black musicians have much on offer in June as well, including Janelle Monáe (who is also queer) The Age of Pleasure, house music DJ and producer Jayda G's Guy, and Ghana-born singer Amaarae's Fountain Baby. Last but not least, June also marks the return of both Foo Fighters and Lucinda Williams after life-altering events, and the ultimate release of Bob Dylan's 2021 concert film soundtrack, Shadow Kingdom.
To inspire you further with their bold artistry and moving stories, GRAMMY.com compiled a guide to the 15 must-hear albums dropping June 2023. 
Foo Fighters -
But Here We Are
Release date: June 2
In dark times, humans often turn to art. Even if they have no answers for what the future holds, the transmuting power of expression reminds us that, sometimes, existing is enough. But Here We Are, Foo Fighters' 11th studio album, does just that.
After "a year of staggering losses, personal introspection and bittersweet remembrances," as they state in their website  — referring to the sudden loss of longtime drummer, Taylor Hawkins,  and of frontman Dave Grohl's mother, Virginia — they find both grievance and strength in what has been called "the first chapter of the band's new life."
In support of this change, Foo Fighters have announced over 25 performances across the U.S. and Europe in the upcoming months. But Here We Are drops on June 2, and features ten new tracks, including promotional singles "Rescued," "Under You," "Show Me How," and "The Teacher."
Juan Wauters -
Wandering Rebel
Release date: June 2
For most of his life, the Uruguay-born, New York-raised singer Juan Wauters was a rover — never for too long in one place. But as he sings on the upcoming titular track of his new album, Wandering Rebel, "During COVID I discovered/ that I like stability."
In a statement, Wauters reflected about moving back to his home country because of the pandemic, and the personal changes that came with it: "New York was the place I always came back to, but I never really had a 'home.' My parents left Uruguay, their home, when I was young. Now, [in Montevideo], I have a place to come home to, and people that are waiting for me."
The 12 songs on Wandering Rebel are defined as "candid reflections on subjects like career, romantic commitment, mental health, and the personal toll of touring," some of which can be seen through singles "Milanesa al Pan (ft. Zoe Gotusso)" and "Modus Operandi (ft. Frankie Cosmos)." As to not lose sight of his itinerant roots, Wauters will embark on a lengthy U.S. tour starting this month.
Bob Dylan -
Shadow Kingdom
Release date: June 2
When the COVID-19 pandemic stalled Bob Dylan's illustrious Never Ending Tour, he decided to baffle the world with something entirely different.
First released in 2021 as a concert film directed by Alma Har'el, Shadow Kingdom sees Dylan perform 14 tracks from the first half of his career in an acoustic, intimate atmosphere. In the setlist, "It's All Over Now, Baby Blue" from 1965's Bringing It All Back Home marks the earliest composition to be featured, while "What Was It You Wanted" from 1989's Oh Mercy is the latest.
With little-to-no prior information, the film originally premiered on livestream platform Veeps, and swiftly disappeared 48 hours after. On June 2, an official soundtrack release will revive the experience for all those who missed it.
Rancid -
Tomorrow Never Comes
Release date: June 2
Breaking a six-year absence of new music, California's boisterous Rancid are back. Tomorrow Never Comes, the band's tenth album, proves that the verve from one of punk rock's biggest acts in the mid-1990s is still alive.
Produced by longtime collaborator and Bad Religion guitarist Brett Gurewitz, the record holds 15 tracks, but runs just short of 29 minutes — Rancid's briefest album yet. But judging by singles "Tomorrow Never Comes," "Don't Make Me Do It," and "Devil in Disguise," quick-paced or not, the quality remains the same.
Right after the release, Rancid will kick off an European tour for the rest of the month, before hitting Canada and a few cities in the U.S. starting September.
The Aces -
I've Loved You For So Long
Release date: June 2
Pride month celebrations have just gotten the perfect soundtrack: I've Loved You For So Long, the Aces' third studio album, comes out on June 2. 
Preceded by the title track and singles "Girls Make Me Wanna Die," "Always Get This Way," and "Solo," the album marks the Utah quartet's first release since 2020's LP Under My Influence. According to a press release, I've Loved You For So Long is "rife with songs that celebrate their queer identities, juxtaposed by tracks that reflect on their early relationships with Mormonism."
The 11-track collection is also described as "a nostalgic look back at the formative experiences that shaped who they are as a band today, like pages straight from their diaries that will leave their listeners feeling seen and critics wanting more."
Janelle Monáe -
The Age of Pleasure
Release date: June 9
Marking her return to music five years after 2018's Dirty Computer, the chameleonic singer and actor Janelle Monáe ushers in The Age of Pleasure. Her fourth studio album features 14 tracks, including collaborations from Grace Jones, Amaarae, Seun Kuti, and others.
During an interview with Zane Lowe on Apple Music 1, Monáe said all the songs "were written from such an honest space," with the goal of being "so specific to this Pan-African crowd who are my friends. I want it to be a love letter to the diaspora."
If its two delightful singles "Float" and "Lipstick Lover" are any indication, it looks like Monáe has nailed her target — while also providing us a much-needed new era for the summer.
Amaarae -
Fountain Baby
Release date: June 9
"Coming back after so long, I had a lot of time to think and reflect on what I wanted my message to be. Last time it was about confidence, this time it's about love and faith," said Ghanaian-American singer Amaarae in a statement about her single, "Reckless & Sweet."
The mystifying track gives a taste of her upcoming sophomore album, Fountain Baby, set to release on June 9. Following her acclaimed 2020 debut The Angel You Don't Know, the album also features last month's cheeky "Co-Star," and points to an expansion of the singer's avant-garde Afro-pop sound, as well as a celebration of Black women all over the world.
Jayda G -
Guy
Release date: June 9
Canadian producer and DJ Jayda G was only 10 years old when she lost her father, William Richard Guy. However, his memories shaped her life in significant ways, and now she is ready to share them with the world through her upcoming studio album, Guy.
Through a press release, Jayda said that she wanted the album to be "a blend of storytelling, about the African American experience, death, grief, and understanding." The singer also added that "it's about my dad and his story, and naturally in part my story, too, but it's also about so many people who wanted more for themselves and went on a search to find that. This album is just so much for people who have been oppressed and who have not had easy lives."
The first single of the project, "Circle Back Around," features archival footage of Jayda and her father — an endearing portrait that ultimately delivers an uplifting message. As she explains further in the press release: "I think it's just a testament that it's never too late to look at yourself and try to understand why you are the way you are, and strive to be better. Understanding the Black man's experience, Black people's experience in terms of America, and rising above what society tells you you're supposed to be."
King Krule -
Space Heavy
Release date: June 9
British singer King Krule was inspired by "the space between" his London and Liverpool commutes — both places he considers home — to craft Space Heavy, his fourth studio album.
Written throughout 2020 to 2022, the record was produced by Dilip Harris, and recorded alongside bandmates Ignacio Salvadores, George Bass, James Wilson, and Jack Towell. In April, the hazy "Seaforth" was released as the album's first single.
King Krule, whose real name is Archy Marshall, will soon embark on a summer tour spanning North America, Europe, and the UK. The first stop is in Minneapolis on July 21.
Killer Mike -
Michael
Release date: June 16
It's been more than a decade since Killer Mike released a solo album (2012's R.A.P. Music), but June brings forward new, exciting material from the Atlanta rapper and member of Run the Jewels. Upcoming LP Michael is said to be his "most autobiographical" work so far, and features 14 tracks that depict "an origin story," according to a statement.
2022 singles "RUN" and "Talkin Dat S—!" are also included in the album, as well as this year's "Don't Let The Devil" and "Motherless" — whose two music videos form a short film paying homage to Mike's late mother, Mama Niecy. The rapper is also set to perform a 19-stop tour in the U.S. this summer.
Home Is Where -
the whaler
Release date: June 16
Florida emo band Home Is Where built a reputation for delivering catharsis through their gloomy lyrics and angry melodies. Their upcoming sophomore LP, the whaler, takes that up a notch: It was defined as a project about "getting used to things getting worse" in a press release.
Produced by Jack Shirley and containing 10 interconnected songs, the whaler "paints a bleak picture of a world in an endless state of collapse — of ruined utopias and desperate people faking normalcy — [but] there's a humanity-affirming undercurrent throughout that screams to break free."
Ahead of the release, the band shared the lead single "yes! yes! a thousand times yes!," and is currently gearing up for a U.S. tour through the East Coast and Midwest in July and the West Coast in September.
Kim Petras -
Feed the Beast
Release date: June 23
The much-awaited debut LP of German singer Kim Petras, Feed the Beast, finally has a birth date: June 23. After struggling with the leaking and eventual scrapping of would-have-been album Problématique, Petras compiled 15 tracks for this new effort — including last year's mega hit "Unholy" featuring Sam Smith, which earned them both a GRAMMY Award for Best Pop Duo/Group Performance.
In an interview with Vice, the singer said Feed the Beast marks "a transition from being an independent artist to being at a major label now. Spearheaded by singles "If Jesus Was a Rockstar," "Brrr," and lead single "Alone" featuring Nicki Minaj, Petras will celebrate the release with a performance at NBC's TODAY Citi Concert Series, as well as live sets at Governor's Ball in NYC and Life is Beautiful Festival in Las Vegas.
Lunice -
OPEN
Release date: June 23
Described as a project that "focuses on the natural human ability and behavior of intuition, instinct, openness, flexibility, and adaptation," and also as "a bizarre ride through the Montreal underground," OPEN is the sophomore album by Canadian producer and TNGHT member, Lunice.
Following up his 2017 acclaimed solo debut, CCCLX, the new record aims to be even more dynamic, with every track conceived to be performed live. Featuring collaborations with Cali Cartier, Zach Zoya, Yuki Dreams Again, DAGR and GRAMMY-winning producer DRTWRK, OPEN drops on June 23.
"No Commas," the pulsating first single off the project, sets the mood to the upcoming folly. "This track is the result of multiple natural occurrences where the melody, drums, and vocal performance coincidentally fit with each other in the moment of creation without any prior motive behind it," Lunice said in a statement. "I find these instinctual moments of creativity beautiful and inspiring."
Maisie Peters -
The Good Witch
Release date: June 23
British singer/songwriter Maisie Peters calls herself The Good Witch — the "keeper of the keys and the holder of the cards" to her own universe, soon on display through her upcoming second album.
Written last year while she was on tour, Peters explains that its 15 tracks represent a time when she was "searching for balance between career highs and personal lows," a quality that can be seen through "Body Better," the album's acutely honest lead single. 
"This is my heart and soul, my blood on the page, the collection of stories that I've managed to capture in the past year," said Peters. "A true chronicle of my life in recent history, it is my own twisted version of a breakup album and it all draws upon the same couple of months' worth of experiences and inspirations." 
The singer is also set to tour 27 cities in the U.S. and Canada from August to October.
Lucinda Williams -
Stories From a Rock n Roll Heart
Release date: June 30
Lucinda Williams is living proof that getting older doesn't mean getting duller. The Americana legend just celebrated her 70th birthday in January — and the last three years of her life have been some of the most tumultuous yet.
In 2020, her Nashville home was damaged by a tornado. Then, came the COVID-19 pandemic. And lastly, a stroke that affected her ability to play the guitar, therefore changing the way she writes songs. But Williams didn't let any of that stop her — Stories from a Rock n Roll Heart, her 15th studio album, comes out on June 30, and shows that she's only getting better.
The project already has three singles out: "New York Comeback," "Stolen Moments," and "Where the Song Will Find Me," and counts on backing vocals from artists like Bruce Springsteen, Patti Scialfa, and Angel Olsen.
Listen To GRAMMY.com's LGBTQIA+ Pride Month 2023 Playlist Featuring Demi Lovato, Sam Smith, Kim Petras, Frank Ocean, Omar Apollo & More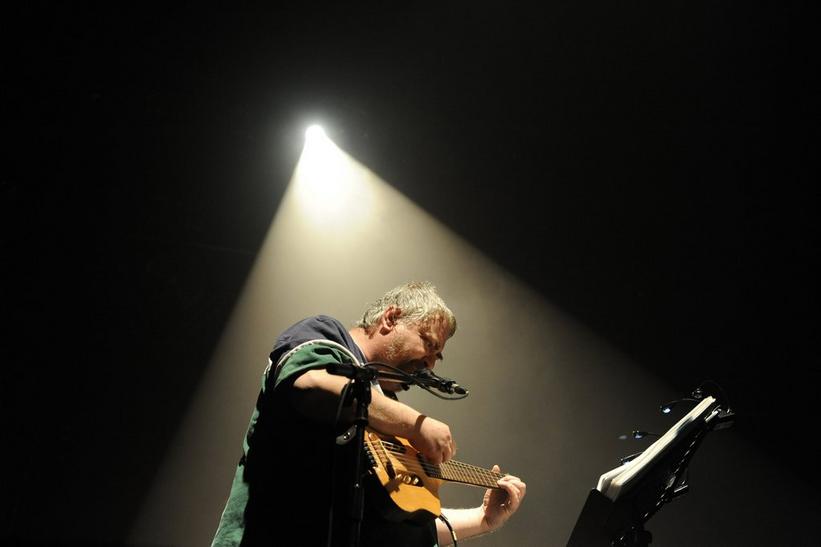 Daniel Johnston
Photo: ALAIN JOCARD/AFP via Getty Images)
list
15 Songs That Directly Address Mental Health, From The Beatles To Ariana Grande To 'Encanto'
If it's a cliché that we're freer to discuss mental-health struggles than ever before, so be it: it's an often lifesaving development. While there has been a recent preponderance of mental health songs, here are selections from across the decades.
GRAMMYs
/
May 2, 2022 - 09:57 pm
As long as there have been humans, there has been music — as well as mental illness. Thereby, people must have been singing about it since the beginning, right?
Sure. But music's an abstract, poetic artform, so the topic usually isn't approached literally. That's why Hank Williams wrote "I'm So Lonesome I Could Cry," not "I'm Depressed And Also An Alcoholic." And why the Rolling Stones called it "Paint It, Black," not "Wantonly Projecting My Trauma."
So, what does that mean for mental illness and the history of popular music? That delineations aren't always neat and tidy. That's why GRAMMY.com prepared a list of songs that address psychological maladies, more-or-less directly.
Obviously, it's not exhaustive — how could a list that leaves out all pre-1968 music be? Plus, It's not like these tunes have to reference the DSM-5 — it's that, to make the cut, they should touch on anxiety, depression, addiction, PTSD, and other conditions without too many buffering layers.
With that in mind, here are 15 songs from across the decades that got real about the realities of mental illness, and how to overcome it.
The Beatles, "Yer Blues" (1968)
After years of freewheeling experimentation in the studio, the Fabs finally jammed out in a room together. Eyeball-to-eyeball, they recorded "Yer Blues," John Lennon's 12-bar cry for help from the White Album.
Never before or since — not even on 1970's shockingly confessional Plastic Ono Band — had he been this candid about suicidal depression in a song. And more than half a century later, "Yer Blues" remains bracing, cathartic and strangely giddy.
Read More: Now That I Showed You What I Been Through: 50 Years Of John Lennon/Plastic Ono Band
Bill Fay, "Be Not So Fearful" (1970)
Skip the string-swelling version from Bill Fay's self-titled debut and seek out the stripped-down demo, found on From The Bottom of An Old Grandfather Clock. What you'll hear is a pocket-sized hymn for when the enemy within has you on the ropes.
"Someone watches you," the English singer/songwriter promises, "you will not leave the rails." A rare thing: a convincing argument against anxiety, and a song of honest-to-goodness utility.
Daniel Johnston, "Peek a Boo" (1982)
Throughout his long, unconventional career until his untimely death in 2019, singer/songwriter Daniel Johnston unflinchingly detailed his hopes, longings and fears in his rough-hewn music — as well as his struggles with bipolar disorder and schizophrenia.
His songbook is littered with sometimes harrowing songs about the latter, but "Peek a Boo" sums it up: "I'm tired from being kidnapped by a dark wolf that would do me in."
Swans, "God Damn the Sun" (1989)
While mostly known for skull-rattling noise jams and symphony scale indie rock, Swans have at least one unforgettable acoustic ballad. 
The majestic, doomed "God Damn the Sun" isn't just worthy of Leonard Cohen — because of leader Michael Gira's unvarnished language, it arguably surpasses even the Godfather of Goth's sense of despair. 
"I've got one thing to say before I am drunk again," Gira seethes, before condemning life on Earth — all of it. But he made it through, and so can all of us. And when we're in the depths of sorrow articulated in "God Damn the Sun," sometimes pitch-black commiseration feels paradoxically healing.
Bob Dylan, "Not Dark Yet" (1997)
Less theatrical than "God Damn the Sun" yet no less unequivocal about depression, this late-period masterpiece from Time Out of Mind is the soundtrack to self-inventory deep into the night.
"Every nerve in my body is so naked and numb," Uncle Bob sings over a gorgeous soundscape by producer Daniel Lanois, sounding depleted and discouraged. "I can't even remember what it was I came here to get away from."
What a monument to a universal facet of the human condition — a fearsome enemy, but not one that has to consume us.
Sia, "Breathe Me" (2004)
Sia's "Breathe Me" feels like a continuation of Nine Inch Nails' (and Johnny Cash's) classic "Hurt" — only left off this list due to its ubiquity — thanks to its opening lines. 
"Help, I have done it again/ I have been here many times before," she sings. "Hurt myself again today/ And, the worst part is there's no one else to blame."
Hung on piano and a hangdog string section, "Breathe Me" is a dispatch about despair and vulnerability that belongs on a shelf with the best of them.
Amy Winehouse, "Wake Up Alone" (2006)
Sadly, the wildly talented Amy Winehouse didn't win her battle against drug and alcohol addiction — alcohol poisoning got her at only 27.
But she left behind a monster body of work — including her breakthrough album Back to Black, which garnered her a whopping five GRAMMYs.
Over a doo-wop rhythm and stabbing chords, "Wake Up Alone" is both a love song and a gripping expression of crepuscular loneliness and discontent. "That silent sense of content that everyone gets," Winehouse sings, "Just disappears soon as the sun sets."
Paramore, "Fake Happy" (2017)
The juxtaposition of crestfallen lyrics with a sparkling melody is the heart of power-pop — and by extension, pop-punk and alternative rock. And Paramore, who's been at the vanguard of both subgenres for almost 20 years, blends these qualities masterfully.
"Fake Happy," an inspired single from After Laughter, captures the feeling of feigning a grin when you're down in the dumps. "If I go out tonight, dress up my fears," asks bandleader Hayley Williams, "you think I'll look alright with these mascara tears?"
Ariana Grande, "breathin" (2018)
Despite dealing with high-profile breakups and PTSD from horror of the Manchester Arena bombing, Ariana Grande examines her internal mechanisms with humility and magnanimity. (Just think of her immortal line: "I'm so f<em></em>*ing grateful for my ex.")
"breathin," from Sweetener, is no different. "Feel my blood runnin', swear the sky's fallin'/ How do I know if this s<em></em>*'s fabricated?" she asks. Grande doesn't get self-pitying or pretend to have the answers — instead, she looks to a universal human balm during throttling times.
"Just keep breathin' and breathin' and breathin' and breathin'," she sings in the hook, over and over and over — like she's telling herself to hang in there as much as us.
Jason Isbell and the 400 Unit, "It Gets Easier" (2020)
Since his Drive-By Truckers days, Jason Isbell has written like a surgeon about fundamental topics — his sociopolitical beliefs; his relationship with his wife, Amanda Shires; and his decade-plus of sobriety.
True to the current state of his recovery, "It Gets Easier" isn't about getting on the wagon, but staying on it. It begins with a "drunk dream," a common phenomenon among those sobering up. "I had one glass of wine/ I woke up feeling fine/ That's how I knew it was a dream," he sings.
Taking a cue from his friend and mentor, the late John Prine, Isbell sums up the tune in a crystalline thesis of a hook, over a kicking guitar riff: "It gets easier, but it never gets easy."
G Herbo, "PTSD" (2020)
File this one with Grande's Sweetener, which addresses the Manchester Bombing and her emotions in its wake.
While many of the entries insofar on this list deal with anxiety, depression or substance abuse, rapper G Herbo homes in on a very specific and sometimes misunderstood malady: post-traumatic stress disorder.
"I got a war zone inside of my head / I made it on my own, they said I'd be in jail or dead," he raps in "PTSD," featuring Chance the Rapper, Lil Uzi Vert and Juice WRLD. "I've seen my brothers fall over and over again / Don't stand too close to me, I got PTSD."
"I felt like people may look at my situation and my life like I don't do these things, like I don't have problems, like I don't endure pain or stress," Herbo told GRAMMY.com in 2020. "I just wanted the world to know that we all are the same."
Read More: G Herbo Talks PTSD And The Importance Of Mental Health: "People Need To Treat Mental Health More Seriously"
Francisca Valenzuela, "La Fortaleza" (2020)
"La Fortaleza" — meaning "the fortitude" or "the strength" — is an impactful statement by Chilean singer/songwriter Francisca Valenzuela about finding the resilience to go on.
"Everything that has happened has led me to today," she sings. "I look forward to the horizon/ I bury guilt and leave." But Valenzuela isn't giving up, or stepping into oblivion. She's beginning anew.
"With my pen and my poem/ I will cross the mountain range," she sings, framing artistic expression as a magical weapon for healing and self-transformation. "And if I am in the middle of the storm/ Be the calm that sustains the center of the earth."
Julia Michaels, "Anxiety" (2021)
Some measure of trepidation is necessary for survival, but full-blown anxiety warps that psychological tool — into one that can undermine our day-to-day relationships.
Singer/songwriter Julia Michaels clearly understood this while writing "Anxiety," a cut from Melancholic Mood featuring Selena Gomez. "My friends, they wanna take me to the movies," she sings. "I tell 'em to f<em></em>* off/ I'm holding hands with my depression."
"For the first year [of mass success], I was having panic attacks, I was hiding in hallways, I was running away, people couldn't find me," Michaels told Billboard in 2019. Which, she explains, is often hidden in artists behind glitzy promotional machinery.
"You don't see the photoshoots and the interviews and the flying all the time and the being away from everyone and everything you love," she continued. But thanks to "Anxiety," the entire planet saw her clearly.
Jessica Darrow, "Surface Pressure" (from Encanto) (2021)
The hit Disney flick Encanto treated viewers to a nuanced take on Latine family dynamics, and "Surface Pressure" — written by Lin-Manuel Miranda as the character Luisa's solo — captures bluster that obfuscates insecurity.
"I'm the strong one, I'm not nervous/ I'm as tough as the crust of the Earth is," it begins. But then Miranda's tune cracks that facade: "Under the surface/ I feel berserk as a tightrope walker in a three-ring circus."
The strength and incisiveness of "Surface Pressure" speaks to what makes certain Disney and Pixar films special — despite being marketed to children, they speak to universal human truths.
Read More: From Encanto To "Euphoria" And Grand Theft Auto V: Behind The Making Of A Great Soundtrack
Jimmie Allen, "Untitled Song" (2022)
Country star Jimmie Allen's trajectory may have led him to a GRAMMY nomination, but it was flecked with difficulties and hardship. Specifically, he was diagnosed with bipolar disorder as a young teen, and the isolation of the COVID-19 pandemic didn't help at all.
But Allen hasn't just come to terms with this reality — he's made it public so that he might help others in his boat. On April 19, he posted a performance of an unreleased and untitled song, about "pain [that] pulls me apart like a ripped-up floor" and feeling "always on the edge."
"I wrote this song about how I feel a lot of the time," Allen tweeted. "Mental illness is something I have struggled with my entire life."
Of course, he's far from alone. But as always, music is one of our most precious gifts to bridge those divides and forge those missing connections — and, consequently, let the light in.
Meet Question, A Rapper/Producer Who Doesn't Want To Be Boxed In By Blindness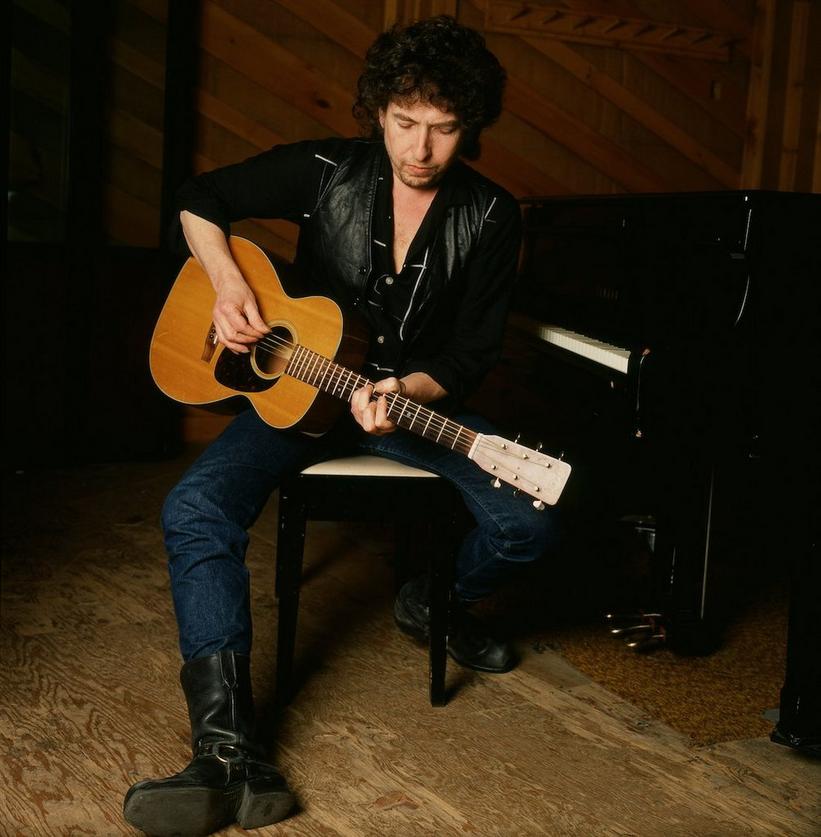 Photo: Deborah Feingold | Courtesy of Sony Music Entertainment
news
Bob Dylan's Latest Box Set Proves He Remained Stellar In The '80s. These '60s Classic Rock Artists Did, Too.
A revelatory new box set, 'Springtime In New York,' proves that Bob Dylan was still a force of nature in the '80s. It's worth reexamining other classic rock artists' output during the rocky decade.
GRAMMYs
/
Dec 9, 2021 - 10:10 pm
What do you think of when you consider 1960s artists in the '80s? Washed up, adrift, lost in a sea of emerging technology? You're not alone — Bob Dylan considered himself as such in his 2004 memoir, Chronicles.
"I hadn't actually disappeared from the scene, but the road had narrowed," he wrote. "There was a missing person inside of myself and I needed to find him." (He also calls himself "whitewashed and wasted out professionally" and "in the bottomless pit of cultural oblivion.")
This is coming from the guy who gave us "Every Grain of Sand," "Jokerman" and "Blind Willie McTell" during that decade, went full wild-eyed Christian-preacher mode in concert, and destroyed the universe on "Late Night With David Letterman" backed by fiery punk band the Plugz. Whatever his internal state at the time, he was selling his creative output short.
Read More: Here's What Went Down At Bob Dylan's Mysterious "Shadow Kingdom" Livestream Concert​
This suspicion — or conviction — that true Dylan heads have always had is now Gospel truth. Springtime in New York, a five-disc smorgasbord that arrived in September, strips away the sometimes-overbearing production of albums like Empire Burlesque, revealing their core components: Dylan in the midst of a spiritual awakening, backed by killer accompanists like the Dire Straits' Mark Knopfler.
So, Dylan has been handed a liferaft from the '80s, a decade thought too often as a sinking ship for him and his contemporaries. Sure, some '60s artists hit creative snags in big ways, and admit as much. Paul McCartney's film and soundtrack Give My Regards to Broad Street didn't quite make it out of the era; the now-prolific David Crosby only released one album, Oh Yes I Can; so on and so forth.
But does this hold true for George Harrison, who rejoined the music industry with a blazing smile on Cloud Nine? What about the Kinks, who handled the curves of the arena-rock and punk eras then hit a grand slam with State of Confusion? Or Jethro Tull, whose Crest of a Knave earned them their first GRAMMY (to the chagrin of Metallica fans)?
Clearly, there's a larger disconnect at play. So let's examine 10 excellent albums by artists most associated with the '60s who put out great work in the '80s.
John Lennon & Yoko Ono — Double Fantasy (1980)
Believe it or not, Lennon's final album — the one that gave us jewels like "(Just Like) Starting Over," "Beautiful Boy (Darling Boy)" and "Watching the Wheels" — earned scathing reviews upon its release.
NME, in particular, wished Lennon had "kept his big happy trap shut until he had something to say that was even vaguely relevant to those of us not married to Yoko Ono." The critics changed their tune after Lennon's slaying mere weeks after its release. But even if he were still with us (and how sweet would that be?), Double Fantasy would remain a milestone.
Picture this: After four chaotic decades in which Lennon lost his mother young and made (and unmade) the most significant rock band of all time, he had a transformative experience on a yacht from Rhode Island to Bermuda, in which a severe tempest forced him to take the wheel alone for several hours. He whooped sea shanties and took it as a baptism.
"I was so centred after the experience at sea that I was tuned in to the cosmos – and all these songs came!" he later said. They were unlike any others he'd written.
The Rolling Stones — Tattoo You (1981)
It's fascinating to watch the "Beatles or Stones?" debate percolating in the media again, because we get to be reminded of how it's a false dichotomy.
"The Rolling Stones [are] a big concert band in other decades and other areas when the Beatles never even did an arena tour or Madison Square Garden with a decent sound system," Mick Jagger said recently. "They broke up before that business started — the touring business for real."
As the Stones' ultimate stadium-rock monument, Tattoo You has always been well-regarded in their discography. But now that a new 40th Anniversary Edition — released in October via Polydor/Interscope/UMe — offers us a fresh remaster, we can remember that the true integrity of the album is in the songs.
"Start Me Up" has taken on new life in a variety of advertisements, from Windows 95 to the Summer Olympics, and that's because its hook and riff are unforgettable. And "Waiting on a Friend" remains one of their most heart-tugging and elusive tunes — one that only 20-something skirt-chasers could write after deepening and wizening with age.
Joni Mitchell — Wild Things Run Fast (1982)
Coming off her imperial run of albums in the '70s, Mitchell was a bit muted in the '80s.
Synth-pop production and era-specific politicking had a freezing effect on 1985's Dog Eat Dog; 1988's Chalk Mark in a Rain Storm leaned heavily on duets with Peter Gabriel, Willie Nelson, Don Henley, and other superstars. (Still, don't write off that last one — Courtney Barnett's a vocal fan!)
That said, her first album of the decade, Wild Things Run Fast, is an imperfect yet deeply satisfying album with distinguished collaborators, like saxophonist Wayne Shorter, guitarist Steve Lukather and bassist (and then-husband) Larry Klein.
"Chinese Café" is one of her most underrated, luminous album openers ever, segueing gracefully into the romantic standard "Unchained Melody." And the gems keep coming, from the exquisite "Moon at the Window" to the percolating "Be Cool."
Overall, if you skip the squealing guitars on "(You're So Square) Baby, I Don't Care" and "You Dream Flat Tires" on Side 2, Wild Things Run Fast fits snugly with her '70s fusion-era masterworks.
Read More: For The Record: Joni Mitchell's Emotive 1971 Masterpiece, Blue
The Kinks — State of Confusion (1983)
As only brothers in an all-time-classic rock band could experience, Ray and Dave Davies have had a fractious relationship for decades, both creatively and personally.
Not only was their band, the Kinks, banned from American stages at the height of their fame, but their fraternal tensions led to bizarre incidents like when Ray stamped on Dave's 50th birthday cake.
Today, they're getting along famously and working on new music. But through all the noise in the press, it's worth remembering that the Kinks weathered fundamental shifts in the music industry better than many of their peers. Dave's 1984 tune for the band, "Living on a Thin Line," is a perfect example — it was even featured three times in a classic Sopranos episode.
Also worth celebrating from their '80s period: State of Confusion, a gleaming pop album with hints of punk and new wave. "Long Distance" and "Come Dancing" are the obvious classics of the bunch — Rolling Stone called the former "astonishingly Dylanesque," and the latter, a memory-lane ode to their late sister, Rene, was their biggest hit in more than a decade.
But throw on the whole program and then spelunk deeper into the Kinks' '80s output. You won't be disappointed.
Yes — 90125 (1983)
Breathe a sigh of relief: Many of the greatest prog bands are still with us in the 21st century. Jethro Tull have their first album in decades out soon; Genesis are currently circling the globe on a thrilling reunion tour; the indefatigable Yes just released The Quest.
The latter band has experienced uncommon longevity, having weathered the deaths of key members Chris Squire and Peter Banks and only taking relatively brief hiatuses during their 53-year run. And like King Crimson, Yes only seemed to grow teeth as the '80s dawned.
The new-wavey album marked the return of the honeyed singer Jon Anderson, who had left in 1980. And "Owner of a Lonely Heart," especially, was a thrilling costume change that helped prove Yes could easily retrofit their elaborate jams into danceable pop.
The Beach Boys — The Beach Boys (1985)
Becoming a Beach Boys diehard is a three-pronged process: you get into the experimental '60s material, you realize the early pop hits and '70s albums rule as well, and then their entire history unveils itself as one gorgeous, flawed continuum.
This love story between you and America's Band also means getting to know their central angel: Carl Wilson. When their resident innovator, Brian Wilson, began to fade into the background in the late '60s, his brother stepped in as the band's lionhearted musical director until his 1998 death.
Granted, the Beach Boys' '80s period isn't the first era you should check out, per se. But it doesn't deserve outright dismissal by any means. Their self-titled record, the first since drummer (and middle Wilson brother) Dennis' drowning, carries hard-won poignancy that makes it an essential listen.
Three tunes especially deserve your attention: "Getcha Back," a driving co-write between Mike Love and Terry Melcher; "She Believes in Love Again," a heartfelt Bruce Johnston ballad with a charming yacht-rock veneer; and the elliptical "Where I Belong," which Carl never believed he truly finished.
Read More: Brian Wilson Is A Once-In-A-Lifetime Creative Genius. But The Beach Boys Are More Than Just Him.
Jethro Tull — Crest of a Knave (1987)
By now, Crest of a Knave is saddled with the reputation of besting Metallica's …And Justice For All in a GRAMMY category some believed they shouldn't have been in: Best Hard Rock/Metal Performance Vocal or Instrumental. (Tull leader Ian Anderson cheekily responded by taking out a Billboard ad reading "The flute is a heavy, metal instrument.")
This is a shame for multiple reasons. Not only is Crest one of Tull's heaviest albums — especially the skyscraping opener "Steel Monkey" — but it contains stone-cold Tull classics throughout. Here, the '80s textures are a feature, not a bug; the sequencers and programming underpin Anderson's songs, which are often set against urban sprawl.
In "Steel Monkey," a knuckleheaded high-rise worker touts his sexual prowess; in "Farm on the Freeway," a profitable farmer loses his generational land to steel and asphalt; in the exquisite "Said She Was a Dancer," an aging Western rock star (Anderson himself?) unsuccessfully hits on an emotionally distant Muscovite.
Read More: Jethro Tull's Aqualung At 50: Ian Anderson On How Whimsy, Inquiry & Religious Skepticism Forged The Progressive Rock Classic
George Harrison — Cloud Nine (1987)
Harrison was more solid in the '80s than you might think: the Traveling Wilburys and Somewhere in England's "Life Itself" are alone worth the price of admission.
But any discussion of his output during the decade must begin with Cloud Nine, conceived and marketed as his comeback. Make fun of the album cover all you want — it radiates positive vibes and perfectly advertises the colorful, Jeff-Lynne-produced music therein.
"That's What It Takes" is an elevating ode to resilience; "Fish on the Sand" makes one wish he did a chunky Byrds thing more often; the jubilant "Got My Mind Set on You" (including its video) is a psychological tonic for anyone going through it.
Cloud Nine would be the final album Harrison would release during his lifetime; his posthumous 2002 album Brainwashed is equally, if not more radiant. What a treat for Harrison fans, that after a few half-engaged '70s albums borne of frustration with the music industry, he reminded the world he had what it took.
Neil Young — Bluenote Café (2015, r. 1987-88)
This idiosyncratic Canerican's '80s period is mostly full of pranks and left-turns, but there's more "there" there than just making David Geffen mad.
1981's Re·ac·tor and 1982's Trans have aged fabulously, touching on electronic music and krautrock while tenderly addressing Young's communication breakdown with his nonverbal son, Ben. Then, there's 1988's This Note's For You, his swinging, bluesy takedown of corporate sponsorship.
He made that album with the Bluenotes, an assortment of old affiliates outfitted with a brass and reeds section. While it's a worthy curiosity today, Bluenote Café, an archival live album containing selections from Young's tours with the Bluenotes, is thrilling in a whole new way.
Throughout, the horns aren't just a pastiche — they legitimately rock. After 23 mighty, blaring songs, including his Freedom classic "Crime in the City" and underrated epic "Ordinary People," you might feel pleasantly exhausted.
That said, if you're not right there with the audience member shrieking "Woooo!" during "Welcome to the Big Room," you might be made of stone. If you're seeking out selections from Young's ever-growing Archives series, miss this one at your peril.
Lou Reed — New York (1989)
The adjective most often pinned on Lou Reed is "streetwise," but New York takes that tag and defines it literally. The rudimentary chord progressions, learnable after three guitar lessons, seem etched in chalk; the dense torrents of lyrics illustrate Reagan-era America.
"Those downtown hoods are no damn good/ Those Italians need a lesson to be taught/ This cop who died in Harlem/ You think they'd get the warnin'," the Velvet Underground leader intones in "Romeo Had Juliette," and the details spill out from there like that unfortunate law officer's blood.
Really, New York feels less like a rock record than a work of dense, engrossing journalism; no matter where or when you commune with it, there you are — right amid the social unrest and urban decay he's describing.
"Outside the city shrieking, screaming, whispering/ The mysteries of life," goes "Xmas in February" — as good a summation of Reed's boots-on-the-ground, head-in-the-ether art as any.
Daniel Lanois On Why A 1,000-Year-Old Tree Informed His New Album, Heavy Sun & Working With Bob Dylan, U2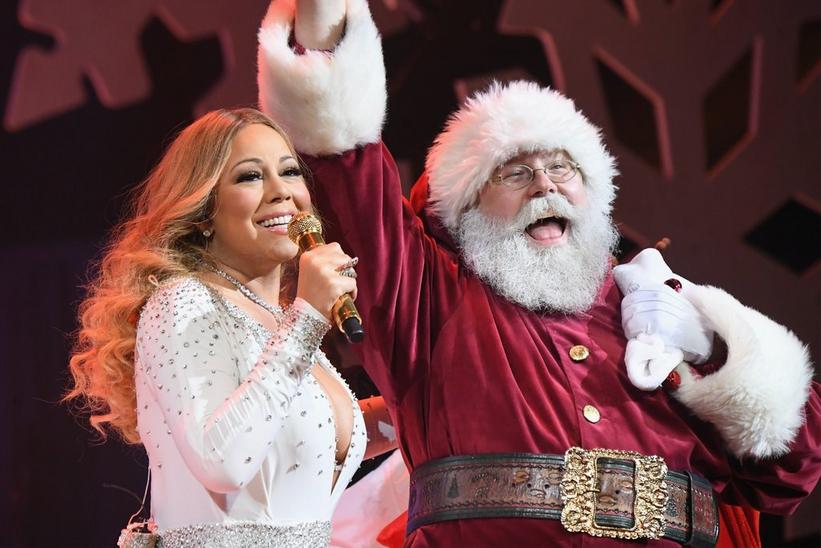 Photo: Jeff Kravitz/FilmMagic/Getty Images
news
Poll: From The Beatles' "Christmas Time (Is Here Again)" to Taylor Swift's "Christmas Must Be Something More," What's Your Favorite Holiday Song?
Now that the pumpkin-pie hangover has lifted and we're all back to work, it's time for the burning question of the holiday season — what's your favorite Christmas song?
GRAMMYs
/
Dec 1, 2021 - 02:31 am
Christmas music may be an acquired taste, but there's one underrated thing about the yuletide canon — it's fluid, mutable and elastic.
Sure, you've got the usual chestnuts like "Little Drummer Boy" and "Jingle Bells," and those aren't going anywhere.
But why can't Joni Mitchell's downcast "River," which is evocatively set against a wintry backdrop, join the party? Or Leonard Cohen's "Dress Rehearsal Rag," with its reference to Santa Claus wielding a razor? What of Big Star's "Jesus Christ," a quaalude-fueled Christmas hallucination from their disheveled 1978 masterpiece Third/Sister Lovers?
This holiday season, let's celebrate the stone-cold classics, like Mariah Carey's "All I Want For Christmas is You," as well as some less-heralded entries by B.B. King, the Pretenders, Low, and more.
Check below for this year's Christmas music poll and let us know of your favorite holiday song. The poll closes on Dec. 14, so don't delay!
Shirley Caesar, The Muppets, B.B. King: 7 Christmas Albums That Won A GRAMMY