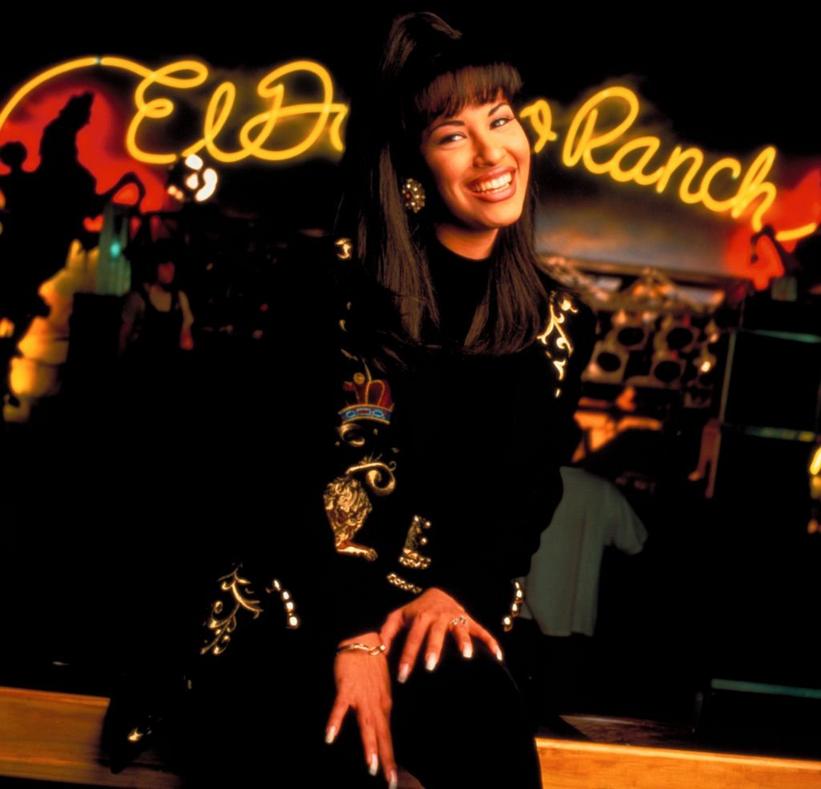 Photo: Pam Francis/The LIFE Images Collection via Getty Images/Getty Images
news
Apple Music To Celebrate 25th Anniversary Of Selena's 'Dreaming Of You' With Radio Special Featuring Demi Lovato, Karol G, Becky G And More
Airing Friday (July 17), the one-hour special, which will discuss Selena's life and impact on the Latin and pop music worlds, will also feature interviews with the late singer's surviving family members
GRAMMYs
/
Jul 17, 2020 - 11:08 pm
Apple Music has announced a one-hour special in celebration of the 25th anniversary of Selena's final album, Dreaming Of You, Rolling Stone reports. The radio special will feature a diverse cast of guests including Demi Lovato, Karol G, Becky G, David Byrne and producer Keith Thomas as well as interviews with the late singer's surviving family members, including her siblings and former bandmates Suzette Quintanilla and A.B. Quintanilla and father Abraham Quintanilla.
Hosted by Apple Music's Sandra Peña, the special will discuss Selena's "life and legacy," according to Rolling Stone, as well as her influence on the Latin and pop stars she inspired.
The special will air Friday (July 17), one day before the album's 25-year anniversary, starting at 6 p.m. EST via Apple Music's global livestream.
Released posthumously in July 1995, nearly four months after the beloved singer was murdered by the former manager of her chain of boutiques that July, Dreaming Of You marks Selena's fifth and final studio album. The release fully realized her mainstream crossover appeal: Debuting at No. 1 on the Billboard 200 chart in the U.S., Dreaming Of You became the first predominately Spanish-language album to accomplish that feat.
"Her album Dreaming Of You is a gem, and those songs are timeless," Apple Music's Marissa Gastelum told GRAMMY.com in a special tribute in honor of the 25th anniversary of Selena's passing.
"She was a Mexican-American female musician dominating the Tejano, regional Mexican music scene, and at the same time, you could hear in her voice that American R&B style that I would hear later in the [1995 album], Dreaming Of You. That's what made her so special to me and such an inspiration," Marisol "La Marisoul" Hernandez, lead vocalist of GRAMMY-winning Los Angeles band La Santa Cecilia, added.
Earlier this year, Selena's family had plans for a special tribute concert, dubbed Selena XXV - Veinticinco Años, to honor the 25-year anniversary of her death. Produced by the family's own Q Productions and originally scheduled for May, the event was rescheduled in March and ultimately canceled in May, both due to the COVID-19 pandemic.
Selena Forever: Remembering The Latin Pop Icon 25 Years Later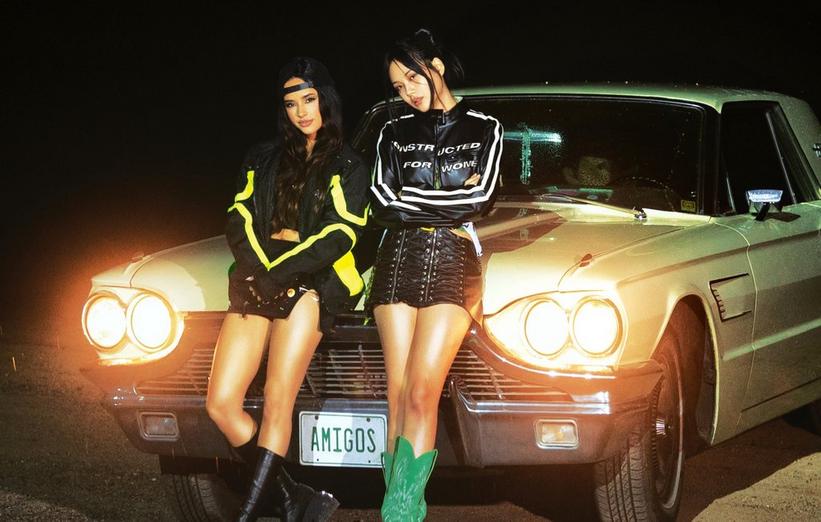 news
New Music Friday: Listen To New Songs From Andre 3000, Drake, Ozuna & More
From long-awaited debut albums to surprising singles, listen to these six new releases from Nov. 17.
GRAMMYs
/
Nov 17, 2023 - 06:54 pm
With Thanksgiving around the corner, this New Music Friday offers us a feast of new sounds from some of the music industry's biggest artists.
Country star Maren Morris teamed up with Teddy Swims for a passionate duet version of his song "Some Things I'll Never Know," while Steve Aoki & ERNEST paired up for an energetic dance/country crossver, "Us," from Aoki's HiROQUEST 2: Double Helix.
American band Bleachers unleash their wild side with "Alma Matter," from their upcoming self-titled album dropping March 8, 2024. Meanwhile, alternative rock band Bad Suns released their catchy, six-track EP Infinite Joy. Across the pond, long-time British rockers Madness released their 13th album, Theatre Of the Absurd Presents C'Est La Vie.
With sultry sounds from R&B songstress Ari Lennox to mellow, indie rhythms from Dermot Kennedy to upbeat, radiant vibes from the duo Surfaces, this Friday brings a kaleidoscope of sounds from across every genre. 
Along with the slew of releases mentioned above, press play on releases from the likes of André 3000, Drake, Ozuna, Lil Wayne and 2 Chainz, Danny Brown, and Bibi and Becky G — and be sure to add some new sounds to your rotation.
André 3000 -

New Blue Sun
If you've seen Andre 3000's impromptu flute performances in the past few years, then the GRAMMY winner's new sound won't come as a shock. On his eight-track debut solo album New Blue Sun, the Outkast member experiments with wind instruments and percussion, creating serene and melodic compositions.
Across eight elaborately titled tracks  — "I swear, I Really Wanted To Make A "Rap" Album But This Is Literally The Way The Wind Blew Me This Time" and "That Night In Hawaii When I Turned Into A Panther And Started Making These Low Registered Purring Tones That I Couldn't Control… Shyt Was Wild," — Andre details his artistic journey and the possibility of returning to rap music. Because, as Andre has told numerous outlets, New Blue Sun is not a rap album.
"I get beats all the time. I try to write all the time. People think, Oh, man, he's just sitting on raps, or he's just holding these raps hostage. I ain't got no raps like that," he told GQ. 
In the future, fans might see 3000 return to the rap universe but in the meantime, let's enjoy the ambience of the blue sun. 
Drake -

For All The Dogs Scary Hours Edition
It's not Scorpio season without a release from the scorpion king himself, Drake. In the latest installment of his Scary Hours series, Drake brought in a heavy-hitter lineup of producers including Lil Yatchy and Alchemist.
With songs surrounding themes of betrayal and broken trust (an the less-than-subtle chant "F— My Ex" more than 10 times in one song), For All The Dogs Scary Hours Edition shows how deep the Certified Lover Boy is in his feelings.
Drake brings out his Swiftie side in the track, "Red Button," shouting out Taylor Swift with lyrics "Taylor Swift the only n—- that I ever rated/ Only one could make me drop the album just a little later/ Rest of y'all, I treat you like you never made it." Seems that the big-ups and grudges heard on October's For All The Dogs translate to Scary Hours, too.
His song "Evil Ways" features J. Cole, increasing anticipation for their joint tour, which was announced on Nov. 13.
Ozuna -
Cosmo
After receiving a nod for Best Reggaeton Performance and performing with David Guetta at the 2023 Latin GRAMMYs, Puerto Rican Singer Ozuna dropped his sixth album, Cosmo. Filled with soon-to-be dance floor staples, Cosmo highlights Ozuna's versatility.
Songs like "El Pin" and "La Chulita" are full of infectious dance and Afrobeats influences, yet stay true to his reggaeton roots. The 15-track record also includes collaborations with Jhayco, Chenco Corleone, Anuel and David Guetta.
"When you think of a colorful image, you think of youth. When people listen to this album, I want them to take it seriously," Ozuna said in an interview with the Fader. "People want to hear what's real, what's clear-cut, in black and white."
The goal, he continued, is to allow "people to know who the real Ozuna is."
2 Chainz, Lil Wayne -
Welcome 2 Collegrove
Lil Wayne and 2 Chainz have joined forces once again to release their second joint album, Welcome 2 Collegrove. The album's title is a melding of 2 Chainz's hometown of College Park, Georgia, with Lil Wayne's Hollygrove, Louisiana.
Welcome 2 Collegrove includes features from a cross-section of hip-hop and R&B greats, including Usher, 21 Savage, Rick Ross, Benny The Butcher and Fabolous. Tracks like "Presha" and "Long Story Short" bring back the duo's classic rap sound from their 2016 project COLLEGROVE, and show their ability to create hip-hop anthems. The special guest artists add even more depth to their songs. 
Danny Brown -
Quaranta
After a four year break, Detroit rapper Danny Brown is back with his seventh album, Quaranta. A departure from his earlier, more club-centric music, the 11-track album offers a new perspective in Brown's life.
Quaranta is a turning point in Brown's musical journey, where he reflects on themes of regret, self-destructive behavior, and growth. While songs like "Ain't My Concern" and "Celibate" still include his signature flair of fast, high-pitched verses, this album takes on a more mature and introspective route. 
Bibi feat. Becky G - "Amigos"
On "Amigos," South Korean singer Bibi teamed up with Latin star Becky G for a multicultural but ever-relatable track that focuses on being hung up on past lovers despite having someone new in their life. "I know we had a good time and that you always want more / But if my boyfriend calls, we're just friends, nothing more," they sing in Spanish.
"Amigos" is rife with hip-hop influences — a genre Bibi loves. 
"Expressing oneself through lyrics is so real and genuine," BIBI told AllKPop. "As I'm someone who wasn't necessarily gifted with natural musical talent — I didn't even know the difference between boom bap or trap beats until way later. I think the other factors of music organically followed as I grew as an artist."
15 Must-Hear Albums This November: Dolly Parton, Jung Kook, Marshmello & More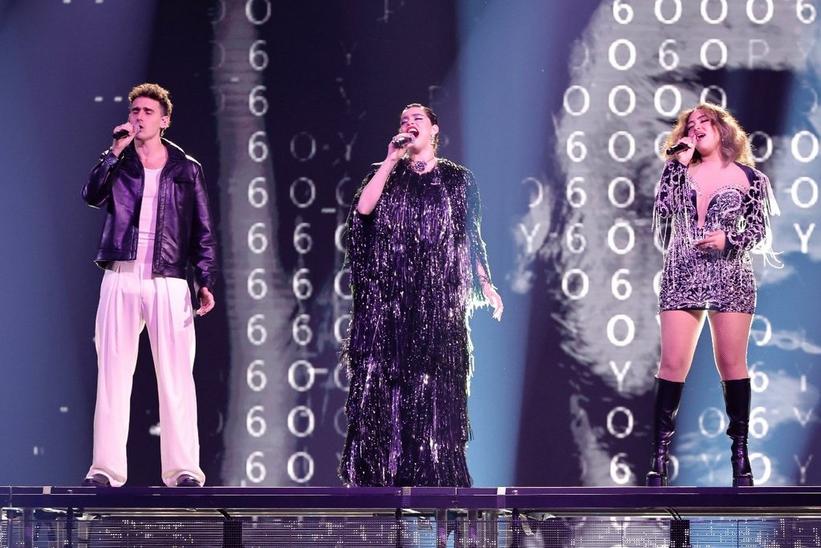 Leon Leiden, Natascha Falcão and Paola Guanche perform onstage during The 24th Annual Latin Grammy Awards on November 16, 2023 in Seville, Spain.
Photo: Kevin Winter/Getty Images for Latin Recording Academy
list
10 Incredible Moments From The 2023 Latin GRAMMYs: Rosalía, Shakira, Peso Pluma & More
The 2023 Latin GRAMMYs were truly international, embracing sounds of flamenco, norteño, reggaetón, and everything in between. Read on for 10 of the most exciting moments from the Biggest Night In Latin Music.
GRAMMYs
/
Nov 17, 2023 - 03:27 pm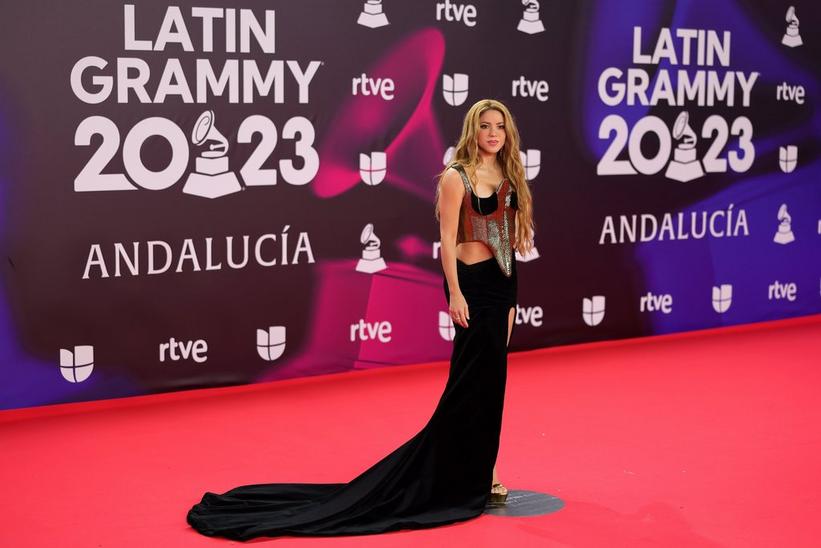 Shakira on the red carpet at the 2023 Latin GRAMMYs in Seville, Spain.
Photo: Neilson Barnard/Getty Images for Latin Recording Academy
news
2023 Latin GRAMMYs Red Carpet Fashion: See Pics Of Rosalía, Karol G, Peso Pluma, Shakira, Bizarrap, & More
For the 24th Latin GRAMMYs Awards, Latin music's biggest artists graced Sevilla, Spain's royal red carpet in their most dazzling outfits.
GRAMMYs
/
Nov 17, 2023 - 01:25 am
The 2023 Latin GRAMMYs are not just The Biggest Night In Latin Music — it was also an occasion for the leading lights in Latin music to don a plethora of eye-catching outfits. Just as many of the nominated artists blend genres and break barriers, so too did their sartorial choices. 
Latin GRAMMY performers and nominees demonstrated their individuality and creativity with  extravagant, playful styles. Artists including Rosalía, Karol G, Bizarrap, Peso Pluma, Juanes, and Sebastián Yatra donned jaw-dropping award show looks. Daniela Santiago, Liz Trujillo and Sandra Calixto of Música Mexicana group Conexión Divina coordinated their all black and leather ensembles, while singer/songwriter Natalia Lafourcade — who took home multiple Latin GRAMMYs for, including Record Of The Year, for "De Todas Las Flores" — added a satin green touch to the red carpet. 
The most-nominated artists at the 2023 Latin GRAMMYs are Camilo, Karol G and Shakira, each of whom have seven nominations. Songwriter and composer Keityn also received seven nominations. Edgar Barrera, who took home the Latin GRAMMY Award for Producer Of The Year, led the night with 13 nominations. 
Hosted by Latin GRAMMY winner and performer Sebsatián Yatra, GRAMMY nominee and actress Danna Paola, along with critically-acclaimed actresses Roselyn Sánchez and Paz Vega — who each also made fashion statements — the 2023 Latin GRAMMYs were an aural and visual night to remember. 
Here are some of our favorite looks from the red carpet at the FIBES Conference and Exhibition Centre in Sevilla, Spain.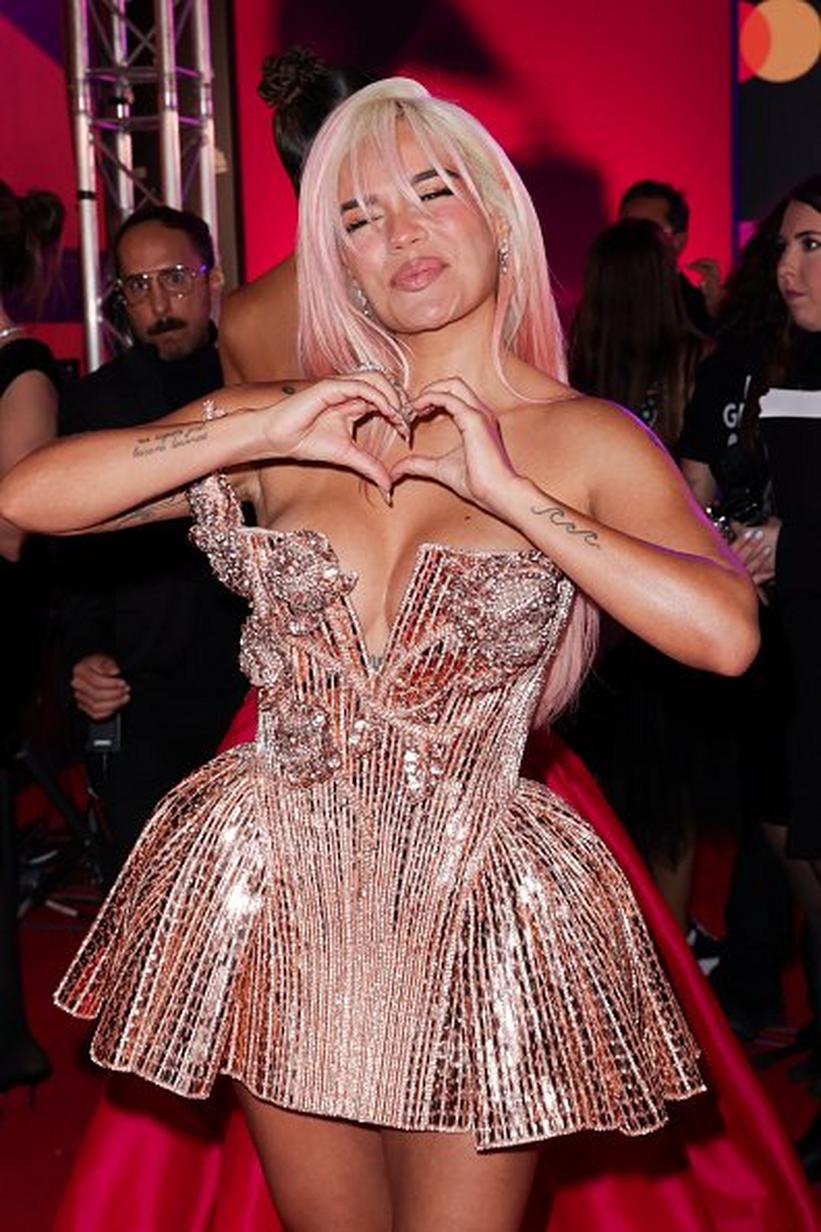 Karol G ┃John Parra/Getty Images for Latin Recording Academy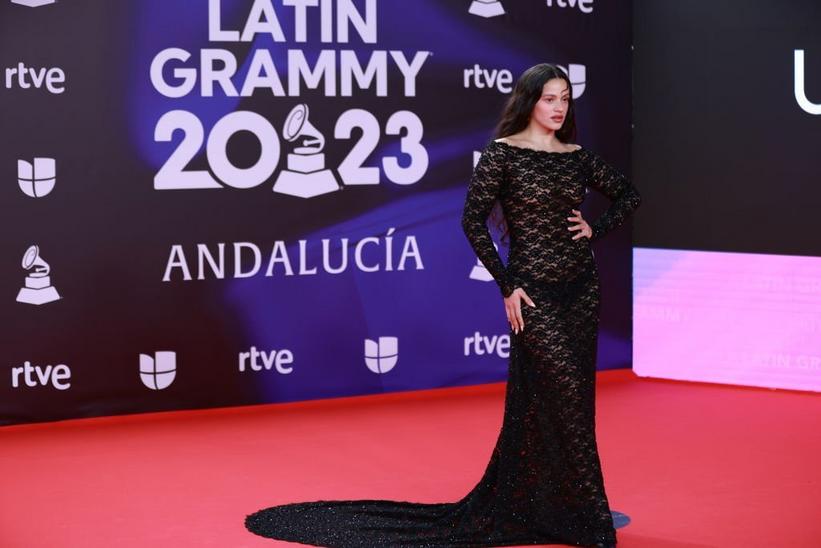 Rosalía | Patricia J. Garcinuno/WireImage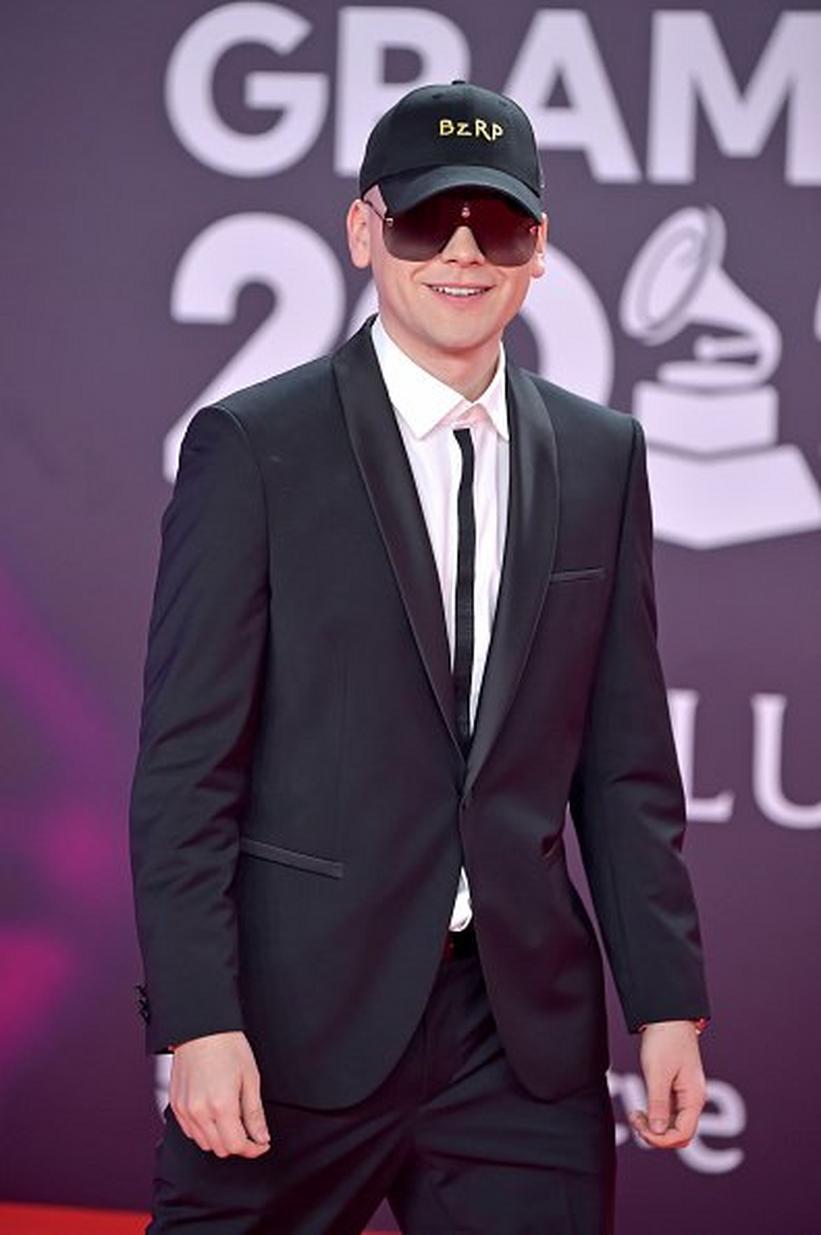 Bizarrap | Juan Naharro Gimenez/Getty Images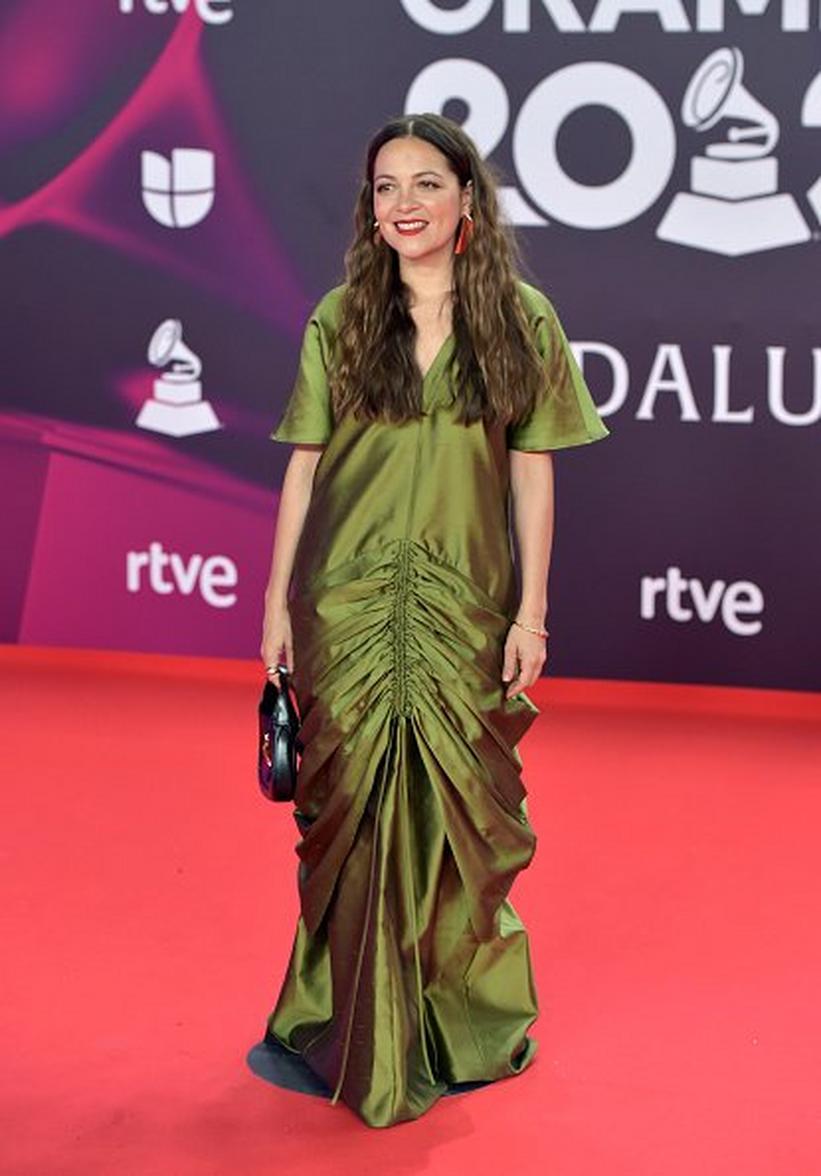 Natalia Lafourcade ┃Juan Naharro Gimenez/Getty Images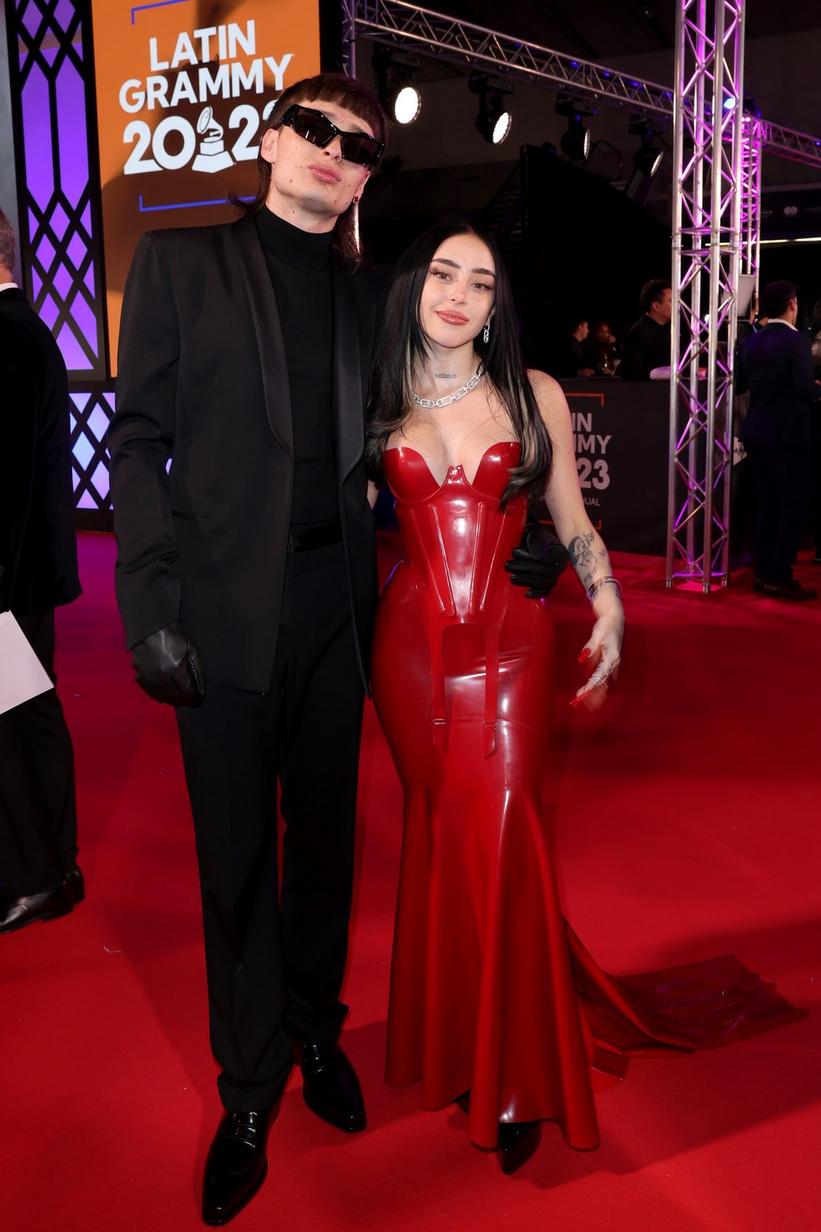 Peso Pluma and Nicki Nicole┃Rodrigo Varela/Getty Images for Latin Recording Academy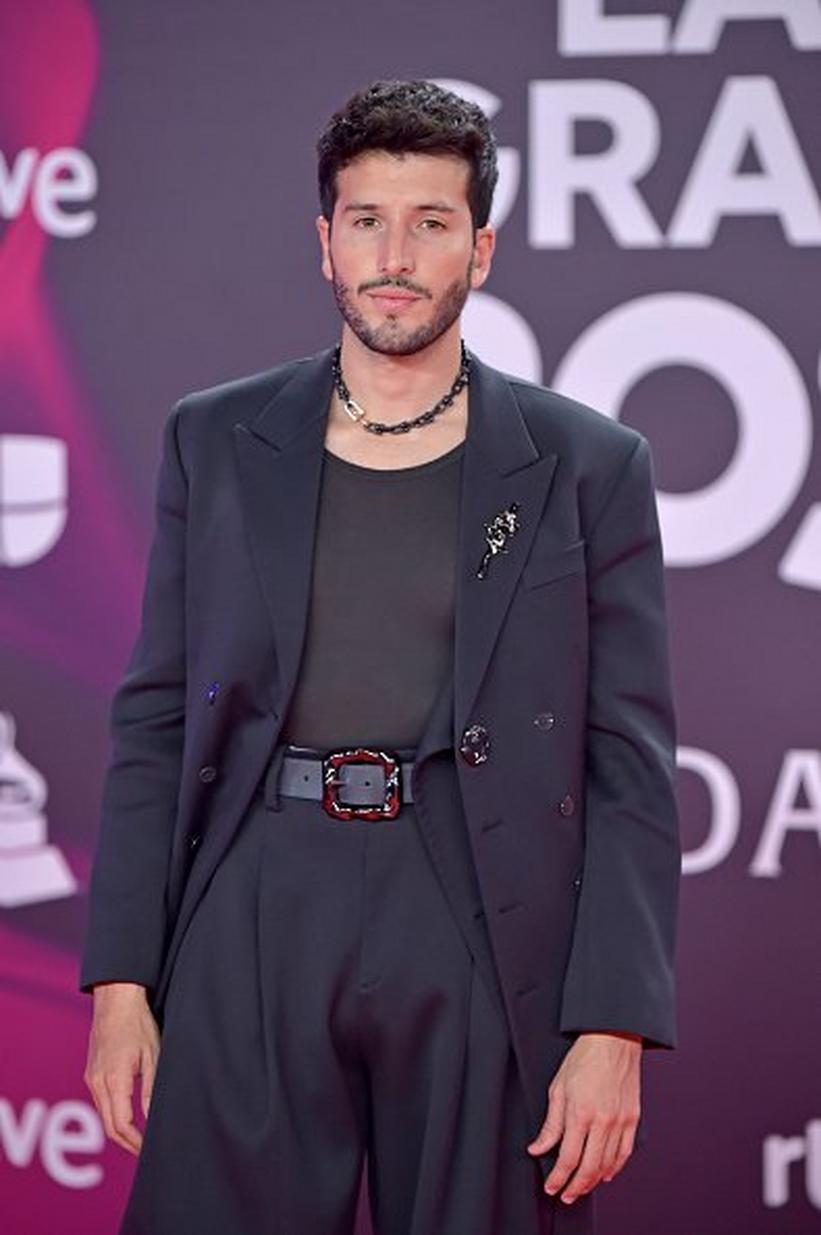 Sebastian Yatra┃Patricia J. Garcinuno/WireImage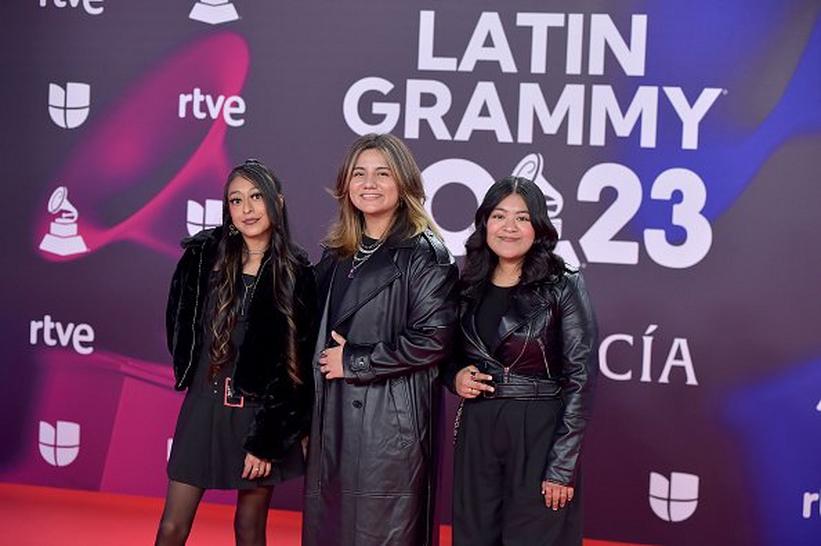 Conexión Divina┃Juan Naharro Gimenez/Getty Images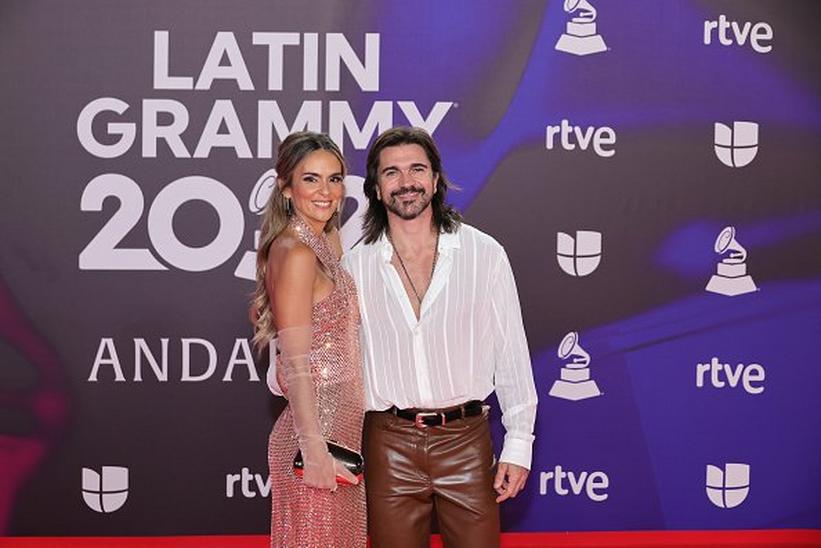 Karen Martinez and Juanes┃Neilson Barnard/Getty Images for Latin Recording Academy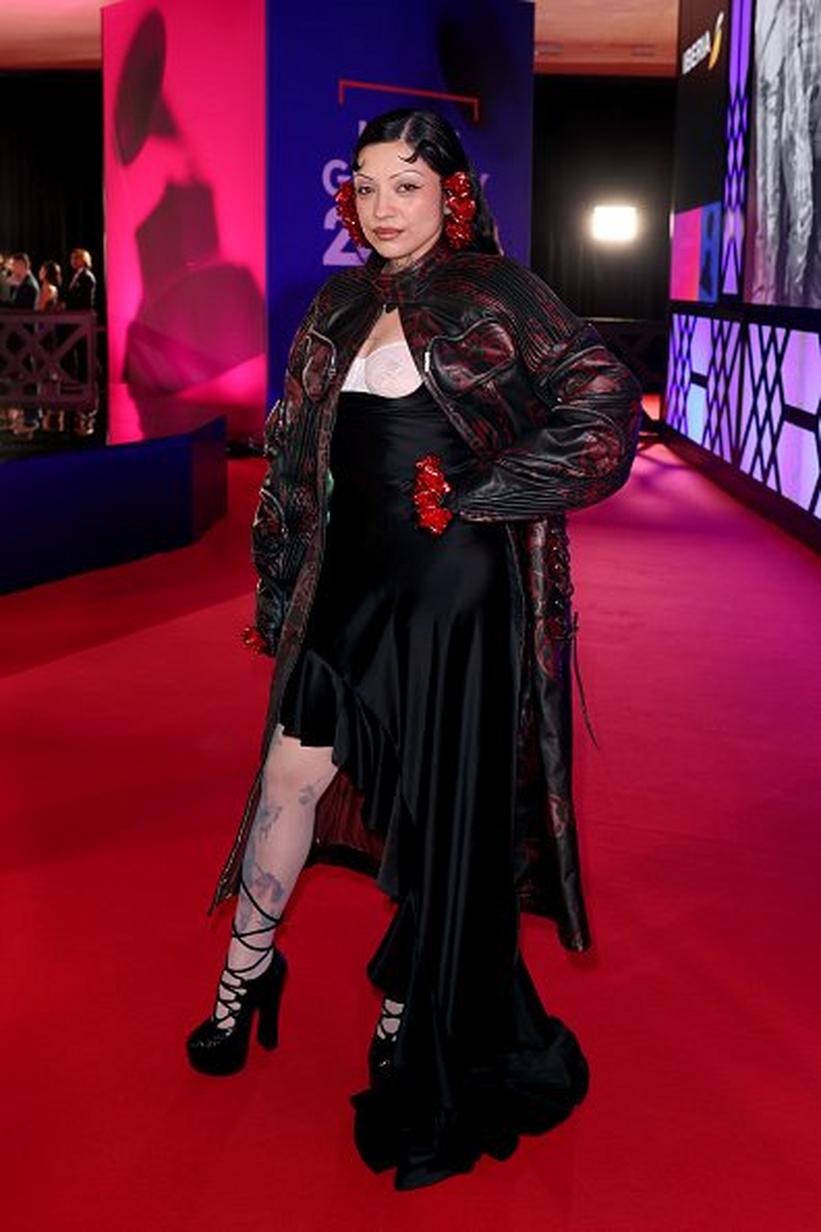 Mon Laferte┃Rodrigo Varela/Getty Images for Latin Recording Academy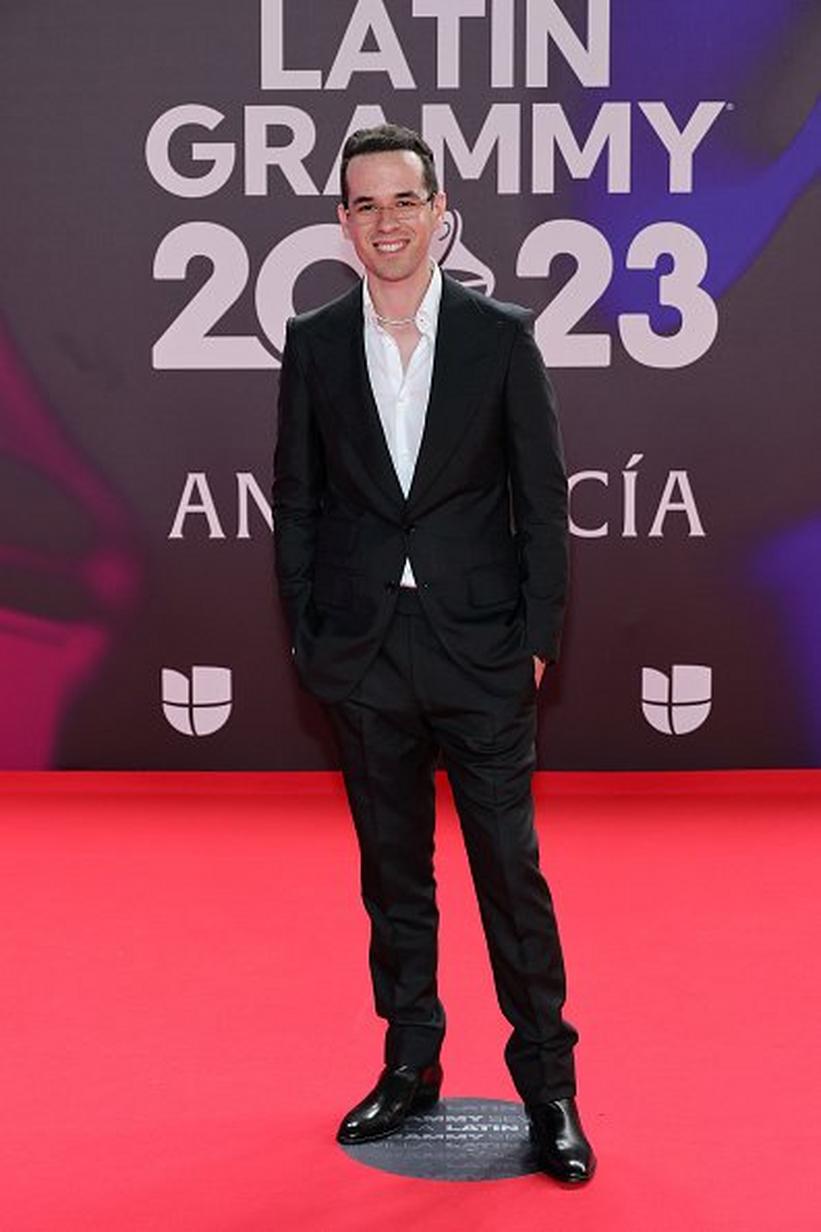 Edgar Barrera┃Neilson Barnard/Getty Images for Latin Recording Academy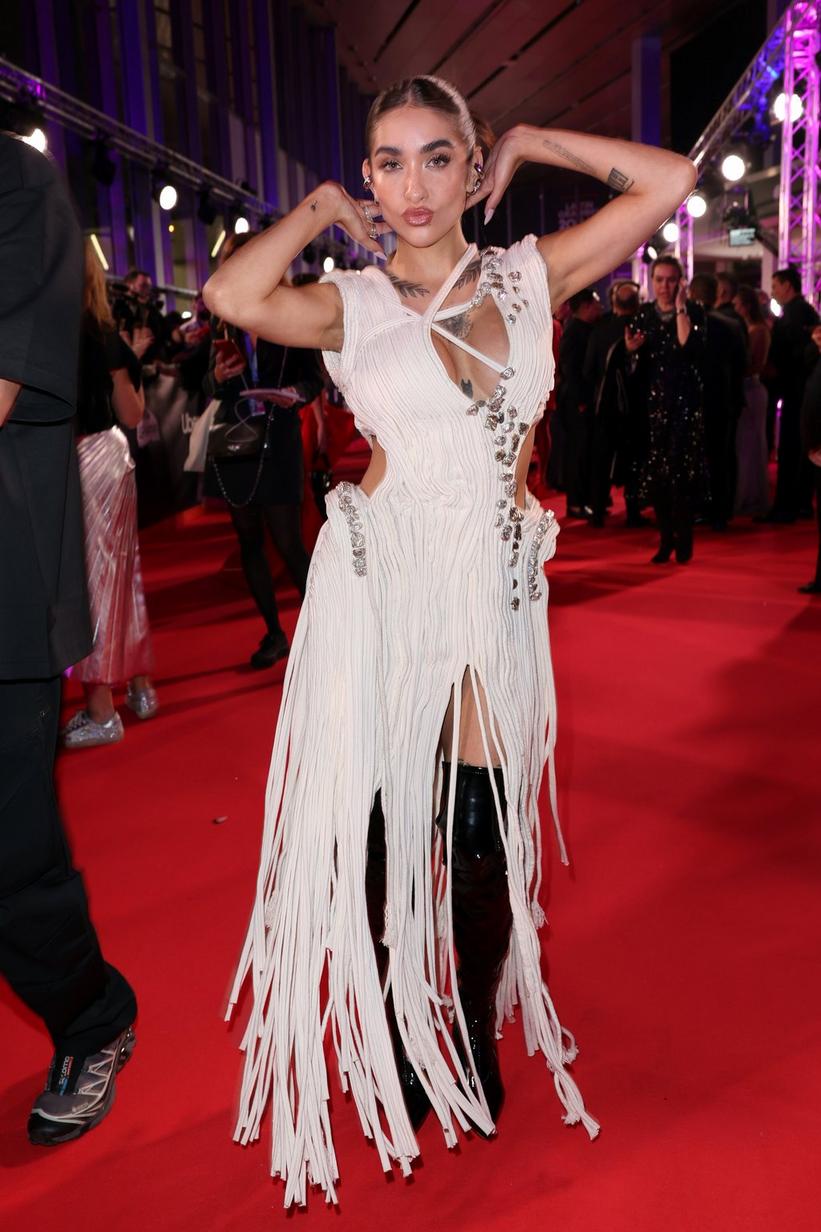 Maria Becerra┃Rodrigo Varela/Getty Images for Latin Recording Academy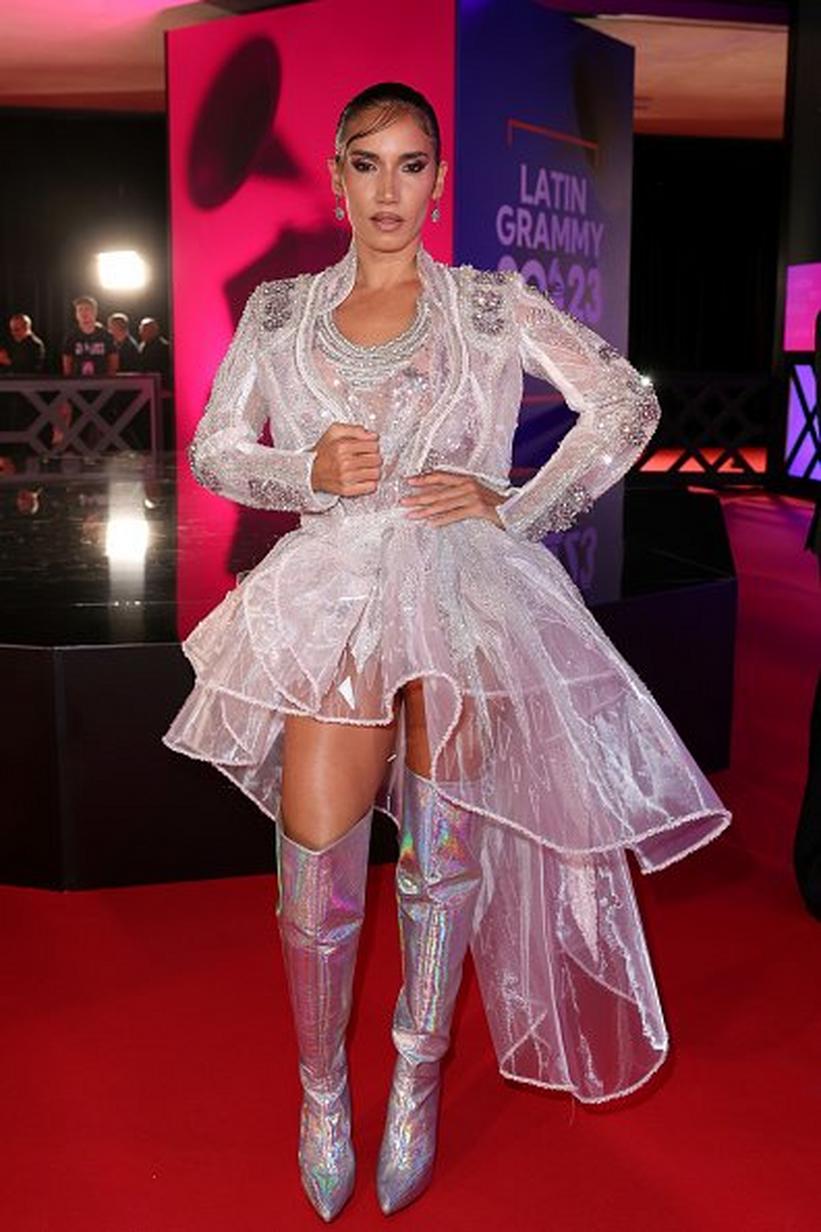 India Martínez┃Rodrigo Varela/Getty Images for Latin Recording Academy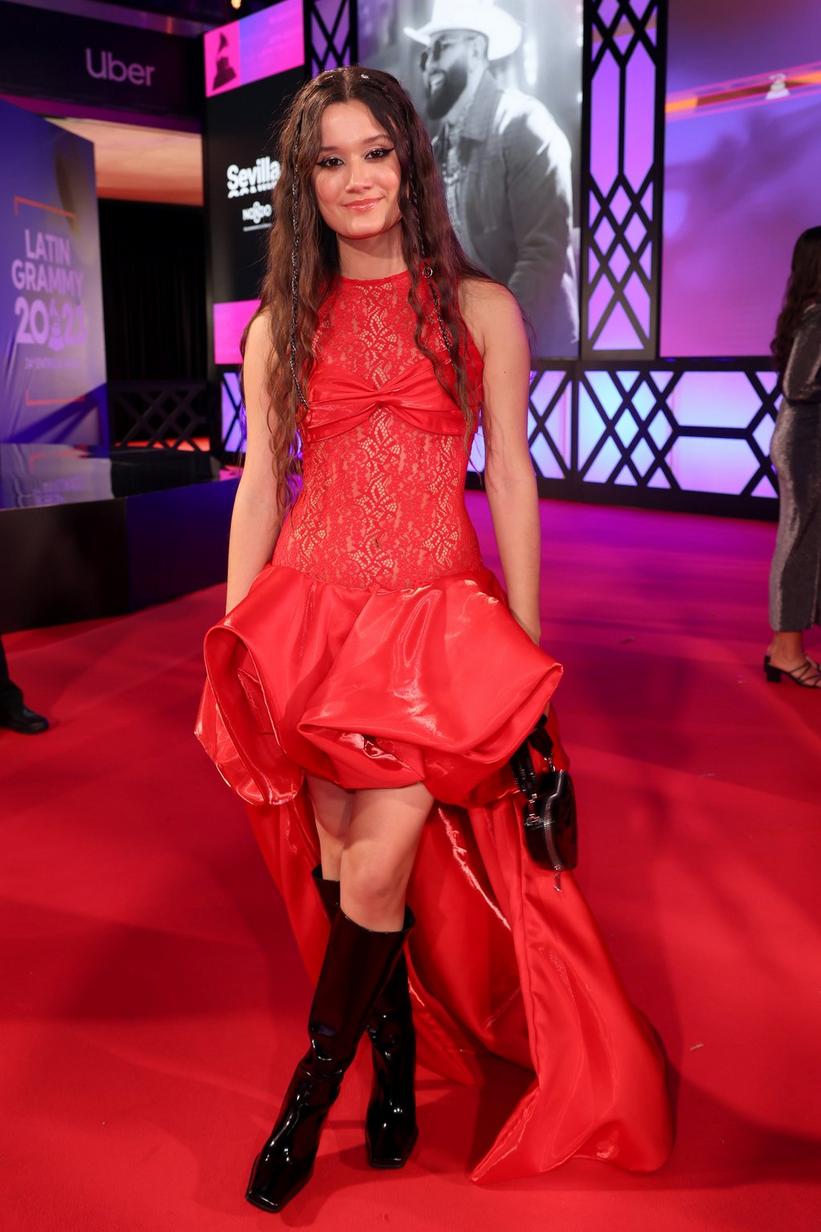 Joaquina┃Rodrigo Varela/Getty Images for Latin Recording Academy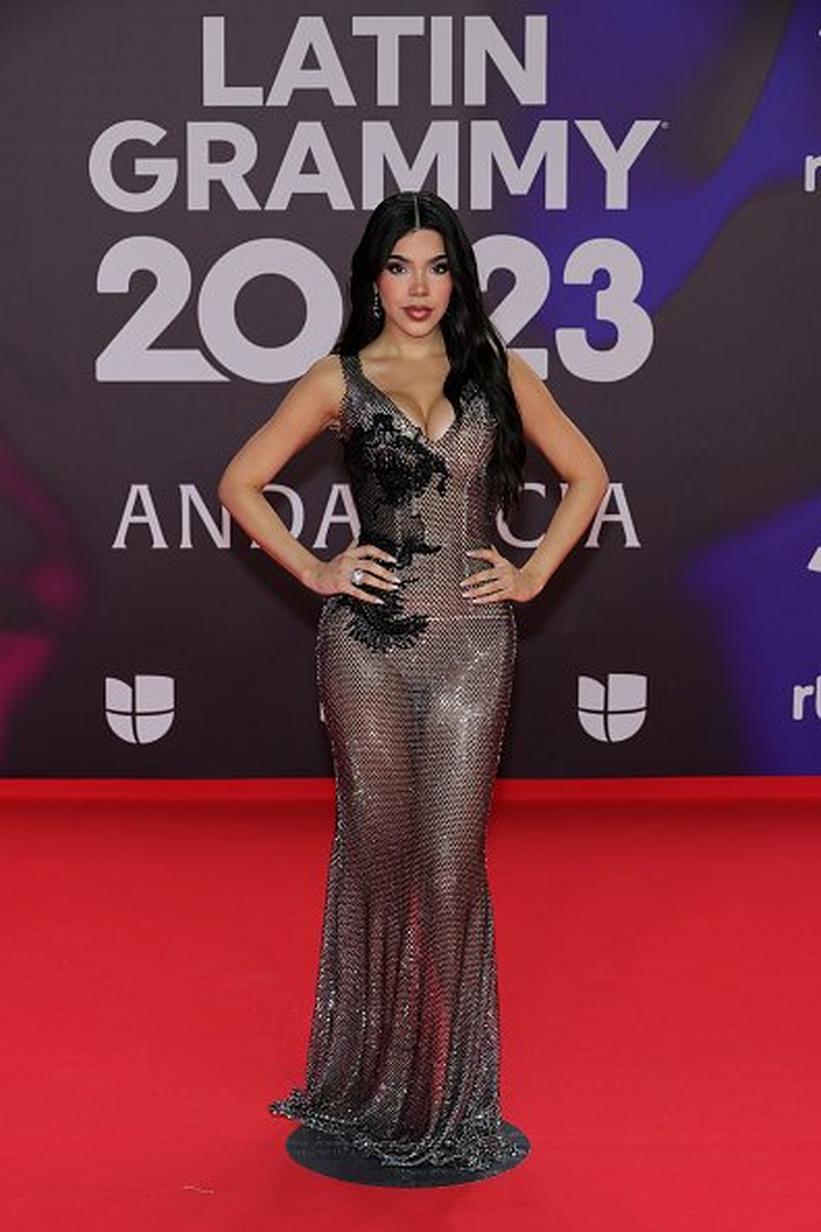 Kenia OS┃Neilson Barnard/Getty Images for Latin Recording Academy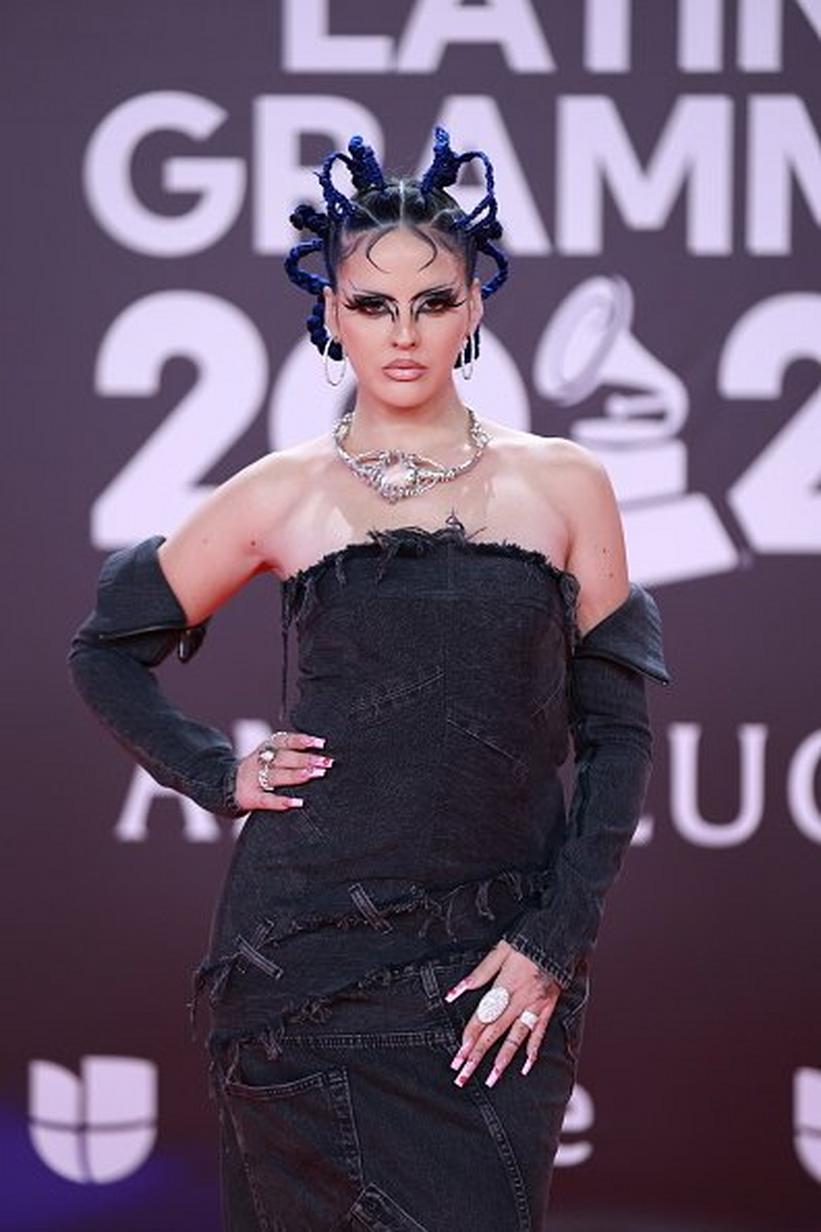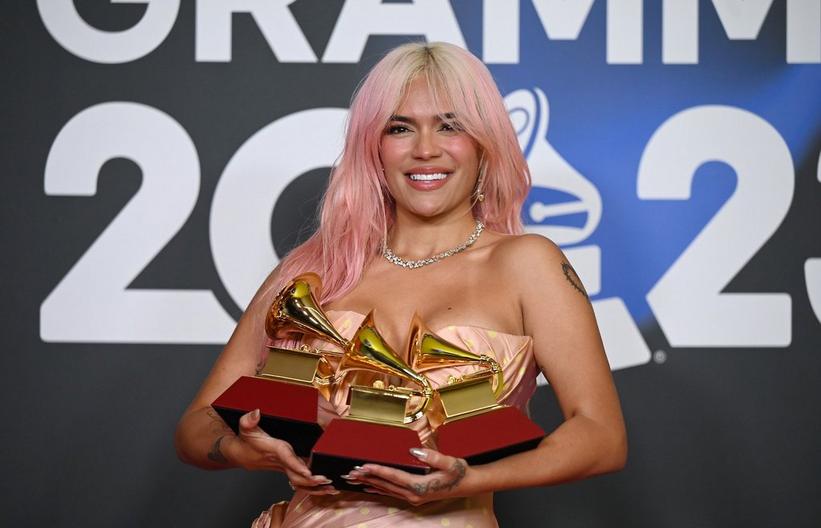 Karol G poses with awards during the 2023 Latin GRAMMYs on Thursday, Nov. 16, 2023 in Seville, Spain
Photo: Courtesy of The Latin Recording Academy/Borja B. Hojas, Getty Images © 2023
news
2023 Latin GRAMMYs: Karol G Wins Album Of The Year For 'Mañana Será Bonito'
Karol G won the Latin GRAMMY for Album Of The Year for 'Mañana Será Bonito' at the 2023 Latin GRAMMYs.
GRAMMYs
/
Nov 17, 2023 - 12:57 am
Karol G won the Latin GRAMMY for Album Of The Year for Mañana Será Bonito at the 2023 Latin GRAMMYs.
Pablo Alborán's La Cu4rta Hoja, Paula Arenas' A Ciegas, Camilo's De Adentro Pa Afuera, Andrés Cepeda's Décimo Cuarto, Juanes' Vida Cotidiana, Natalia Lafourcade's De Todas Las Flores, Ricky Martin's Play, Fito Paez's Eadda9223, and Carlos Vives' Escalona Nunca Se Había Grabado Así were the other nominees in the category.
Karol G first made a splash by cross-pollinating reggaeton and Latin trap; these days, she has eyes on an entire country: her native Colombia.
Musical powerhouse, reggaetonera and general bichota, Karol G is one major reason why all eyes are on Colombia. After establishing herself as a hit-making star in the adjoining worlds of reggaeton and Latin trap, she is clearly enjoying her success and savoring the moment.
As its sunshine-and-rainbows-festooned cover suggests, Mañana Será Bonito was one of 2023's most irresistible albums — it radiates verve, panache and sexuality. Not only that: it's filled with inspired features by the likes of Romeo Santos, Shakira, Carla Morrison, and Sean Paul. Mañana Será Bonito debuted at the top of the Billboard Hot 200, making it the first all-Spanish language album by a female artist to hold that impressive distinction.
Check out the complete list of winners and nominees at the 2023 Latin GRAMMYs.