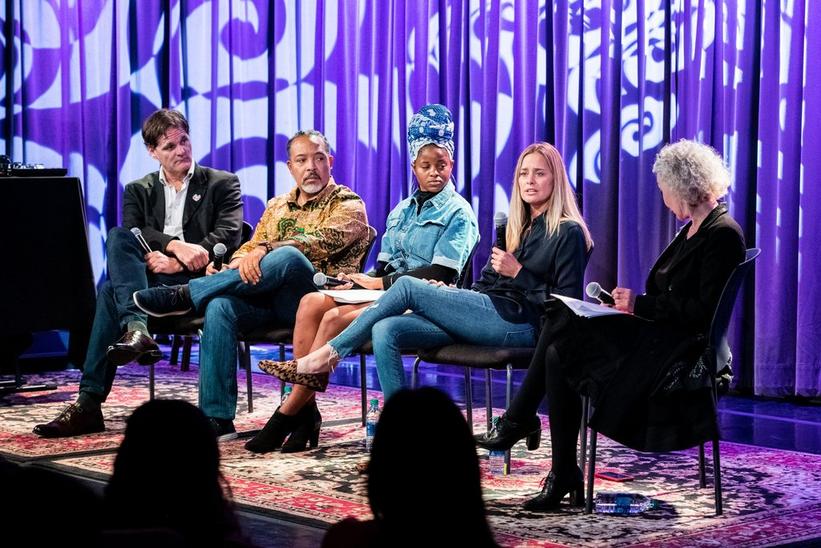 John McKenna, Harry Grammer, Ifunanya Nweke, Erica Krusen and Victoria Stevens at the GRAMMY Museum
Photo by Timothy Norris/Getty Images for The Recording Academy
news
"Amplifying Music's Reach" GRAMMY Week Panel Discusses Human Connection, MusiCares Research, Outreach, & More
The panel was one of a series of six that will take place throughout GRAMMY Week 2020 at the GRAMMY Museum in Downtown Los Angeles
GRAMMYs
/
Jan 23, 2020 - 05:36 am
Yesterday, Jan. 21, the GRAMMY Museum kicked off a series of educational GRAMMY week events just ahead of the 62nd GRAMMY Awards set to take place this Sunday, Jan. 26 on CBS. Hosted on the museum's second floor Clive Davis Theater, the panel "Amplifying Music's Reach" brought students, visitors and industry professionals together for discussions focused on the ways that each panelist is using their career to help harness music's power as a tool for personal growth and mental and emotional healing in others. By dedicating their daily lives and consistent work to creating tangible change through music, each panelist is helping to diversify and ultimately redefine industry spaces, while uplifting underserved musical communities along the way.
The panel, moderated by clinical Psychologist and GRAMMY Foundation Music and Science Research Special Projects consultant Victoria Stevens, helped its audience to explore what mobilizing through on-the-ground initiatives looks like in today's music landscape. Stevens opened the proceedings by emphasizing the relevance of music's more tangible and human benefits that are often not fully realized. She explained that we must consider how deeply embedded music is within us culturally, socially and even biologically, in order to move more effectively towards serving communities through music.
"Music is complex and mysterious. It's ubiquitous and it's known as the universal language," she began. "Music-making and listening have been shown to exist in all current and historically documented human societies. And for all humans, the musical brain is present at birth and continues as a unique way of communicating, processing and understanding emotions throughout our lifetimes… music affects our minds and bodies in ways that we are only beginning to scientifically understand," she said before detailing several music research initiatives supported through the Recording Academy including studies connected to music's healing power for those with PTSD, Alzheimer's and stroke victims.
Read More: Sheléa Serves GRAMMY Week Motivation: "This Is Why I Do What I Do, To Give To The Next Generation"
According to Stevens, the awarding of grants and funding for similar innovative music research projects is an important facet of the GRAMMY's larger outreach in bringing music to everyone as a means of transforming and healing. Projects like MusiCares, which offers resources like health care and insurance to artists and musicians who may not have immediate access to it, and Jazz Hands for Autism, which empowers creators on the autism spectrum to pursue music as a career with advocacy programs, are the epitome of said efforts. Further, the mentor-based arts and education program New Earth helps exemplify the values of connecting and uplifting through music by bringing music education to juvenile justice system affected youth as a means of empowerment, while Operation Respect uses music as an anti-bullying tool in schools across the country.
Panelists offering their insights to these kinds of projects and other initiatives were Senior Director of the Recording Academy's charitable arm MusiCares Erica Krusen, Ifunanya Nweke who is creating avenues of expression and employment for musicians on the autism spectrum with her organization Jazz Hands for Autism, New Earth founder, Obama fellow and CNN Hero Harry Grammer, and Executive Director of anti-bullying organization Operation Respect, John McKenna.
On using music as a helping hand for others, when asked what she'd like to leave the audience with, it was Nweke's response that held itself transcendent in terms of keeping music alive as the connection between one another. "Confidence is knowing that you have something of value to give to somebody, and community thrives when that giving becomes reciprocal."
The GRAMMY Museum's educational programming will continue throughout the week including discussions on Careers in the Music Industry, Creating Collaborative Communities for Female Artists and more. For more information on the scheduled events, visit the museum's programs page here.
Be sure to stay tuned to GRAMMY.com throughout the week for your behind-the-scenes pass into 2020 GRAMMY Week events, including the 62nd GRAMMY Awards airing live on CBS this Sunday, Jan. 26.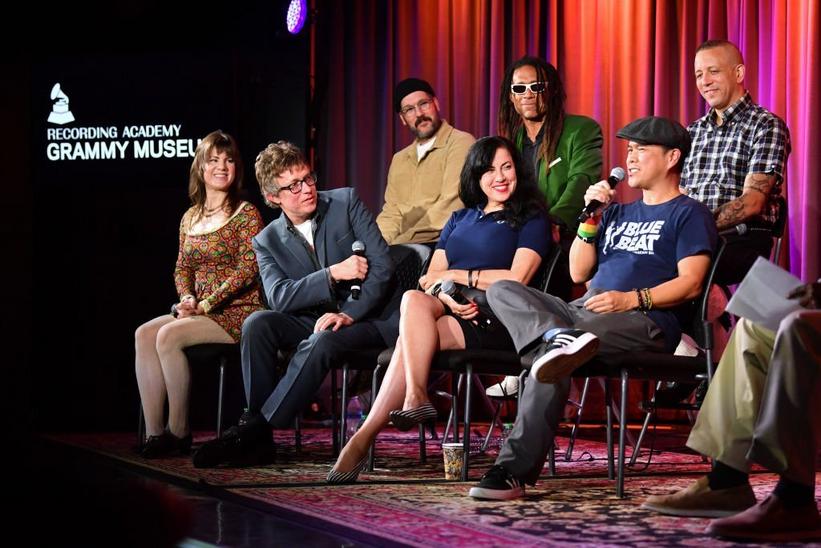 (From Left) Nina Cole, Matt Parker, Scott Klopfenstein, Karina Denike, Paul Hampton, Greg Narvas and Oliver Charles speak with moderator Junor Francis during "A History Of L.A. Ska" part four
Photo: Sarah Morris/Getty Images for The Recording Academy
news
Watch: "A History Of L.A. Ska" Panel At The GRAMMY Museum With Reel Big Fish, NOFX & More
Featuring musicians, DJs, curators and more, the multi-part series "A History Of L.A. Ska" explores the genre's deep history in Southern California. The latest installment included members of Hepcat, Ocean 11 and others.
GRAMMYs
/
Nov 20, 2023 - 04:42 pm
Ska — as any lover of the genre will tell you — is far from dead.
In fact, the genre that burst forth in Jamaica at the time of the nation's independence in the early 1960s (and, crucially, is the musical seed from which reggae grew) is alive and well around the globe. Call it a fourth wave, a revival or a scene of stalwarts, but the horn-heavy, grooving and uptempo music continues to march forward — and the GRAMMY Museum is all-in on the celebration.
For several years, the GRAMMY Museum has hosted "A History Of L.A. Ska" — a discussion and performance series featuring local musicians, DJs, journalists, and others. Panelists reminisce about their early years in ska, working with legends, and the important role Southern  California has played in the development of the culture. The most recent panel was held on Nov. 7 (but more on that later).
Although born in Jamaica, ska migrated to the UK in the latter half of the '60s and, the following decade, mixed with burgeoning punk sounds to create the genre's second wave: Two Tone. Bands such as the Specials, Madness and the Selecter struck a chord with local audiences as well as those in Southern California — which saw its first ska band, the Boxboys, debut in 1979. Then by the late '80s, California-based bands such as the Untouchables, Fishbone, Hepcat and Let's Go Bowling were building a distinct scene.
As the '90s began, Southern California was the focal point of ska's third wave. Helmed by bands like Reel Big Fish, the Aquabats and, early on, No Doubt, a new generation further enmeshed punk and ska to become faster, catchier and more memeable. While third wave groups of the era came from all corners (see New Jersey's Catch-22, Florida's Less Than Jake and Boston's Mighty Mighty Bosstones), Southern California remained a stronghold for ska music and was buoyed by a strong subculture of mods and non-racist skinheads. 
Today, Los Angeles remains a hotbed for a new generation of ska acts — many of which harken back to the sounds of the '60s. Southern California has also played host to ska legends, including Derrick Morgan (whose song "Forward March" became an independence anthem), Pat Kelly, the Pioneers and more.
"When I was first introduced to ska in Southern California, I was blown away by the level of musicianship and the love that these young talents had for the music that I grew up listening to in Jamaica," shares Junor Francis, a moderator and veteran radio DJ/emcee who co-curates the "A History Of L.A. Ska" series with Eric Kohler. The two also host a video interview series of the same name. [Editor's note: Author Jessica Lipsky has appeared on this series.] 
"While many fans of American third wave ska were introduced to the sound in the 1990s, more casual listeners may not be aware that ska in Southern California dates back four decades," notes Kohler. "To that end, Junor and I have made it our mission to celebrate and highlight the scene's rich history, vibrancy and uniqueness."
Part four of the series — and the most recent — featured seven panelists representing a broad swath of L.A. ska history: Hepcat drummer Greg Narvas (Hepcat), singer Karina Denike (Dance Hall Crashers, NOFX), keyboardists Matt Parker (the Donkey Show) and Paul Hampton (the Skeletones), DJ and drummer Nina Cole (the Cover Ups), drummer Oliver Charles (Ocean 11, Ben Harper & The Innocent Criminals, Gogol Bordello), and multi-instrumentalist Scott Klopfenstein (Reel Big Fish, the Littlest Man Band). The panel was moderated by Junor Francis.
The four-part series is available to view on the GRAMMY Museum's website, or you can immerse yourself in the "History Of L.A. Ska" panel by panel below:
Featuring: Greg Lee, Persephone "Queen P" Laird, Joey Altruda, Brian Dixon and Luis Correa
Featuring: Angelo Moore, Chris Murray, Darrin Pfeiffer, Kip Wirtzfeld, Tazy Phyllipz
Featuring: Jerry Miller, Chuck Askerneese, Ivan Wong,  Greg Sowders, Norwood Fishe, Greg Lee, Bill Bentley, Howard Paar, Marc Wasserman, Karena Sundaram Marcum, Laurence Fishburn
If the excitement on display during the "History Of L.A. Ska" panel sessions isn't enough to convince you of the genre's staying power, consummate emcee Junor Francis shares words of affirmation:
"After being baptized into this scene and welcomed with open arms, I realized this was absolutely the right place for me!"
Photographer Kate Simon Details Her Time With Reggae's Greats & How Bob Marley Was "Completely Possessed By The Music"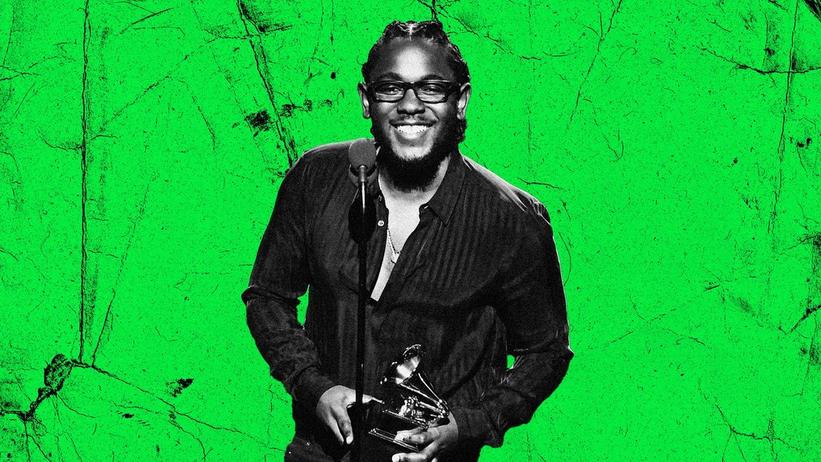 Kendrick Lamar
Photo: Jeff Kravitz/FilmMagic
video
GRAMMY Rewind: Kendrick Lamar Honors Hip-Hop's Greats While Accepting Best Rap Album GRAMMY For 'To Pimp a Butterfly' In 2016
Upon winning the GRAMMY for Best Rap Album for 'To Pimp a Butterfly,' Kendrick Lamar thanked those that helped him get to the stage, and the artists that blazed the trail for him.
GRAMMYs
/
Oct 13, 2023 - 06:01 pm
Updated Friday Oct. 13, 2023 to include info about Kendrick Lamar's most recent GRAMMY wins, as of the 2023 GRAMMYs.
A GRAMMY veteran these days, Kendrick Lamar has won 17 GRAMMYs and has received 47 GRAMMY nominations overall. A sizable chunk of his trophies came from the 58th annual GRAMMY Awards in 2016, when he walked away with five — including his first-ever win in the Best Rap Album category.
This installment of GRAMMY Rewind turns back the clock to 2016, revisiting Lamar's acceptance speech upon winning Best Rap Album for To Pimp A Butterfly. Though Lamar was alone on stage, he made it clear that he wouldn't be at the top of his game without the help of a broad support system. 
"First off, all glory to God, that's for sure," he said, kicking off a speech that went on to thank his parents, who he described as his "those who gave me the responsibility of knowing, of accepting the good with the bad."
He also extended his love and gratitude to his fiancée, Whitney Alford, and shouted out his Top Dawg Entertainment labelmates. Lamar specifically praised Top Dawg's CEO, Anthony Tiffith, for finding and developing raw talent that might not otherwise get the chance to pursue their musical dreams.
"We'd never forget that: Taking these kids out of the projects, out of Compton, and putting them right here on this stage, to be the best that they can be," Lamar — a Compton native himself — continued, leading into an impassioned conclusion spotlighting some of the cornerstone rap albums that came before To Pimp a Butterfly.
"Hip-hop. Ice Cube. This is for hip-hop," he said. "This is for Snoop Dogg, Doggystyle. This is for Illmatic, this is for Nas. We will live forever. Believe that."
To Pimp a Butterfly singles "Alright" and "These Walls" earned Lamar three more GRAMMYs that night, the former winning Best Rap Performance and Best Rap Song and the latter taking Best Rap/Sung Collaboration (the song features Bilal, Anna Wise and Thundercat). He also won Best Music Video for the remix of Taylor Swift's "Bad Blood." 
Lamar has since won Best Rap Album two more times, taking home the golden gramophone in 2018 for his blockbuster LP DAMN., and in 2023 for his bold fifth album, Mr. Morale & the Big Steppers.
Watch Lamar's full acceptance speech above, and check back at GRAMMY.com every Friday for more GRAMMY Rewind episodes. 
10 Essential Facts To Know About GRAMMY-Winning Rapper J. Cole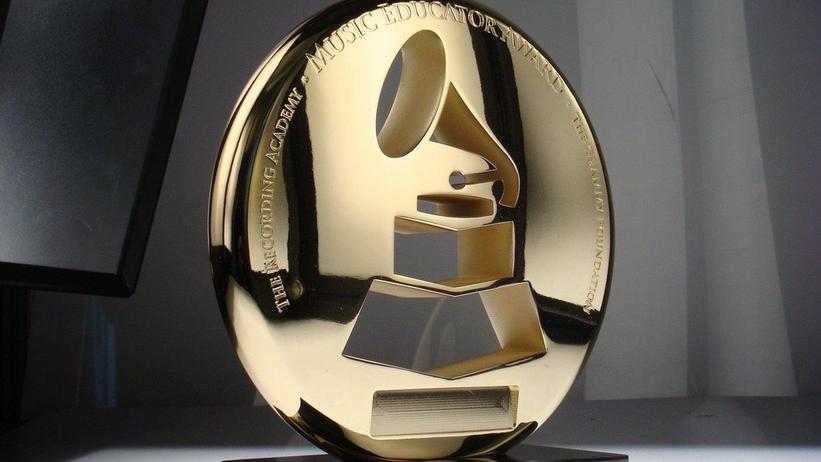 Music Educator Award
Photo Courtesy of the Recording Academy and GRAMMY Museum
news
25 Semifinalists Announced For The 2024 Music Educator Award
Twenty-five music teachers, from 25 cities across 17 states, have been announced as semifinalists for the 2024 Music Educator Award, presented by the Recording Academy and GRAMMY Museum. One ultimate recipient will be honored during GRAMMY Week 2024.
GRAMMYs
/
Oct 11, 2023 - 01:59 pm
Twenty-five music teachers have today been announced as semifinalists for the Music Educator Award, an annual award, presented by the Recording Academy and GRAMMY Museum, that supports and celebrates music education and music educators across the U.S. The 25 semifinalists, who hail from 25 cities across 17 states, were selected from a pool of more than 2,000 initial nominations from across all 50 U.S. states. Finalists will be announced in December, and the ultimate recipient of the 2024 Music Educator Award will be recognized during GRAMMY Week 2024, days ahead of the 2024 GRAMMYs.
Nominations for the 2025 Music Educator Award are now open.
Read More: Meet The 2023 Music Educator Award Recipient: How Pamela Dawson Helps Her Students Achieve Healing And Catharsis
Presented by the Recording Academy and GRAMMY Museum, the Music Educator Award recognizes current educators who have made a significant and lasting contribution to the music education field and demonstrate a commitment to the broader cause of maintaining music education in the schools. The Award is open to current U.S. music teachers. Anyone can nominate a teacher — students, parents, friends, colleagues, community members, school deans, and administrators — while teachers are also able to nominate themselves; nominated teachers are notified and invited to fill out an application.
Each year, the recipient of the Music Educator Award, selected from 10 finalists, receives a $10,000 honorarium and matching grant for their school's music program. The nine additional finalists receive a $1,000 honorarium and matching grants. The remaining 15 semifinalists, among the group announced today, will receive a $500 honorarium with matching school grants.
The Music Educator Award program, including honorariums, is made possible by the generosity and support of the Chuck Lorre Family Foundation. In addition, the American Choral Directors Association, National Association for Music Education, NAMM Foundation, and National Education Association support this program through outreach to their constituencies.
Read More: 5 Organizations And Scholarships Supporting Music Education
The full list of the 2024 Music Educator Award semifinalists is as follows:
Name

School
City
State

Dawn Amthor

Wallkill Senior High School
Wallkill
New York

Jeremy Bartunek

Greenbriar School
Northbrook
Illinois

William Bennett

Cane Bay High School
Summerville
South Carolina

Meg Byrne

Pleasant Valley High School
Bettendorf
Iowa

Ernesta Chicklowski

Roosevelt Elementary
Tampa
Florida

Michael Coelho

Ipswich Middle and High School
Ipswich
Massachusetts

Drew Cowell

Belleville East High School
Belleville
Illinois

Marci DeAmbrose

Lincoln Southwest High School
Lincoln
Nebraska

Antoine

 

Dolberry

P.S. 103x Hector Fontanez

 

Bronx
New York

 

Jasmine Fripp

KIPP Nashville Collegiate High School
Nashville
Tennessee

J.D. Frizzell

Briarcrest Christian School
Eads
Tennessee

Amanda Hanzlik

E.O. Smith High School
Storrs
Connecticut

Michael Lapomardo

Shrewsbury High School
Shrewsbury
Massachusetts

Ashleigh McDaniel Spatz

Rising Starr Middle School
Fayetteville
Georgia

Kevin McDonald

Wellesley High School
Wellesley
Massachusetts

Coty Raven Morris

Portland State University
Portland
Oregon

Trevor Nicholas

Senn Arts at Nicholas Senn High School
Chicago
Illinois

Vicki Nichols

Grandview Elementary
Grandview
Texas

Annie Ray

Annandale High School

 

Annandale
Virginia

Bethany Robinson

Noblesville High School
Noblesville
Indiana

Danni Schmitt

Roland Park Elementary/Middle School
Baltimore
Maryland

Kevin Schoenbach

Oswego High School
Oswego
Illinois

Matthew Shephard

Meridian Early College High School
Sanford
Michigan

Alice Tsui

New Bridges Elementary
Brooklyn
New York

Tammy Yi

Chapman University
Orange
California
Learn more about the Music Educator Award and apply to the 2025 Music Educator Award program now.
5 Music Teachers Share The Transformative Power Of Music Education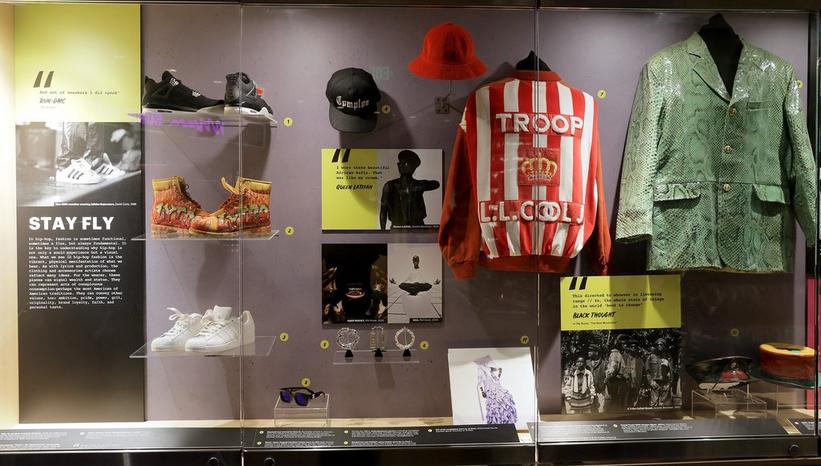 A display at the GRAMMY Museum's new exhibit, 'Hip-Hop America: The Mixtape Exhibit'
Photo Courtesy of the Recording Academy™️/photo by Rebecca Sapp, Getty Images© 2023.
feature
Inside The GRAMMY Museum's New Exhibit, "Hip-Hop America": From Dapper Dan To Tupac's Notes
Open now through September 2024, "Hip-Hop America: The Mixtape Exhibit" commemorates the genre's 50th anniversary through interactive installations and displays of everything from photos to fashion.
GRAMMYs
/
Oct 10, 2023 - 02:27 pm
You can get up close and personal with the Notorious B.I.G.'s red leather peacoat or test out your turntable skills at Hip-Hop America: The Mixtape Exhibit, open now at the GRAMMY Museum in Los Angeles. A retrospective look to mark the genre's 50th anniversary, Hip-Hop America brings together elements of fashion, music, dance, graffiti, business, activism, and history — all with the aim of capturing the sweeping, global impact of hip-hop.
"It's something that started as a genre that people considered a fad, as a novelty," says  GRAMMY Museum Chief Curator Jasen Emmons, "but it has become not only a global musical force, but a global cultural force. So many young people have grown up with hip-hop and take it for granted, but its ability to evolve and continue to be relevant is pretty powerful."
The 5,000-square foot exhibit space is packed with artifacts, interactive elements, and curated video, as well as photo ops. Here are six things we learned walking through the installation, which runs through Sept. 4, 2024.
There Were Always Women In Hip-Hop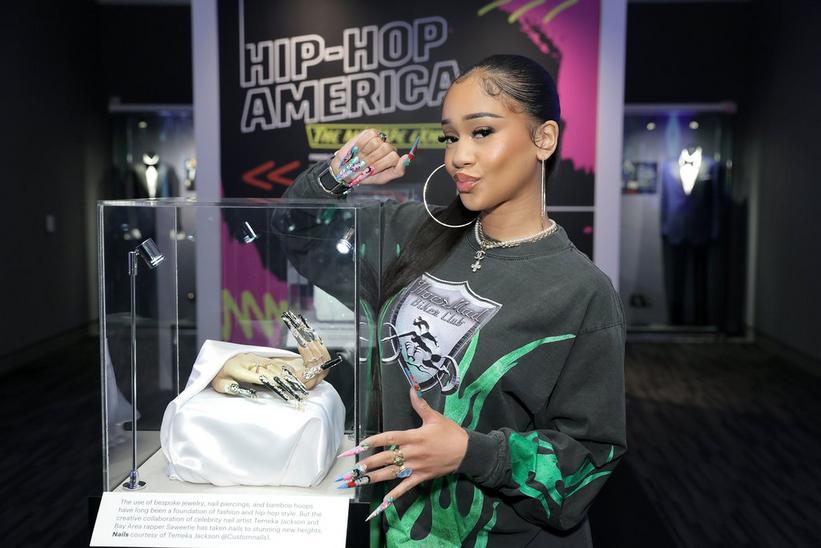 Saweetie┃Rebecca Sapp/Getty Images for The Recording Academy
Entering Hip-Hop America, you'll get a look at a few standalone cases featuring everything from an essay Tupac Shakur wrote in junior high, to a gorgeously over the top set of custom nails made for Saweetie by celebrity nail artist Temeka Jackson. The exhibit's main space showcases what life was like in the Boogie Down Bronx, the birthplace of hip-hop music and culture. On display are pieces like a leather vest made for a junior member of the Young Nomads street gang and pieces of graffiti art from Edwin "HE."
Also on display are various paint caps used by Lady Pink, an artist known for her work in New York in the late '70s and '80s. She would go on to star in 1983's Wild Style, which is widely regarded as the first hip-hop movie.
The inclusion of influencers and acts like Lady Pink was a very intentional move on the part of the exhibit's creators, Emmons says. Quite often, when people think about hip-hop's origins, they think of acts like the Sugar Hill Gang, Cold Crush Crew, and Fab 5 Freddy, and they were all there — and are all featured in the exhibit — but they grew and prospered alongside a number of female acts, and with the help and support of women like Sylvia Robinson, the founder of Sugar Hill Records who produced "Rappers Delight." Her confidence and the success of that track helped birth a wealth of small, independent labels that helped give the new sound a platform.
Hip-Hop And Soul Have Intermingled From The Beginning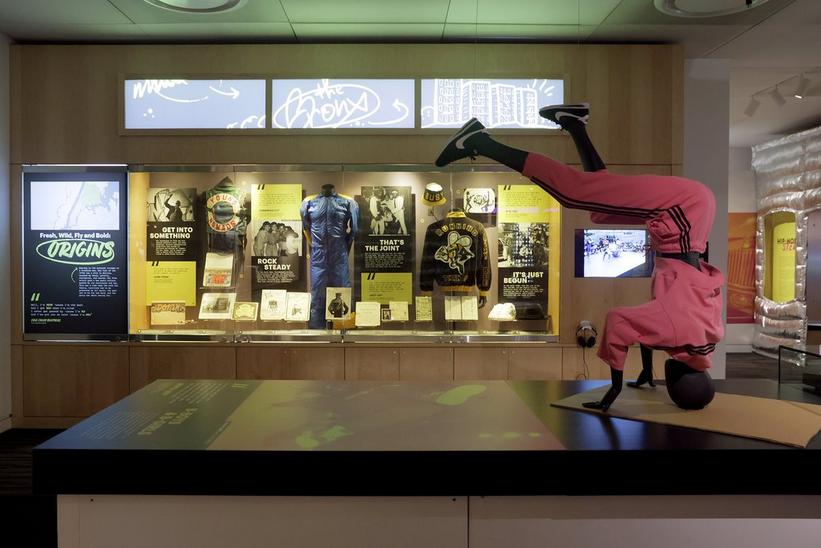 Rebecca Sapp/Getty Images for The Recording Academy
In the middle of the exhibit, there's an interactive video display dedicated to the marriage of the hip-hop and soul genres. Hip-hop, it says, "is an omnigenre that incorporates many music traditions." The relationship between hip-hop and R&B is complex, the exhibit continued:
"From the earliest days of hip-hop, artists created new grooves using melodic breaks and drum patterns from records by R&B stars like James Brown and the Ohio Players." 
While early rappers tended to avoid R&B-friendly topics like love and loss in favor of what the exhibit calls "braggadocio," by the 1990s rappers and R&B stars were working together in harmony. The resulting hip-hop soul gave songs like Janet Jackson and Q-Tip's "Got 'Til It's Gone" and Mariah Carey and Jay-Z's "Heartbreaker" a permanent place in the cultural lexicon.
Hip-Hop Has A Mind For Business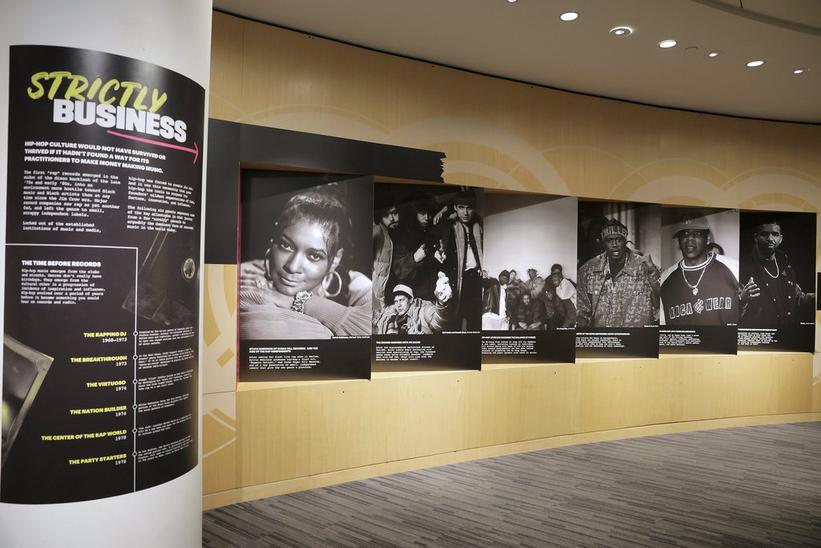 A history of entrepreneurs┃Rebecca Sapp/Getty Images for The Recording Academy
One of Hip-Hop America's exhibits focuses on the commercial aspects of the genre, highlighting people like the aforementioned Robinson and acts like the Wu-Tang Clan, who refused to sign all of their members to one label. They instead insisted that each member have an individual deal with one of the six majors, meaning that, come album release time, each label would have a vested interest in promoting the material and the group. That's smart thinking. 
The exhibit also calls out artist-entrepreneurs like Master P, Jay-Z, Diddy, and Drake, all of whom have thought outside the confines of a tracklist to creating businesses built on hip-hop culture.
A Lot Of Rappers Have Great Penmanship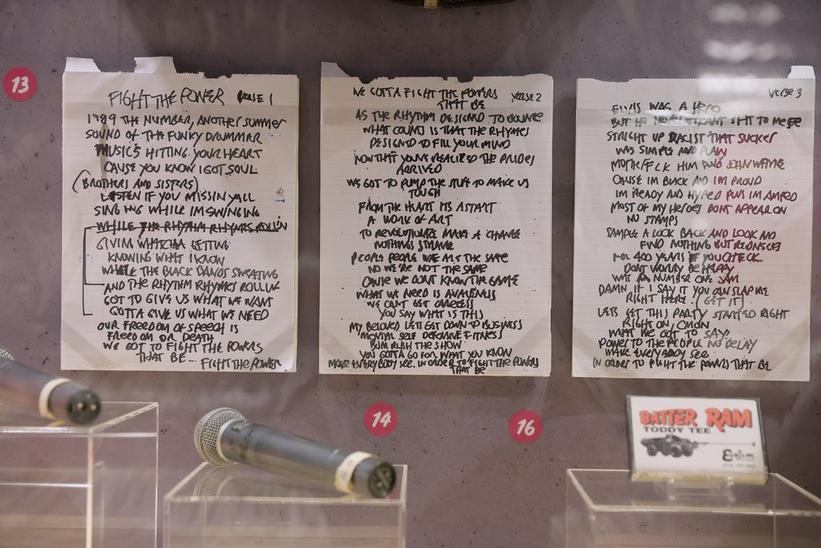 Handwritten lyrics for "Fight The Power"┃Rebecca Sapp/Getty Images for The Recording Academy
There are a number of handwritten pieces in Hip-Hop America, from Shakur's junior high essay about citizenship to Lil Wayne's letters home from prison and Wyclef Jean's lyrics for the Fugees' "Ready Or Not." Everything is remarkably legible and these pieces offer unique insight into the mind and lives of some of hip-hop's biggest acts. 
Take, for instance, a case featuring the late Shock G's hand-drawn album cover art for "The Humpty Dance." He leaves copious notes on the drawing and in accompanying materials explaining not only what samples he wants cleared for the record but noting that in his cartoon visage, "Humpty's gums are not white or red," saying the artist should use "the same brown used for the skin." Looking at these pieces, it's clear that Shock G took his art and his image very seriously, and that though "The Humpty Dance" may have become a party classic, a lot of work went into creating something so fun. 
B.I.G. Was Big, Big, Big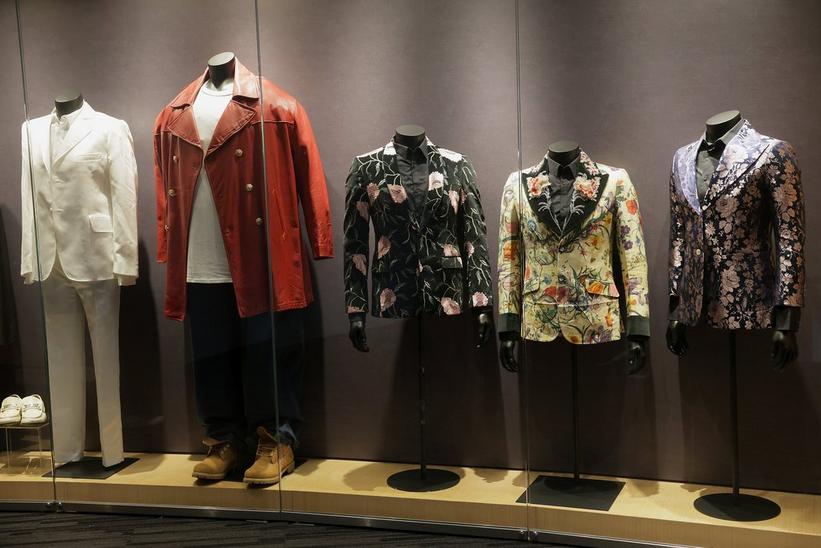 Biggie's peacoat and other distinctive jackets┃Rebecca Sapp/Getty Images for The Recording Academy
For someone to earn the moniker "the Notorious B.I.G.," they probably have to be pretty large in either stature or scale. At Hip-Hop America, you'll get a sense of how big the artist born Christopher Wallace. actually was, thanks to a mannequin sporting his iconic 5001 Flavors red leather peacoat and Karl Kani jeans. 
Worn in an appearance on "MTV News," for a feature in Vibe, and in the Junior M.A.F.I.A. video for "Player's Anthem," the coat was one of Biggie's favorites and has the scuff marks, wear, and creases to prove it. 
Ryan Butler, the VP of Diversity, Equity, and Inclusion at the Recording Academy and an advisory board member for the exhibit, says that Biggie's coat is one of his favorite pieces in the exhibit, in part because it's placed (per the Shakur family's request) next to the white suit that Tupac wore in his last music video. 
Hip-Hop Fashion Has Defined Trends For Generations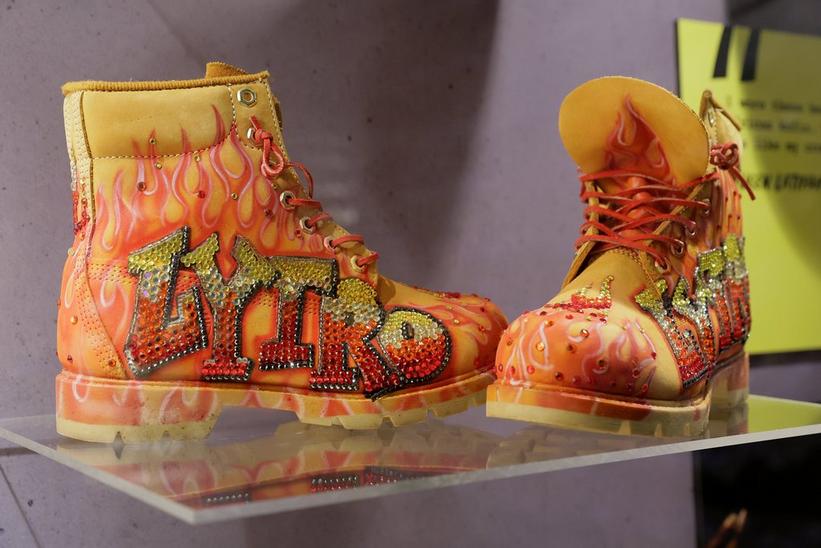 Rebecca Sapp/Getty Images for The Recording Academy
"To really see the impact that hip-hop has had on fashion is just so incredible," says Butler. 
That impact is made clear throughout the exhibit, which features items like Andre 3000's fringed green pants from the 46th GRAMMY Awards, MC Lyte's bamboo earrings, and the chain and padlock worn by Naughty By Nature's Treach before he could afford something a little more swank. 
"The rugged accessory suggested strength and proved useful as a defensive weapon when the trio faced potential violence in clubs," the exhibit notes, continuing that, "It was also meant to show solidarity with those locked up." 
Also on display are multiple pieces made by the legendary designer Dapper Dan, who's been fashioning hip-hop looks since the very beginning. There's a look at the beginning of the exhibit that he made for old school DJ Busy Bee that's pretty sharp even now, as well as a longer black leather motorcycle jacket he customized for Melle Mel to wear at the 1985 GRAMMY Awards, where he rapped the intro to Chaka Khan's "I Feel For You."
19 Concerts And Events Celebrating The 50th Anniversary Of Hip-Hop