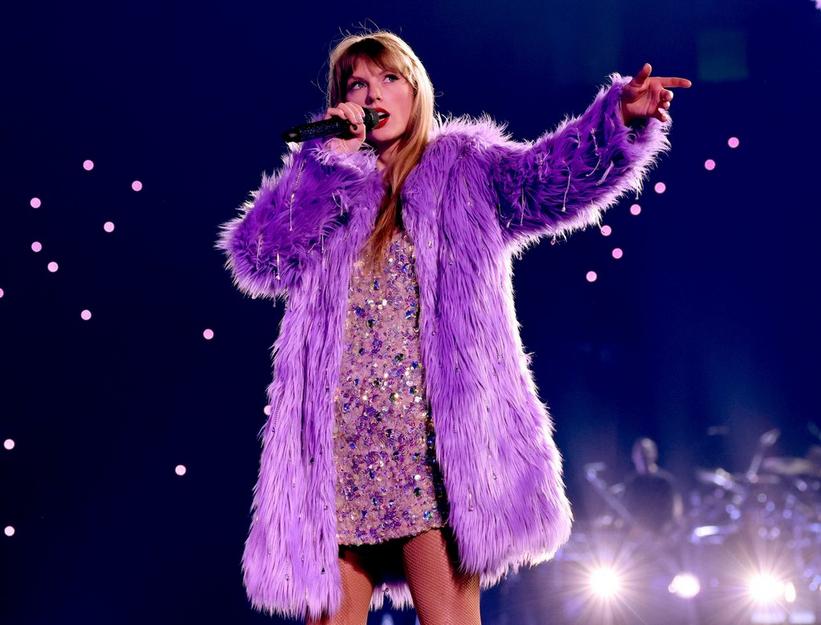 Taylor Swift performs on the opening night of The Eras Tour.
Photo: John Shearer/Getty Images for TAS Rights Management
news
Taylor Swift's Eras Tour Has Officially Begun: Here's What Swifties Have To Say About It
From a colossal three-hour setlist to more than a dozen costume changes, Taylor Swift's Eras Tour is nothing short of sensational. Here's how Swifties are reacting on social media to the GRAMMY winner's massive stadium trek.
GRAMMYs
/
Mar 20, 2023 - 10:12 pm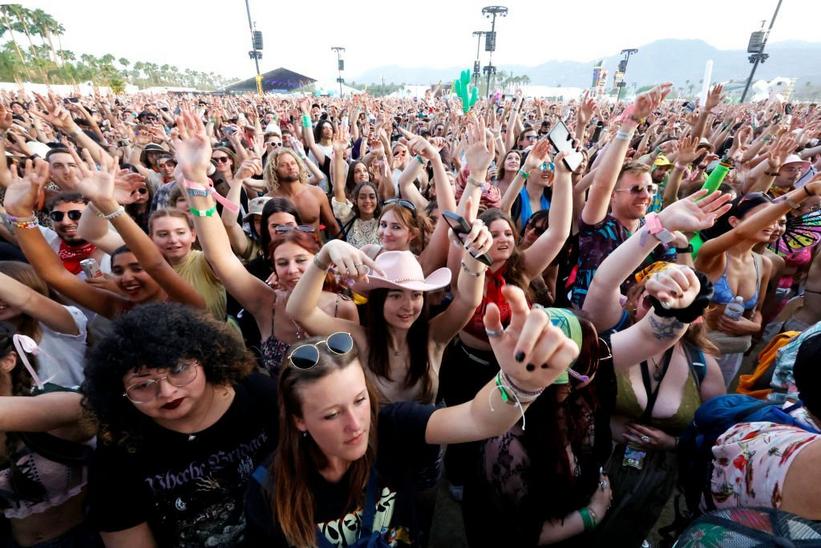 Crowds at the 2023 Coachella Valley Music and Arts Festival
Photo: Frazer Harrison/Getty Images for Coachella
feature
Touring In A Post-Pandemic World: How Costs, Personnel & Festival Culture Have Affected 2023 Performances
The live music business is still dealing with the repercussions of the pandemic. GRAMMY.com spoke with a cross section of professionals about the industry's most profound changes, how they're being addressed, and what it all might mean for the future.
GRAMMYs
/
May 19, 2023 - 02:51 pm
The pandemic wreaked global havoc on many levels. Beyond the human toll, the disruptions brought on by the spread of COVID-19 caused deep and lasting damage to nearly every business sector, including live entertainment. Virtually overnight, workers lost their livelihoods, businesses closed their doors or drastically curtailed operations, and supply chains were hobbled. 
Within days of lockdown, multiple outlets published sobering articles detailing the tours, concerts and festivals that had been affected by the outbreak; Insider.com article identified at least 170 postponements or cancellations. In a flash, every artist across the globe witnessed the live performance side of their careers vaporize. Crews were sent home, and all of the businesses that served the sector — logistics, audio gear, food service and more — found a barren landscape.
During the pandemic, major promoter Live Nation saw a drastic drop in the number of concerts and festivals under its banner: from over 40,000 events in 2019 to just over 8,000 in 2020. But by the end of 2022, Pollstar.com reported that the year's top 100 tours sold approximately 59 million tickets — more than 2019's sales. 
Three years after the beginning of the pandemic, life is in many ways returning to normal. Yet the costs associated with putting on a concert have risen dramatically, due to both the pandemic's inflationary pressures and a surge in demand for the goods and services necessary to sustain tours. For those working in and around the live music business, the "new normal" means some things work as they did before COVID-19 while others have altered radically — either temporarily or for good. 
GRAMMY.com spoke with a cross section of industry professionals about some of the most profound changes, how they're being addressed, and what it all might mean for the future. 
New Touring Paradigms
With the return of live music has come a corresponding, pent-up surge in demand, notes Christy Castillo Butcher, Senior VP, Programming & Booking at the 70,000 seat SoFi Stadium in Inglewood, California. "To satiate that demand, you have to have a bigger venue." 
In 2023 alone, SoFi Stadium is hosting several megashows: Billy Joel & Stevie Nicks, Grupo Firme, Romeo Santos, a five-night Taylor Swift residency, Metallica, Beyoncé, Ed Sheeran and P!nk are all on the venue's calendar, with additional shows awaiting announcement. Madison Square Garden saw multiple sold-out performances by Janet Jackson, and will host a seven-night Phish residency. 
Since the pandemic, some artists have taken different approaches to touring. Tandem tours and residencies are just two of the phenomena that seem to be increasing in popularity with touring artists and their management teams.
Teaming up for a tandem tour isn't a new idea; package tours have been part of the concert landscape from the days of Dick Clark's Caravan of Stars in the mid 1960s. And in an era when post-pandemic-related shortages and logistical snags make touring even more challenging, the practice is finding renewed interest.
One of the highest-profile tandem tours of 2023 is the ZZ Top/Lynyrd Skynyrd Sharp Dressed Simple Man tour. Visiting more than 22 cities across the U.S, the tour brings together three-time GRAMMY nominees ZZ Top with the popular Southern rock band.
"You want to give the fans the value of seeing two bands together," says Ross Schilling, Lynyrd Skynyrd's Tour Manager. (Pollstar reported an average ticket price for the top 100 North American tours in the first half of 2022 at more than $108. Meanwhile, ticket prices for megastars such as Beyoncé and Swift have reached astronomical levels.)
Schilling acknowledges that there are pros and cons for the artists as well. "You're sharing the expenses and the revenues," he notes, adding that the production is often halved. "Video, pyro, smoke, whatever kind of elements you want to add" can be shared on a tandem tour.
Read more: 5 Reasons Why Taylor Swift's Eras Tour Will Be The Most Legendary Of Her Generation
Another option experiencing a renaissance is the concert residency. "Residencies are not new, of course," says Phil Carson, a touring and management veteran who spent many years on the road with high-profile rock bands including Led Zeppelin, Bad Company, AC/DC and Yes. "They started with the likes of Frank Sinatra and Sammy Davis Jr. when there was really only one place to go: Las Vegas." 
Today there are many more options, but the motivations are often the same as before. "Sammy, Dean Martin… all those guys wanted to hang out together, and didn't want to go on the bloody road," Carson explains. As their audiences grew older, they too were interested in the idea of going to one place to see their favorite performers.
And Carson thinks that the multi-night approach may well be part of a trend for the future. "We're starting to get two-and three-night runs in casinos across America," he says. Adele, Bruno Mars, Maroon 5, Luke Bryan, Katy Perry, Carrie Underwood and Carlos Santana are just a few of the artists eschewing the road in favor of a series of dates in one venue. 
The trend is extending to smaller venues as well. Singer/songwriter James McMutry and his band launched a residency at Austin' Continental Club in November 2021; that booking continues to the present day. And just last August, Robert Glasper announced a 48-show residency at the Blue Note Club in New York City; it's his fourth extended run of dates at the famed jazz venue.
Festivals Return En Force
Following increased demand for live entertainment post-lockdown, major music festivals returned with a force in 2022 and continue to do so in 2023. Coachella and Lollapalooza were among the multi-day, multi-weekend events returning after COVID-forced cancellations, while mid-level events such as San Francisco's Outside Lands also saw over 220,000 attendees in 2022 — a major boon for a live music industry that had been in crisis only a year before.
Celebrating and featuring a multigenerational lineup of Latinx artists and performers, the Bésame Mucho Festival premiered in December 2022 at the 56,000 capacity Dodger Stadium. Tickets sold out within 70 minutes. The lineup for the 2023 event was announced in February; once again, the event sold out almost immediately.
Read more: Latin Music's Next Era: How New Festivals & Big Billings Have Helped Bring Reggaeton, New Corridos & More To The Masses
Ashley Capps has been wholly immersed in the festival scene; former head of AC Entertainment, for many years he oversaw the annual Bonnaroo Music and Arts Festival. These days he has scaled back his activities but still curates the adventurous Big Ears Festival which he founded in 2009 in Knoxville, Tennessee.
"The post-pandemic Big Ears has seen extraordinary growth," he says, noting a pre-COVID trajectory of growth, with an annual 20 percent increase in ticket sales. The 2022 Big Ears — the first after a two-year pause — experienced a 35 percent growth. "That led us to declare our first full-on sellout," he says, "five weeks before the festival happened." 
In 2023, Big Ears noted another surge in ticket sales, surpassing 50 percent over the previous year. The multiple-venue festival added additional larger venues to accommodate the increased demand. Concertgoers "are certainly hungry to get back into the live music experience," Capps says. "And the artists we're working with at Big Ears are eager to be back out and in front of appreciative audiences."
That pent-up demand on both sides of the equation can result in a crowded field, with many events — even beyond music — competing both for attention, staffing and gear.
The Cost Of Making Music
Global logistical bottlenecks that plagued every industry continue to take a toll on the live music industry. Worldwide economic inflation — which hit 8.8 percent in 2022, nearly doubling year-over-year, a partial result of the pandemic — has increased costs and cut profits, laying the groundwork for a "rocky road to recovery." Finding themselves without opportunities for work during the pandemic, untold numbers of skilled tour technicians left the business. 
"People got out of the industry across the board, from musicians to agents to managers to bartenders to production staff," says Morgan Margolis, CEO/President of Knitting Factory Entertainment. "'I've got to do something else.' I saw a lot of that." Some never returned, causing a personnel shortage once live touring resumed.
All that affected live music venues, too. "We were shuffling around tour managers, production managers, box office personnel," says Margolis. He characterizes his company — active nationwide in venue operations, festivals, artist management, touring and more — as an "all hands on deck" operation. "I actually slung some drinks in Walla Walla at an Aaron Lewis concert," he says. 
Increased costs mean it's essential to run the leanest operation possible while maintaining quality. Margolis recalls the landscape when live music started coming back in 2022. "Vans and buses: everything was running out, even rental cars," he remembers. "And everything — generators, lighting rigs, staging rigs – was now 20-30 percent more expensive, because everybody was spread so thin."  
But like many in the business, Margolis simply made the best of things. "Personally, I was excited to be on the ground again," he says. "I wanted to be around people." 
After a nearly overwhelming surge of music artists getting back into live performance, he says that he is seeing a "more methodical" mindset taking hold. That compares to how he characterizes 2022: "Throw it all against the wall: we're going everywhere!"
Read more: Beyond Coachella: 10 Smaller Festivals Beloved For Their Homegrown Vibes & Huge Lineups
Another new wrinkle: proposed rule changes by the United States Citizenship and Immigration Services (USCIS) would increase the costs to international musicians of obtaining a U.S. visa by as much as 260 percent. "The more these policies are made, the harder it is for us to share our music," says Sampa the Great. The Zambian singer/songwriter and rapper notes that the proposed changes will hit independent artists especially hard: "Touring is the only way our music gets heard globally."
Such across-the-board cost increases can mean that some international artists have to have tough conversations. If not through touring, Sampa the Great wonders, "How else do we connect with the people who support our music? And how else do we independent artists sustain our careers making music?"
Schilling admits that during the worst of the shutdown, he thought about retiring — and so did one of his biggest clients. Skynyrd began a farewell tour in 2018, which was ultimately cut short by the pandemic, prompting serious soul searching. "When everyone's livelihood was ripped out from under them, they decided 'We want to go out on our own terms.'" This year's tandem tour with ZZ Top puts things right, Schilling adds. 
That kind of thinking is widespread among the professionals who remain in the game post-COVID. From many working as venue owners to tour managers to crew to artists, the chance to get back on the road outweighs the challenges that they will inevitably encounter. There are many career paths easier than working in the live music industry, but few can compare with its rewards.
Changes Backstage And Post-Show
Before the pandemic, many touring artists arranged meet-and-greet sessions before or after their shows. They provided an opportunity for interaction between fans and artists, and represented an additional revenue stream for the artists. During the pandemic era, those sessions disappeared, even for the new shows that could still take place. Today, even while enforced social distancing has largely disappeared, the state of meet-and-greets is not what it was. 
"My last three artists aren't doing meet-and-greets, because there's still that concern of COVID," says David Norman, a longtime promoter, tour director, manager and accountant currently on tour with Evanescence; his past clients have included Prince, John Fogerty, Earth Wind & Fire, Green Day, Alicia Keys, Tyler, the Creator and many others. 
Norman points out that his artists take a financial hit by eliminating the meet-and-greets. "But it's better to be safe than sorry," he says, noting that a musician who tests positive for COVID can "shut down [performances] for weeks. Then you have to reroute [the tour], and refund money to people who aren't able to come to rescheduled shows."
Others take a different approach. "Lynyrd Skynyrd will do meet-and-greets," says Schilling, adding that his team "wants to get back to as normal as we possibly can, as fast as we possibly can." André Cholmondeley is a musician, longtime tour manager and tech support professional who worked as guitar tech for Yes guitarist Steve Howe. 
Before 2020, "if you bought the meet-and-greet package, you could shake their hands," he says. "There were lots of hugs and pictures." Now the experience involves more waving and fist-bumping. Foreigner, meanwhile, has recently swapped meet-and-greets for Q&A sessions. "Everybody has a great time, and the band is not bored with it because it's different every night," says Phil Carson, the band's Tour Manager. 
Life away from the audience has changed, too. 
"One major change across the board is the huge difference in catering," says Cholmondeley, who has recently toured with Pat Metheny and Ani DiFranco. Before COVID, touring artists and their crews would typically find a buffet backstage. "We order a lot more food now," Cholmondeley explains. "You get a couple of menus texted to you each day."
Carson notes that the band has found an alternative solution that works for them. "Our singer Kelly Hansen is a chef who won an episode of Food Network's 'Chopped,'" he says with pride. "He's got a whole kitchen range on our tour bus. He makes breakfast, he makes tacos after the show." 
Carson readily admits that such an approach stands in sharp contrast to rock'n'roll road dining in the '70s. "Back then," he says with a hearty laugh, "it was a few lines of coke and a bottle of Jack Daniel's!"
Bridging The Gap
Beginning in March 2020, the cancellations and disruptions brought upon by the pandemic reverberated throughout the live music industry. But as the business sector enters the third quarter of 2023, the focus is once again on the future, and guarded optimism is the prevailing perspective. 
Festival season is officially underway, with Coachella wrapping up two weekends of massive-scale excitement, and a host of other events slated throughout the summer promising an active several months for touring musicians and crews. Taylor Swift's Eras tour is selling out fast, while Beyoncé's Renaissance tour has only just begun (to much fanfare, as expected). It seems as if touring as we once knew it is falling back into place. 
Even with her focus on recording — she counts two albums, an EP, two mixtapes and nearly 30 singles — Sampa the Great emphasizes the appeal of live music for both audience and entertainer. 
"Performing is the best way to connect with an audience," she says. "You're translating your music from audio to something visual, something physical. It bridges that gap from just hearing an artist or seeing them on social [media] to actually experiencing the artist." 
TXT, Blackpink, Aespa & More: Here Are All The K-Pop Tours And Events You Can Catch This Summer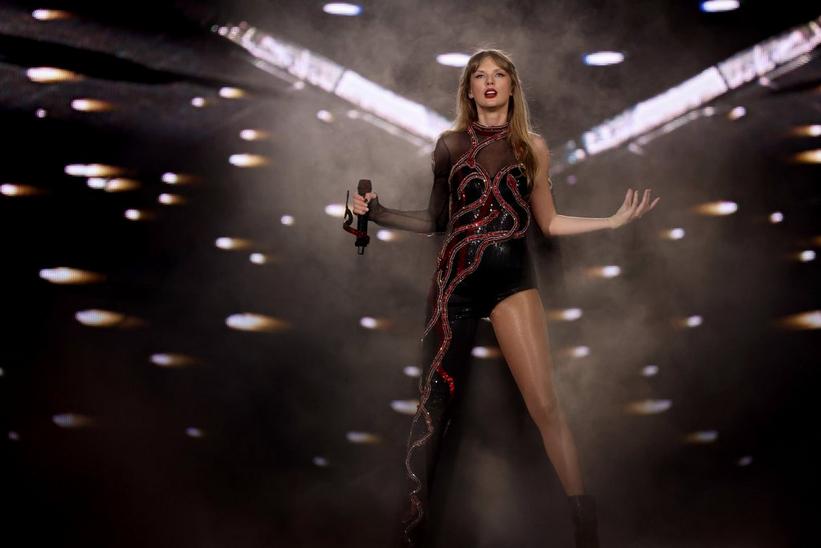 Taylor Swift performs during the Eras Tour in Nashville on May 6.
Photo: John Shearer/TAS23/Getty Images for TAS Rights Management
list
5 Reasons Why Taylor Swift's Eras Tour Will Be The Most Legendary Of Her Generation
Whether she's breaking records or breaking Ticketmaster, Taylor Swift has proven time and again that she's one of the most powerful figures in modern music — and the Eras Tour is a manifestation of that.
GRAMMYs
/
May 8, 2023 - 10:31 pm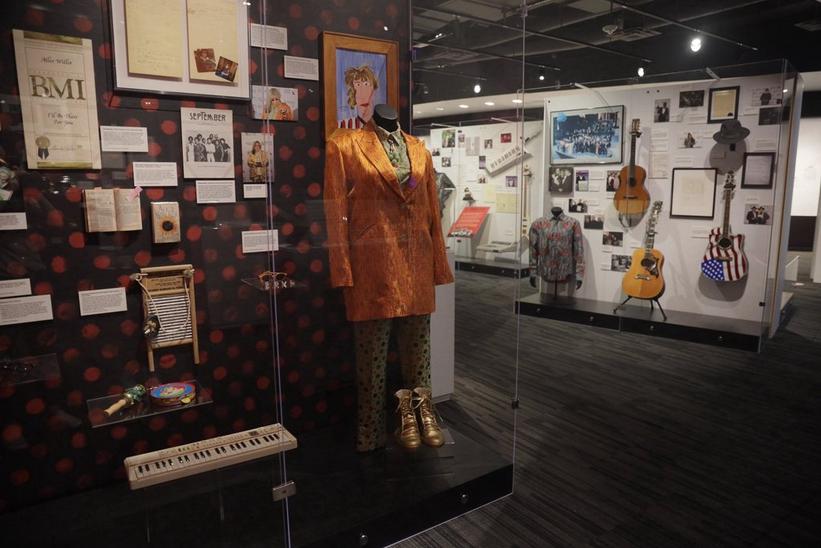 A selection of items on display at Power of Song Exhibit at the GRAMMY Museum.
list
5 Things We Learned From GRAMMY Museum's New The Power Of Song Exhibit, A Celebration Of Songwriters From Tom Petty To Taylor Swift
Nile Rodgers, Jimmy Jam, Smokey Robinson and more provide deep insights into their hit collaborations and creative process at GRAMMY Museum's The Power of Song: A Songwriters Hall of Fame Exhibit, open from April 26 through Sept. 4.
GRAMMYs
/
Apr 26, 2023 - 08:23 pm
Since its founding in 1969, the Songwriters Hall of Fame has been celebrating the great songwriters and composers of our time. In 2010, it found a physical home at Downtown Los Angeles' GRAMMY Museum.
Now, the GRAMMY Museum is adding to that legacy with a special expanded exhibit, which dives deep into the history of songwriting and recorded music in the United States — as well as the Songwriters Hall of Fame and its inductees' role in it. Whether you're a songwriter or musician who loves the creative process, a history nerd, or simply a music lover, this exhibit is for you.
When you enter The Power Of Song, you'll hear the voices of legendary Songwriter Hall of Fame inductees and GRAMMY winners — including Nile Rodgers, Carole King, Diane Warren, Smokey Robinson and Jimmy Jam — discussing their creative process and some of the biggest songs they've written. Take a seat on the couch to absorb all their wisdom in the deeply informative and inspiring original short film.
Turn to the right, and you'll find a timeline across the entire wall, explaining the origins and key points around songwriting and recorded music in the U.S. On the other wall, pop on the headphones provided to enjoy a video of memorable Hall of Fame ceremony performances. One interactive video interface near the entrance allows you to hear "song highlights," and another allows you to explore the entire Songwriters Hall of Fame database.
The exhibit is filled with a treasure trove of handwritten song lyrics from Taylor Swift, Cyndi Lauper, Tom Petty and many more, as well as iconic artifacts, including Daft Punk's helmets, a classy Nile Rodgers GRAMMY look, and guitars from Bill Withers, Tom Petty, John Mellencamp and Toby Keith.
Below, take a look at five things we learned from The Power Of Song: A Songwriters Hall Of Fame Exhibit, which will be at the GRAMMY Museum from April 26 through Sept. 4.
Daft Punk Rerecorded "Get Lucky" To Fit Nile Rodgers' Funky Guitar
Legendary funk pioneer and superproducer Nile Rodgers is the current Chairman of the SHOF and has an active presence at the exhibit. One case features the disco-esque lime green Dior tuxedo Rodgers wore to the 2023 GRAMMY Awards, along with the shiny metallic helmets of French dance duo Daft Punk, who collaborated with Rodgers on their GRAMMY-winning 2013 album, Random Access Memories.
Thomas Bangalter and Guy-Manuel de Homem-Christo of Daft Punk and Rodgers had forged a friendship and been wanting to collab for years prior to 2013's Record Of The Year-winning smash "Get Lucky." When they finally connected and Bangalter and de Homem-Christo played the CHIC founder the demo for "Get Lucky," he asked to hear it again with everything muted except the drum track, so he could create the perfect guitar lick for it.
Bangalter and de Homem-Christo decided to essentially re-record the whole song to fit Rodgers' guitar, which joyously drives the track — and carried it to No. 2 on the Billboard Hot 100, Daft Punk's first Top 5 hit.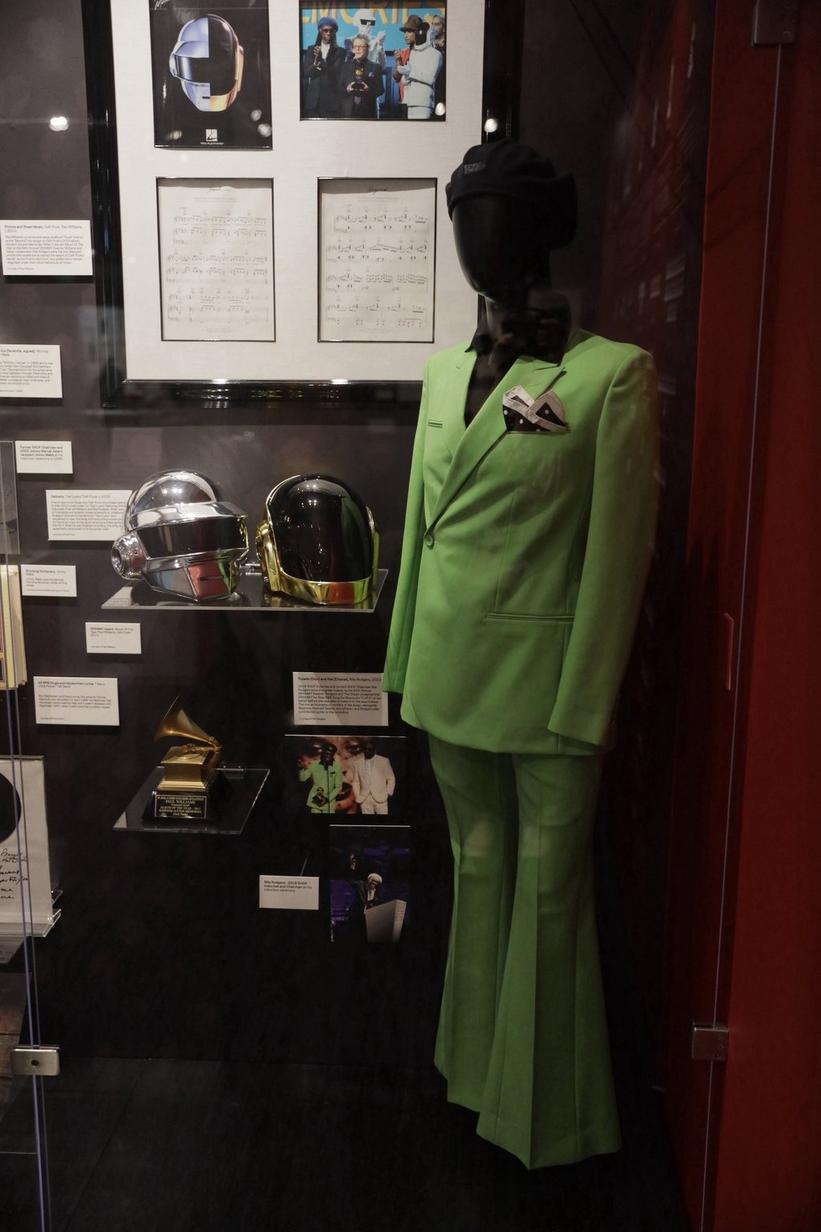 Photo: Rebecca Sapp
Jimmy Jam & Terry Lewis Set Up Their Studio The "Wrong" Way Because Of Prince
In the exhibit film, Jimmy Jam tells several stories about working with — and learning from — Prince. He recalls how he and Terry Lewis watched Prince work and record everything "in the red," so they set up their Minneapolis studio to follow his lead. A sound engineer told them it was too loud, but that ended up being the sound that artists like Janet Jackson and Usher came to them for. It was a "happy mistake," as Jam put it, that helped their legendary careers as a powerhouse production duo take off.
Prince's dogmatic, tireless work ethic also rubbed off on the powerhouse pair. One rehearsal, the Purple One kept pressing Jam to do more, which resulted in him playing two instruments, singing and hitting the choreography from behind his keyboard. "He saw that I could do more than I thought I could; he saw me better than I saw myself," he reflected.
"God Bless America" Composer Irving Berlin Didn't Read Music
In his 50 year-career, Irving Berlin wrote over 1000 songs, many of which defined American popular music for the better part of the 20th century. Along with penning "God Bless America," "White Christmas," "Puttin' on the Ritz," and "There's No Business Like Show Business" (among many other classics), he wrote 17 full Broadway musical scores and contributed songs to six more plays.
Berlin also wrote scores for early Hollywood musicals starring the likes of Ginger Rodgers, Fred Astaire, Marilyn Monroe, and Bing Crosby. He made a lasting, indelible mark on music, theater, film and American culture writ large.
Rather astonishingly, the widely celebrated American Tin Pan Alley-era composer was self-taught and didn't read sheet music. His family immigrated to New York from Imperial Russia when he was 5 years old, and when he was just 13, his father died, so he busked on the streets and worked as a singing waiter to help his family out.
In 1907, at 19, he had his first song published, and just four years later penned his first international hit, "Alexander's Ragtime Band." Berlin had a natural musicality and played music by ear in the key of F-sharp, with the help of his trusted upright transposing piano, a rare instrument that had a mechanism allowing him to shift into different keys. His "trick piano," as he called it, where many of his unforgettable songs first came to life, is on display at the exhibit.
Read More: GRAMMY Rewind: Smokey Robinson Accepts A GRAMMY On Behalf Of The Temptations In 1973
Smokey Robinson Didn't Expect "My Girl" To Become A Timeless Hit
Smokey Robinson was an important part of Motown's hit-making factory as a singer, songwriter and producer. In the exhibit film, he discusses "My Girl," one of his classic tunes, which he wrote and produced for the Temptations in 1965.
"I had no idea it would become what it would become," he said.
He says that people often ask him why he didn't record the unforgettable song with his group the Miracles instead of "giving it away" to the Temptations, but he never regretted his decision. Instead, he's honored to have created music that stands the test of time and means so much to so many people.
Robinson joked that the Temptations' then-lead singer David Ruffin's gruff voice scared girls into going out with him. Really, he loved Ruffin's voice, and thought he'd sound great singing a sweet love song like "My Girl." Safe to say he was right.
After World War II, Pop Music Changed Forever
Prior to World War II, American music operated as a singular mainstream market, and New York's Tin Pan Alley songwriters competed to make the next pop or Broadway hit. In a post-World War II America, especially when the early Baby Boomer generation became teenagers and young adults in the '60s and '70s, tastes changed and new styles of pop and pop songwriting emerged. As rock shook up popular culture, Tin Pan Alley gave way to a new era of young songwriters, many who worked out of just two buildings in midtown Manhattan, 1619 Broadway (the Brill Building) and 1650 Broadway.
In this richly creative and collaborative environment, powerhouse songwriting duos began to emerge and reshape pop music, challenging and balancing each other — and creating a ton of hits in the process. The hit-making duos of this diversified pop era included Burt Bacharach and Hal David (Dionne Warrick's "That's What Friends Are For"), Carole King and Gerry Goffin (Little Eva's "The Loco-Motion"), Barry Mann and Cynthia Weil (the Righteous Brothers' "You've Lost That Lovin' Feelin'") and Jeff Barry and Ellie Greenwich (the Ronettes' "Be My Baby" and the Crystals' "Then He Kissed Me," both in collaboration with Phil Spector). In fact, there are far too many classics penned by these four prolific songwriter duos to list here.
While there are still songwriters that pen big hit after hit for pop stars (Max Martin is still at it, as is his protege Oscar Görres), the dynamics in the industry have continued to shift with singers taking on more creative power themselves. Today's pop stars — including Ariana Grande, Dua Lipa and Taylor Swift — have found success co-writing with their own trusted teams of songwriters and producers. But as this new exhibit shows, it doesn't matter who is behind the pen — the power of song is mighty.
Meet Tobias Jesso Jr., The First-Ever GRAMMY Winner For Songwriter Of The Year
Aaron Dessner
Photo: Rob Kim for Getty Images © 2023
feature
The National's Aaron Dessner Discusses New Album 'First Two Pages Of Frankenstein': "The Beginning Of A New Chapter"
With new album 'First Two Pages of Frankenstein' on the way, the National's guitarist and co-founder Aaron Dessner detailed his rise as a songwriter, producer and engineer at a Recording Academy "Up Close & Personal" taping in New York.
GRAMMYs
/
Apr 21, 2023 - 06:38 pm
One pivotal moment for Aaron Dessner transpired in his attic. Upstairs at his former home in Ditmas Park, Brooklyn, he recorded the heart-exploding horn outro to what might be the National's signature song, "Fake Empire."
"You hear the four-over-three rhythm and the piano, which is kind of confusing," Dessner explained at a recent live Q&A for Recording Academy members at the New York Chapter office. "But then there's a verse, chorus, verse, chorus, and then nothing happens." 
The band sat around, unsure of how to wrap it up — and then it clicked to do a cathartic brass fanfare.
"Fake Empire" ended up being the opening track of 2007's Boxer, their critically acclaimed fourth album that put them on the map. Once Barack Obama used it as his 2008 campaign theme song. "Without the words, with just the music," clarified Dessner. Regardless, "it became a real life-changing moment for us."
Another pivotal moment for Aaron Dessner happened at his kitchen table. "John, you were there, right? When I got the text?" he asked the prodigious engineer Jonathan Low, who's worked with the National for years, seated to his right. It turned out to be Taylor Swift. That text led to Folklore and Evermore. The former won a GRAMMY for Album Of The Year.
This true story of Dessner's ascent to the upper echelon of recordmaking seems slightly unbelievable, if only because he's so bracingly normal. Speaking to the small crowd at the newly established four-story office in Murray Hill, Dessner projected zero egotism as he held forth on his rise from indie darling to unlikely pop impresario.
Speaking to music industry giant Nabil Ayers, the two-time GRAMMY winner began the chronology of the conversation in 2009. That was the year Ayers began his tenure at the label 4AD — he now works with their parent company, Beggars Group — and the National were making High Violet, their follow-up to Boxer.
At that juncture in his career, Dessner and his brother, Bryce, had co-produced and curated Dark Was The Night, a compilation spilling over with indie stars that benefited the Red Hot Organization, a not-for-profit that raises awareness of HIV/AIDS. "We came there with a big, phony million-dollar check for you to give to Red Hot," Ayers noted mirthfully.
In that garage studio behind Dessner's house, Ayers realized he was dealing with a different kind of cat. "Oh, this guy's not just the guitar player in this great rock band," he remembered thinking, "but actually, he's the person who's very closely involved with the recording and making of the records."
Dessner, a born tinkerer, had built that studio with the Boxer money; in some ways, he was at the very beginning of his journey as a recordist. "That's when we met, and that's when I felt like I was a producer in my own…" he said, hesitating on what was probably the word "right." "I didn't know what that meant at the time."
Eager to learn through experience, Dessner forged ahead in that 400-square-foot space, and began recording albums for artists outside of the National: Sharon Van Etten's 2012 album Tramp, released around the time his band was making Trouble Will Find Me, was the first.
At that point, Dessner brought up Low, whose resumé is astounding; it includes a little album called Midnights. (Well, two tracks on the 3am Edition.) The two men met around the turn of the decade, when Dessner entered a Philadelphia studio to record drums on Tramp; Low was working there.
Since then, Low's worked with the National extensively — on 2013's Trouble Will Find Me, on 2017's Sleep Well Beast, on 2019's I Am Easy to Find. "From that day forward, I basically made it my life goal to lure him wherever I went," Dessner said. "Now, I try to not let him go anywhere else."
Dessner's story then took him to the birth of his three children, and the related move to Hudson, New York, where he bought an 18th-century farmhouse and began recording at various studios upstate. This led to his purchase of a barn in Hudson Valley that Dessner converted into Long Pond Studio.
"It's built on the scale of a church, so it's got very high ceilings," Dessner says, praising its cedar treatment and sauna-like smell. "We had to build it really fast, because we had to basically make a National record to pay for it." The result was 2017's Sleep Well Beast; the structure looms on its crepuscular cover.
From there, Dessner's work as a producer for outside artists exploded: he helmed records by Local Natives, the Lone Bellow, Frightened Rabbit and others.
After a decade of gestation, his duo with Bon Iver's Justin Vernon, Big Red Machine, released their self-titled debut album in 2018; the lion's share of it was recorded in the converted barn. (In 2021, they released a follow-up, How Long Do You Think It's Gonna Last? Featuring a litany of guest vocalists, from Swift to Anaïs Mitchell to Fleet Foxes.)
At the New York Chapter office, Swift's presence loomed heavy, and Dessner's gratitude and reverence toward her shone through his expressions. He met her in 2014, when the National played "SNL" and Swift was deep in her 1989 era.
"She was just so lovely and kind and interested and cool, and I could tell she was a fan," Dessner recalls. "That was such a perfect record. It was just this weird meeting of: we were in such different worlds, but it was cool."
Five years later, Swift saw the National perform in Prospect Park; when he and his brother got to talking with her, their collegial friendship deepened. 
"I think she already knew that we write music first," Dessner said, foreshadowing his work on Folklore and Evermore, as well as similarly conceptualized works like Ed Sheeran's upcoming Subtract. "It's what we call sketches, but they're basically fully realized musical ideas that don't have words and vocal melodies, but have a lot of internal melody."
In March 2020, he pressed send on a massive Dropbox folder of those "sketches." Deep into that night, "at 2:00 a.m., my phone buzzed, and it was a voice memo from her," he remembers. "With the song 'Cardigan.'"
After the pair completed Folklore, they simply couldn't stop making songs. "She's a real magic person in the sense that she has such an incisive, acute songwriting ability, and a crazy sense of melody," he said.
The most goosebump-inducing part of "Up Close & Personal with Aaron Dessner" was Dessner's description of how they made the Folklore and Evermore songs remotely — without even management knowing. "Sometimes, I would send Taylor an instrumental, go for a run down to the Hudson River, run back, and there'd be a song."
That uncanny sense of alchemy was unlike anything Dessner had encountered before: he even found himself growing superstitious on those runs. "Occasionally, I would see a snake down at the river, and I would research the snake," he said. "It was a copperhead, that was good luck — so I was looking for the copperhead." Clearly, he remains in awe at the creative arc he co-piloted. 
Dessner then made his way to recording Ed Sheeran's latest, as well as the National's new album, First Two Pages of Frankenstein — out April 28. The experience of making the former, as detailed in Sheeran's recent Rolling Stone cover story, was revelatory.
"He felt disarmed," Dessner said of Sheeran. "He wasn't trying to perfect something that would work commercially, or write the perfect pop statement. [He was] allowing himself to bring to page, and write to — and also be inspired by — someone else's music."
As per First Two Pages of Frankenstein, it wasn't even a given the National would make another record. "[The National singer] Matt Berninger, who lives in LA, had been going through a hard time personally," he admits. "There had been a lot of friction in the band." Still, Swift laid a fascinating prognostication on him.
"She predicted that what would happen after all this was that we would lean into each other and make our best record, because we would have all this perspective," he recalls. At first, the process was slightly awkward and hesitant — and then it rapidly gained steam.
Speaking to GRAMMY.com before the event, Dessner connected this creative flourish to his numberless hours as a studio rat. "When I came back into the band, it was like I had gained a lot of experience," he says. "Almost like I'd been in some sort of accelerated crash course in production and recording."
Dessner is thrilled about how First Two Pages of Frankenstein came out; he frames it as something of an ultimate National album. "You hear all the elements that make the National what it is. The simplicity on the surface, and the complexity and depth behind it… It reveals itself over a lot of listening."
It was enthralling to hear the arc of the guitarist Ayers met in that garage met more than a decade ago; the profundity of that moment made even more exciting by the intimate setting of Dessner's conversation.  First Two Pages of Frankenstein, which features production from Dessner and a Swift vocal turn on "The Alcott," also represents something of a culmination.
"It became very powerful," Dessner expressed that energy during the one-on-one interview. "It feels to me like the beginning of a new chapter." If his entire career up to this point turned out to be a ramp-up, hold on tight.
Taylor Swift's Road To Folklore: How The Superstar Evolved From 'Diaristic' Country Tunes To Her Most Progressive Music Yet