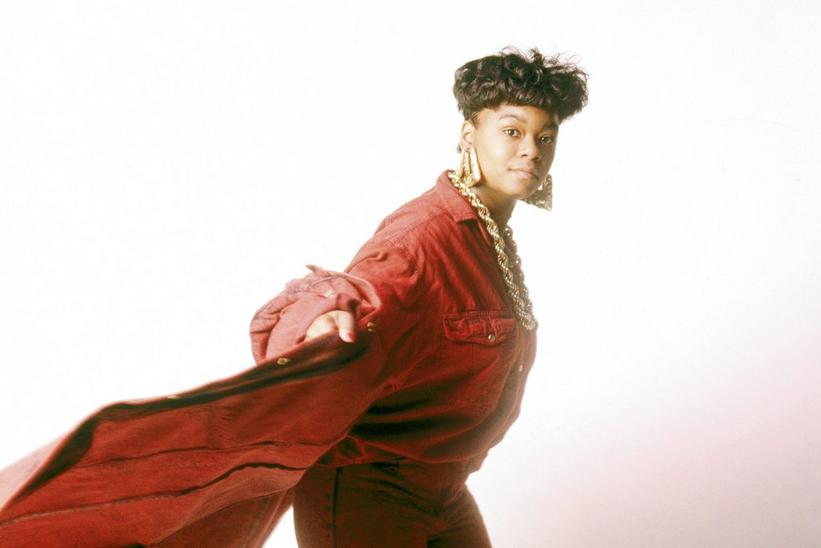 Roxanne Shanté circa 1988
Photo: Alberto E. Rodriguez/WireImage.com
news
Roxanne Shanté: Biopic Reveals The Story Of A Hip-Hop Music Pioneer
Ahead of the Netflix premiere of 'Roxanne Roxanne,' go inside the lasting influence and legacy of the indomitable emcee
GRAMMYs
/
Mar 15, 2018 - 11:40 pm
Throughout history, many important movements have omitted the significant contributions of women. History simply became his-story. The same is true in hip-hop, a genre that is historically and largely dominated by men.


But hip-hop pioneer Lolita "Roxanne Shanté" Gooden is adding more proof that #TimesUp with her new biopic, Roxanne Roxanne, which premieres March 23 on Netflix.
Starring Chanté Adams (portraying Roxanne Shanté) and Mahershala Ali, the movie takes viewers back to the early '80s when the fiery Queens, N.Y., rapper emerged as a streetwise hip-hop teen legend on the strength of her recording of "Roxanne's Revenge," which is cited as the first (ever!) battle response song recorded and released in hip-hop.
As the film spotlights, before female hip-hop artists like MC Lyte, Queen Latifah, Salt-N-Pepa, Lauryn Hill, and Lil' Kim sold millions of albums, the young Shanté was in the trenches fighting for a spot that already belonged to her and laying the groundwork for the great women who would follow in her footsteps.

"We all stand on the shoulders of someone," says GRAMMY nominee MC Lyte. "Because she was a solo artist so early on, she paved the way when it came to people being able to accept a female MC as an entity of its own."

That might be one of the reasons executive producers of the film, Mimi Valdes and Nina Yang Bongiovi, reached out to Shanté about making a movie. While hosting an event for the American Black Film Festival, Shanté remembers being approached by the ladies.

"They came down from the balcony after the show," Shanté recalls. "We've been looking for you and we want to make a movie about your life."

Within a year's time, Shante was at the Sundance Film Festival with a critically acclaimed movie about battling both on and off the mic.
Hip-hop was born in New York City. Before anyone had even given the music genre a name, Shanté was in the thick of it. Raised in gritty Queensbridge — the nation's largest public housing development and home to hip-hop legends such as MC Shan, Nas and Mobb Deep — Shanté was a ferocious competitor who played with verbs and nouns on street corners. In 1984, when she was only 14 years old, Shanté recorded the epic "Roxanne's Revenge" at the apartment of DJ Marley Marl, a neighbor and music producer.
It was a powerful, unforgettable and game-changing rebuttal to UTFO's "Roxanne, Roxanne," a song about a woman named Roxanne who ignored the group's advances. Shanté's lyrics were delivered off the top of her head — no pad and no pen — and she literally did it in between laundry loads. On that night, she adopted the name Roxanne, added her middle name Shanté into the equation and emerged as a rechristened shining star.
"I was about 14 or 15 years old sitting in my living room in London when I first heard Roxanne Shanté," recalls Monie Love, British MC and member of the legendary hip-hop group Native Tongues. "She was articulate, smart and just a beast. She gave the guys what they dished out but with a woman's touch. She didn't have to become a man to beat a man, and I loved that."

Take Note: Women In Music

Indeed, Shanté was a powerhouse. Her voice and heart were bigger, stronger and more powerful than her petite teenage frame. She was brave, maybe even the bravest.
"She went toe to toe with the guys and that was exciting," recalls MC Lyte. "It was unbelievable."
"Roxanne's Revenge" would go on to sell more than 250,000 copies and spark the "Roxanne Wars," one of the most infamous and longest-running feuds in hip-hop. She had tapped into something — a girl beating the guys at their own game. She was hip-hop through and through but she was still a young teen, and many didn't think the two made a good couple. Case in point, Shanté recalls entering a rap competition that crowned the winner with a "best rapper" distinction.
"I went against 11 opponents in one day. All men," says Shanté, who remembers the whispers about how great her performance was throughout the day, which led her to feel confident that she'd win. "Kurtis Blow, who I'm great friends with today, was one of the judges, and he asked what it would take for me to lose. They told him that Shanté would lose if he gave her a 2."

And he did. Shanté was crushed. She had won but lost.
"[Roxanne Shanté] paved the way when it came to people being able to accept a female MC as an entity of its own." — MC Lyte
Despite these types of obstacles, Shanté has the spirit of a champion. She continued as a force in hip-hop as a member of the groundbreaking hip-hop collective Juice Crew. She released two solo albums, 1989's Bad Sister and 1992's The B* Is Back, but neither achieved major mainstream success. Always up for a battle, she waged war against a slew of popular female rappers in 1992 with her single "Big Mama."
"She dissed all of us rappers by name. But I didn't respond," Monie Love remembers. "I had too much respect for her to answer back. She empowered me and inspired me to become a rapper."



That's the funny thing when it comes to women in hip-hop. There can only be one queen. While the genre is competitive by nature, history has shown that men often collaborate and work well together. Women, on the other hand, are often pitted against each other.

"It's just the way it's been structured for women in hip-hop," Shanté says.
But there's so much more to Shanté's story. Life doesn't suddenly end once the music stops, and it doesn't restart once a movie is made about you. Life is all the stuff in between and beyond. For Roxanne Shanté, it's about being a survivor, pioneer, trailblazer, mother, wife, friend, daughter, and an unbreakable spirit. Her life is marked by the power of believing in yourself despite what the world keeps showing you.

Years after that rap competition, Shanté bumped into Kurtis Blow. He told her that she really had won that rap battle years ago.
"At that time, hip-hop was just getting started, and people were starting to get major [record] deals," she recalls. "There was no way hip-hop was going to be taken seriously if the best of the best was a 15-year-old girl."

Too bad hip-hop didn't know who it was back then.
Catching Up On Music News Powered By The Recording Academy Just Got Easier. Have A Google Home Device? "Talk To GRAMMYs"

(Lakeia Brown is a freelance writer and host of the podcast, Decoded with Elle Bee. She has been published in publications like O, The Oprah Magazine, Essence and Complex. You can follow her on IG @decodedwithellebee​.)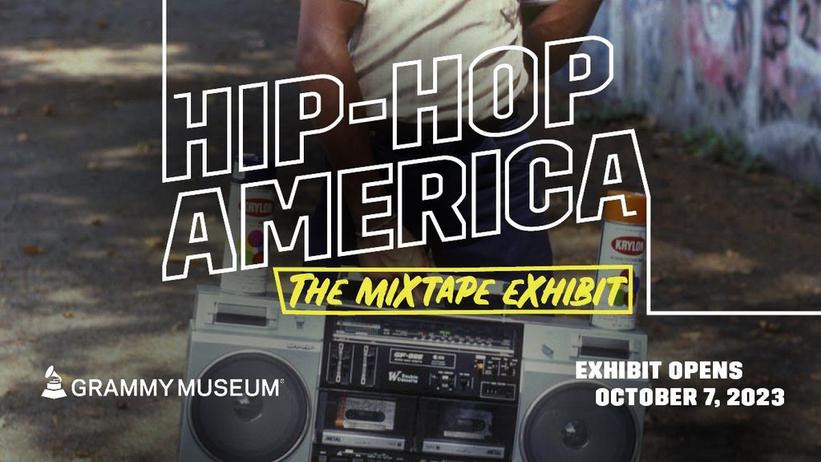 The GRAMMY Museum's 'Hop America: The Mixtape Exhibit' opens Saturday, Oct. 7, 2023
Image courtesy of the GRAMMY Museum
news
GRAMMY Museum To Celebrate 50 Years Of Hip-Hop With 'Hip-Hop America: The Mixtape Exhibit' Opening Oct. 7
The new exhibit honors the 50th anniversary of hip-hop through an expansive and interactive exploration that features artifacts from legendary artists including the Notorious B.I.G., Tupac Shakur, LL Cool J, and more.
GRAMMYs
/
Sep 7, 2023 - 03:11 pm
The GRAMMY Museum is celebrating the 50th anniversary of hip-hop this fall with the newly announced Hip-Hop America: The Mixtape Exhibit, an immersive, interactive, 5,000-square foot experience celebrating the multifaceted world of hip-hop and the global impact and influence of the genre and culture. Launching Saturday, Oct. 7, and running through Wednesday, Sept. 4, 2024, the exhibit will feature expansive exhibits exploring hip-hop music, dance, graffiti, fashion, business, activism, and history as well as artifacts from hip-hop pioneers like Tupac Shakur, the Notorious B.I.G., LL Cool J, and many more.
Additionally, the exhibit features a one-of-a-kind Sonic Playground, featuring five interactive stations that invite visitors of all ages to partake in DJing, rapping and sampling, all essential elements comprising hip-hop culture. Additional virtual and in-person education and community engagement programs will be announced at a later date.
Exploring the countless ways hip-hop music and culture has dominated popular culture over the last 50 years, Hip-Hop America: The Mixtape Exhibit was curated by a team of four co-curators who bring a deep knowledge of hip-hop, academic rigor and creativity to the project. They include:
Felicia Angeja Viator, associate professor of history, San Francisco State University, author of 'To Live And Defy In LA: How Gangsta Rap Changed America,' and one of the first women DJs in the Bay Area hip-hop scene

Adam Bradley, Professor of English and founding director of the Laboratory for Race and Popular Culture (the RAP Lab) at UCLA, and co-editor of 'The Anthology of Rap'

Jason King, Dean, USC Thornton School of Music and former chair of the Clive Davis Institute of Recorded Music at NYU

Dan Charnas, Associate Arts Professor, NYU Clive Davis Institute of Music, and author of 'Dilla Time: The Life And Afterlife Of The Hip-Hop Producer Who Reinvented Rhythm'
The co-curators worked in conjunction with GRAMMY Museum Chief Curator and Vice President of Curatorial Affairs Jasen Emmons as well as a 20-member Advisory Board.
Read More: 50 Artists Who Changed Rap: Jay-Z, The Notorious B.I.G., Dr. Dre, Nicki Minaj, Kendrick Lamar, Eminem & More
Hip-Hop America: The Mixtape Exhibit is an educational journey through several key themes:
Origins: Discover the roots of hip-hop in the Bronx and New York City, where DJs were the original stars, and graffiti and breakdancing were integral to the culture.

Innovation: Explore how hip-hop artists have innovatively used technology, from transforming turntables into musical instruments to pioneering sampling techniques.

Sounds of Hip-Hop: Experience the diverse sounds of hip-hop in four themed studios, showcasing the evolution of production, the intersection of hip-hop and car culture, the craft of hip-hop lyrics, and the influence of R&B.

Fashion: Dive into the world of hip-hop fashion, featuring iconic clothing, jewelry and style.

Regionalism: Discover 14 hip-hop scenes across the United States, showcasing the importance of local and regional contributions.

Entrepreneurialism: Learn about the transformation of hip-hop from a back-to-school party in the Bronx to a multi-billion-dollar global industry.

Media: Discover the role of media in shaping hip-hop's development, from radio stations to pioneering shows like "Yo! MTV Raps."

Community: Explore how hip-hop has brought people together over the last 50 years, with an interactive 'Hip-Hop America' playlist featuring 200 songs that trace the genre's evolution.
Highlights from Hip-Hop America: The Mixtape Exhibit include:
The Notorious B.I.G.'s iconic 5001 Flavors custom red leather peacoat he wore in Junior M.A.F.I.A.'s music video "Players Anthem"

Kurtis Blow's original handwritten lyrics for his 1980 hit single, "The Breaks," the first gold-certified rap song

Black suede fedora hat and Adidas Superstars belonging to Darryl "DMC" McDaniels of Run-D.M.C.

Tupac Shakur's handwritten essay "Give Me Liberty or Give Me Death," circa 1992

Two outfits designed by Dapper Dan, Harlem fashion icon: 1) a half-length black leather jacket worn by Melle Mel (Melvin Glover, b. 1961) in performance at the 1985 GRAMMY Awards; and a black-and-yellow leather bucket hat and jacket worn by New York hip-hop artist Busy Bee (David James Parker)

Egyptian Lover's gold Roland 808, the beat-making tool

LL Cool J's red Kangol bucket hat 
Hip-Hop America: The Mixtape Exhibit is a key event taking place as the world is celebrating 50 years of hip-hop this year. The origins of hip-hop can be traced back to Aug. 11, 1973, when DJ Kool Herc DJed a birthday party inside the recreation room of an apartment building located on 1520 Sedgwick Avenue in the South Bronx, New York City. This history-making date marks the birth of hip-hop and is the reason why we're celebrating hip-hop's 50th anniversary this year. The 50th anniversary of hip-hop means artists, fans, and the music industry at-large are celebrating the momentous milestone via hip-hop concerts, exhibits, tours, documentaries, podcasts, and more around the globe across 2023.
Visit the GRAMMY Museum website for more information regarding advanced ticket reservations for Hip-Hop America: The Mixtape Exhibit.
50 Artists Who Changed Rap: Jay-Z, The Notorious B.I.G., Dr. Dre, Nicki Minaj, Kendrick Lamar, Eminem & More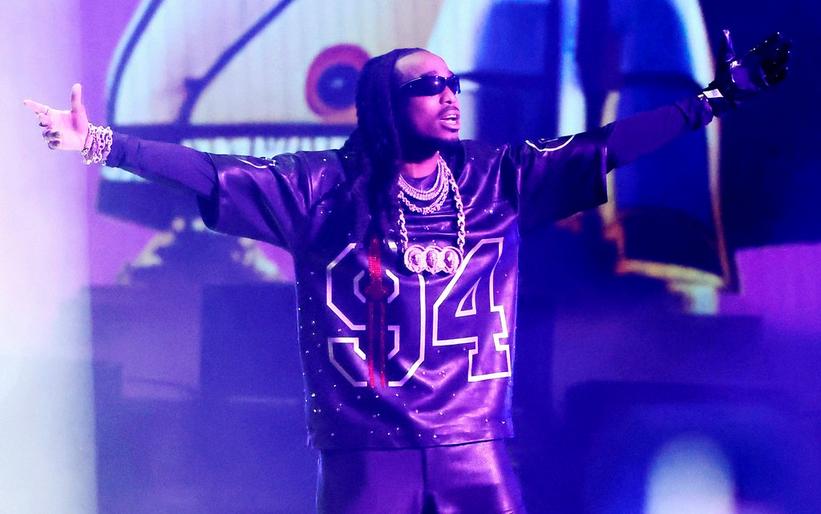 Quavo performs at the BET Awards in June 2023.
Photo: Kevin Winter/Getty Images
list
5 Takeaways From Quavo's New Album 'Rocket Power'
Five years after his first solo release, Quavo's 'Rocket Power' explores loss, faith, and memories of the artist's late nephew Takeoff — a poignant tribute that marks a new creative plane for the Georgia-born artist.
GRAMMYs
/
Aug 18, 2023 - 10:28 pm
Tragedy struck the hip-hop world in November 2022 when Migos star Takeoff was killed during an early morning shootout in Houston. Among the hardest hit by the loss was one-third of the famed trio and his uncle Quavo, who witnessed the shooting and sat by Takeoff's side as he passed outside a nearby bowling alley.
Since Takeoff's death, Quavo has largely stepped away from public view. He first resurfaced with an emotional tribute to his late nephew, "Without You," in January, sporadically releasing four more singles in subsequent months. But on Aug. 18, Quavo delivered his biggest tribute yet: the aptly titled album, Rocket Power, which explores the emotional scars that have formed nearly a year after Takeoff's passing. 
Arriving nearly five years after his debut solo album, 2018's Quavo Huncho, Rocket Power is a welcomed sign of Quavo's artistic maturation. The 32-year-old rapper melds his effortless melodicism and hit-making powers to create a cohesive body of work filled with soul-stirring jams and ear-catching trap bangers. 
To welcome Huncho's newest solo effort, we compiled five early takeaways from the 18-track project Rocket Power. 
The Album Honors Takeoff's Life From Childhood To The GRAMMY Stage
From the intro "Fueled Up" to the album's closing track, Rocket Power points to the life and legacy of Takeoff, who's featured on songs "Patty Cake" and "Back Where It Begins." On songs like "Hold Me," Quavo details the misery and emotional pain he and others have faced in the months following Takeoff's unexpected death: "I just need you to hold me/ Listen and feel my heart closely." Quavo also points to other instrumental figures in his life, asking them to come to his aid in moments of darkness.
On the title track, "Rocket Power," Quavo acknowledges the gut-wrenching thoughts and vulnerability he's experienced in this time of grief, and the toll it's placed on both him and his family. "Thinking about my nephew while I'm rolling some trees/ Mama said she's crying, and she's crying in her sleep."
While references to Takeoff's passing are sprinkled throughout the project, "Patty Cake" gifts Migos fans a welcomed look back at the two artist's influence and chemistry. And for many, hearing Taekoff's voice on the interlude "Narkedo Speaks" (which is pulled from a Drink Champs interview) reflects the kind of figure he was in rap: "I ain't even have a plan B, I made myself not have a plan B on purpose/Just so I can fulfill my plan A."
Limited Features Magnify Takeoff Tribute
Rocket Power only includes five features, a vast difference from Quavo's debut album, which boasted features on over half of its 19 tracks.
Among the artists featured on the project — which includes Future, Young Thug, Hunxho and BabyDrill — the most significant moments come from the artist the album honors. With Takeoff's presence on "Patty Cake" and "Back Where It Begins," the songs flash to his often understated talents and role as the Migos' lyrical foreman. It also points to how instrumental he was in Quavo's life, as the rapper touches on their past memories growing up in Lawrenceville, Georgia.
With fewer features, Quavo's vision for Rocket Power pierces through more vividly, and the project's more intimate and conceptualized moments reach their apex. While stars like Young Thug and Future elevate tracks like "Focused" and "Back Where It Begins," songs like "11.11" and "Not Done Yet" would lose much of its emotional fuel with another artist's presence.
Rumors Aside, Offset And Quavo's Relationship Appears To Be On The Upswing
It's hard to ignore Offset's absence on Rocket Power. He's not featured nor mentioned throughout much of the album, but "11.11" provided fans with some clarity on the status of their relationship.
Following the 2022 release of Quavo and Takeoff's collaborative album, Only Built For Infinity Links (which was released just weeks before Takeoff's passing), rumors about a falling out between Quavo and Offset emerged. The two first alleviated reports of their feud — including that they fought backstage at the 2023 GRAMMYs —  by reuniting for a performance at the 2023 BET Awards in June.
And nearly two months after their reunion, Quavo further suggests he and Offset are in a better place on "11.11": "5:30 Huncho and Set get up early, and go out and go get that bag together (Set)/ Who the f— gonna put us together, can't nobody put this s— back together/ So stay the f— out of the middle, lil fella/ We always goin' be that/ We fam forever (Migos)."
Quavo Leans Further Into His Faith
Throughout the album, Quavo points to his faith as a source of emotional strength and how it's tethered his family together in the wake of recent tragedy. On "Not Done Yet," the artist raps, "Giving it all I got, don't know what God got for me (God)/ Holding my head up high, I hope y'all really proud of me (High)."
While the "Lost" rapper has never shied away from his faith, Rocket Power is the most Quavo has ever melded it into his music. As much as it's a snapshot of his current mental state, the religious references point to the new creative plane Quavo is currently on.
Quavo Is A Legitimate Solo Star
Following Quavo Huncho, some hip-hop fans questioned Quavo's ability to carry an album as a solo artist. But if there were any doubts, drop them. He's unquestionably a star capable of carrying on his own.
While Quavo is credited for his infectious hooks and street hits, Rocket Power proves he can effectively draw from his life experiences and transfer those emotions to create gut-wrenching records. It also proves he can effectively pair these kinds of records together into a larger conceptual project, and expand his artistry beyond his melodic mastery.
Throughout the album, Quavo firmly commands each of the 18 tracks. He delivers a harmonious (and effective) mix of stadium-level anthems, emotion-fueled sentiments, and hard-hitting trap songs — proving that he'll not only continue the legacy he and Takeoff built together, but continue to evolve creatively on his own.
Hip-Hop Just Rang In 50 Years As A Genre. What Will Its Next 50 Years Look Like?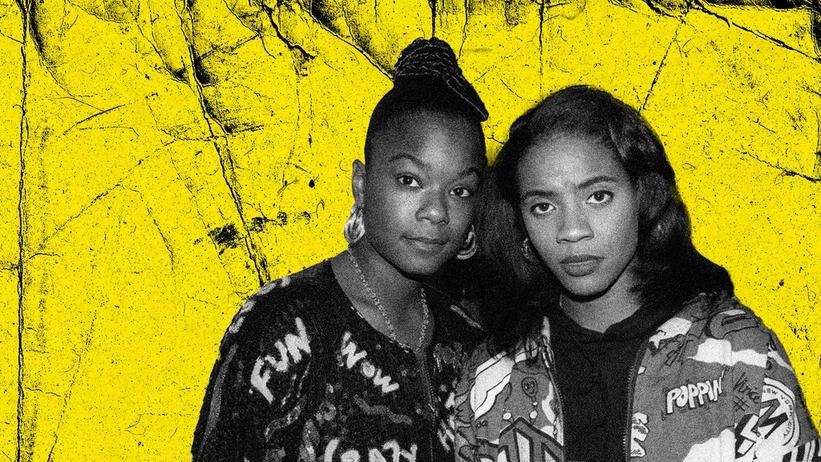 Roxanne Shanté and MC Lyte in New York City in 1991.
Photo: Al Pereira/Getty Images/Michael Ochs Archives
list
9 Teen Girls Who Built Hip-Hop: Roxanne Shante, J.J. Fadd, Angie Martinez & More
Since the birth of hip-hop in 1973, teenage girls have made space for themselves in a world dominated by adult men. Read on for the stories of nine girls who have made an indelible impact on the culture.
GRAMMYs
/
Aug 17, 2023 - 09:46 pm
More often heralded for their fandom than their artistic contributions, teenage girls have been a driving force in hip-hop since its inception.  After all, it was a teen girl, Cindy Campbell, who came up with the idea to host the back-to-school fundraiser that jumpstarted hip-hop in 1973.
Though their names may not be the first to be mentioned in mainstream conversation, young women in hip-hop paved the way for teen artists such as Brandy and Monica, Aaliyah and Destiny's Child that would shape culture in the late '90s and early aughts. The stories of these groundbreaking young women aren't always fairy tales — some are cautionary and some tragic — but all soar as examples of making space for themselves, sometimes as "the only" in a world dominated by adult men.    
The current bloom of new female rappers have learned and taken inspiration from these innovators. Rappers like Latto, who launched via the reality show "The Rap Game" at 16, and even had the foresight to turn down the contract offered to her as a reality show winner and seek a more equitable deal for herself. 
As hip-hop celebrates its 50th birthday, take a moment to celebrate these often under unsung, underaged, innovators.
MC Sha-Rock
Heralded as "the mother of the mic" Sharon Green a.k.a. MC Sha-Rock spent her childhood exploring slam poetry. She was well-seasoned in the art of rhyming by the time she auditioned for the Funky Four Plus One at age 17. 
Her verse in "That's the Joint" carries a marked cadence we hear mimicked to this day. At 19, Sha-Rock introduced the world to hip-hop on "Saturday Night Live" as a guest of Blondie's Debbie Harry. 
Daisy Castro
Born of Latin break and Afro-Caribbean rhythms the dance moves that accompanied these melded beats soon became an essential element of hip-hop. The first female member of the Bronx born Rock Steady Crew, early B-girl Daisy Castro a.k.a. Baby Love was only 14 when she took to breaking, finding her petite teen frame perfect for the complicated moves. 
During her three years in the Rock Steady Crew,she saw breakdancing break into the mainstream via films like Flashdance and Beat Street. 
Roxanne Shanté
Fourteen-year-old Lolita Roxanne Shanté was neighbors with hip-hop luminary  DJ Marley Marl, who asked her to lay down a response track while the teen was on her way to do laundry. On the fly she set the blueprint for all diss tracks to follow, laying down a verse on top of "Roxanne, Roxanne" by UTFO.
That freestyle, "Roxanne's Revenge,"  brought her fame, but the scene refused to recognize her as a singular talent. In 1985 at 15, she competed head-to-head in an otherwise all-male field in a the infamous "The Battle for World Supremacy." Despite battling and defeating 12 men for the title, Roxanne was told by the judge that the burgeoning art form would not be viewed as legitimate if a 15-year-old girl won and the contest was thrown against her. 
"Roxanne's Revenge" had made its mark, however, and she inspired a generation of young female MCs. 
Lisa Leone
Though she would go on to direct on the big and small screen, Lisa Leone's career as a hip-hop photographer dates back to her teens, where she majored in photography at the High School of Art and Design. "[People] would ask me to take pictures for them (for) publicity photos," She told Dazed in 2016. "So it was kind of a natural way, being there and photographing what you loved and in front of your face every day, you know just your friends. At the time, I would never have imagined that it (would) become what it was because we were kids." 
Her early work parlayed her into one of hip-hop's most respected documentarians, capturing Snoop, Biggie, Nas and others during rap's explosion in the early '90s. 
J.J. Fad
With their hit single "Supersonic," J.J. Fad's success helped build Eazy E's Ruthless Records label and fund NWA's debut record. 
Though the group started as a quintet, its incarnation as a trio with Juana Burns (MC J.B.), Dana Birks (Baby-D), and then middle-schooler Michelle Franklin (Sassy C.) they would find their musical footing. 
More than a novelty J.J. Fad were serious on the mic, going on long freestyle runs, as evidenced by the live clip below (which is very worth watching till the end).
L'Trimm
High Schoolers Bunny D and Lady Tigra provided a more wholesome entry point to the notoriously raunchy Miami bass scene with their 1988 smash "Cars That Go Boom Despite releasing two more records for Altalic, they were never able to replicate the single's success. The song would go on to be included in Rolling Stone's  Top 100 Hip Hop Songs of All Time. 
The duo released three albums for Atlantic Records before disbanding in the early '90s. Lady Tigra would stick with music going on to write jingles, perform on "Yo Gabba Gabba," and become a fixture on both the New York and Miami club scenes.
Spinderella
When a classmate asked a 16-year-old Deidre Muriel Roper if she was interested in joining a female rap duo in Queens, she had already been working the turntables for two years.Inspired by her fathers extensive record collection, Dee Dee as she was then known, had become a noted DJ in Brooklyn  and as DJ Spinderella, she joined forces with Salt-n-Pepa to create one of the best selling hip-hop acts of the 1990s.
While female fronted rap acts began to proliferate the mainstream, Spinderella remains one of the most prominent femme DJs in the game. She also produced several Salt-n-Pepa tracks and is, of course, is an MC in her own right.
Angie Martinez 
Now considered  one of hip-hop's most prominent radio hosts and interviewers, Angie Martinez got her start as a teen answering call-in lines for New York station Hot 97. 
Under the mentorship of Funk Master Flex, Martinez rose to radio prominence earning the moniker "The Voice of New York." She has also dabbled in acting and flirted with MCing, joining the all-star cast of Lil Kim's "Not Tonight" Remix.
Misa Hylton 
Misa Hylton was a 17-year-old intern at Uptown Records when she, went toe-to-toe with label President Andre Herrell. She insisted that group who would go on to be known as "The Bad Boys of R&B" or Jodeci should break with R&B convention, ditch the suited-up attire of their predecessors, and adopt street wear as their signature look. 
She would change the course of hip-hop fashion, again, collaborating with Lil' Kim on her "Crush on You" video and iconic purple playsuit (and pastie) VMA's look. Still impacting Hip Hop style, Hylton is responsible for looks like Beyonce and Jay-Z's infamous, his and hers, pastel suits in the video for "Apes—."
6 Takeaways From Netflix's "Ladies First: A Story Of Women In Hip-Hop"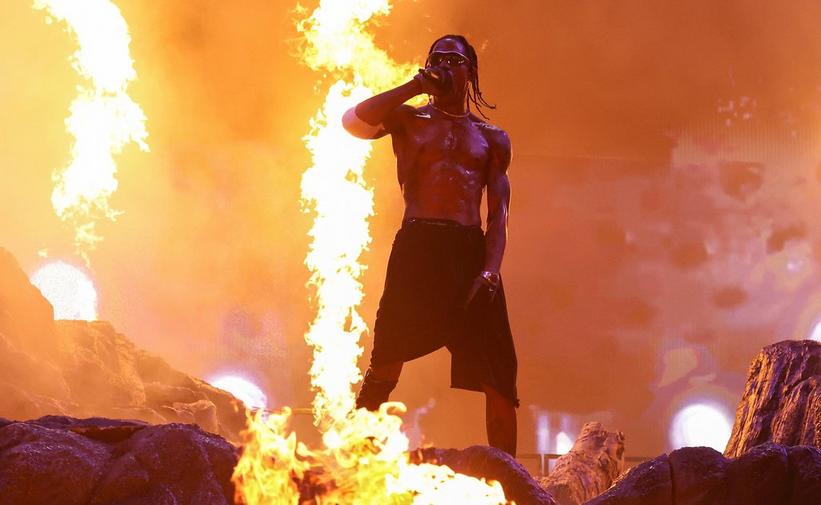 Travis Scott performs at the 2023 Wireless Festival.
Photo: Simone Joyner/Getty Images
news
New Music Friday: Listen To New Songs From Travis Scott, Britney Spears, NewJeans & More
July 21 marks a big day of new music releases, including star-studded collaborations like Travis Scott, Bad Bunny and The Weeknd's "K-POP" and a new EP from NewJeans. Hear some of the biggest new songs on GRAMMY.com.
GRAMMYs
/
Jul 21, 2023 - 08:06 pm
Like so many New Music Fridays before it, July 21 brought a cornucopia of fresh and unique sounds from all over the map.
Want to hear Travis Scott, Bad Bunny and the Weeknd get mellow and psychedelic? Raring to hear the latest dispatch from a One Direction member? Want a taste of A$AP Rocky's long-awaited next album? Is a Britney-shaped chunk missing from your musical life? Want to hear the future of K-pop? 
To these and other questions, this slew of tunes will provide answers. In the below roundup, hurtle into the weekend with wildly divergent sounds from some of music's top acts — many with sizable GRAMMY legacies.
Travis Scott, Bad Bunny, The Weeknd — "K-POP"
A week before nine-time GRAMMY nominee Travis Scott's Utopia livestream event at the Pyramids of Giza in Egypt on July 28 — which will debut his new studio album of the same name — he dropped his sixth collaboration with four-time GRAMMY winner the Weeknd.
"K-POP," the album's lead single, is rounded out by three-time GRAMMY winner Bad Bunny, in his first collab with Scott. This triple-threat track has a stony, smoldering feel, with luxurious production from Boi-1da, among others — and it's elevated by its panoramic, transportive video.
ZAYN — "Love Like This"
The former One Direction member continues his solo legacy with "Love Like This," his first new single since 2021.
Therein, ZAYN extols the virtues of throwing caution to the wind when it comes to infatuation: "Everything is on the line, but I would rather be dead/If it's gonna mean a life that's lived without you, baby," he sings. "I think I gotta take that risk/ 'cause I cannot go back."
In the video, ZAYN putters around on a motorcycle on a gorgeous day. Previously signed to RCA, the singer recently moved to Mercury Records; could "Love Like This" be the ramp-up to a new album? If so, "Love Like This" offers a tantalizing taste of what's to come.
will.i.am, Britney Spears — "MIND YOUR BUSINESS"
After the termination of her conservatorship, GRAMMY winner Britney Spears dipped a toe back into her music career in 2022 with "Hold Me Closer," a duet with Elton John that includes elements of "Tiny Dancer," "The One" and "Don't Go Breaking My Heart."
Now, she's back in earnest with "MIND YOUR BUSINESS," a sassy, pulsing, electronic duet with seven-time GRAMMY winner will.i.am of Black Eyed Peas fame. The track marks the pair's fourth team-up, and first since 2014's "It Should Be Easy" from Spears' Brtiney Jean.
NewJeans — "ETA"
GRAMMY.com called NewJeans one of 10 K-Pop rookie girl groups to watch in 2023, and keeping ears on them has paid off. On July 21, they released their new EP, Get Up, to critical acclaim: NME declared that "​​no one can hold a candle to K-pop's rising wonder girls."
Concurrently with the release of Get Up, they released a joyous, iPhone-shot music video to its effervescent single, "ETA," in which a group of girls find a friend's boyfriend making moves on another lady.
Chris Stapleton — "White Horse"
Chris Stapleton's last album, 2020's Starting Over, helped the country crooner make a clean sweep at the 2022 GRAMMYs. At that ceremony, he won golden gramophones for Best Country Solo Performance ("You Should Probably Leave"), Best Country Song ("Cold") and Best Country Album ("Starting Over").
On Nov. 10, the eight-time GRAMMY winner will release his next LP, Higher. As he revealed the news on July 21, Stapleton also unveiled a majestic rocker of a single, "White Horse." "If you want a cowboy on a white horse/ Ridin' off into the sunset," he sings thunderously, "If that's the kinda love you wanna wait for/ Hold on tight, girl, I ain't there yet."
A$AP Rocky — "RIOT (Rowdy Pipe'n)"
For his latest track, A$AP Rocky dropped a stylish, charming short film for Beats depicting a harried diaper run (a fitting narrative for the new dad, soon to be dad of two, with partner Rihanna). That only contains a minute of the song, though; it's worth luxuriating in the whole thing.
To an uneasy, lumbering beat, Rocky extols a lifestyle to die for ("My wife is erotic/ I'm smokin' exotic/My whip is exotic") as well as his unparalleled connections ("I just call designers up, I free ninety-nine it").
Backed by 13-time GRAMMY winner Pharrell, "RIOT (Rowdy Pipe'n)" is said to be the first single from A$AP Rocky's long-awaited fourth album, Don't Be Dumb; if the quality of the track is any indication, it'll be worth the long haul.
Road To 'Barbie The Album': How Mark Ronson Dolled Up The Movie's Polished Pop Soundtrack