Photo: Georges De Keerle/Getty Images
news
For The Record: Revisiting The Historic 'Waiting To Exhale' Soundtrack
At the 1997 GRAMMYs, the soundtrack received 11 GRAMMY nominations—including Album Of The Year—and won Best R&B Song for the Whitney Houston-sung lead single, "Exhale (Shoop Shoop)"
GRAMMYs
/
Nov 12, 2020 - 07:42 am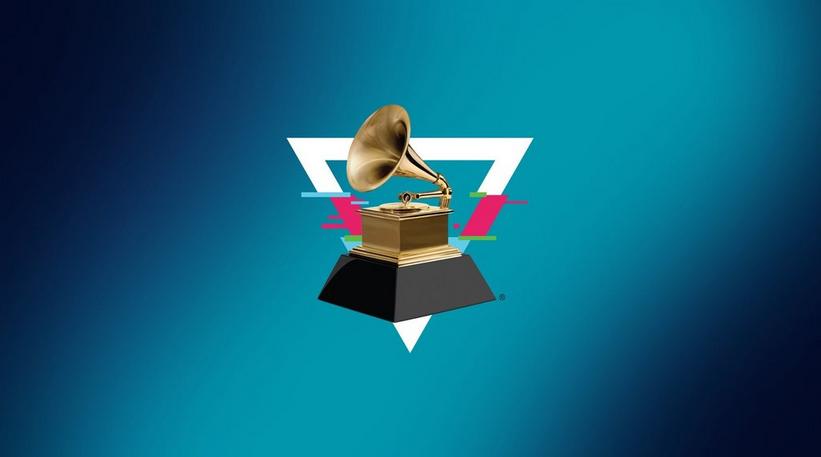 news
Find Out Who's Nominated For Best Rap Album | 2020 GRAMMY Awards
Dreamville, Meek Mill, 21 Savage, Tyler, The Creator, and YBN Cordae all earn nominations in the category
GRAMMYs
/
Nov 20, 2019 - 06:28 pm
The 2020 GRAMMYs are just around the corner, and now the nominations are in for the coveted honor of Best Rap Album. While we'll have to wait until the 62nd GRAMMY Awards air on CBS on Jan. 26 to find out who will win, let's take a look at which albums have been nominated for Best Rap Album.
Revenge of the Dreamers III – Dreamville
This star-studded compilation album from 11-time GRAMMY nominee
J. Cole
and his Dreamville Records imprint features appearances from some of the leading and fastest-rising artists in hip-hop today, including label artists EARTHGANG, J.I.D, and Ari Lennox, plus rappers T.I, DaBaby, and Young Nudy, among many others. Recorded in Atlanta across a 10-day recording session,
Revenge of the Dreamers III
is an ambitious project that saw more than 300 artists and producers contribute to the album, resulting in 142 recorded tracks. Of those recordings, 18 songs made the final album, which ultimately featured contributions from 34 artists and 27 producers.
Dreamers III, the third installment in the label's Revenge of the Dreamers compilation series, debuted at No. 1 on the Billboard 200 chart and achieved gold status this past July. In addition to a Best Rap Album nod, Dreamers III is also nominated for Best Rap Performance next year for album track "Down Bad," featuring J.I.D, Bas, J. Cole, EARTHGANG, and Young Nudy.
Championships – Meek Mill
In many ways, Championships represents a literal and metaphorical homecoming for Meek Mill. Released in November 2018, Championships is the Philadelphia rapper's first artist album following a two-year prison sentence he served after violating his parole in 2017. Championships, naturally, sees Meek tackling social justice issues stemming from his prison experience, including criminal justice reform. The album debuted at No. 1 on the Billboard 200, his second chart-topper following 2015's Dreams Worth More Than Money, and reached platinum status in June 2019. Meek Mill's 2020 Best Rap Album nod marks his first-ever GRAMMY nomination.
i am > i was – 21 Savage
Breakout rapper and four-time GRAMMY nominee 21 Savage dropped i am > i was, his second solo artist album, at the end of 2018. The guest-heavy album, which features contributions from Post Malone, Childish Gambino, J. Cole, and many others, has since charted around the world, topped the Billboard 200 – a first for the artist – in the beginning of 2019, and achieved gold status in the U.S. As well, nine songs out of the album's 15 original tracks landed on the Hot 100 chart, including multi-platinum lead single "A Lot," which is also nominated for Best Rap Song next year. 21 Savage's 2020 Best Rap Album nomination, which follows Record of the Year and Best Rap/Sung Performance nods for his 2017 Post Malone collaboration, "Rockstar," marks his first solo recognition in the top rap category.
IGOR – Tyler, The Creator
The eccentric Tyler, The Creator kicked off a massive 2019 with his mid-year album, IGOR. Released this past May, IGOR, Tyler's fifth solo artist album, is his most commercially successful project to date. The album debuted at No. 1 on the Billboard 200, marking his first time topping the coveted chart, while its lead single, "Earfquake," peaked at No. 13, his highest entry on the Hot 100. Produced in full by Tyler and featuring guest spots from fellow rap and R&B stars Kanye West, Lil Uzi Vert, Solange, and Playboi Carti, among many others, IGOR follows the rapper's 2017 album, Flower Boy, which received the Best Rap Album nod that same year.
The Lost Boy – YBN Cordae
Emerging rapper YBN Cordae, a member of the breakout YBN rap collective, released his debut album, The Lost Boy, to widespread critical acclaim this past July. The 15-track release is stacked with major collaborations with hip-hop heavyweights, including Anderson .Paak, Pusha T, Meek Mill, and others, plus production work from J. Cole and vocals from Quincy Jones. After peaking at No. 13 on the Billboard 200, The Lost Boy now notches two 2020 GRAMMY nominations: Best Rap Album and Best Rap Song for album track "Bad Idea," featuring Chance the Rapper.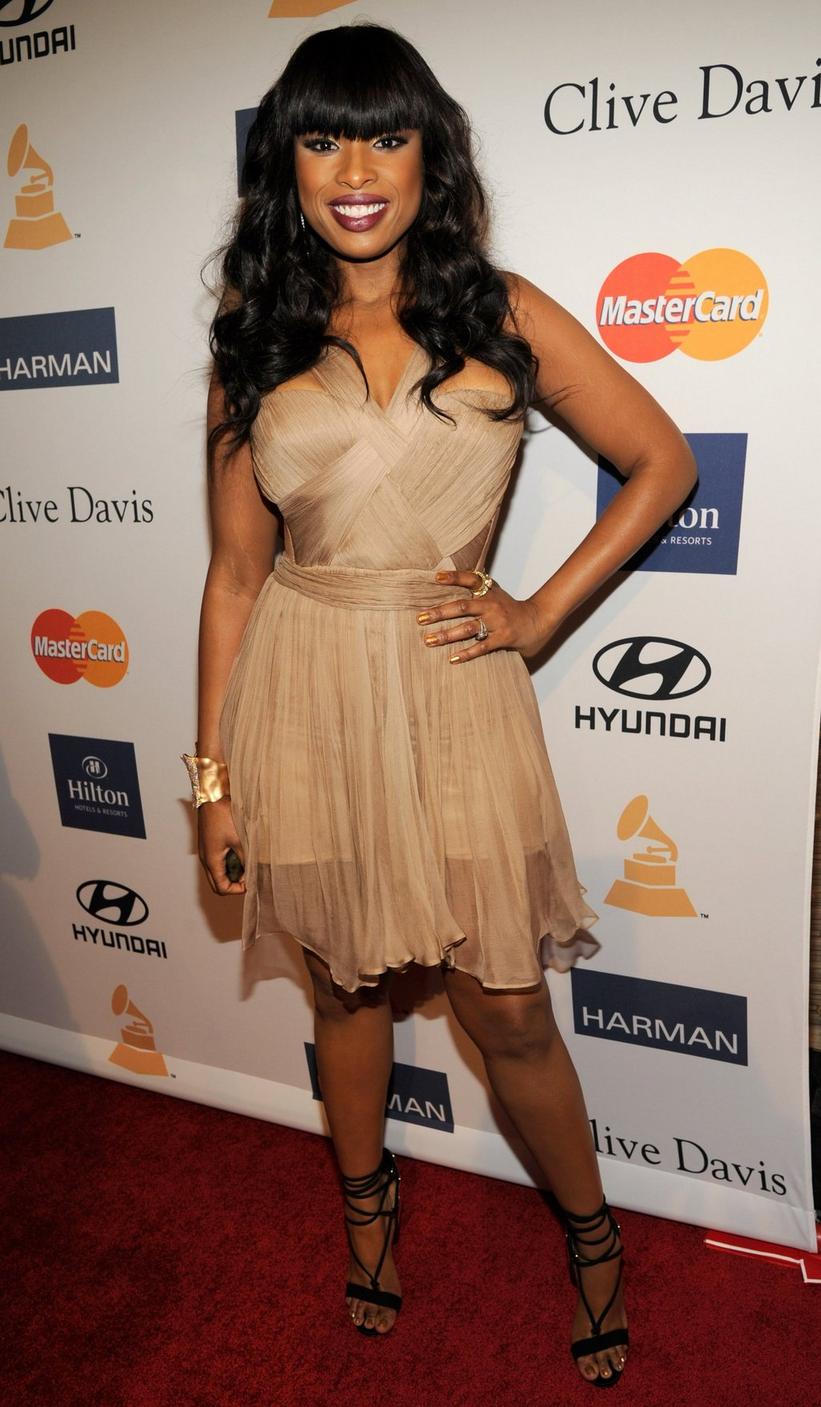 Jennifer Hudson
Photo: Kevin Mazur/WireImage.com
news
GRAMMY Hall Of Fame Inspirations: Jennifer Hudson
From timeless classics to infectious pop gems, GRAMMY winner Jennifer Hudson goes deep on six influential GRAMMY Hall Of Fame recordings
GRAMMYs
/
Dec 3, 2014 - 05:06 am
(To commemorate the GRAMMY Hall Of Fame's 40th Anniversary in 2013, GRAMMY.com has launched GRAMMY Hall Of Fame Inspirations. The ongoing series will feature conversations with various individuals who will identify GRAMMY Hall Of Fame recordings that have influenced them and helped shape their careers.)
Vocal powerhouse Jennifer Hudson grew up in Chicago in the '80s and '90s, but it was a piece of classic '70s disco that first made her want to put her talents to use as a professional performer.
"When I heard 'Got To Be Real' [by Cheryl Lynn] it just grabbed me," says Hudson. "That was the song that made me think, 'Oh God — that's what I want to do.' I'd mark off a little stage on the floor and hold my hairbrush microphone and jump up and down. I'd lose it."
A solid disco beat can still move her, but Hudson also cites gospel music as a major influence, having sung often in the church in her childhood with an extended family of talented vocalists.
Hudson got the chance to make her own music career real in 2004 when she delivered several knockout performances as a contestant on "American Idol." Her breakout role in the film adaptation of Dreamgirls followed in 2006, and two years later she took home Best R&B Album honors for her self-titled debut at the 51st GRAMMY Awards [link to show page].
With plans underway for her third studio album, Hudson reigns as one of the most gifted and affecting performers of her generation. Here are six recordings from the GRAMMY Hall Of Fame that continue to make her want to reach for the microphone — hairbrush or otherwise.
Whitney Houston
Whitney Houston
Arista (1985)
Album
Inducted 2013
"I have a hard time remembering what I was doing the first time I heard a lot of the Whitney songs because I went crazy for everything she did. That first album really had an effect on me. 'Saving All My Love For You,' 'How Will I Know,' 'Greatest Love Of All' — just saying the names of the songs makes me want to cry all over again. I do remember that 'Greatest Love Of All' was a total game changer for me. It was a song that had a very different kind of power. It didn't make you want to dance like my other favorites had done — this one captivated you. It put you into a trance. You started listening to that song and the world around you went silent.
"Whitney had that effect right from the start. There's a time to dance, and there's a time to listen, and Whitney had a voice that you had to listen to. The thing that has always amazed me is that her music is so powerful, and yet it's so soothing. In some ways it's perfect ear candy, but it can also move you to tears."
"Lady Marmalade"
LaBelle
Epic (1975)
Single
Inducted 2003
"When it is time to dance, this is the [song]. I think everybody has the experience with music that certain songs are powerful enough to take you right back to a certain time and place. There are songs you appreciate for the music, but there are songs you just feel are like old friends — you've got some history with them. For me, hearing Patti LaBelle and the group singing 'Lady Marmalade' takes me right back to the times when I was first getting so excited about music. This is the kind of song that just made me jump up and want to be a part of what was going on.
"I also remember being impressed by the look and the image of LaBelle too, which I didn't really know about until I'd already been familiar with the song. [They were] so much fun, and so expressive. I wish things were a little more like that now. Sometimes it feels like everything's been done. You think somebody has a new look and it turns out LaBelle [were] already there.
"Oh Happy Day"
Edwin Hawkins Singers
Buddah (1969)
Single
Inducted 1999
"I started out singing in church choruses, and even before I was singing I was sitting [on] my grandmother's lap while she was singing the chorus on Sunday or at choir rehearsal. My whole family sang — my grandmother was the youngest of 11 siblings and they all sang together as a group. I remember they'd do these warm-ups where they'd go around and everybody in the family had to sing their name: 'My name is Jennifer Hudson, how do you do?'
"I always loved that feeling of being surrounded by music and family, and that's a feeling I get from 'Oh Happy Day,' which is kind of funny because for all the singing we did in church, I don't think we sang that song. Once I heard it though, I couldn't get enough of it. It's one of those great pieces of music that's a real church song, but it gets you there just like any great up-tempo pop song. It gives you that great feeling of energy and makes you smile. It does what the title tells you it does — makes your day a happier one."
"Bridge Over Troubled Water"
Simon & Garfunkel
Columbia (1970)
Single
Inducted 1998
"I just absolutely love this song, and have from the first time I heard it. But for a long time what I was familiar with was the Aretha Franklin version. A friend finally introduced me to the Simon & Garfunkel original. Their recording is so perfect and so heavenly — every time I hear it I either want to sing along with the whole thing, or just say, 'Hallelujah.' The sound is so pure and the arrangement is so beautiful, it just sends you away. Then, when you really listen to the words, it's beautiful on a whole different level. What does everyone want in life but a bridge over troubled water?
"This is the kind of song that makes me wonder: When it was being written and recorded, did they have a sense of how amazing and timeless this was? Did they know from the start it was a masterpiece? I think we musicians know when we've done the best we can do, and that's a great feeling. But I wonder if there's an extra awareness when you create something that's just going to last forever. This song is definitely in that category."
"People"
Barbra Streisand
Columbia (1964)
Single
Inducted 1998
"The Way We Were"
Barbra Streisand
Columbia (1974)
Single
Inducted 2008
"I don't remember my first time hearing Barbra Streisand. I just think I was always aware that she was the top — that she's as good as you can get as a singer and a performer.
"The first time I really became aware of just how special a talent she had was when I actually had to get it together to sing a couple of her songs at one of Clive Davis' Pre-GRAMMY [Galas]. It was a tribute for her, and two days before the show Clive asked me to sing 'People' and 'The Way We Were.' I had to take on these two gigantic signature songs — songs that aren't easy to deliver — and sing them with her sitting right in front of me. Are you kidding me? I almost lost my mind.
"She makes the first few lines of 'People' sound so easy, but melodically it's very difficult to get it just right. To this day I want to sing that over again and get it right — a little more right. I think I must have spoken to her after I sang, but I was so terrified I don't remember a thing. I think she was smiling, but I don't know. I love her. I'd sing for her again if I could — but maybe not one of her songs."
(Jennifer Hudson won her first career GRAMMY in 2008 for Best R&B Album for Jennifer Hudson. As an actress, her role in the 2006 film Dreamgirls earned her numerous awards, including the Academy Award for Best Supporting Actress. A day after the death of Whitney Houston on Feb. 11, 2012, Hudson performed "I Will Always Love You" as a special tribute on the 54th GRAMMY Awards telecast.)
(Chuck Crisafulli is an L.A.-based journalist and author whose most recent works include Go To Hell: A Heated History Of The Underworld, Me And A Guy Named Elvis and Elvis: My Best Man.)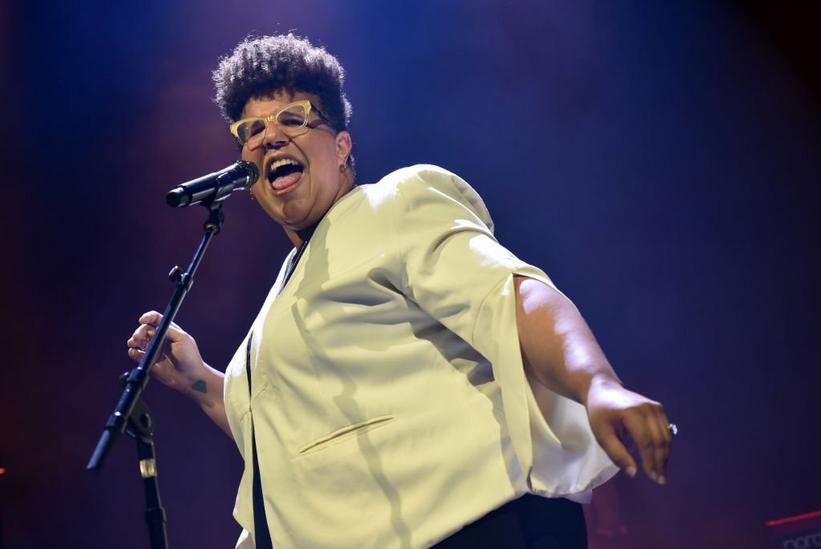 Photo: C Brandon/Redferns/Getty Images
news
Brittany Howard, Brandi Carlile, Leon Bridges, 2 Chainz & More Join Small Business Live Benefit Livestream
Proceeds from the event will be go toward loans to small businesses founded by people of color, with additional support to women-owned and immigrant-owned businesses, via Accion Opportunity Fund
GRAMMYs
/
Jun 16, 2020 - 04:13 am
This Saturday, June 20, artists including Brittany Howard, Brandi Carlile, Leon Bridges, 2 Chainz and more will come together for Small Business Live, a livestream fundraiser event for small businesses facing challenges from the COVID-19 pandemic.
Proceeds from the livestream will go to Accion Opportunity Fund to support small businesses founded by people of color, with additional support to women-owned and immigrant-owned businesses.
"Entrepreneurs of color are denied credit more often and charged higher rates for money they borrow to fund their businesses. We need to accelerate support to underserved businesses in order to reach our full potential," Accion Opportunity Fund CEO Luz Urrutia said. "We have to decide what we want our Main Streets to look like when this is over, and we must act decisively to keep small businesses alive and ready to rebuild. This is a fun way to do something really important. Everyone's support will make a huge difference to small business owners, their families and employees who have been devastated by this pandemic, the recession, and centuries of racism, xenophobia and oppression."
Tune in for Small Business Live Saturday, June 20 from 4:00 p.m. to 10:00 p.m. EDT on smallbiz.live. The site also provides a full schedule of programs and links to watch the livestream on all major digital platforms. To learn more about Accion Opportunity Fund, visit the organization's website.
Ivan Barias On Silence As Complicity, Holding Major Labels Accountable & How To Be A Non-Black Latinx Ally
news
Special GRAMMY Tribute To Honor Whitney Houston
Jennifer Hudson to pay tribute to late GRAMMY-winning artist on the 54th Annual GRAMMY Awards
GRAMMYs
/
Dec 3, 2014 - 05:06 am
A special musical tribute to six-time GRAMMY winner Whitney Houston featuring GRAMMY-winning artist Jennifer Hudson has been added to the lineup for the 54th Annual GRAMMY Awards.
Houston died Feb. 11 at age 48. A cause of death was not disclosed.
"A light has been dimmed in our music community today, and we extend our deepest condolences to her family, friends, fans and all who have been touched by her beautiful voice," said Neil Portnow, President/CEO of The Recording Academy.
Houston won her first GRAMMY Award in 1985 for Best Pop Vocal Performance, Female for "Saving All My Love For You." She won the same award in 1987 for "I Wanna Dance With Somebody (Who Loves Me)." In 1993 Houston won three GRAMMYs: Best Pop Vocal Performance, Female and Record Of The Year for "I Will Always Love You"; and Album Of The Year for The Bodyguard — Original Soundtrack. Houston's most recent GRAMMY win came in 1999 for Best Female R&B Vocal Performance for "It's Not Right But It's Okay."
Hudson won her first career GRAMMY in 2008 for Best R&B Album for Jennifer Hudson.
The show is produced by John Cossette Productions and AEG Ehrlich Ventures for The Recording Academy. Ken Ehrlich is executive producer, Louis J. Horvitz is director, and David Wild and Ken Ehrlich are the writers.
The 54th Annual GRAMMY Awards will take place live on Sunday, Feb. 12 at Staples Center in Los Angeles and will be broadcast in high definition and 5.1 surround sound on the CBS Television Network from 8–11:30 p.m. (ET/PT). The show also will be supported on radio worldwide via Westwood One/Dial Global, and covered online at GRAMMY.com and CBS.com, and on YouTube.
Follow GRAMMY.com for our inside look at GRAMMY news, blogs, photos, videos, and of course nominees. Stay up to the minute with GRAMMY Live. Check out the GRAMMY legacy with GRAMMY Rewind. Keep track of this year's GRAMMY Week events, and explore this year's GRAMMY Fields. Or check out the collaborations at Re:Generation, presented by Hyundai Veloster. And join the conversation at Facebook, Twitter, and YouTube.