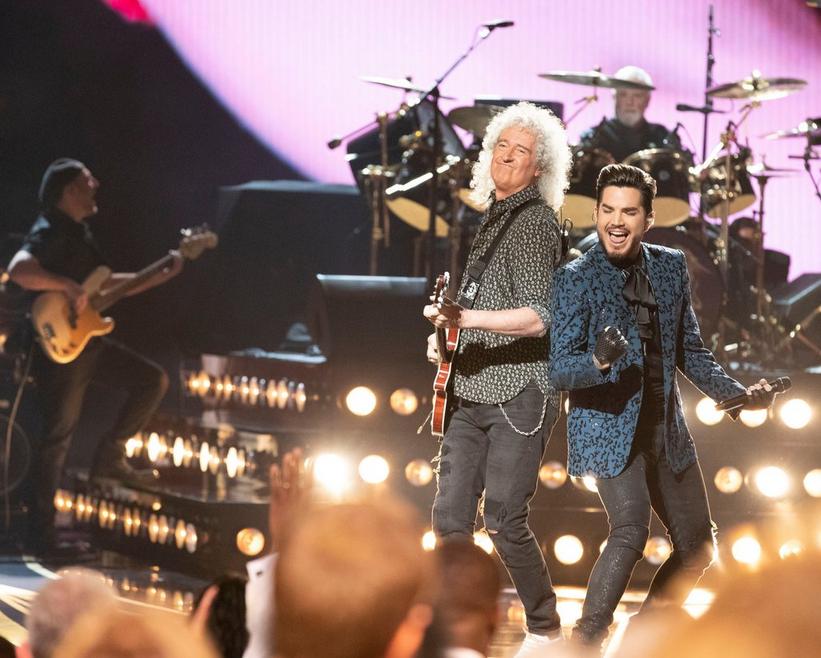 Photo: Craig Sjodin/Getty Images
news
Queen + Adam Lambert 'The Show Must Go On' Documentary Coming In April
The two-hour TV special will feature exclusive interviews and concert footage, plus a behind-the-scenes look at how the band teamed up with Lambert in 2012
GRAMMYs
/
Feb 26, 2019 - 06:58 am
On Feb. 25, less than 24 hours after their killer opening performance at the 2019 Oscars, Queen + Adam Lambert, as the revived glam-rock group calls itself, announced the release of a new documentary, The Show Must Go On: The Queen + Adam Lambert Story.
So excited about our documentary "The Show Must Go On - The Queen + Adam Lambert Story" airing on @ABCNetwork on April 29th!! @QueenWillRock

— ADAM LAMBERT (@adamlambert) February 25, 2019
The two-hour special will air on ABC on April 29 and feature, according to the press release, "rare concert footage and exclusive, revealing portraits of the band members offstage." The film will tell the story of Queen's remaining founding members, guitarist Brian May and drummer Roger Taylor, bringing on Lambert on lead vocals to rebirth the group in 2012, following their first performance together on the "American Idol" stage in 2009, when Lambert was a contestant on the show.
In addition to offering fans the story directly from the group's members, the documentary will also feature insight from Lambert's family, former Idol judge Simon Cowell, Foo Fighters' Taylor Hawkins and Bohemian Rhapsody lead Rami Malek.
Malek portrayed the late Queen frontman Freddie Mercury in the biopic that swept the Golden Globes and last night's Oscars, where Malek won for Actor In A Leading Role. Bohemian Rhapsody currently stands as the highest-grossing music biopic of all time.
Queen + Adam Lambert will embark on a previously announced North American arena tour this summer with 23 shows across the country.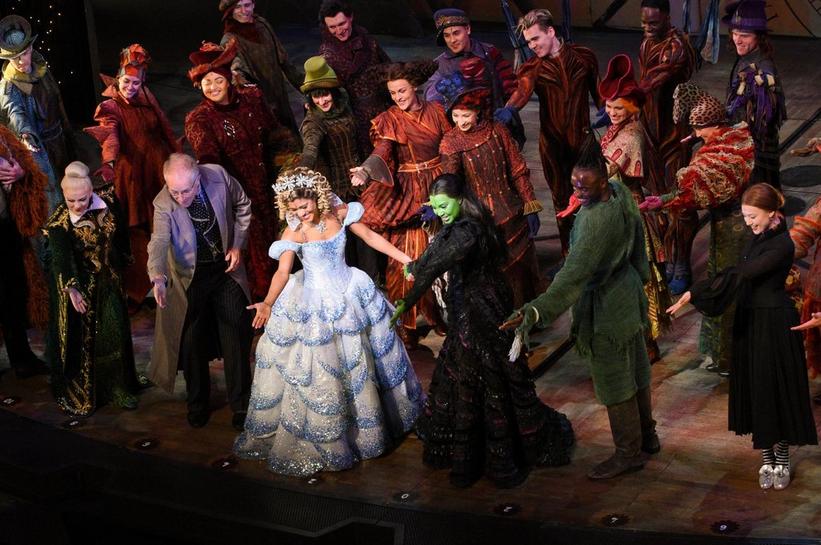 Lucy St. Louis (Glinda) and Alexia Khadime (Elphaba) take a bow with the rest of the cast of "Wicked" in 2023
Photo: Nicky J Sims/Getty Images
feature
20 Years Of 'Wicked': On This Day, The Culture-Shifting, GRAMMY-Winning Musical Premiered
Twenty years after its premiere on Broadway, the deliciously corrupted musical 'Wicked' is still going strong.
GRAMMYs
/
Oct 30, 2023 - 09:18 pm
Twenty years ago, the Broadway-shaking musical 'Wicked' opened its doors in New York City — and the theatre world was never the same.
Based on Gregory Maguire's book Wicked: The Life And Times Of The Wicked Witch Of The West — itself influenced by L. Frank Baum's The Wonderful Wizard Of Oz — the musical debuted on Broadway on Oct. 30, 2003, six months after it premiered in San Francisco, California on May 28.

Two years later, the musical was honored by the world's leading society of music people; it won the golden gramophone for Best Musical Theatre Album at the 2005 GRAMMYs.

Fifteen years and numberless inspired performances after its premiere, Ariana Grande, Ledisi and Adam Lambert as well as GRAMMY winners Pentatonix performed with original cast members Idina Menzel and Kristin Chenoweth to celebrate 'Wicked,' in a performance dubbed the "Wicked 15 Anniversary Concert."
Also back in 2018, the play about the green witch named Elphaba also garnered a special called A Very Wicked Halloween, starring the aforementioned musical luminaries.
"The themes of the show, the love and friendship aspects," "Wicked" star Kristin Chenoweth told the San Francisco Chronicle at the time. "We can look at these two characters looking forward to seeing everything."
For Mitch Grassi from Pentatonix, it was a full-circle moment for him to perform in the special. "It's a full circle moment, we grew up with this show and the [album] kind of shaped us as performers," Grassi told Playbill.

'Wicked' is still on Broadway — and is about to be on the silver screen! On Nov. 27, 2024, Cynthia Erivo and Grande will star in Wicked: Part One, a film adaptation of the play. (The sequel, Part Two, is scheduled to release on Nov. 26, 2025.)
And on the stage proper, the team behind 'Wicked' is plotting a special anniversary show at the Gershwin Theatre — and on Oct. 30, the anniversary proper, the Empire State Building will light up green in commemoration of the show.
On Halloween, the New York Public Library will hold a free panel discussion about the musical, featuring panelists in book writer Winnie Holzman, producer David Stone and composer and lyricist Stephen Schwartz.
And after spooky season concludes, traveling iterations of the show will continue to roll on throughout the world — with a home base in London providing the (slightly altered) experience for Wicked fans in the United Kingdom.
Whether or not you're able to catch the film, these celebration shows, or just a good old performance, keep a little wickedness in your heart in tribute this Halloween!
Ariana Grande's Road To Wicked: How The Pop Star Manifested Her Theater Kid Dreams In The Most Full-Circle Way Possible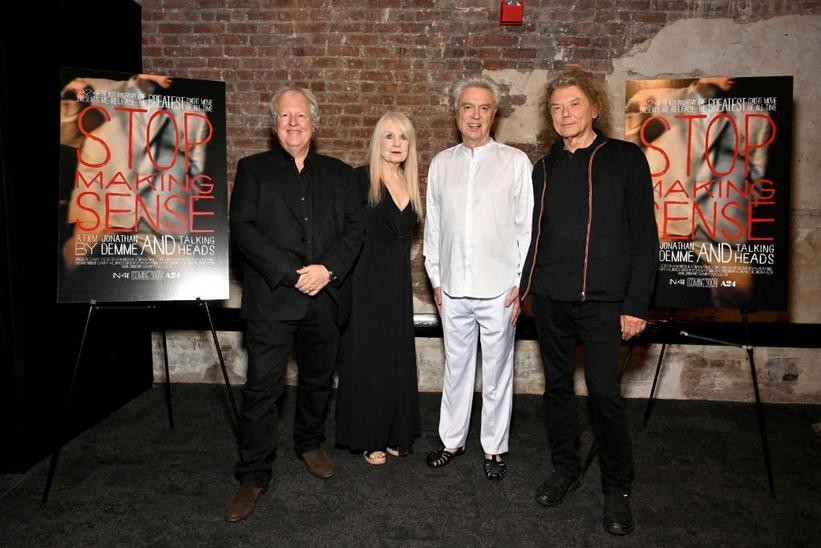 (From left) Chris Frantz, Tina Weymouth, David Byrne and Jerry Harrison of Talking Heads attend a 'Stop Making Sense' Q&A in Brooklyn
Photo: Slaven Vlasic/Getty Images for BAM
list
11 Iconic Concert Films To Watch After 'Taylor Swift: The Eras Tour'
The concert film seems to be having a moment. From the Talking Heads to Queen, read on for 11 concert film experiences that will help keep the party going.
GRAMMYs
/
Oct 18, 2023 - 02:51 pm
A lavender haze has descended upon movie theaters across America. 
Taylor Swift's filmed version of her historic Eras tour is the movie-music event of the year, dominating the box office becoming highest grossing dometic concert film in Hollywood history after a single weekend. Byt the time the Eras credits roll, you know all too well that you're going to want to keep the party going.
Luckily, there are a breadth of artists whose musical singularity is reflected on the silver screen. Swift's major influence notwithstanding, the concert film seems to be having a moment in recent years: Pop stars such as Lizzo (Live in Concert), Selena Gomez (My Mind and Me) and Lewis Capaldi have released popular concert films.
From Beyoncé's stunning Homecoming, to acclaimed concert films from Queen to Talking Heads and new entries like from the boys in BTS, read on for 11 excellent concert film experiences.
Homecoming: A Film by Beyonce
(2019)
When Beyoncé headlined the Coachella Music and Arts Festival — the first Black woman to do so — in 2018, she didn't just perform; she delivered a tour de force extravaganza that spurred a whole new moniker: Beychella. 
Shot over two nights, the Netflix film Homecoming includes a discography-spanning retrospective and memorable performances of "Run the World," "Single Ladies" and "Formation." Layered in ware nods to the Historically Black College and University experience, legends like Nina Simone and dazzling array of choreography, wardrobe and vocal chops. 
The New Yorker later hailed it a "triumphant self portrait" and "a spectacle of soul." Directed by Queen Bey herself, Homecoming took home the golden gramophone for Best Music Film at hte 62nd GRAMMYs. 
Stop Making Sense
(1984)
The filmmaker Jonathan Demme is known for classics like Silence of the Lambs and Philadelphia, but he was also a major force in concert films. Among his achievements in this field is Stop Making Sense, his 1984 portrait of David Byrne and his Talking Heads.
Filmed at the peak of the band's popularity and following the release of Speaking in Tongues (which featured "This Must Be The Place" and "Burning Down the House,"), Stop Making Sense  is a cult classic, from its array of hits to the band's massive suits which became their calling card. 
The film was re-released in theaters last month. "I'm kind of looking at it and thinking, who is that guy?," said David Byrne in a recent interview with NPR about watching his younger self. "I'm impressed with the film and impressed with our performance. But I'm also having this really jarring experience of thinking, 'He's so serious.'" 
BTS: Yet to Come in Cinemas
(2023)
While the GRAMMY-nominated South Korean superstars BTS may be on a break — Jung Kook recently announced that he will release his debut solo full-length- bask in the glow of the K-pop and their rollicking concert film earlier this year. In the film, Jung Kook alongside Jin, RM, Jimin, V, J-Hope as they smoothly perform their calvadace of hits, including "Butter" and"Dynamite" in a 2022 performance for Busan, South Korea's rally to host the 2030 World Expo. 
The boys are actually no stranger to the genre, with Yet To Come marking their fifth concert film in addition to BTS Permission to Dance on Stage — Seoul: Live Viewing and 2020's Break the Silence: The Movie among others. 
Madonna: Truth or Dare
(1991)
With off-stage footage shot in black and white and performances in vivid color, this early '90s classic depicts Queen Madge at the height of her power. Taken from an actual game Madonna and friends play towards the end of the film (to scandalous results), Truth or Dare showcases the breadth of Madonna's superstardom up until that point with performances of classics like "Holiday" and "Like a Virgin" with its artfully-shot juxtaposition of performance and documentary footage a trailblazer in the concert film genre. 
"The surprise of Truth or Dare is just what a blast Madonna is," wrote the Guardian on the occasion of the film's 30th anniversary. "Nastily funny, openly horny, undisguised in her contempt for anyone she deems less fabulous than herself and her blessed collaborators." 
Justin Bieber: Never Say Never
(2011)
Way before Swiftmania, there was Bieber Fever. In the wake of Justin Bieber's explosive rise, Never Say Never interspersed performances with snapshots of his journey from humble Canadian roots to global pop force to be reckoned with. 
Helmed by Jon M. Chu (who'd go onto direct blockbusters like Crazy Rich Asians and In the Heights), Never Say Never is a time capsule of a younger, more innocent Bieber and his early earworm bubblegum hits. Until Swift's Eras is tallied it's the top-grossing concert movie ever released in the USA. 
Prince: Sign o' the Times
(1987)
This iconic concert film was once hard to come by; after its theatrical run, Sign o' the Times was only issued on VHS and eventually went out of print. But thanks to the magic of streaming, one can now easily transport oneself back to the '80s and enjoy the magic that is Prince. 
Directed by the artist and using his acclaimed 1987 album Sign o' the Times as a jumping off point (the album itself was a 2017 inductee into the GRAMMY Hall of Fame), the film reminds viewers of the Purple One's magnetism. Under an array of colorful lights and performing to a raucous crowd, the icon may have died in 2016, but Sign o' the Times serves as a deft time capsule of his royal talent. 
Katy Perry: Part of Me
(2012)
As Katy Perry was in the midst of releasing her acclaimed album Teenage Dream, the pop singer had the foresight to chronicle the ensuing pandemonium.
 "I feel like it was, like, a big wave coming," she told ABC upon the release of Katy Perry: Part of Me, the 2012 concert film that documented her blockbuster California Dreams tour. "I thought to myself, 'Well, I think this is going to be a moment. Maybe I should catch it on tape. I'm either going to go completely mental, completely bankrupt, or have the best success of my life." 
Fortunately the later wound up occurring, with the subsequent film a celebrity-packed (featuring everyone from Lady Gaga to Adele) hit-filled ("Teenage Dream" and "California Girls") look into the life, times and music of the star. 
Queen: Live at Wembley '86
(1986)
Freddie Mercury and Queen were staples of London's Wembley Stadium, performing many memorable shows, including an iconic turn at Live Aid in the early '80s and a Mercury tribute show in the '90s. 
Songs like "We Will Rock You" and "We Are the Champions" fit right in on Wembley's massive stage, with the concert film depicting the thundering live versions of those classics. Relive those heady days with this film which showcases just what made Mercury and his band rock icons, and huge ones at that. 
"Mercury was indeed a born ringmaster," wrote CNN in a piece about their status as stadium savants. "There was no alienating affectation, no wallowing in sentiment... Queen consciously wrote their songs as vehicles for theatrics."
Summer of Soul
(2021)
Back in 1969, Stevie Wonder, Gladys Knight, Nina Simone and B.B. King joined forces for the Harlem Cultural Festival, a mostly forgotten multi-week legendary summit. That all changed when Roots frontman Ahmir "Questlove" Thompson obtained a treasure trove worth of footage and directed this stunning film, aptly dubbed Summer of Soul, which brought the event back to vivid life and subsequent acclaim including a GRAMMY Award for Best Music Film. 
"It was gold," Thompson told Pitchfork of his process of sifting through the footage to create what would become a passion project. "If anything, it was an embarrassment of riches. It was too much. I kept this on a 24-hour loop for about six months straight. Slept to it. Traveled to it. It was the only thing I consumed."
Justin Timberlake + The Tennessee Kids
(2016)
Also directed by Jonathan Demme and released before his 2017 death, Justin Timberlake + The Tennessee Kids showcases Timberlake's  popular 20/20 Experience World Tour and litany of solo hits including "Sexyback" and "Suit & Tie."  
"I don't think anything can compete with live performance," admitted Demme to Rolling Stone before his death in 2017. "You can't beat it. But we strive to provide the most exciting interpretation of that feeling, as filmmakers. We can provide a roving best seat in the house. We can linger on closeups. We can follow the dynamics of the music. I love shooting music." 
The Last Waltz
(1978)
One of the earliest projects of director Martin Scorsese's career was helping edit the monumental film version of Woodstock in 1970. But as that decade progressed and the auteur became known for narrative features including Mean Streets, he revisited his roots by directing The Last Waltz. A trailblazer in the genre, the film captures the last performance of The Band featuring frontman Robbie Robertson alongside a range of guests including Bob Dylan, Ringo Starr and Eric Clapton. Filmed on Thanksgiving Day in 1976, it's a time capsule of the day's biggest acts at the height of their artistry. 
"It's a picture that kind of saved my life at the time," Scorsese told an audience at the Toronto International Film Festival during a 2019 screening. "It's very special to me. Forty years on, it's very special to a great number of us."
6 Must-Watch Hip-Hop Documentaries: 'Hip-Hop x Siempre,' 'My Mic Sounds Nice' & More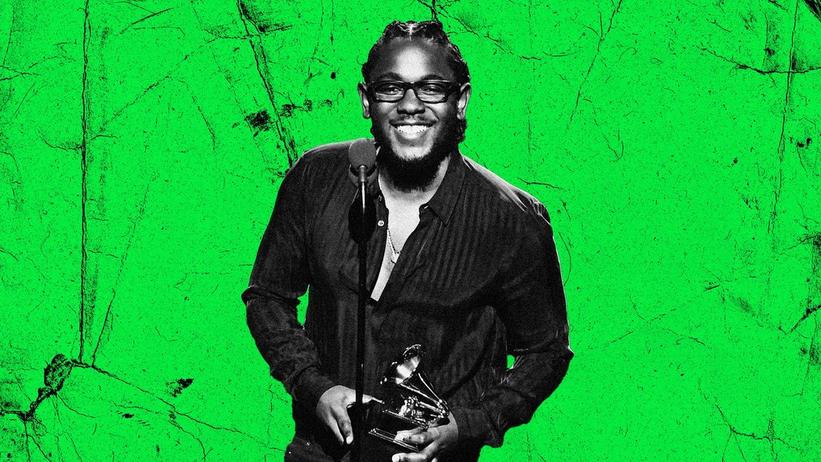 Kendrick Lamar
Photo: Jeff Kravitz/FilmMagic
video
GRAMMY Rewind: Kendrick Lamar Honors Hip-Hop's Greats While Accepting Best Rap Album GRAMMY For 'To Pimp a Butterfly' In 2016
Upon winning the GRAMMY for Best Rap Album for 'To Pimp a Butterfly,' Kendrick Lamar thanked those that helped him get to the stage, and the artists that blazed the trail for him.
GRAMMYs
/
Oct 13, 2023 - 06:01 pm
Updated Friday Oct. 13, 2023 to include info about Kendrick Lamar's most recent GRAMMY wins, as of the 2023 GRAMMYs.
A GRAMMY veteran these days, Kendrick Lamar has won 17 GRAMMYs and has received 47 GRAMMY nominations overall. A sizable chunk of his trophies came from the 58th annual GRAMMY Awards in 2016, when he walked away with five — including his first-ever win in the Best Rap Album category.
This installment of GRAMMY Rewind turns back the clock to 2016, revisiting Lamar's acceptance speech upon winning Best Rap Album for To Pimp A Butterfly. Though Lamar was alone on stage, he made it clear that he wouldn't be at the top of his game without the help of a broad support system. 
"First off, all glory to God, that's for sure," he said, kicking off a speech that went on to thank his parents, who he described as his "those who gave me the responsibility of knowing, of accepting the good with the bad."
He also extended his love and gratitude to his fiancée, Whitney Alford, and shouted out his Top Dawg Entertainment labelmates. Lamar specifically praised Top Dawg's CEO, Anthony Tiffith, for finding and developing raw talent that might not otherwise get the chance to pursue their musical dreams.
"We'd never forget that: Taking these kids out of the projects, out of Compton, and putting them right here on this stage, to be the best that they can be," Lamar — a Compton native himself — continued, leading into an impassioned conclusion spotlighting some of the cornerstone rap albums that came before To Pimp a Butterfly.
"Hip-hop. Ice Cube. This is for hip-hop," he said. "This is for Snoop Dogg, Doggystyle. This is for Illmatic, this is for Nas. We will live forever. Believe that."
To Pimp a Butterfly singles "Alright" and "These Walls" earned Lamar three more GRAMMYs that night, the former winning Best Rap Performance and Best Rap Song and the latter taking Best Rap/Sung Collaboration (the song features Bilal, Anna Wise and Thundercat). He also won Best Music Video for the remix of Taylor Swift's "Bad Blood." 
Lamar has since won Best Rap Album two more times, taking home the golden gramophone in 2018 for his blockbuster LP DAMN., and in 2023 for his bold fifth album, Mr. Morale & the Big Steppers.
Watch Lamar's full acceptance speech above, and check back at GRAMMY.com every Friday for more GRAMMY Rewind episodes. 
10 Essential Facts To Know About GRAMMY-Winning Rapper J. Cole
interview
Living Legends: Duran Duran Are Still Hungry After All These Years
In a career-spanning interview, Duran Duran bassist John Taylor and drummer Roger Taylor discuss surviving cultural shifts and the breadth of the band's discography.
GRAMMYs
/
Aug 23, 2023 - 03:31 pm
Living Legends is a series that spotlights icons in music still going strong today. This week, GRAMMY.com spoke with members of Duran Duran. The band is currently on tour with Nile Rodgers.
One of the biggest bands of the 1980s, Duran Duran captured the decade's exuberant pop ethos and influenced much of its fashion sense. Four decades later, the group remains ever-popular thanks to beloved hits, a potent live show, and their particular combination of the nostalgic and contemporary.  
Originally considered a teen band for their good looks, stylish dress, and sexy videos, the British pop-rock quintet have proved to be far more than an '80s time capsule, though their output from the period endures. 
Duran Duran's first three studio albums and live release Arena were big hits in the early '80s. Their smash "Hungry Like The Wolf" won two GRAMMY Awards in 1984: Best Video Album and Best Video, Short Form. In 1985, they temporarily split into two popular side projects, Arcadia and Power Station, while simultaneously releasing their second No.1 hit as Duran Duran (the theme song to the James Bond movie A View To A Kill). 
Lineup upheaval followed. Overwhelmed by their massive success, drummer Roger Taylor departed the band and the music industry in 1986. Guitarist Andy Taylor went on to a rock-based solo career as an artist and producer. Frontman Simon LeBon, keyboardist Nick Rhodes, and bassist John Taylor continued on and brought guitarist Warren Cuccurullo into the fold in 1988.
Buoyed by the melancholy hits "Ordinary World" and "Come Undone," Duran Duran's self-titled 1993 release (a.k.a. The Wedding Album) achieved platinum status. John Taylor departed for two albums in '97, but the classic line-up reunited and made the successful comeback album Astronaut in 2004. Andy departed again ahead of 2007's poppy Red Carpet Massacre (featuring appearances by Justin Timberlake and Timbaland), and current guitarist Dom Brown joined their ranks.
Since that time, Duran Duran have released three more albums (including the Top 10 seller Paper Gods), collaborated with Kiesza, Janelle Monáe, and John Frusciante, and were inducted into the Rock & Roll Hall Of Fame. 
Duran Duran are currently touring with Nile Rodgers and Chic  — a fortuitous bill as members of Chic and Duran Duran became close friends and collaborators in the '80s. Duran's latest album, 2021's Future Past, combines elements of their classic sound with contemporary influence from Blur's Graham Coxon, producer/composer Giorgio Moroder, and notable guest appearances by GRAMMY-nominated Swedish singer Tove Lo and the genre-bending Japanese band Chai.
Bassist John Taylor and drummer Roger Taylor spoke to GRAMMY.com about the band's history and what makes them tick. After these interviews were conducted, guitarist Andy Taylor announced his first solo album in 33 years, Man's A Wolf To Man. Taylor has been battling stage four prostate cancer for several years, and Duran Duran's first show of the current U.S. tour on Aug. 19 will raise funds for him.  
You've been playing the eerie "Night Boat" from your debut, on this tour. That song goes back to your Rum Runner club days in Birmingham.
Roger Taylor: It's a pretty deep and epic piece of music, isn't it, for a bunch of 20-year olds? I was very impressed when we started to play it again because the arrangement is pretty out there. It's not your normal three or four minute pop song. 
All You Need Is Now from 2010 is probably the most '80s of your 2000s albums. However, a song like "The Man Who Stole A Leopard" is not something you would have heard from Duran Duran back in the day.
Roger Taylor: [Producer] Mark Ronson had that idea that we shouldn't be ashamed of ourselves. He said, "There's so many bands out there that are copying you or citing you as an influence that you shouldn't be ashamed to be who you are." 
And I think Mark Ronson definitely set us on the path to some sort of modern day self-discovery where we actually stopped running away from who we are. I think we did spend a lot of time completely trying to reinvent ourselves and sound completely different. I think Red Carpet Massacre [in 2007] was the tip of that iceberg. I think we've gone back into a little bit more of an organic sound. We've focused a little bit more on John and I playing together again. Nick [brought] out some of his organic synths from the early days. We've accepted ourselves and that got us to where we are now.
John, I once read that you felt you overplayed on the early albums. How do you look back now on your playing?
John Taylor: You're learning tricks as you go along. When the first record came out in '81, I'd probably been playing bass for two years. What I'm playing on that first album is everything I know how to play. There's no selection process. It's Roger and I just trying to come up with grooves and licks and transitions — how should we go from this bit to this — and it was great, great fun.
There was a hierarchy of musicianship [in the band], if you will, but it wasn't that great that anybody felt left out. I think that's the key to any group of musicians really. If you've only been playing a year or two you don't want to be around virtuosos because you're always going to be catching up.
Roger, you're intensely submerged beneath your headphones onstage. You have this juggling act of keeping the groove going, but occasionally things have to be locked in if there's some sequencing or rhythm programming going on. I assume that's very challenging?
Roger Taylor: It's always been quite a challenging gig because, as you very rightly say, we're trying to keep an organic quality within the live performance. But then Nick is playing parts that are very rhythmic. We use a lot of sequencers, rhythm boxes, and programmed pieces of rhythm, and I have to keep in time with that.
So that's quite a tough job for two hours to make sure that you don't go out of time, you don't vary the tempo. It has to be really locked in. I now use a hybrid kit which is a mix of the live sound and samples from the record which are triggered by the live drums. So when you hear in the kit up front, you're hearing some of the live kit, but you're also hearing some electronic sounds mixed in with the kit.
John, you've played alongside three very distinctive guitarists – Andy Taylor, Warren Cuccurullo, and now Dom Brown. What's it been like for you to play alongside each of them?
John Taylor: Andy was very creative, and he just landed on top of this thing that Nick, Roger, and I had developed. We'd been working on this theoretical rhythm section – well, it wasn't theoretical, we were actually doing it – and we were firing off sequencers and copying our Chic riffs and developing this vibe. Andy just came in and found his way into what we were doing and took it to another level.
Warren's artistically a very powerful, very deep musician. The period of time that we were with Warren was interesting. The first couple of records we did with Warren we would really direct what we wanted him to do, but I remember going through a period in the '90s where I just stepped back. I didn't have all that much energy for the band at the time, and Warren just rose into this. Probably the greatest thing we did with Warren was "MTV Unplugged." He was really given the task to arrange that, and he did some very, very clever things.
Dom is old school, meaning he takes the guitar very seriously. He's a lead guitarist. I could count the amount of bum notes he's played with us over the years on one hand. He loves to jam. I think that the journey with him really has been convincing him of the [equal] importance of rhythm playing and just getting him to think like Steve Cropper and think like Nile [Rodgers].
In the mid-1980s Simon, Nick, and Roger were in Arcadia, and John and Andy went to Power Station. They represented two driving aesthetics with the band over the years: the atmospheric and at times darker side with the former, and the groove-oriented material with the latter. Duran's "Night Boat" is such an interesting tune because it works in both ways. I don't think some people realize how multifaceted this band is.
Roger Taylor: I think that was overlooked in the early '80s. We had a young female audience that used to come to the gigs and scream for most of the shows. We used to walk out and start with "Is There Something I Should Know?" and as the curtain would rise it would just be a deafening, high-pitched squeal. We really struggled to hear what we were playing, to be honest with you. 
I think people assumed that we were just a teen band that was just releasing these quite poppy singles. There was always what I call the dark side of Duran, and I think it took a few years for people to really appreciate that, that we had another side musically.
Andy loved AC/DC, Nick wanted us to sound like Kraftwerk, John and I wanted to sound like Chic. So we just had this mash of different influences that somehow created something very original. When I listen to "Hungry Like The Wolf," that couldn't be anybody else. Although we were trying to be other people at the time, I think we created something that's very original.
I hear the darker side in a song like "The Chauffeur" from Rio or "Invisible" from Future Past. I also like the dreaminess of Arcadia's "The Promise" a lot.
Roger Taylor: I've gotta say, that [latter song] is one of my favorite piece of musics that I've ever played on. I really love that song, and [Pink Floyd's] Dave Gilmour plays guitar on it. It had Sting on backing vocals. It was an epic song, and I think it's really stood the test of time. 
John, you have mentioned how you felt Simon really matured as a lyricist on The Wedding Album, especially with "Ordinary World" moving into a more personal area.
John Taylor: To some extent, there was a throwing out the baby with the bathwater at the end of the '80s, and Duran were struggling to stay in the game. We took a lot of criticism for the very things that actually made us special. I look back on Simon's lyrics now from the early '80s — lyrics like "Cracks In The Pavement" or "New Moon On Monday" —  and "The Reflex" is as enigmatic a pop song as [Bob Dylan's] "A Hard Rain's Gonna Fall" and very weirdly interesting. Try getting that into the Top 30 today, you just couldn't do it. 
It just felt like there'd been such a shift musically and lyrically by the end of the '80s. We were quite keen to try to bring a greater sense of realism. I was tired of people saying, "What are those lyrics about anyway?" So Simon started experimenting a little bit with feelings, lyrics responding to emotional circumstances. And he reached it with "Ordinary World" and "Come Undone," two of the greatest lyrics of the '90s on the same album. 
When you're making music for as long as we've been making music…you're always questioning where you should be and what you should be doing in relation to your audience. From the '90s onward we had two bags that we could dip into: We had the detached, enigmatic, weird s—, and then we had the emotionally direct [songs]. I think for Simon it really helps when he has a theme.
We have this sandbox, and when we write together we get all excited. We all just set up in a room and start jamming. Simon's jamming on the voice or he might pull in a guitar, and he's got to pick his way through. I'm usually the first one [done]. "I've got the bass line!" Then a month later Nick's got the keyboard parts, and Simon's still trying to make sense of what his vocal sketches mean or what they could mean. And it's really difficult. I always say it's never been easy to make reasonably interesting music. 
2006's Reportage was shelved, but there's a possibility it might be released. From what I understand, the album is a bit more political, which is not typical of Duran Duran. Nick once described it as more of an edgy record. Do you remember recording it?
John Taylor: David Byrne was saying on CNN yesterday — everything's political these days, it doesn't matter what you do. Reportage was realism. That's why we call it Reportage – it felt very much like music that was reflecting stories in the news. 
There was a song on there that Simon had written about the Labour government in the UK, and I remember Nick and he got into a mighty argument about that. Duran Duran lyrics [should have] a fine gauze over the words, in a way. There's got to be a little bit of smoke, a little bit of atmosphere around the words. I think Simon is definitely interested in meeting the challenge of lyric writing, whether that is the perfect love song, a highly obtuse piece of intellectual wordplay, or some song that moves forward a cause of some kind.
John, a few years ago Nick told me that you and he were working on a musical, and it wasn't going to be a traditional musical. How is that coming along?
John Taylor: It's on hold at the moment. It was a really interesting exercise. I feel that we learned a lot in the writing of it – right back to that learning about a theme, learning about writing for characters, writing to move the plot forward. 
It's very likely that it'll see the light of day one day. Not everything has to see the light of day. Sometimes something can be like R&D and be just as important. But getting something like that onto the stage is a big undertaking.
Duran Duran originally peaked during an incredibly decadent time in the music industry when there was a lot of money being spent. Roger, you retired from music for a decade to live a normal life. When you talk to younger musicians who want to know about it, how would you describe that period of the '80s?
Roger Taylor: It was certainly a crazy period, and it was incredibly decadent. The record companies seemed to have endless millions that they'd made through the '70s [and] they were making millions again because they were releasing CDs. I remember going into EMI in Manchester Square in London — the record executives would have grand pianos in their offices and they'd be driving Rolls Royces and Jaguars and they'd be signing a dozen bands a month. 
We were just lucky that we made the next step. Very unusually, we managed to break America which was huge — and not just the edges of America. We broke all across America. It was just a wonderful period of different steps and opportunities that we just took, and everything just went right for us.
Living Legends: After The Turtles, Flo & Eddie & The Mothers Of Invention, Mark Volman Is 'Happy Forever'