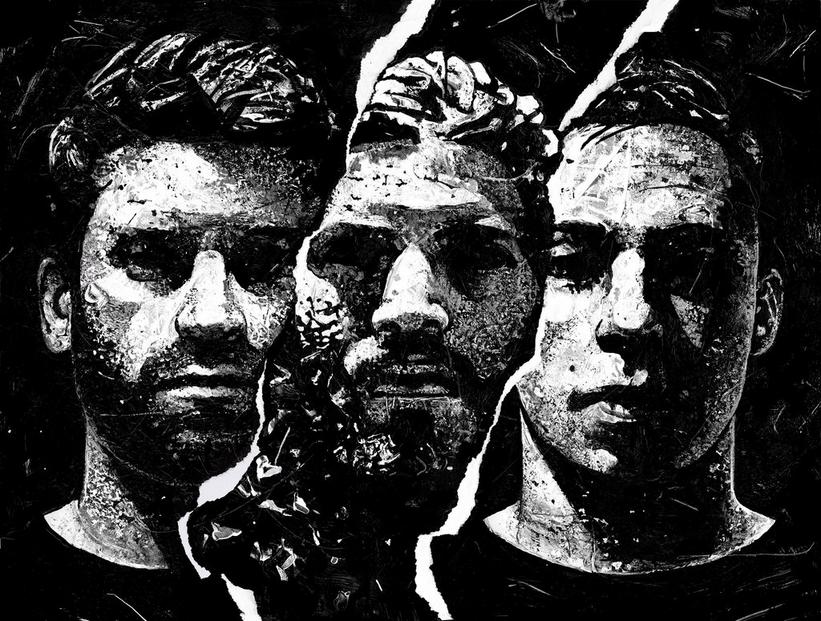 news
ODESZA & Golden Features Explore Duality, Berlin Soundscapes & Creative Boundaries On Collab LP, 'BRONSON'
"The beauty of dance and electronic music is that it's essentially limitless," the DJ/producer trio tells GRAMMY.com
GRAMMYs
/
Aug 10, 2020 - 09:29 pm
GRAMMY-nominated dream-house duo ODESZA, formed by college friends Harrison Mills and Clayton Knight in Washington in 2012, are a beloved music festival staple, with their dreamy beats creating the perfect soundtrack for scenic outdoor venues. Their latest album, BRONSON, a collaborative effort with rising Sydney dark-house producer Golden Features (a.k.a. Tom Stell), explores a completely different soundscape, invoking images of dark Berlin clubs and the sunrises partygoers see as they emerge from another all-nighter.
Together, the trio is known as BRONSON; the collective creative exploration they embarked on in creating the new self-titled album, released today, Aug. 7, results in a hypnotic 40-minute journey.
Released on Ninja Tune and Mills' and Knight's talent-filled imprint Foreign Family Collective, which Stell is also a part of, the 10-track LP explores duality with aptly titled dark, industrial bangers like "KEEP MOVING," "TENSE" and "CONTACT" and pulsating, deep-house numbers like "HEART ATTACK" featuring lau.ra's warm vocals, and "KNOW ME" featuring Gallant's enchanting voice. The final feature comes from British alt-electro act Totally Enormous Extinct Dinosaurs, which closes things out with an epic seven-minute journey towards brighter days.
We caught up with Mills, Knight and Stell to learn more about the new album, some of their key influences and their biggest hope for positive change.
The latest BRONSON single "KEEP MOVING" is pretty dark and industrial, and the music video is wild. Can you give us the backstory/vision for the visual, and how the track came together?
The music video for "KEEP MOVING" definitely has a lot to unpack. On the surface it's jarring and kind of absurd, but there are many different layers in terms of the societal and cultural subtext to it and its underlying message/meaning. So, we really wanted to leave the interpretation of it up to the viewer, much like the album in general.
The song itself was in part inspired by a sample we ended up using in it, which was of a marching army—it's this driving track meant to propel the listener forward and energize them to—for lack of a better way to put it—keep moving. The vocals in the track serve as an inner-dialogue during "battle" when facing an "opponent." whether that be a mental obstacle or a physical one.
Read: Totally Enormous Extinct Dinosaurs Finds Calm During COVID-19 With New EP Featuring Birds
And with "DAWN," you and Totally Enormous Extinct Dinosaurs take the listener on an epic seven-minute journey towards brighter days. What was the creative process like on this collab? In what ways did this track challenge the ways each of you approach making a track, and what did you learn from it?
Working with T.E.E.D. was such a pleasure—he's a massively talented artist, both as a vocalist and as a producer. "DAWN" was the last song we wrote on the album. When we met up [with him] for the first time in L.A., we showed him a couple of the already finished tracks and discussed the themes and concepts around the album. Within 30 minutes of him sitting with the demo, he was able to put together a couple of really powerful lyrical ideas and melodies that fit perfectly with the working track. We then laid down the vocal pieces and ended up writing and recording almost all of the vocal elements in a four-hour window.
We find that some of our favorite tracks are done this way because it doesn't allow us to overthink and complicate the initial ideas which usually turn out to be the strongest. As we finished the track, we found it was a perfect way to sum up the album, hence the track placement.
Berry, Aus., where the trio spent a week completing the LP | Photo: courtesy of artist
Can you speak a bit more to the theme of darkness and light that you explore on the BRONSON album as a whole? How did the concept develop or shift as you spent more time on the project?
The album is really centered around this concept of duality—of the contrasting elements that balance one another in life. We wanted to explore that in terms of the sonic depth of the album; for example, you'll hear these uplifting, light (almost spiritual), moments in "DAWN" but also these intense instrumentals and driving elements, like in "TENSE." The project as a whole was an exercise in pushing our creative boundaries and allowing ourselves to take risks. We wanted to push the limits of what we could do, yet still create something that made sense as a cohesive body of work.
Your FOUNDATION playlist Spotify is filled gems from across the underground electronic spectrum. Can you speak to some of the artists and scenes that have inspired the BRONSON project?
There are so many incredible artists that have inspired us along the way and influenced this project. We wrote the album over a really long period of time (years), so there were so many different evolutions of the album from start to finish. It's definitely rooted in a darker European sound that we have found ourselves really being drawn to over the years. The whole goal of the project was to create something that felt new and exciting to us. We kind of just let whatever happen, happen during the writing process instead of setting out to create a specific sound or genre-based album. In that process, we found that we were making something that didn't fit in either of our respective projects, something that took on a life of its own.
Listen Up: Gene Farris Talks "Space Girl," Rave Safety & The Return Of The "Bedroom DJ"
What do you believe is the essence of dance music? What makes a great dance track?
The beauty of dance and electronic music is that it's essentially limitless. You have the freedom and ability to combine and work with virtually any genre or any sound you want and build something completely fresh and new. It's quite a freeing environment to work in. One that doesn't have borders or prerequisites. We think this is what makes it so accessible to so many people around the world and in turn gives the scene its underlying power.
"The beauty of dance and electronic music is that it's essentially limitless. You have the freedom and ability to combine and work with virtually any genre or any sound you want and build something completely fresh and new."
Who are the artists that got you interested in electronic music? And when did each of you first start producing electronic music yourself?
Mills & Knight: We started producing around the same time in college and were really drawn to a lot of the more left-of-center electronic music being made around the time. We're big fans of Boards of Canada, Four Tet, Radiohead—the list goes on.
Stell: I discovered electronic music through sneaking into music festivals in the late-2000s. I was lucky enough to be exposed to acts like The Chemical Brothers, Justice and The Presets almost immediately. This lit a fuse and I was making music within months.
This year has been a difficult one, yet one filled with important calls for change. What is the biggest thing you've learned from 2020 so far, and what is your biggest hope for positive change in the coming years?
This year has been so difficult and challenging. We're all just really trying to process the weight of it. The veil has been pulled back on so many global issues that have come to a head during this period, most pointedly regarding racism and the gross inequities of our society. We're in an unparalleled state of crisis and want to fully comprehend the gravity and magnitude of it.
We're trying to listen, reflect and learn, but also be very conscious of our own complicity in this broken system and, moreover, create space for unheard voices. We recognize that we're in a unique spot with our platform and with that comes a great amount of responsibility, so we're trying to navigate that with full awareness.
Cassian Talks Debut LP 'Laps,' Attending His First GRAMMYs & Staying Calm In Quarantine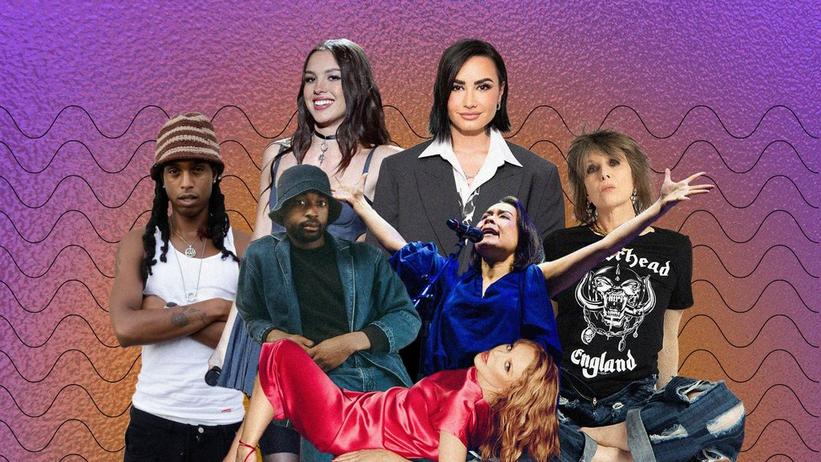 (Clockwise) Bakar, Olivia Rodrigo, Demi Lovato, Chrissie Hynde, Jalen Ngonda, Kylie Minogue, Mitski
Photos: Antoine Flament/Getty Images; Amy Sussman/WireImage; Santiago Felipe/GettyImages; Ki Price; Rosie Cohe; Edward Cooke; Mauricio Santana/Getty Images
list
15 Must-Hear Albums This September: Olivia Rodrigo, Kylie Minogue, James Blake & More
Get your fall playlist ready. From pop blockbusters to the return of rock icons, check out 15 genre-spanning albums dropping in September.
GRAMMYs
/
Sep 1, 2023 - 01:18 pm
With summer almost in the rear view, it's time to welcome the first must-hear albums of the fall season. With the onset of chillier days comes a genre-spanning array of new music — from R&B sensation Jorja Smith to indie-rock maestro Mitski. 
September's first big release comes from rock royalty the Pretenders, who return at the top of the month with their twelfth studio album, Relentless. The following week, pop firebrand Olivia Rodrigo will reveal GUTS, the feverishly anticipated follow-up to her 2021 debut, SOUR. 
Rodrigo shares a release date with star-studded company, including disco queen Róisín Murphy, dance veterans the Chemical Brothers, shapeshifting singer/songwriter James Blake, and soul newcomer Jalen Ngonda. Elsewhere in the month, there's something for all tastes, from the pop-rock reawakening of Demi Lovato to the noodly electronics of Animal Collective.
As we gear up for a season packed with musical highs, we've put together a handy guide to the 15 must-hear albums dropping in September 2023.
The Pretenders - 
Relentless
Release date: Sept. 1
For a band that released its debut album in 1979, the Pretenders still sounds remarkably vital 44 years on. Led by iconic songwriter and frontwoman Chrissie Hynde, the band is back in full force this September with the appropriately titled Relentless, which follows 2020's on-form Hate for Sale. 
The Pretenders announced their twelfth LP with a rousing-yet-poetic lead single, "Let the Sun Come In," and the album closes with an intriguing collaboration with Radiohead's Jonny Greenwood on strings. 
"I think anyone in a band is constantly questioning if they should keep going," Hynde said of the album's title in a statement. "It starts as a youthful pursuit and eventually, it makes you wonder, why am I doing this? It's the life of the artist. You never retire. You become relentless."
Speedy Ortiz -
Rabbit Rabbit
Release date: Sept. 1
Philadelphia rock quartet Speedy Ortiz has kept fans waiting five long years for a new LP, having released their pop-inflected Twerp Verse back in 2018. This September, the band returns with Rabbit Rabbit, its first album on mercurial frontwoman Sadie Dupuis' label, Wax Nine. 
To record Rabbit Rabbit, Speedy Ortiz jumped between two locations steeped in rock lore: Rancho de la Luna in Joshua Tree and Sonic Ranch in Tornillo, Texas. The band has already shared a few songs so far, including the spiky "You S02" and the crunching, cathartic closer "Ghostwriter." The album also opens with a song called "Kim Cattrall."
"I turned 33 while writing this album, a palindrome birthday and a lucky number associated with knowledge," Dupuis said in a statement. "I wanted to mark how I was making better choices as I got older, letting go of heedless anger even when it's warranted."
Olivia Rodrigo - 

GUTS
Release date: Sept. 8 
As far as breakout albums go, Olivia Rodrigo's SOUR was about as good as it gets. Powered by the stage-setting singles "drivers license" and "deja vu," the album dropped in May 2021 as a balm for dark pandemic days. Coming in at a lean 34 minutes, SOUR was all killer, no filler— and went on to pick up Best Pop Vocal Album at the 2022 GRAMMYs, alongside Rodrigo's wins for Best Pop Solo Performance ("drivers license") and Best New Artist. 
With Rodrigo now a bona fide pop superstar, she's readying her second album, GUTS, for a buzzy September drop. Lead single "vampire" arrived back in June with a lush, swelling sound (producer Dan Nigro makes several appearances on GUTS) and score-settling lyrics that cut like a knife. Rodrigo followed this strong return with "bad idea right?," a gleefully fun throwback to the pop-punk and grunge that soundtracked her teens.
In an interview with the New York Times ahead of GUTS, Rodrigo enthused about embracing crunchy guitars and big emotional swings: "\[I\] always loved rock music, and always wanted to find a way that I could make it feel like me, and make it feel feminine and still telling a story and having something to say that's vulnerable and intimate."
James Blake -
Playing Robots In Heaven
Release date: Sept. 8 
Following 2021's acclaimed Friends That Break Your Heart, which featured guest turns from the likes of SZA, JID and Monica Martin, James Blake is stripping it back to basics on his sixth studio album, Playing Robots Into Heaven. 
This time around, the etherally-voiced singer has seemingly gone back to the electronic roots of his earlier works that emerged as part of the UK's post-dubstep scene. 
With no featured guests, the tracklist includes the already-released singles "Big Hammer," which is all chopped-up samples and low-end frequencies, and "Loading," which recalls the vocal manipulations of the producer's self-titled debut LP. Blake also shared the ambient title track, which will close the album in perfect contemplation. 
Jalen Ngonda -
Come Around and Love Me
Release date: Sept. 8
Growing up outside of Washington, D.C., Jalen Ngonda was immersed from an early age in soul music, courtesy of his music-obsessed father. Fast forward to 2023, and Ngonda is himself a talented soul artist signed to the revered Brooklyn indie label Daptone Records. 
The singer's debut album, Come Around and Love Me, features lushly arranged singles "If You Don't Want My Love" and "Just Like You Used To," which showcase his timeless vocal prowess.
In a statement announcing the album, Ngonda revealed, "To a stranger, I'd describe my music as modern soul and R&B, while trying to fit in the Beach Boys and the Beatles somewhere in between."  
The Chemical Brothers -
For That Beautiful Feeling
Release date: Sept. 8
On their ninth album, 2019's No Geography, UK electronic duo the Chemical Brothers sounded thrillingly energized. Now, after weathering a global pandemic, the veteran producers return with their tenth studio outing, For That Beautiful Feeling. 
The album features a new version of the duo's cautiously hopeful 2021 release, "The Darkness That You Fear," alongside the propulsive, classically-Chems single, "No Reason," and collaborations with indie darling Beck and French singer/songwriter Halo Maud. 
The duo is set to follow the album in October with a career-spanning retrospective book, Paused in Cosmic Reflection, that'll have fans clamoring. 
Demi Lovato -
REVAMPED
Release date: Sept. 15
Already an experienced master of reinvention, Demi Lovato is continuing her rock era with REVAMPED 5. On last year's Holy Fvck, the pop chameleon wholeheartedly embraced hard rock and pop-punk, including collaborations with Yungblud, Royal & the Serpent and Dead Sara. 
While touring Holy Fvck, Lovato also played heavier versions of her earlier songs, and discovered her fans loved it. This inspired her to re-record rock versions of ten songs from past albums, including Demi and Confident, which are now brought together on REVAMPED. 
On the evidence of early singles like "Heart Attack (Rock Version)" and "Sorry Not Sorry (Rock Version)", the latter featuring Guns N Roses shredder Slash, Lovato is relishing the chance to rock out. 
Mitski - 
The Land Is Inhospitable and So Are We
Release date: Sept. 15
Back in July, ever-inventive singer-songwriter Mitski sent a voice memo to fans via her newsletter. "Hi, this is Mitski, and I'm at Bomb Shelter Studios in Nashville, where we recorded my new album that's coming out," Mitski revealed. "It's called The Land Is Inhospitable and So Are We, and its first single is coming out on Wednesday." 
That beautifully elegiac first single "Bug Like An Angel" suggests a heart-rending album to come from one of the boldest voices in indie-rock. The single also features a surprising (and powerfully effective) appearance from a 17-person choir that's likely to appear elsewhere on The Land Is Inhospitable and So Are We. As Mitski teased in a statement, "This is my most American album." 
NEEDTOBREATHE -
CAVES 
Release date: Sept. 15 
Following 2021's Into The Mystery and its country-rock crossover hit, "I Wanna Remember," featuring Carrie Underwood, Christian rock troupe NEEDTOBREATHE returns with their ninth album, CAVES. 
As documented in an intimate making-of video, the GRAMMY-winning band assembled in a house overlooking the majestic mountains of Utah to begin writing the album, which they completed while on the road with OneRepublic. 
"We always believed we could make a record that would feel at home on the world's biggest stages," the band wrote in a statement announcing CAVES. "It was important to us to prove that we could. This is the most ambitious record we've made in a really long time."
Kylie Minogue -
Tension
Release date: Sept. 22
Thanks to the runaway viral success of her dance-pop earworm "Padam Padam," 2023 has already been a triumphant year for Australian pop veteran Kylie Minogue. Released in May, the single went on to vie for song of the summer status, powered by countless dance videos on TikTok and its warm embrace as a Pride anthem. 
Buoyed by her surprise chart hit, Minogue will release her sixteenth studio album, Tension. As suggested by the glossy cover art, and the presence of producers such as Oliver Heldens and Biff Stannard, Minogue is ready to reclaim her electro-pop crown. 
"I started this album with an open mind and a blank page," Minogue said in a statement. "Unlike my last two albums, there wasn't a 'theme.' It was about finding the heart or the fun or the fantasy of that moment and always trying to service the song." 
Bakar -
Halo
Release date: Sept. 22
Acclaimed British artist Bakar will help kick off the month in style with his second album, Halo. The sophomore release is billed as a sonic counterpart to his genre-hopping 2018 mixtape, BADKID. Like that breakout release, Halo is set to blend indie, punk and hip-hop, with Bakar's beguiling voice at front and center. 
Ahead of a busy summer jumping between festival stages, Bakar dropped a mood-lifting single, "Alive!," accompanied by a music video featuring the artist bringing traffic to a standstill (for real) in Central London. 
Animal Collective -
Isn't It Now?
Release date: Sept. 29
Following 2022's Time Skiffs, experimental pop four-piece Animal Collective returns with its most expansive album to date. With a total runtime of 64 minutes, Isn't It Now? will explore a rich sonic palette, as suggested by the layered and hypnotic single, "Soul Capturer."
Co-produced, mixed and recorded with GRAMMY-winning producer Russell Elevado, Isn't It Now? reportedly finds each band member digging deep into their current musical whims — such as multi-instrumentalist Panda Bear focusing more on drumming. 
The centerpiece of the album is "Defeat," a 22-minute epic that captures Animal Collective at its most exploratory. 
Jorja Smith -  
Falling or Flying
Release date: Sept. 29
As one of the brightest stars to emerge from the UK in the past decade, Jorja Smith has already put together an accomplished discography. Following her 2018 debut, Lost & Found, and 2021's three-track EP, Be Right Back, Smith will release her most complete artistic statement to date. 
Like her previous releases, the singer's long-awaited second album, Falling or Flying, will connect the dots between soul, R&B, UK garage and house, with a song for every mood and situation. 
"This album is like my brain," Smith said in a statement. "There's always so much going on but each song is definitely a standstill moment." So far, Smith has given us two standout singles — the garage-tinged "Little Things" and the more contemplative "Try Me" — so anticipation is sky high. 
TINASHE - 
BB/ANG3L
Release date: TBD 
While it's yet to lock an official release date, the hype is building for Tinashe's sixth studio album, BB/ANG3L — her first under a new deal with GRAMMY-winning hitmaker Ricky Reed's record label, Nice Life. 
"I've enjoyed stripping back layers of aesthetic fluff, smoke & mirrors, and white noise to get down to the core of myself," the alternative R&B star said of the album in a statement. 
On lead single, "Talk to Me Nice," Tinashe's indelible smoky vocals are offset by skittering, seductive production from hip-hop beatmaker Scoop DeVille and electronic artist Nosaj Thing. Follow-up single "Needs" is another undeniable bop, setting the stage for a standout album.
(G)I-DLE -
HEAT
Release date: Oct. 15
Prolific K-pop girl group (G)I-DLE is set to release its first English language project, HEAT. 
HEAT follows the group's 2022 debut album, I Never Die, which opens with the pop-punk-influenced single, "TOMBOY." While little has been revealed about HEAT, the project comes via the Asian market-focused U.S. music company 88rising and South Korean label Cube Entertainment, and will showcase the songwriting prowess of group leader Jeon So-yeon. 
(G)I-DLE has released one single from HEAT so far — the highly polished synth-pop love song, "I DO" — and the anticipation has K-pop fans feeling giddy.
50 Artists Who Changed Rap: Jay-Z, The Notorious B.I.G., Dr. Dre, Nicki Minaj, Kendrick Lamar, Eminem & More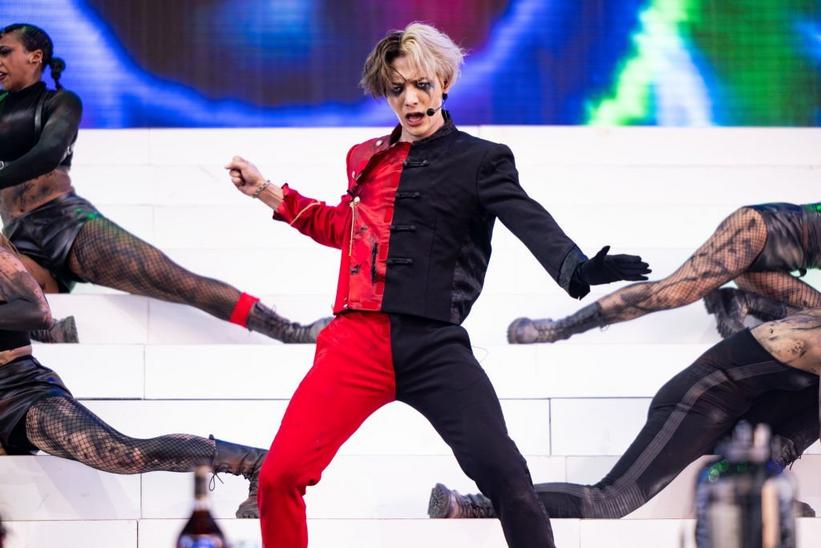 Singer Jackson Wang performs during the 2023 Coachella Valley Music and Arts Festival
Photo: Scott Dudelson/Getty Images for Coachella
list
Get To Know 5 Asian Artists Taking Center Stage At 2023 Festivals
From Jackson Wang's historic Coachella set to NoSo's marvelous Kilby Block Party debut, here are 5 artists of Asian heritage performing at popular music festivals this year.
GRAMMYs
/
May 22, 2023 - 01:18 pm
Festival season is upon us and among the many names in those occasionally hard-to-read lineup posters, artists of Asian heritage have been rising to headliner status.
BLACKPINK might be first to come to mind: the South Korean group dropped jaws with their revolutionary Coachella performance, becoming the first K-pop group to headline the massive spring festival. From NewJeans to TOMORROW X TOGETHER to aespa making appearances at festivals later this August, K-pop in particular has continued to take the festival circuit by storm.
Indie, rock and EDM stars of Asian heritage are also making their mark on festival stages this year. Four Tet turned Coachella upside down alongside Skrillex and Fred again.., and Beabadoobee will take on Lollapalooza Chicago, Outside Lands, and All Things Go, all after opening for Taylor Swift on her Eras Tour and headlining her own EU tour.
From mainstays like NIKI and Raveena to rising stars like Yaeji and Wallice, festival lineups are bursting with talent this year. In honor of AAPI month, here are five Asian artists bringing their striking performances to major festival stages this year.
spill tab
Although spill tab makes bedroom pop, her music was destined for festival stages.
Born Claire Chicha, the breakout French Korean singer/songwriter  shapes her introspections into ambitious alternative pop. Swimming through layered vocals and electropop tinges, the artist knows how to transform her dreamy reflections into eye-catching performances.
After playing Austin City Limits last fall, Chicha graced the stage at Kilby Block Party in Utah this spring. Having already opened for everyone from Wallows to Sabrina Carpenter, spill tab knows the stage like the back of her hand.
The Rose
The Rose is making their Lollapalooza Chicago debut this August, but the K-pop four-piece have been festival-ready since their mainstream debut in 2017.
Newly under the management of label Far East Movement, The Rose is known for their escalating soft-rock ballads like "She's In The Rain" and "sorry." Able to switch from electric to acoustic with ease, the group's versatility translates into a bright, contagious energy meant for festival stages.
NoSo
Marked by poignance and soft guitar, NoSo's performances fill a venue with comfort. Just a few months after performing for NPR's popular Tiny Desk Concert series, NoSo put on an emotionally enlightening show at Kilby Block Party.
The Korean American artist, who also identifies as nonbinary and transgender, released their debut Stay Proud of Me in 2022. The album tells stories centering around their racial and gender identity, offering a serenity akin to a healing force.
Jackson Wang
Hailing from Hong Kong, Jackson Wang made waves at Coachella as the first Chinese solo artist invited to perform at the festival. Bringing out Ciara to perform their sultry R&B collaboration "Slow," the singer-rapper proved he's full of surprises.
Previously part of the K-pop group GOT7, Wang's massive platform is only continuing to grow. His smooth, breathy voice molds to every genre from pop to rap, and his spectacular Coachella performance highlighted how his shining stage presence will only continue to mesmerize audiences.
Tanukichan
After a long dusty day of stomping around festival grounds, Tanukichan's refreshing set can help you recharge.
Born Hannah van Loon, the San Francisco-based indie rock star balances warmth and grit perfectly, individualizing her own sound after four years in the pop band Trails and Ways. Just a few months before her Kilby Block Party debut, she released her dynamic album GIZMO, which followed her 2018 Toro y Moi-produced debut and tour support for Kero Kero Bonito.
TXT, Blackpink, Aespa & More: Here Are All The K-Pop Tours And Events You Can Catch This Summer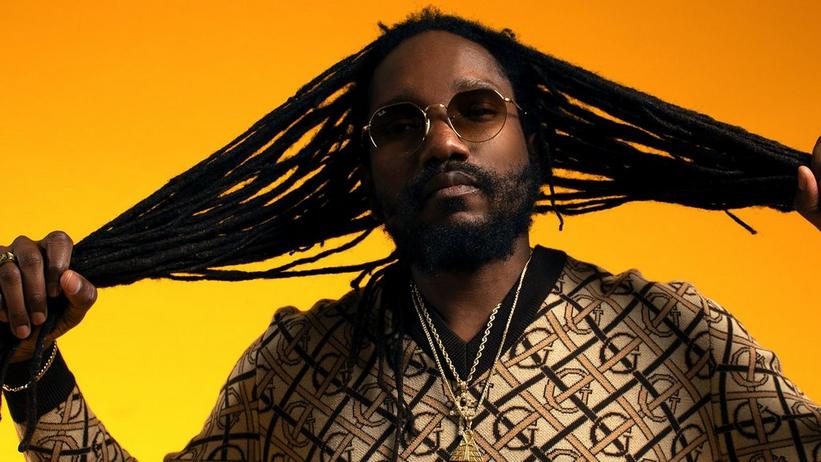 First-Time GRAMMY Nominee Kabaka Pyramid
Photo courtesy of the artist
interview
Meet The First-Time GRAMMY Nominee: Kabaka Pyramid On Embracing His Voice & The Bold Future Of Reggae
Kingston-born reggae star Kabaka Pyramid is one of a handful of artists bringing positivity back into the genre. His messages of consciousness are more powerful than ever on his third album, 'The Kalling' — and now, he's a GRAMMY nominee because of it.
GRAMMYs
/
Jan 11, 2023 - 08:27 pm
Kabaka Pyramid answers to a higher power — and his third album, fittingly titled The Kalling, is a testament to his beliefs.
The Kingston-born rapper, singer and producer is one of a handful of artists bringing positivity back into reggae, often channeling the empowered, political, and spiritual vibes of  roots artists. Kabaka Pyramid is often labeled a "reggae revivalist" for this reason, but The Kalling manages to be both classic and incredibly of the moment. And while his previous albums Victory Rock and Kontraband are testaments of lyrical and genre-blending prowess, Kabaka's latest is a notable ascension.
One of five nominees for Best Reggae Album at the 65th GRAMMY Awards, The Kalling showcases Kabaka's passion for using hip-hop, soul and dancehall to iterate on the sound of conscious reggae. The record also overflows with messages of growth, contemplation of addiction, and gratitude — an antidote to some of the more crude attitudes present in Kabaka's favorite genres.
"The older I got, the more I felt responsible to represent myself in a certain way," Kabaka tells GRAMMY.com from his home in Miami. "I wanted to inspire, like how artists like Sizzla and Damian Marley inspired me. I wanted to have a similar effect, and I knew I needed to put out positive music to do that."
Kabaka called upon his community to achieve this vision. The Kalling was produced by the reggae scion also known as Jr Gong, and features the late icon Peter Tosh in addition to Buju Banton, Jesse Royal and fellow 2023 nominee Protoje. Together, they created an album that pulls from contemporary pop, rap and '80s era reggae, with songs that are meditative ("Stand Up"),  club-ready ("Energy" and "Mystik Man"), and fit for a kickback ("Mary Jane").
Ahead of the 2023 GRAMMYs, the first-time nominee spoke to GRAMMY.com about inspiring higher vibrations through music and action.
Was the GRAMMY nomination a milestone you were working towards, or one that caught you by surprise?
I was shouting, screaming, everything; a couple tears of joy. I'm probably the only person on my team and label that it kind of caught by surprise. I just always thought that the GRAMMY was just this huge thing and something that is best if I don't think about it too much, because I feel like that can lead to disappointment.
So I was just more focused on putting in the work and really representing myself with the music, and then let the awards come. But it's definitely a huge achievement for me. I wouldn't have dreamed of it when I was back in high school, but here I am now, so I have to give thanks.
It's cool to reflect on how far you've come — like, man, I'm living out my dreams from high school or dreams you didn't even know you had.
I'm 37 now, so it's been a 20-year journey since I first started to pencil down some lyrics. And most people start super early, whether they're in the church, or in the choir, or whatever it is. Or they come from a musical family, so they watch their parents do it or whatever. But for me, it wasn't that.
I always loved music, particularly hip-hop and dancehall. So I was just inspired by music, but I never thought of it as something I'd actually be doing until around 17, 18. That's when I realized that I have a talent for actually writing lyrics. And from then it was just working on my voice. A lot of self recording at home, home studios over the years, different places.
Tell me a bit about the creation of the album; what was going on in your life at that time?
The recording and writing and stuff was mostly throughout the pandemic. For the first few months, I was in Jamaica; Damien was sending me beats that he was working on from his studio in Miami. And eventually, I flew up and we started just going at it together in studio and from just jam sessions with me, him and his musicians, just coming up with ideas from scratch.
There were some conversations about what we want to do differently from the last album and what kind of song we wanted to go for, what kind of vibe. We wanted some traditional reggae, we wanted some hip-hop vibes in it, wanted to sample some classic reggae records as well as some soulful stuff. "Grateful" was a soul record that was sampled, and of course, "Mystik Man" [featuring] Peter Tosh is originally "Fade Away" by Junior Byles, a classic reggae record too.
Over two years, it just slowly but surely started to shape itself. We did "The Kalling" and Protoje and Jesse came to studio while Stephen [Marley] was recording, and they ended up dropping their verses that night. And I knew from that night that this would end up being the title track for the album. And we just kind of themed the whole album around "The Kalling." Having a higher calling, a higher purpose to the music, tying it into the teachings of Rastafari and what it means to me. It was just a beautiful process.
What do those Rastafari teachings mean to you and how are they presented on this album?
For me, Rastafari is first and foremost about knowing where you come from, seeing yourself as royalty, as kings and queens — especially for Black people who have been through slavery and coming to the West by force. So it's really a reconnection to Africa, but it applies to anybody that wants to reconnect with who they are, where they're from, and their identity.
We practice a vegan diet, ital, and man and woman relationships — being wholesome, the family unit. These are all Rastafari is and is coming from his Imperial Majesty, the emperor of Ethiopia. Ethiopia being the country that was never colonized in Africa, that really maintained their identity. That's really where Rastafari culture and expression stems from.
This record also has a lot of messaging around being aware of yourself and your addictions, and things that you're doing in your daily life that might not be so healthy. Was that something that you've been thinking about for a long time, or was it something that came to you during this production process?
As Rasta, we reason about these things all the time. It's all about looking at how we live, what's our mentality towards life. And a song like "Addiction" just came out of countless reasonings about social media, about our phones, about the radiation and our phones give off. I don't sleep with my phone near me because I wake up with headaches.
I felt like that song was so important because with the pandemic, we're taught to social distance, we're taught to stay inside and we just turned to our phones and our devices. So we're even more technologically oriented now after the pandemic than even before. It's kind of continuing from a song I did from Kontrabrand called "Everywhere I Go."
The Kalling is much more centered in traditional reggae, though "Energy" is sort of pop and R&B, and the opening track from your last record is a pop tune. Yet you're branded as this revival reggae artist. What are your thoughts on that?
The whole revival thing came about in like 2011, 2012 when my first reggae project came out; Protoje's album was out, Chronixx [had] transitioned from being a producer/songwriter to being a recording artist, and he took Jamaica by storm. We started going to Europe with our bands, and I think that is what really cemented the whole idea of a revival, because …there was kind of a dying down of Jamaicans coming with their bands. And you had [Jamaican artists using] these backing bands that were local in Europe because it was more economical. And then a lot of artists couldn't travel anymore because of what I consider their freedom of speech being questioned and violated. So you had a lot of key artists that couldn't travel.
So because of that, when we came on the scene, it was very refreshing for people to see these young acts in their 20s coming with their bands and sacrificing where we could have made more money if we went with backing bands, or with track shows or whatever. And then not only that though, we were sampling Black Uhuru records and Sly and Robbie bass lines, and drum and bass.
If you check my song "Revival," "Here Comes Trouble" [by] Chronixx, and Protoje's "Kingston Be Wise," all of these tracks kind of brought back an '80s vibe. And then when we translate them on stage with the bands, people felt like it was a revival of the '70s and '80s.
Musically we definitely fuse a lot of the sounds. There's modern elements, there's hip-hop elements, R&B, pop elements to it too, because we're all influenced by that. We're in an era where artists kind of have more creative control with their sound — it's not like you just go to one producer that has one sound. We can call on different producers, we produce ourselves and the stuff that we are influenced by, that's what we try and recreate.
So it's partially a revival of sound but also a revival of style and performance.
Definitely.
Are there any tracks on The Kalling that you're particularly proud of?
"Mystik Man," I'm really proud of that, especially with the whole Peter Tosh family behind the song. We were able to list it officially as featuring Peter Tosh, so I have a song with one of my idols. Overall, his life, what he represents, his mission — him and Sizzla are right up there in terms of who inspire me the most. "Addiction" from a songwriting perspective, I'm really proud of that one.
I'm proud of the fact that I stuck to my roots. When I was early in my career, I couldn't sing to save my life; rapping was easier for me to do. I was working on my reggae, but I wouldn't let anybody hear those songs. So doing a song like "Kontraband pt. 2" where I'm rapping with this Jamaican accent, [or] "Mystik Man," — being able to represent that and still maintain my identity as a Jamaican [and] as a reggae artist, and to get nominated, is a great achievement for me.
I read in Dancehall Magazine that you think that the subject of a lot of Jamaican music is holding artists back. How did you try to combat that notion on The Kalling?
I think my music is naturally more wholesome. It's more readily accessible to older and the young. Maybe it can be a bit too deep for some people, but just generally speaking, I don't put a bunch of slack lyrics or derogatory lyrics to women or violence, gun violence. And that's kind of typical for Jamaican music. But I feel these younger artists are kind of pushing the limits of it. There's a lot of talk about drug use now in songs, and scamming, and all of them kind of things.
I've seen artists that are on the verge of breaking into mainstream do collaborations with other mainstream acts, but then it's just crazy curse words in the song and super derogatory lyrics. I could see somebody at a radio station like, "no, I can't playlist this because it's too difficult." Especially, being an international artist. So it's trying not to shoot ourselves in the foot by having too extreme lyrics.
How did you meet Damien Marley and what did he bring to this project?
I met him at the Bob Marley Museum, I think it was around 2013. He was shooting some videos with Nas for Distant Relatives.
The first time working with him, he sent me a riddim that he wanted to do a juggling [on]. It was originally a Wayne Marshall record, but he wanted to voice some other artists on it and Chronixx, Juliann Marley, others are on it too. I wrote the song "Well Done" on it, and we all loved the song. I was there when the song was being mixed and prepared, and that's when we really bonded, and we started to just hold our vibe, reason about music.
We played football at the field at his house. And it just felt like a brother kind of relationship from early. He's like a mentor to me; I ask him advice and everything musically. And just being with him, I learned so much about sharpening up my songwriting skills and making my lyrics more potent and more absorbable for people. From there, we just grew to the point where we had a discussion about doing two albums at minimum, and we did Kontrabrand.
He produced five of the tracks [on The Kalling], but it was all put together in his studio, [and] he executive produced the project. I wanted to give him the chance of doing a whole entire album. I felt like there was enough versatility with his production style to do it. I think he really did an excellent job. It's almost like it doesn't make sense to not do an album with him anymore.
Is there somebody who gave you props about this record that were really meaningful?
I just got a very long voicemail from Pressure Buss Pipe, who is an artist I'm really inspired by. He was telling me how much I stepped up with this album, and I'm just in the right gear now. It was really a heartfelt voice note. He's somebody that I listen to a lot, and his vocal ability inspires me, and his songwriting. I have five, six, maybe seven songs with him too.
I should say Protoje was one of the first people to call me when I got nominated. And obviously, I congratulated him as well. And even how excited Damian is [means a lot], because he's not somebody that gets excited very easy. There's not many others who can impress you more than Damian Marley, you know what I mean?
Why did you want to feature Protoje on The Kalling and, together, what are you guys showcasing about contemporary Jamaican music?
Protoje is somebody I always want to collaborate with. He was instrumental in the start of my career; most of [my 2011 EP] Rebel Music was recorded at his home studio. About four of the beats were beats that he gave me and from other producers. Europe knew about me because Protoje kind of helped me to get my name out there. And I respect him so much.
We're all about innovation. I think Protoje's [nominated] album is super cool. The intro and "Family" and "Hills" kind of go back to his original, more hip-hop flavor. Both of us have evolved so much vocally; I love the vocal tones that he experimented with on his album. And sonically, he's always pushing the genre further and I really appreciate that about him. And similar with me, there's so much versatility around the album, but still rooted in reggae.
The two of you are nominated in a category that has a next generation artist and very established musicians. How do these nominees reflect the state of reggae?
It means a lot for everybody now because of who won last year. Big up to SOJA; I really think they put in a lot of work in this music industry, especially in the U.S. And they unified the whole U.S. reggae industry on their album; they featured all of the major acts in the U.S. and I really think it was effective.
But people see it and say, "Oh, reggae is being taken away from Jamaica" and there was a lot of backlash for that. Based on that, it's very refreshing to see an all-Jamaican lineup of artists; artists that have done so much for the industry who have been on the frontline internationally, who put out wholesome music too. It's not like any real slackness is being represented.
I would hope that this lineup of artists inspires the younger generation that you can do music without all of the negativity and it can reach the highest level. It's not that the U.S. is greater than any other nation, but it's our biggest market for the music. So to be recognized within the U.S. with this GRAMMY Award is tremendous, and everybody feels it and appreciates it.
There's so much versatility represented: Shaggy, did a Frank Sinatra cover album. Sean Paul is modern dancehall pop. Koffee is kind of similar, but there's so much fusion going on there and she's so lyrical and so young and, just blowing up all over the place. Me and Protoje are kind of in a similar bracket. It's an interesting group.
Speaking of the next generation, who or what are you listening to these days that's giving you life? Anybody you want to big up?
There's a bunch of artists, Medicine, who actually did some songwriting on my album. Irie Soldier, Nattali Rize, Runkus, Royal Blue, Blvk H3ro, Imeru Tefari, Five Star. There's a bunch of artists out there that's doing good music, and I'm always here to support them and want to do some more production with them as well. The future is bright, for sure.
Meet The First-Time GRAMMY Nominee: Cimafunk On Creating The New Sound Of Cuba & Redefining Latin Alternative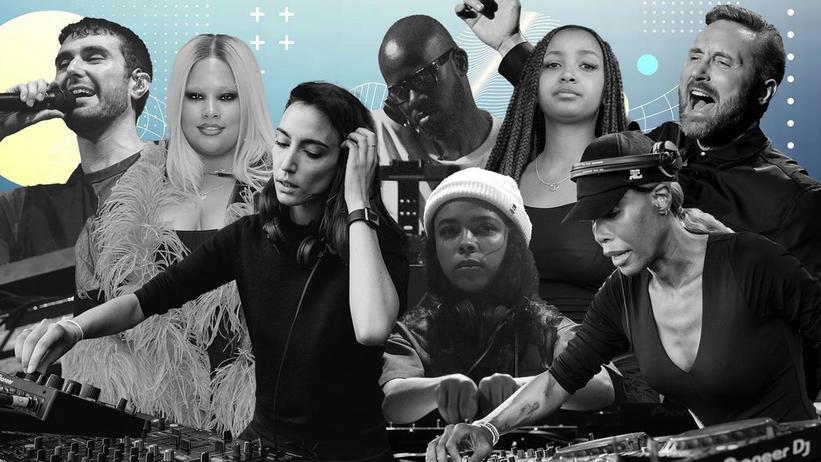 (L-R) Fred again.., Shygirl, Amelie Lens, Black Coffee, TSHA, PinkPantheress, Honey Dijon, David Guetta
Photo: (L-R) Frank Hoensch/Redferns, David M. Benett/Dave Benett/Getty Images, Pablo Gallardo Sanchez/Redferns, Michael Tullberg/Getty Images, Joseph Okpako/WireImage, David Wolff-Patrick/Getty Images, Pablo Gallardo/Redferns, Andreas Rentz/Getty Images for MTV
list
2022 In Review: 8 Trends That Defined Dance Music
Dance music was resurgent in 2022, bringing an explosion of energy from underground names and top-line stars alike.
GRAMMYs
/
Dec 23, 2022 - 04:58 pm
The dance/electronic genre runs wide and deep, encompassing a myriad of subgenres, artists, labels and fan cultures. By any definition, 2022 was a landmark year for the genre, as clubs and festivals returned more energized than ever and a wide spectrum of artists embraced dance music's spirit of collective release.
This year, Beyoncé and Drake turned to house music to inspire their respective albums, spotlighting several dance-music stars like Honey Dijon, Black Coffee, &ME and Rampa as collaborators. There was also a dizzying array of new music within the genre, including years-in-the-making albums from the likes of Flume and Bonobo and innumerable DJ sets loaded with unreleased tracks (or IDs, to EDM-heads).
The genre also thrived in the live sphere, with several dance festivals returning to their pre-pandemic status quo and many stars hitting the road for headline tours, including ODESZA and RÜFÜS DU SOL. In a genre that defies easy categorization, the outpouring of creativity was undeniable. Below, find eight trends that bubbled up in dance/electronic this year, setting the tone for 2023.
House Infused Pop
In a moment of cosmic alignment, two of music's biggest names found their 2022 muse in dance music. Beyoncé went all-in on house, disco and ballroom on her long awaited seventh studio album, which paid thrilling homage to dance music's Black and queer roots. In an all-star cast of collaborators, the singer found a kindred spirit in Chicago house veteran Honey Dijon, who brought her jacking energy to album cuts "Alien Superstar" and "Cozy."
Meanwhile, Drake's Honestly, Nevermind coasted breezy house and Baltimore club beats, with input from the likes of South African superstar Black Coffee, Keinemusik linchpins Rampa and &ME, and Gordo, the artist previously known as Carnage. Summer saw Drake take his own house pilgrimage, turning up at Black Coffee's Ibiza residency and a Keinemusik party in Saint-Tropez. 
As the fog lifted on two years of pandemic life, the back-to-back albums — which both debuted at No. 1 on the all-genre Billboard 200 album chart — pushed house music back into mainstream discourse, and put a shine on lesser-known artists doing the work. 
Artists Respected The Roots
While the work is far from done, this year saw dance music more consciously acknowledge its Black and queer foundations. After exploring the theme with Beyoncé, Honey Dijon delivered Black Girl Magic, a joyous house album that celebrates Black queer identity.
It was also a big year for forward-thinking Black artists in the UK, who foregrounded their lived experiences on some of the year's standout releases. Shygirl's Nymph and TSHA's Capricorn Sun were both supremely confident debut albums, while jungle DJ Nia Archives and pop-dance producer PinkPantheress also enjoyed breakout years; the former via electrifying DJ sets and her Forbidden Feelingz EP, and PinkPantheress with a string of releases including "Where you are," featuring Willow. 
Accepting the first-ever award for Best Electronic/Dance Act at London's MOBOs Awards, which honor "music of black origin," Nia Archives spoke to dance music's essence: "Jungle is music of Black origin and I'm proud to be flying the flag for my community and my scene." 
Women Took The Techno Reins
Like other dance subgenres, techno remained predominantly white and male in 2022. To redress this imbalance, some in the industry are pushing for top DJs to insist on an inclusion or diversity clause in their contracts, stipulating that promoters book a diverse lineup.
Despite this reality, a cohort of women made a strong claim to techno stages in 2022. Belgian talent Amelie Lens had a triumphant year as a producer, label boss and hard-hitting DJ, while Italy's Anfisa Letyago was a breakout performer at festivals like Movement, Sónar and EXIT and French DJ Anetha took her Mama Told Ya label to new heights. 
Following a star-making Boiler Room set in 2018, Palestinian DJ Sama' Abdulhadi made her Coachella debut this April. Three months later, bona-fide techno superstar Charlotte de Witte became the first woman and techno artist to close the Tomorrowland mainstage in her native Belgium. Meanwhile, at Berlin's techno temple Berghain, new residents Nene H and Sedef Adasï pushed against techno's strictures in long, wide-ranging sets. 
The UK Came Through
UK club music is always firing, but 2022 took it up a level with new iterations on UK bass music. In a year that electronic maestro Four Tet won his streaming royalty dispute with Domino Records, several of the producer's peers dropped consequential releases.
In April, Welsh duo Overmono distilled their fast-paced take on techno, house, breaks and UK garage on the five-track Cash Romantic EP, including the summer anthem "Gunk." The EP slotted neatly into Four Tet's orbit alongside fast-paced UK-centric club music from the likes of Brainfeeder recruit Ross From Friends and Vienna-born, Manchester-based salute. And up in Belfast, Northern Ireland, festival headlining duo Bicep perfected their own genre-blurring sound. 
Within this world — and arguably in dance music at large — no one blew up this year quite like Fred again… Respected as a producer for artists as diverse as Headie One and Ed Sheeran, Fred made his name as a solo artist during the pandemic with the first two volumes of his Actual Life album series, which set the template for his intimate night-stalking sound. 
In 2022, the producer's Boiler Room London set went viral — 11 million views on YouTube and counting — with its loved-up rollercoaster of Fred again.. originals and bootlegs spanning house, drum & bass, trance and pop. With Actual Life 3 (January 1 -  September 9 2022) now out, Fred again.. is riding into 2023 as the UK producer to beat. 
Tech-House Went Further Mainstream
When Australian producer Fisher released "Losing It" in 2018, he had no idea what a phenomenon it would spark. Originally a secret weapon in the DJ's sets, "Losing It" became Beatport's top-selling track that year and earned a GRAMMY nomination for Best Dance Recording. It also cemented the tech-house subgenre — which evolved from its UK-centric roots in the 1990s to become a dominant club sound across Europe — as a mainstream force in a post-EDM world.
That trend continued in 2022, powered in part by Fisher's still-growing popularity and breakout hits like James Hype and Miggy Dela Rosa's "Ferrari," released on Universal's Island Records. 
After an ascendant 2021, Chicago-born DJ-producer John Summit dominated the year in tech-house, thanks to his prolific output and savvy use of social media. Together with friends like Chris Lake and Dom Dolla, Summit has muscled onto festival mainstages with a bumping, vocal-laced tech-house sound typified by his 2022 releases "La Danza," "In Chicago" and "Show Me." With a 2023 headline show locked at Colorado's famed Red Rocks Amphitheatre - a strived-for badge of honor for dance artists in the US - Summit is proving the big-ticket appeal of tech-house. 
EDM Nostalgia Lived On
A decade on from the explosion of EDM in the U.S., a few of that era's key players made notable returns in 2022.
Back in 2012, big room house hitmakers Swedish House Mafia shocked fans with the announcement of a farewell tour that kicked off just after they delivered their compilation album Until Now, featuring anthems like "Don't You Worry Child" and "Save The World." But 10 years later, the trio of Axwell, Sebastian Ingrosso and Steve Angello made their return with 2022's Paradise Again, which saw the trio evolve into a darker pop sound while still honoring past glories in their comeback shows. 
EDM nostalgia also fueled the 2022 team-up from deadmau5 and Kaskade as kx5, whose debut single, "Escape," could've been the biggest progressive house hit of 2012. In a full-circle moment, the duo capped off the year with a headline show for 46,000 fans at the Los Angeles Coliseum, the former home of EDM massive Electric Daisy Carnival. According to Billboard Boxscore, the concert was the biggest ticketed global dance event of 2022 for a headline artist. 
Reaching further back, French electro-house trailblazers Justice marked the 15-year anniversary of their debut album, †, by sharing a previously unreleased demo version of its timeless single, "D.A.N.C.E." In dance music, even the recent past is ripe for reviving. 
TikTok Made Dance Hits
Just as TikTok helped to make and sustain pop hits in 2022, the addictive video-sharing app also played its part in dance music. While DJs flocked to TikTok to share tips, tricks, mash-ups, and videos from the booth, some of the genre's biggest successes were driven by the TikTok community.
Released in late 2021, Acraze's "Do It To It" became the definitive TikTok dance/electronic hit of the year. A chunky tech-house rework of girl group Cherish's 2006 single of the same name, the track went viral as a TikTok dance, featuring in over 3 million videos. Oliver Tree and Robin Schulz's aggressively catchy "Miss You" also blew up on the platform, powered by Tree's all-in persona. Meanwhile, Eliza Rose and Interplanetary Criminal's garage-tinged house banger "B.O.T.A. (Baddest of Them All)" hit No. 1 in the UK after going viral on TikTok, turning two club-focused producers into overnight stars. 
Rave Was Recontextualized
Dance music is forever mining the past to inform the present, and this year was no different. Throughout 2022, a wide swathe of DJs and producers reached back to the sounds of '90s and early 2000s rave, Eurodance and hard dance to give their sets a jolt. 
The trend was particularly notable in techno, which in recent years has become more open to trance and breakbeat influences. Proponents of this throwback sound include the German artists DJ Heartstring and Marlon Hoffstadt, while Dutch DJ KI/KI powers her sets with decades-old hard dance for a new generation. 
At the more commercial end of the genre, DJ/producers David Guetta and MORTEN have reached back to the past to inform a sound they call "future rave," complete with the October launch of a dedicated Future Rave label. 
Whether looking to the past or striving for the next big sound, the dance/electronic genre was undeniable in 2022, with more highs to come. 
Catching Up With The Chainsmokers: Their Hopes For Another "Golden Age" Of Dance Music, A Latin Collab And Yes, Going To Space